Current Obsessions: Best Marble Slab Alternatives
January 05, 2018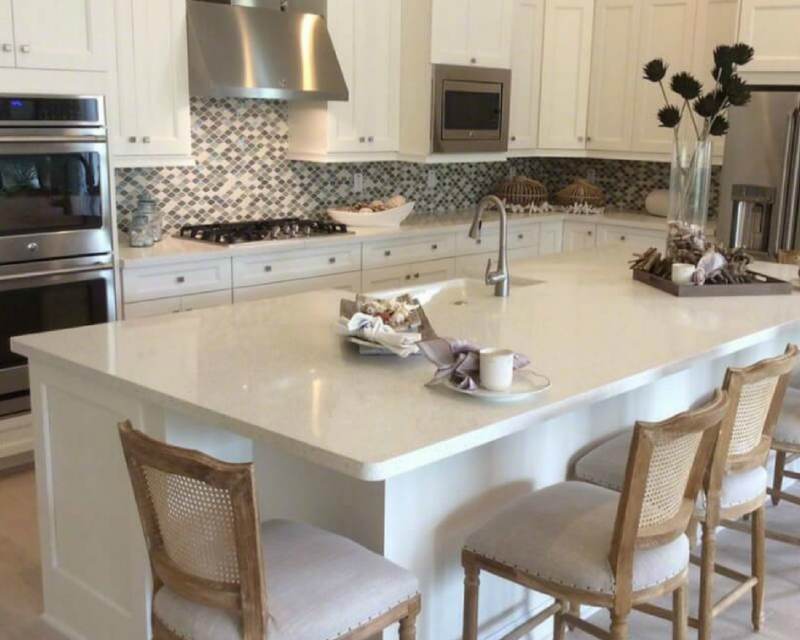 If you love the look of marble, but not the high maintenance needs, the worry, and the big price tag, join the group of satisfied homeowners who have chosen quartz countertops as a marble alternative. It promises an unchanged marble look for years to come, a luxurious, elegant countertop that even the most dedicated fans of natural stone will adore.
With that decision out of the way, you face an even more difficult challenge — which marble look is the right one for your home? In this article, we bring you our top choices for marble alternatives in gorgeous, premium quality quartz.
Arctic White
Sometimes the best marble pattern is no pattern at all. Arctic White Quartz countertops are just that, plain, pure snowy white. Whether you crave the minimalist look, or want to integrate a clean, white countertop with a more traditional style of décor, you'll love how easy it is to care for. Unlike real marble, you don't have to worry about your white quartz countertops being stained by cosmetics or damaged by water.
Marbella White
The classic, subtle veining of Marbella White Quartz is an easy fit wherever you plan to install it. With its exceptional durability, it's a great choice for waterfall countertops, as the sides are often vulnerable to damage and wear. This neutral, pale coloration works well with many other surfaces, placing no restrictions on your choice of flooring, cabinetry, or backsplash.
Cashmere Oro
With just a hint of marble-like veining, Cashmere Oro Quartz is the perfect complement to any other décor you choose. Since quartz countertops last just shy of forever, you can easily remodel and repaint without even thinking about a potential clash with your countertops. Did we mention the lifetime warranty?
Calacatta Laza
Marble is the queen of subtle beauty, but a marble look can also turn up the drama! Calacatta Laza Quartz spices up your space with bold, dramatic gray veins on a pure white background. With realistic quartz that looks like Calacatta marble, you won't want to stop with a horizontal surface, so consider continuing vertically with a waterfall countertop or using it as a backsplash.
Carrara Caldia
The creamy-white background is of Carrara Caldia Quartz is accented by golden beige veins in a balanced, eye-pleasing pattern. Customize countertops that look like Carrara marble by choosing a countertop edge such as ogee, beveled, or bullnose. A simple square edge, as shown here, turns out lovely too.
Can quartz countertops ever reach the same pinnacle of elegance as real marble? With these great quartz countertop choices from MSI, we've proven that yes, you can have your marble look and live with it too. Don't stop with these, though — we invite you to browse MSI's other marble look alternatives and create a kitchen that's uniquely yours.
Read More About Quartz in Natural Stone and Marble Looks:
Beautiful Marble Look Quartz Countertops
Is Quartz More Expensive Than Marble?
Marble Look Quartz Countertops
Marble Inspired Quartz Countertops
Are Quartz Countertops Really More Expensive Than Marble?
Thinking About Marble Consider a Quartz Countertop First
Quartz Countertops That Look Like Marble
Marble Look Quartz Dominates Home Remodels Here's Why