Tile Style: Dreamy Bathroom Tile Flooring Ideas
June 12, 2016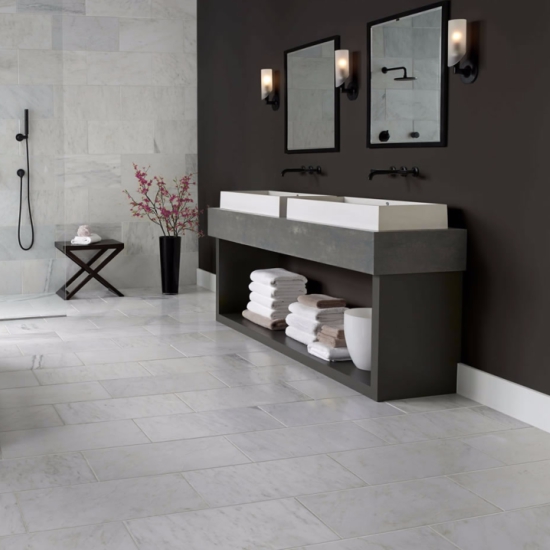 Your bathroom is much more than just another room in the house. It should be a relaxing retreat where you can wind down in a bubble bath before bed, and a calming atmosphere to get ready for a new day. Keeping your spa-like space fresh and airy is easy with a neutral color palette. Pristine white tiles or other light-colored flooring creates a clean slate for your dream bathroom. Check out these five tile flooring favorites for inspiration!
Greecian White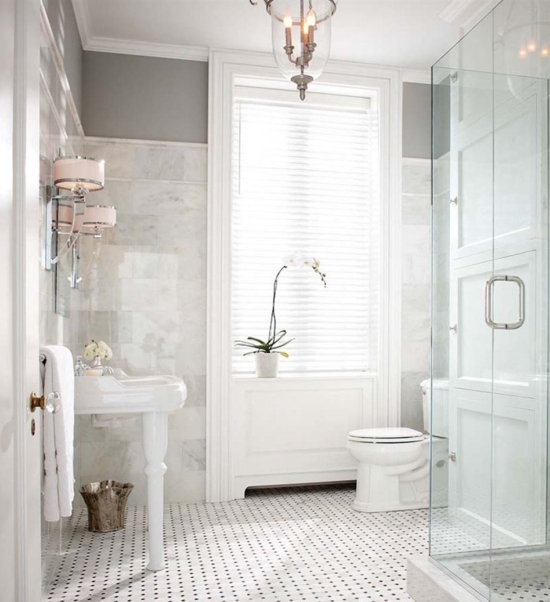 Featured: Greecian White
If you long for a luxurious, classic look, choose Greecian White. This marble tile features 2-inch octagons in shades of white and gray, with dynamic black accents, and includes 36 chips per sheet. Black and white flooring has been popular for centuries, and since it blends well with both modern and traditional designs, you can't go wrong with this timeless marble. It adds pattern without being overpowering and elevates a neutral or monochromatic room to the next level.
Arabescato Carrara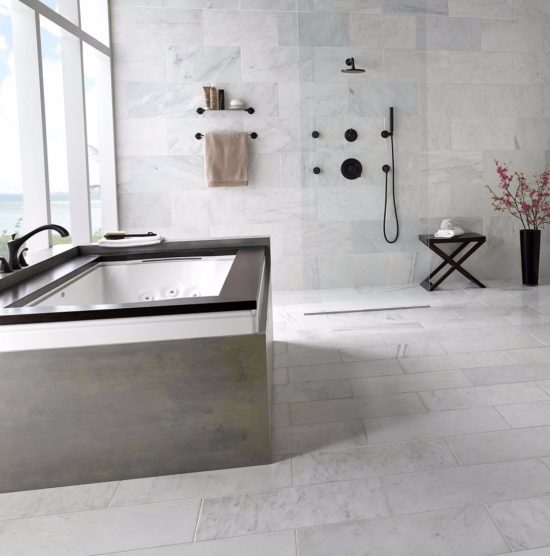 Featured: Arabescato Carrara
Does a more subtle marble better accommodate your design style? Arabescato Carrara may be the perfect choice to make you want to spend more time in your bathroom. This exquisite medium variation tile combines whites with grays, with subtle veins that add delicate texture to the design. It comes in a wide range of sizes and shapes, from small mosaics to large-format tiles, from octagons to hexagons. For large modern bathrooms, select a 12x24 or 18x36 tile for your marble floors. This classic stone will add elegance to your space while the clean lines of the larger tiles will keep the look contemporary.
Carrara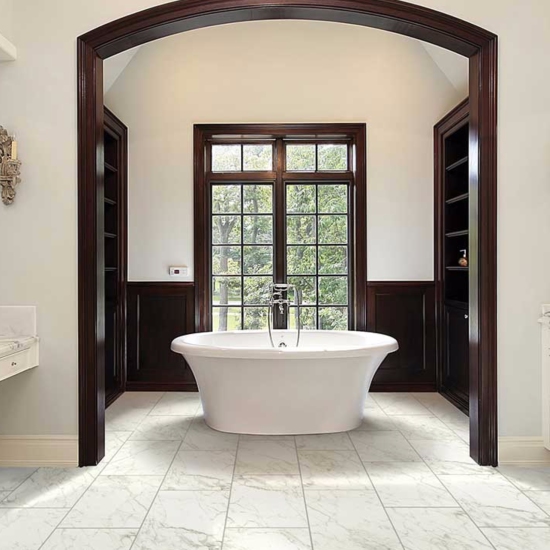 Featured: Carrara
If you love the luxurious appearance of marble flooring but don't want the high-end maintenance, consider Carrara. This polished stone mimics marble with its cool white background and striking gray veins, but the material is easier to clean and more stain, scratch, and moisture resistant. While the distinctive 12x24 tiles are classic in style, they also look beautiful in transitional designs. Add a bit of drama to your bathroom by contrasting white tiles with dark wood, and making a modern white tub the focal point.
Calacatta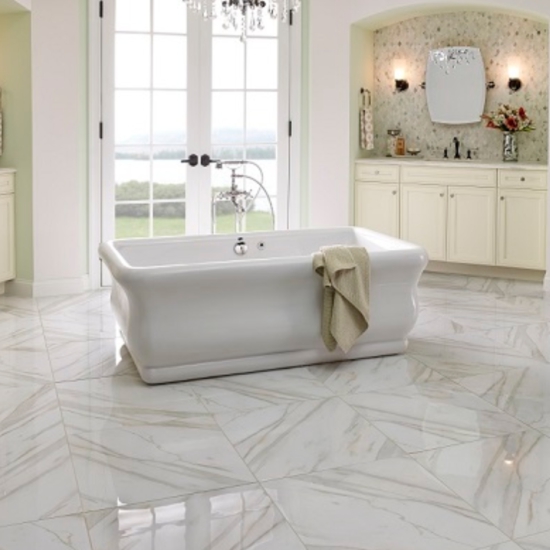 Featured: Calacatta
Calacatta is a beautiful white and cream porcelain tile with gray and brown veins. Available in both polished and matte finishes, it also comes in a variety of sizes (12x12, 18x18, 12x24, and 24x24). Its elegant streaks create stunning movement, and can be installed in spectacular patterns. For a calming environment, use mostly neutral whites and creams throughout the rest of the bathroom.
Birch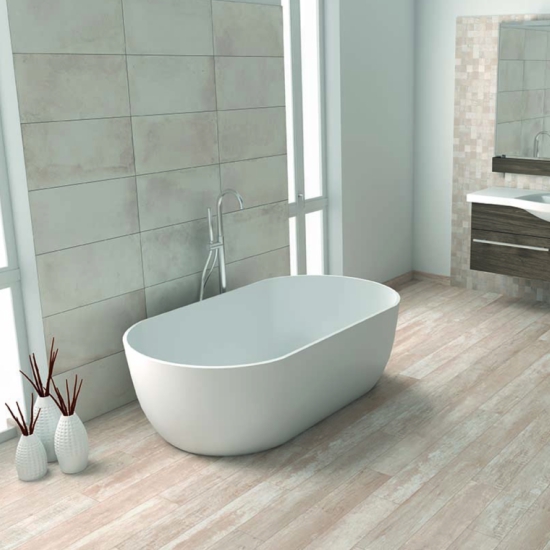 Featured: Birch
Transform your contemporary bathroom into a Zen-like retreat with Birch. The 6x40 porcelain planks imitate light birch hardwood, giving your spa-inspired space a relaxing natural vibe. These beautiful wood-look tiles are easy to care for and pair well with other mosaics or large tiles in the Capella collection.
Since the Roman times, bathing houses were places to renew both mind and body. The elite classes raised the bar by constructing private bathing retreats in the home. Do as the Romans do and dream up your own daily getaway in the bathroom. With the quality and luxurious look of tile flooring from MSI, an ideal bathroom is one dream that can come true. Visit our online gallery for more tile design ideas.