Patio Trends: Large Format & Jumbo Pattern Pavers
February 13, 2023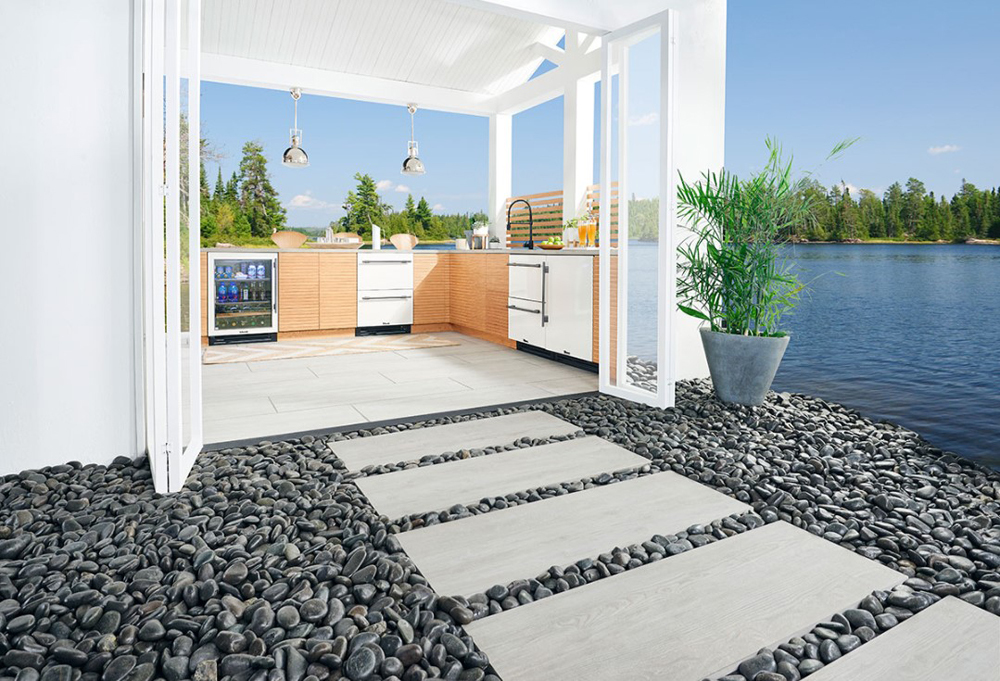 In an increasingly digital world, it's easy to forget about all the benefits that the outside world provides. You can connect with nature, relieve stress while getting fresh air, and entertain friends and family in an aesthetically pleasing environment while enjoying everything the outdoors offers.
If you want to transform your outdoor living spaces into lush, inviting, and practical places to gather, installing porcelain pavers is a great place to start.
There are endless options to explore these days. If you're seeking a modern aesthetic that offers timeless appeal, you will love the large-format Arterra Premium Porcelain Paver Collection from MSI. They're durable, low-maintenance, and resistant to staining, fading, discoloration, extreme temperatures (freezing and thawing), mold, mildew, and impact damage. They also include proprietary ZeroSlip™ anti-slip technology for your safety and peace of mind.
With so many desirable features, Arterra porcelain pavers are sure to meet your practical needs. What makes large-format and jumbo pattern pavers such a popular choice, though?
The Many Benefits of Large Porcelain Pavers
Large-format and jumbo pattern pavers come in a wide range of sizes you can mix and match, giving you plenty of options to choose from when planning your hardscaping. In addition, you'll find that these large pavers deliver a range of benefits unique to their generous size. Let's check out some of these benefits!
Make Your Outdoor Space Appear Larger
Installing outdoor patio tile is a bit different than installing flooring in your home, but when it comes to scale, the guidelines are the same: A smaller tile creates a busier pattern, sometimes making a space feel smaller.
If you're dealing with a large space, you might want to create a cozy ambiance with a smaller, tighter pattern. However, if you're looking to make a small patio feel larger, or alternately, you want to highlight a spacious backyard, large-format tiles help create the illusion of a more expansive space.
Explore Innovative Design Ideas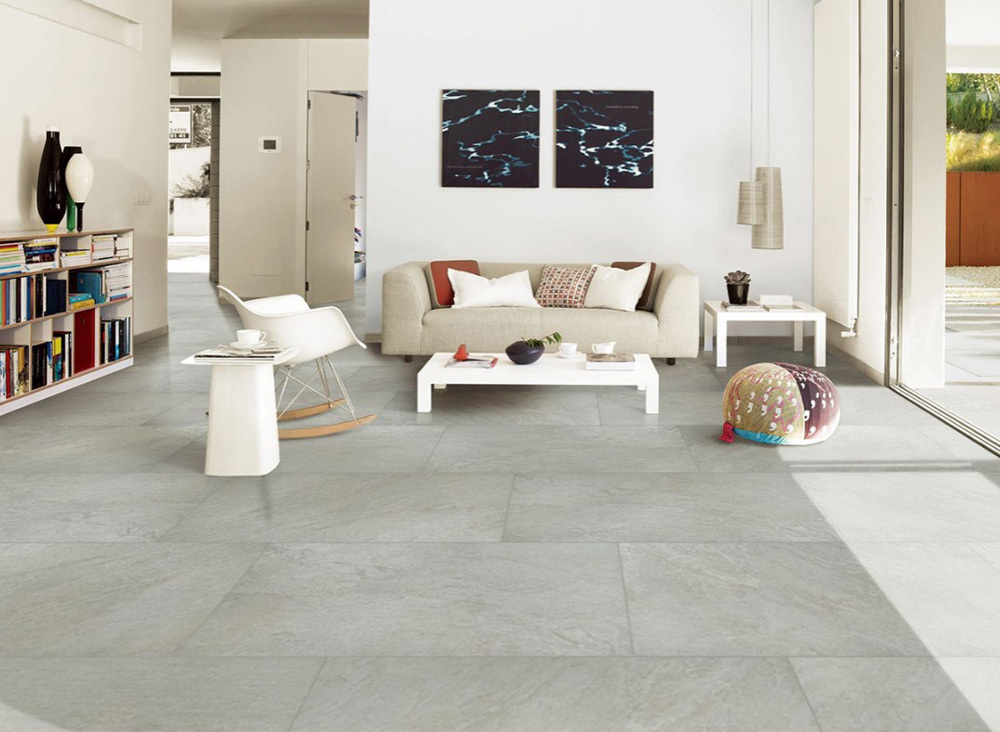 Large-format and jumbo-pattern tiles can be arranged in various ways to add style and luxury to your outdoor living spaces. Quartz White porcelain tile, for example, makes for a stunning indoor/outdoor space thanks to the serene fusion and tonal appeal of pale gray and white hues that perfectly complement any decor.
You can also nestle these 24" x 24" pavers into your softscape, like artificial grass, or a soft gravel bed to create pathways that really pop amid greenery or dark gray pea gravel. The matte finish adds a casual, modern aesthetic and helps this bright, cool paver style blend with surrounding landscaping and hardscaping materials.
Enhance Visual Continuity
One of the best reasons to choose a large-format outdoor patio tile is that scaling up the expanse of your paving material offers a sense of visual continuity.
Sure, you can cover the same area with a smaller tile, but you will have many more grout lines creating visual separation. On the other hand, with larger pavers, you can play to a clean, minimalist aesthetic that delivers a sense of harmony and tranquility in your outdoor living space.
Speedy Installation
Another practical benefit of choosing large-format pavers is the speed of installation. Whereas a complex design in small-scale tiles could take considerable time to map out and lay in place, larger porcelain pavers can be installed much more quickly, even if you have a complicated pattern featuring multiple tile sizes.
On-Trend Design
Victorian-era maximalism in interior design is having a moment of revival. Even so, a measure of simplicity in outdoor spaces helps you more readily enjoy nature's bounty, whether you enjoy the serenity of open skies or prefer to be surrounded by lush vegetation.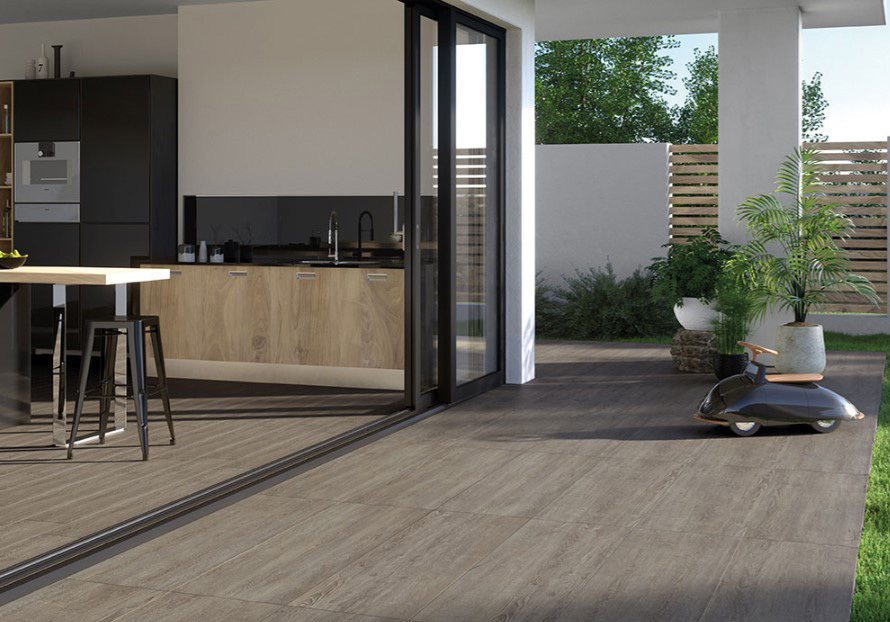 Large-format tiles deliver the streamlined, modern aesthetic you crave. Options like Caldera Coala pavers, in a smoky gray shade with wood-look grain, are ideal for indoor/outdoor spaces where you'll host intimate, low-key gatherings with your favorite people.
Choosing the Tile Format That's Right for You
There are several factors to consider when picking the pavers that best complement your outdoor design. The style of architecture, the landscaping, and your personal preferences will all play a role in the materials you ultimately choose. However, it starts with considering the overall effect you want to achieve.
Clean and Modern
If you live in a contemporary home and your preferred style is modern minimalist, you can't go wrong with Concerto Grigio pavers, designed in shades of dappled gray to look like an upscale version of concrete.
Whether you use them for your driveway and walkways throughout the property or create a stunning patio or pool surround, these stylish and low-maintenance pavers will contribute to a modern aesthetic, particularly in larger sizes.
Classic Appeal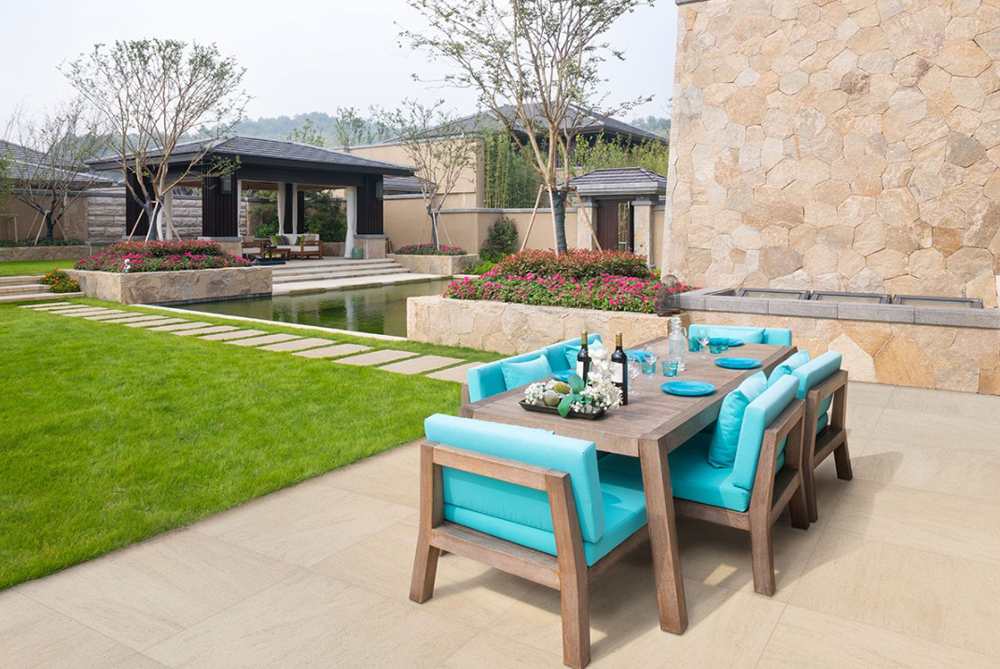 Warmer palettes are returning in a big way! For classic appeal that adds a timeless feeling of warmth and luxury to your backyard, consider Livingstyle Beige pavers.
With soft warm tones and a natural stone look similar to travertine, this design brings traditional sensibilities into the modern era.
Outdoor Design Made Easy
MSI offers an impressive array of options when it comes to practical and beautiful pavers to enhance your outdoor living spaces. Large-format and jumbo tile patterns will help you design a modern backyard with timeless beauty and soothing vibes.
If you have questions about the Arterra Large Format Paver collection, contact MSI via chat, or find an authorized dealer near you to see samples of your favorite designs.
LEARN MORE ABOUT PORCELAIN PAVERS
Arterra Porcelain Pavers: Durable And Low Maintenance
New Arterra Nolitan Collection Of Matte Porcelain Pavers
Are Porcelain Slabs The Best Option For Your Shower Renovation
Artificial Turf And Paver Design Ideas For Outdoor Living