Cost Of Wood Look Tile Vs. Hardwood Flooring
August 10, 2018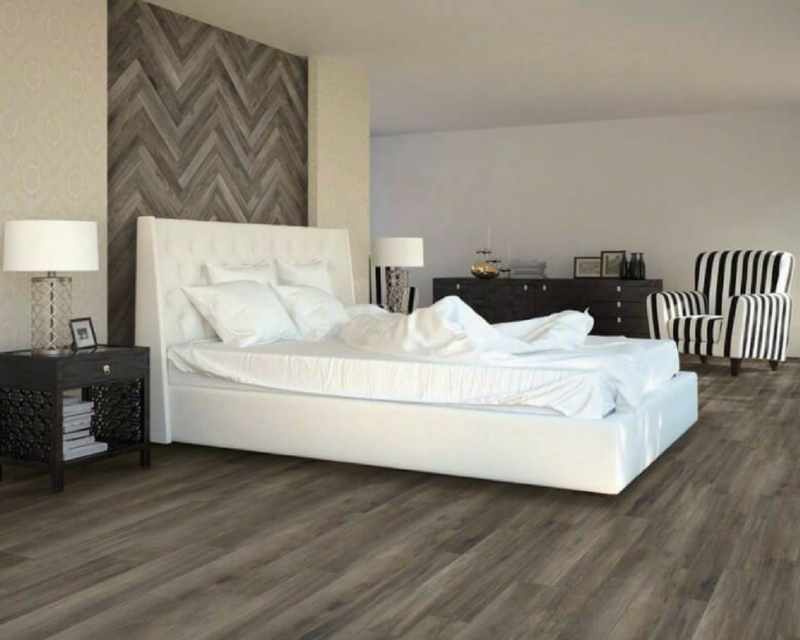 One of the best ways to bring the outdoors indoors is with natural hardwood floors. They provide a beautiful textural element that adds warmth and character to any room. And while beautiful, before choosing natural hardwood floors, it is important to recognize their limitations and the amount of care they require.
Fortunately, there are now so many beautiful wood look tiles available to choose from that don't require ongoing maintenance, and they can withstand high traffic and moisture!
Turn on any television design show or open a magazine and wood look tiles can be found on floors and the walls. From shabby chic rustic choices to sleek modern wood look porcelain tiles, there is one sure to complement your personal design style. Let's explore some of the benefits of selecting porcelain wood look tiles over natural hardwood.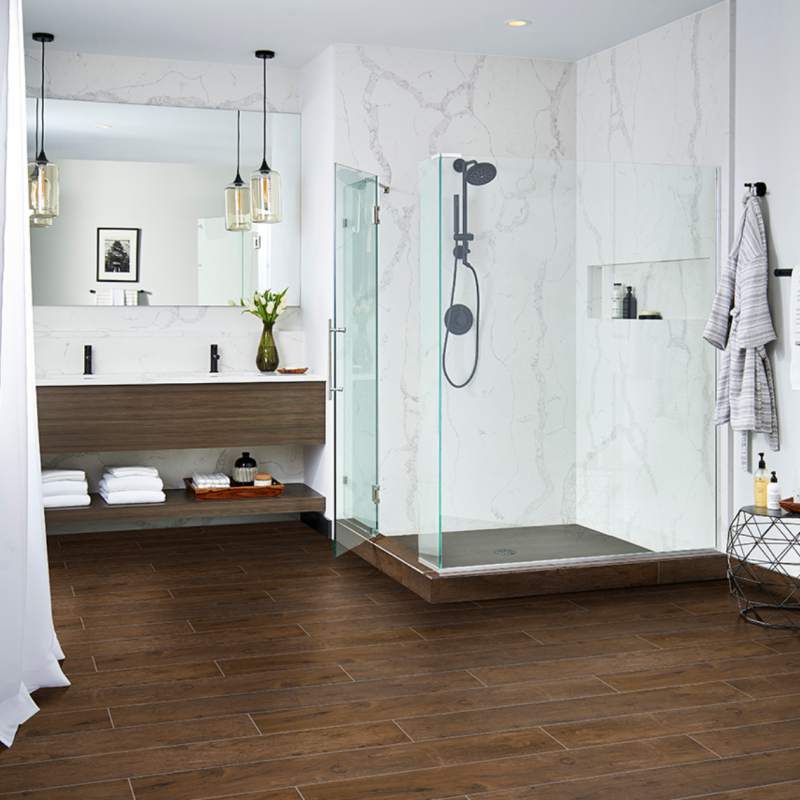 Featured: Redwood Mahogany Wood Look Tile
Of all the places to use reclaimed wood in the home, none are more challenging than a bathroom. The moisture and humidity in the room can cause the natural hardwood floors to warp and buckle and once wet, they can be incredibly difficult to dry completely.
If you want the look natural hardwood provides in a bathroom, wood look tile like our Redwood Mahogany porcelain tile is a great option. This richly toned flooring tile partners beautifully with the shower tile and backsplash tile to create a spa-like retreat.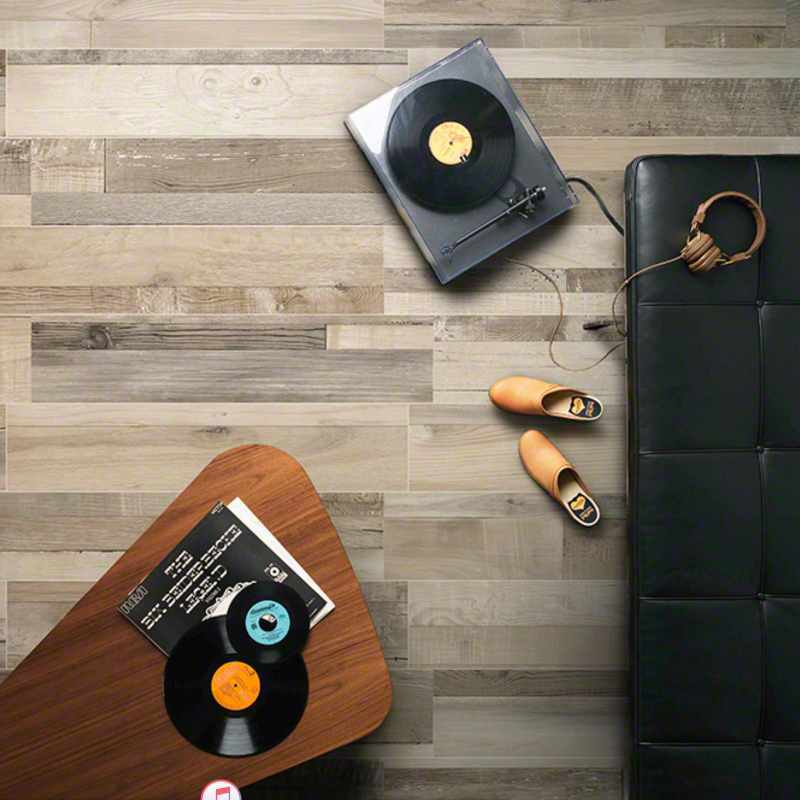 Featured: Sierra Sage Wood Look Tile
Rec rooms and basements are another great place to use porcelain floor tiles. If the basement is on a concrete slab, and you live in a humid climate, chances are your basement is rather moist. In spaces like this, natural hardwood is prone to shrinking and expanding as humidity levels rise and fall and an installer must be well-versed and use the best techniques to prevent buckling or large gaps.
On the other hand, wood look porcelain tiles don't expand and shrink with humidity, and they are easy to clean and require no maintenance. In this modern rec room, Sierra Sage adds charm and character with its varying sizes, textures and tones.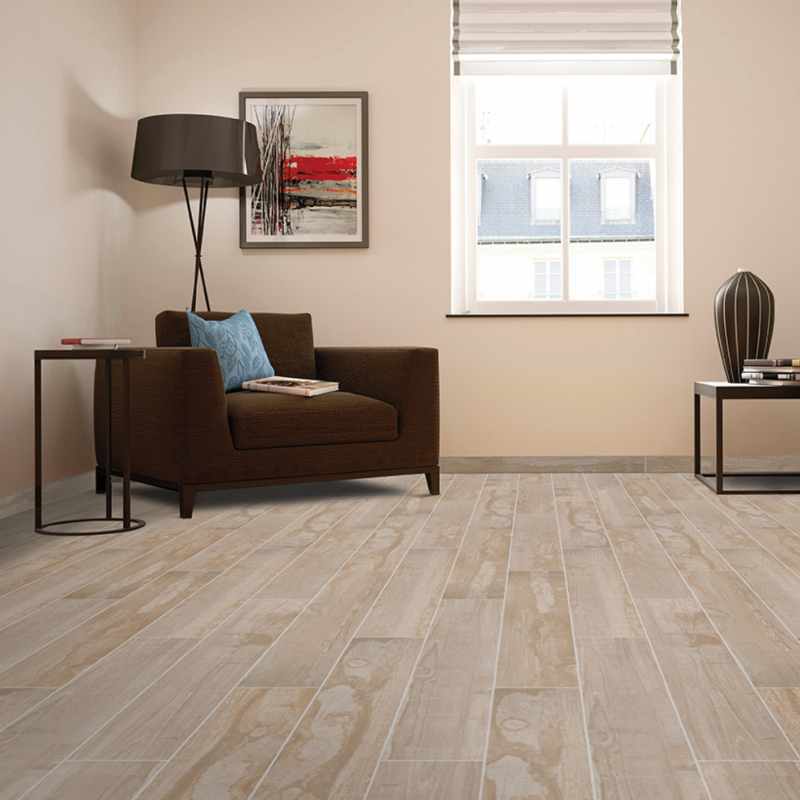 Featured: Salvage Honey Wood Look Tile
Lighter toned hardwoods tend to show flaws in the finish from moving furniture, high heels, and other examples of simple daily use. But, porcelain tile that is crafted to look like a beautiful natural hardwood can withstand daily life with ease.
While dragging heavy furniture across a floor of any type is never recommended, high heels and general traffic won't harm the beauty of wood look porcelain tile. Our Salvage Honey floor tile lends the aged character of one of the top trends, salvaged or reclaimed wood.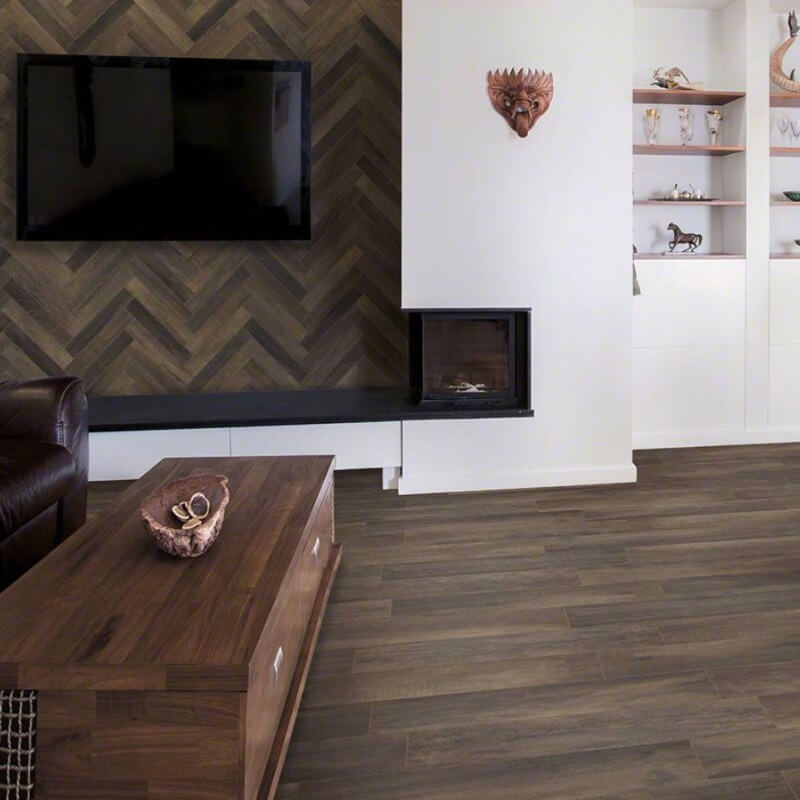 Featured: Upscape Bruno Wood Look Tile
Natural hardwood floors that have a hand scraped finish are hot in design. Refinishing these floors can be a challenge as a sanding machine will take out the original character you desired. Another option of course is engineered hardwood floors, and while they can handle moisture better than hardwood, they are not a life-long flooring solution; they can generally only be refinished a couple of times before they'll need to be replaced.
Our porcelain wood look tile Upscape Bruno has the texture and character of natural wood, but will never need sanding or refinishing – making it a perfect choice for active homes. As a bonus? Our wood look porcelain tile planks can easily be installed on walls to add a graphic element.
Now, let's talk about the difference in cost. The most expensive option is natural hardwood floors. Their thickness allows them to be refinished every few years without worry, and while this can be an expensive process, there are natural hardwood floors decades old that still look great with proper care and maintenance.
Engineered hardwood floors are more reasonably priced, but as mentioned above, aren't a life-time product, and even the low cost engineered wood floors are more expensive than wood look porcelain tile.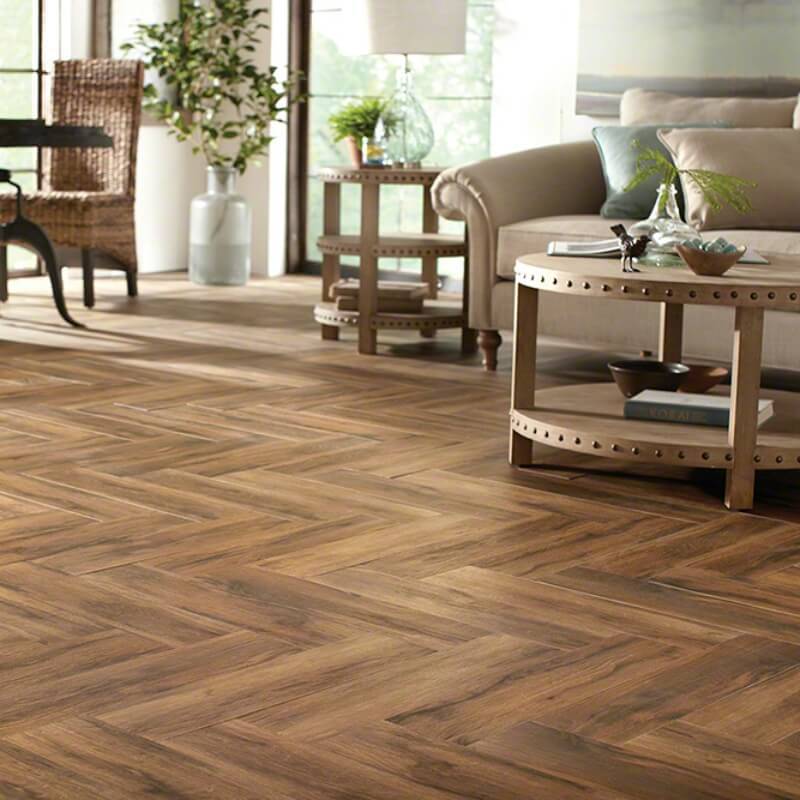 Featured: Botanica Cashew Wood Look Tile
Installation for all three products is pretty similar cost wise. However, if you want a Herringbone pattern reminiscent of beautiful European floors, porcelain wood tiles like our Botanica Cashew might be a better choice.
Offered in both 6x24 and 6x36 planks, these porcelain floor tiles can easily be installed in a Herringbone pattern, without excessive cutting needed. Talk to your installer about the best size to really highlight the beauty of the tile and your space.
Hardwood floors are beautiful, and in the right room, with the right care and maintenance, they can last for generations. They will need sanding and refinishing periodically to maintain their beauty, so be sure to include these ongoing costs in your decision making.
Porcelain wood tile floors don't require expensive sanding and refinishing, are very easy to keep clean, are suitable for high-moisture areas, and are more reasonably priced than either hardwood or engineered hardwood floors.
MORE WOOD LOOK TILE IDEAS
How To Prep Your Subfloor For Wood Tile
Where To Find Luxury Vinyl Tile Flooring That Looks Like Wood Flooring
Tips From The Trade: The Most Realistic Wood Look Tile Available Today
The Best Porcelain Tile That Looks Like Birch Wood
Wood Look Game Changers: Introducing-Everlife Luxury Vinyl Flooring
READ MORE ABOUT WOOD LOOK TILE:
Where to Find Luxury Vinyl Tile Flooring That Looks Like Wood Flooring
The Best Porcelain Tile That Looks Like Birch Wood
Wood Look Game-Changers: Introducing Everlife Lvt