Blending Glass And Stone Decorative Mosaics
December 09, 2019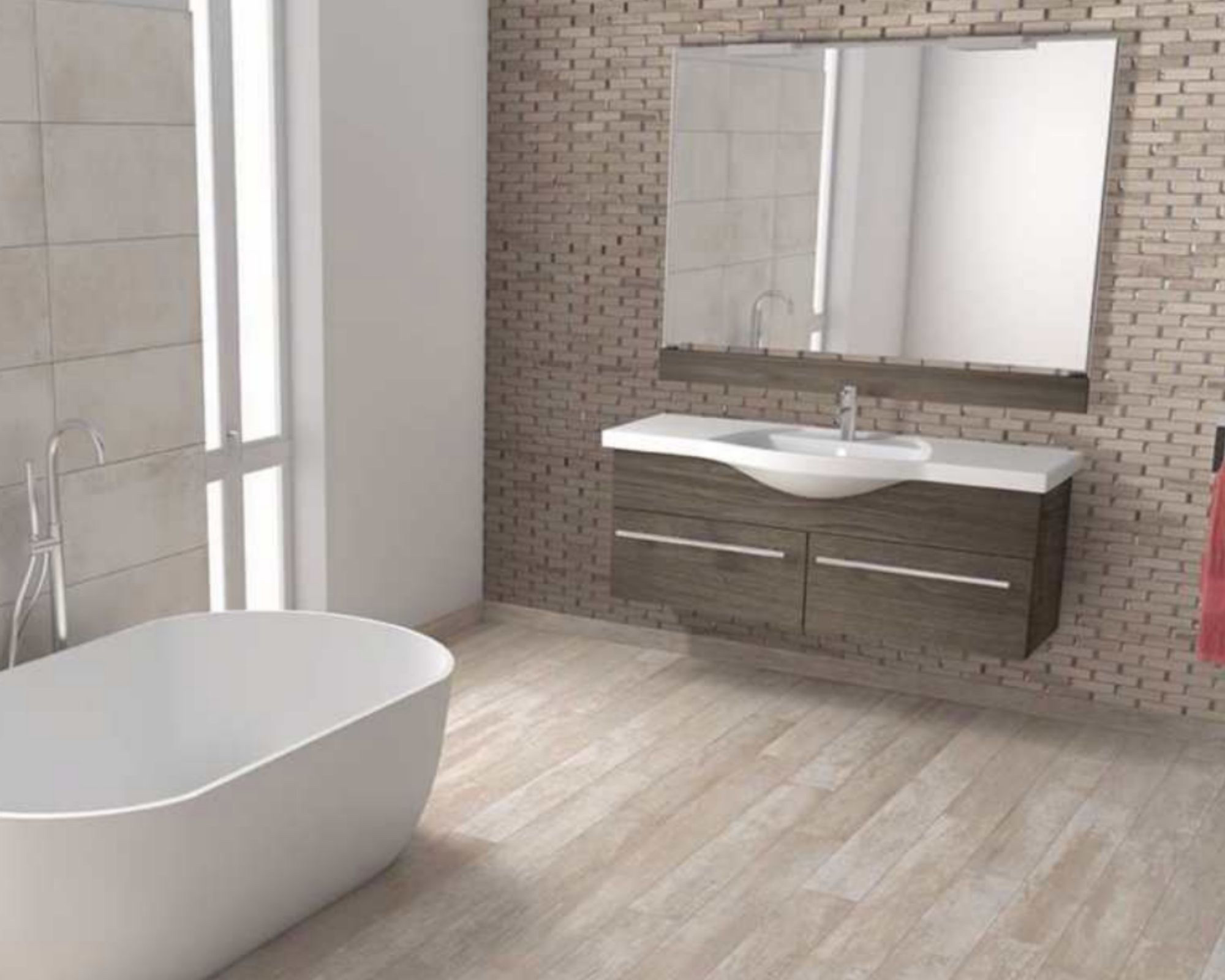 With a mixture of textures and materials, decorative mosaics have the uncanny power to transform a plain wall into an artistic masterpiece. Even more so, blended mosaics that feature glass and natural stone in a wide range of colors and styles take the design to a whole new level. MSI's unique mosaics offer hot trends to timeless classics that will show off your individual personality and impeccable taste. We've selected four of our favorite versatile patterns and finishes for captivating design choices that you'll want in your next remodel or new build.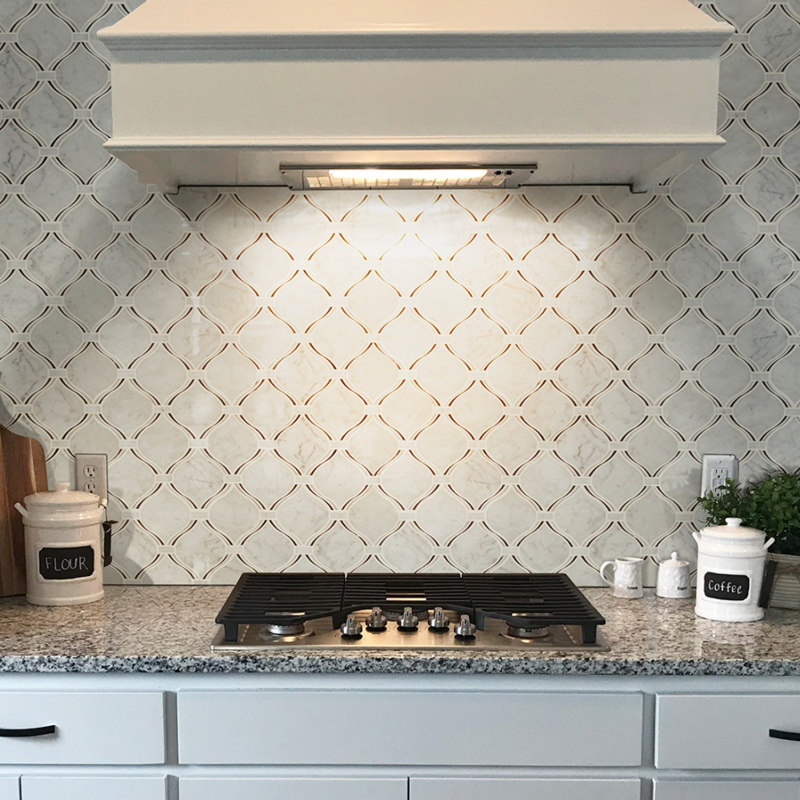 Danza Arabesque
With a contemporary take on a classic pattern, Danza Arabesque features a sophisticated arabesque pattern made of white-gray marble that's elegantly outlined in a darker shade of natural stone. The polished patterned mosaic is perfect for a variety of installations, including countertops, flooring, walls, and backsplash designs. It's the subtle addition in this traditional kitchen that ties in the white cabinetry and hood range with the dark gray granite countertops and black accents.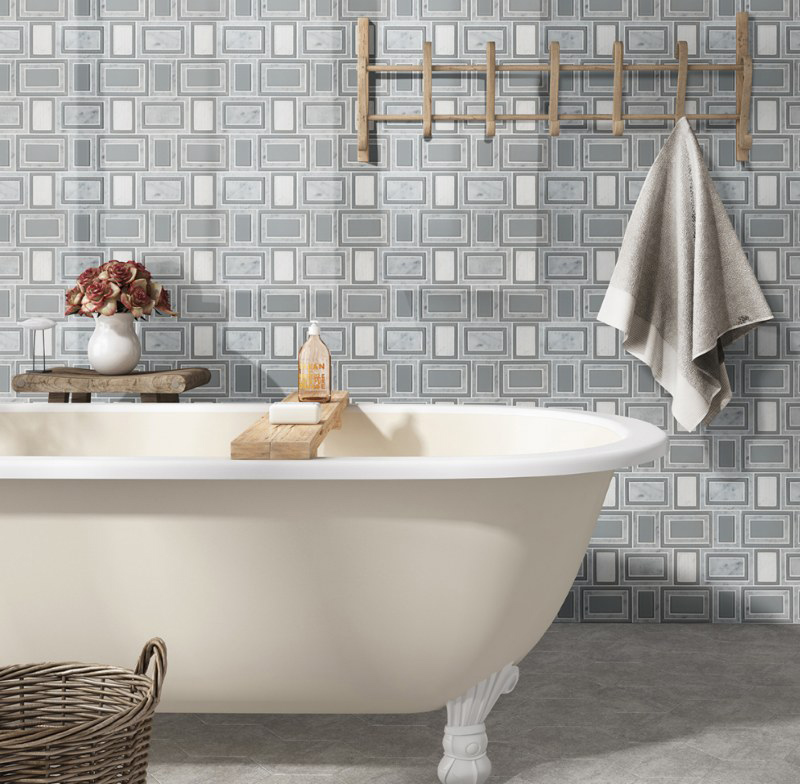 Soho Stax 8mm
Featuring a picture-like pattern, Soho Stax 8mm combines stone with glass in whites, light grays, and medium-tone grays in alternating vertical and horizontal picture-frame designs. It makes for one of the most unique mosaics used for walls and countertops. The floor-to-ceiling installation in this bathroom provides so much personality in this space. The white tub stands out against the grays in the retro-inspired mosaic but also connects with the punches of whites throughout the tile install, while the wood accents add warmth and a little farmhouse chic to the whimsical design.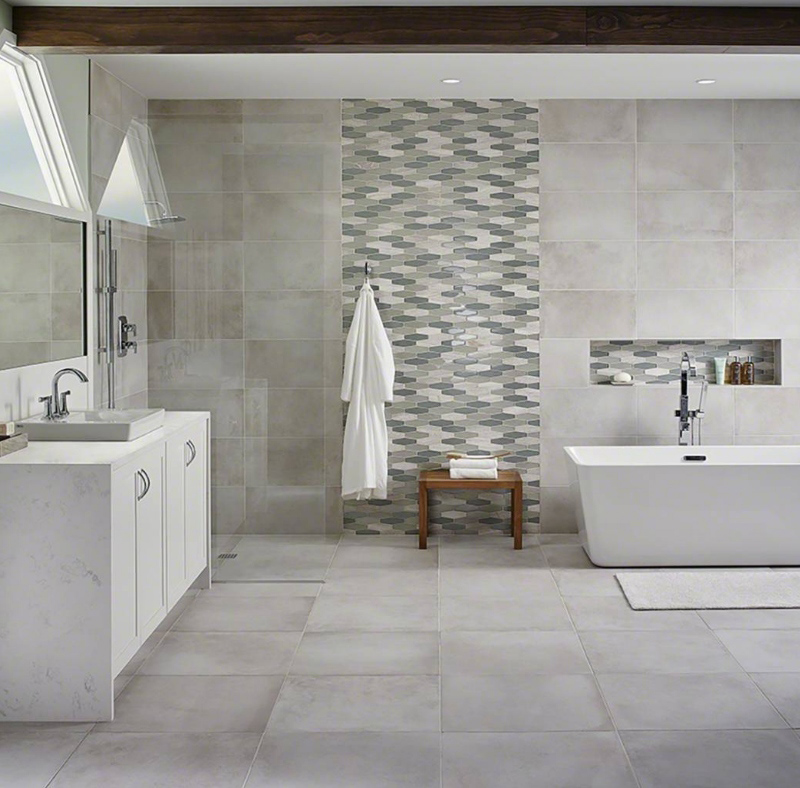 Europa Elongated Hexagon 8mm
An elegant combination of stone and glass mosaic tile, Europa Elongated Hexagon 8mm features gray glass in three soothing hues complemented by beige natural stone with various veining. In this modern master retreat, the neutral mosaic tile serves as the perfect accent pieces to highlight the sleek design. Not only does it serve as an architectural piece by making the alcove pop, but the separate wall application also breaks up the area between the freestanding tub and frameless shower.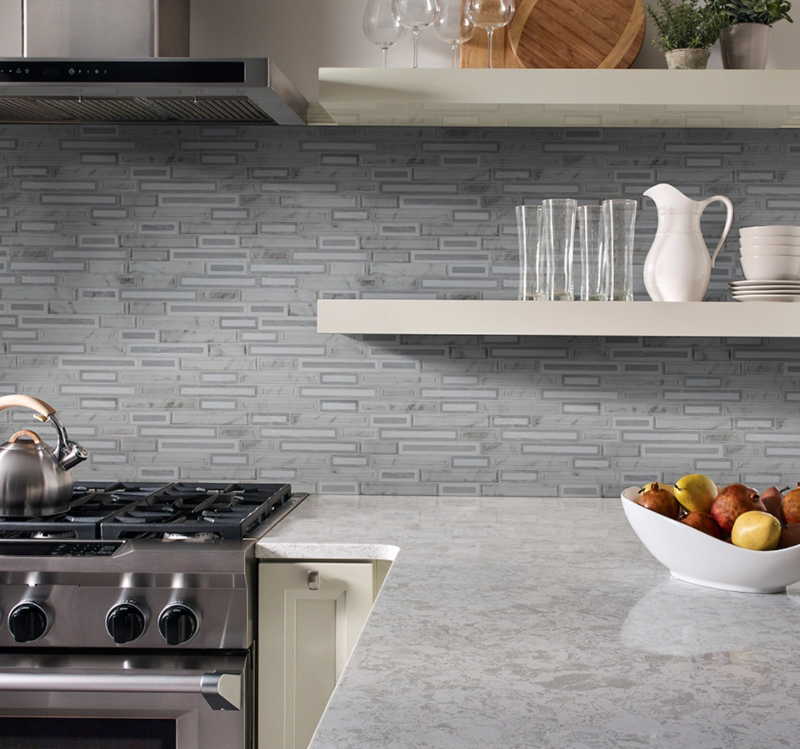 Blocki Grigio Interlocking Pattern 8mm
Full of sophistication and modernity, Blocki Grigio includes a stunning glass stone blend with cool whites, light grays, and mid-tone-grays that are sure to beautifully reflect light in any space. The mosaics are ideal for wall and countertop installations and complement a wide range of styles. This contemporary kitchen features a counter-to-range installation, and the white floating shelves beautifully contrast with the mosaic tile backsplash colors while allowing the pattern to be more prominent on the walls.
Decorative mosaics are like eye candy, and depending on how they're used, they may lure you into the room. The combination of glass with stone wall tile adds a bit of shimmer to the natural stone's beauty. Whether they're a focal point in the kitchen or an accent in the bathroom, mosaic wall tiles are a mesmerizing design choice for your upcoming project, and the preassembled patterns make it easy for a DIY installation.