Popular
Georgia Remodel Is A Family Affair
December 15, 2017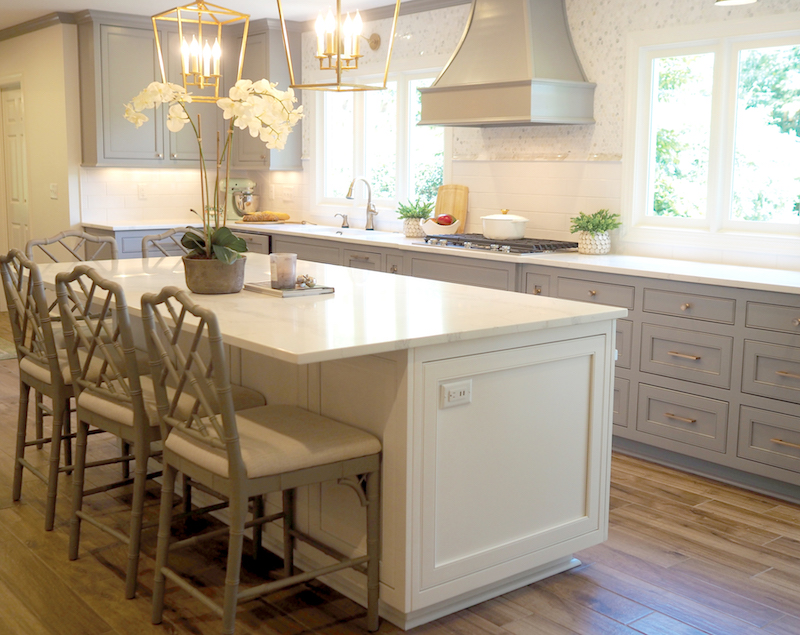 Imagine this: you fall in love with a house in a nearby neighborhood only to later learn that your husband's grandparents built it. The "For Sale" sign in the front yard? It must be kismet! Now you just need to convince your other half to put the home you had no intention of selling on the market so you can buy this one. Of course, you arrange to see the house first (um, alone) – taking a series of mental notes as you walk through it: "OMG! The 70s green shag Milliken carpet has matching wallpaper and drapes; Look how beautifully the light is streaming through this room!; Hmm…if we remove this wall, we can open up the kitchen." For Sarah and Michael Holle, these serendipitous events led the young couple to purchase the home still known in their small Southern town as the Holle house. With stealth persuasion skills and a little time, Sarah, a kindergarten teacher, and Michael, a banker, embraced this once in a lifetime opportunity to preserve a family legacy, returning the beloved home, 60 miles south of Atlanta, back to the Holle family. It would be a sizeable investment to reimagine the house for a modern-day family, but the dream of watching their future children take their first steps in the same home their grandfather took his? Irreplaceable.
A Labor of Love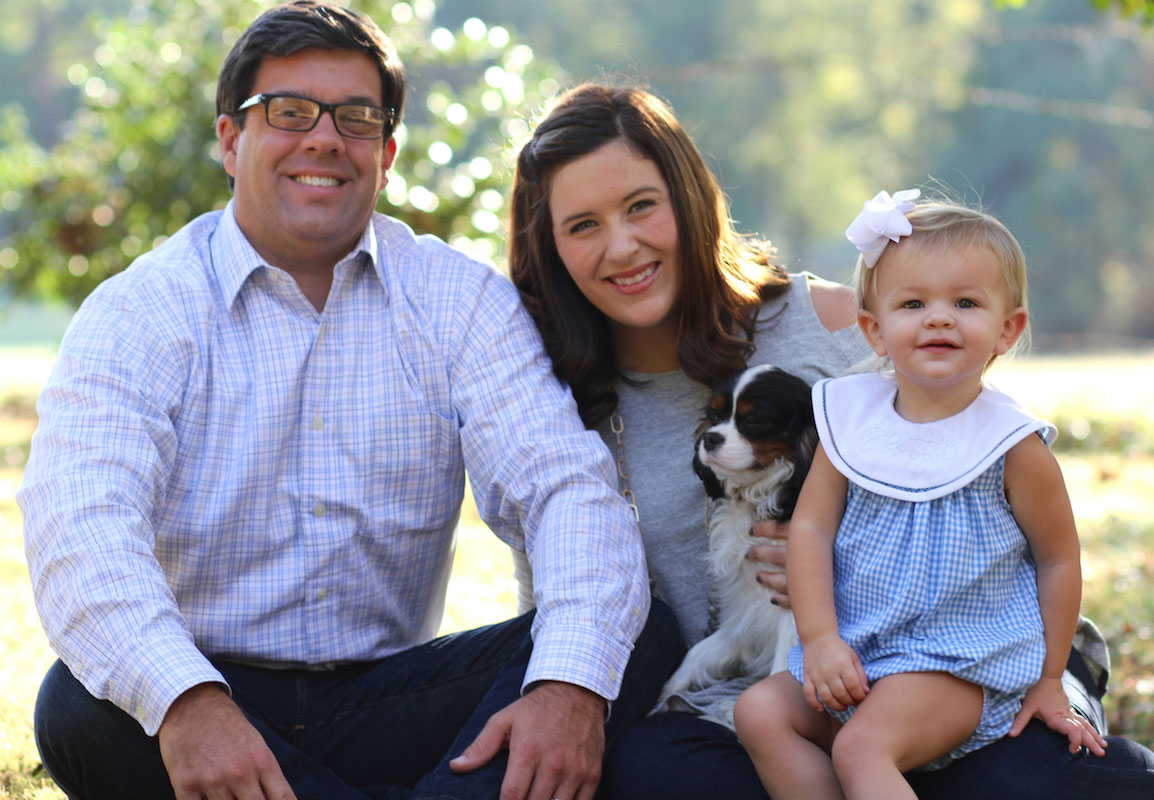 The Holles— Michael, Sarah, Hattie, and Reese - the pooch. Or simply: The. Cutest. Family. Ever. Photo Credit: Laura Ladd
Seven years ago, the Holles purchased the 1962 two-story brick traditional built by Michael's grandparent's Bill and Page Holle. The pair immediately went to work fixing all things cosmetic – removing wallpaper, painting, and updating drapes and carpets. For five years they worked around an awkward kitchen layout, pouring their dreams for the space into gridline-paper sketches. "It's the heart of the home, everyone congregates in the kitchen. If the renovation went well, I knew we could stay in the home forever," said Sarah. Over time, the project grew. The couple realized that the entire lower floor – not just the kitchen—needed an overhaul.
From the start, things worked in the couple's favor. Thanks to Daniel Construction, the original builder, the house had great bones. And fortuitous relations were on standby to help with renovations: sister-in-law Emily Holle, our very own Director of Trend & Design; and brother-in-law Zak Knight, a third-generation builder from Charles Knight Construction Company in LaGrange.
And Then There Were Three…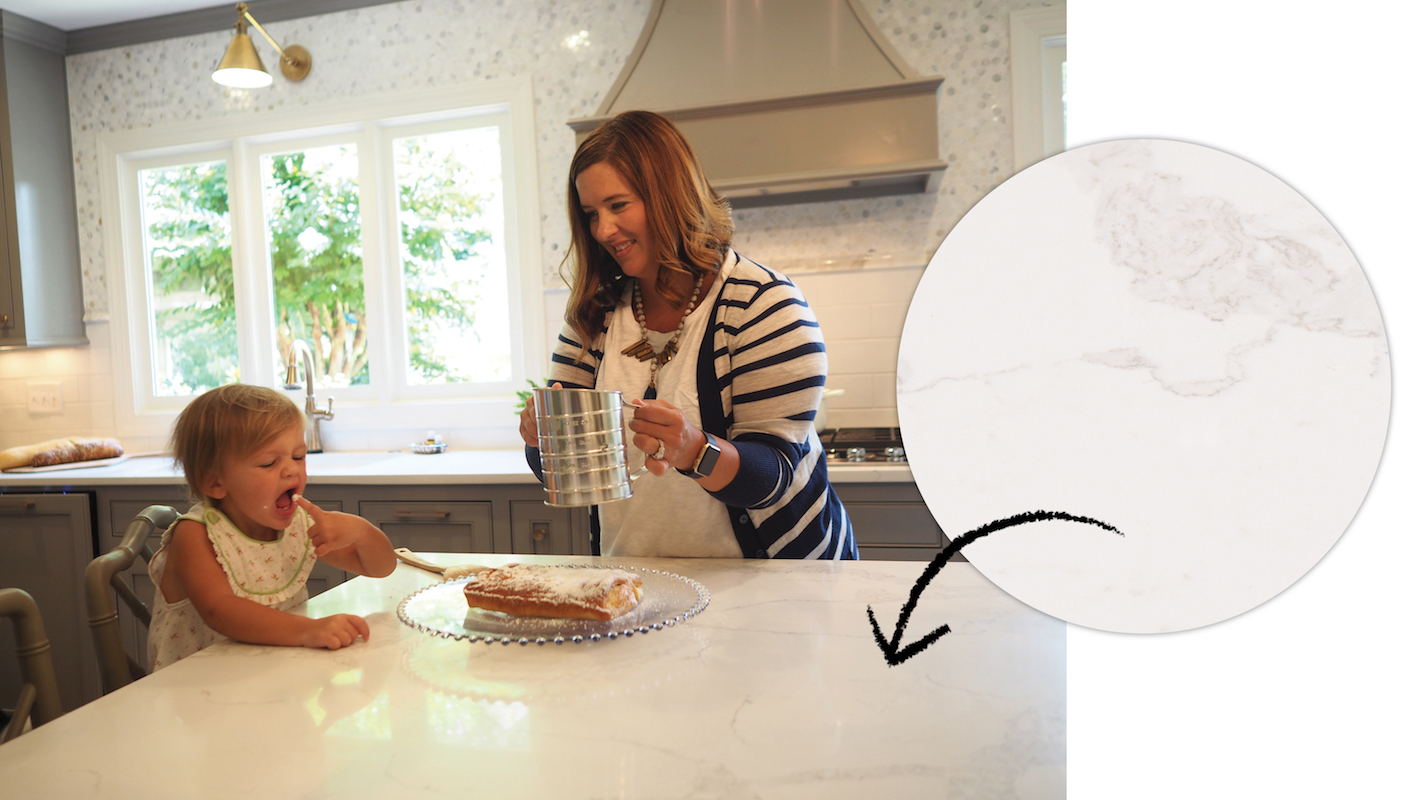 Sarah and daughter Hattie are having a super-sweet moment. The no-fuss countertops? Calacatta Verona from our Q Premium Natural Quartz collection. Photo Credit: Laura Ladd
Every remodel has its inspirations, and this one is clearly all about family. After the now-thirtysomethings welcomed their daughter Hattie, priorities shifted. "In my younger years, beauty mattered more than function. With a toddler and dog in tow, things have changed. I'm not interested in choosing anything that isn't durable anymore," Sarah said.
Zak fine-tuned the Holle's sketches so that the kitchen, living, and dining spaces poured into one another, creating a more open floor plan. Plans included knocking down a wall between the kitchen and unused breakfast room, doubling its size. The couple also reconfigured the formal den into a large laundry room with a built-in kennel area for their King Charles. Sarah said, "I'm a stay-at-home mom now, so creating a sightline from the kitchen into the den—so I can see Hattie—was a must. We also widened the entrance to the kitchen to 5.5' feet to take better advantage of the light streaming in through the front of the home."
Surface Talk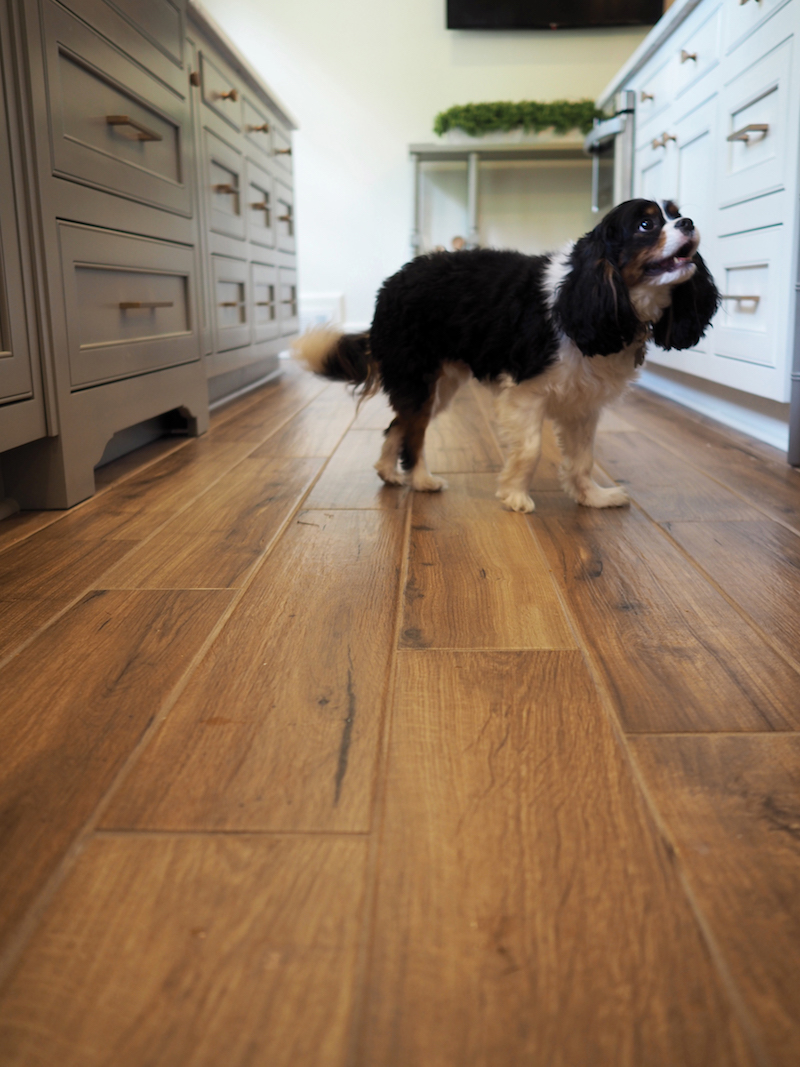 The family dog, Reese, competes with Palmetto Cognac wood look porcelain floor tiles for the spotlight. Photo Credit: Laura Ladd
Emily's design and product know-how came in handy when it came time to choose materials. The house is built on a slab, which makes laying down wood floors nearly impossible. "I had my heart set on hardwoods so when Emily suggested wood-look plank tiles, the idea was foreign to us. After spending a day with her at MSI's Atlanta showroom, we fell for Palmetto Cognac. We didn't realize how closely tiles could resemble real wood. It's now in the majority of our rooms downstairs – and one of our favorite things about the renovation." When asked about upkeep on the new floors, Sarah said, "When Hattie and Reese come in wet from the pool, it's one less thing to worry about."
Back at the showroom, Emily introduced the Holles to the Q Premium Natural Quartz countertop collection – a practical family-friendly alternative to natural stone. Knowing Sarah's love for white marble—and aversion to all things high-maintenance—Emily directed her brother and sister-in-law to white marble look slabs. "Quartz has come a long way since I've last seen them. The slab we chose, Calacatta Verona, was brand new, so although we adored it, we were a bit nervous being the first homeowners to try it. It's whiter than the others styles, and there weren't any pictures to go off." But like the kitchen's large-format subway tile backsplash, and Calacatta Gold hexagon mosaic tile behind the hood, the couple's instincts were spot on.
Clean as a Whistle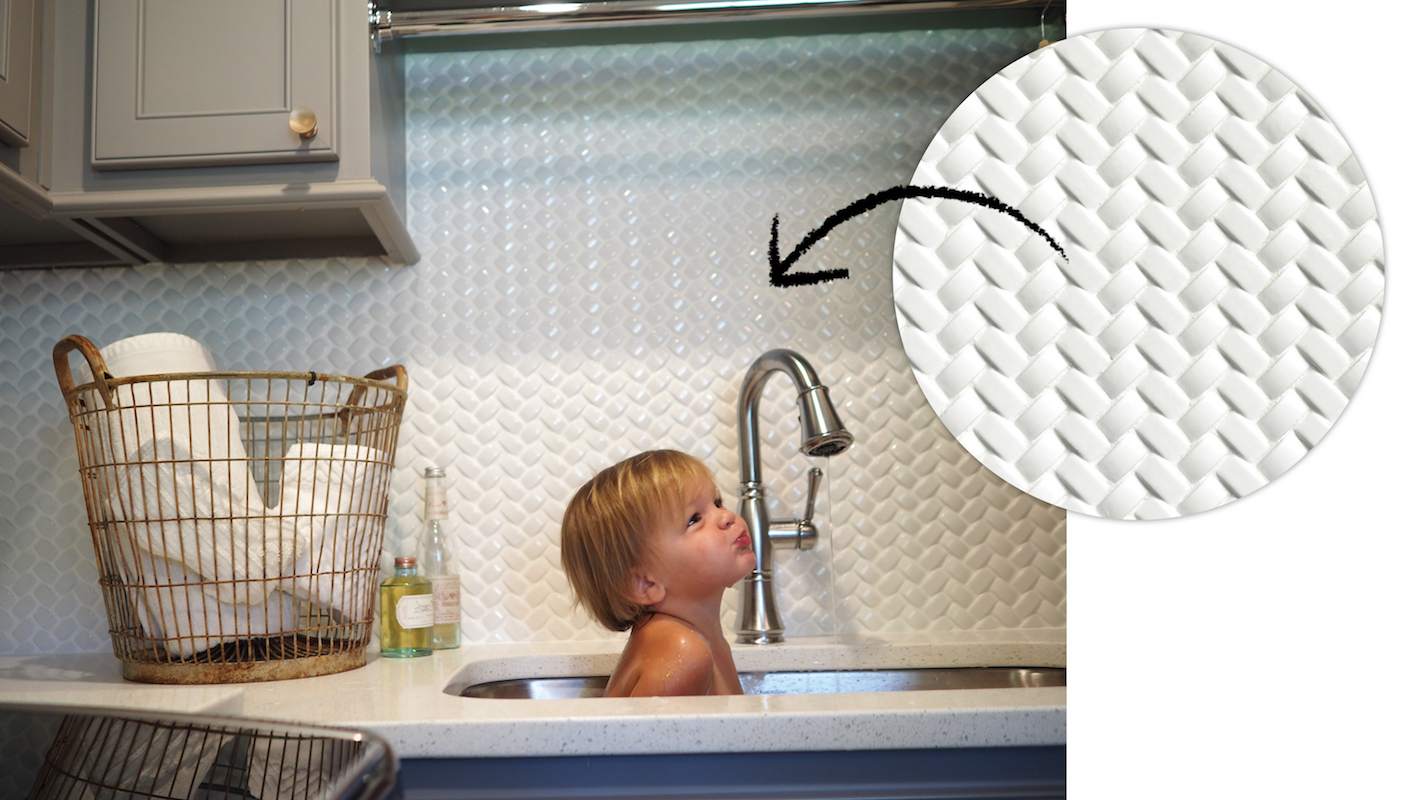 Oversized sink by day, bathtub by night, the Holles' new laundry room makes Hattie's bathtime a breeze. Whisper White Arched Herringbone tile backsplash. Photo Credit: Laura Ladd
"Every modern house needs a large laundry room – the bigger the sink, the better," said Sarah. Tucked out of sight, the newly expanded laundry room has become a hub for the busy family. From Hattie's bathtime washtub to Reese's grooming area to the recycling post, this multi-zoned space gets a workout. There's also plenty of storage cabinets to keep the room clutter-free. To dial up the fun in this hardworking space, Sarah chose Iced White Quartz countertops with sparkly mirrored specks of gray and gold, and encaustic tile floors. They decided on a Whisper White Arched Herringbone tile backsplash (from the Highland Park Collection) which adds high-definition texture to the room – and a bit of contrast against the gray cabinets.
The End Game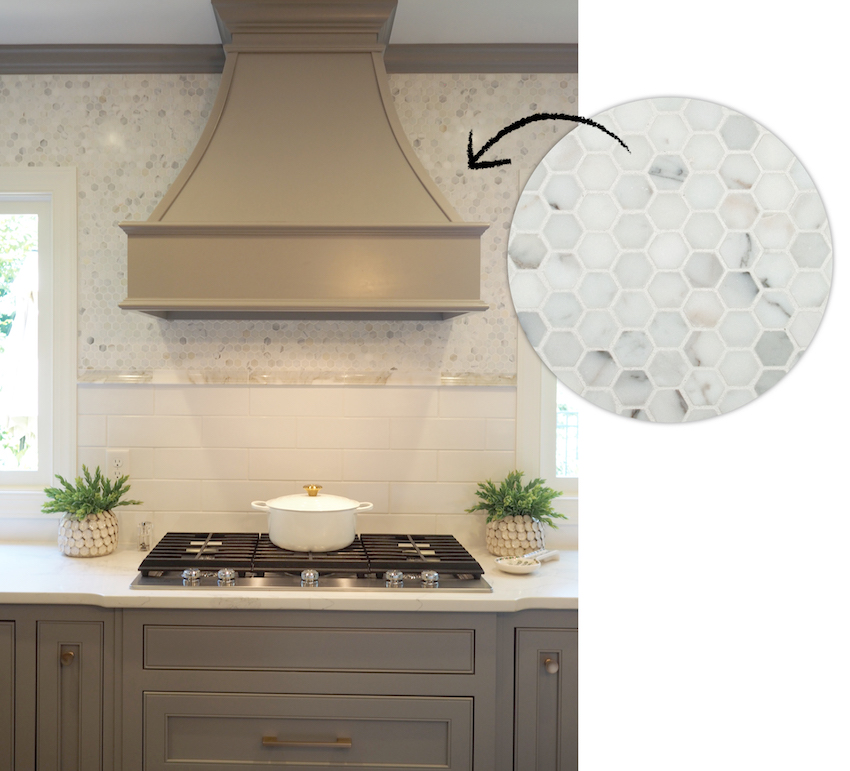 Behind the custom vent hood, mini Calacatta Gold hexagons run to the ceiling. Photo Credit: Laura Ladd
"I love everything— down to the brass hardware— and wouldn't change a thing about the renovation," Sarah said. The Holle's were lucky, their project came in under budget, and eight weeks ahead of their six-month schedule. "There are hundreds of big and small decisions to make during a remodel. Michael and I were fortunate to have Emily and Zak expertly guiding us throughout the process," Sarah said.
From a contracting and structural perspective, Zak said, "We didn't run into any surprises – which was a major help. If the wall we removed in the kitchen was load-bearing, it would have impacted the budget and timeline. The home's slab foundation made plumbing changes more challenging, but the whole process went remarkably smooth."
Before they could officially bust out the bubbly, the couple wanted the thumbs up from Page Holle, the family's 98-year-old matriarch, and original owner. Michael's grandmother is known as a 'tell it like it is' Southern Lady, so Sarah was understandably nervous the day of her visit – which happened to fall on Mother's Day. You can imagine everyone's relief when Mrs. Holle cried "It's gorgeous!" (Memaw did let the couple know that it took her eight layers of stain to perfect the color of the wood paneling in the den, which was painted white during the renovation.) 
Tips From the Trenches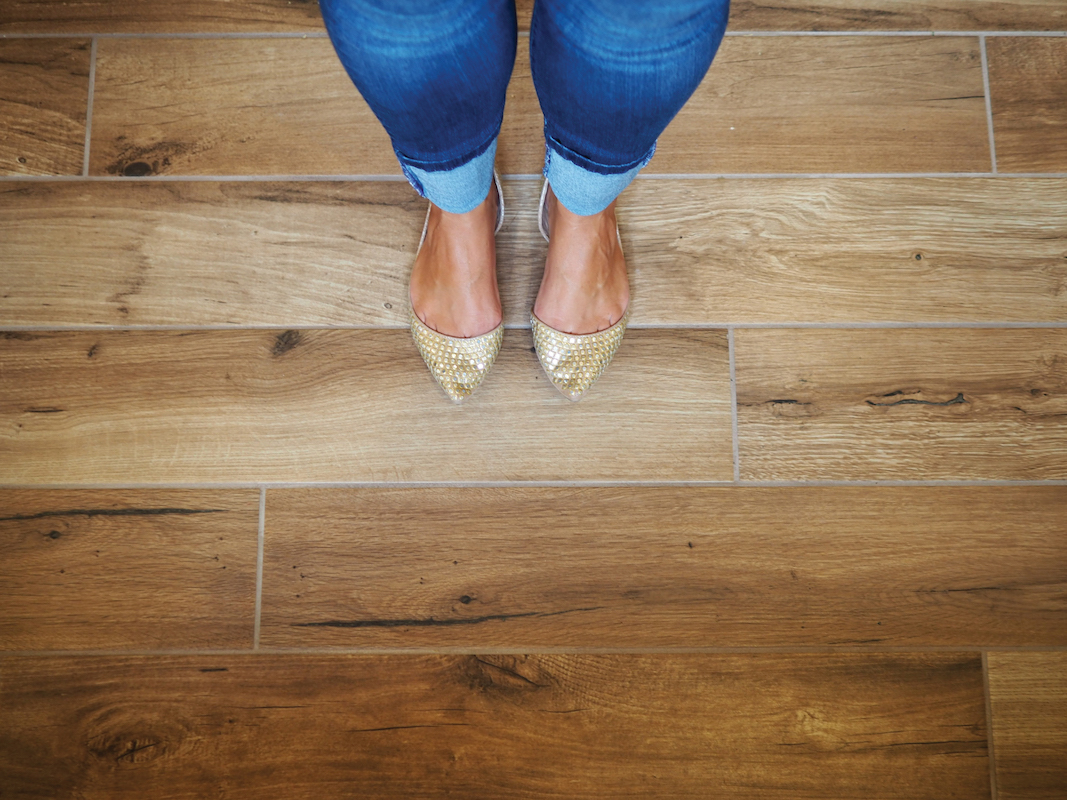 Emily in flats with Palmetto Cognac porcelain tile floors underfoot. Photo Credit: Laura Ladd
As much as we all love shiny new things, remodeling a home has its rewards – especially when the history of a home is personal. Sarah would be the first to tell you that not everyone chooses their forever home. Sometimes it chooses you. And if that house is a fixer-upper? Worry not. To help you see past those avocado appliances and original double ovens, we asked Sarah, Emily, and Zak for their tips on a successful remodel. (In case you're wondering, everyone is still on great terms!)
Sarah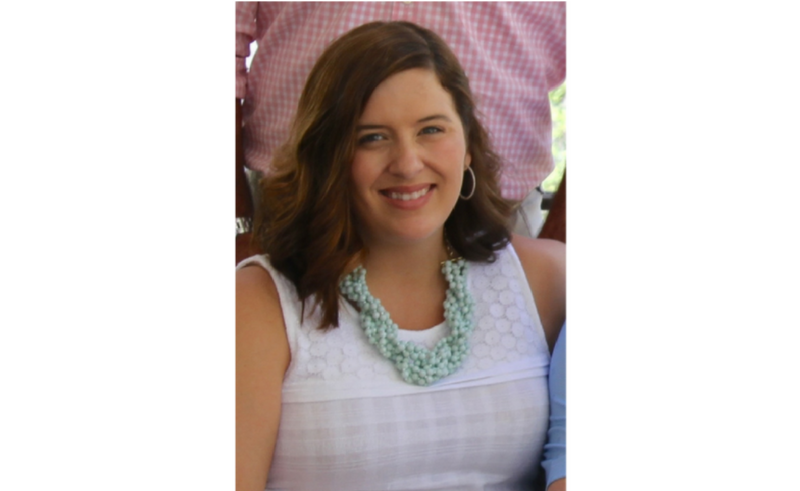 1. Don't freak out because something happens that isn't part of the plan. It may turn out to be a happy accident. When my kitchen windows arrived without the panes, I panicked. Zak pointed out the beautiful view, and said 'why block it?' After living with the look for a few days, I grew to love it.
2. Trust your gut, take your time, and go with what you love: Until everything's installed, it's hard to imagine how all the pieces will fit together. If you plan well and ask for help when you need it, chances are it will all work out.
3. Personalize your space: When we got down to the studs in the kitchen, our Bible study group came over and wrote their favorite scriptures on them. It makes me smile to think about the hidden verses in our walls. Also, during the renovation, we discovered handwritten names throughout the house by Michael's father and his siblings. These little treasures—scribbled in the attic, doorways, and built-ins—make our home feel even more special.
4. Play to your partner's strengths: I know what I love right away. Michael, on the other hand, is a thinker. As a banker, he's focused on the budget. Appreciating what your significant other brings to the table makes the project go smoother.
5. My taste runs traditional so I didn't want a palette that was too trendy – so in the kitchen, I added bright apple and coral accessories to punch up the color. It's great because I can switch it up whenever I like.
Emily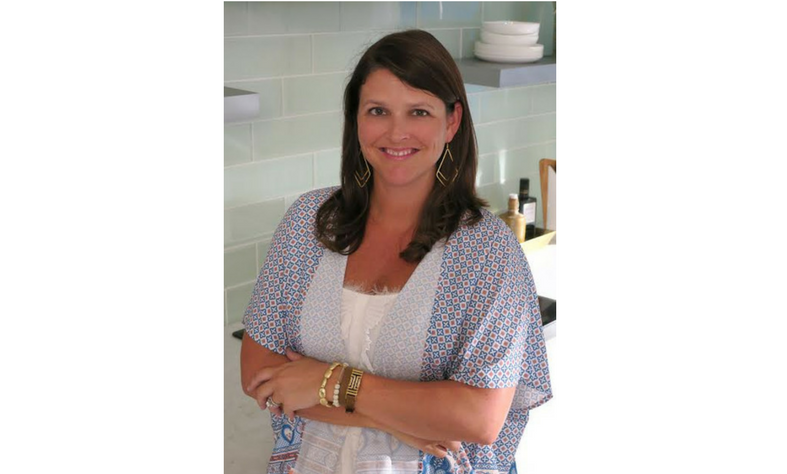 1. Spend more time in the research/planning part of the project than you do in the construction phase – it sets the groundwork for a successful remodel.
2. When choosing products, consider lifestyle needs. The market is flush with high-style surfaces that are both durable and family-friendly.
3. If you love something, work it into the design. At the end of the day, it's your home. And who knows, it may be more than a decade until your next kitchen or bath remodel.
4. Add an element of surprise. Over-the-top backsplashes and killer island countertops create one-of-a-kind interiors.
5. Take a cue from designers: bring tile up from the floor to the ceiling, creating a unified and nearly indestructible wall treatment.
Zak
1. Nothing helps a builder more than working with a client who knows what they want. If you delay making decisions, it pushes out your timeline.
2. Work with an inspector. When you open up walls, you never know what's behind them. Many older homes still have asbestos and lead paint.
3. Do your research when hiring a contractor – a good one will exhaust every option to help you achieve your dream space.
4. Make sure your budget includes a contingency plan for unexpected expenses. The Holles' project was a best-case scenario. It doesn't always work out that way.
5. If you want to shave weeks off your schedule – visit showrooms with your contractor or designer. You'll get a better feel for color, texture, and movement. To see how the light effects colors throughout the day, bring samples home with you.