Brighten Up Your Home With Natural Wood Tone Luxury Vinyl Planks
April 10, 2022
When it comes to luxury vinyl planks for flooring, there are boundless benefits—which may attribute to its popularity among homeowners!
LVP flooring has been on the rise in recent years because of its many benefits. The upward craze of luxury vinyl trends has a lot to do with its cost. On average, LVP flooring costs about $2-8 per square foot, whereas hardwood can cost anywhere from $8-$15. This adds up when you are re-flooring or re-tiling an entire home—so the financial benefits alone are enough to interest potential homeowners.
The innovative design of luxury vinyl also is of great interest to many. The luxury vinyl plank vs. luxury vinyl tile decision often comes into play since this choice affects a room's aesthetic. Luxury vinyl planks resemble and mimic hardwood nearly identically, whereas luxury vinyl tile encapsulate mosaic and checkered patterns. Additionally, LVT is durable and can maintain its integrity in high traffic areas, whether the kitchen, living room, dining room, or bathroom. It's also flame resistant as well as resistant to moisture. If you have pets running around your home, this is a top pick because little paws don't do quite the damage as they would on hardwood!
LVT flooring involves an easy installation with a "click lock system" that ensures stability—which also makes replacements a breeze should any damage occur. If you live in colder climates or experience harsh winters, luxury vinyl will provide warmth and a cushion underfoot. It insulates sound, has a lifespan of 25-30 years, and is easy to clean—meaning you don't have to oil it and go to the lengths you normally would with hardwood.
But let's talk about hardwood—and let's focus in on the "hardwood look" of LVT.
Many homeowners adore the aesthetics of hardwood flooring—and why wouldn't they? Hardwood commands an inviting warmth and elegance unseen in other flooring varieties. Additionally, hardwood flooring can correspond to just about any décor or design preference. It looks great with all shapes and contours of furniture and offers a sophistication during parties, gatherings, and informal home events.
People who love the "hardwood look and feel" but want the benefits of LVT are in luck. Luxury vinyl planks mimic hardwood so accurately that many first-time buyers are amazed to learn it's not actually hardwood. Imagine getting all the aesthetic benefits of hardwood flooring with the advantages of LVT! It's like having your cake and eating it, too—which is remarkable when designing the home of your dreams.
Additionally, lighter LVT varieties can make a room feel more cherry, sunny, and bright. Who doesn't want that type of vibe when waking up in the morning?
Let's explore some of MSI's lighter "real wood" LVT flooring options to get your wheels of home décor inspiration turning. Any of these offerings could transform a kitchen, living room, or bedroom into a stunning area of your house. Yes, these may look like real hardwood, but they are LVT with all its benefits.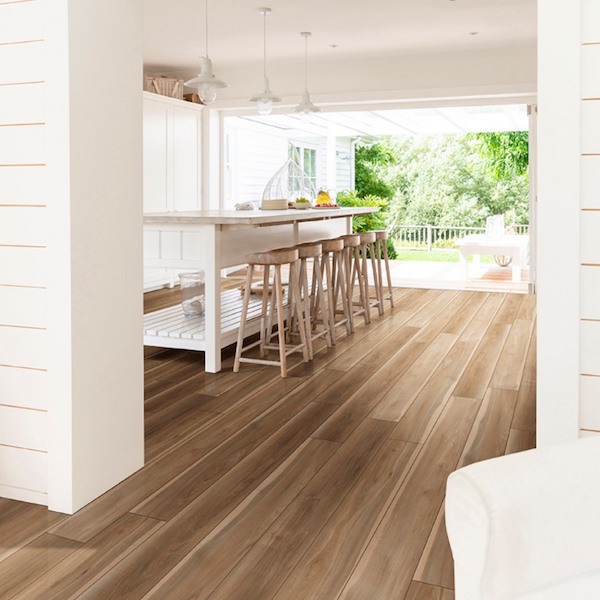 Bayhill Blonde Luxury Vinyl is the epitome of an authentic real wood look. Its light cashew brown coloring with subtle and intriguing knots are nearly hypnotic! Bayhill Blonde brightens a room instantly, especially with adequate access to sunlight and compliments oak and white furniture in its surroundings. This would make an excellent LVP option for any dining room, living room, or kitchen as it lifts people's spirits upon first glance.
Let's take a moment and admire Brookline Luxury Vinyl Planks. The golden hues in this LVT are stunning and nuanced, giving off a warm and inviting beauty. The subtle graining highlights of Brookline trick the naked eye to believing it's looking at real wood! This particular style enhances a room tenfold with its authentic wood look—ripe for libraries, studies, home offices, or any other area of your home.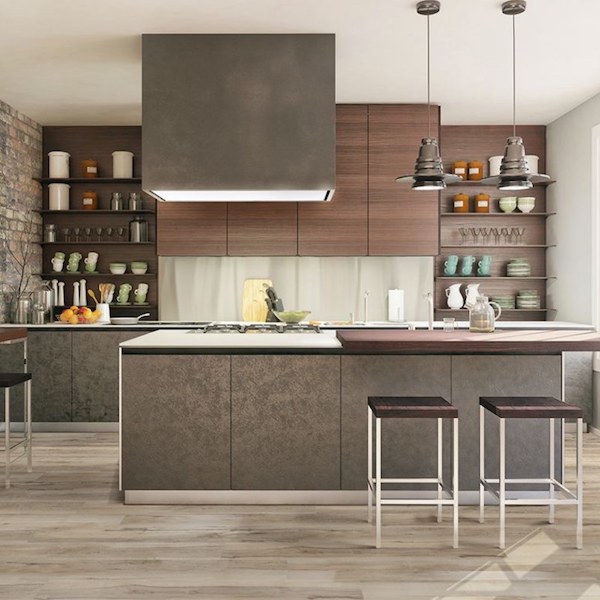 Akadia Luxury Vinyl Planks offer a soothing creamy neutral beige and brown, ideal for earth toned furniture. Akadia gives off an elegant ambiance that is suitable for any part of the home and brightens a room instantly when complimented with the right décor and lighting.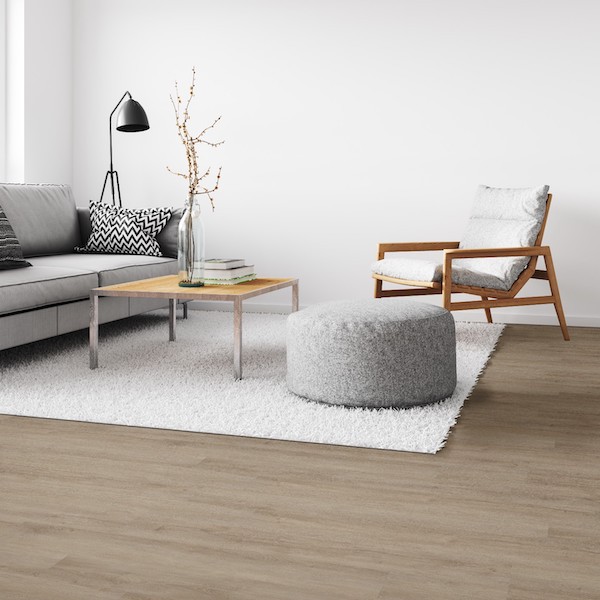 If you look that authentic wood look, how can you resist Sandino Luxury Vinyl Planks? Its light knots and cashew brown hues are warm and inviting, mimicking oak on a sunny summer day. Sandino is part of the Everlife Rigid Core Luxury Vinyl Tile Collection and a luxurious option for basements, living areas, bathrooms, and beyond.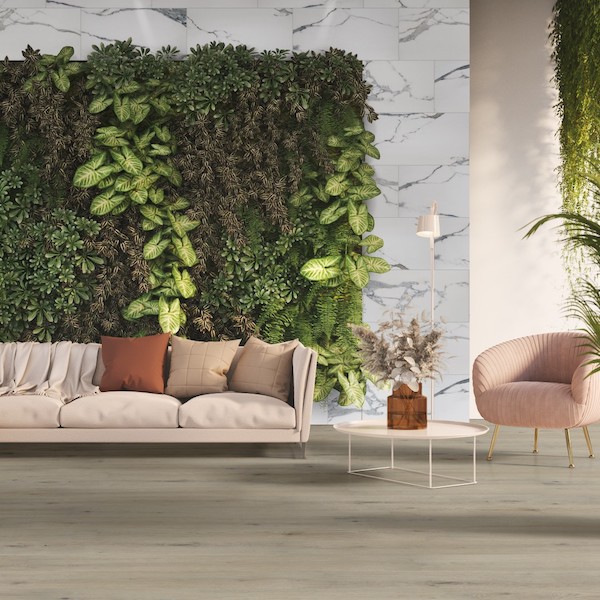 Elegant subtle knots and intricate graining accurately describes the Runmill Isle Luxury Vinyl Plank selection. Not only does it look amazing on inside and outside flooring, but its ability to withstand wear and tear adds to its appeal. Its light wood-like appearance automatically enhances a space, casting artful shadowing in natural sunlight. Eye-catching and gorgeous, Runmill is an outstanding pick when dreaming up your perfect home décor!
LVT planks are an incredible option if you are seeking a sophisticated wood-like ambiance for any room in your home. While many of us love the look and feel of natural hardwood, the benefits of LVT and its low maintenance care are irresistible when it looks so accurate. Since luxury vinyl can handle daily foot traffic and is waterproof, it becomes a one-stop solution for indoor flooring as well as porch and patio options. Its protective layer that is resistant to scratching also makes it a perfect option for pets—since we know their paws can do some regular damage when awaiting a treat!
At the end of the day, wood-like floors are elegant and timeless, offering a sophistication unseen in other varieties. How nice it is luxury vinyl is a viable option, especially when it mimics real wood so specifically. And with so many LVT varieties to choose from, you can brighten a room instantly with any of these designs. The wheels of aesthetic inspiration are probably already turning in your mind with what furniture to match your new LVT flooring with and which style to select.
That's luxury vinyl for you—endless possibilities, a stunning appearance, and total durability.

Read More About Luxury Vinyl Flooring
The Best Way to Clean Your New Luxury Vinyl Flooring
Go Big with Large Format Luxury Vinyl Tile
LVT vs. LVP Flooring: What Is the Difference?
Made In the USA With MSI's Domestic Luxury Vinyl Tile Manufacturing Facility
The Benefits of Everlife Luxury Vinyl Flooring