Made In The USA With MSI's Domestic Luxury Vinyl Tile Manufacturing Facility
May 13, 2022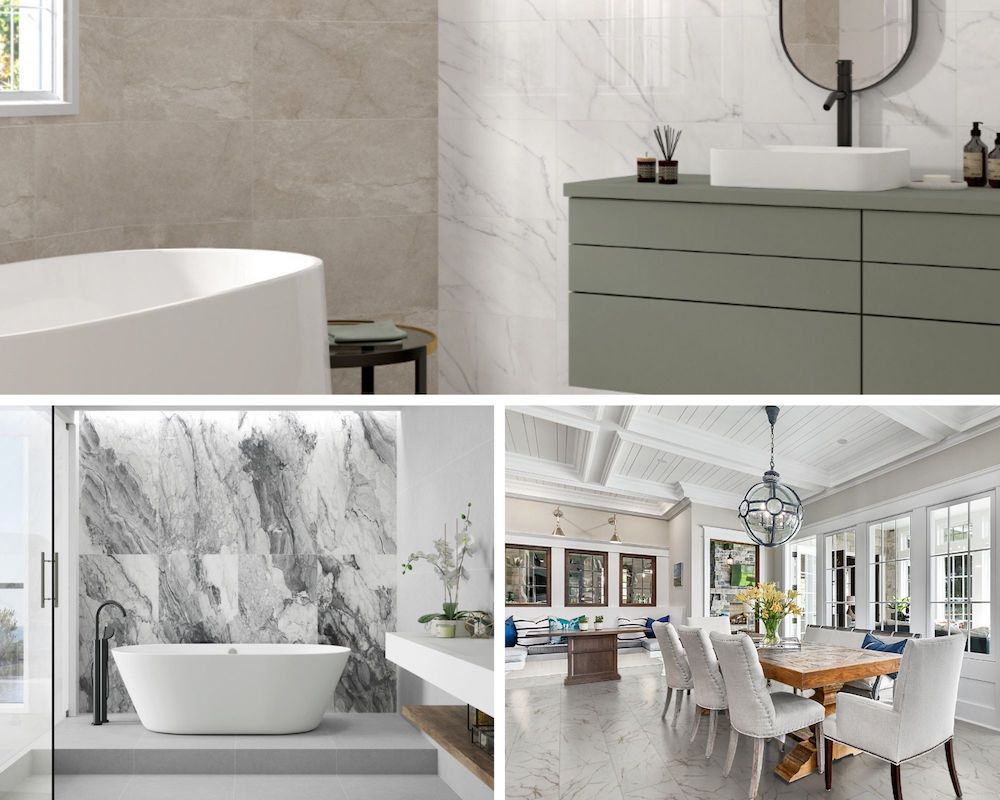 Modern homeowners have many options for flooring upgrades during renovations, including hardwood, natural stone, and luxury vinyl tile (LVT), just to name a few. Many are leaning toward the latter for practical benefits, as well as varieties that look as good as natural wood and offer even greater comfort underfoot.
Where hardwood can easily be damaged by water, UV rays, and other environmental factors, LVT is resilient and often comes with a long-term warranty.
Natural stone flooring is certainly durable, but it can be very costly, requires regular maintenance, and it's cold, hard, and prone to echoes. You won't have any of these issues with LVT.
While there are plenty of flooring options to consider, one stands out for function, cost-effectiveness, and visual appeal. Even better, when you choose MSI for your LVT upgrade, you'll enjoy a product made in the USA at our Georgia facility. Here are just a few great reasons to consider LVT from MSI.
Why Choose Luxury Vinyl Tile?
LVT has become a popular choice for flooring in recent years, not only because it is a cost-effective choice but due to the many practical and aesthetic benefits of luxury vinyl tile. It can be made to look like a wide range of wood species, with colors, grain patterns, and even textures that are almost indistinguishable from real hardwood planks.
The addition of a resilient wear layer helps protect against common forms of damage like staining and scuffing. Unlike hardwood, LVT is soft and comfortable underfoot, and it features built-in padding, making the installation process faster and saving homeowners money on underlayment materials and labor.
Of course, many homeowners are also looking for water-resistant flooring, and LVT doesn't disappoint. In fact, MSI luxury vinyl planks are 100% waterproof, so you can confidently install them in a busy kitchen where spills are a daily occurrence or anywhere in the home.
With an authentic wood appearance, versatile options to go with any interior design, and so many practical benefits, you'll have a hard time finding reasons not to choose LVT.
MSI's New Georgia Manufacturing Facility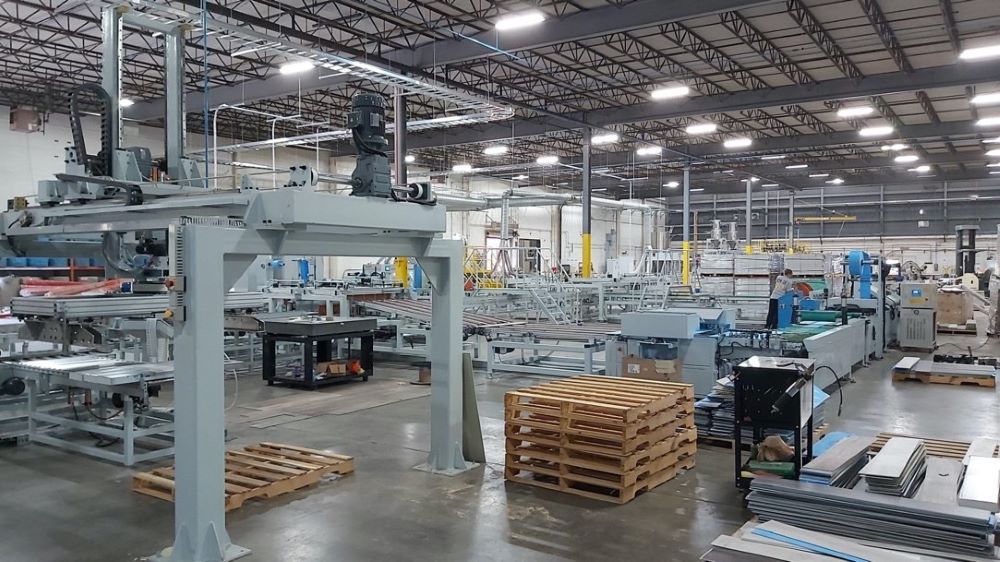 LVT flooring has long been an ideal choice for high traffic areas in the home, especially in busy, modern households, but the new Georgia manufacturing facility produces even more advanced products. With state-of-the-art technology and the latest automated equipment, consumers can enjoy the next generation of LVT innovation.
MS International is committed to crafting premium quality, rigid core, waterproof flooring that offers the comfort and durability modern homeowners crave.
However, we understand aesthetics are equally important, which is why our manufacturing facility produces new colors and designs to meet the preferences of today and set the trends of tomorrow. With an eye toward growing production capacity domestically, MSI aims to remain a leader in upscale home interiors.
Benefits of Manufacturing in the U.S.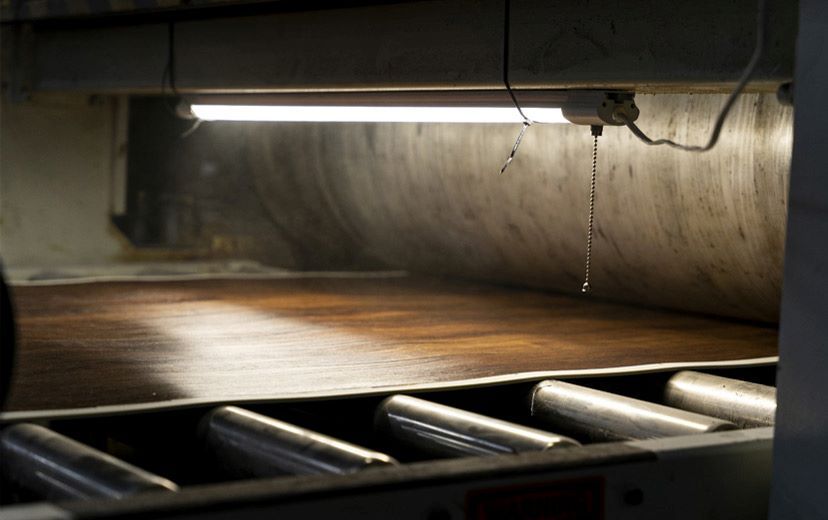 At MSI, we want every square foot of flooring in your home to serve your functional needs, offer incredible longevity, and elevate the ambiance of your living spaces. We also believe in the power of domestic manufacturing to improve quality, support the highest safety standards, and bring jobs to local communities.
There are many more benefits associated with manufacturing in the U.S. Although we still rely on some imported materials, domestic manufacturing allows for faster, more efficient operations, shorter lead times to get products to market, and some avoidance of disruption to international markets.
We also enjoy an educated and skilled workforce, allowing us to deliver the consistent quality consumers expect. Domestic operations enjoy more efficient communications, flexible production and scheduling, and reduced pollution and expense associated with overseas shipping.
Of course, we also get to claim "Made in America" bragging rights, which we do with pride. When you're searching for types of flooring that not only meet your practical and aesthetic needs but live up to your ideals, MSI delivers on every score.
MSI Luxury Vinyl Flooring
When you think of vinyl flooring, you might imagine the sheet vinyl of old. The gorgeous and resilient luxury vinyl planks you can find today are a far cry from the flimsy materials that once marked a kitchen or bathroom design as low-budget.
When you add up material and installation costs for LVT, you'll find that it still costs significantly less than hardwood or natural stone, for example, but the quality and appeal of LVT are undeniable. You're already aware of the countless practical benefits of LVT, but what can you expect in terms of aesthetic appeal? Here are a couple of samples of MSI LVT flooring to give you an idea.
Sleek, Modern Dunite Oak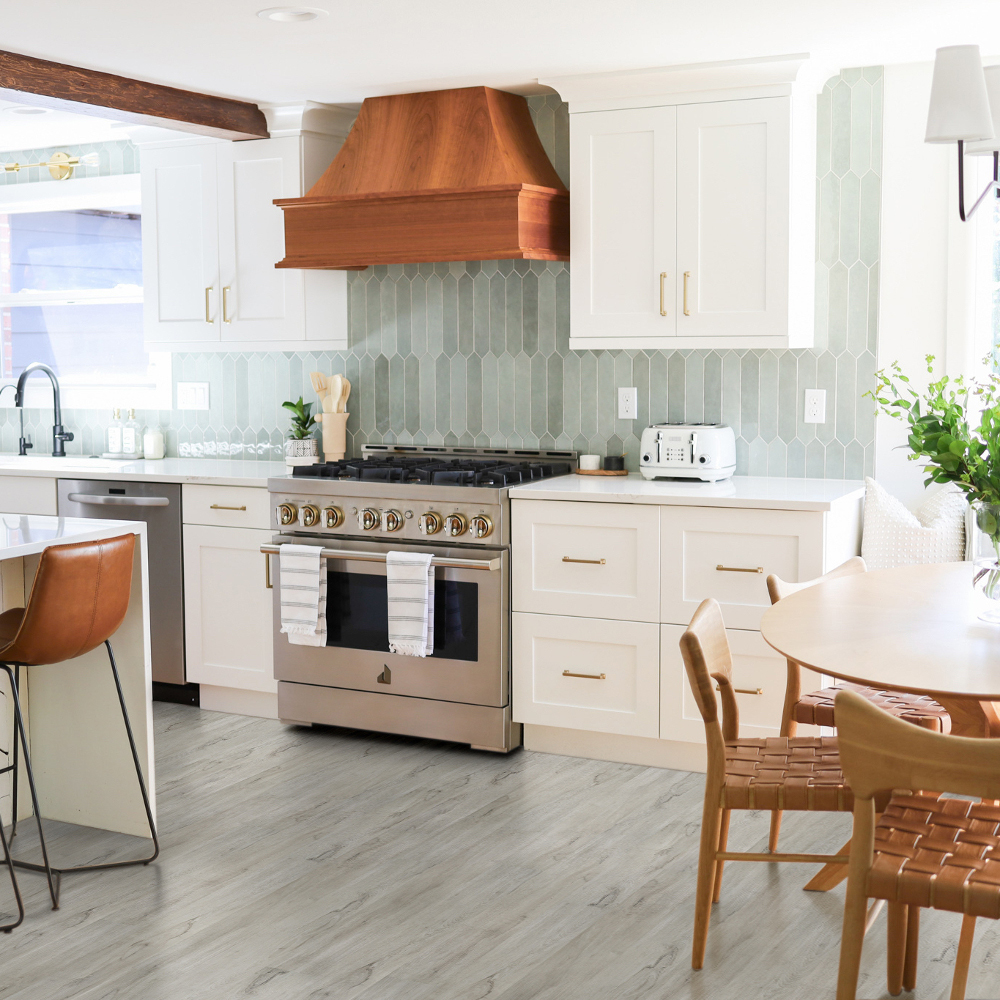 The weathered look in wood flooring has enjoyed a surge in popularity over the last several years, in part because of color trends leaning hard into cool, gray neutrals. Lately, the consumer market has started to swing back toward warmer tones, leading to a growing interest in greiges.
Dunite Oak luxury vinyl planks are right on trend, with a combination of pale gray and beige hues that are both modern and inviting, paired with varied intensities of knots and grain to create an authentic wood appearance.
With wear-resistant technology and a limited residential lifetime warranty, this flooring is a great choice for luxurious living spaces that also happen to be households with children, pets, and a lot of foot traffic.
Warm and Welcoming Colston Park
If you're looking for the warm glow of wood but with a modern sensibility, you'll love Colston Park luxury vinyl flooring. Featuring soft, russet hues, a light grain pattern, and subtle knots, this variety blends the best of traditional and modern design, creating a surface that will work in any style of home.
Is waterproof wood flooring vital for your busy household? LVT offers the luxury aesthetic every homeowner craves and the practical benefits you can't live without.
You deserve easy installation and versatile products that will stand the test of time. Look no further than MSI's domestically manufactured luxury vinyl flooring.

Read More About Luxury Vinyl Flooring
Brighten Up Your Home with Natural Wood Tone Luxury Vinyl Planks
The Best Way to Clean Your New Luxury Vinyl Flooring
Go Big with Large Format Luxury Vinyl Tile
LVT vs. LVP Flooring: What Is the Difference?
The Benefits of Everlife Luxury Vinyl Flooring