LVT Vs LVP Flooring: What Is The Difference?
May 12, 2022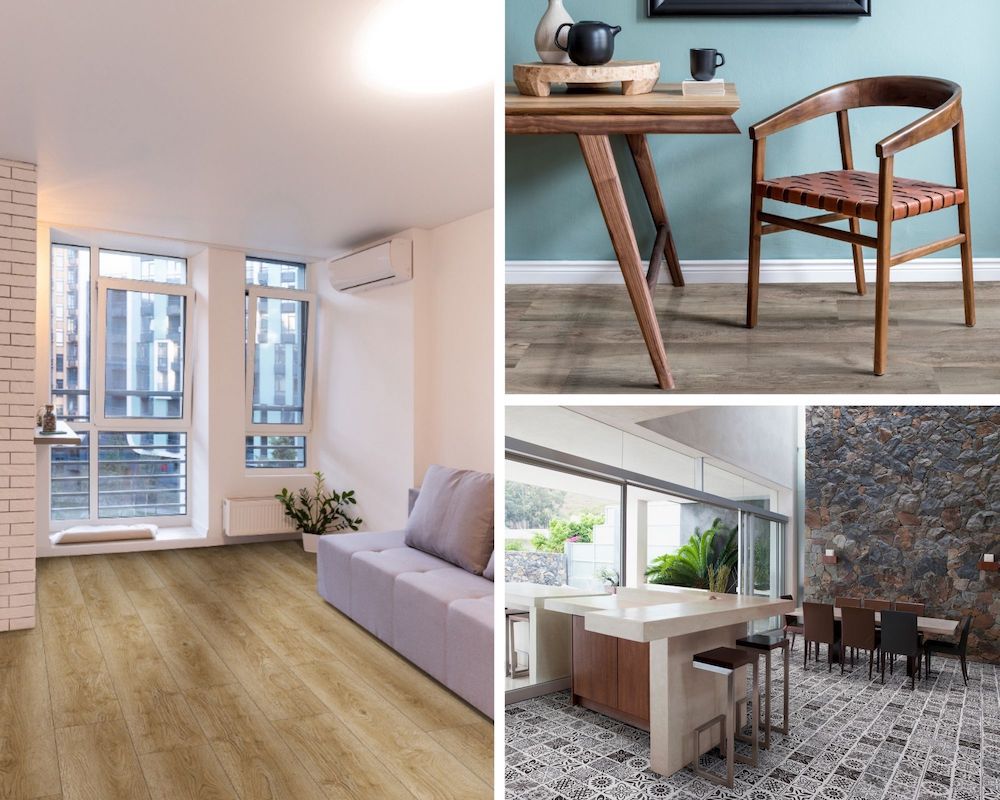 You're out at the home improvement store or a flooring showroom, and you notice that some products are marked Luxury Vinyl Tile (LVT), and others are called Luxury Vinyl Planks (LVP). You might wonder, what's the difference between the two? Is LVT or LVP better for your project?
The answer is simple: They are the same type of flooring, under the larger category of Luxury Vinyl Flooring (LVF). Choosing between an LVP or LVT installation simply a matter of your personal preference!
Modern technology allows manufacturers to produce vinyl tiles and planks that authentically mimic the look of wood, natural stone, concrete, and ceramic tiles. But there are many reasons you might want to choose LVF instead of the real thing. Here are just a few:
LVT and LVP are easier to install than real hardwood, stone, or tiles — many people choose to do it themselves instead of hiring an installer.
LVT and LVP are water resistant and never need sealing, making them ideal for wet areas like bathrooms, kitchens, laundry rooms, and entryways.
They are warm to the touch, so it's more pleasant to walk on LVT or LVP in bare feet than many alternatives.
They are thin and lightweight, so your subfloor is unlikely to need additional support (unlike heavy stone tile) — you can even install them vertically as accent walls and backsplashes.
Luxury vinyl flooring is much less expensive than hardwood and stone tile flooring.
If one of the planks should become damaged, it's relatively simple to remove it and replace it. Be sure to order a few extra and hang on to them, just in case.
But how durable is LVT/LVP? They are both made with several layers: A rigid PVC core, a print layer that creates the color and design, and a protective wear layer. Some types of vinyl plank flooring also have a textured top layer, making them even more authentic reproductions of wood — as well as more slip-resistant.
There are a few differences between LVP vs. LVT that might influence your final choice, though. Let's explore a few examples of each product.
CARRARA AVELL LUXURY VINYL TILE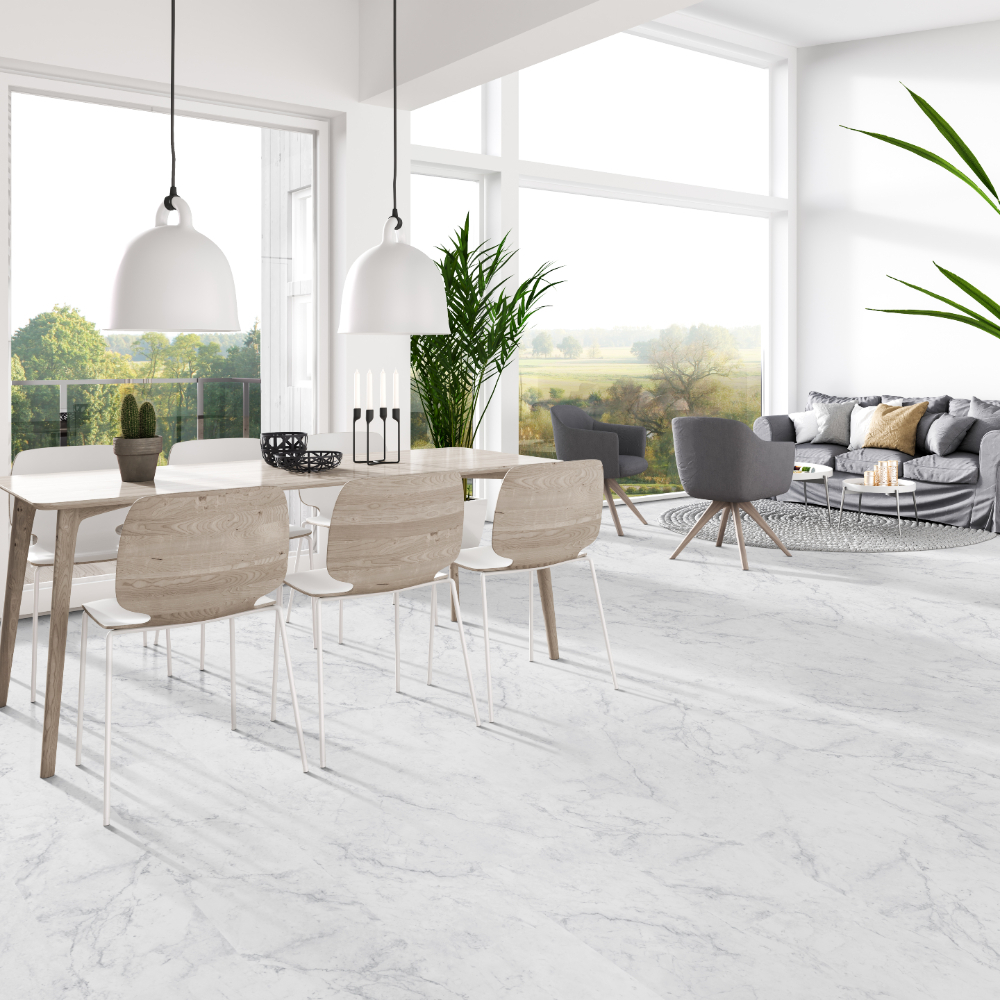 There's nothing quite like marble flooring to make a room look opulent, luxurious, and elegant — at least there wasn't until we introduced Carrara Avell LVT. If marble flooring is a bit out of your price range and way too much work to care for, this marble-look tile may be the perfect solution.
It's available in 12" x 24" and 18" x 36" sizes and clicks into place, so it won't take long to elevate the style of even the biggest room. Carrara Avell features silvery-gray veins against a soft white background, so it's an easy match to any of your existing decor.
WINDSOR CREST LUXURY VINYL TILE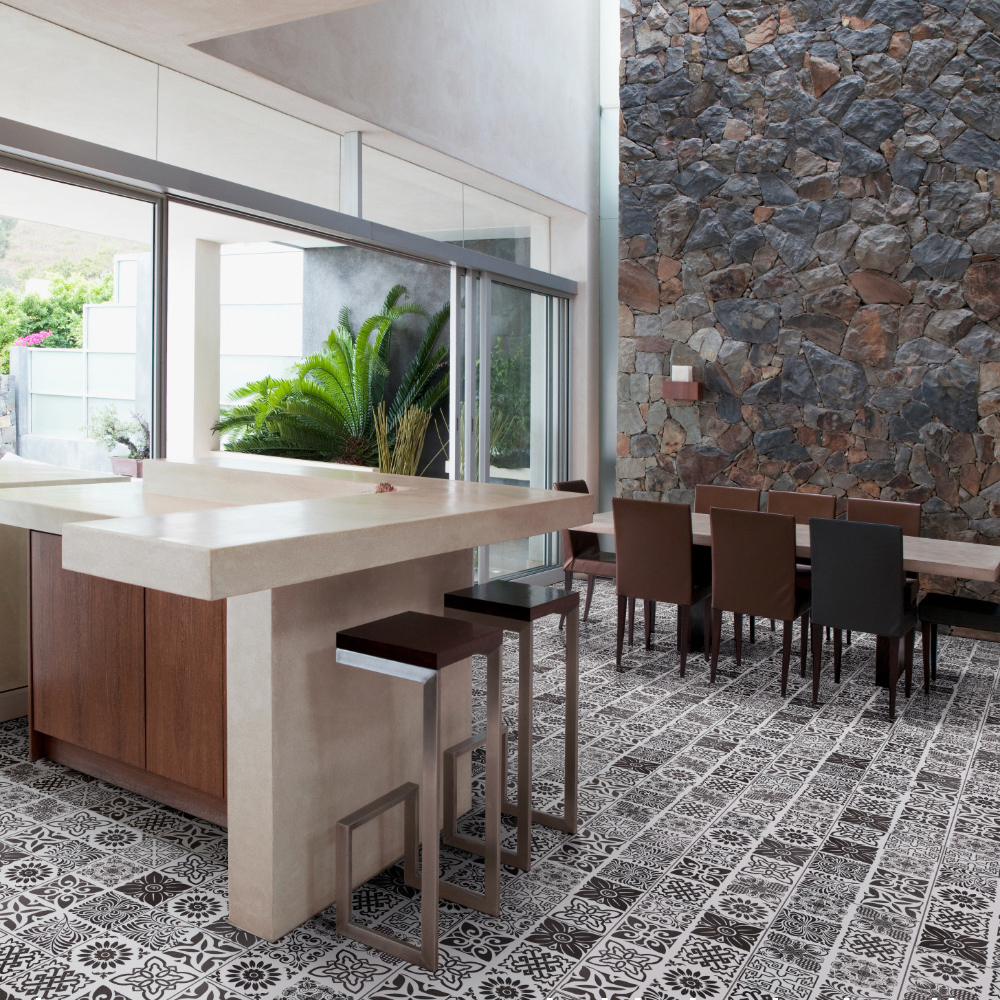 Encaustic tile has been used for centuries, but lately, it's been making a huge splash in the world of interior design. This ancient ceramic creation involves making intricate patterns with different colors of clay, then finishing in a blazing-hot kiln. As you might imagine, encaustic tile isn't inexpensive. Nor is it easy to keep clean, so it shouldn't be used in high traffic areas.
Windsor Crest LVT, on the other hand, is perfect when installed just about anywhere. It features black and white tiles in a variety of designs that look charming installed randomly together, lending a modern, 21st-century twist to an old-world classic. Better yet, it's a breeze to keep those bright-white backgrounds looking good as new.
DRAVEN LUXURY VINYL PLANKS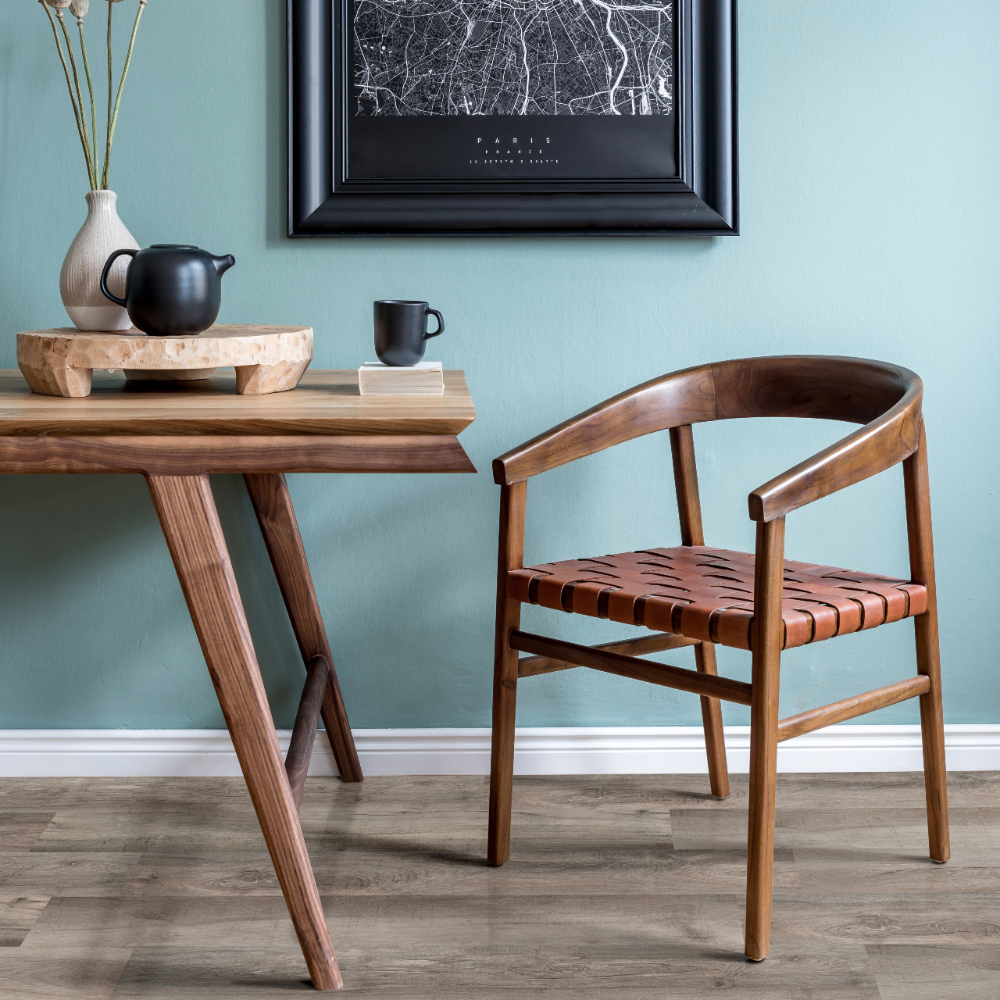 The biggest difference between luxury vinyl tile and luxury vinyl planks is the plank shape — and the wood-look pattern. LVP is manufactured to resemble natural wood flooring, and it looks amazingly authentic. But unlike real wood, one of the best luxury vinyl tile benefits is that you can install it in bathrooms, kitchens, and other areas without worrying about splashes and splatters because LVP is totally waterproof. If you want extra protection for your subfloor, an extra waterproof underlayment is available.
Draven LVP is a soothing, easygoing shade of beige and gray, showing realistic wood grain. It's not only resistant to water, but it's also resistant to scratches and dents, so it's perfect for active families with kids and pets. Each plank comes with a pre-attached backing for extra warmth and comfort on bare feet.
BERGEN HILLS LUXURY VINYL PLANKS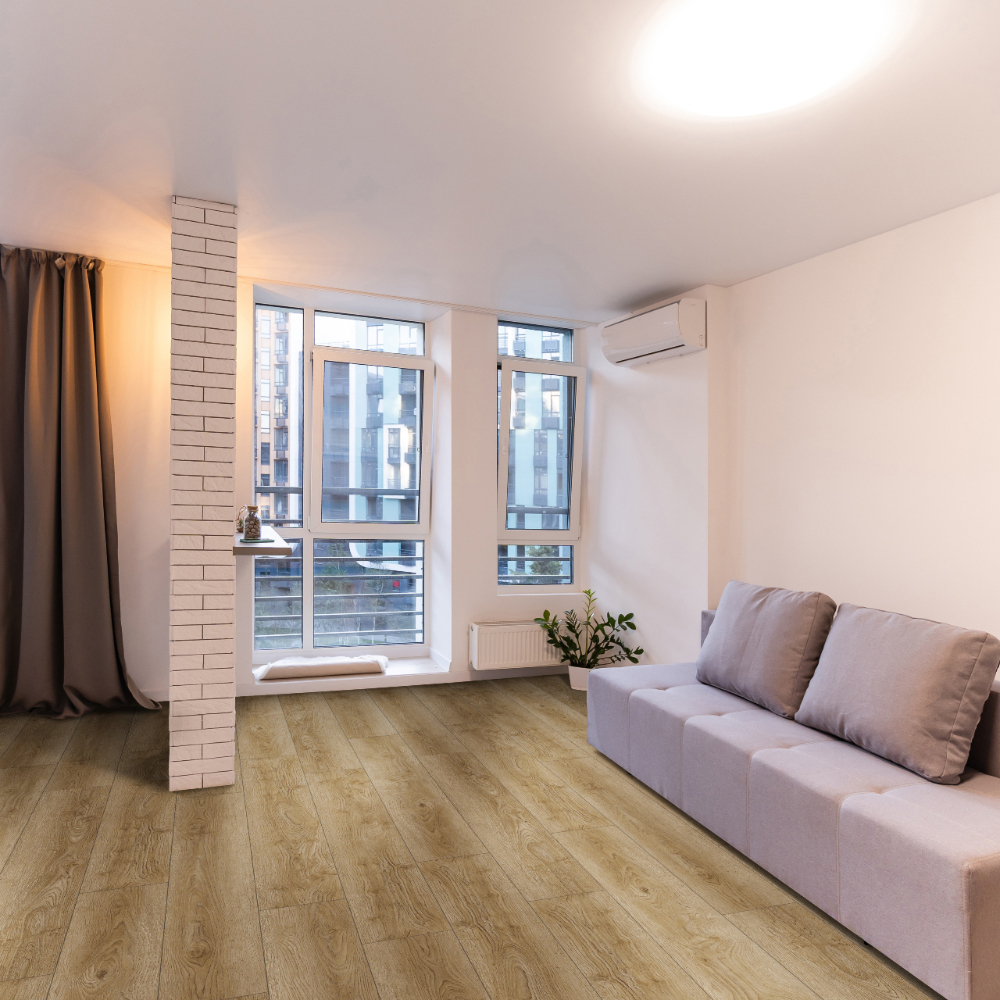 Hardwood flooring looks great, but with budget-friendly Bergen Hills LVP, you can afford to give your entire home that classic treatment. Maintenance is easy, and there's never any need to wax or seal. If you have pets, you'll love how easy it is to clean up their fur. It's also an ideal alternative to carpet if you or a family member suffers from allergies.
Bergen Hills LVP is a wood-look plank flooring featuring warm gold-brown tones and a wood grain pattern that even includes natural-looking knots. If you're restoring a historical home or just enjoy the aesthetic, you'll know it's nearly impossible to find real hardwood flooring in traditional wide-plank sizes. We've got you covered — this flooring is available in a 9" x 60" size. You can also purchase it in 7" x 48" planks for an easy installation and a more contemporary style.
The bottom line is this: No matter which you choose, you can't go wrong. Both LVT and LVP are flooring options that are growing in popularity as more people become aware of how easy they are to install and maintain, as well as being durable and budget-friendly.
If you have questions about luxury vinyl tile or planks, or about any other MSI flooring options, give us a call or visit our showroom. We have so many options that it might not be easy to choose your favorite, but we'll help in any way we can — and we know you're going to love it.

Read More About Luxury Vinyl Flooring
Brighten Up Your Home with Natural Wood Tone Luxury Vinyl Planks
The Best Way to Clean Your New Luxury Vinyl Flooring
Go Big with Large Format Luxury Vinyl Tile
Made In the USA With MSI's Domestic Luxury Vinyl Tile Manufacturing Facility
The Benefits of Everlife Luxury Vinyl Flooring