Tips From The Trade: Secret Ways To Save Money On A New Marble Countertop
August 03, 2018
Marble is one of the most elegant stones desired by homeowners and designers alike. And the only thing that could make a marble countertop even better is paying less for the luxury surface. There are several factors that affect the pricing, from where the natural stone is mined to finishes and edging to labor involved in the installation.
So if you're someone who wants to make the marble of your dreams a reality, then you'll want to pay close attention to the secret ways you can save on gorgeous countertops for your kitchen or bath!
Buy Locally Sourced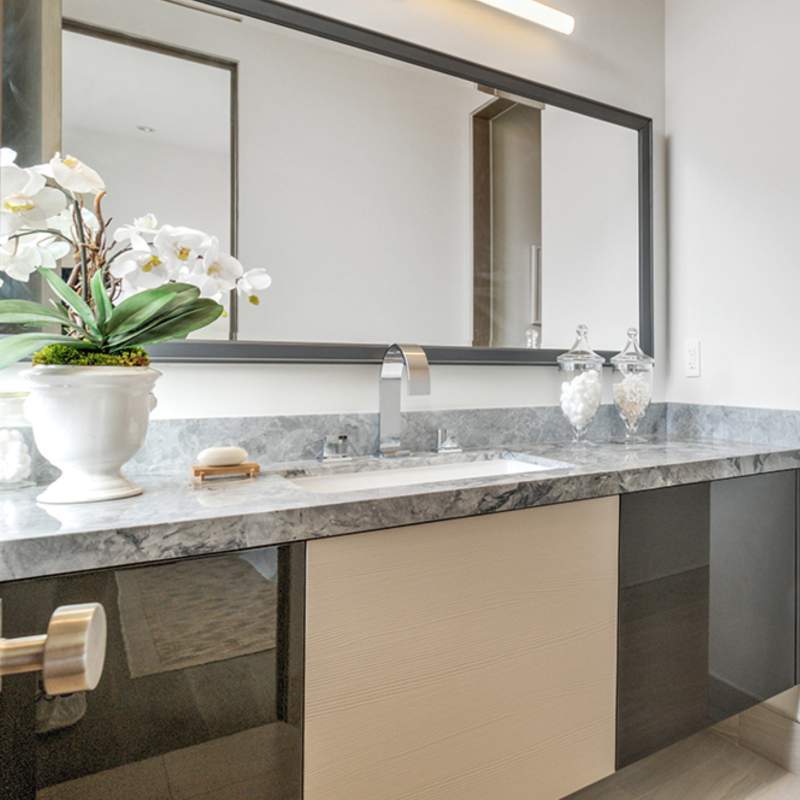 Featured: Super White Marble
While many dream about fine Italian marble, this luxurious stone is often imported from other various countries, including China, India, Turkey, and Brazil. However, buying a countertop that's locally sourced right here in the USA will help to eliminate added expenses like import taxes and to reduce shipping costs.
Best Prices on Imported Goods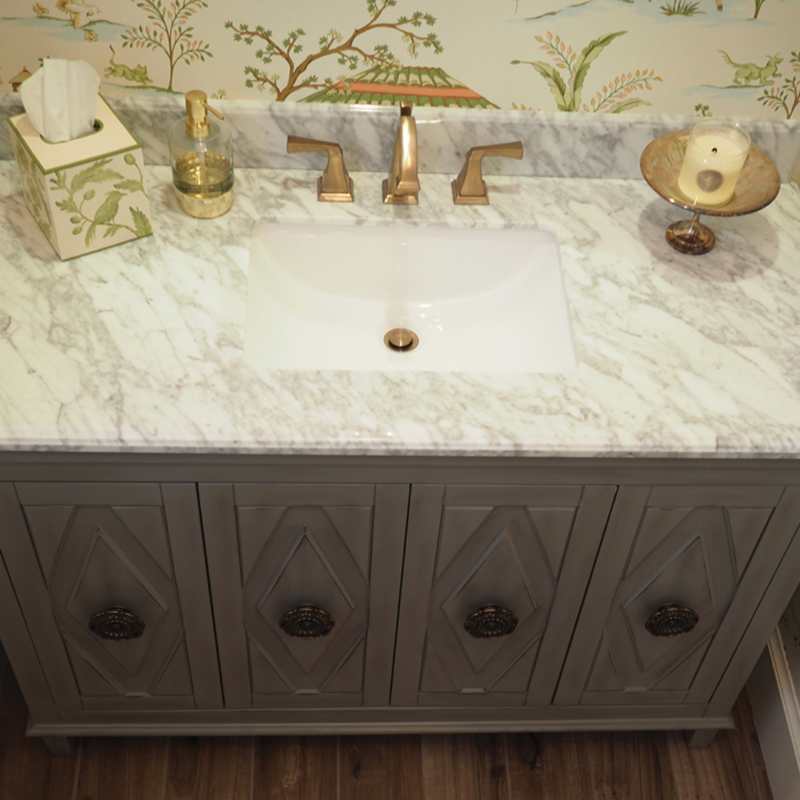 Featured: Carrara White Marble
The more desired the marble flooring or countertop, the more expensive it will cost. Ironically, the less color and veining in the stone, the more valuable it's considered. And sometimes that means opting for an imported product. One of the benefits of going to MSI is that they've developed long-standing relationships in order to secure the best possible pricing available on imported goods.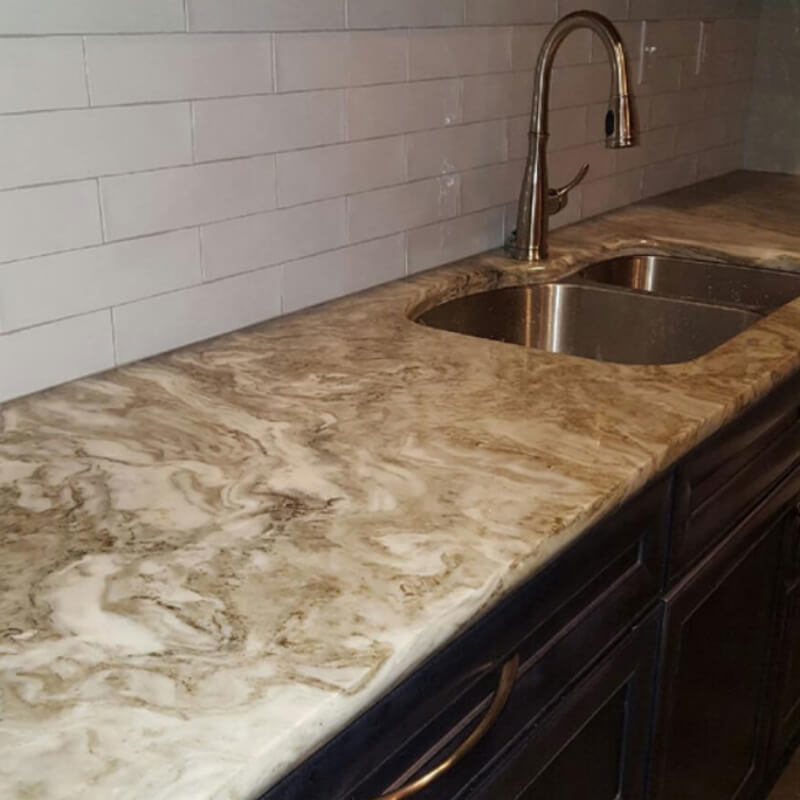 Featured: Avalanche White Marble
Most marble countertops come in a polished finish instead of honed, brushed, or leathered. That's also because the mirror-like shine is the least expensive one. The other finishes require special techniques that will add to your labor costs, so keep this in mind.
Simplify Your Edges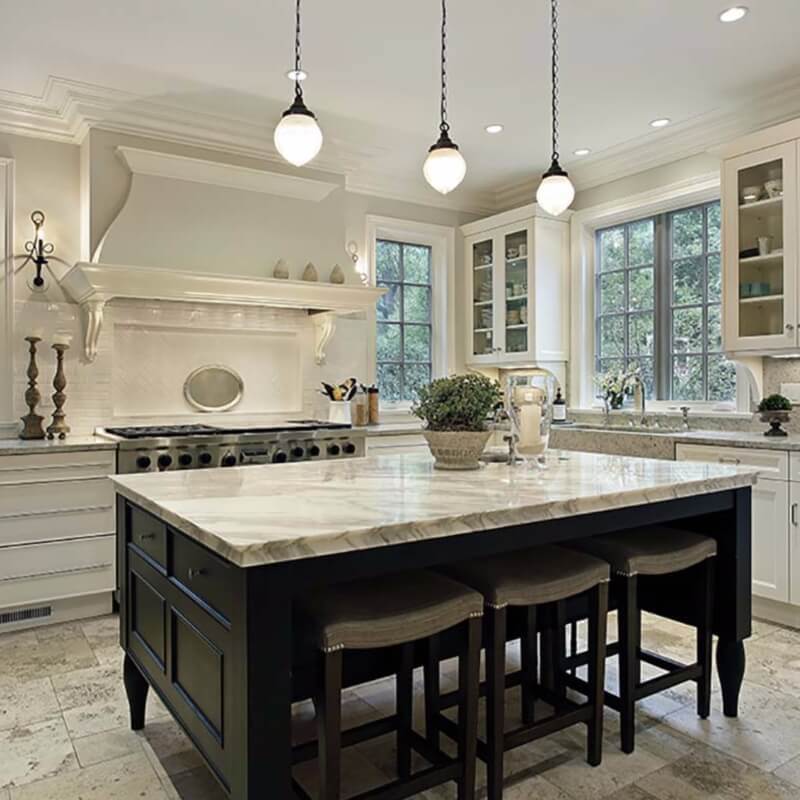 Featured: Statueritto Marble
The thickness of your marble has a lot to do with pricing, and this may affect your edging options. Marble typically comes in 3 centimeters for kitchens and 2 centimeters for bathrooms. It's also available in 5 centimeters, but you'll definitely notice the difference in price.
It's wild to think that there are 12 edging choices for marble slabs. The simpler the edge, the less it will cost to finish your stone. A straight edge is the simplest and most affordable one, while the popular waterfall edge works best with the thickest slabs and requires much more stone. However, if you've saved money a thinner marble, then you may be able to afford a more decorative edge to also help it look thicker and more stylized.
DIY Prep Work
Doing some of the prep work prior to installation will help you save money on labor, which usually doesn't come cheap. Removing appliances or even taking out the old countertop yourself means that the installation crew will be in your home for a shorter amount of time. For first-timers, you'll want to watch some online videos to help avoid costly mistakes like ruining your cabinets.
Snag Overstock Steals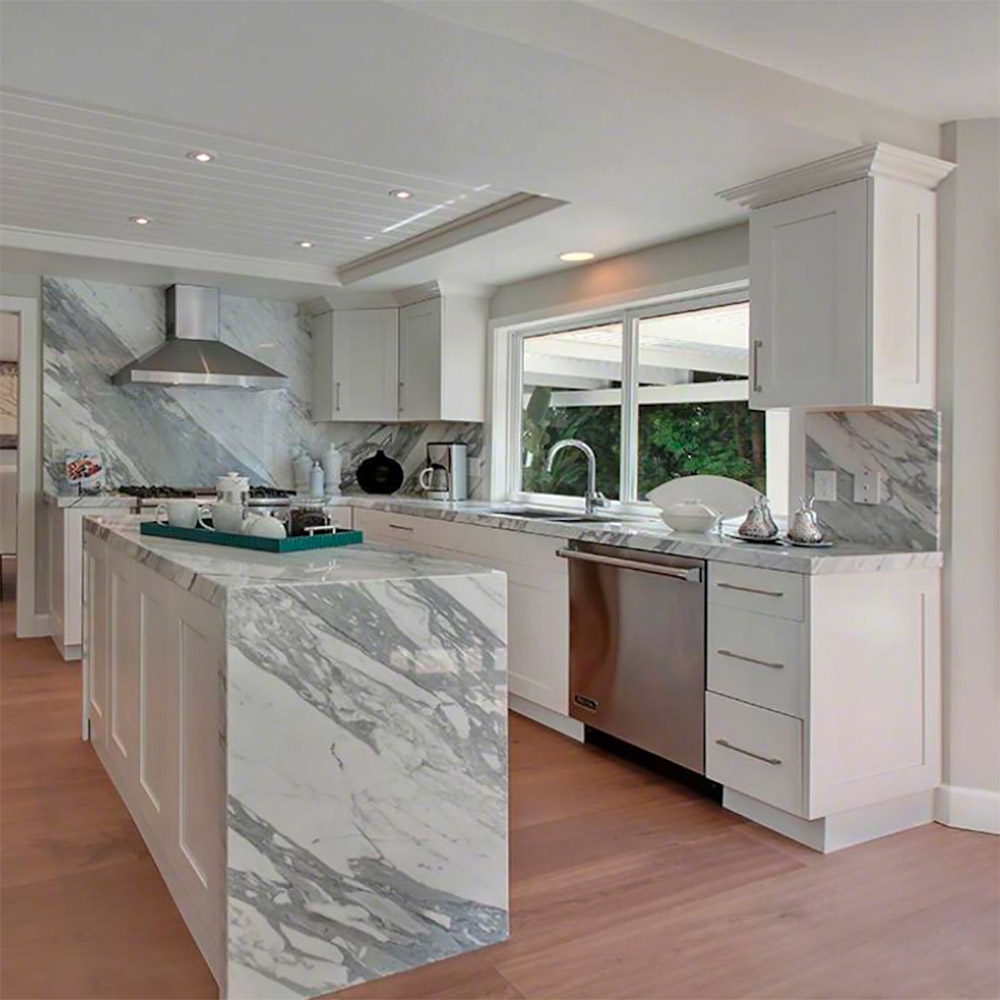 Featured: Volakas Marble
Calling your local stone fabricator to check on overstock or unused product is another way to save. They might have marble floor tiles that could be installed as a countertop or a slab that was customized for a previous customer who never had it installed.
In this case, their loss could be your gain, especially if you're not particular about the exact type of coloring of marble. And if inventory needs to be cleared or they're stuck with a specific size slab that's taking up real estate in the warehouse, then now's the time to try to negotiate for an even better deal.
Consider Marble Alternatives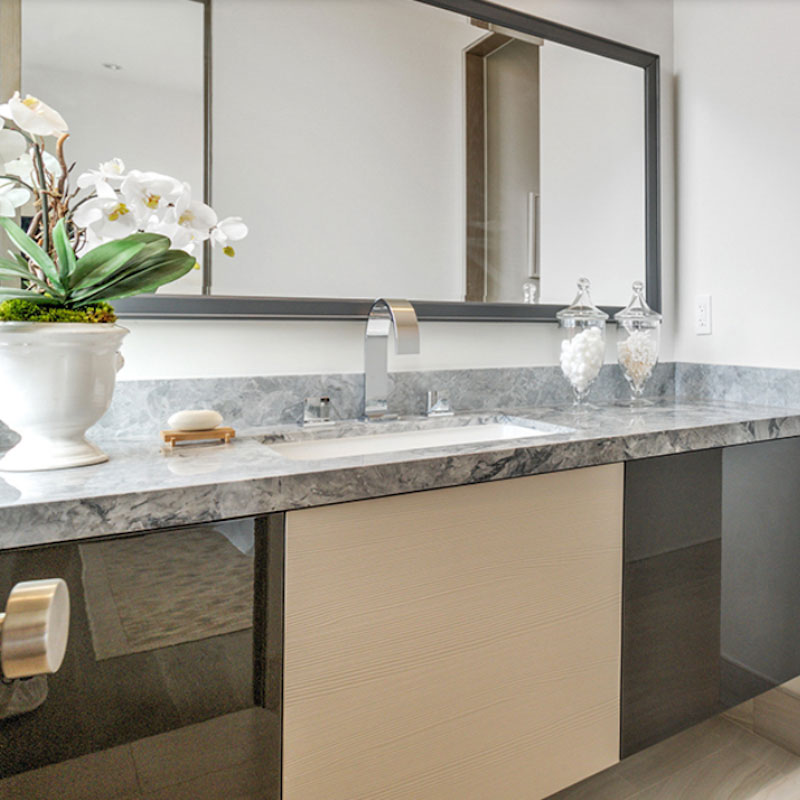 Featured: Super White Marble
There are a few reasons to consider your marble-look options instead of going with the real deal. A large installation just might be out of your price range, you still want the look of more expensive marble, you don't really want to deal with the maintenance, or you're not sure about all the imperfections. If you find yourself agreeing with any of these, then switching to marble-look quartz might be the better choice.
Quartz is a nonporous surface that's manufactured from stone and resin, and it comes in several colors, styles, and patterns that mimic marble. You just might be surprised!
When you have your heart set on marble, nothing else will really do. While you may see some savings on the cost, you may also want to consider other design options you can cut back on to ensure that marble fits into your budget. For even more luxurious inspiration, check out these milky marble installation ideas.