Most Popular Granite Colors From 2016
October 30, 2016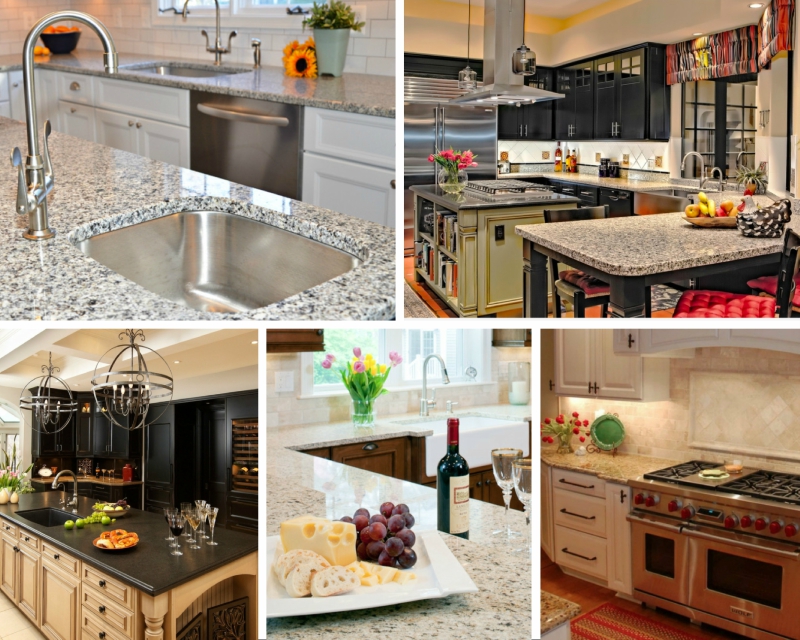 Granite continues to be one of the most popular countertop materials for both the kitchen and bathroom, and for good reason! For one thing, there's the beauty of natural granite, which is an igneous rock formed from lava. The huge variation in color comes from different mineral content, including crystals and shimmering flecks.
It's also one of the toughest, long-lasting materials you can choose, able to stand up to years of heavy use; it's heat resistant and also resists scratching and staining. Finally, granite does wonders for your home's resale value, so it's a smart investment. With all the beautiful granite colors, quartz countertops and other surfaces available from MSI, how will you choose the right one for your home?
MSI's Kitchen Visualizer will let you "try on" every color, and see how it coordinates with other elements such as cabinetry and flooring. Whether you're creative and bold or conservative, you can now choose with confidence. If you're wondering what others have chosen for their home projects, here's our list of the most popular granite colors from 2016!
#1 Caledonia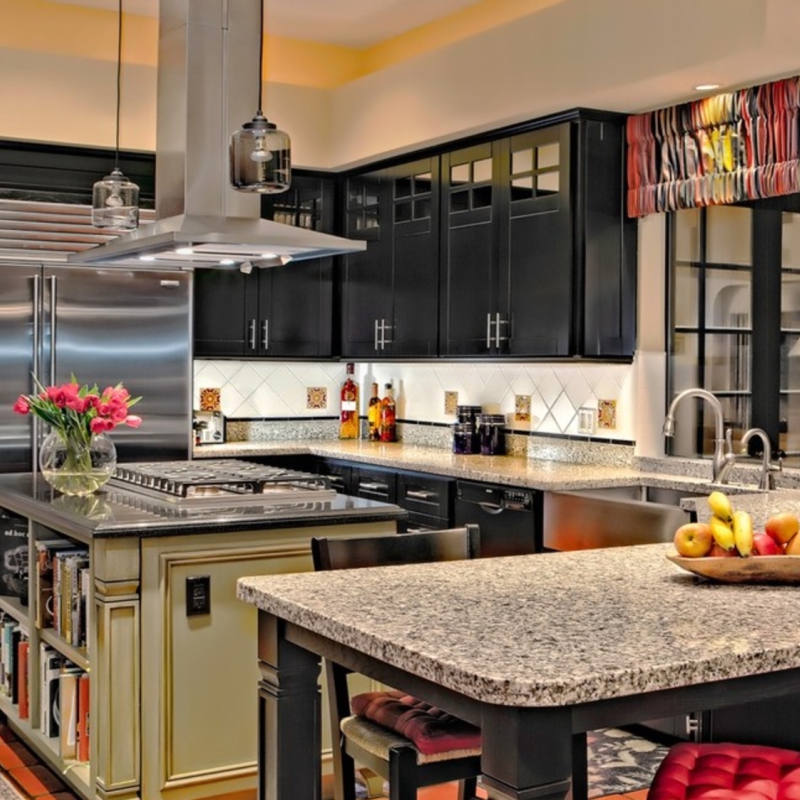 Featured: Caledonia Granite
In the number one position: Caledonia Granite, featuring speckles in shades ranging from deep charcoal gray to pale gray, with every shade in between. Gray is a hot color in interior design, and with the variation in this granite, it's easy to coordinate with other design elements including sleek black and stainless steel.
#2 Steel Grey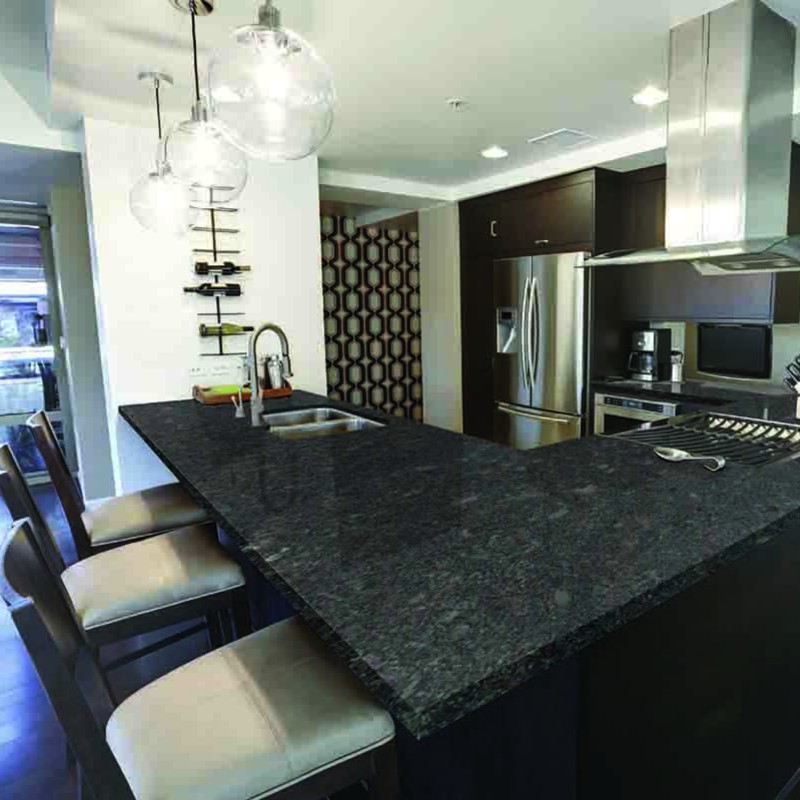 Featured: Steel Gray Granite
Imported from India, Steel Gray Granite comes in second. One of MSI's darker granite colorways, it includes flecks of lighter gray for visual interest. With a polished finish, it's elegant and fits well with today's popular stainless steel appliances, and looks smashing contrasted with white walls and furnishings.
#3 Premium Black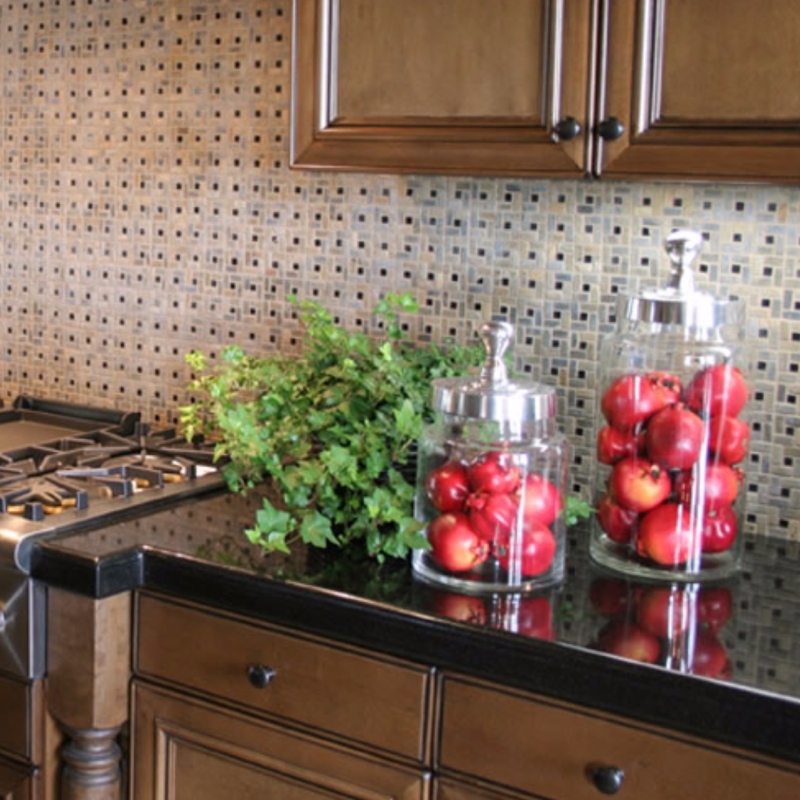 Featured: Premium Black Granite
Nothing matches solid, glossy black for pure elegance, and Premium Black Granite is no exception. We love it next to natural wood cabinetry, but it's very versatile! This granite countertop slab is also available in a brushed (matte) finish, and you can also find it in tiles of various sizes.
#4 Black Pearl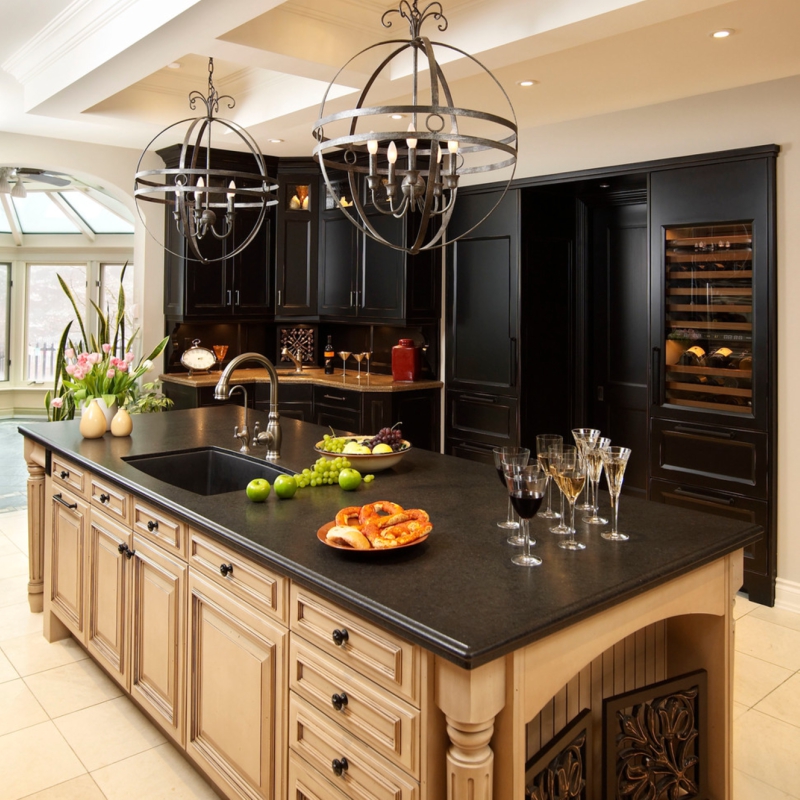 Featured: Black Pearl Granite
In fourth place, Black Pearl Granite features subtle, but stunning variations of gold, silver, brown, green, and gray. The resulting black granite is reminiscent of a metallic sheen, so it coordinates well with most metal appliances and fixtures. It's available in both polished and brushed finishes.
#5 Giallo Ornamental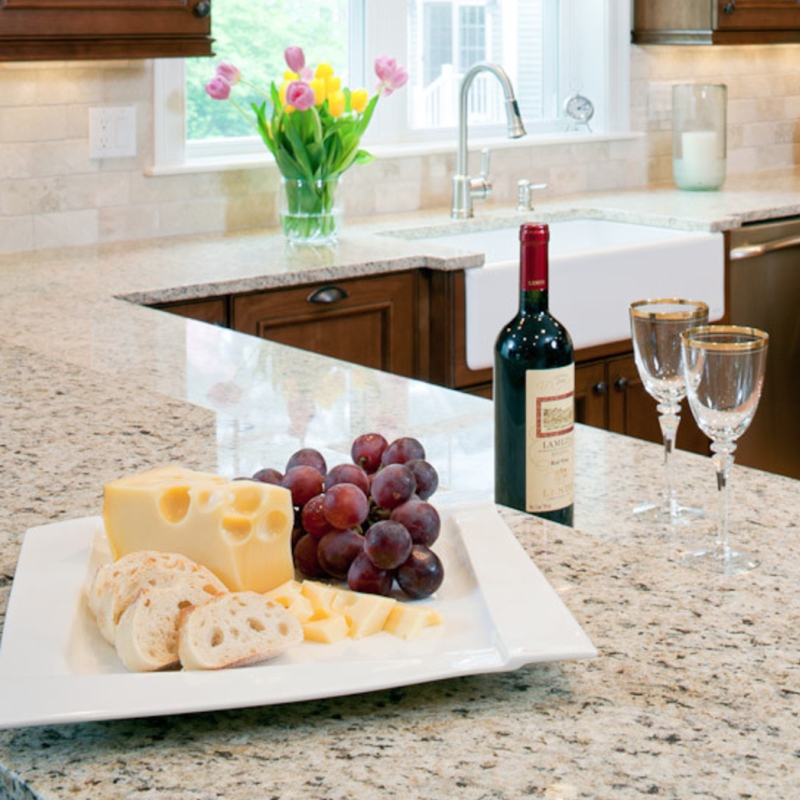 Featured: Giallo Ornamental Granite
On the lighter side, Giallo Ornamental Granite takes the number five spot. It features a background of creamy white, with veins and specks of dark gray and brown. Imported from Brazil, this is one fabulous neutral option.
#6 New Venetian Gold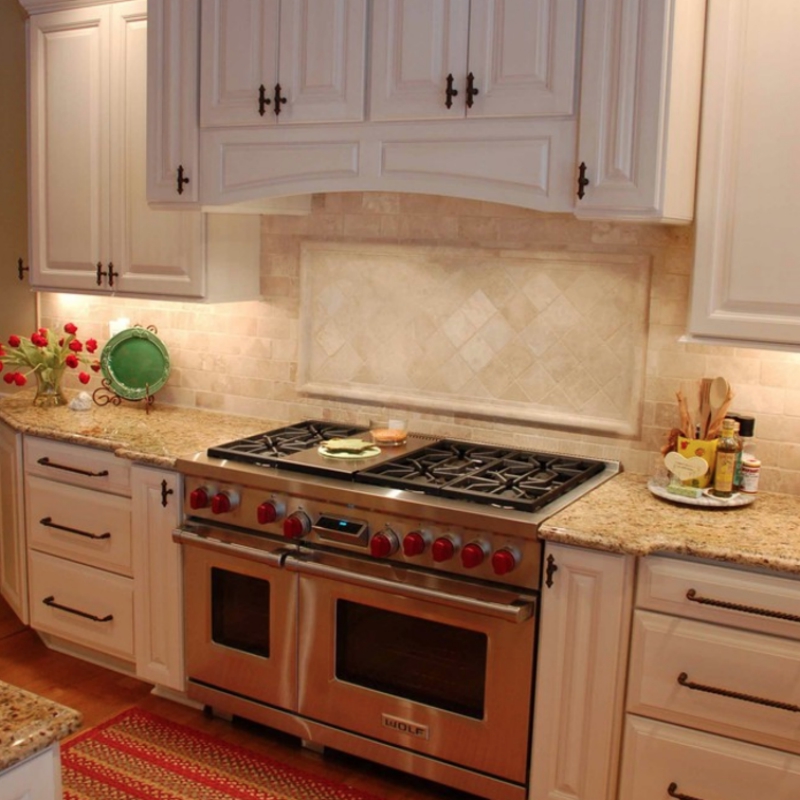 Featured: New Venetian Gold Granite
Gold never falls out of fashion! New Venetian Gold Granite includes shades of gold and beige with highlights of gray, wine-red and brown. Available in both slabs and tiles, in a polished finish, it gives any room a cheerful glow.
#7 Ubatuba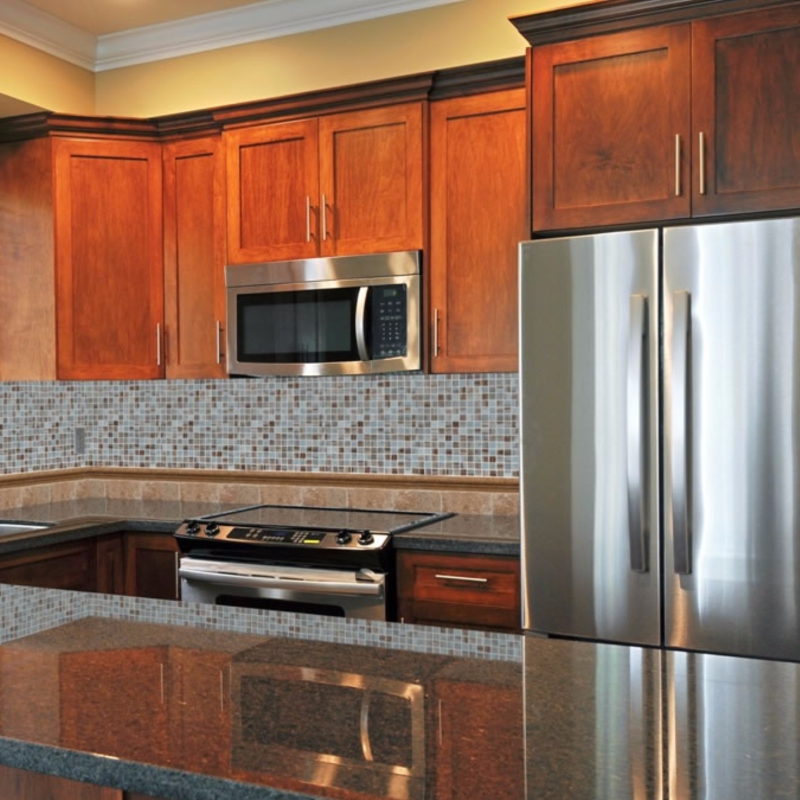 Featured: Ubatuba Granite
Not only is our number seven Granite color fun to say, but it's also a dynamic focal point for your kitchen or bath. Ubatuba Granite is predominantly black with fine-textured speckles of black, gold, gray, and green that shimmer and shine. Plus it's tough enough to use outdoors as well as indoors.
#8 Bianco Antico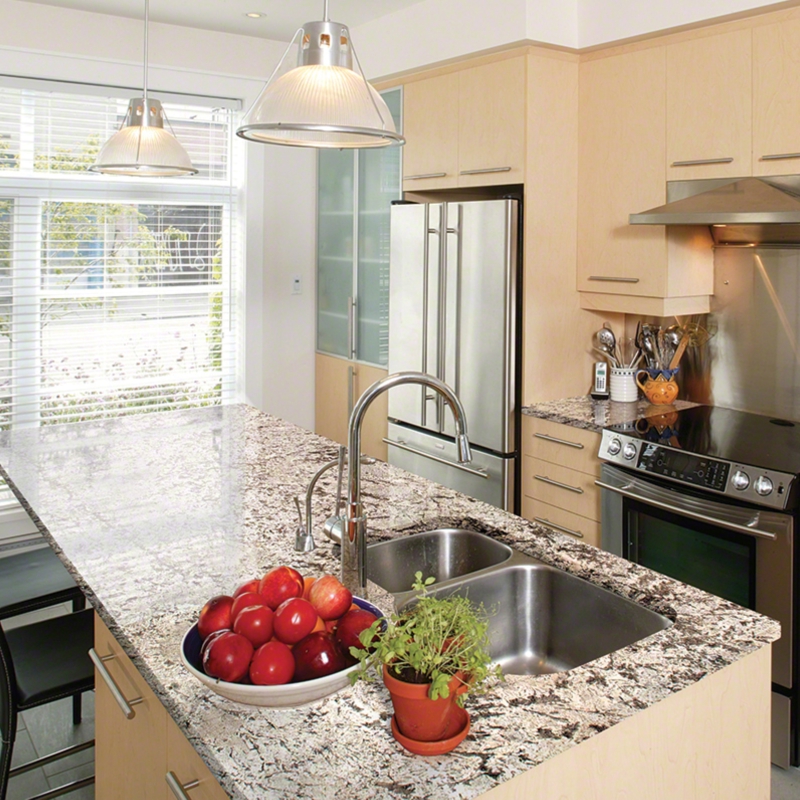 Featured: Bianco Antico Granite
A high-variation granite, Bianco Antico Granite is number eight on the popularity list and guaranteed to add stunning drama to your home. Featuring a pale gray background and taupe flecks, it's a great choice for that center island, pulling together all the colors in a room.
#9 Azul Platino
Featured: Azul Platino Granite
Traveling all the way from Spain, Azul Platino Granite is a fine-textured, low-variation colorway with specks of white and gray. Available in a polished finish, it can be used in outdoor living spaces as well as the busiest kitchens and bathrooms.
#10 Santa Cecelia
Featured: Santa Cecelia Granite
Last but not least, Santa Cecelia Granite rounds out the list. It's imported from Brazil and features deep red, gold and gray veins and specks on a beige background. It's high-variation and charming in rustic or contemporary design schemes.
No matter which order you stack them in, each of these granite varieties has its own charm and character. Your favorite may not even be on this top-10 list, so why not browse the full MSI website for the full range of stunning granite varieties available? Let us know which color is at the top of your list.
READ MORE ABOUT GRANITE COUNTERTOPS
Is Sealing Granite Countertops Really Necessary?
Neutral But Not Boring Countertops