What Is Luxury Vinyl Flooring?
October 10, 2022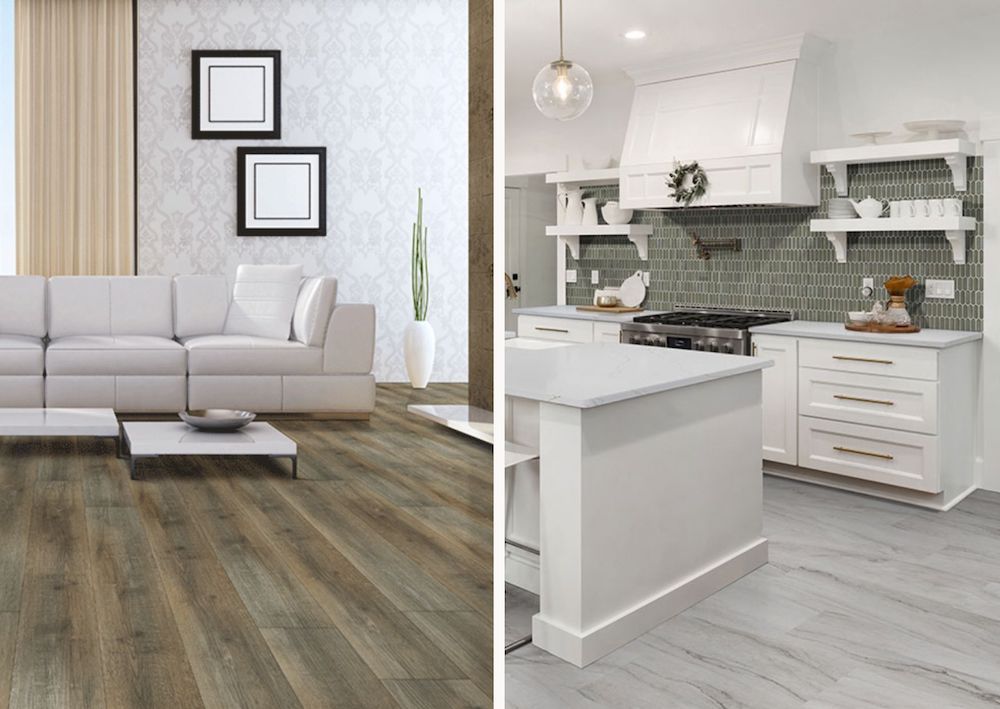 The term "luxury vinyl flooring" covers several different premium vinyl flooring types. Most of these floorings share the same wonderful benefits, though certain types have even more. In this article, we'll explore those benefits, and the different categories of luxury vinyl flooring, such as wood look luxury vinyl planks and natural stone look luxury vinyl tile.
WHAT IS LUXURY VINYL FLOORING
The popularity of today's luxury vinyl planks and luxury vinyl tile grows by the day, and for good reason. This versatile flooring is highly durable, easy to maintain, cost-efficient, and so much more. Luxury vinyl planks and luxury vinyl tiles are available from MSI in a wide variety of designs, sizes, and styles.
Each plank and tile consist of multiple layers of plastic and padding. These vary in thickness when it comes to the core layer, and these factors affect the durability and level of comfort and quiet the flooring delivers when you walk on it.
LAYERS
Aptly named, the clear outer surface of luxury vinyl flooring is called the wear layer. This extra layer of protection varies in thickness. More durable, long-lasting luxury vinyl flooring has a thicker wear layer and provides additional protection. A urethane coating on this outer layer offers extra protection, regardless of thickness. This layer is often where we see realistic graining and knots, which give the flooring nearly the exact look of the natural stone or authentic hardwood it imitates
Beneath this, working with the knots and grains of the wear layer is the designed print film. This photographic layer consists of digitally imprinted paper to further give the plank or tile an authentic look of the surface it mimics.
Next comes the core layer. This layer often incorporates thick vinyl with fiberglass or plasticizer to provide luxury vinyl flooring stability.
Many of our luxury vinyl floorings utilize a core referred to as a rigid core. Rigid core represents the next generation of luxury vinyl that is 100% waterproof flooring. It adds additional stability and makes for an easy installation process that clicks into place rather than requiring a glue-down approach. Many premium luxury vinyl floorings include an attached underlayment for extra cushioning and sound absorption.
LUXURY VINYL FLOORING BENEFITS
Let's take a deeper look at the many luxury vinyl flooring benefits. To start, both luxury vinyl planks and luxury vinyl tiles are more affordable than the premium services they mimic. So instead of spending too much on real hardwood or authentic stone, you can opt for a more durable, easier to maintain, much cheaper luxury vinyl flooring.
With real hardwood or authentic stone, you'll need an initial sealing of the surface and ongoing resealing for the product's life. Luxury vinyl flooring does not require this type of maintenance.
The ease of luxury vinyl flooring care and maintenance is one of its most attractive benefits. All you need to do to maintain these luxurious surfaces is light cleaning and daily sweeping. If you need to incorporate the occasional wet cleaning, you only need a damp mop and a little warm water.
Luxury vinyl flooring is especially useful in high-traffic households with young children or pets. You don't need to worry about daily wear and tear with this flooring. Its durable nature means it lasts for decades to come.
Many luxury vinyl products are scratch resistant and either water-resistant or 100% waterproof. This water-resistant or waterproof character makes the flooring ideal for rooms that experience moisture, like kitchens or bathrooms. Of course, real hardwood would not last long in such spaces, but a luxury vinyl plank that so perfectly captures the look of wood flooring will.
LUXURY VINYL TILE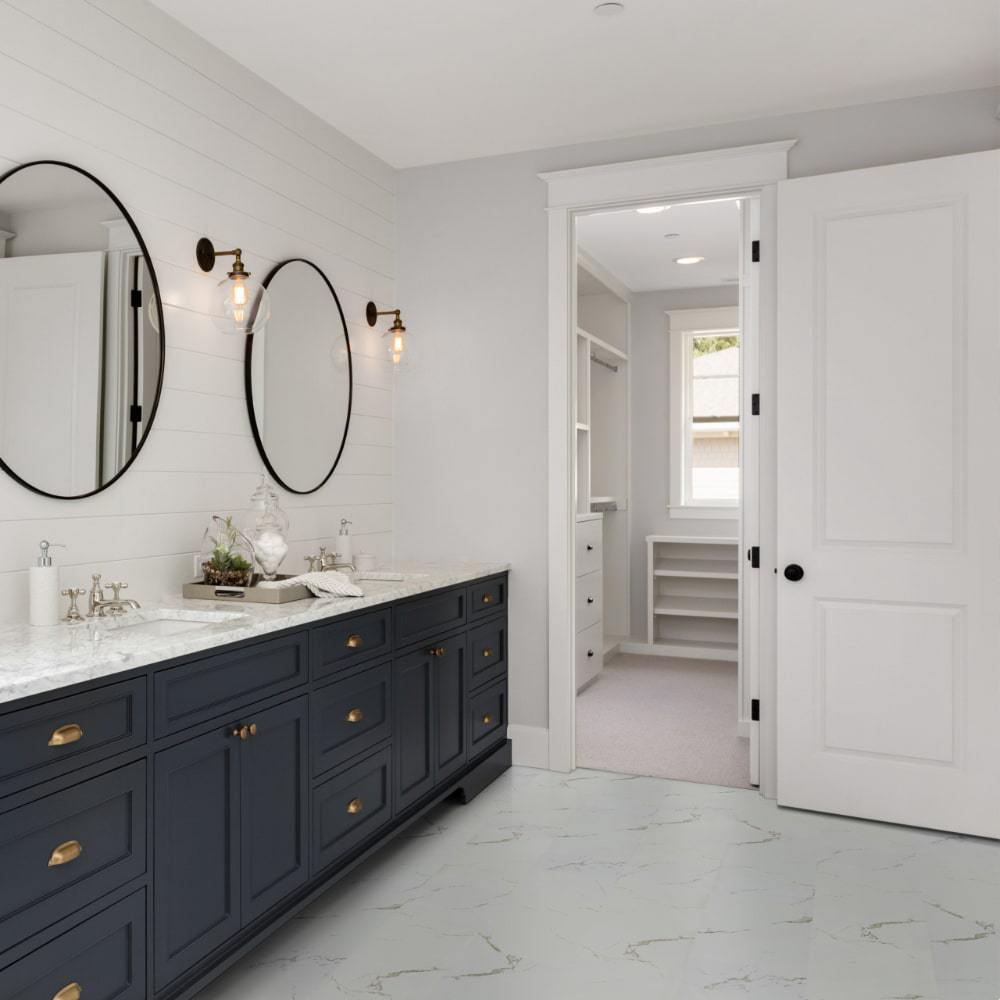 Luxury vinyl tiles deliver the look of authentic stone and concrete and come in traditional tile squares. To add to their natural stone likeness, the tiles have surface texture. Additionally, these vinyl tiles require no grout for installation, so you can add that to your overall savings.
Our Calacatta Serra™ Luxury Vinyl Tile provides the sophistication of natural marble in affordable, 100% waterproof, easy-care vinyl flooring. Including this authentic stone look tile into your space brings a heightened sense of style and appeal to your bedroom, kitchen, bathroom, or other living areas. Calacatta Serra™ uses an understated gray veining and a calm white background to create an alluring look. In addition to being 100% waterproof, these tiles are dent, scratch, and stain resistant.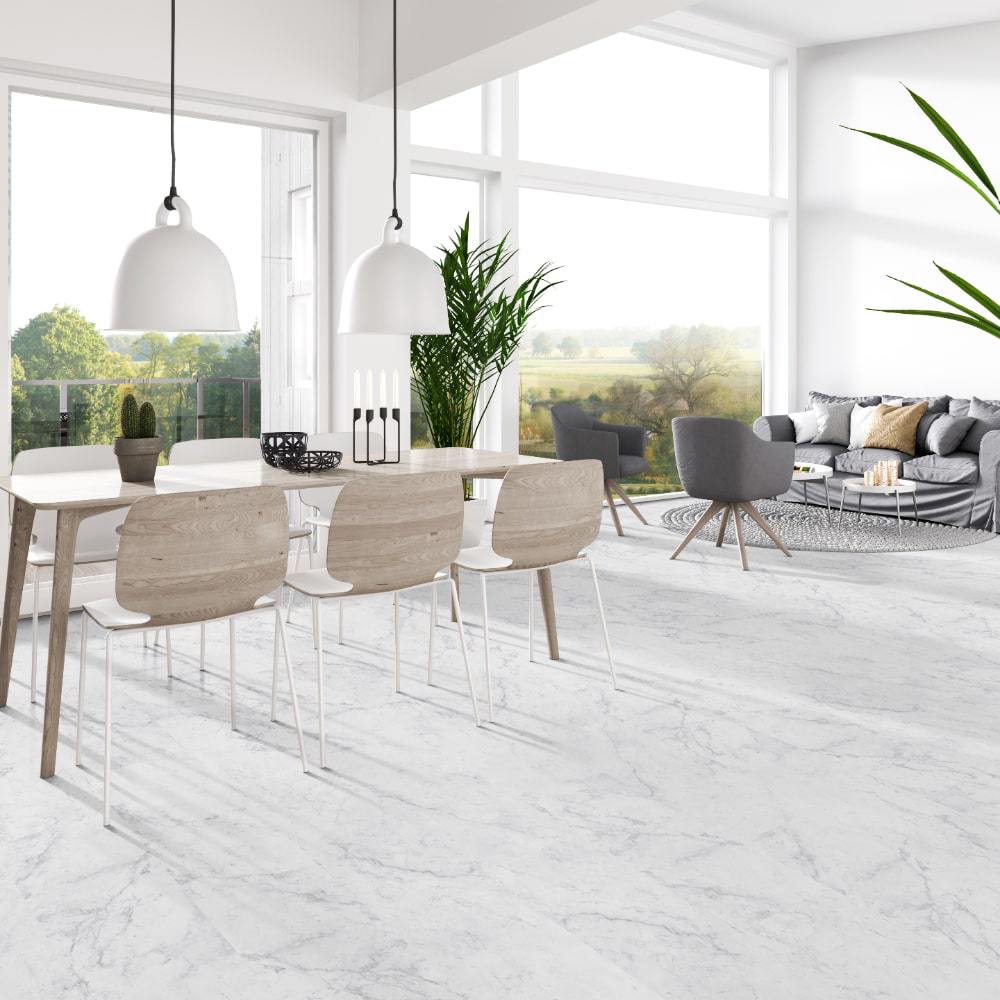 Another first-class luxury vinyl tile option is our Carrara Avell™ Luxury Vinyl Tile. Sharing all of the same benefits of Calacatta Serra™, this luxury vinyl tile utilizes silver gray veining throughout against a backdrop of cool white to create the luxurious look of natural stone.
LUXURY VINYL PLANKS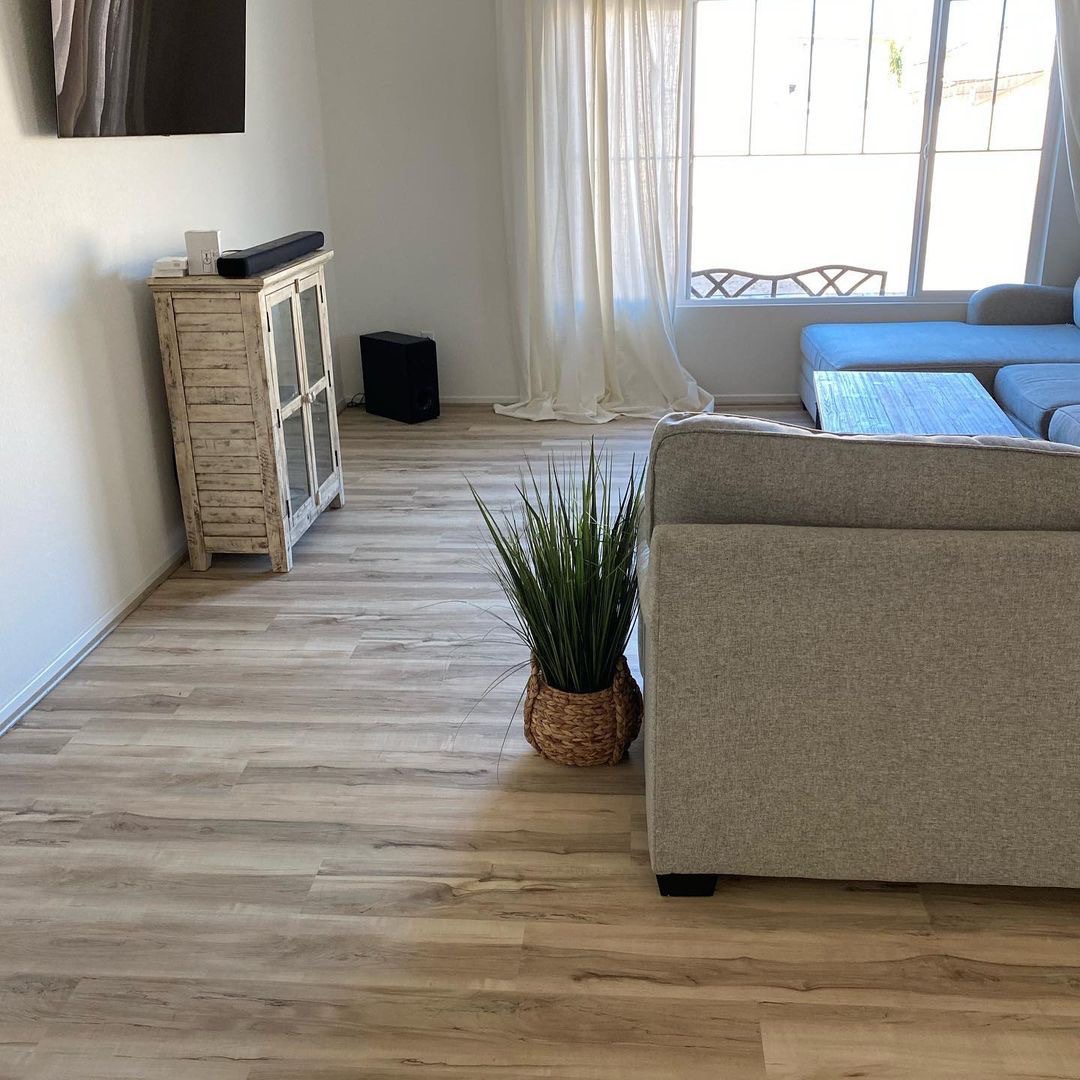 Luxury vinyl planks provide the look of real hardwood in a more affordable, durable plank shape. Like luxury vinyl tiles, these planks require no grout, which saves you money.
A captivating example of a luxury vinyl plank is our Akadia Luxury Vinyl Planks. These planks use creamy beige tones and brown graining to deliver a stunning wood-look flooring. Akadia is 100% waterproof, dent, scratch, and stain resistant and comes with a lifetime residential warranty. In addition, the easy-to-install locking system makes this plank an excellent choice for DIY folks.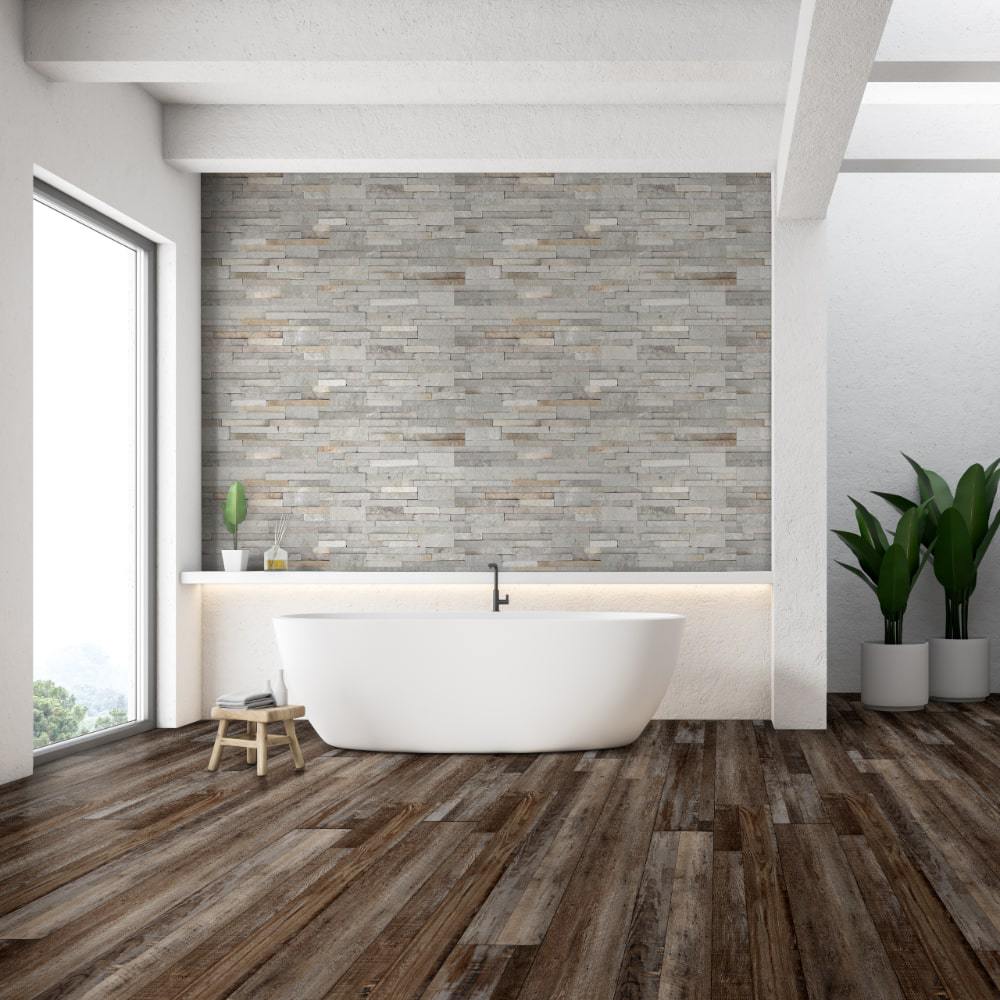 Another option is our Bembridge Luxury Vinyl Planks, which use high-variation shades, grains, and knots to create a unique wood look plank. An easy install click system and the100% waterproof feature makes this plank an irresistible choice for your design needs.
Please explore our luxury vinyl flooring gallery for more inspiring options.
WRAPPING UP
If you have any questions about our luxury vinyl flooring products, don't hesitate to contact us by phone, online, or visit one of our showrooms. Our experts are ready to assist you in selecting the perfect luxury vinyl flooring for your spaces.
You may contact us in real time using our MSI website chat feature. This feature can field any questions and provide additional information about our products. Locating the chat feature is simple—look to the bottom right of your screen on any page on our website. Then, click the circle, and a chat box will pop up with a friendly agent ready to assist you however they can.
Learn More About Luxury Vinyl Flooring
Go Bold With Windsor Luxury Vinyl Tile
What Is Luxury Vinyl Flooring?
What Is Luxury Vinyl Flooring And Why Is It So Popular?
Luxury And Durability Come Together In Our Eden Porcelain Tile Collection