Luxury And Durability Come Together In Our Eden Porcelain Tile Collection
November 23, 2022
The best interior design choices are always a blend of trendy plus classic styles, and today's top trend is porcelain tile.
For years, ceramic tile was seen in bathrooms, kitchens, and elsewhere around the home, and there's nothing wrong with a well-designed ceramic surface.
But manufacturers like MSI have upped the home design game, producing porcelain tiles with advantages far outweighing their ceramic counterparts. For example, porcelain tiles are fired at higher temperatures, which makes them highly dense and waterproof. And since machines, not nature, make them, there are more looks to choose from.
These benefits and many more are apparent in MSI's Eden porcelain tile collection. Homeowners and interior designers prefer this series of flooring options because it combines luxury and durability.
Before you choose the tile for your next home renovation project, check out the advantages of porcelain tile and the wide selection of tile patterns in the Eden collection.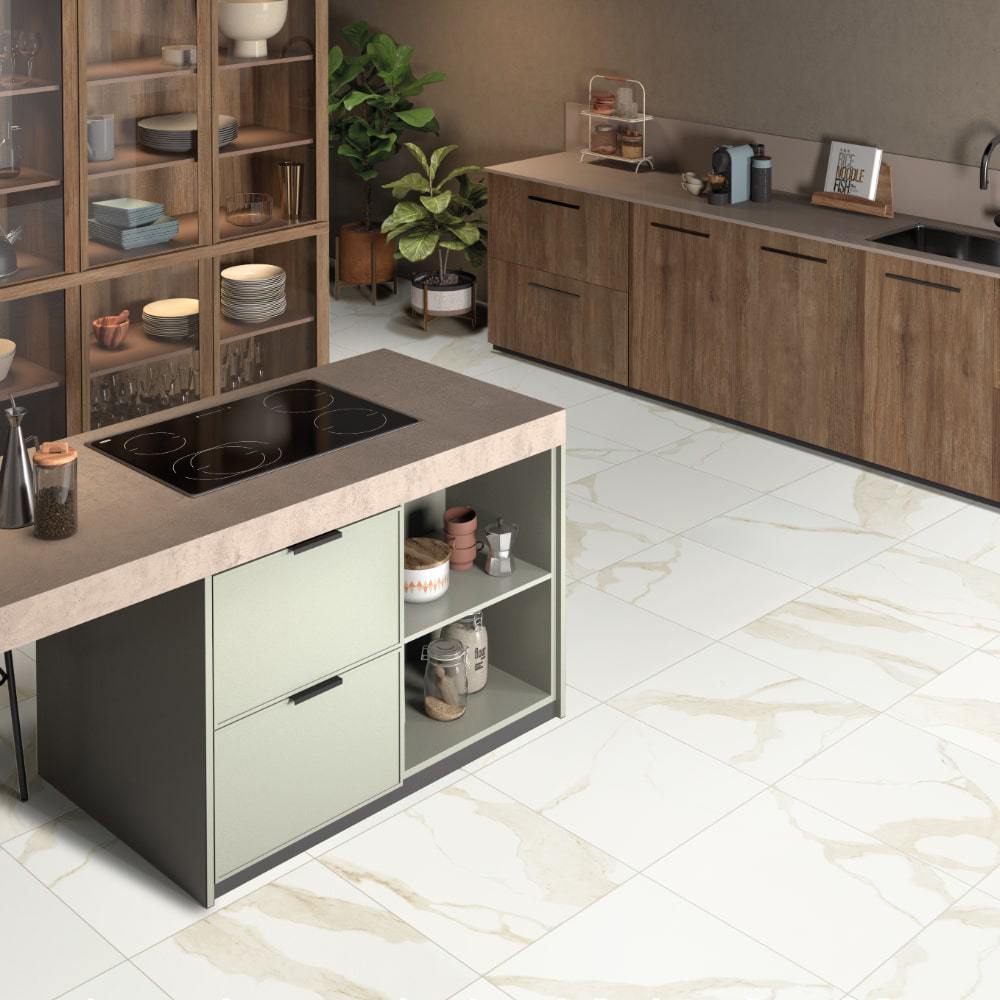 The Benefits of Porcelain Tile
Ceramic tiles served their job for decades as an inexpensive and somewhat durable method of covering surfaces. However, ceramic as a flooring choice is hard to stand on. This can be a disadvantage in rooms like the kitchen or commercial spaces, where you're on your feet for extended periods.
This left home and business owners watching for a better way to tile their floors and other spaces with something that had the benefits of ceramic tile but with a little more cushion. Natural stone tiles were an option, but the expensive price tag deterred many shoppers.
When porcelain tiles entered the industry, they provided the solution. Manufacturers can produce porcelain tile that looks like marble and granite, as well as other styles, at a fraction of the cost of the real thing.
These tiles are still durable enough to withstand heavy traffic but softer on your feet. And other advantages make porcelain the go-to tile in the interior design industry today.
Longevity
Centuries of proof show us that natural stone can last lifetimes. But porcelain tiles have a long lifespan, too. The average porcelain tile lasts 15-20 years, long enough to be a smart investment. Some higher-rated designs can withstand high-traffic areas for up to 50 years. Unlike the regular maintenance and upkeep of natural stone, porcelain options require the bare minimum of care.
Stain Resistant and Waterproof
When it comes to upkeep, porcelain tiles win hands-down. They're easy to clean and resistant to stains. Stone floors require sealing and specific products to keep them looking new, and ceramic tiles can stain and get rings and watermarks. On the other hand, you can sweep and mop with porcelain as usual and get a fresh, sparkling, finished result.
Even better, these tiles are waterproof. If you install porcelain tiles correctly, they hold up to exposure to water, making them ideal for bathrooms, kitchens, and outside tile and flooring in all climates. MSI's Everlife Waterproof Flooring Collection includes a variety of porcelain and ceramic tiles in glazed and unglazed and high-gloss or textured styles.
Increased Hygiene
Carpets and laminate tiles are used in many homes, but they're not easy to keep bacteria and germ-free. Porcelain and stone tiles don't absorb dirt and moisture, and germs can easily be swept and mopped away.
You don't need harsh cleaners to do the job. In fact, household chemicals are unnecessary. Instead, soap and water take care of even the most hard-to-clean spills! This hygiene fact makes porcelain tiles ideal for counters, walls, and floors in bacteria-laden rooms like the kitchen and bathroom.
Luxury Looks Without the Hefty Cost
MSI's Eden Porcelain Tile Collection provides all the advantages of this type of tile, along with the luxurious look you've envisioned in your home. This waterproof flooring series is available in the following four styles.
Eden Bardiglio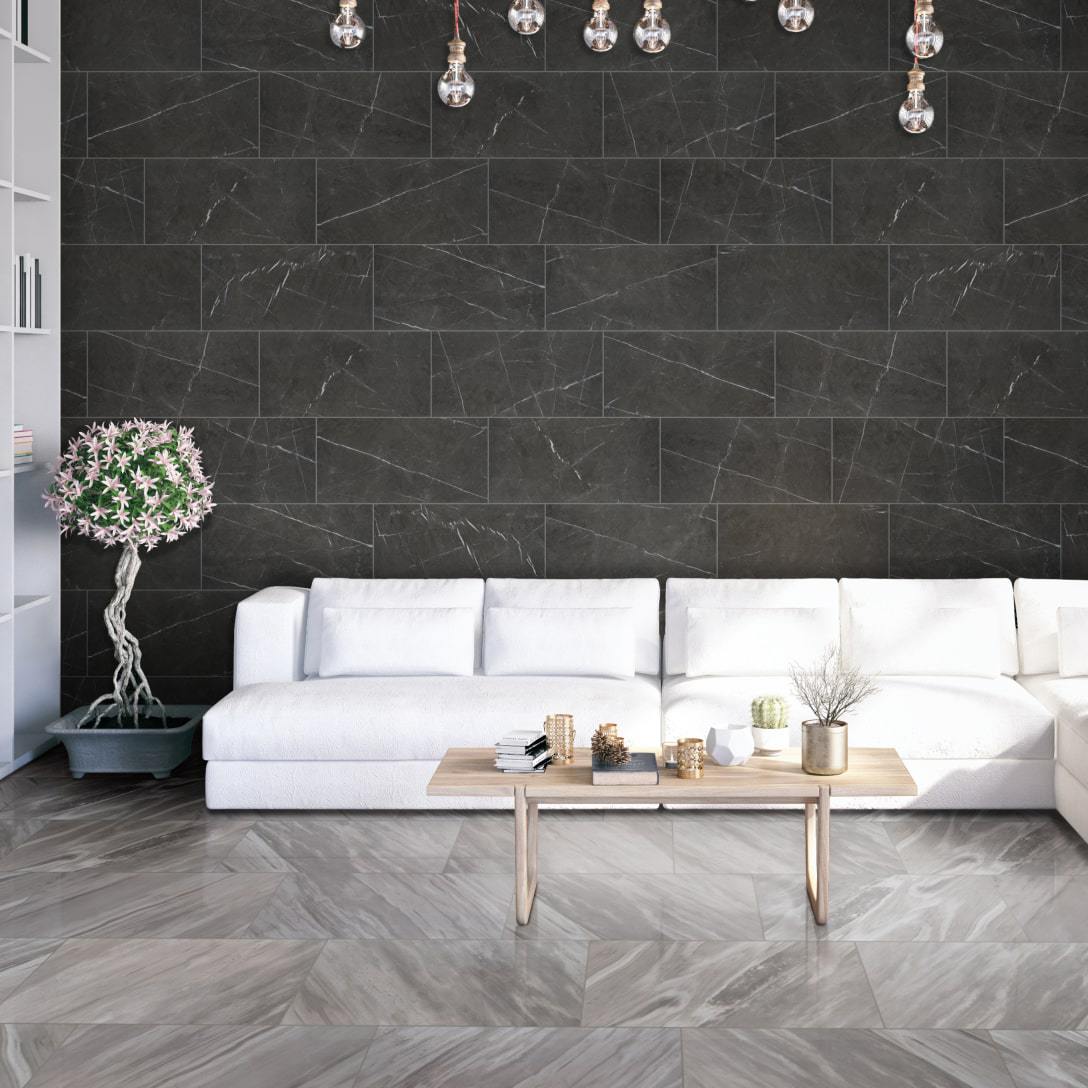 Does your dream room include the natural stone look without the high-maintenance upkeep? Check out the Eden Bardiglio tile in matte and polished finishes. The charcoal and coffee-colored swirls against a gray background complement any room as a wall or floor tile, countertop, or backsplash.
Eden Dolomite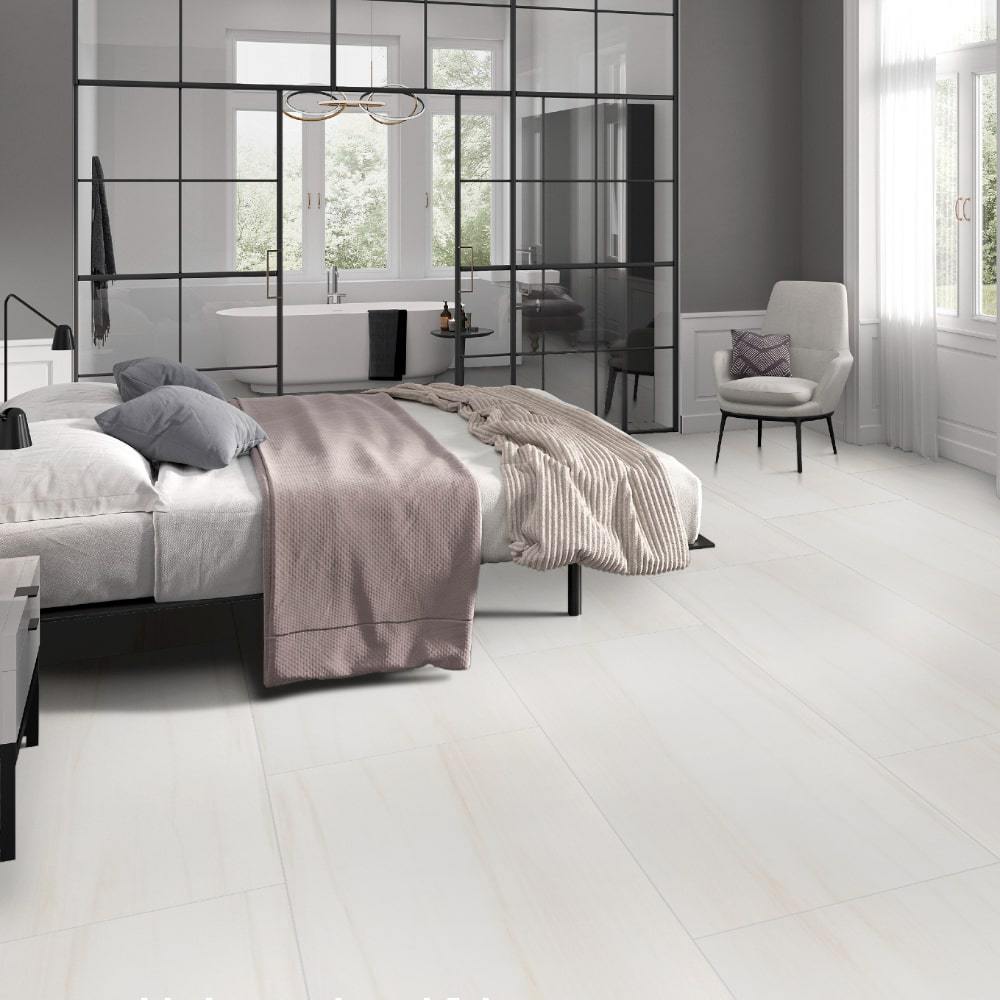 Bright colors liven up any space and make it look roomier and welcoming, and that's what you get with the Eden Dolomite porcelain tile. Available in matte and polished finished, the Dolomite look is characterized by light sand-colored streaks against an eggshell background.
Install it in your shower, on floors and walls, or anywhere tile is needed, and it will instantly brighten the room for a fresh look.
Eden Statuary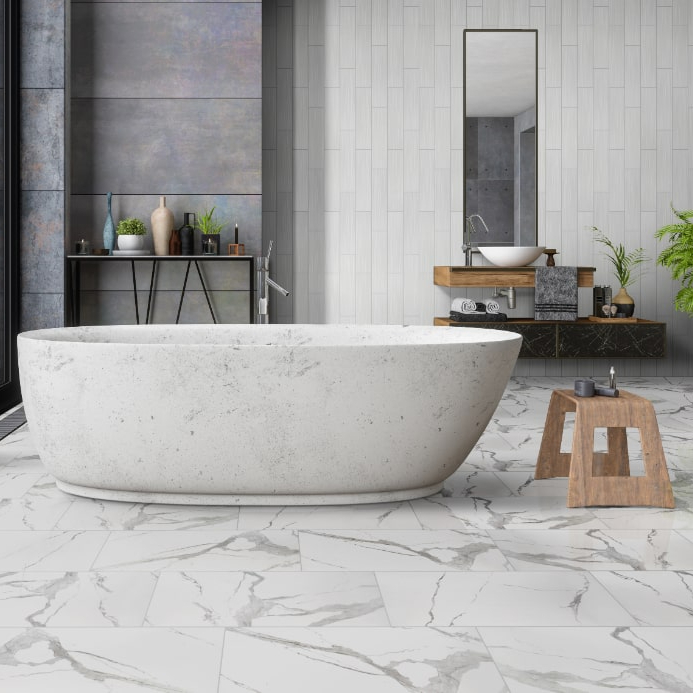 For a natural stone style with the benefits of porcelain tile, Eden Statuary is the way to go. This light shade, an eggshell background with splashes of golden gray, complements any room's design scheme.
When you want to liven up the atmosphere while staying true to the classic look that is always on trend, consider Eden Statuary.
Eden Calacatta (New!)

The newest style in MSI's Eden Porcelain Tile Collection is Eden Calacatta. It's easy to see why MSI is so proud of this tile and why homeowners and interior designers are adding it to their "must-have" list of flooring and wall options. The thick, gold veining against a creamy background adds an instant look of luxury and elegance to any room.
If you've been dreaming of marble but don't want to pay the price and deal with the upkeep, use Eden Calacatta to make your dream home come to life.
Ready to Add Porcelain Tile to Your Home?
Do the advantages of porcelain tile have you adjusting your home renovation ideas? MSI's industry experts are available in-person and online through the instant website chat feature to answer your questions and offer ideas to help you find the material that works for your next project.
Contact us online, start a chat on our website at the bottom right of your screen, or visit one of our showrooms. We're happy to offer our expertise to you and turn your home flooring and tile visions into a reality.
Learn More About Luxury Vinyl Flooring
Go Bold With Windsor Luxury Vinyl Tile
What Is Luxury Vinyl Flooring?
What Is Luxury Vinyl Flooring And Why Is It So Popular?
Luxury And Durability Come Together In Our Eden Porcelain Tile Collection