5 New Looks For Granite Countertops
July 06, 2020
Sixty-four percent of new homes boast granite countertops or backsplashes. Looking at that number, one might almost get the impression that granite has fallen from the ranks of elite countertop materials. That it's become outright "common."
Nothing could be further from the truth.
In fact, homeowners keep choosing granite for new homes and kitchen remodels at such high rates expressly because it is so stunning and special. As if the inherent uniqueness of each granite slab wasn't enough, new colors and styles are always coming onto the market, giving buyers even more opportunities to make their homes stand out.
Today we're looking at five distinctive new looks for granite. Each can give you the quality, beauty, and reliability of this favorite material in a style that's as fresh as they come!
1. Stream White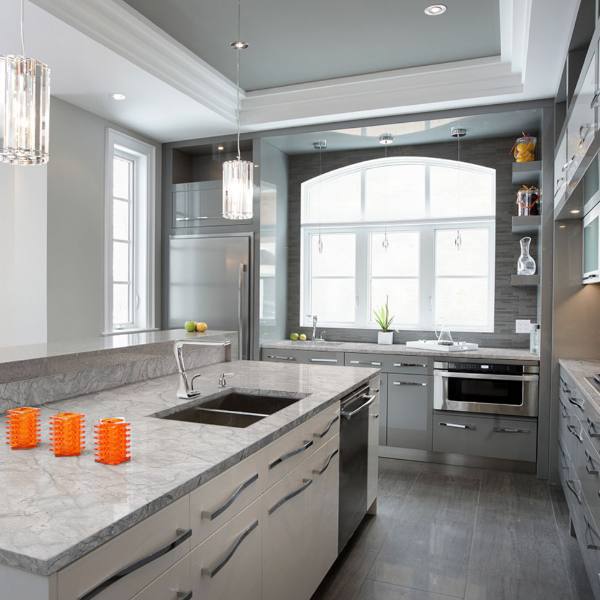 This gorgeous grey-white option is a standout! If you're looking for a truly distinctive look, this is it. Why?
Pure white granite is rare. Most white and grey granite countertops are flecked with other colors. Flecks can range from lighter shades such as grey to darker hues like black, brown, or red.
Stream White granite, however, is free of such color variations. It's texture and depth come from unique veining in the same bright, clean white as the rest of the stone. This makes it a stunning choice for modern countertops.
White granite is also an ideal choice for small kitchens. It can give your tight space a spacious, luxurious feel that no other material or color can match.
2. Sunset Canyon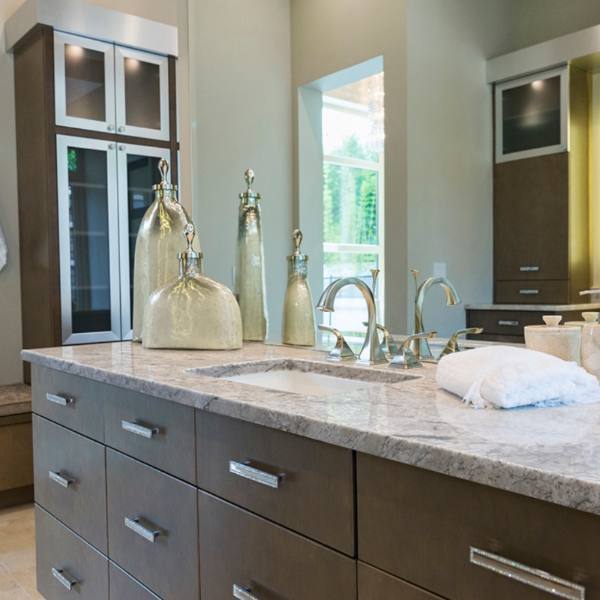 Sunset Canyon is a perfect example of how the stone's naturally distinctive qualities can make even neutral granite colors pop. A white base warmly veined and flecked with shades of almost pinkish taupe, dark grey, and cream, Sunset Canyon is a dream when paired with other dark colors.
It's striking when used to top chocolate-hued cabinetry or alongside the sandy, beachy paint colors currently trending for high-end master bathrooms. But that's far from the only place it will shine! Polished and neutral, this stone is equally suited to kitchens and other high-visibility surfaces, no matter what your decorating style.
3. Arctic Valley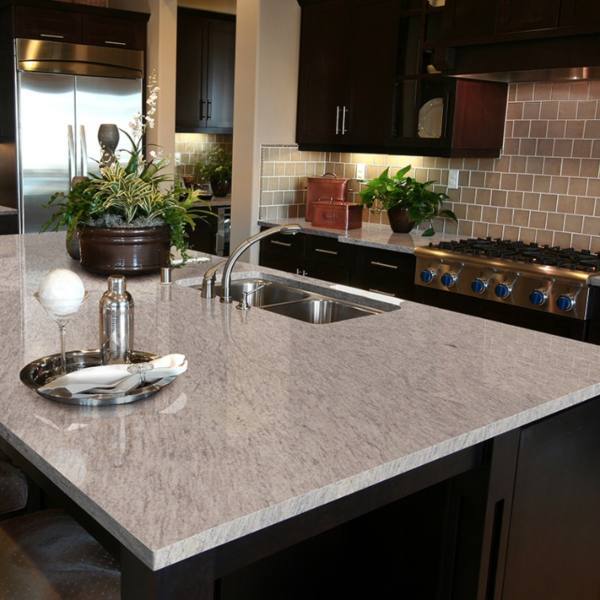 If you're looking at a contemporary kitchen remodel, then you likely already know that nothing is hotter right now than a clean and classy grey-and-white color scheme. A modern twist on classic white-cabinet kitchen designs, this combination is great for both large and small spaces.
It makes small spaces look bigger and gives already large spaces the impression of being indulgently spacious. Large or small, nothing will make your dream of a sleek contemporary space a reality like Arctic Valley granite slab countertops.
If you're looking to make a statement, consider taking this eye-catching stone right up a wall - or even two! If you have a more understated look in mind, pair a slab countertop with demure backsplash tiles. Either way, the deep texture of this grey-white stone is sure to catch the eye.
4. Grey Atlantico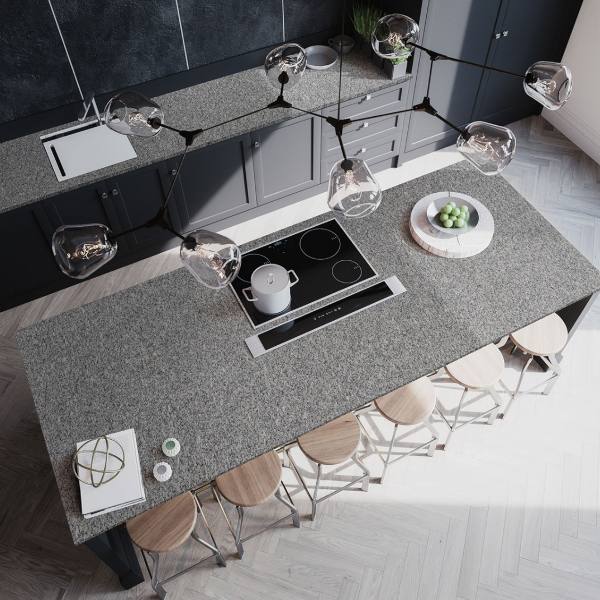 Do you love reclaimed wood and river stone? Are you the type of person who likes to use soothing and visually interesting materials and textures in your decor? If so, Grey Atlantico is the granite you've been looking for.
Close up, the depth of the intermingled black granite, with grey and cream flecks is captivating. Viewed as a whole slab in countertops or backsplashes, it becomes a soothing wash of warm grey stone that speaks of calm and sophistication.
While it can fit in with any kind of decor, Grey Atlantico is particularly well-suited to eco-friendly homes done in other natural colors, textures, and finishes. It provides the durable, hard-wearing surface you need to live in your home hassle-free without sacrificing an inch of style or taste.
5. Makalu Bay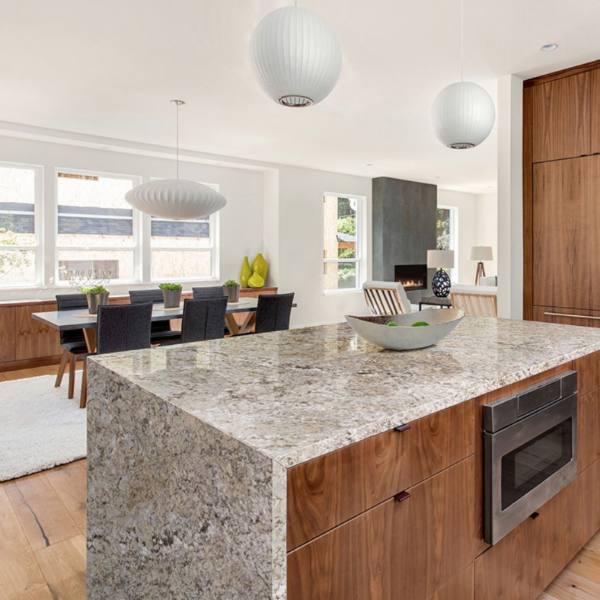 Officially, Makalu Bay falls in the "beige" color family. While beige may sound drab, this breathtaking stone is anything but.
As a countertop, it pairs fantastically with both dark and pale-colored cabinetry. It can add the finishing touch of old-world class to a traditional kitchen or highlight the streamlined design of a contemporary one.
To get an even bigger visual bang for your buck, follow the latest stone trends and put this exquisite granite on a wall or a floor and let it serve as a focal point in any room. You won't regret it.
Which Granite Look Is Right
for Your Home?
With so many gorgeous granite slabs and tile backsplash options, selecting the right one for your home can be a challenge. How do you choose when they're all so versatile?
There are a few ways to narrow it down. First, start with a backsplash design.
Do you want a seamless look that carries your countertop material up the wall? Or do you already have a wall tile style that you love picked out to pair your granite with? Starting with what you know for sure about your kitchen plan can be a great way to narrow down your options.
Second, consider the overall style you're going for. Granite works well with both traditional and modern tile kitchen designs. But contemporary kitchens tend to lend themselves particularly well to grey and white granites.
Traditional kitchens, by contrast, may do better with darker or neutral shades.
If you still can't quite decide, we can help! Our Granite Visualizer tool allow you to upload a photo of your exact space. Then, with the click of a button, we can show you what that space would look like with any of our granite offerings!
Experiment with your options by viewing multiple slabs or tiles in different hues in your kitchen, bathroom, or throughout your home. You can also check out our inspiration gallery or take a quiz to help you clarify your preferences and priorities.
Granite Is Still King
Whether you're a designer, a contractor, or a homeowner, these new looks for granite make it easy to see why stone is still king. Durable, beautiful, and available in an endless array of colors and styles, it is guaranteed to remain a favorite in the marketplace for years to come. Check out our online Granite Visualizer for more great ideas on how to incorporate granite into your next project!
Read More about Granite Countertops
Achieve Professional Results on Your Granite Countertop Install
All Your Questions About Granite Countertops Answered...Right Here!
Choose the Perfect Granite Countertops With MSIs Virtual Visualizer
Our virtual tools are here for you - help with granite slabs and more!
READ MORE ABOUT GRANITE COUNTERTOPS
5 Gorgeous Granite Countertop Kitchen Islands That Wow!
5 Kitchens That Prove Granite Countertops Are Still King!
5 Striking and Dramatic Granite Countertops
6 FAQ's About Prefabricated Granite Countertops