Best Granite Colors For Bathroom Countertops
April 10, 2022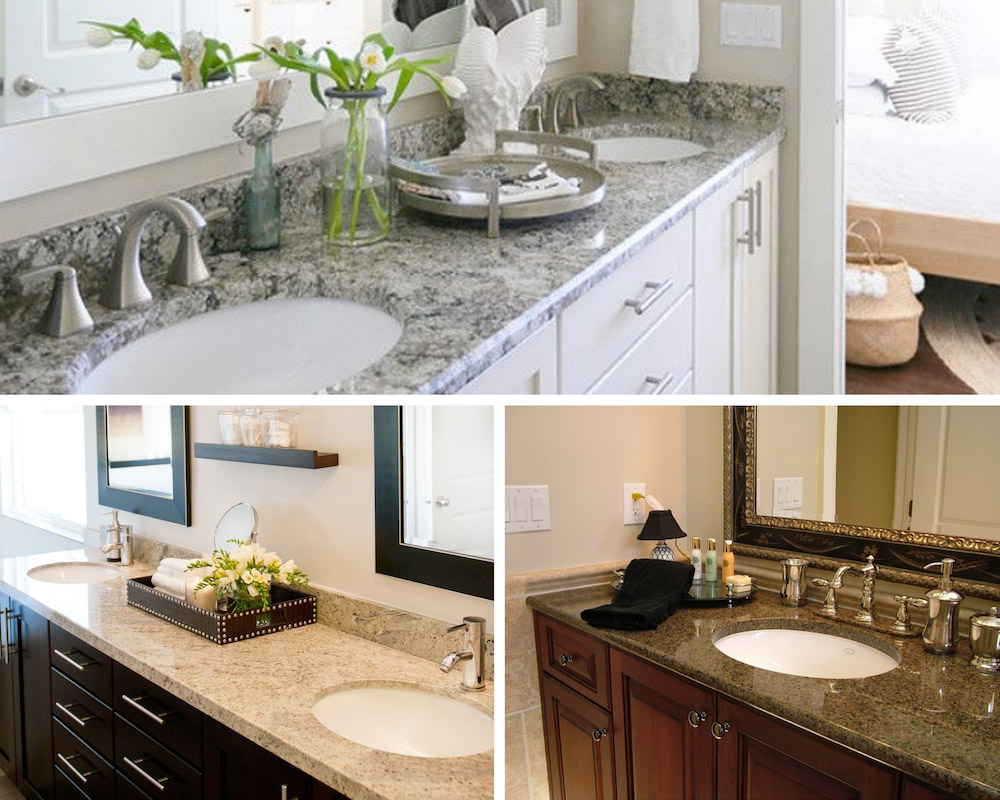 When it comes to choosing the best natural stone for counter surfaces in your home, there are plenty of stunning options to consider, but granite offers both incredible beauty and loads of functional appeal. The only trouble when selecting this durable and dramatic stone is deciding which eye-catching granite colors will best elevate your design and represent your personal style sensibilities.
While granite countertop cost will naturally vary somewhat by the variety, slab, and size you choose, it's always best to pick the option that speaks to you on a personal level. You're the one who has to look at it every day.
You'll never be sorry you spent a little more on the one you wanted. How can you narrow down your options and select the best MSI granite for your bathroom? First, pinpoint your preferred color category, and then choose a standout variety that provides the level of tranquility or drama you crave.
What Makes Granite a Great Choice for Bathrooms?
Because of the steamy environment, it can be difficult to choose bathroom materials that are both beautiful and functional. You won't have this problem with natural stone countertops, especially granite.
This stone is among the hardest, with a Mohs rating of 6-7, which means you'll enjoy incredible strength and durability. When properly sealed and maintained, granite is resistant to heat, staining, scratching, etching, cracks, chips, and other common forms of damage.
Whether you set a hot curling iron on it or your bottle of hair dye leaks, you're probably not going to harm your lovely countertops. Although other surface materials have their own desirable qualities, the marriage of form and function puts granite on top in the marble vs. quartz vs. granite debate.
If your bathroom space is suitable for standard sizing, you can even opt for prefab options that save you time and money over custom countertops. You won't have endless options for sizing or edge treatment, but you can still choose from dozens of the most popular granite varieties.
White Stone Countertops

It's hard to imagine a color family that will match better with any cabinetry, bathroom tile, and other design elements than white. White countertops go well with everything from other white elements, gray or black cabinets, wood tones, and even a range of colors.
The depth, dimension, and striking patterns common to granite slabs add visual interest, creating an eye-catching focal point. Or you can opt for a variety of slab with more uniform patterning if you want a tranquil, spa-like interior. There are dozens of varieties to consider, but two of the most popular are Alaska White and Delicatus White.
Alaska White: This gorgeous neutral from Brazil is ideal for bathroom and kitchen remodeling projects. A background in frosty silver and white might seem a bit cold, but the aesthetic is offset by a wash of warmer, beige patches throughout, as well as earthy brown and black speckling. This makes Alaska White incredibly versatile, whether you're pairing it with wooden elements or modern greiges.
Delicatus White: Delicatus White is similar in coloration to Alaska White, but with a range of creamy white and soft gray elements. The major difference is the rich, bold veining in ashy gray and black, which creates incredible depth and movement across the surface of the stone.
Beige Varieties

Beige has earned an unfortunate reputation as a bland color. It's anything but when you choose beige granite to imbue your bathroom with a hint of welcoming warmth.
While beige can look a little out of place in an all-white design, it pairs beautifully with wood tones ranging from pale blonde to golden, cherry, or mahogany. Best of all, there are beige granite varieties featuring both subtle and bold patterns, to suit every taste.
Crema Caramel: This creamy granite from Spain is heavily stippled in shades of gray and beige, creating a nearly uniform surface that nonetheless catches the eye. Crema Caramel is a great choice for anyone looking to add a dose of visual interest without undue movement or drama that pulls focus from the overall design.
Giallo Verona: Are you loving the spa-like bathroom renovations you see on Insta and Pinterest? Kick your home improvement project off right with warm and soothing Giallo Verona. A mixture of cool white, cream, and beige hues make up the background of this attractive Brazilian granite, while a gentle wash of darker sienna, umber, and pewter spots dance lazily across the surface. The overall effect is similar to the slow swirling of small eddies.
Brown Surfaces

It's hard to deny the value of brown granite varieties when it comes to creating an inviting home interior. They're not only warm and attractive in their own right, but they're incredibly easy to pair with your favorite wood tones.
Tan Brown: The name of this granite may not pique your interest, but striking Tan Brown slabs certainly will. Despite relatively uniform patterning, this dark and stormy granite is mesmerizing, thanks to its dappled browns and blacks ranging from tawny to gingerbread and cinnamon, or even chocolate and umber hues. Gazing at this warm, dark variety is like sitting next to a crackling fire on a cold, winter night.
Desert Brown: Low-variation Desert Brown is ideal for anyone seeking a richly dimensional counter surface that somehow lends itself to an air of utter serenity. Tight, tiny stippling in a sandy mixture of beiges, taupes, browns, and blacks results in a surface that's sedate from afar, but surprisingly dynamic up close.
Black Countertop Materials

Black granite may not be the first choice of most bathroom or kitchen designers, but for homeowners who love a masculine feel, those working with a cavernous space, or anyone seeking a bold option, it has a lot to offer.
Black granite pairs perfectly with espresso or black cabinets, and offers varying degrees of contrast with bright whites or grays. These slabs also look striking next to trending periwinkle, pastel pink, or pale, foggy greens and blues.
Bohemian Gray: Choosing the perfect granite for a busy household is no easy feat, but Bohemian Gray is an ideal option, thanks to a calming demeanor and patterning practically tailor-made for hiding stains and scratches that seem to follow in every child's wake.
The warm gray background is marked by darker flecks of gray and black in a medium variation, making for a gently undulating pattern that's something like the wave of bedsheets on a clothesline, snapping in the breeze.
Premium Black: Although Premium Black appears as a solid black expanse, it's actually an almost imperceptible peppering of black and dark gray spots, creating an extremely low-variation surface. As granite colors go, this variety is ideal for masculine bathrooms or classic, black and white designs.
With so many attractive granite varieties to choose from, it can be hard to pick the perfect MSI slab for your bathroom upgrade. When you narrow down the color family you prefer, though, it's much easier to pinpoint the option that best suits your practical needs and aesthetic preferences.
LEARN MORE ABOUT GRANITE COUNTERTOPS
Everything You Need to Know When Considering Granite Countertops
Use Our Countertop Quiz to Find the Perfect Granite Counter and More!
Create A Work of Art with Natural Granite Slabs