Granite Countertops Increase Home Resale Value – Here'S Why
November 19, 2017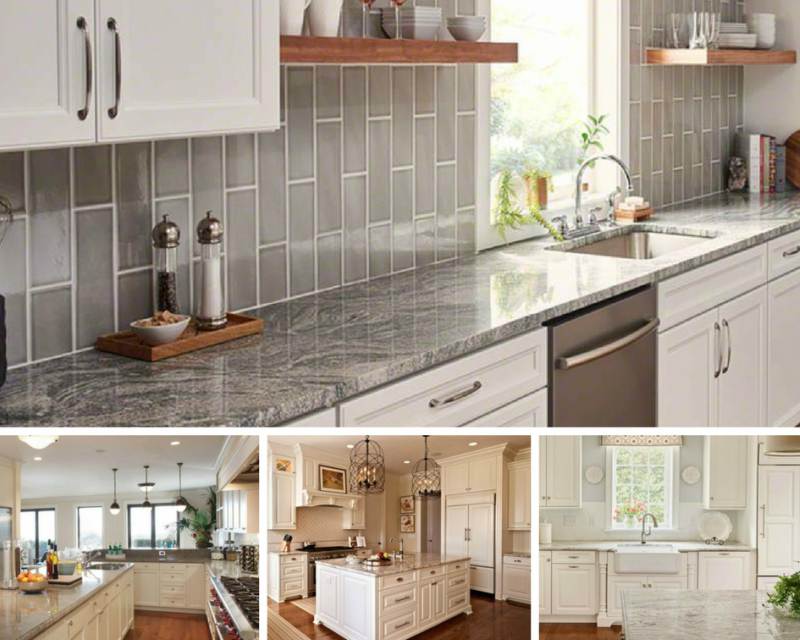 Whether you're planning to put your home on the market soon, or plan to stay for several years, choosing home remodeling or renovation projects that increase your home's resale value is always a good idea. It's not always easy to know for sure which projects will pay off with a substantial return on investment. The trick is finding the "sweet spot," the point where a minimal investment meets with a maximum return.
There are many popular projects homeowners undertake to improve home value. Room additions, for example, add significant value, but they are costly and time-consuming. Painting is quick, aesthetically pleasing and relatively inexpensive, but the value it adds is usually minimal.
Granite countertops, on the other hand, are among the top ways to increase home resale value. Granite is an enduring investment, guaranteed to last for decades. It's also one of the easiest projects you can undertake, with a great return on investment. Another bonus is that while you live there, you can enjoy having a beautiful kitchen or bath.
River White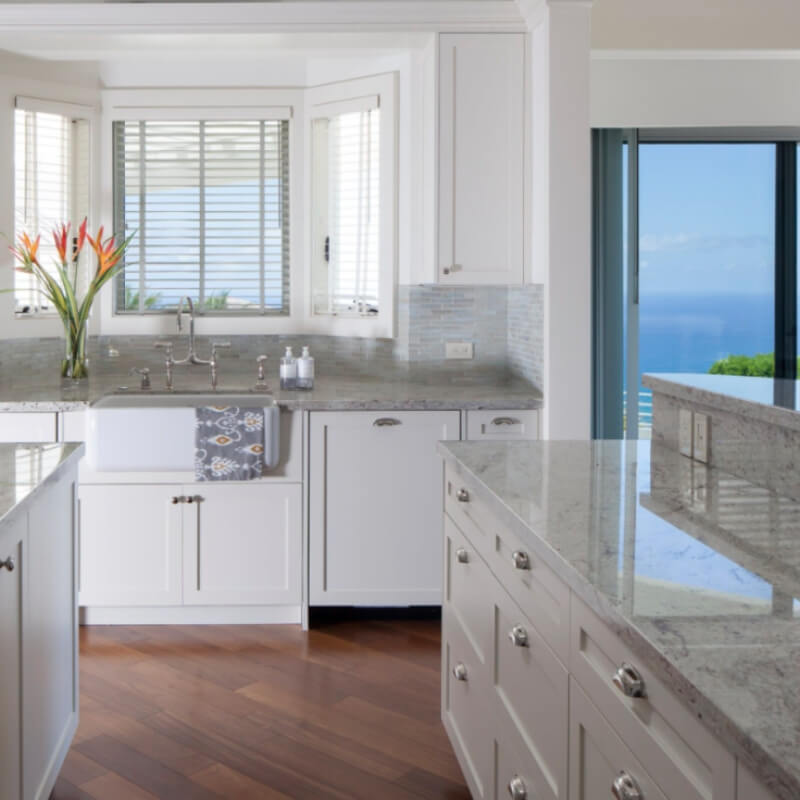 Get this look with MSI's River White Granite (Photo Credit: Houzz)
Granite countertops can make a well-designed, functional kitchen work even better. How, you ask? It's incredibly durable and when it's properly sealed it will stand up to heavy use, resist stains and moisture, and even resist heat damage. This makes it an ideal choice for busy families and serious cooks. River White Granite, even with its pale coloration, will stay looking just as luscious for decades.
White Supreme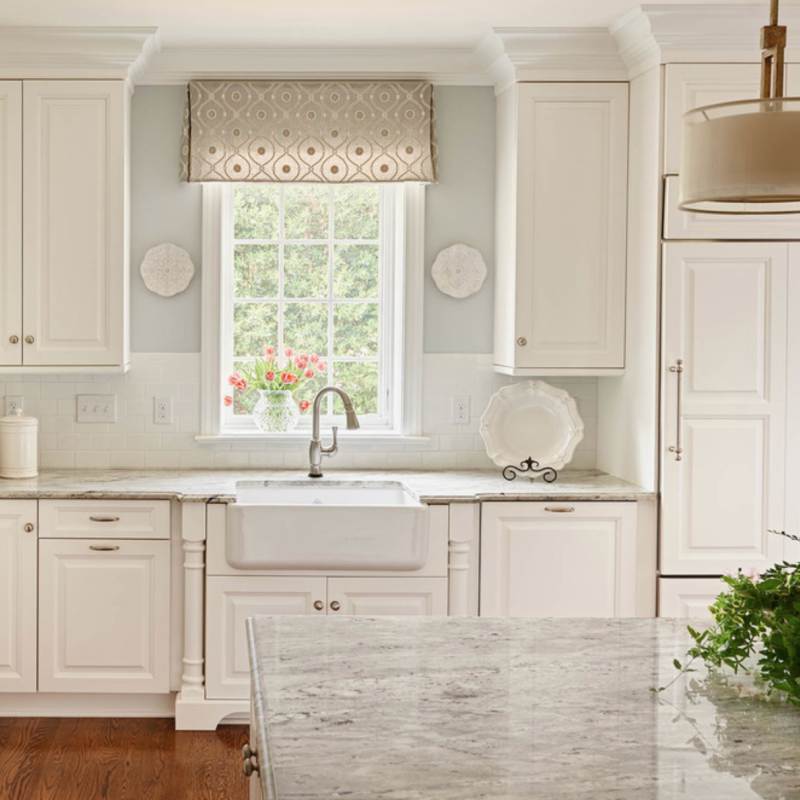 Recreate this look with MSI's White Supreme Granite (Photo Credit: Houzz)
When potential home buyers are shopping around, most of them want a home that's move-in ready; that is, there's nothing they want to change. The timeless appeal of granite slabs is sure to please a wide variety of people, and even more attractive, it won't go out of style. White Supreme Granite features subtle, eye-pleasing white and gray veins, and unlike most decorating trends, won't look dated in a few years' time.
Silver Creek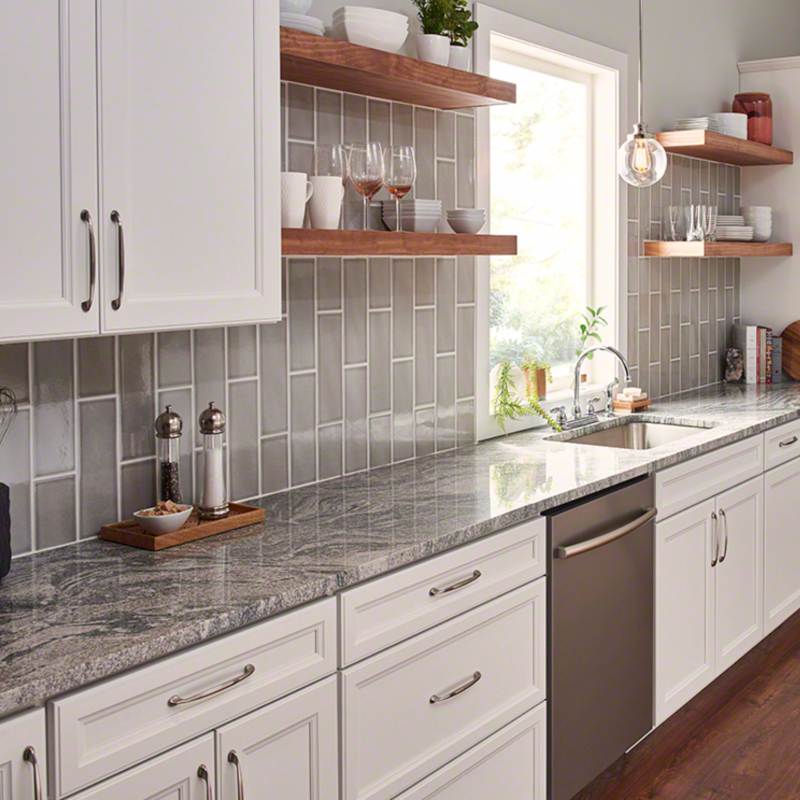 Featured: Silver Creek Granite
Another big plus to potential home buyers is ease of maintenance. Silver Creek Granite, with its lively gray and white ripples, is easy to keep clean. Like other granite patterns, it resists stains and moisture, and only requires sealing once a year to stay looking its best. This frees up plenty of time for leisure, cooking, entertaining, and more — in other words, people with granite countertops spend less time cleaning them and more time enjoying them.
Avalon White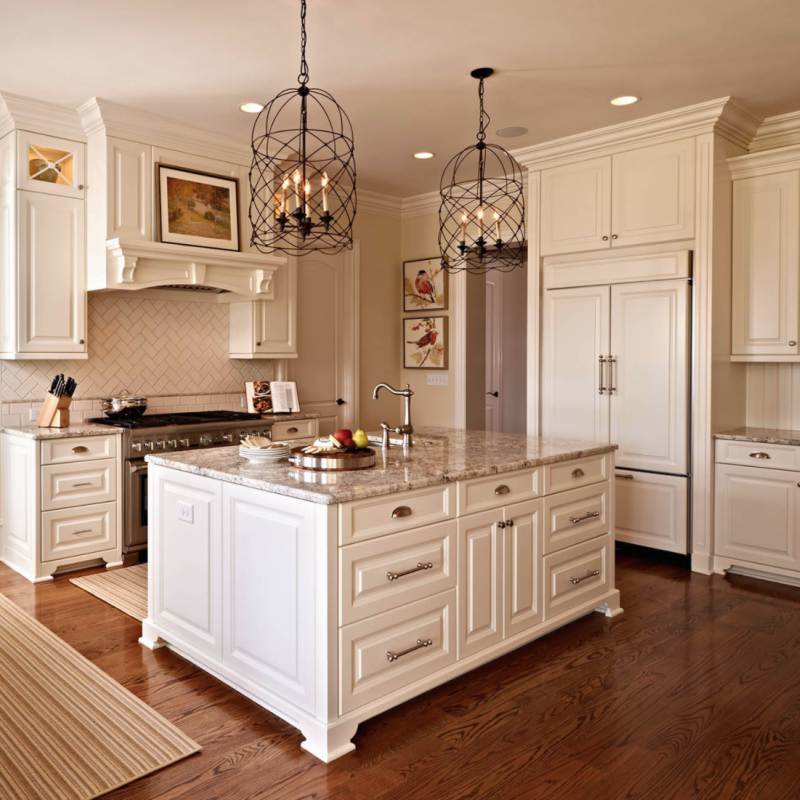 Create this look with MSI's Avalon White Granite (Photo Credit: Houzz)
There's no doubt about it — granite is unsurpassed for its upscale, elegant look. Avalon White Granite, which features swirls and splotches of white, cream, gray, and black, is a dramatic surface for this luxe kitchen island, and a selection of countertop edges elevates it even more. Pair it with classic crown molding and artisan pendulum lights, straight from the pages of a home décor magazine.
Nevasca Mist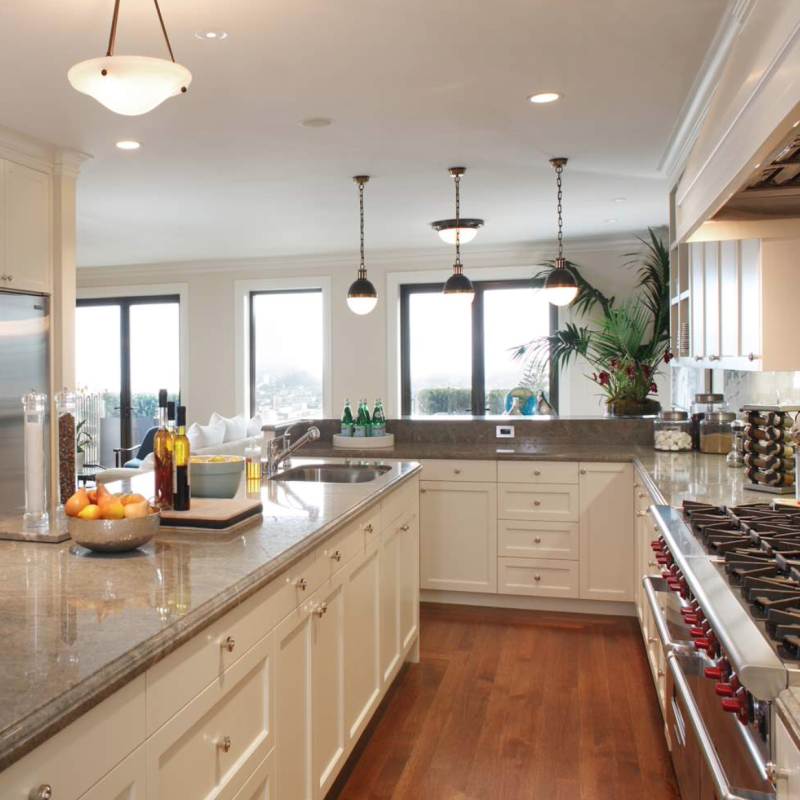 Achieve this look with MSI's Nevasca Mist Granite (Photo Credit: Houzz)
No matter what your favorite color is, you can be assured your home's potential buyers will prefer something different. That's why it's good to paint your walls white or cream, and choose a neutral color scheme. Most shades of granite countertops, such as Nevasca Mist Granite, are earthy and neutral variations of white, cream, beige, and gray. Just add a few colorful accents to give it your own personality.
Ready to explore the many granite countertop options in our gallery? Visit MSI's New Products page to see the granite colors listed here along with several other new arrivals. We want you to be happy with your selection of stone countertops, so we invite you to "try before you buy" with our Visualizer Tools. The only drawback to choosing your new granite countertop to increase your home's resale value is that you may not want to move after all!
Read More about Granite Kitchen Countertops
Granite Waterfall Counters for a Dramatic Kitchen Centerpiece
Countertop Visualizer: Your Dream Kitchen or Bathroom in Real-Time
Golden Granite Countertops for a Warm and Glowing Kitchen
Granite Countertops: The Workhorse of the Kitchen
5 Inspirations: A Granite Countertop for Every Style
5 Black Natural Granite Countertops for an Upscale, Luxury Kitchen
Natural Granite Kitchen Countertops to Extend Up Your Backsplash
Get the Designer Kitchen You Crave With These Granite Countertops
Choosing Your Ideal Granite Countertop: Fast-Track Your Upgrade
Stop Obsessing! Here's How to Make Sure Your Counters and Cabinets Go
6 Wow(!) Kitchens featuring Granite Countertops
Natural stone countertops add both value and beauty to your home, and with the kitchen at its heart, these gorgeous granite-clad islands are irresistible!
READ MORE ABOUT GRANITE COUNTERTOPS
Granite Countertops Are A Worthwhile Investment
Granite Countertops to Perfectly Balance Dark Kitchen Cabinets
Granite Countertops Venture Outdoors