Popular
A First Look: Top 5 Design Trends Of 2023
January 03, 2023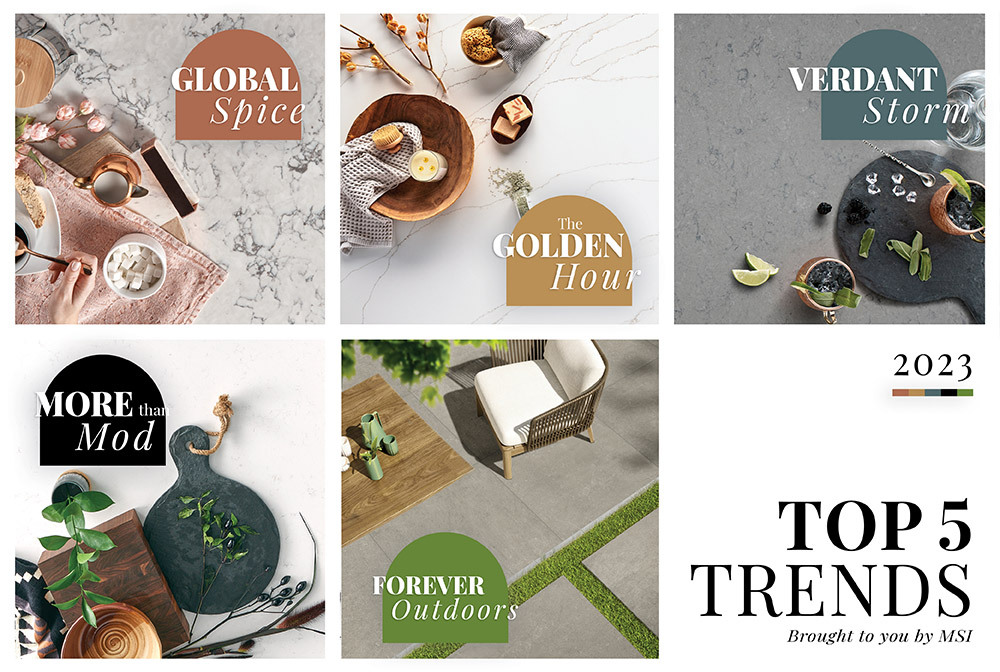 From starting a new gym routine and eating healthy to changing your home decor or putting a remodeling project into action, heading into the new year means it's time for a fresh start–a new lease on life. For team MSI, it's our mission to help bring inspiration to your home and office environments so you can feel stylishly at ease while you work on accomplishing your New Year's resolutions. Just one of the many ways we're helping in 2023 is by offering insight into the Top 5 Design Trends of the year.
After seeking inspiration from all over the world and exploring your favorite styles, we've uncovered the Top 5 Design Trends and our consumer's favorite decor themes. We came up with these 5 trends you'll be sure to love and incorporate into your next remodel, renovation or new home construction project. Check out the 2023 MSI Lookbook to start getting inspired! You'll see colors that make a big statement, nods to mod, an overarching warm palette and a continued love affair with the outdoors.
Forever Outdoors, Global Spice, More Than Mod, The Golden Hour and Verdant Storm encompass the Top 5 Design Trends for 2023. From internal sales teams to trade partners, interior designers and beyond the exclusive MSI Lookbook can help inspire dream spaces one surface material at a time.
#1 FOREVER OUTDOORS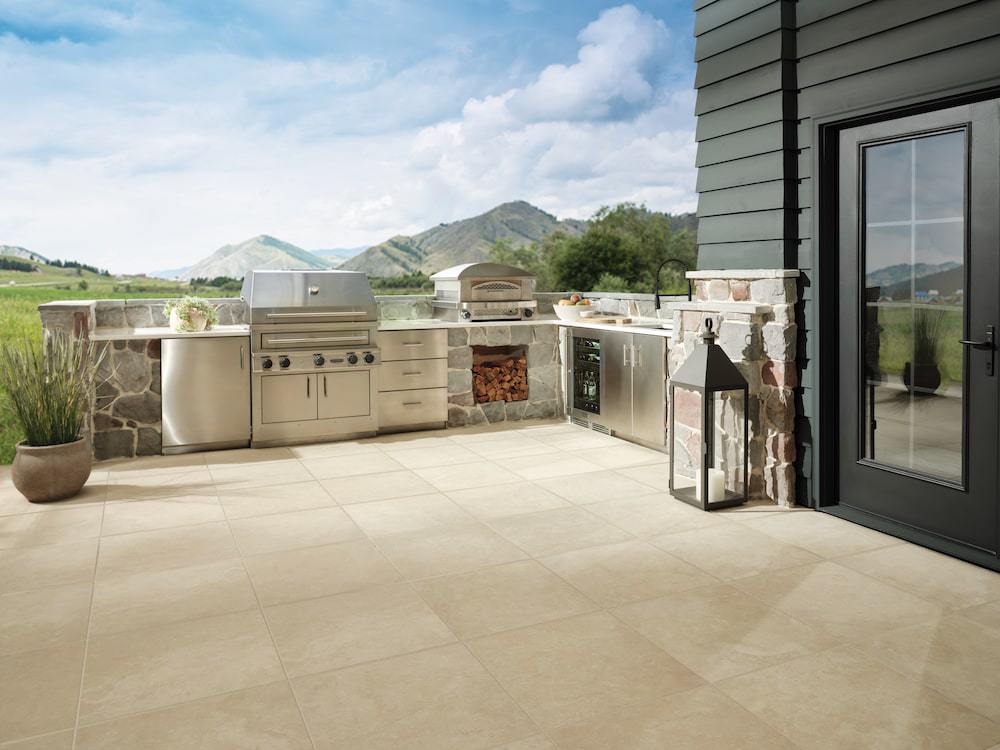 No matter where you reside, we can all appreciate an outdoor kitchen to help embrace the beautiful outdoors. Subtle white and cream-toned pavers match perfectly with various natural stones and greenery to help bring your outdoor projects to life. Incorporate Tierra Ivory Pavers into your hardscapes to add a touch of refinement to your exteriors, so you and your loved ones can take in the terrace views.
With inspiration stemming from the great outdoors, the Forever Outdoors movement allows us to seamlessly move from outside scenery to the kitchenscape. This trend allows us to open our doors in a worry-free zone filled with porcelain tiles that are suitable to use inside and coordinating pavers out. Easy installation, maintenance and cleaning at its finest, so we can gather the troops once again in a welcoming and safe environment.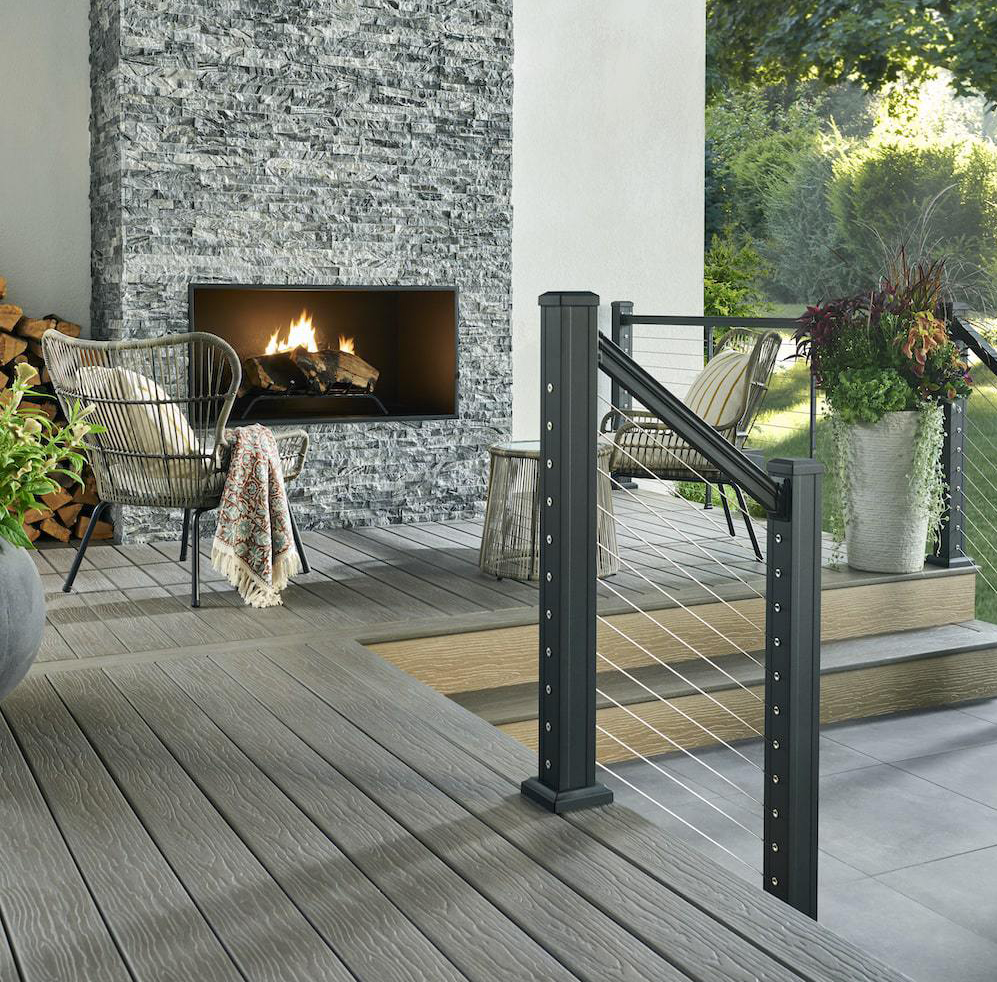 Gathering around the fireplace just got better. This picturesque patio allows us to warm up next to the fire with a beautiful fireplace facade in Glacial Black Stacked Stone with Beton™ Antracite Arterra Pavers below the stairs, making a pathway to the garden.
Enhance your exteriors by adding cozy textiles, comfy furniture and lush greenery to your patios to create an inviting atmosphere. The extra square footage outdoors is a bonus space that might just create your next dream staycation!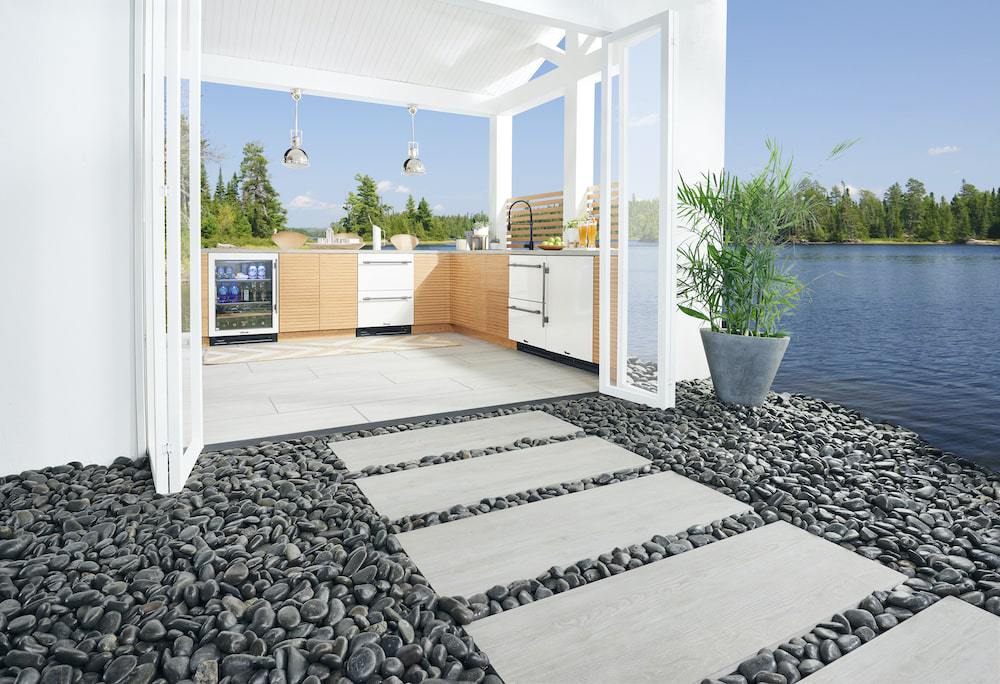 Getting outdoors sometimes simply starts with opening the doors to a wandering path. Incorporating the essence of modern-day luxe in the kitchen with Grigia Porcelain Wood Tile adds a touch of sophistication to your interiors with wood-look planks and coordinating pavers outside to give your property a sense of natural beauty. Adding Black Polished Pebbles to the waterfront allows for enhanced exploration.
Design Tip: Porcelain pavers and wood-look tile can be applied to exteriors and interiors to help make a seamless transition from the inside out. Incorporate natural stone ledgers to vertical surfaces and matching pebbles throughout your yard. Don't forget to coordinate furniture, greenery and appliances to complete the entire look.
Land the Look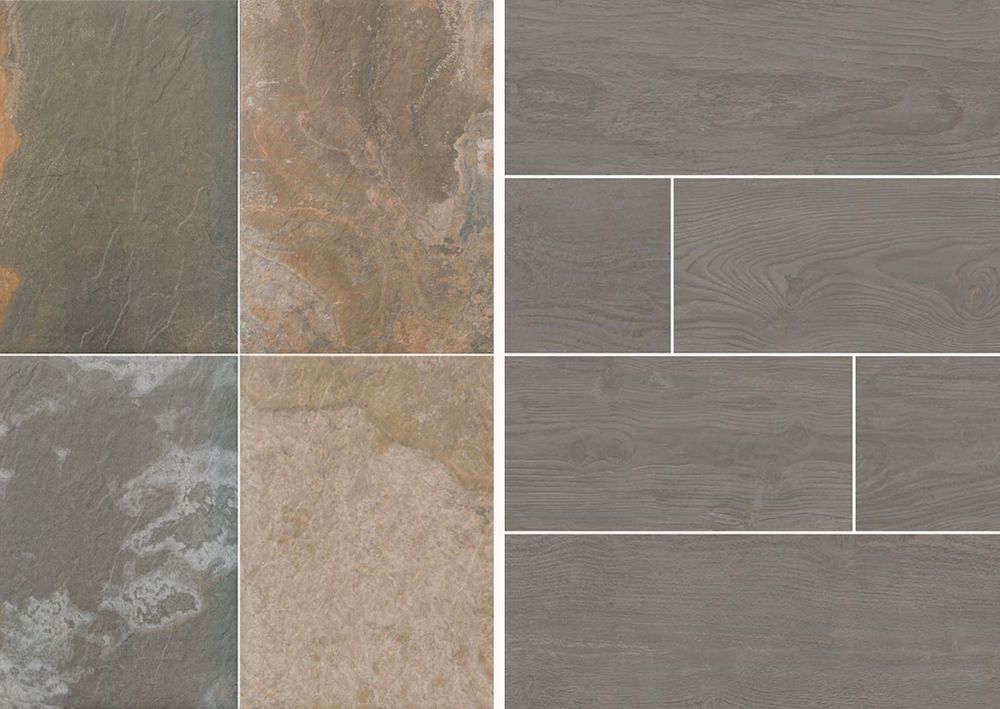 Click these links to access the products above: Mystique Multicolor Arterra Pavers and Coala Porcelain Wood Tile.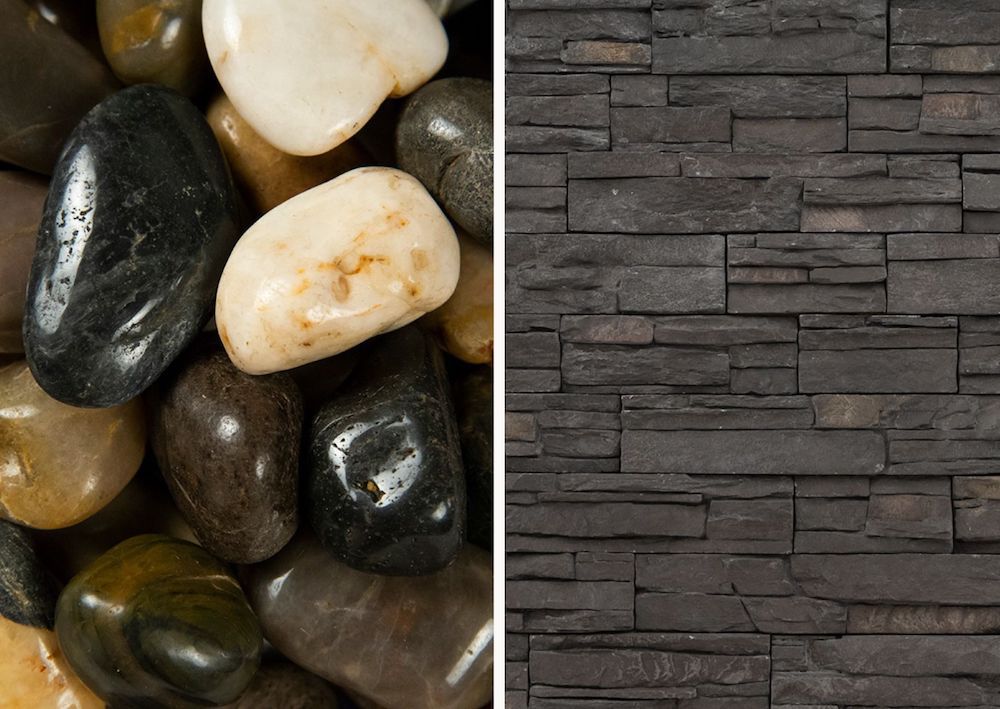 Click these links to access the products above: Mixed Super Polished Pebbles and Denali Anthracite Stacked Stone.
#2 GLOBAL SPICE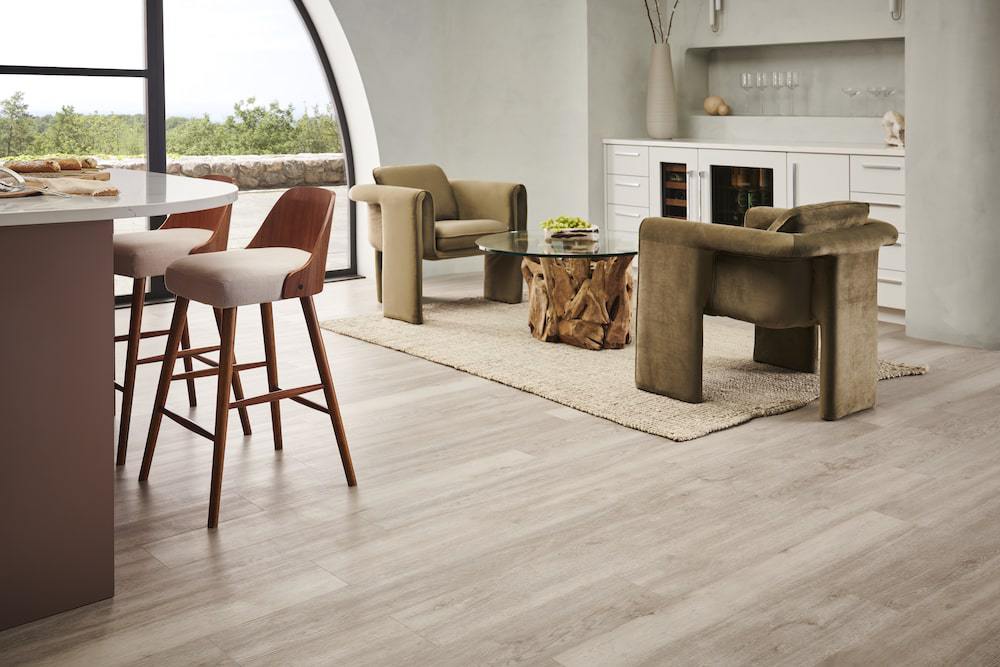 Arched windows, blushed-toned walls and complementing furniture are design trends we can all appreciate, but what adds depth to our interiors is the flooring we see throughout the house. From the moment you walk in, Brianka Luxury Vinyl Planks will catch your eye with light creamy hues and darker knots and grains. Complete the look with a beautiful dessert hued kitchen island and quartz countertop by adding Calacatta Azai to your decor.
Inspired by Mediterranean artistry, Global Spice encompasses a range of warm colors, from rich terracottas to rosy blushes and rich burgundy hues. The color palette adds soul to interiors, especially when paired with beautiful surfaces that bring alive the essence of natural wood, stone and brick.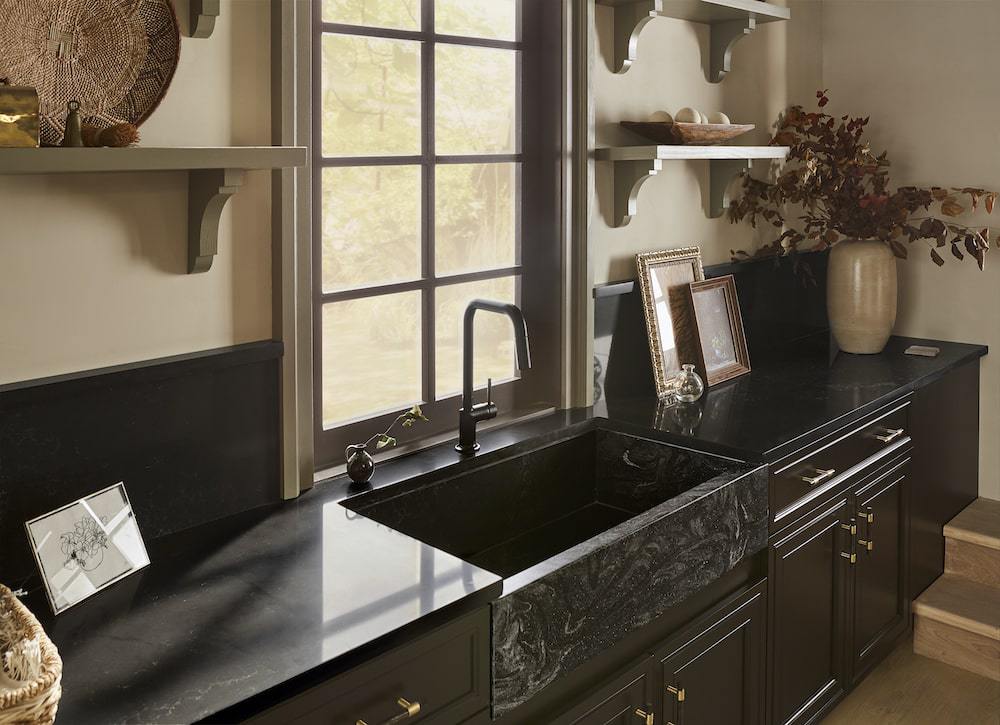 Whether you're nestled in a countryside villa or simply like a worldly Mediterranean decor style, your kitchen should complement the rest of the home–especially when it's the one room in the house where we all seem to gather the most. From washing the dishes to rummaging through the fridge, everyone in the household is sure to pass through the kitchen every day. With such high traffic, this area needs to not only have an appealing aesthetic but also needs to be durable and easy to maintain. With Midnight Corvo™ Quartz Countertops, you can achieve the look of having a sophisticated kitchen while ensuring it can withstand everyday wear and tear.
With the look of natural stone and wood, you can accomplish refinement for your interiors by adding quartz countertops and luxury vinyl planks. Complete the villa look by adding antique picture frames, vases, shelving and other Mediterranean-like decor.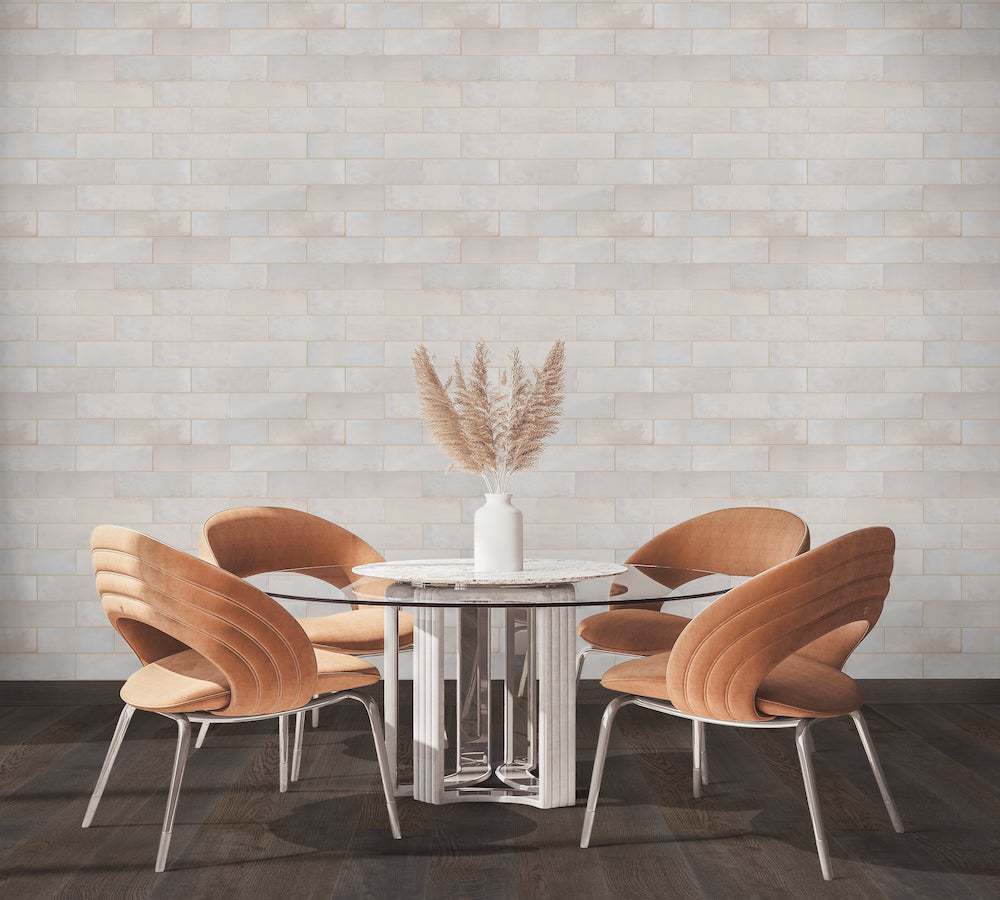 There's nothing better than the look of simplicity. With the creamy shades of Marza Pearl Subway Tile and contrasting dark rich browns in Estate Oak Wood Flooring™, create a room full of warmth. Add a touch of style with a sleek dining table and curved velvet chairs. Brighten up the room with a splash of color using persimmon, terracottas and copper tones for the ultimate Global Spice statement.
Design Tip: Create inviting interiors with wood-look luxury vinyl planks, stone-look countertops and brick-like tiles by using natural tones, so you can bring your environments to life. These neutral materials create a base color palette for you to layer on trending colors with paint, textiles, and case goods in your home.
Land the Look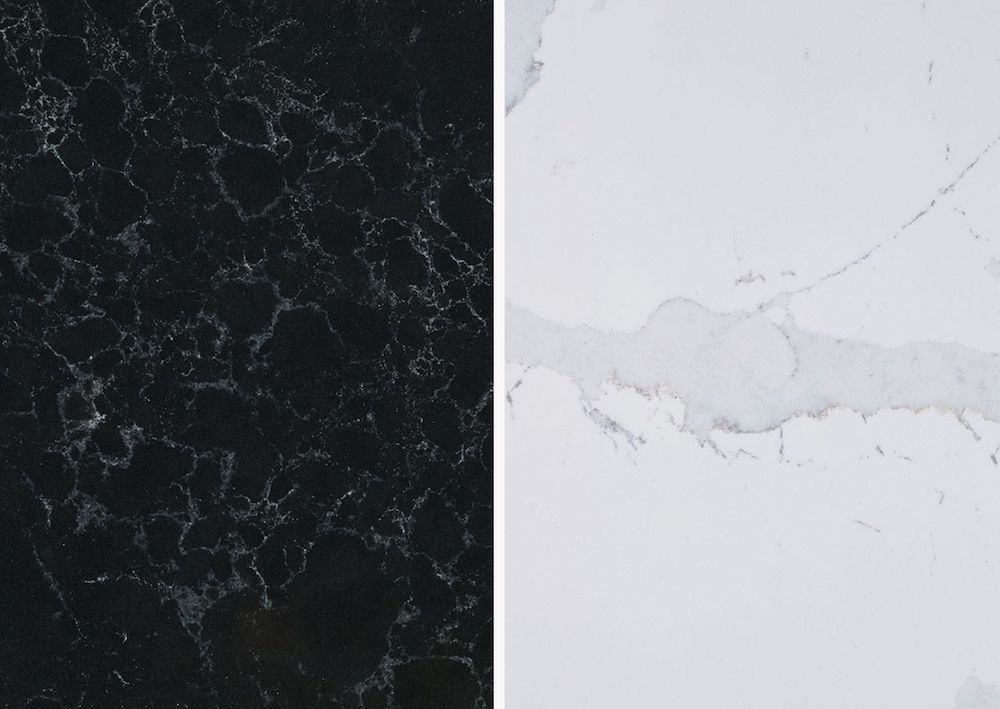 Click these links to access the products above: Midnight Corvo™ and Calacatta Azai®.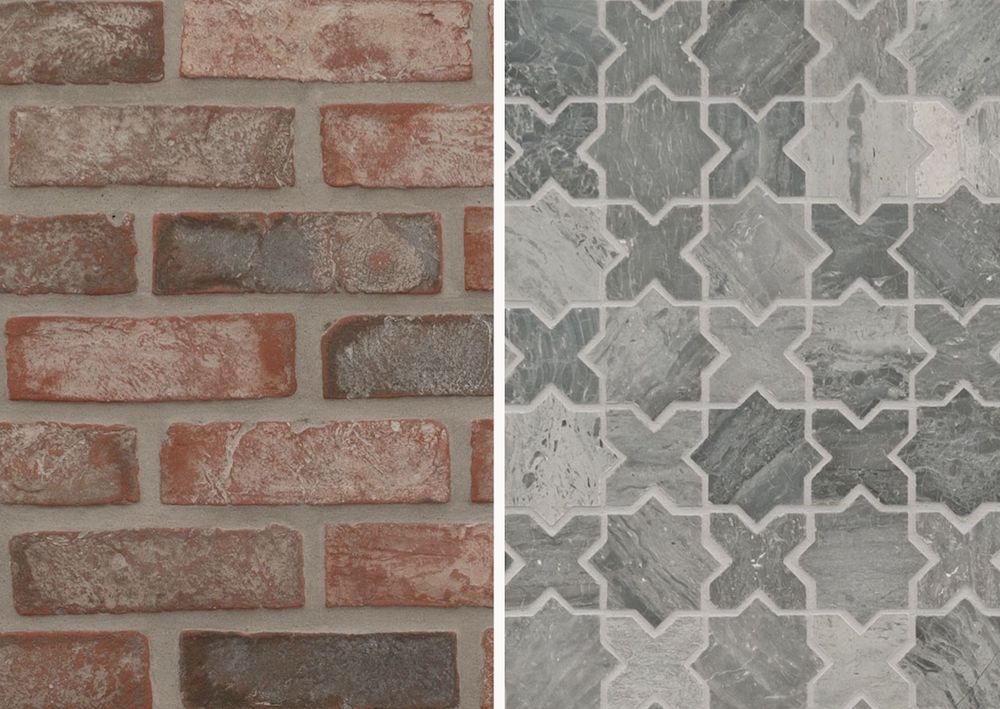 Click these links to access the products above: Noble Red Clay Brick Tile and Montague Blue Oak Pattern Tile.
#3 MORE THAN MOD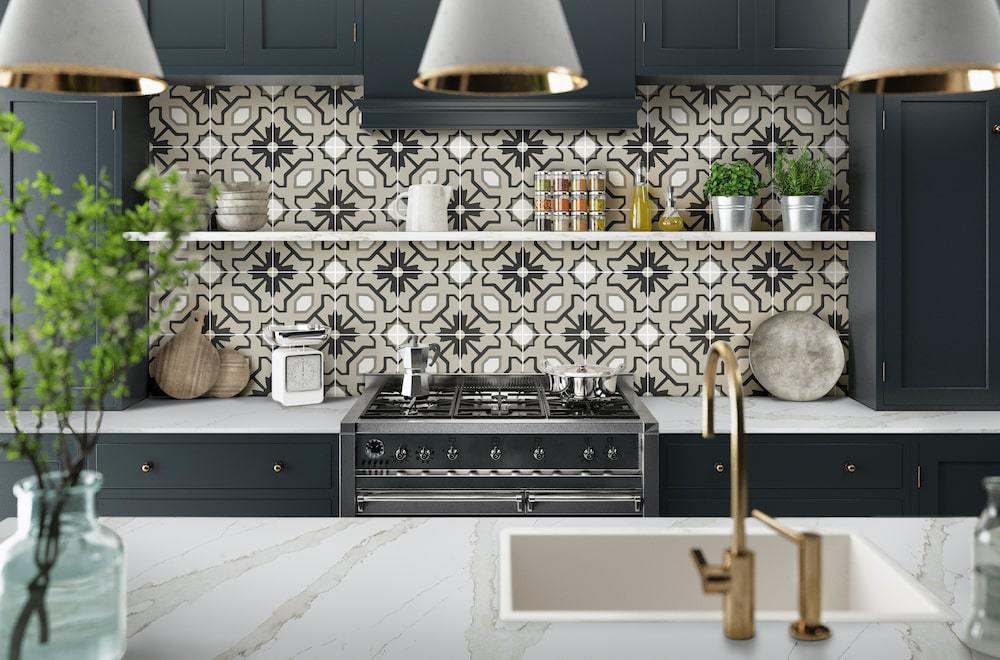 We can all appreciate a welcoming kitchen to help us feel right at home. Incorporating stylish geometrics like Tahari Encaustic Tile as a beautiful backsplash complemented by Calacatta Goa™ Quartz Countertops, create the look and feel of a comfortable modern farmhouse.
This contemporary look offers a modern vibe to your interiors. More Than Mod trend empowers us to explore an edgy take on modernism by showcasing a variety of surface materials along with offering ideas comprised of perfect pairings, including spice shelves, greenery, pottery, appliances and much more.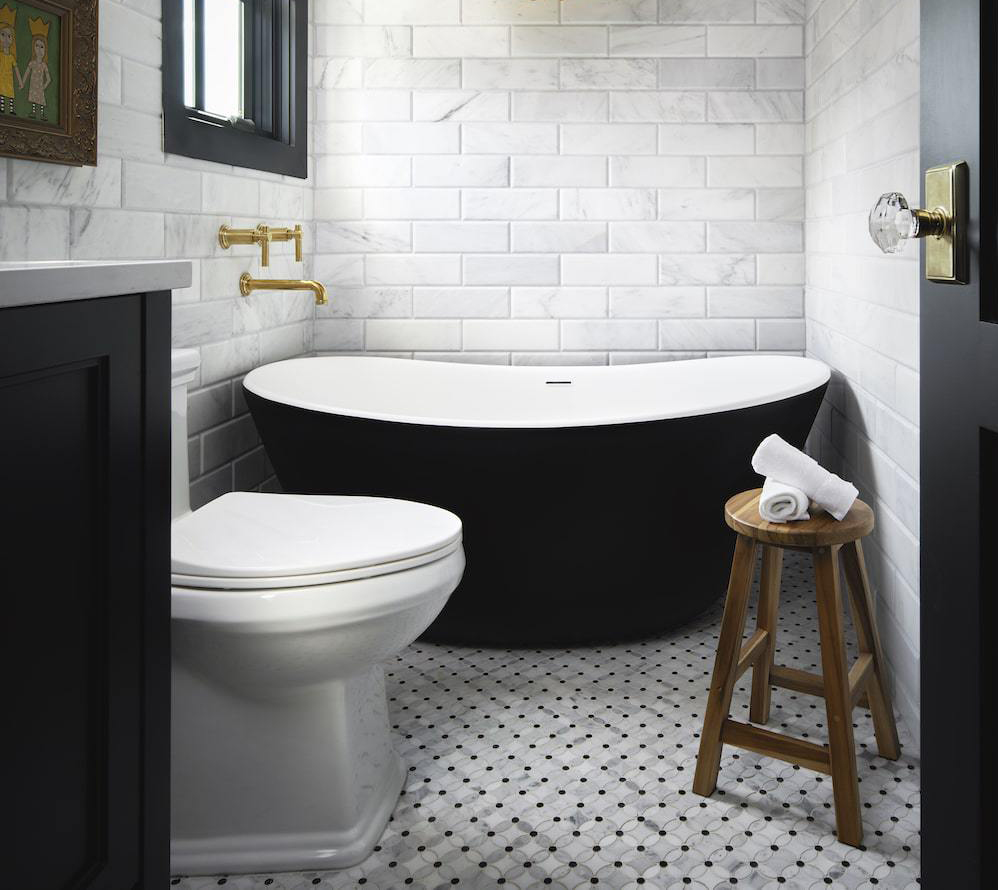 Extend the mod vibe to bathrooms and beyond. While a vintage freestanding bathtub can help create this look, adding Arabescato Carrara Beveled Tile to the walls and shower surround, and Florita Pattern Marble Tile to the floor can bring your decor to life. Complete the look with a blonde wooden stool, bold black colored cabinetry, framed photos and add a matching bath towel bundle to create the warmth found in the simplicity of a modish home.
Create this Lookbook style by incorporating a variety of design styles, including batik prints, ikats textiles and geometrics to floors and walls. Complete the look with high-contrasting black and white brick-like tiles along with vintage appliances, decor and more.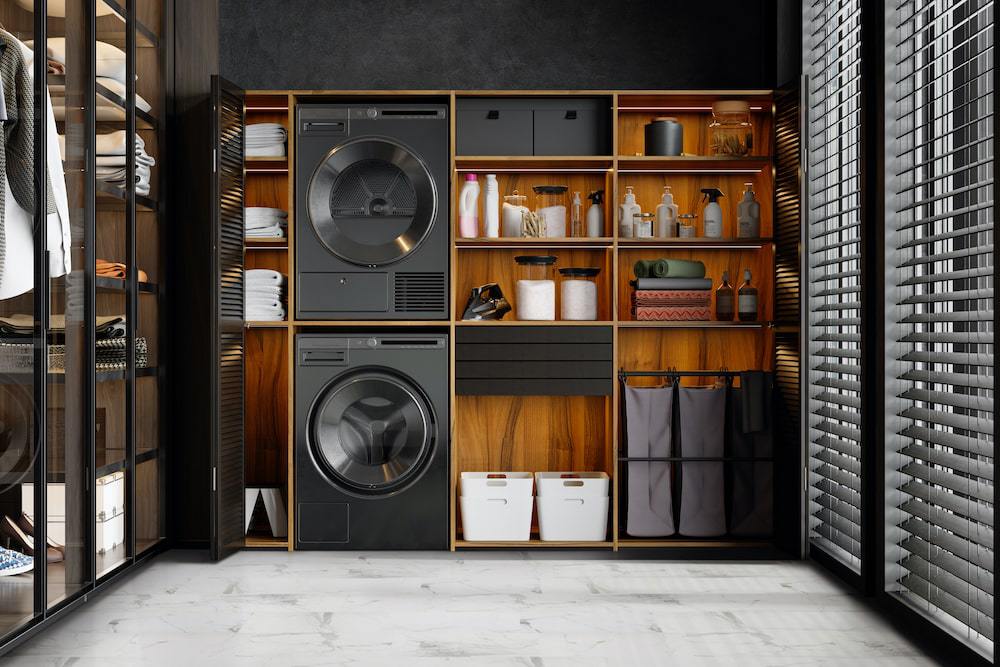 Having a spacious laundry room with a stacked washer and dryer and shelving for laundry, soap, an ironing board and other gadgets allows you to get unwanted chores done with ease. Extremely durable and waterproof, complete the look with Calacatta Legend™ Luxury Vinyl Tile.
Design Tip: To create the look and feel of More Than Mod, incorporate a variety of contrasting black and white tones to your surfaces and mix in blonde hued wood to bring the look all together. Sprinkling geometric encaustics and mosaics will deliver a simple, yet edgy look that all of your guests are sure to love. This welcoming environment will have everyone feeling right at home.
Land the Look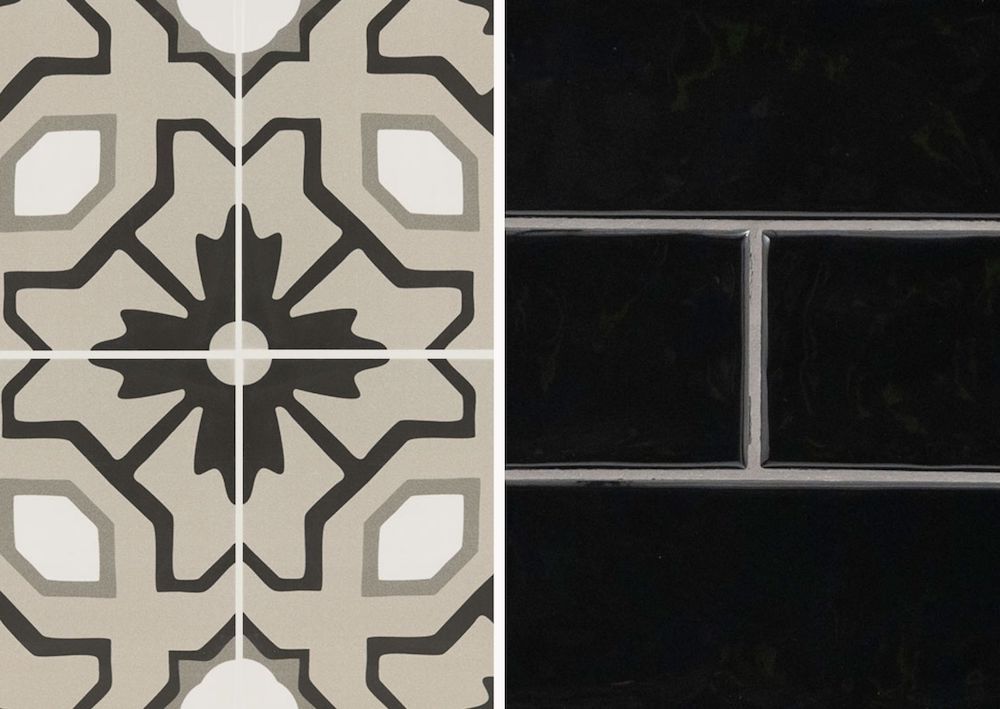 Click these links to access the products above: Tahari Encaustic Tile and Urbano Ink Tile.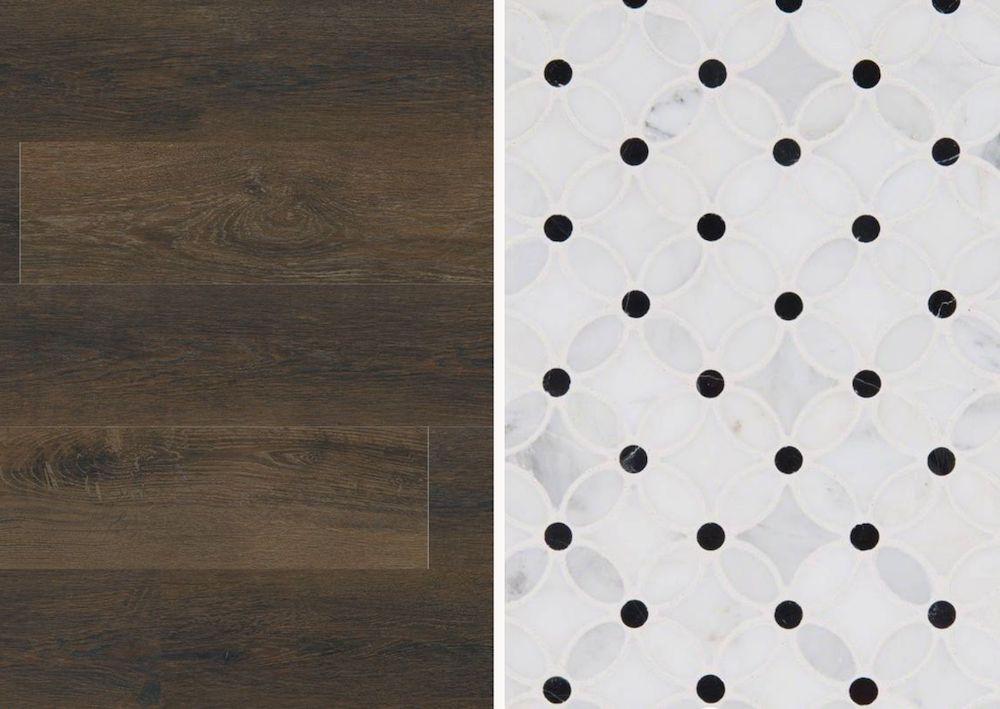 Click these links to access the products above: Barrell® Luxury Vinyl Planks and Florita Pattern Marble Tile.
#4 THE GOLDEN HOUR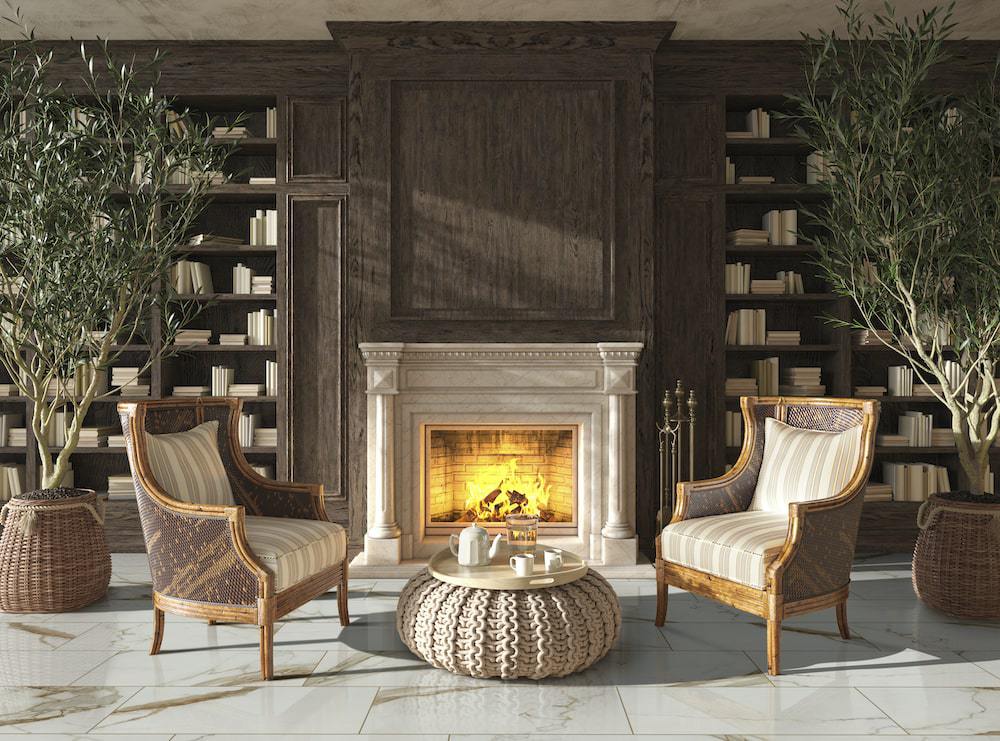 Grab a cup of tea and cozy up next to the fireplace. Achieve an enchanted warm vibe to your interiors by adding Regallo Calacatta Marbella Porcelain Tile. This tile features a warm white background with dramatic gold and copper veins interlaced throughout. Add vintage furniture with golden brown hues and a complementing coffee table along with a bookshelf and plants to complete the warming atmosphere you desire.
Inspired by desert warmth, The Golden Hour trend is composed of rich browns, brilliant golds and honey hues to help make interiors feel comfortable. Achieve the complete look by adding luxurious marble-look porcelain flooring along with matching a fireplace facade, mahogany wall paneling, exquisite furniture and other aged decor.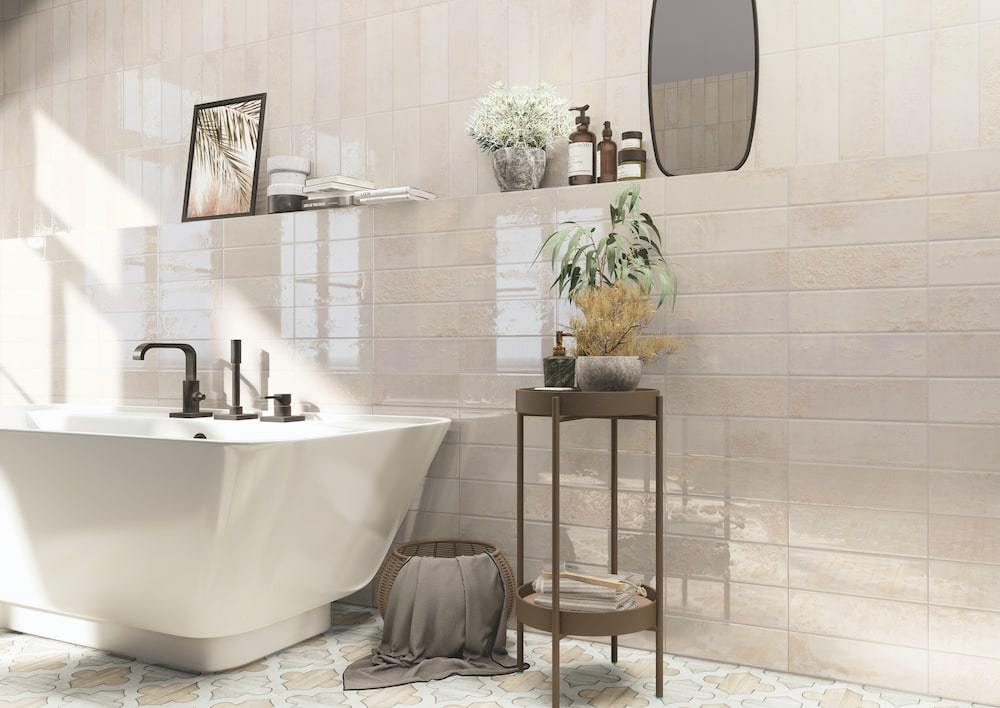 Taking a warm bath just got more appealing. With a light shimmer of glossy creamy whites, Marza Pearl Subway Tile is the perfect backsplash and wall tile for your bathroom. Whether you're jumping in the tub or cooking a comforting meal in the kitchen, this tile can help make your interiors feel warm and cozy.
This one-of-a-kind tile makes anyone feel welcomed with its approachable warmth and equally bold statement. From the kitchen to the bathrooms and beyond, add complementing decor in neutral golden warm tones to help make this shimmering tile shine even more than it already does.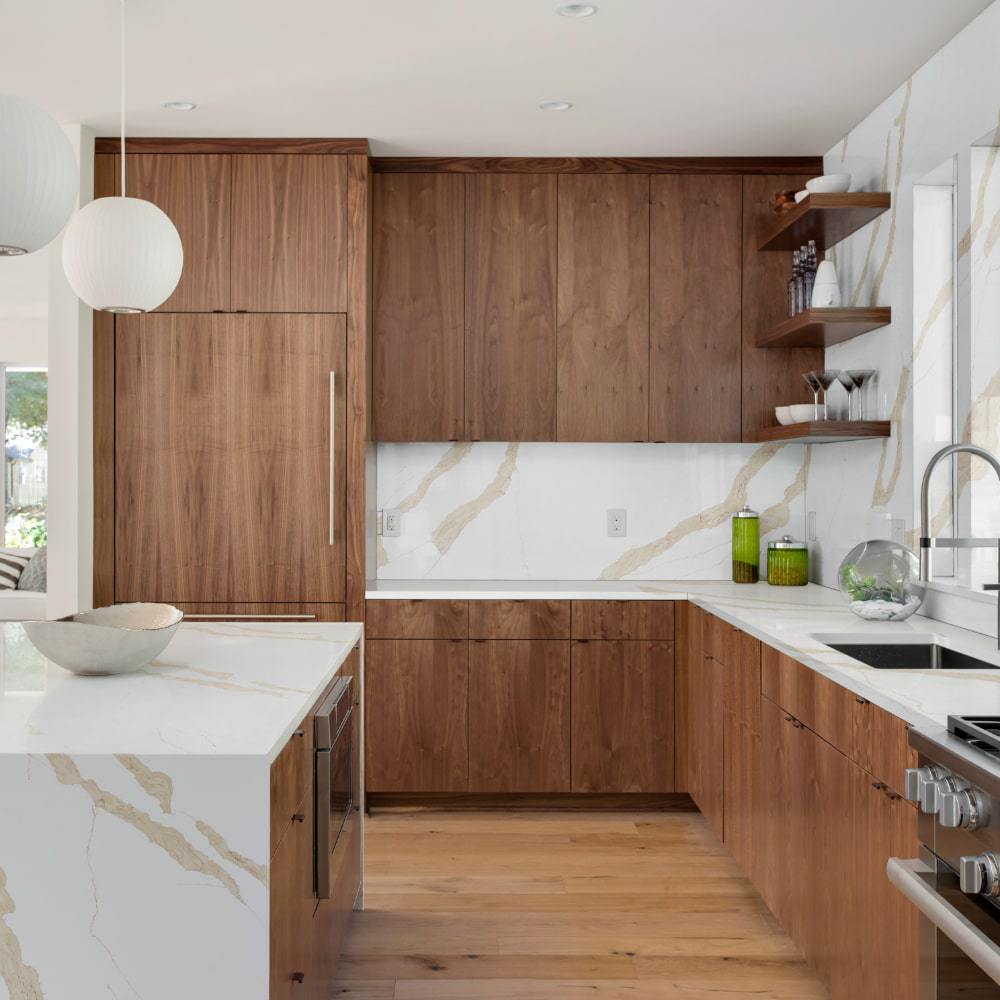 There's nothing more comforting than a desert hued home. Bring the vibes to life with Calacatta Leon Gold™ by incorporating this quartz into kitchen islands, countertops and backsplashes. Add matching golden brown cabinetry, furniture and decorations to complete The Golden Hour. This honey colored thick veined quartz slab is a showstopper!
Design Tip: When working with warm materials, layering is your friend! A mix of blonde, cream, gold, cocoa, and honey can create a visual effect that feels like a warm hug. One key is to pair these hues back with bright white to keep the palette feeling fresh and new. Happy Mixing!
Land the Look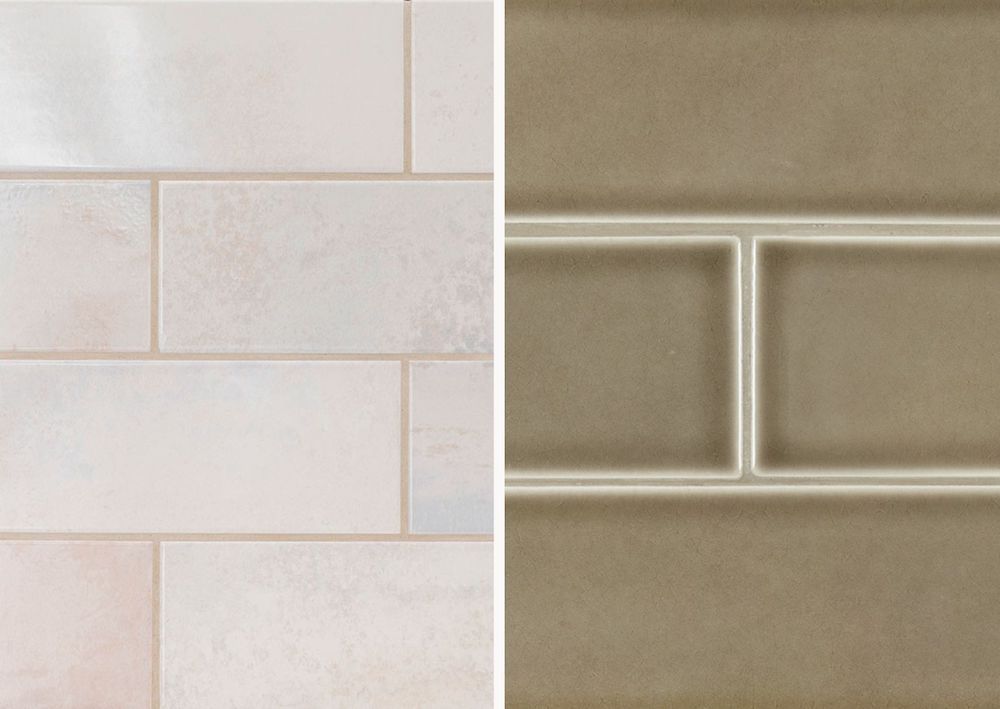 Click these links to access the products above: Marza Pearl Subway Tile and Highland Park Artisan Taupe Subway Tile.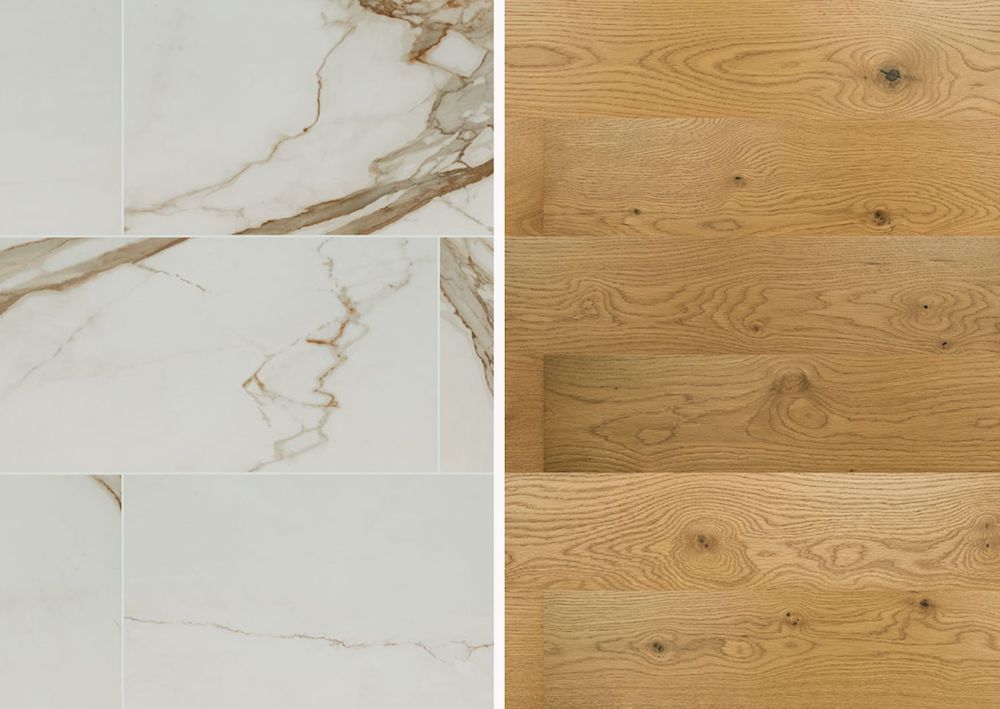 Click these links to access the products above: Calacatta Marbella Porcelain Tile and Aura Gold Wood Flooring™ Oak.
#5 VERDANT STORM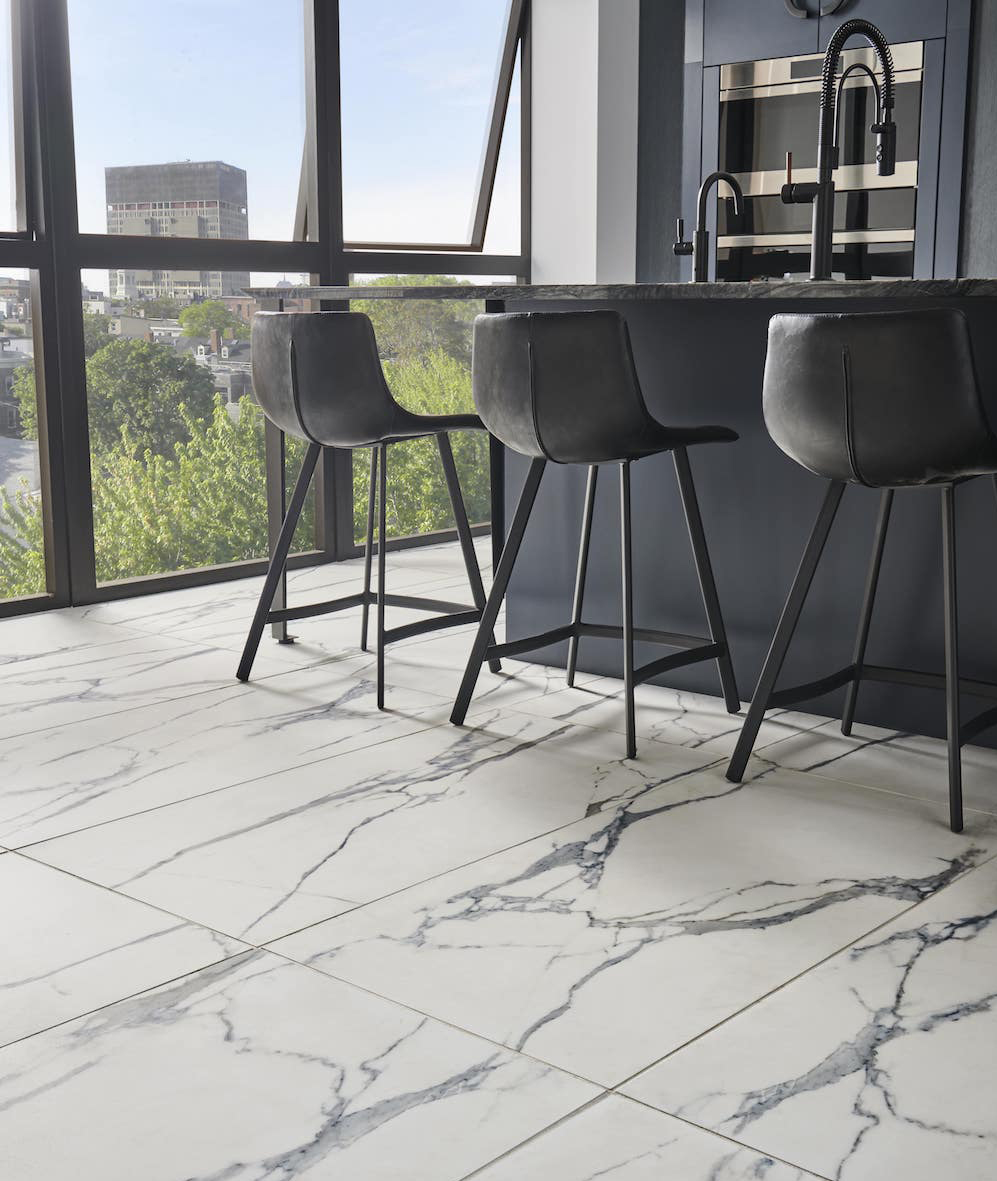 A breath of fresh air never felt so good! Open your home with large windows and shades of the deep blue sea. Savoy Azula Porcelain Tile offers a bright white background with bold grayish-blue veins to help bring life to the room. Add Cirrus Gray Quartzite to your countertops with accompanying midnight, sage or emerald accent walls to complete the look of the Verdant Storm.
With inspirations blowing in from the world down under, the Verdant Storm trend features chameleon colors in various shades of dark blues and complex greens. Much like the waves crashing on the shore, this color palette welcomes you with a sense of mystique. With unique marble veins in quartz, tile, and slabs along with neutral natural stone and cool gray wood looks, achieve the complete look by adding accent colors to cabinets, furniture and other decor throughout your home.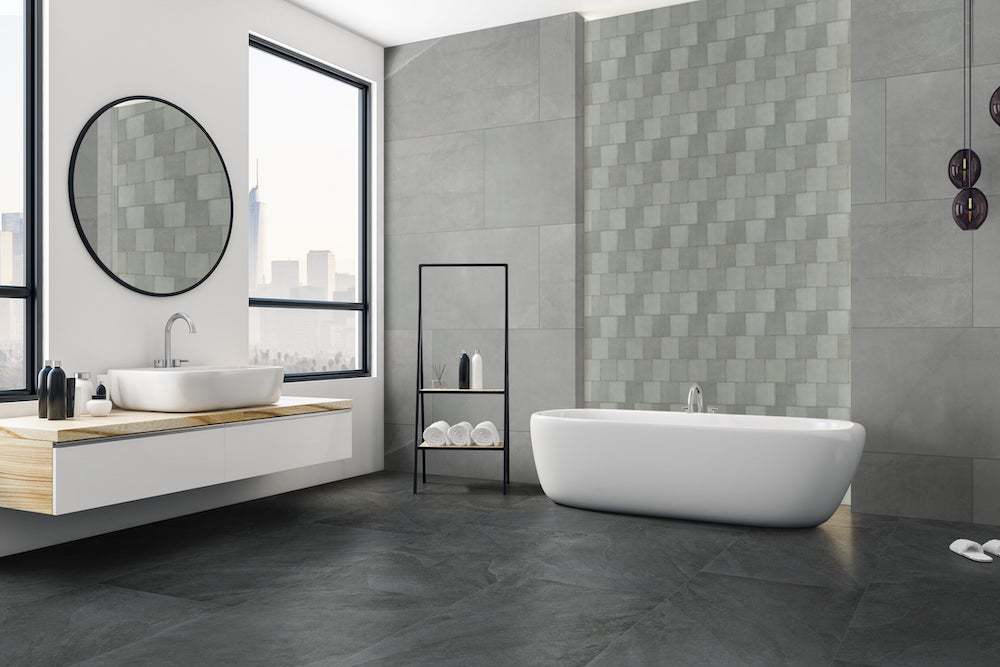 Taking in the city views from the washroom should be relaxing and tranquil. Achieve serenity by incorporating a watercolor glazed Renzo Jade Ceramic Tile accent wall, with Sande Grey Porcelain Tile walls and Midnight Montage Porcelain Flooring. Finish the look off with complementing shelving, mirrors and fixtures.
The mix and match of complex shades of green and punches of navy create an elevated pairing that is trending in a bold way. In bathrooms, materials need to be water-resistant and fortunately they come in all shapes, sizes and materials. Worry proof surfaces are top of mind and now offered in a variety of on-trend looks.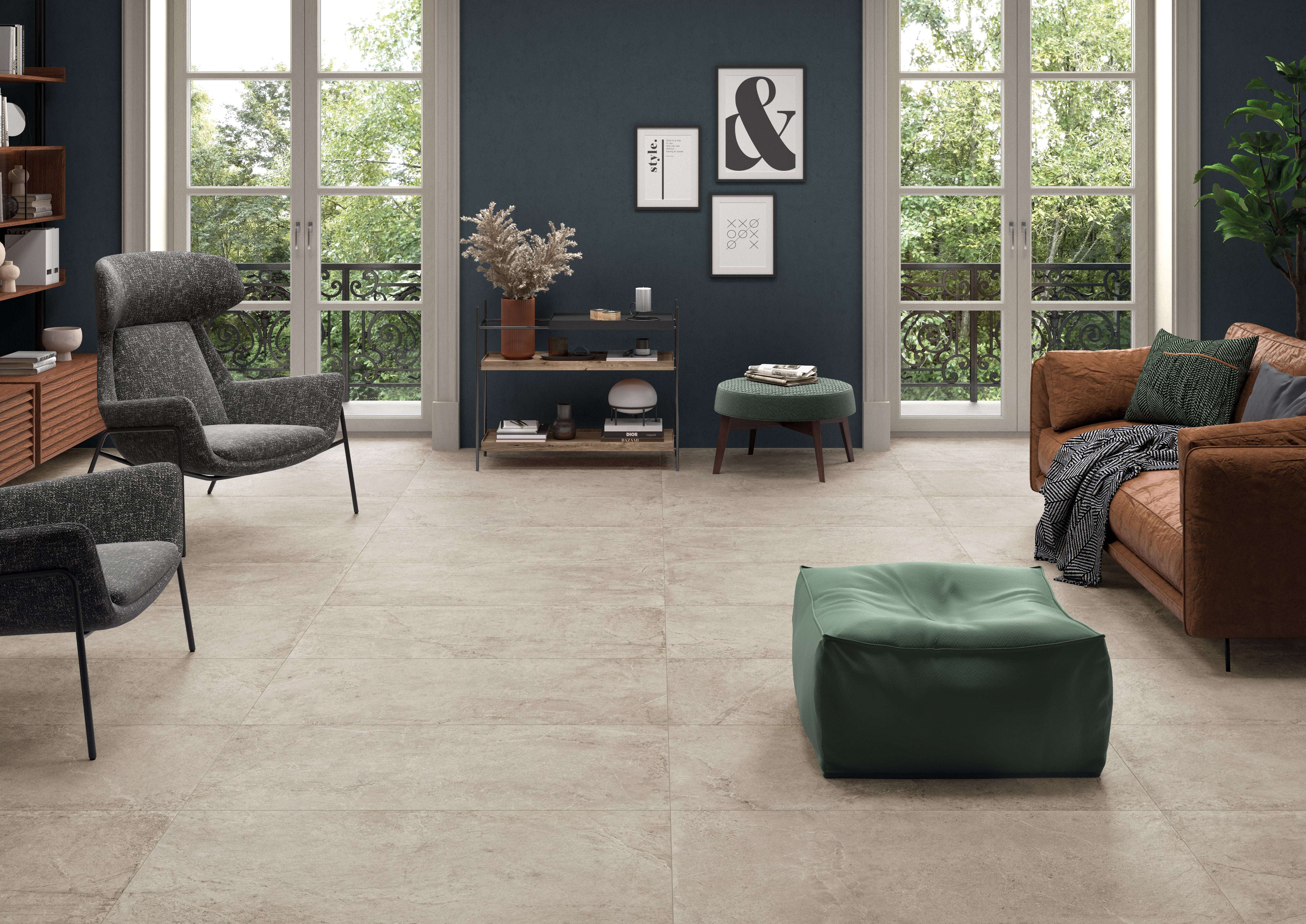 Whether you're reading a book or watching TV, a welcoming family room is a must in every home. You'll require a comfy couch, ottoman and matching chairs to make sure everyone has a place to sit. Complete the look with virtually indestructible Soreno Porcelain Tile, waterproof, kid proof, and worry-free. The perfect flooring choice for busy families. What's even better is this tile has a coordinating paver if you want to extend your family room out to the patio.
Design Tip: Blues and Greens are loved by many, 2023 welcomes the mix of these shades. Consider using Hunter Green Cabinetry paired with a Calacattta Viraldi Quartz counter top for a look that's one of a kind. Hello hint of green in the marble veining, let's say goodbye to all-white kitchens!
Land the Look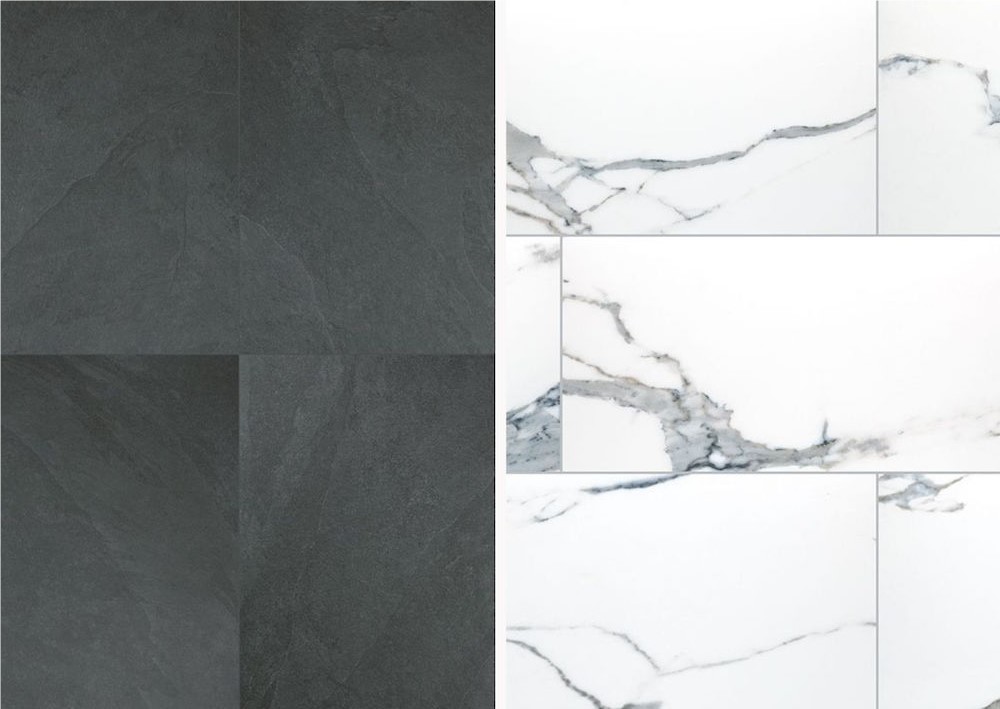 Click these links to access the products above Midnight Montage Arterra Pavers and Savoy Azula Porcelain Tile.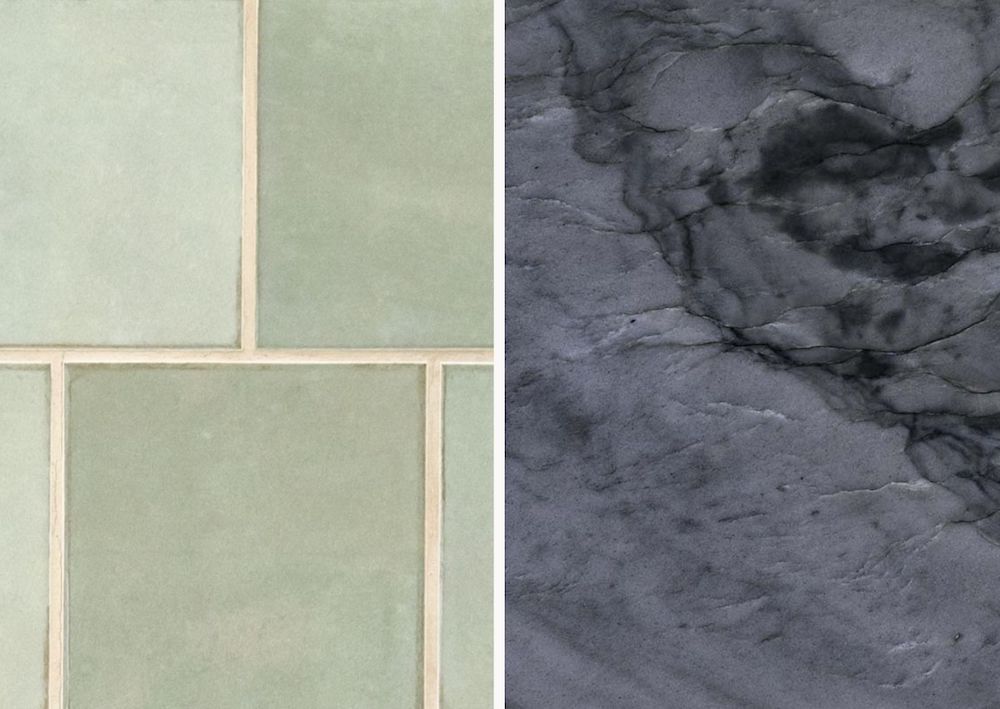 Click these links to access the products above: Renzo Jade Ceramic Tile and Cirrus Gray Quartzite.
Feeling Inspired? The trendspotters have spoken! Now it's your turn to bring the fresh looks home and let your personality shine through. What will you create in 2023?
LEARN MORE ABOUT PORCELAIN PAVERS
MSI's Top 10 Zeroslip Porcelain Tile Products
Marble Cosmic Collection - Exciting Stacked Stone And Floor Tile Combinations
Get The Look Of Travertine With The Legions Porcelain Pavers Collection
Paving The Way With Arterra Porcelain Tile Pavers