On Trend Flooring With Fabric-Inspired Porcelain Tile
August 06, 2022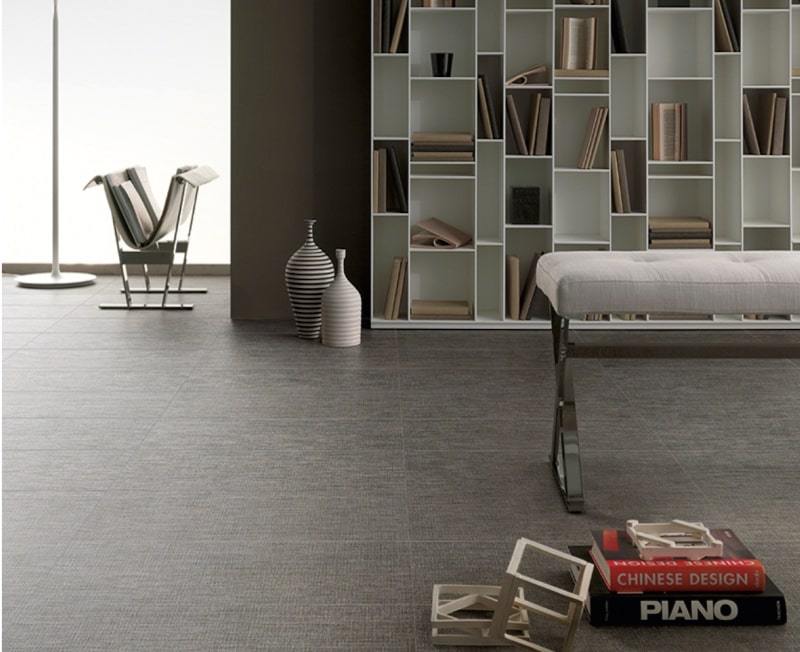 When upgrading flooring for greater luxury and aesthetic appeal, you might be torn between hardwood and natural stone. On the other hand, laminate, LVT, or ceramic tile are cost-effective alternatives. However, if you have yet to add resilient and versatile porcelain tile to your list of flooring options, you're missing the opportunity for a huge impact.
Porcelain is durable and resistant to wear, making it ideal for high-traffic areas. It's also a low-maintenance surface material, which is great for busy households. It works in any room in the home, even areas like bathrooms that could have moisture issues when using other flooring types.
For those seeking green options, porcelain is among the most eco-friendly flooring products on the market. It's typically made with zero-waste processing from natural clay that has been fired at higher temperatures, eliminating any potential volatile organic compounds (VOCs).
Porcelain is also durable enough for both indoor and outdoor applications. Whether you want to tile your kitchen, your entire home interior, or a massive entertaining space in your backyard, you'll find indoor and outdoor porcelain tile options to suit your needs.
In addition to the practical benefits of this tile and flooring option, porcelain can be made to look like a wide range of attractive materials, from natural stone patterns to wood grain to fabric textures.
While a fabric look might not be your first thought when upgrading flooring, MSI Surfaces offers several porcelain designs that will change the way you think about your flooring.
Modern TekTile
It's hard to deny the beauty of natural wood grain or the dramatic pattern of Calacatta marble, especially when spread across an expansive flooring surface. What you might not immediately picture when it comes to flooring options is fabric.
However, TekTile invites you to give the prospect a little more thought. While you wouldn't necessarily cover your floor in linen or tweed, a porcelain tile featuring a fabric-like pattern can add subtle visual texture and interest to your space, paired with a feeling of comfort akin to an overstuffed couch strewn with fuzzy pillows and throw blankets.
The Italian glazed porcelain tiles featured in this MSI collection offer practical benefits like durability and low maintenance while elevating the welcoming ambiance of every room. Neutral hues of ivory and gray are designed to complement any home interior or exterior, providing the versatility needed to set the groundwork for a lovely and relaxing kitchen, bathroom, laundry room, living room, or patio.
If you love the look, you can even extend it to vertical surfaces like backsplashes, fireplace surrounds, shower stalls, or other design features that you want to look luxurious — without necessarily competing for dominance in the design. Which fabric-inspired porcelain floor tile is right for your home upgrade project?
Crosshatch Ivory
There are practically endless ways to use fabric tile patterns in home decorating. If you look at these designs and feel a bit baffled as to how they'll work in your living spaces, don't be alarmed. This unique trend is just starting to take off, so it's not surprising that you don't have a solid frame of reference.
The good news is that this opens the door to possibilities, and with MSI's visualization tools, you can get a glimpse of how TekTile will enhance the rooms in your home. A good place to start is with a subtle pattern and neutral color palette that will work in any interior design.
Crosshatch Ivory porcelain tile offers the perfect way to add understated elegance to any room. It's a great choice for kitchens and bathrooms, where you need durable and low-maintenance solutions. But this pattern is a particularly lovely option for light, bright office spaces, where it adds an element of visual texture that softens the rigidness of the material. Consider using it for an accent wall to enhance the luxury ambiance and the soothing vibes.
Crosshatch Gray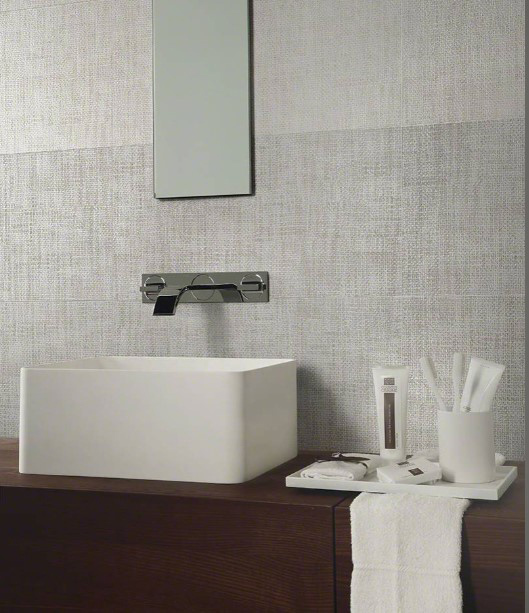 Darker than the Ivory version, Crosshatch Gray porcelain tile features a slightly more prominent linen fabric look in soft gray. This will look beautiful in larger spaces, such as a living room or bedroom, where the visual texture will preserve the warm, inviting feeling you want, but without the hassles of cleaning and maintaining wall-to-wall carpeting. You can even carry it into the hearth and fireplace surround, or create a stunning statement fireplace wall that stretches to the ceiling.
This is also a great choice for grounding light and airy kitchen and bathroom spaces. The mid-tone gray looks fantastic paired with cool whites, but will beautifully offset pale wood tones as well. While it has a subtle pattern that elevates any design, it can also recede when paired with bolder colors and patterns, offering the versatility you need to choose your preferred design elements and even change them later on.
Lineart Gray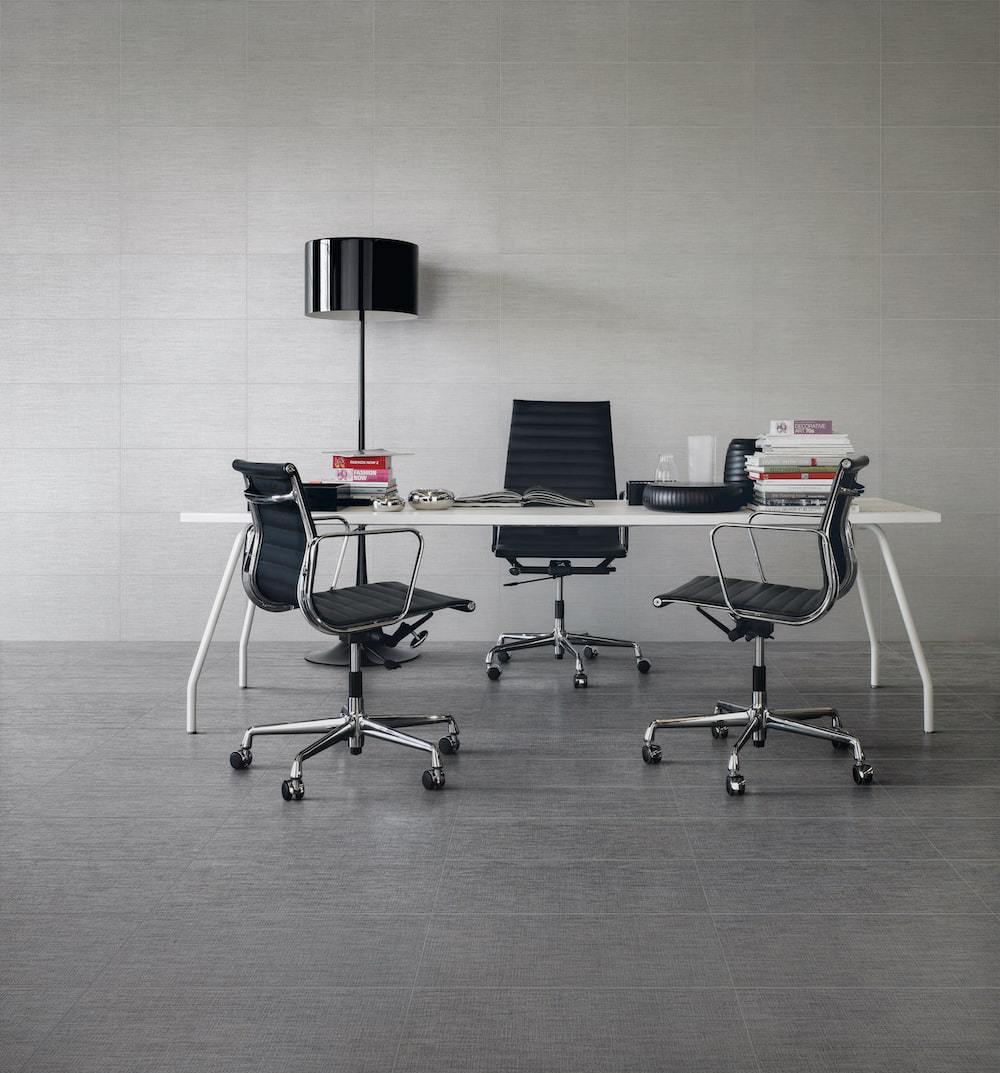 Soft, soothing tones and textures characterize Lineart Gray porcelain tile, putting it somewhere between Crosshatch Ivory and Crosshatch Gray. The visual texture of this pattern mimics a slightly rougher, fuzzier weave, leaning toward tweed, although it's still a refined linen design.
If you're looking to create cozy spaces that enjoy the added practical benefits of tile flooring, you can't go wrong with this pale gray surface material. The large-format tile is fantastic in larger en-suite bathrooms that could feel cavernous and cold in an all-white palette. Punch up your design with Lineart Gray for flooring and consider adding it to a shower enclosure or wet room wall for added balance in a breezy design.
Porcelain pavers are also a step up from concrete if you're looking to elevate your patio space. Lineart Gray will read like the softness of a rug under your outdoor furniture, but it also offers resilience and the option to hose down the surface.
Learn More about Fabric-Inspired Porcelain Tile
When you're tired of filthy carpets, outdated tile, and grimy grout lines, it's time to upgrade to flooring that enhances function, elevates your design, and adds luxury appeal to your living spaces. MSI is passionate about helping you find sophisticated flooring options that work with your lifestyle and personality.
Need help choosing the perfect options? Simply call us or try our convenient online chat feature now to speak with a friendly and knowledgeable flooring professional.