The Perfect Hotel Countertop For Your Reception Area
September 17, 2021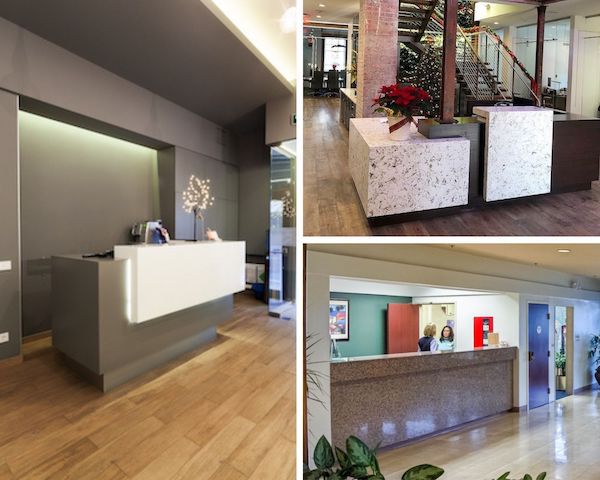 When customers walk into your hotel for the first time, you want to create a good first impression. The last thing you want is for them to see a run-down, outdated reception area that looks like it hasn't been updated in years. That's why it's important to select the perfect hotel countertop for your reception area that offers timeless beauty and unmatched durability that can withstand the wear and tear placed on it by your employees and guests.
It's no surprise that quartz countertops and granite countertops are some of the most popular choices for hotel reception areas (and hotel bathroom countertops!)because of their versatility and durability. To help you find the perfect hotel countertop for your reception area, we've outlined factors to consider during the selection process, as well as provided recommendations for a few of our favorite premium surfaces.
What to Consider When Selecting Hotel Countertops
Ready to create a high-end hotel reception area that leaves your guests wowed as soon as they step foot in the door? Here are a few factors to consider when selecting countertops for your reception area.
Durability
Depending on how much traffic your reception area gets, you need a functional and durable countertop option that won't show signs of wear over the years. Quartz countertops are one of the hardest materials on Earth, making them a top choice when considering durability. You can have peace of mind that your counters will be resistant to chipping, cracking, and staining, no matter what your staff or customers throw their way.
Maintenance
Managing a hotel is an extremely busy job. From greeting guests and cleaning hotel rooms to preparing breakfast and checking guests in and out, there's a lot that goes on behind the scenes to keep the hotel up and running day in and day out. The last thing you want is to add another item to your to-do list such as sealing your countertops to keep them looking their best. Because quartz countertops are non-porous, they are resistant to staining without regular sealing — unlike other hotel countertop options like granite countertops. You will simply need to wipe down your counters with warm water and soap to keep your quartz counters looking their best.
Appearance
What is the desired aesthetic of your space? Are you looking for a sleek countertop with minimal veining or would you prefer a dramatic slab with a distinctive pattern? A major benefit of quartz countertops is that quartz can be engineered in a multitude of colors, patterns, and countertop edges, meaning that you don't need to rely on the earth to create the pattern you want like other natural stones. You'll even be able to find quartz that looks like marble for an elevated look in your reception area!
Budget
One of the last factors to consider is your overall budget. How much are you hoping to spend on your hotel countertops? At the end of the day, your job is to focus on your hotel's bottom line, which means you can't just select a countertop without considering the overall cost. Before browning quartz countertops and granite countertops, determine your budget and the amount of countertop you will need so you can exclude options that are outside of your budget — preventing you from falling in love with something you can't afford.
Hotel Countertop Options for Reception Areas
Now that you know what to look for when deciding on the perfect hotel countertop for your reception area, we've put together a few of our favorite options for you to consider to make the selection process a bit easier. Here are a few of our recommended hotel countertop options.
Shell White Quartz Countertops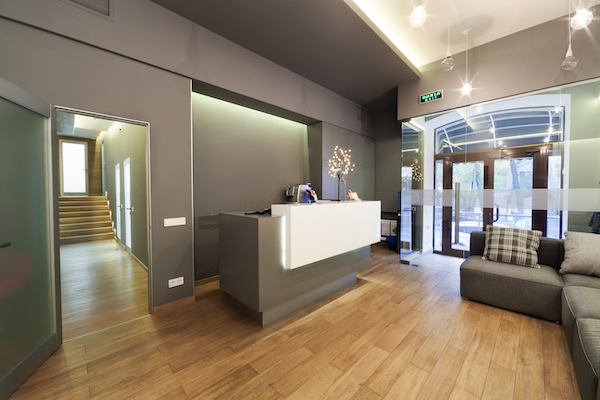 When designing a hotel, it's important to choose design elements that are inviting so each of your customers feels at home the moment they step foot in your hotel. There are few countertops more welcoming than Shell White Quartz that offers an unfussy natural appearance that boasts hues of dusty white and barely-there veining. The simple, yet elegant quartz has the perfect amount of flair to keep your reception area feeling anything but sterile. Plus, it's stain and germ-resistant, making it the ideal choice for high-traffic areas such as a reception area.
Calacatta Leon Quartz Countertops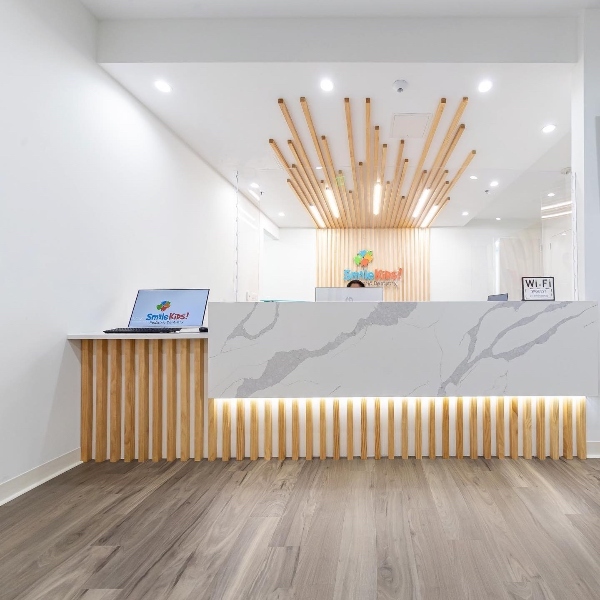 If you're hoping to make a statement as soon as customers enter your reception area, look no further than Calacatta Leon quartz countertops. Featuring a soft white backdrop that is enhanced with dramatic grey veining throughout the slab, there's nothing quite like this eye-catching hotel countertop. Whether you use it as the countertop of your reception area or as hotel flooring or an accent wall, it's sure to be a crowd-pleaser. This product can work well as a hotel tub surround too!
Montclair White Quartz Countertops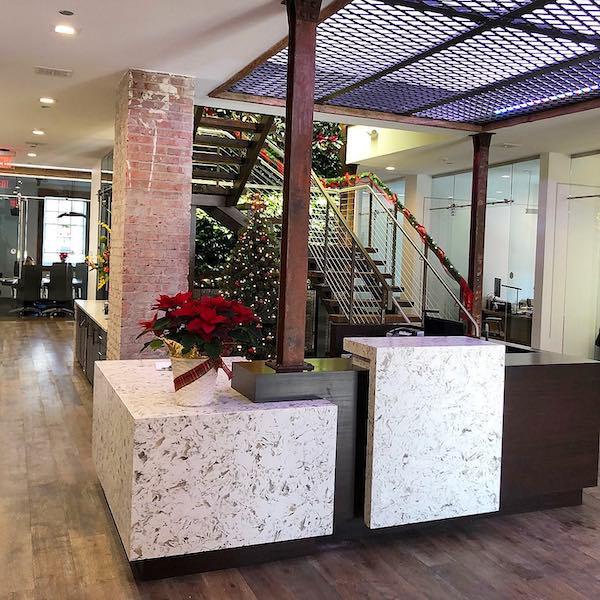 Photo Credit: @buffalogranitemarble on Instagram
You may be in the market for a hotel countertop that adds both depth and dimension to your space. If that sounds like what you're looking for, consider installing Montclair White Quartz in your hotel reception area. With a creamy white backdrop that features dramatic movement in subtle white and gray tones, you'll love how this quartz that looks like marble transforms your space. This premium surface is visually appealing, durable, and low maintenance, making it a no-brainer for a variety of applications in your hotel reception area, including countertops, flooring, accent walls, and more.
Amarello Ornamental Granite Countertops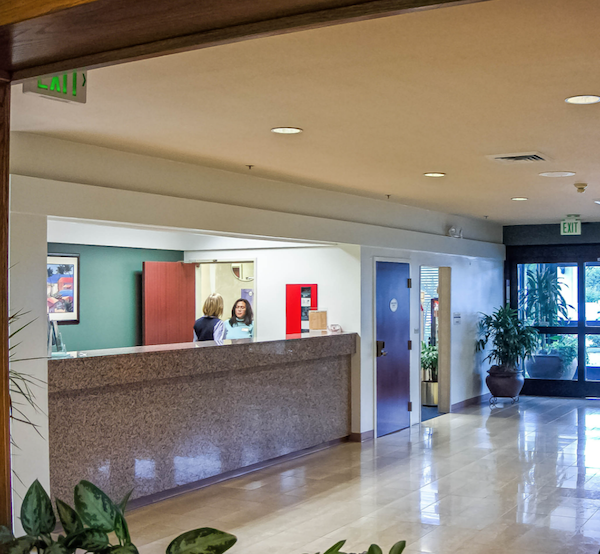 Photo Credit: @ericbreuerdesigns on Houzz
If you're still on the fence about quartz, another great hotel countertop option for your reception area is tried and true granite countertops. To create a welcoming earthy and natural appearance in your hotel, consider Amarello Ornamental polished granite countertops that boast hues of grays, beiges, yellows, and creams in the perfect blend to add subtle warmth to your lobby. Its stunning appearance offers a timeless beauty that will continue elevating the look and feel of your hotel reception area for many years to come.
If you need help taking your hotel reception area to the next level, MSI Surfaces offers a variety of hotel countertop and hotel flooring options for you to choose from. Contact us to learn more.
READ MORE ABOUT HOTEL AND HOSPITALITY SURFACES:
8 Trends For the Hotel Industry: Hotel Flooring And More!
The Best Hotel Flooring Options For A Safe And Comfortable Stay
Hotel Bathroom Countertop And Vanity Buying Guide