Mosaic Monday: Designing With Mosaics
November 22, 2015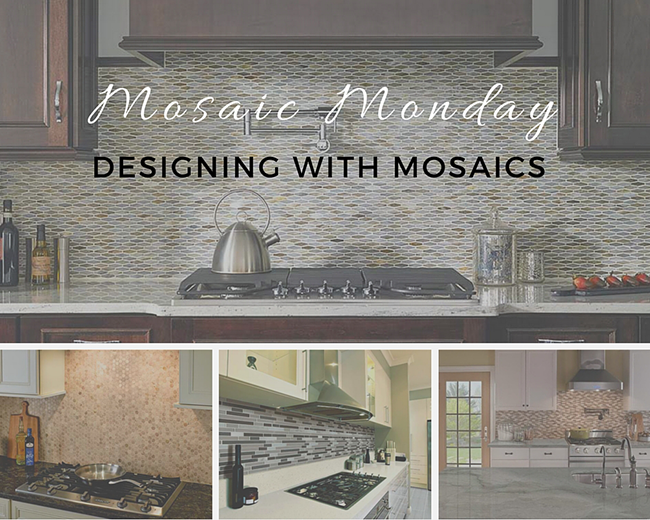 Can't decide between glass mosaics or natural stones for your kitchen backsplash? No problem! Backsplash designs with a mix of materials are all the rage—and for good reason. Not only do mixed material backsplashes look timeless, but they can easily add a stylish dimension and interest to your kitchen walls. So how exactly do you go about mixing mosaics and natural stones? Grab your closest home decor magazine and notice how interior designers layer throw pillows on a sofa. The throw pillows are usually a blend of various patterns, materials, and colors. Separately, the pillows might not look like they go together, but put together they give you a highly stylized, thoughtful arrangement.
Mixing and matching mosaics and stone in your tile backsplash are similar in concept. The first step is to make sure that the glass mosaic tile and stone backsplash you choose is varied in scale. In other words, the tile for each respective material should be different sizes—usually one is small while the other is medium to large in size. This technique harmoniously balances contrasting backsplash types as it allows for two different characteristics to be simultaneously featured, such as the size in one material and the color in the other.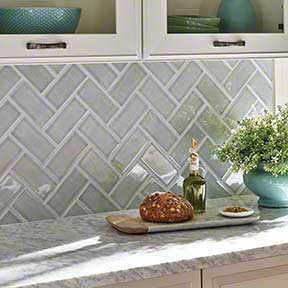 From there, your next step is to make sure that the colors are similar in tone. Are the natural stones you chose bright white or more cream in color? If you choose a bright white, the color is on the "cool" side meaning that you'll want to choose a complementary cool glass mosaic tile, like a frosty blue or grassy green. If the stone backsplash is on the warmer side, like cream, for example, then you'll also want to choose a warm color for your glass mosaics, such as brown, tan, or taupe.
Simple, right? With these two key elements in mind, here are some of our favorite ideas for combining mosaics and natural stones for a kitchen backsplash:
1. Arabescato Carrara and Keystone Blend Interlocking Pattern
The cool, grayish Carrara marble looks great when combined with cool-toned greens and neutrals. This glass tile and natural stone combination is ideal for a coastal home or those who love the serene outdoors.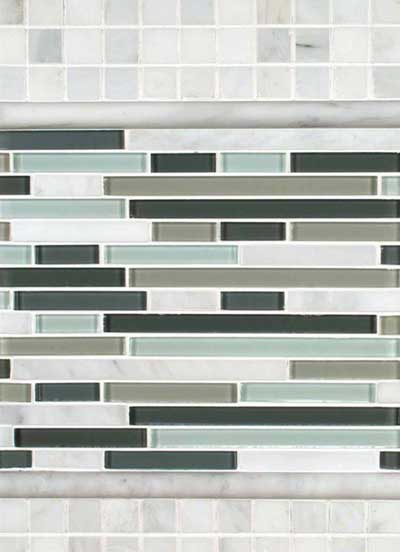 Featured Tiles:
Arabescato Carrara 1x1 Honed
Arabescato Carrara 3/4x3/4x12 Honed Pencil Molding
Keystone Blend Interlocking Pattern 8mm
2. Arctic Storm Brick Pattern
More traditional in aesthetic, these glass tiles are reminiscent of bricks that you might find on a colonial style house. Greecian white tiles continue the brick motif but on a larger scale.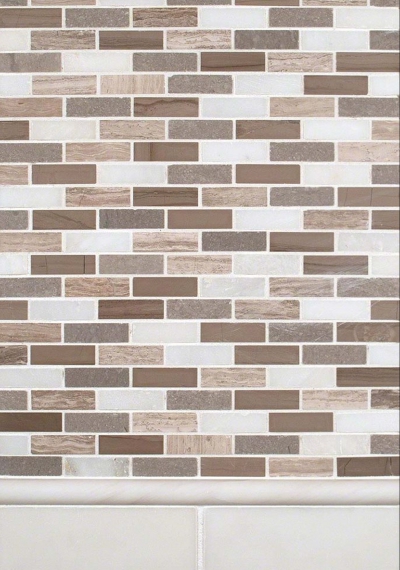 Featured Tiles:
Greecian White Pen Mldg Pol 3/4x3/4x12
3. Black Marquee Stone & Glass and Arabescato Carrara Marble
A black and white palette is the ultimate in sophistication and this backsplash design is no exception. The glass mosaic tile, laid in a diamond pattern, further ups the chic style.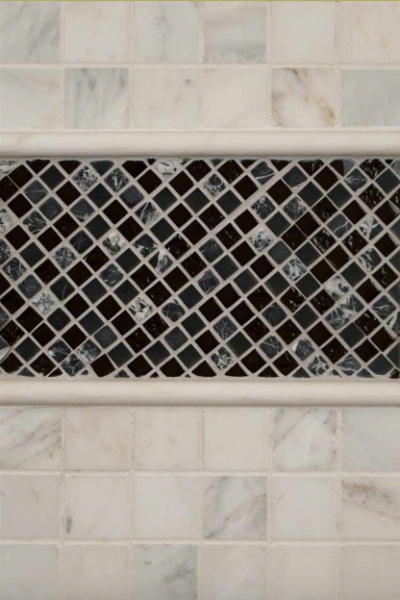 Featured Tiles:
Black Marquee
Arabescato Carrara 2x2 Honed
Arabescato Carrara 3/4 x 3/4 x 12 Honed Pencil Molding
4. Brown Blend Glass and Ivory Travertine
Laidback and earthy, this backsplash palette matches well with natural wood cabinetry. Here, the ivory travertine tiles lead the show while the glass mosaics support with interesting detail.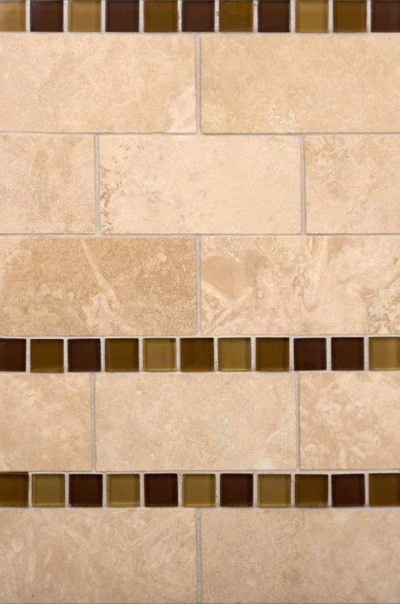 Featured Tiles:
5. Aspen Interlocking Glass And Ivory Travertine
For a kitchen backsplash that draws the eye upwards, try laying mosaics in a vertical pattern. The warm-toned colors visually connect the two different types of tiles.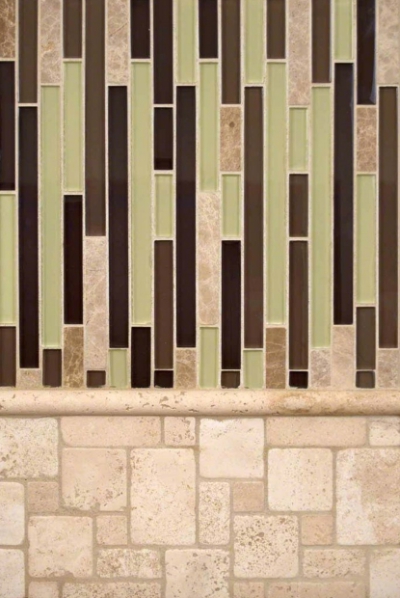 Featured Tiles:
Aspen Interlocking Mosaic Pattern
Ivory Mini Versailles Mosaic Pattern
6. Arabescato Carrara Herringbone Pattern
Multidimensional white marble displays a surprising depth when it is laid in a distinctive woven-like, herringbone mosaic. The timeless pattern is especially well-suited for backsplashes where an understated elegance is desired.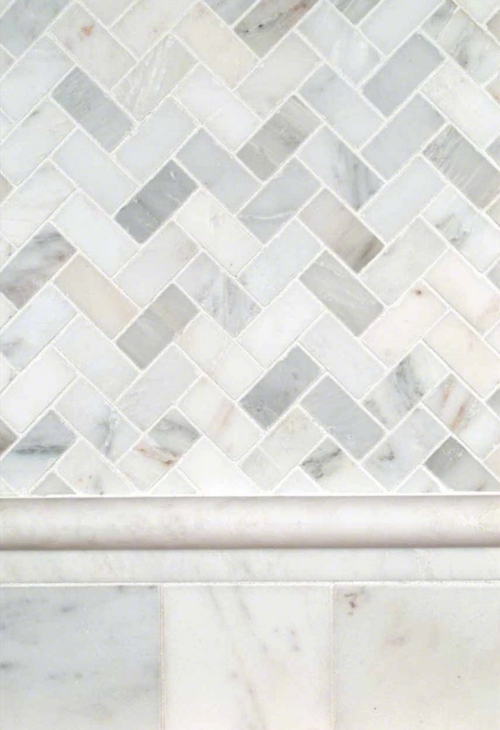 Featured Tiles:

Arabescato Carrara Herringbone Pattern
Arabescato Carrara 4x4 Honed and Beveled Tile
Arabescato Carrara 3/4x3/4x12 Honed Pencil Molding
7. Sonoma Blend and Emperador Dark
Crackle glass tile is paired with a rich chocolate shade marble tile to give us a look that is both rustic and divine. The classic brick pattern further complimented with broad mocha Emperador marble tiles with veins of cream and latte.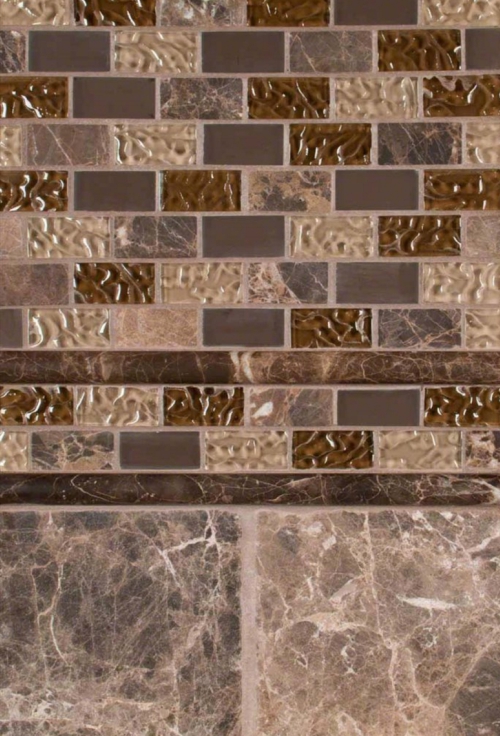 Featured Tiles:
Emperador Dark 6x6 Tumbled
Emperador Dark 3/4x3/4x12 Honed Pencil Molding
8. Crystal Vista and Highland Park
Various neutral shades of tan, grey and nutmeg brown combine to create a warm and welcoming wall tile mosaic. The design featured below also has an antiqued white subway tile that accentuates the earthy palette.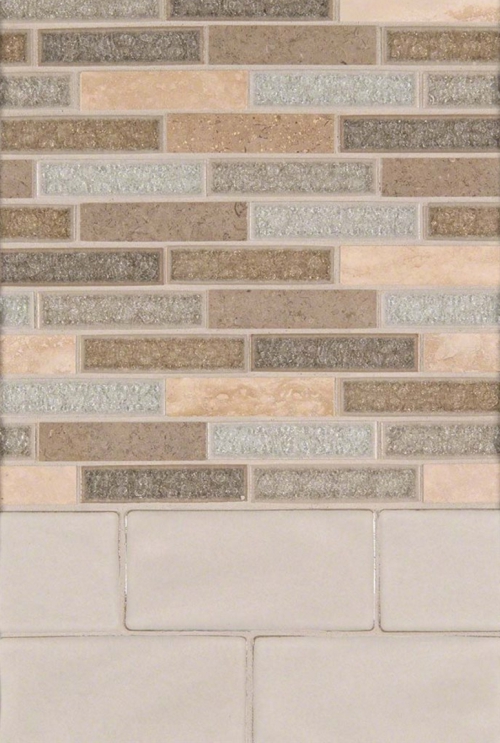 Featured Tiles:
Antique White Subway Tile