Porcelain Perfection: 3 Of Our Favorite Porcelain Tiles
November 17, 2015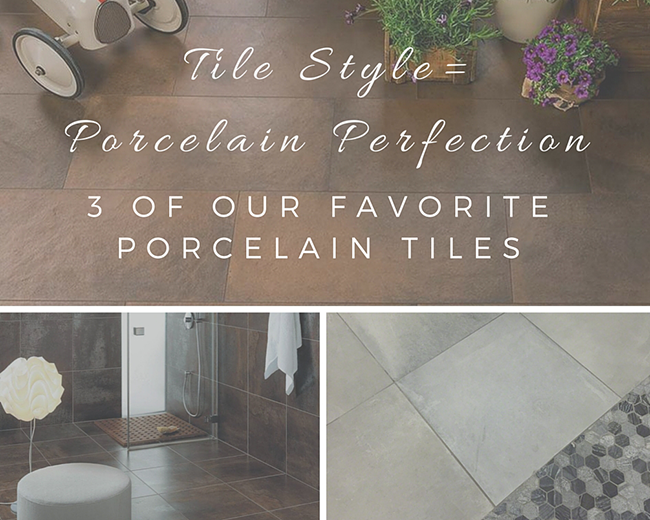 Easy to care for and enduring porcelain tiles are a comfortable addition to any decorating scheme or architectural style. MSI offers three collections that easily bridge the gap between old-world elegance and sleek modern designs. Porcelain tiles that mimic the look of other materials are extremely popular choices for tile flooring thanks to their extreme durability and easy maintenance. They allow for an incredible flexibility in architectural décor, allowing for designs that are impractical with the materials they are designed to look like — and in many cases, it's hard to tell the difference.
Capella Porcelain
Classic terra cotta tiles get a 21st-century update with the Capella collection. Offering the warmth and variegated, rich colors of old-world cotto pavers, this collection includes 12" x 24" and 24" x 24" Cotto tiles with coordinating 6" x 40" wood-grain planks. The cotto tiles and wood-grain tiles are designed to blend perfectly, offering endless possibilities for use either together or separately to create dramatic backsplashes, countertops, flooring, wall tile, and shower surrounds. The Capella collection is the perfect choice for whole-home installations, allowing you to create a variety of designs that transition perfectly from one room to the next.
Imagine having the beauty of natural hardwood without the work of polishing or the worry of scratching and staining! The Cotto Tiles, likewise, need no sanding, waxing, polishing or other maintenance. You can install it and forget it…as if such beauty could ever be forgotten.
Featured: Capella Porcelain in Clay
Cemento Porcelain
The concrete floor look is a popular choice among those who favor the industrial feel in their interior décor. It's versatility and durability are unsurpassed, but can portray a "cold and uninviting" look. Our Cemento line changes that. Our modern, cement-look, monochromatic porcelain tiles, are available in a range of gray shades that give any room a velvety polished feel. The Cemento line is a dramatic way to update your space with a modern mix of high style and design.
MSI's Cemento porcelain tiles are offered in both rectangular and large-format square tiles, with just enough shade variation to add intrigue. Although inspired by real cement, there is no need to limit Cemento to the rec room or gym. Unlike real concrete flooring, Cemento needs no sealing, scrubbing, or waxing--so it's perfect for any room in the house. Concrete look flooring can easily complement existing carpet, wood and tile flooring… and your active lifestyle.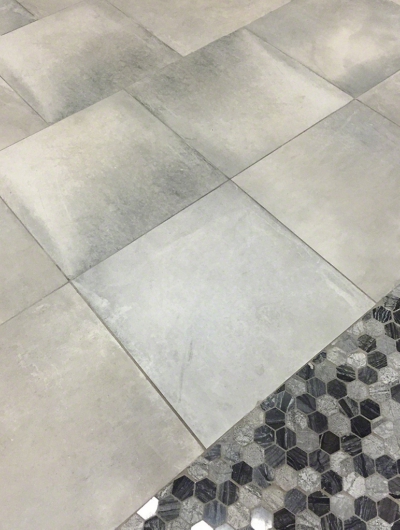 Featured: Cemento Porcelain in Novara
Antares Porcelain
For a truly dramatic, sleek, modern style that tips its hat to rustic roots, you can't beat the patina of weathered, oxidized metal. The Antares collection of patinated metal tile works well in a variety of applications — flooring, shower surrounds, backsplashes, countertops, and anywhere else you desire an impervious and durable material.
The Antares line from MSI includes two distressed colorways — Jupiter Iron (a warm hue) and Saturn Coal (cool). The surface both reflects and absorbs light, creating a multidimensional effect that looks a bit different from each angle. These tiles are imported from Italy and are available in two sizes that are sure to inspire you: 16" x 24" and 20" x 20". Antares tiles are equally at home in an urban or rural setting, as well as the suburbs in between. And unlike real oxidized metal, it's safe and long-lasting so you won't have to worry about further deterioration; it's frozen at just the perfect peak of beauty.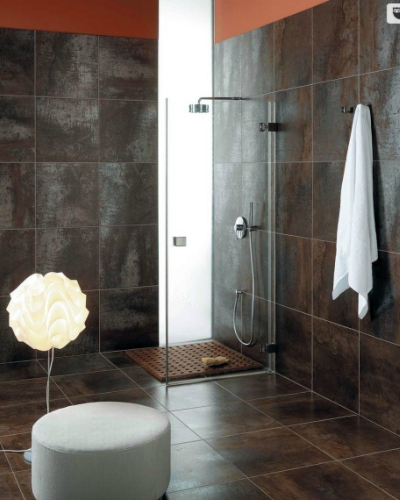 Featured: Antares in Jupiter Iron
READ MORE ABOUT THE BENEFITS OF PORCELAIN TILE
Porcelain Perfection: 6 Porcelain Tiles That Mimic Wood
5 Best Porcelain Tile Options For Mudrooms
5 Places to Use Plank Porcelain Wood Tile
5 Wonderful Porcelain Tile Patterns