Top 10 Marble Look Quartz Colors
December 05, 2022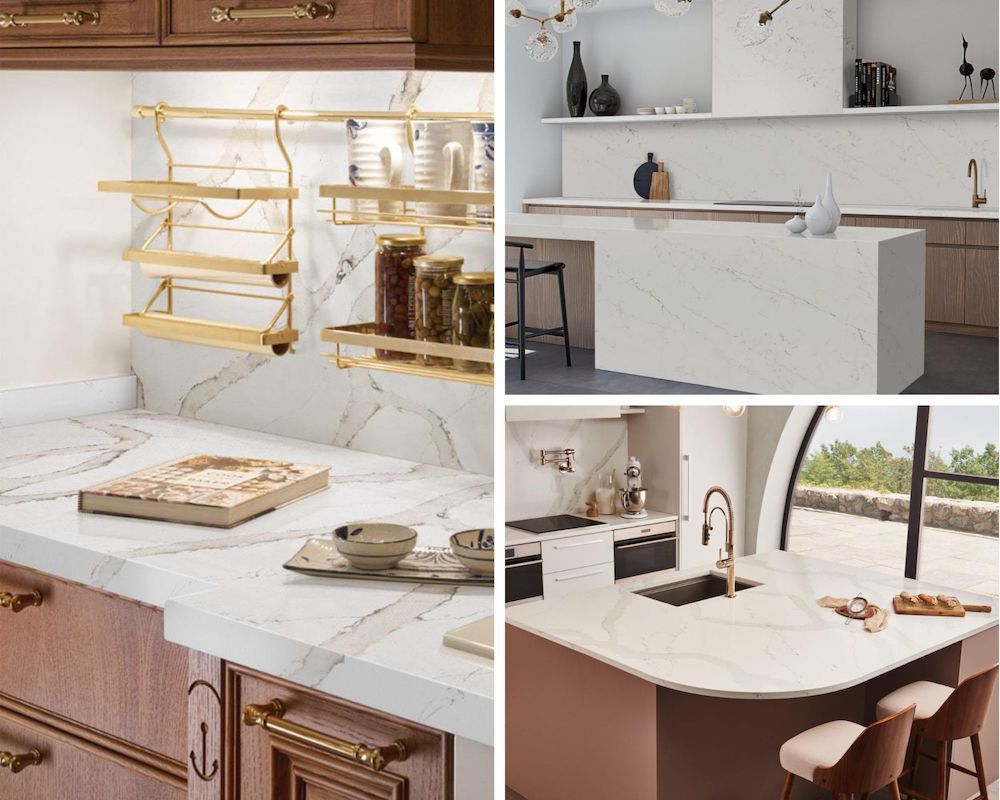 Marble dates back thousands of years, and this material has always been a hot look in interior homes. But along with the top style in countertop design came the higher price tag and complex upkeep requirements — until recently.
Now, you can get the look of marble with the advantages of quartz with MSI's Marble Look quartz countertop line. These manufactured products in various quartz colors mimic the aesthetics of marble yet give you the benefits of quartz: easier to clean, waterproof, long-lasting, and more cost-efficient.
With so many styles to choose from, the question isn't whether to use MSI or not; it's which color to pick! We've provided the top ten marble-look quartz colors from MSI to help you decide and added them to the countertop visualizer tool on the website for your convenience.
1. Calacatta Laza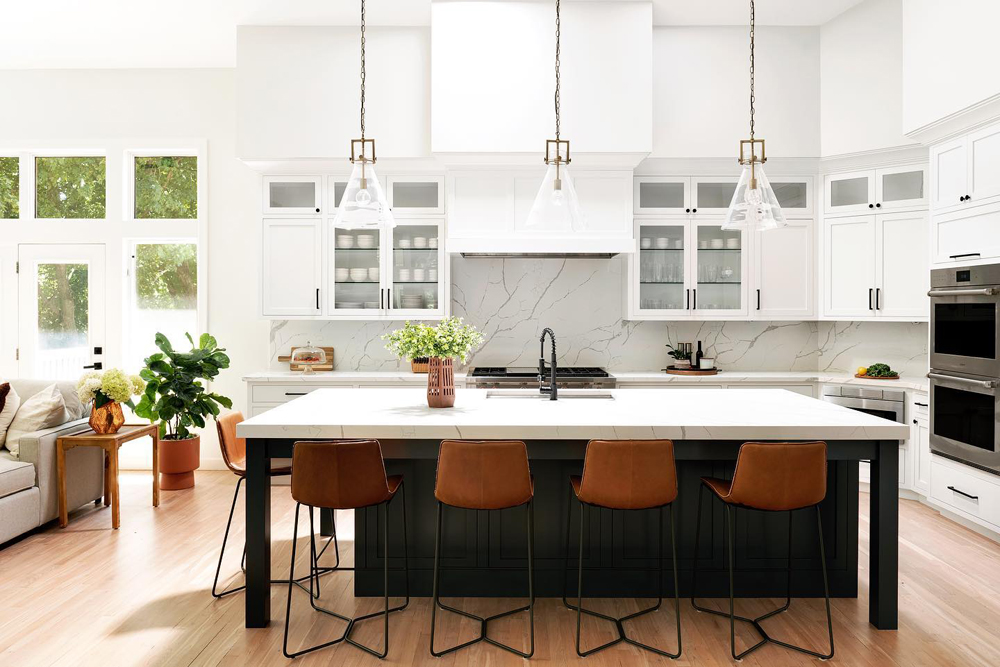 Photo Credit: @metropolisdesigngroup on Instagram


Whether you're planning your new countertop, kitchen island, floor, accent wall, or backsplash, Calacatta Laza's creamy white hues complement the look. The dramatic tawny veining catches every eye and complements classic and modern design schemes. It's one of the rare styles that slides in seamlessly with any fixture or cabinet material, even with wood cabinets.
This marble-look quartz is long-lasting, maintenance-free, and easy to keep up with, making it ideal for residential and commercial rooms.
2. Calacatta Miraggio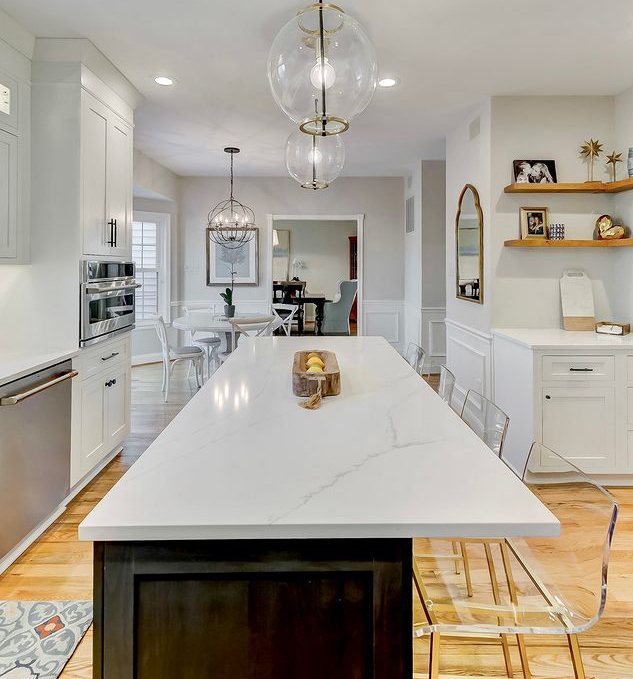 Photo Credit: @byrddesignandbuild on Instagram
Calacatta Miraggio's glossy polish finishes the look of this lightly-veined white marble. The quartz is made in the USA with US and imported parts and built with Lumaluxe Ultra technology.
This innovative proprietary and patented formula material is produced in MSI's South Carolina quartz manufacturing facility, allowing MSI to design color options with enhanced depth, sophistication, and elegance never before seen in surface materials.
White with soft grey veining, the premium quartz that is Calacatta Miraggio is the perfect choice when your goal is to add class to your space.
3. Calacatta Miraggio Gold
The sister choice to Calacatta Miraggio, Calacatta Miraggio Gold, is also made in the USA with US and imported parts. It's also built with LumaLuxe patented and proprietary technology to add dimension and elegance to every inch.
This look combines classic gold-brown veining against a fresh white background for a distinctly eye-catching finished look. For genuinely unique countertops, islands, backsplashes, bathrooms, and floors, Calacatta Miraggio Gold is an ideal choice.
The design scheme coordinates with many other MSI mosaic products for a seamless look throughout your residence or commercial space.
4. Calacatta Prado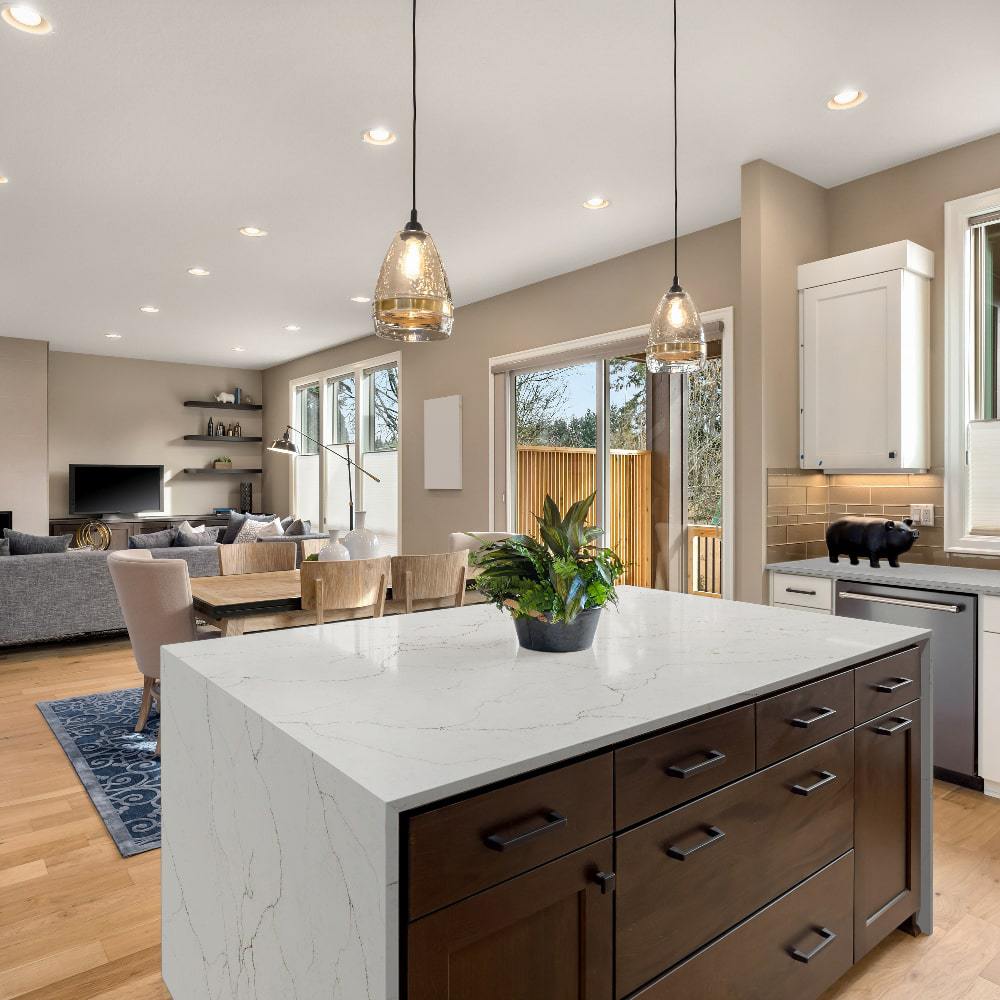 Brilliant white hues and dramatic veins characterize Calacatta Prado. The design creates a welcoming environment in any room, instantly impressing visitors.
The warm yet dramatic look is just as at home in a commercial space as it is in a house. Every room is transformed when you use Calacatta Prado to generate white quartz countertops and walls for waterfall islands, backsplashes, accent walls, and other surfaces.
5. Calacatta Abezzo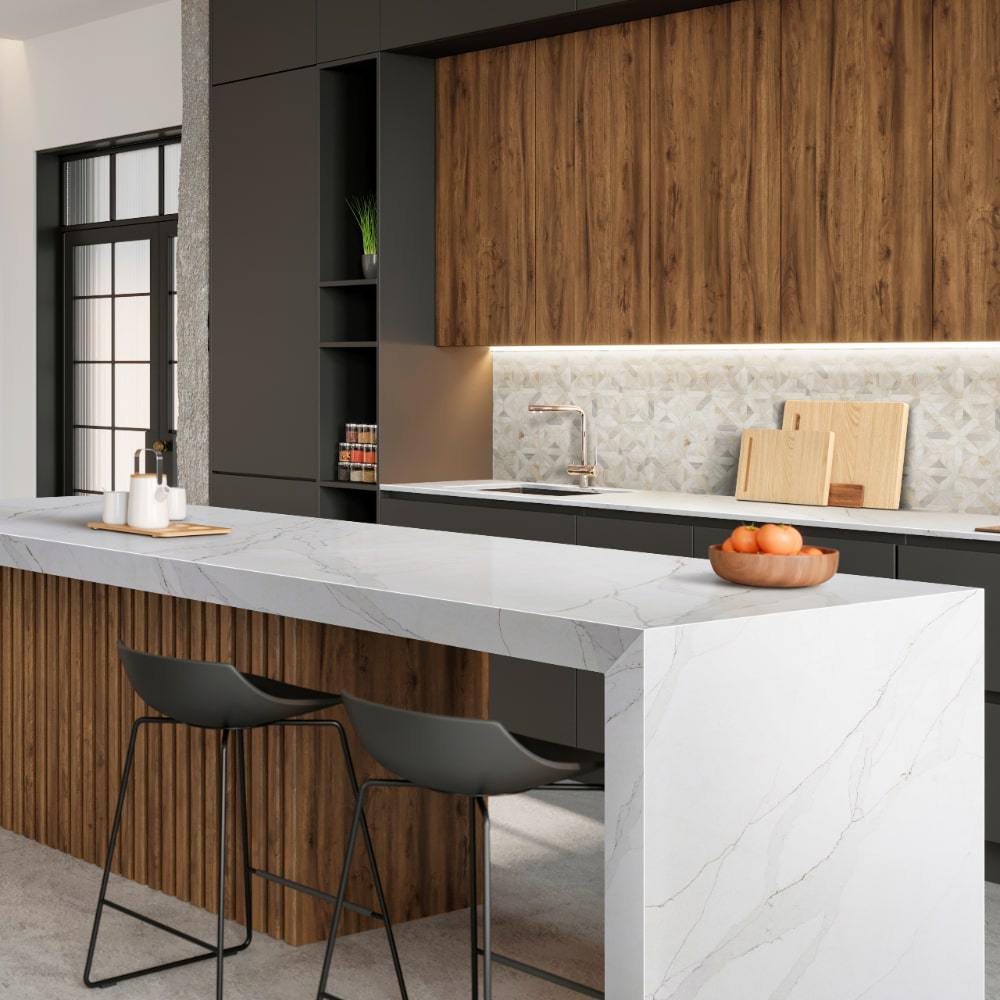 Are you looking for a material that exudes the class and elegance of marble while bringing in the soft and earthy feel of nature? Your search is over with Calacatta Abezzo premium natural quartz.
The durable, low-maintenance, soft white surfaces are enhanced with neutral grey veining. The results bring the peace and beauty of the outside into your residence or commercial space while still giving you the benefits of stain-resistance and maintenance-free living.
6. Calacatta Valentin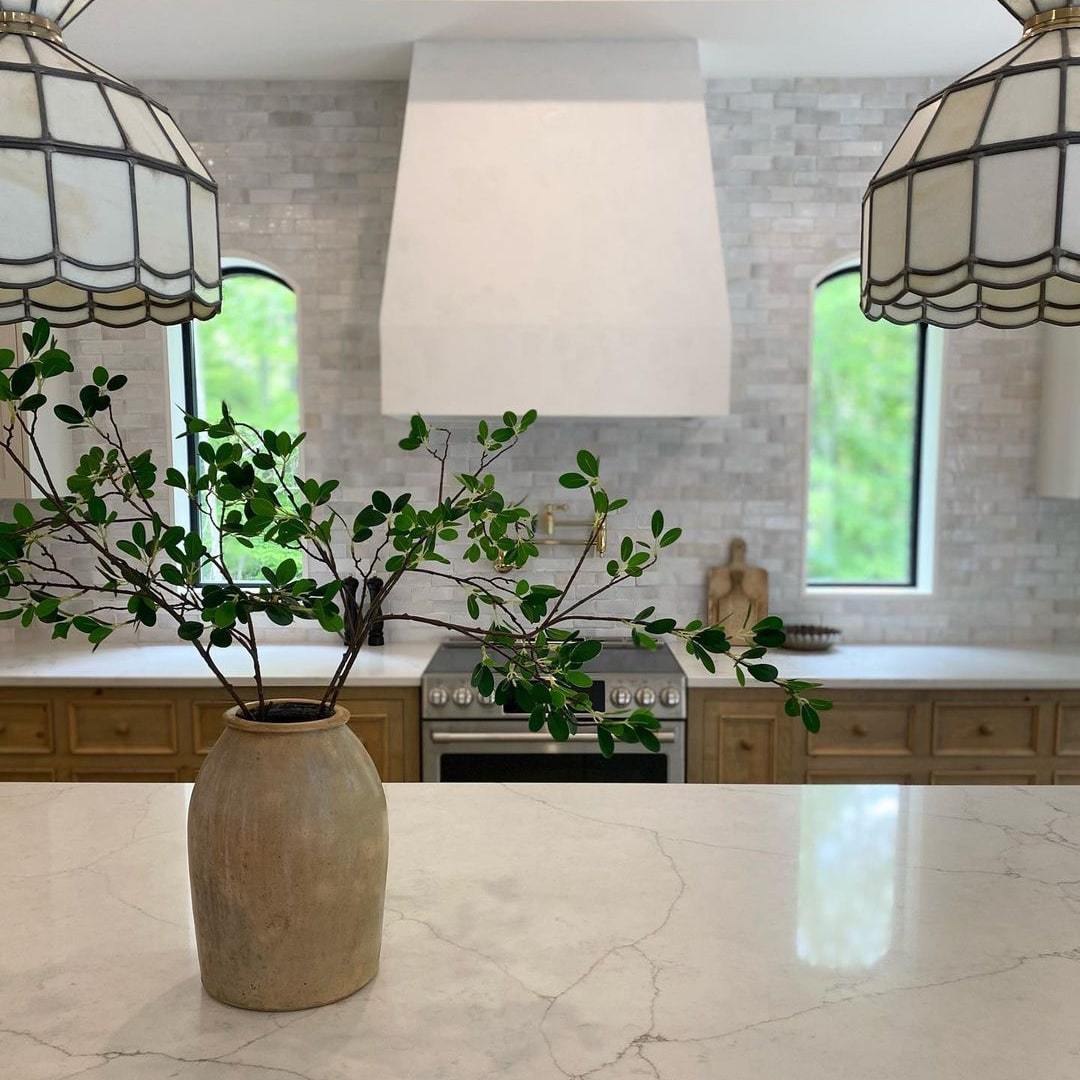 Photo Credit: @613farmhouse on Instagram
Warm, two-toned marble sets the stage for an arresting space with Calacatta Valentin. This material smoothly connects your surfaces to any contemporary, modern farmhouse, traditional, coastal, and boho-chic decor.
The light gold veining is subtle yet eye-catching and will accentuate your floors, kitchen, wet bar, bathroom, and more. When you want to create a space that stands out from the crowd and is sure to impress, go with Calacatta Valentin.
7. Calacatta Izaro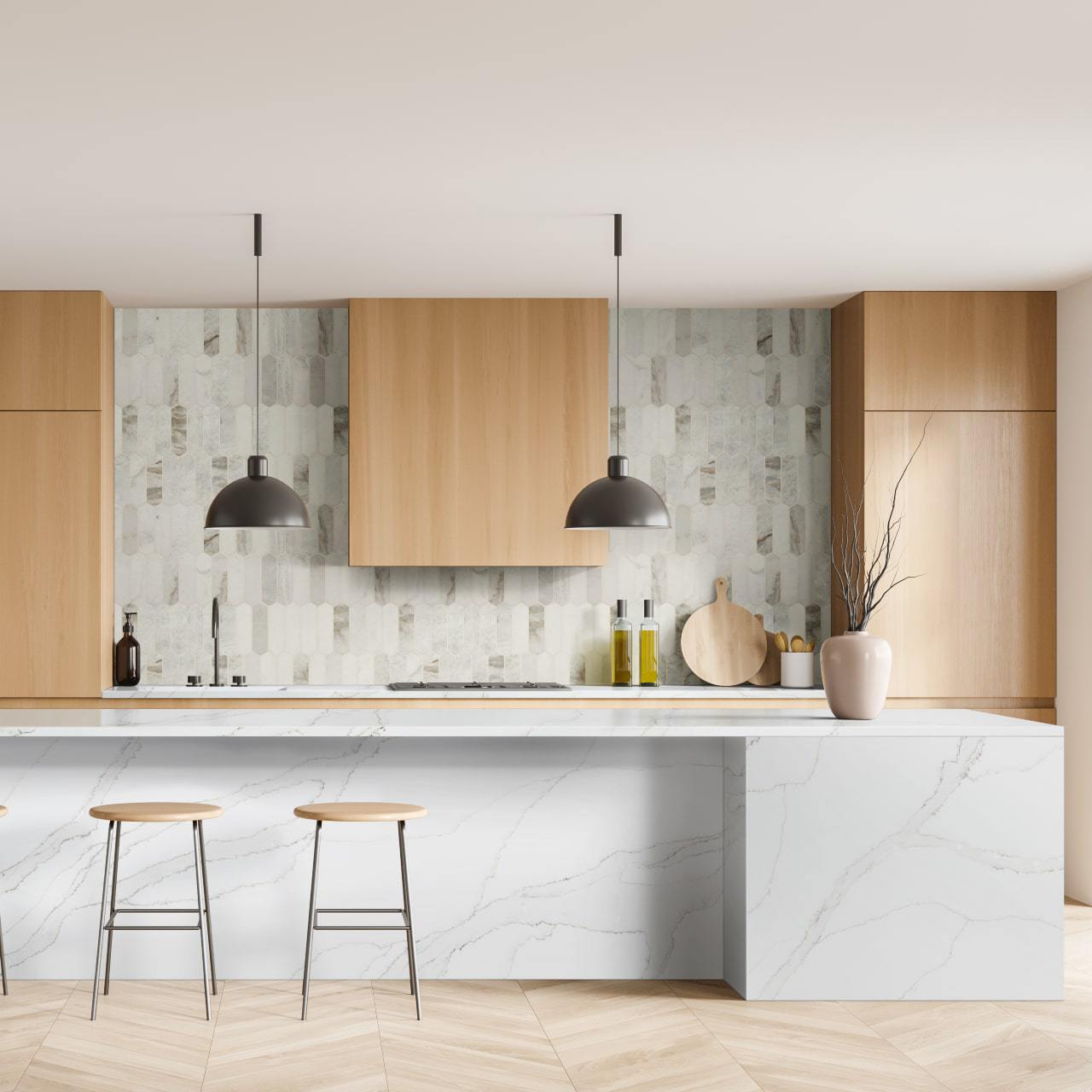 Calacatta Izaro melds a landscape of creamy white shades and strokes of gold and brown veining for a finished look that turns heads. This magnificent surface levels up classic designs and turns them into a space that makes a statement.
Adding Calacatta Izaro quarts to your room transforms it, creating a modern design and fresh atmosphere sure to brighten up your home or commercial space. Low-maintenance, stain-resistant, and flexible installation round off this impressive MSI product.
8. Calacatta Goa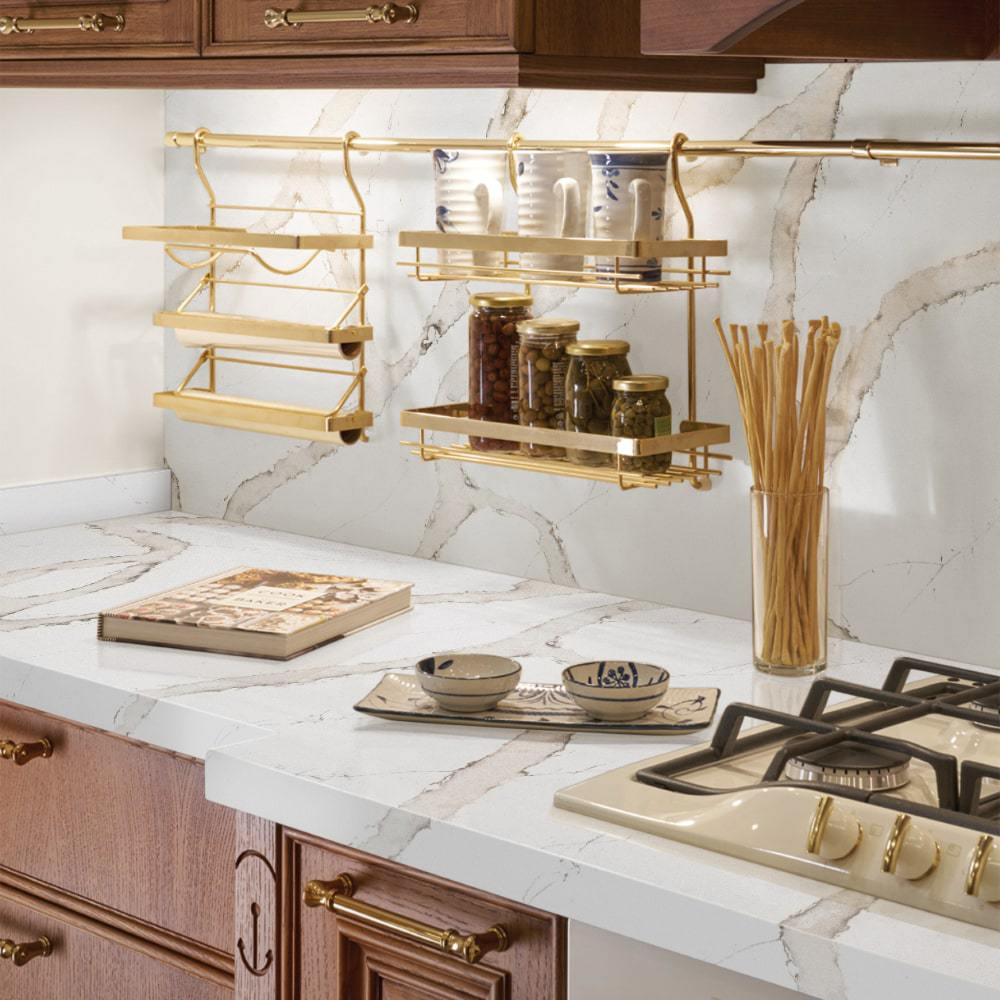 Lumaluxe-enhanced Calacatta Goa transposes a warm white landscape with thick, dramatic umber veins. The slight touches of sepia dusting the edges generate a spectacular color palette that accentuates any space.
Because Calacatta Goa is built with Lumaluze technology, the dimensions you get with this material are enhanced by the light interacting with the surface. As a result, whenever you go into a room with Calacatta Goa, it will feel new and fresh again, easily winning the quartz vs. granite debate.
Use this MSI product on your counters, walls, and floor for sophisticated style and elegance in your bathroom or kitchen remodel.
9. Calacatta Delios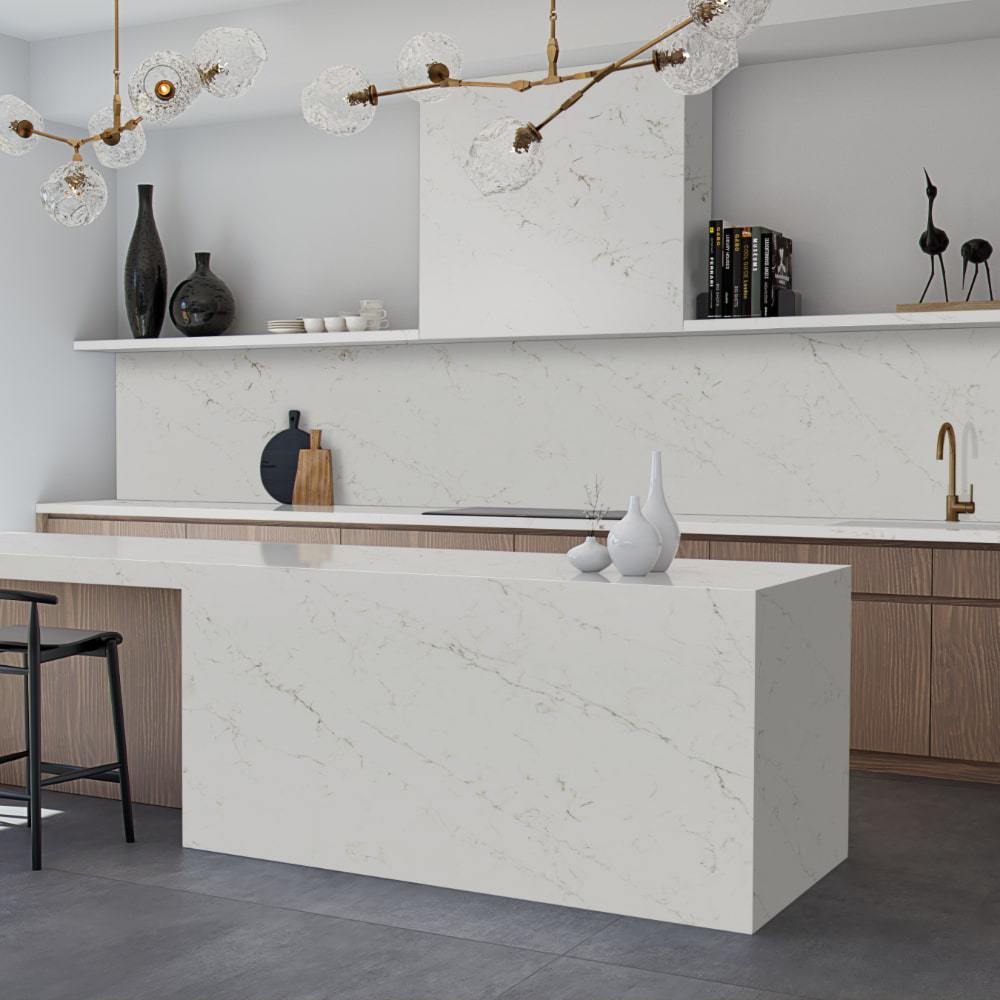 For premier, high-performing surfaces with a sleek, modern look, check out Calacatta Delios. The delicate veins of gold and bronze juxtaposed against a high gloss, white background creates a cracked appearance that draws the eye.
Enhanced with the LumaLuxe formulation, Calacatta Delios adds timeless style and a modern atmosphere to any space. Interior designers and homeowners find this material ideal for floors, backsplashes, kitchen islands, accent walls, and countertops.
10. Calacatta Azai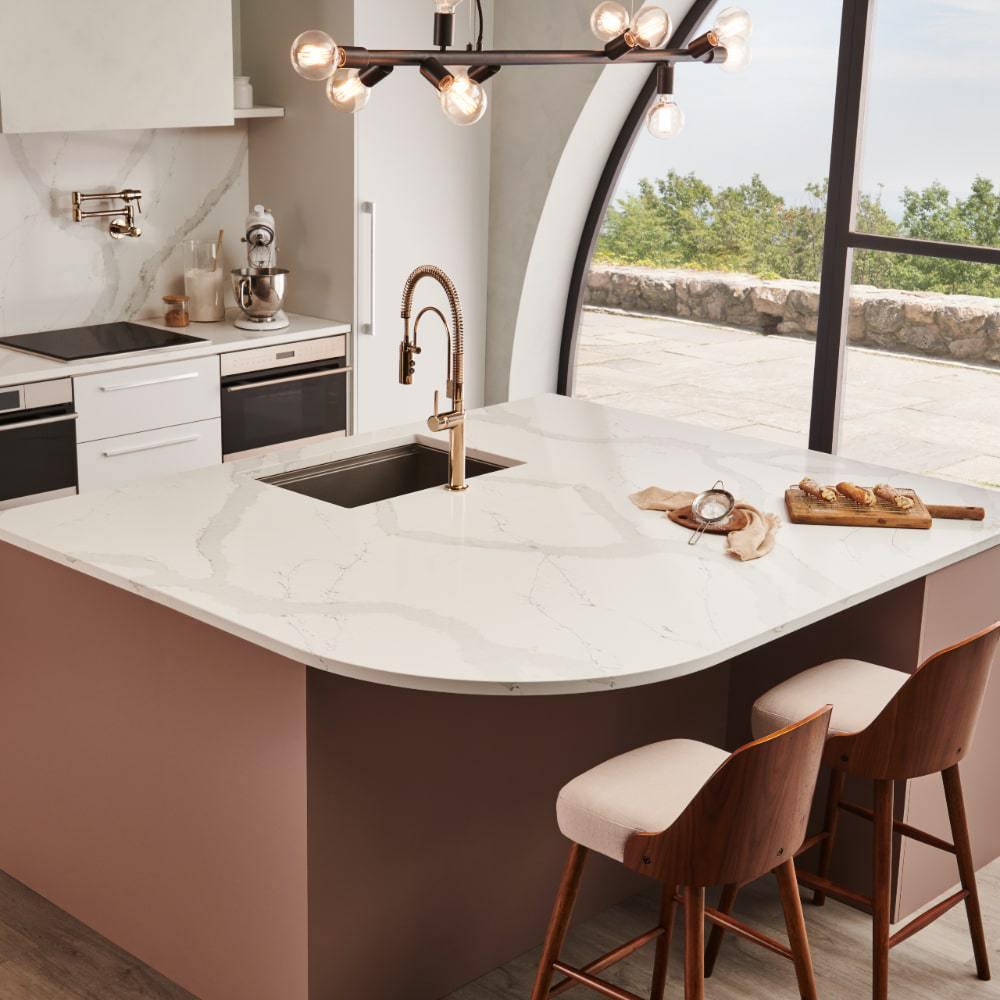 Designed to be dramatic, Calacatta Azai's Lumaluxe-enhanced formulation brings a one-of-a-kind impression everywhere it goes. The creamy white background is offset with grey veining to mimic natural marble for a perfect mixture of classic and contemporary.
Quartz that looks like marble but with durability and easy maintenance is evident in MSI's Calacatta Azai.
Start Every Surface Project With MSI
Does MSI's wide range of engineered quartz colors have you excited to plan your next surface project? Our professionals are ready to answer your questions and see how we can help you find the ideal floor, wall, or countertop material for your home or commercial space.
Whether you're looking for a polished finish sure to impress or trying to create a warm, welcoming atmosphere, our industry experts have you covered. Visit one of our showrooms or chat with us online through our MSI website chat feature. Your next redesign project is our next priority.
Learn More About Quartz Countertops
Get Inspired With 10 Quartz Countertop Ideas
7 Kitchens With Glamorous Cabinetry & Quartz Countertop Pairings
6 Stunning New Quartz Countertop Colors To Satisfy Any Space
MSI's Top 10 Lumaluxe Quartz Countertop Colors
5 Beautiful Bathrooms With Quartz Countertops
The Do's And Don'ts Of Quartz Countertop Care
Learn More About Quartz Countertops
Quartz Countertops That Mimic Natural Stone: Granite, Limestone, And Marble Looks
Are Quartz And Quartzite The Same?
5 New Q™ Natural Quartz Colors Featuring A Mix Of Bold And Soft Veining