Trending And Beautiful Backsplash Tile For 2022
May 23, 2022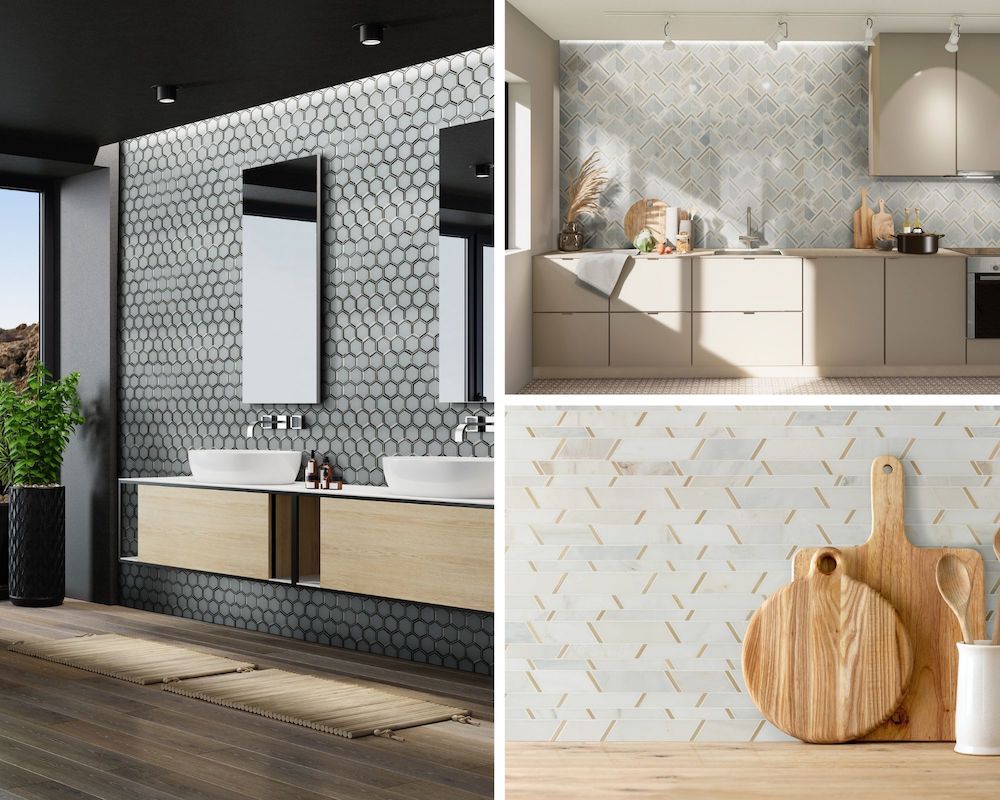 Design styles are constantly changing, and if you want your planned home improvements to make the most of current trends, you have to carefully choose the perfect backsplash tile to enhance your countertop, cabinet, and flooring selections. MSI makes it easy with a range of attractive and timely styles to choose from.
Whether you're interested in beautiful decorative mosaics, simple ceramic tiles, or high-shine beveled glass, you'll find countless varieties to elevate the elements in your interior design. Here are several beautiful options that are trending now and how you can make them work in your upgraded interior spaces.
Bevollo Glass Tile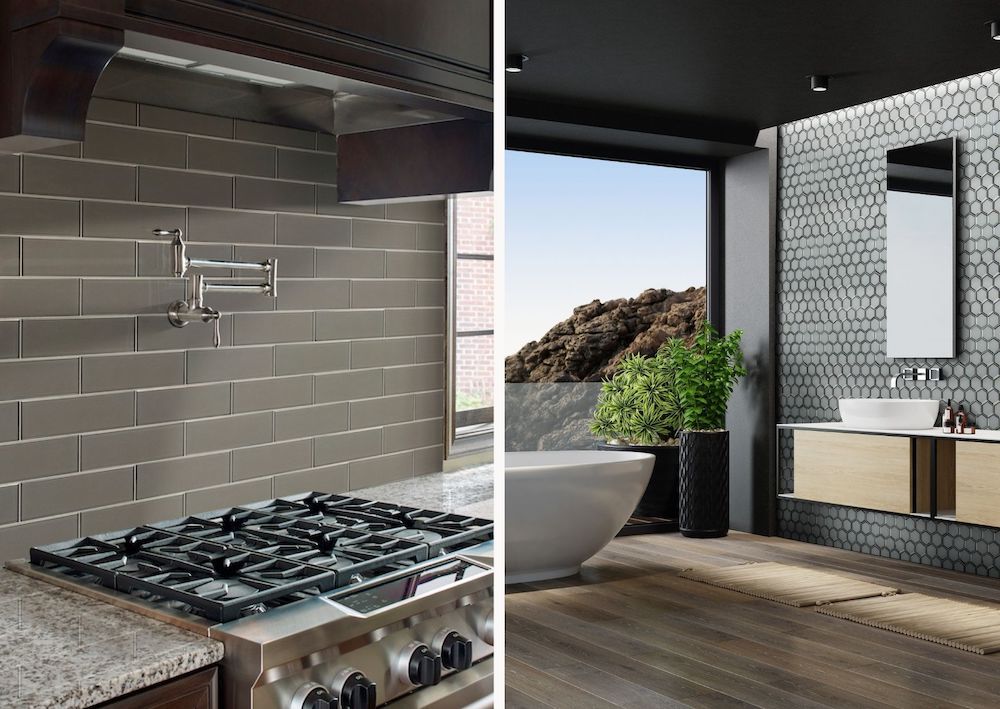 Crystallized glass tiles make for a truly beautiful and resilient addition to some of the most used spaces in your home, whether you opt to put them behind your range or throughout your shower enclosure.
Easy to clean and resistant to mildew and staining, you'll find functional appeal paired with a range of colors, shapes, and sizes that will surely complement any interior design.
Champagne Bevel 4"x12" is a great choice for any kitchen design, thanks to substantive sizing and a pale, pewter color that goes with absolutely everything.
It adds modern appeal and depth to light and dark designs alike and looks surprisingly good with rich wooden cabinetry in mahogany or walnut, especially when paired with a granite variety that features both warm and cool hues.
For something with a more unique shape, consider Ice Beveled 3" Hexagon tile for the geometric appeal of a honeycomb. The silvery shade is an ideal complement to cool color palettes, including wood tones like an ashy blonde floating vanity and flooring.
This tile offers the perfect blend of quirk and classic appeal that speaks to modern interior designers and homeowners.
Highland Park Ceramic Wall Tile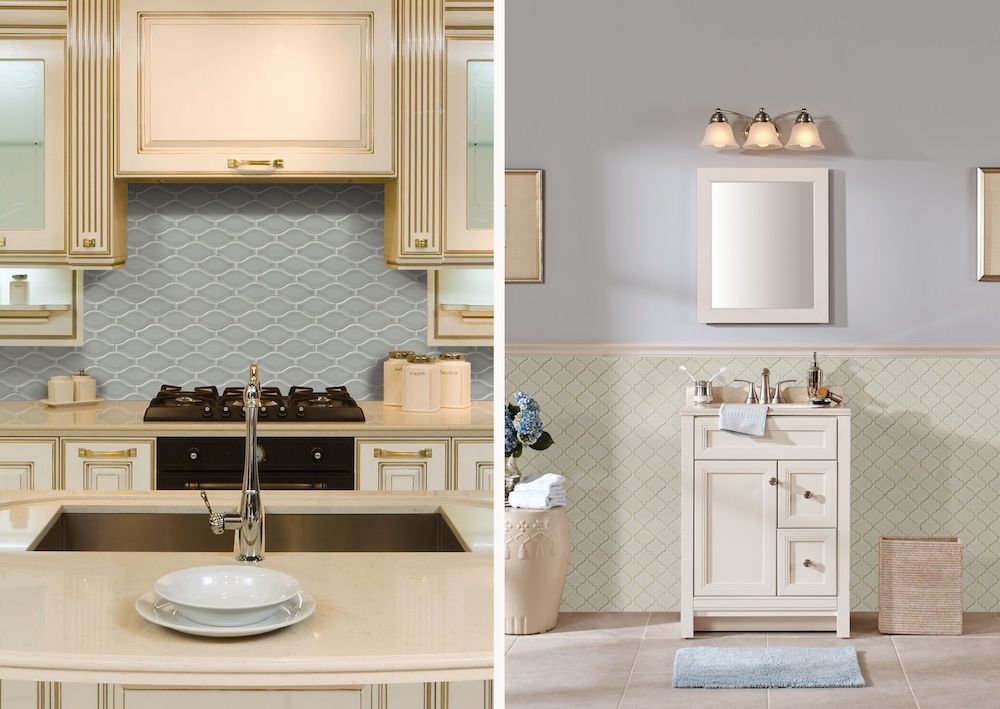 If you love the timeless simplicity of subway tiles, the Highland Park Ceramic Wall Tile collection has exactly what you're looking for, with a range of trendy, neutral colors and shapes that will add scads of visual interest to simple kitchen designs.
Morning Fog Ogee offers a lovely combination of calming curvature and contemporary coloration that will look absolutely stunning in a tonal white kitchen. The cool, dove gray of this tile offers gentle contrast against cream cabinetry and counters, and it contributes to a calm and inviting kitchen ambiance.
To warm a slightly cooler color scheme, consider Antique White Arabesque. The soft white will help to make pure white cabinetry pop visually (as the slightly darker backsplash hue recedes). The Moroccan flair of the arabesque style elevates a range of traditional and contemporary architectural styles.
Bianco Dolomite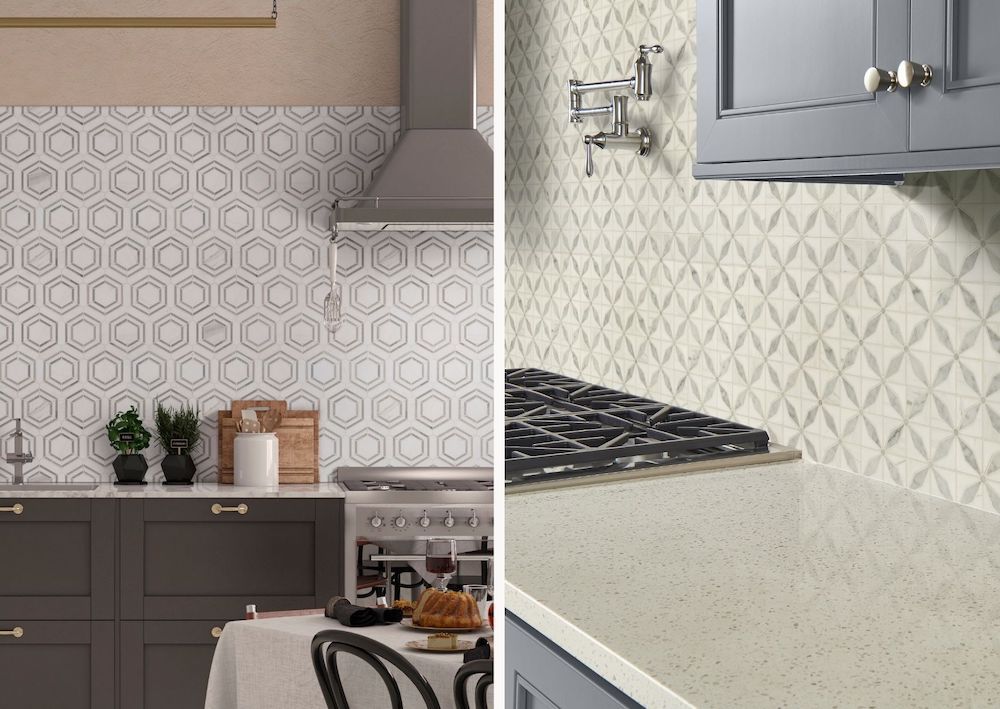 Sourced from Turkey, the decorative tiles in this collection feature low-variation marble that creates the perfect canvas for mosaic arrangements. Shades of pale white, gray, and beige dominate this lineup of luminescent marble tiles, which are combined in an array of mosaic styles to add breathtaking beauty to any backsplash.
The Georama Grigio Polished style features a repeating pattern of hexagons, with a central tile in white, bordered by small pieces that create consecutive gray, white, and gray rings.
Finally, there's a thicker border of picket fence tile in white all around. Deceptively complex, this seemingly simple style adds just the right amount of drama to a floor-to-ceiling backsplash paired with a floating vanity in white and a borderless, rectangular mirror.
For slightly softer edges, Bianco Starlite Polished mosaic tiles make geometric shapes appear to create gentle curves. Arrowhead-shaped white tiles meet at the tips to create a starburst pattern that's surrounded by diamond-shaped gray tiles, which in turn point to a small, circular tile, creating the illusion of a flower pattern.
It's brilliantly executed and pairs particularly well with a combination of white countertops and gray cabinetry.
Luxor Backsplash Tile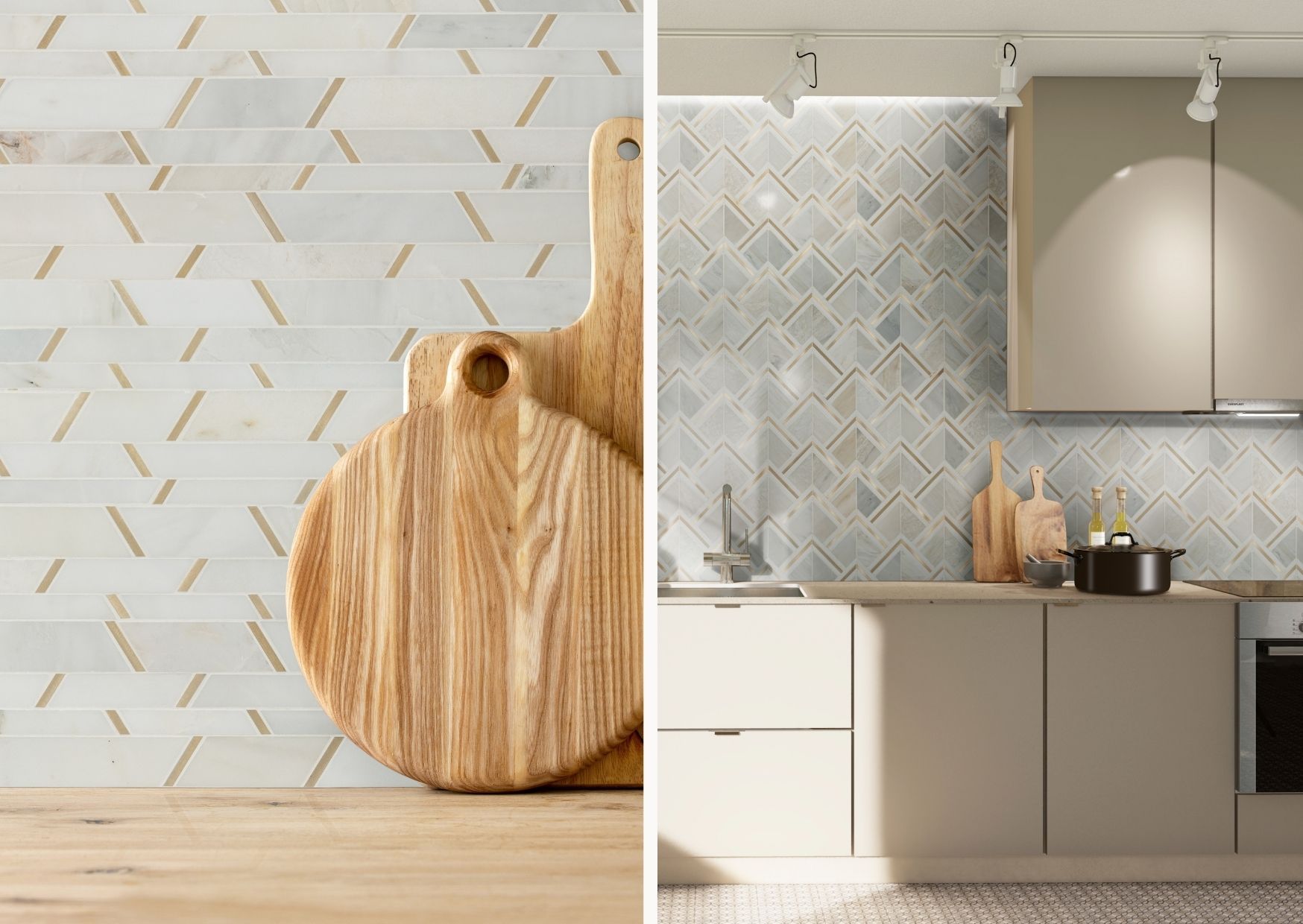 Perhaps you like the idea of glass mosaic tiles, but you've noticed the trend dying out. To get the look you love with greater longevity, opt instead for backsplash tile patterns in stone with the Luxor Backsplash Tile Collection.
The Metro Gold Pattern offers geometric shapes with an organic appeal, thanks to varied sizes of white, gray, and beige parallelograms with thin, gold accents scattered throughout. It will pair beautifully with white and gray elements like cabinetry and stainless steel appliances, but it also looks lovely next to blond or ashy wood tones.
The luxe look of Kona Gold Pattern backsplash tile makes for a perfect focal point in a modern, minimalist kitchen design. Paired with flat front cabinets and counters in cream hues, the combination of white, gray, and beige tiles, with accents in gold, adds visual texture that elevates the sophistication of a simple design.
Dymo White Ceramic Tile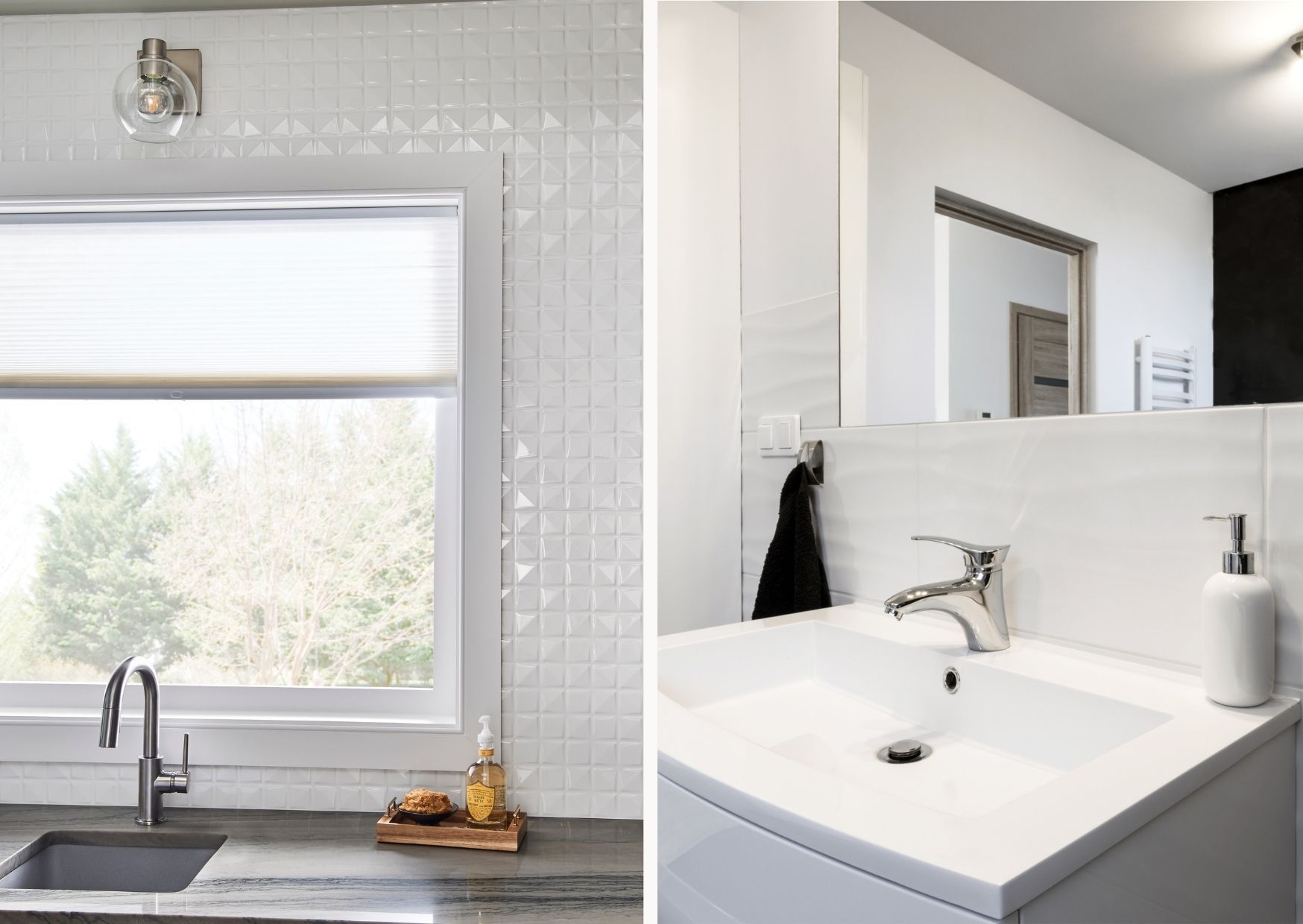 Textured ceramic wall tile creates an entirely new level of visual interest in spaces often characterized by flat planes. It works especially well with natural stone countertops, whether they're a solid expanse or they feature high-variation patterns.
Wavy White tile is a prime example of how to add texture in a subtle yet impactful way. The wavy lines and glossy finish mimic the feel of polished White Ice granite countertops and contrast beautifully against dark wood cabinetry and flooring.
Chex White 12"x36" glossy tiles, featuring a grid of smaller squares, offer the perfect accent for a kitchen with modern, open shelving above, flat-front white cabinets below, and a matte black counter surface.
The textured, white backsplash serves to not only offset the darker counter but also elevate a space that's otherwise somewhat flat and featureless.
Choosing the Best Backsplash Tile
With so many attractive options to choose from, it can be hard to determine which backsplash tile will work best with other elements in your design. The good news is that you can use MSI's backsplash visualizer to get a sneak peek.
Simply choose a kitchen view and add your preferred countertop, backsplash, cabinet, and flooring materials to see how design elements will look together. Next, you can swap individual elements until you achieve the look that best suits your home and your style sensibilities.
Whether you want a minimalist subway tile look or a complex arrangement of mosaic pieces that draws the eye, you'll find both extremes and everything in between with MSI's expansive collection of trending backsplash tiles.
Learn More About Backsplash Tile
A Comprehensive Guide To Bathroom And Kitchen Backsplash Tile
Trending And Beautiful Backsplash Tile For 2022
Classic Meets Contemporary With Penny Round Wall Tiles