Popular
The Bold Oasis: Trend Report
March 10, 2020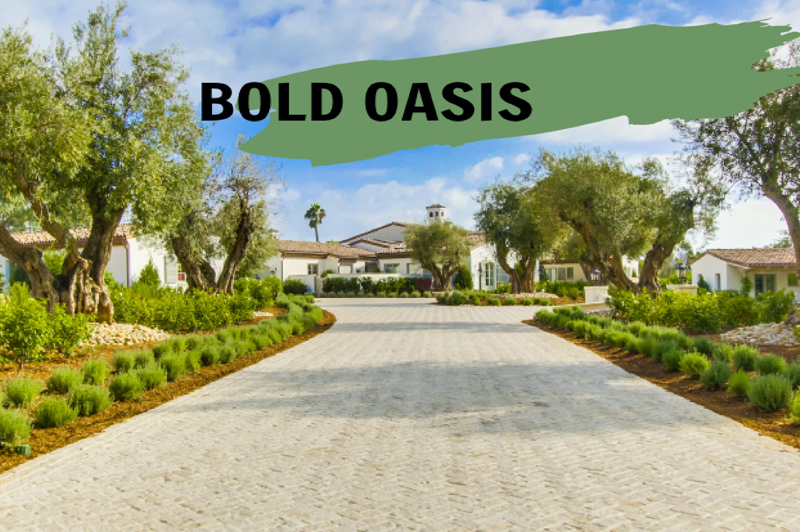 In the backyard sanctuary trend, leisure time is a serious business. Design-wise, it's growing up, and shaking off its wallflower ways. Exteriors are more daring, sophisticated, and nuanced than in years past. In our Top 5 Design Trends of 2020, we call this evolution, Bold Oasis.
But don't let all the refinement fool you. The idea behind the alfresco lifestyle movement—with its beloved indoor-outdoor flow—has always been strikingly simplistic. Relax, play, entertain. Celebrate the warmer months by living it up outdoors. Only now, we'll step out with our iced teas, cocktails, and kabobs in high-concept open-air rooms. Why should interiors have all the fun?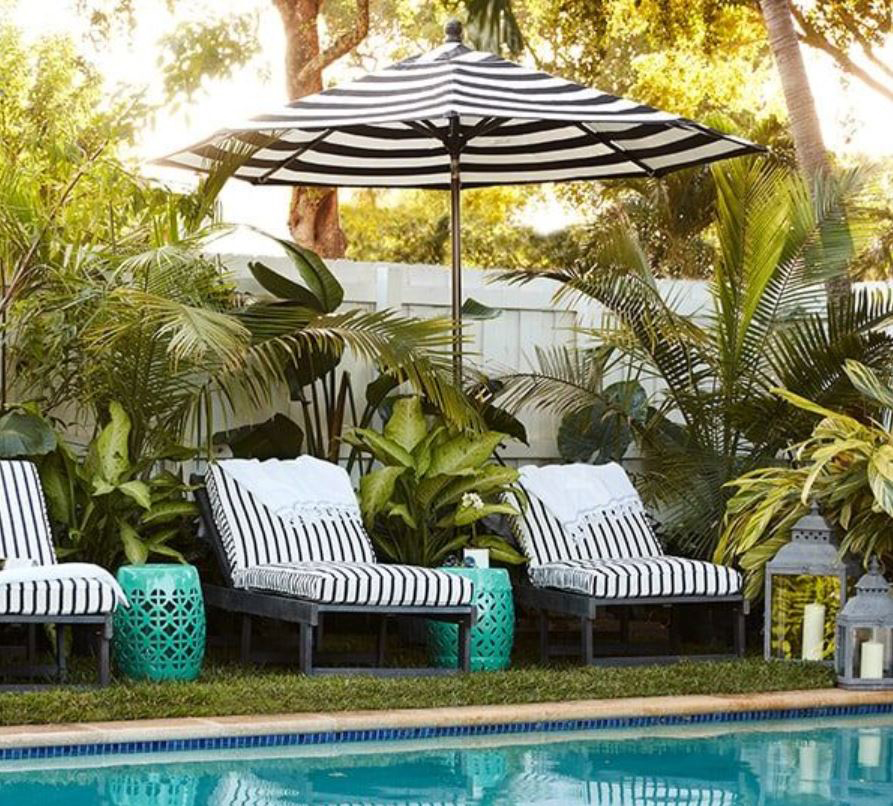 Courtesy of Pinterest
If you're planning on giving your backyard a refresh in the next little while, we gathered our favorite Bold Oasis looks to inspire you. We hope all this outdoorsy deliciousness sparks your imagination. Or at the least, puts you in a summer state of mind for a moment or two.
Instant Ambiance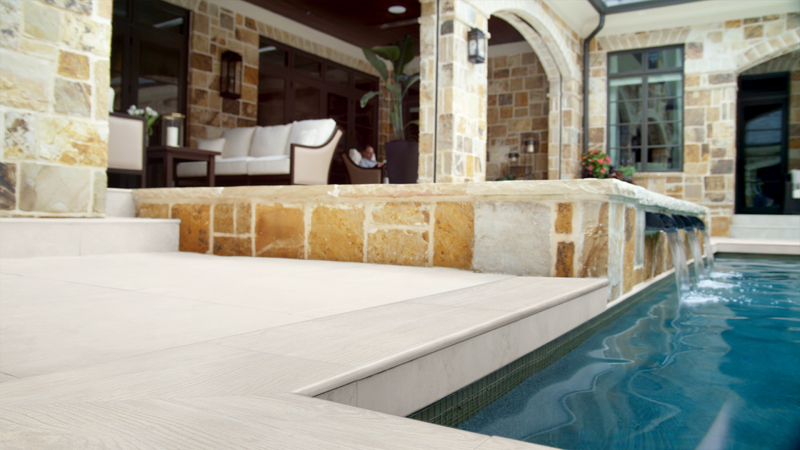 A no-reservations required situation: Caldera Blanca Pool Coping
with Tierra Ivory Arterra Porcelain Pavers.
In this new decade, the dream is less about traveling thousands of miles away to recharge. And more about transforming the space beyond the back door into a resort-style refuge. While the trend is grand style-wise, our lineups are all about affordable luxury.
From high-drama patterns and beautiful color stories to exquisite textures and mixed materials, the bold oasis trend is turning pools, patios, kitchens, and fire features into enviable focal points. Decorative mosaics are punching up the character in big and small spaces alike. Dimensions are bold too. King-size tiles and pavers give exterior spaces a clean, modern vibe.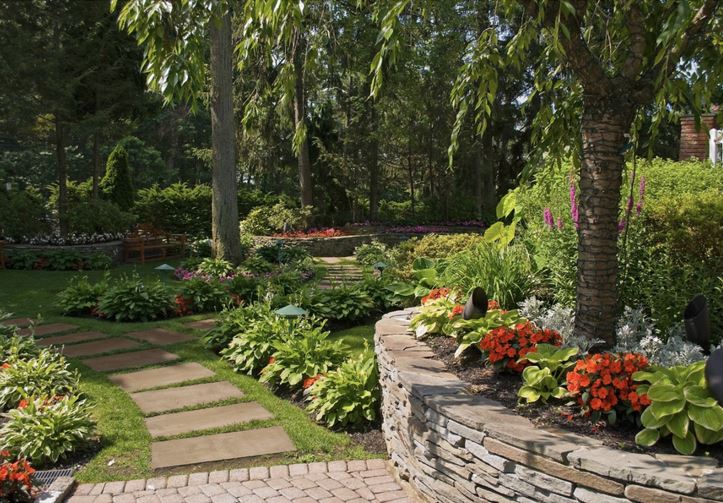 The hardwood aesthetics of Lucas Betulla Arterra Porcelain Pavers look ideal in a Japanese garden.
Japanese gardens are a hot topic this year, too. Their lush symmetry, meandering streams, and Zen vibe have us daydreaming about creating a meditation space in the yard.
Pattern Beauty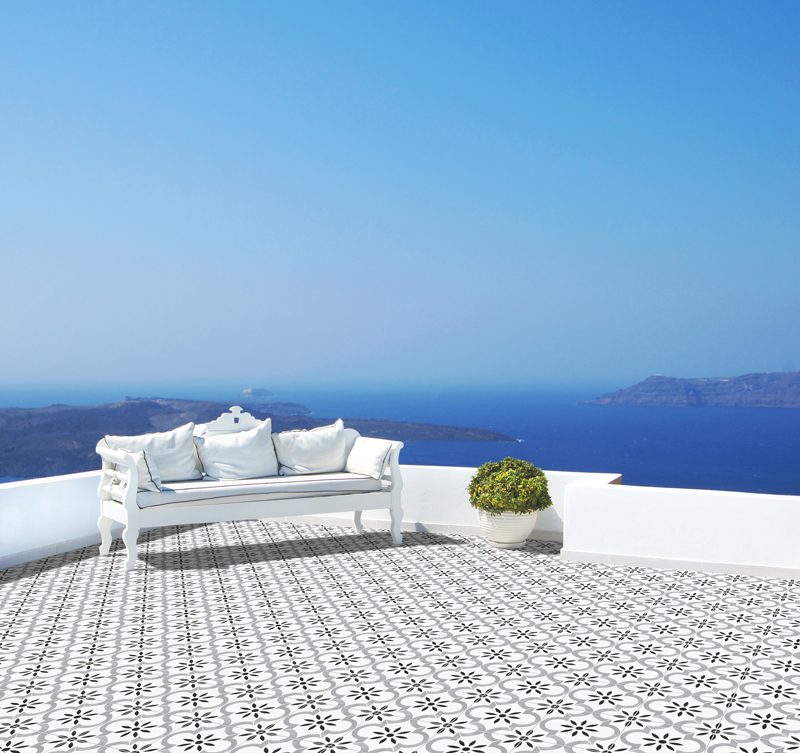 From island patios to urban balconies, Kenzzi Azila lends a touch of the exotic.
A true extension of our interiors, backyards are blooming with pattern. Whether it's pillows on a porch swing, glass tile on a water feature, or 6" cushions on a L-sectional, patterns are shaking up exteriors in 2020 with breathtaking results.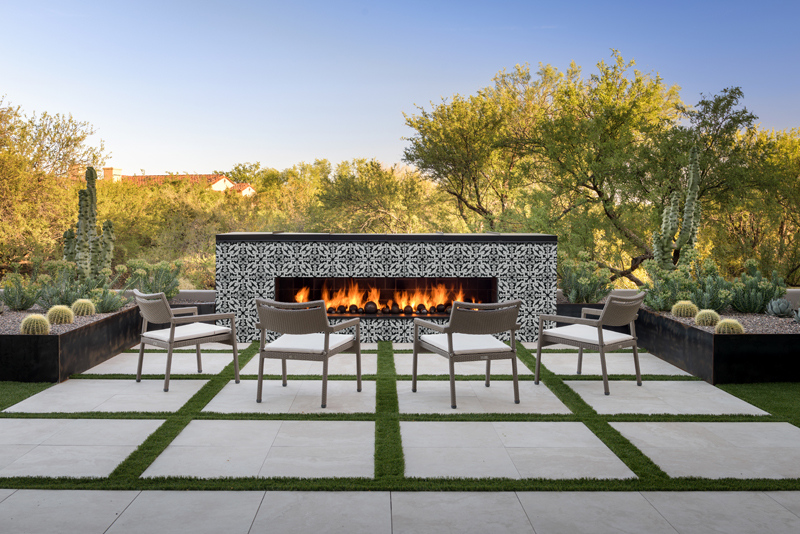 Kenzzi Brina is all fired up in this desert oasis.
The darlings of the design world are moving outdoors - including Herringbone floors, encaustic and geometric tile, and black & white stripes. Not to be outdone, glass mosaics pop and shimmer on walls and backsplashes. Alone or layered, the possibilities with patterns are limitless. And crazy fun to play with.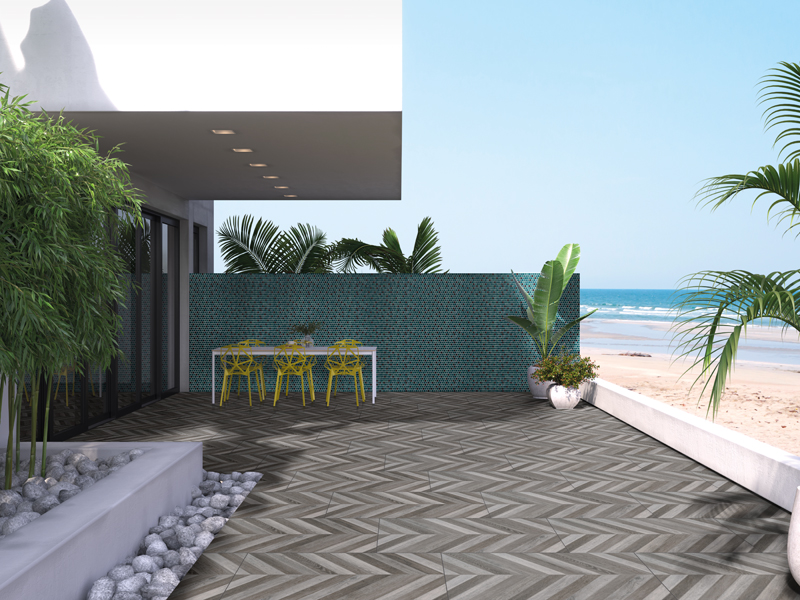 We wouldn't mind slathering on the sunscreen here: Antoni Gris Platinum underfoot, Caribbean Mermaid Mosaic glass tile on the wall.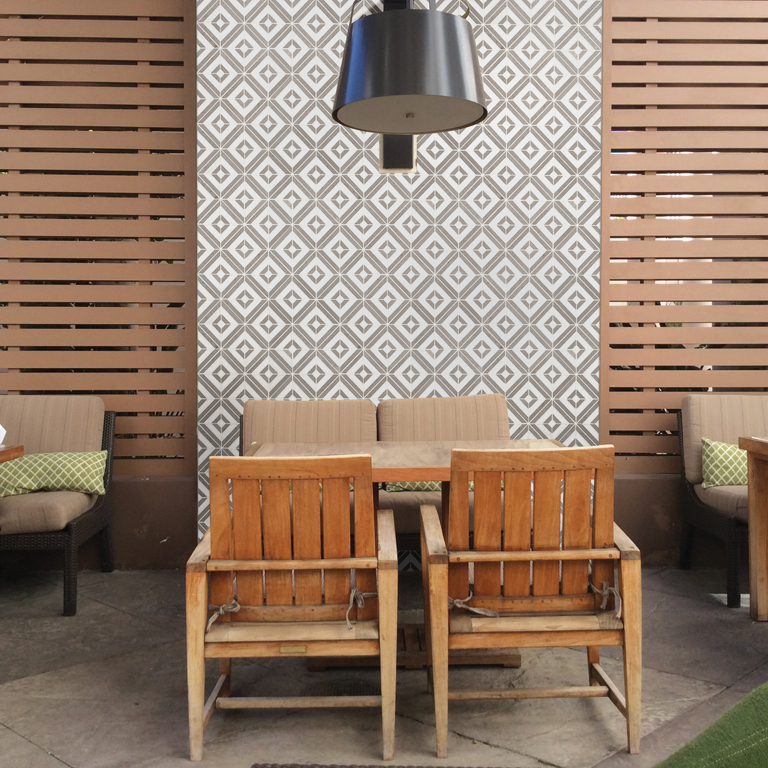 This fabulous four-top situation features Rhombix Dove tile.
Pattern Your Way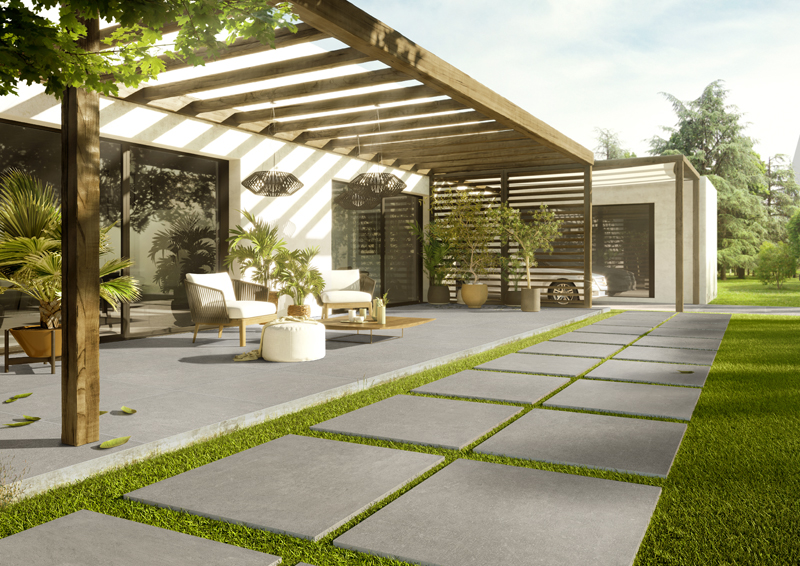 Meet Concerto (Grigio), versatility done right.
From water features and pools to patios and walls, nothing is as satisfying as creating your own custom look. Wake the designer within by mixing different colors and patterns – checks, stripes, and color blocks. There won't be another backyard like it.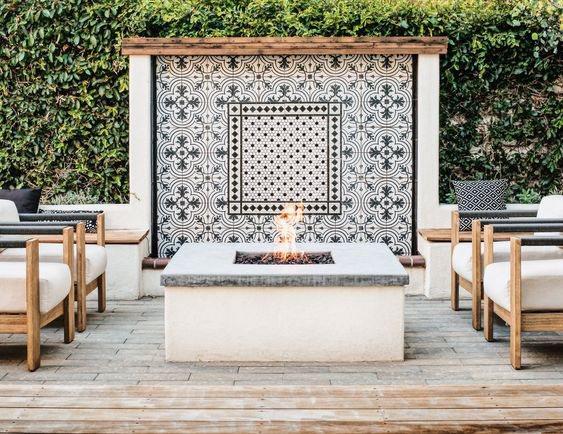 Courtesy of Pinterest.
Touchable Texture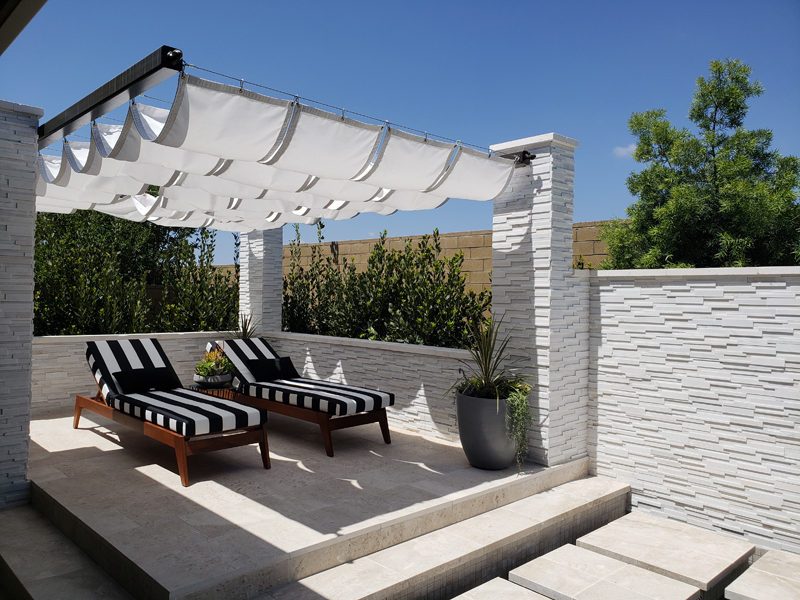 Texture is king – right up there with comfort. Showstopping walls
made possible with Arctic White 3d Honed.
In the Bold Oasis trend, outdoor spaces call for big moments of texture. Done well, it's immediately noticeable. Both visual and tactile, layering materials with all sorts of composition lends polish and interest to open-air rooms.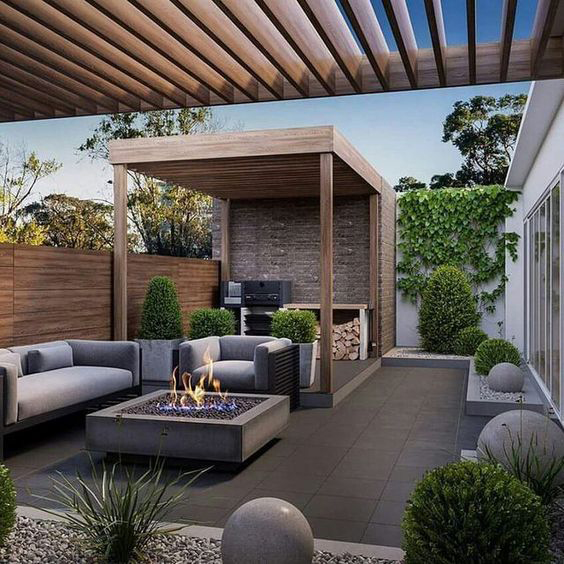 Courtesy of Pinterest
Whether it's an outdoor-safe velvet dining chair, a nubby roll pillow on a teak lounger, or a natural stone fireplace, texture adds much-needed dimension in 2020. Plus, intermixing flat and uneven surfaces softens the hard angles of hardscape. Ready to roast marshmallows around the fire pit this summer? Think RockMount Stacked Stone Panels and other natural stone collections.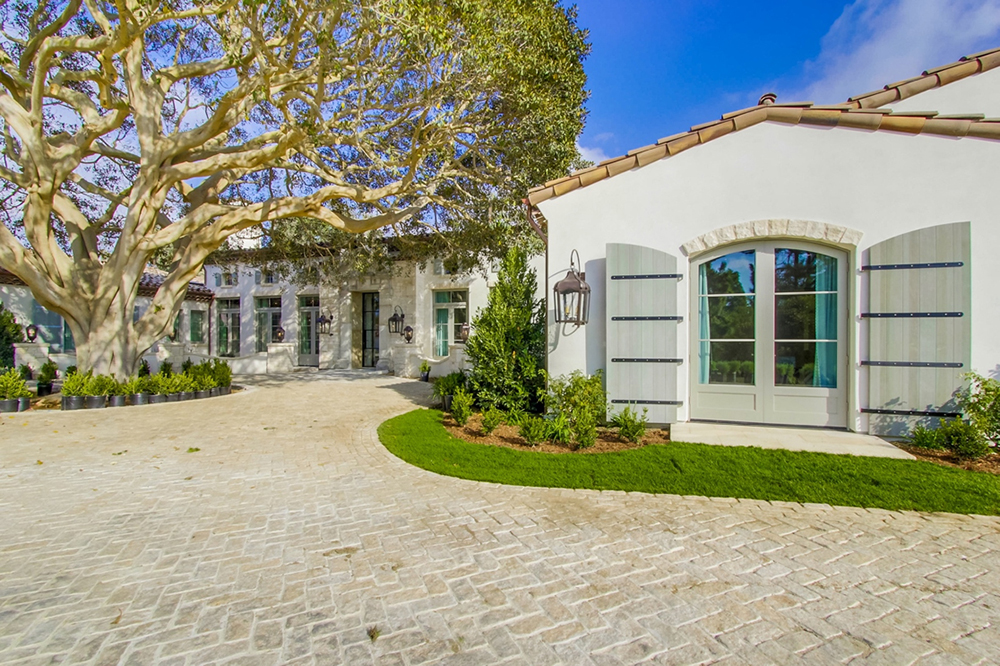 They've transfixed us for eons; cobblestones have timeless curb appeal.
Mixed Materials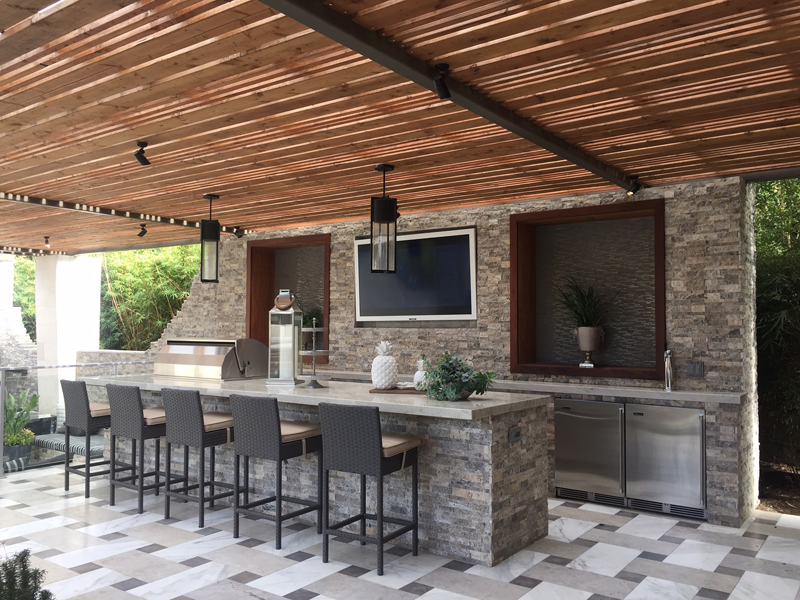 Sip those cocktails in style: Silver Travertine RockMount on the wall and island.
Sophisticated design has always been about mixing materials in unexpected ways. With those matchy-matchy days behind us, we can focus on layering for interest, effect, and nuance. With so many beautiful hardscape options on the market, who wants to choose one over the other, anyway?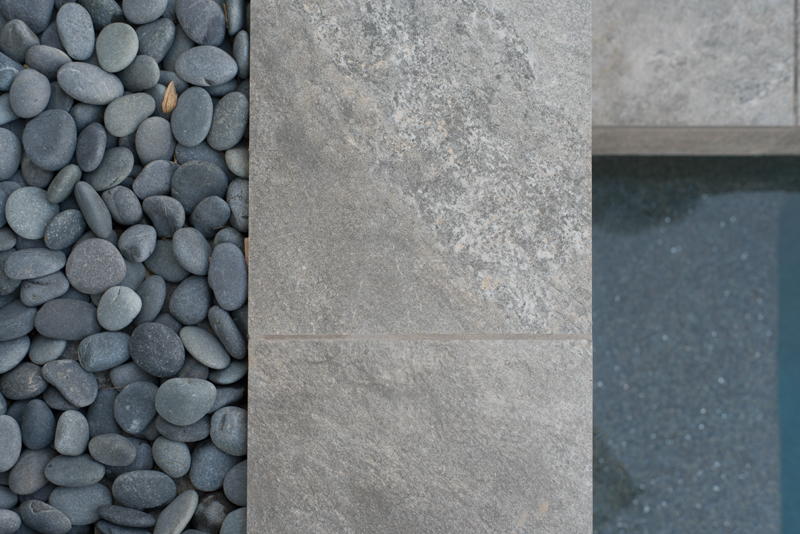 For an upscale look, mix Arterra Quarzo Gray with beach pebbles.
Juxtaposing shapes and sizes never gets old. Like a winding walkway that alternates between beach pebbles and travertine pavers. Or vertical and horizontal stripe formations with porcelain tile and stacked stone panels. In and around the pool, glass mosaic and natural stone tile make a beautiful couple. Small details matter, too. Mixing matte and polished finishes are on-point this year.

Love travertine? Tuscany Scabas makes lounging alfresco a treat.
Indoor-Outdoor Flow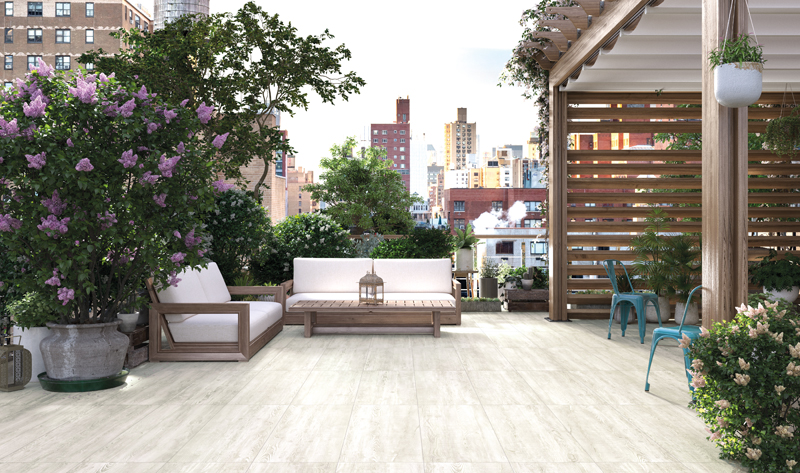 If this is urban living, sign us up: Arterra's Caldera Blanca patio cover.
Nothing says summertime like a breeze passing through oversized sliders. And in the world of design, an indoor/outdoor flow, with its clean and seamless sightlines, is a must for modern spaces.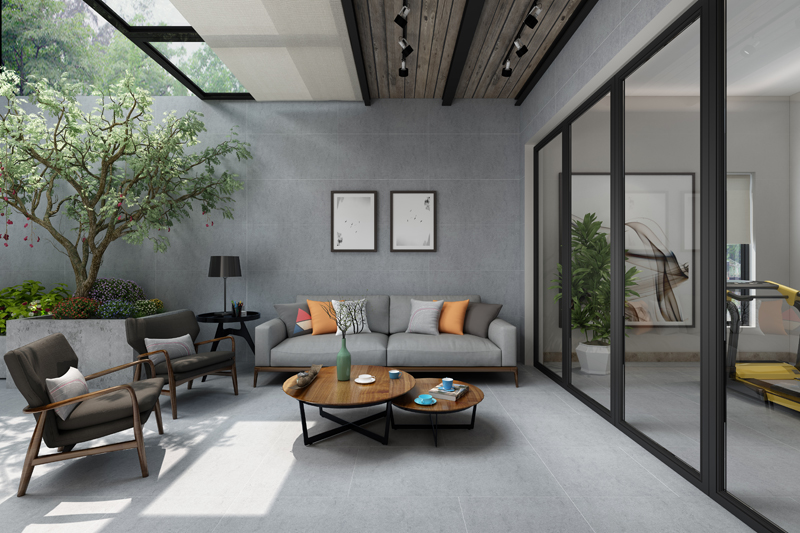 Achieving indoor-outdoor flow has never been simpler – especially with low-maintenance collections like Arterra Porcelain - which feature tiles and matching pavers. Walk into the front door. Step out the back. Praia, Caldera, and Livingstyle (Beige, Cream, and Pearl) deliver everything you love about wood and stone in a robust, high-functioning package: stain-resistant, frost-resistant, scratch-resistant, slip-resistant, and low maintenance. Classic looks without the fuss? Yes, and please.
Some Like it Hot

Courtesy of Pinterest
Whether it's fit for the likes of the Barefoot Contessa or the family grill master, outdoor kitchens extend our living spaces and drive up home values. On the day-to-day, it's much more convenient to entertain family and friends with alfresco amenities like sinks, pizza ovens, refrigerators, prep space, etc.. It's one thing to bring the party outdoors. And another to jockey back and forth to the kitchen inside. An entire evening outdoors sounds a lot more relaxing.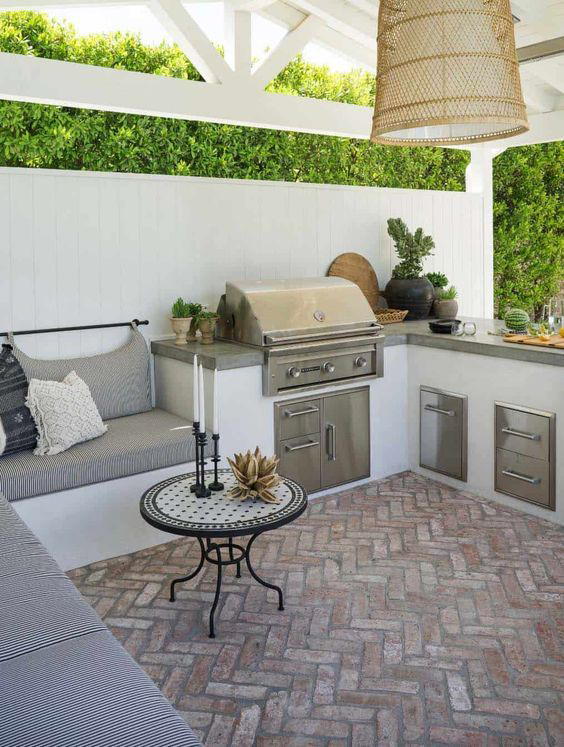 Courtesy of Pinterest
For surfaces, granite remains the top choice for exterior countertops. A sun-friendly surface is a perfect match for the elements because it won't fade or crack. But why stop there? Make a high-impact statement on your grill island with pattern, color, and texture.
Caribbean Jade, Hawaiian Coast, and Tahiti Blue give backsplashes and walls a dreamy glamour. You can't go wrong with a Moody Blues palette - another Top 5 Design Trend of 2020.
Whether you're starting over or simply updating the most impactful area of the yard, we hope these daydreamy looks help to jumpstart your planning. Have fun mixing and matching these elements to elevate your exterior rooms.
All the best projects have a life of their own. So let us know where you land by tagging us on Instagram. Before you know it, you'll be living life alfresco, swinging on daybeds, tinkering in the garden, and dining alfresco. It can't come soon enough!