Tile Style: Which Is Better For The Bedroom — Ceramic Tile Or Porcelain Tile?
August 30, 2018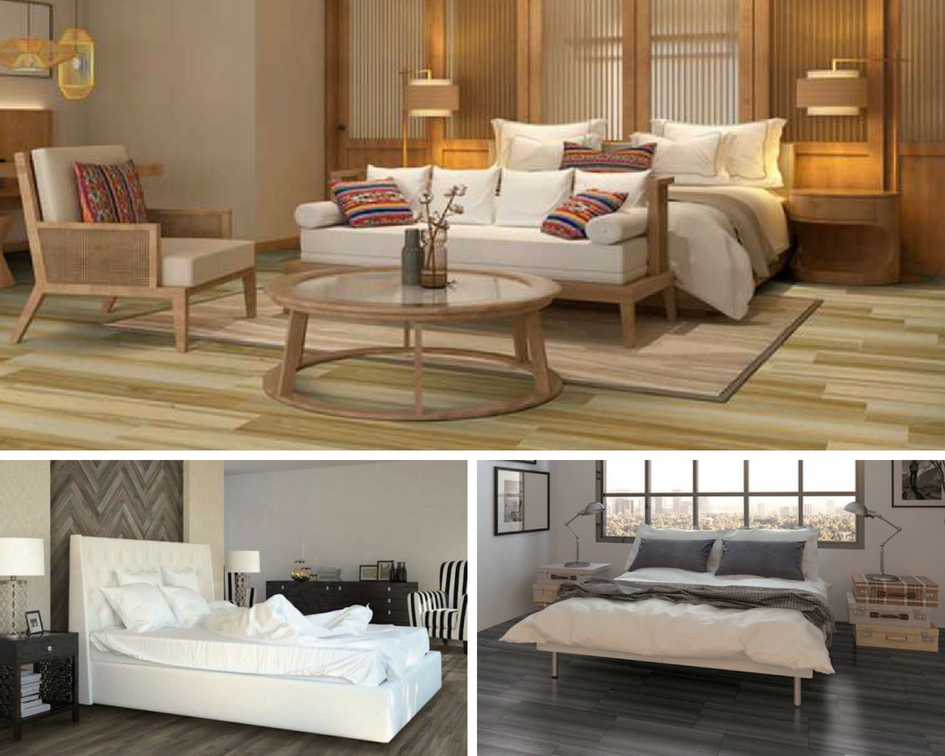 With so many beautiful tile options on the market, it can be tough to narrow it down for your project. There's a tile for every room in the house, whether it's a kitchen backsplash, living room accent wall, bedroom floor, or shower surround in the bathroom.
When it comes to choosing between porcelain and ceramic tile in the bedroom, the differences are minimal. The bedroom is a low-traffic area, so there's no need to install a rugged, commercial-quality tile. Both ceramic and porcelain tile are easy to keep clean, so if you're trying to figure out how to reduce allergens in the bedroom, either will do nicely. Both are also available in a huge selection of sizes, shapes, and colors, including tiles that mimic natural stone and hardwood planks.
So, how is a homeowner to choose porcelain vs. ceramic tile? Porcelain is denser and harder than ceramic tile, making it less prone to chipping. On the other hand, ceramic is usually costs a bit less, and since it's easier to cut to size it's well-suited for DIY projects.
Check out these bedrooms, which feature ceramic and porcelain tile, and find out why each tile was chosen for each space.
Napa Beige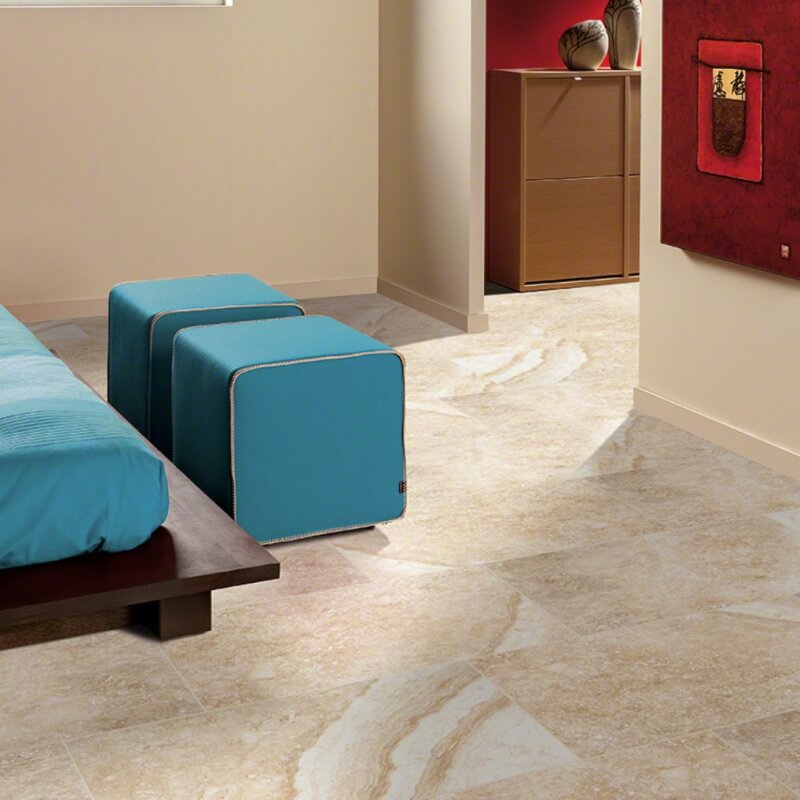 Featured: Napa Beige Ceramic Tile
Natural stone tiles offer so much character to a living space — it's not just a practical alternative to carpet, but also a beautiful one. Napa Beige ceramic tile takes that sensible choice one step further, mimicking the look of natural travertine without any of its drawbacks. There's no need to apply sealer, and it holds up to moderate foot traffic. The matte glazed surface is slip-resistant, which makes it safer in a room where you kick off your shoes.
Turin Nero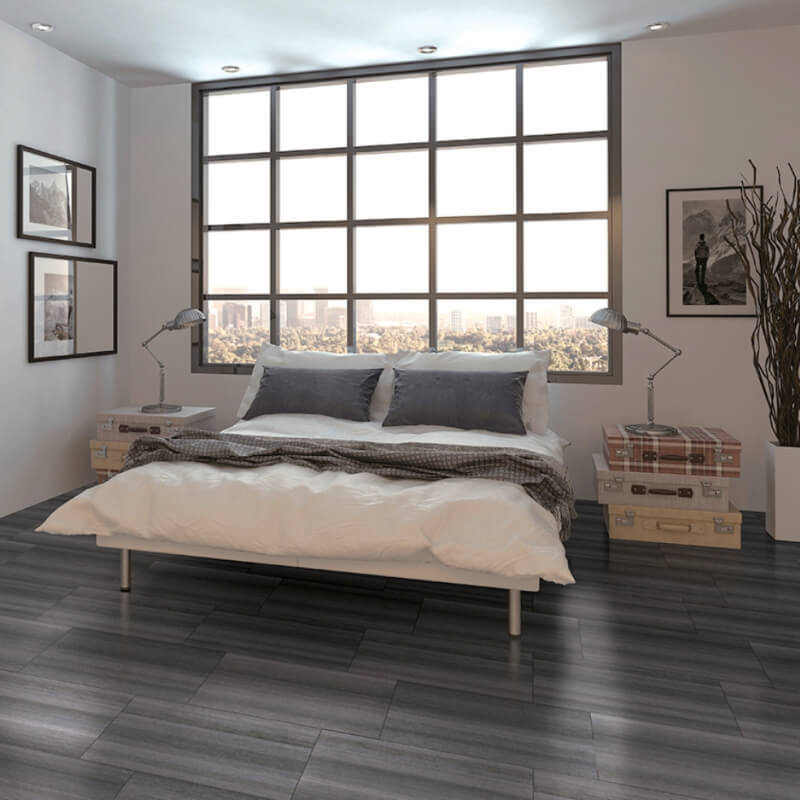 Featured: Turin Nero Wood Look Tile
Hardwood flooring is a popular choice for bedrooms. Turin Nero wood-look ceramic tile is even better, because it never needs sealing or polishing and it resists scratching from pet claws or furniture legs. This tile features subtle wood-grain patterning and a deep brown color that works well with contemporary décor and won't overwhelm a minimalistic design scheme.
Acazia Mangium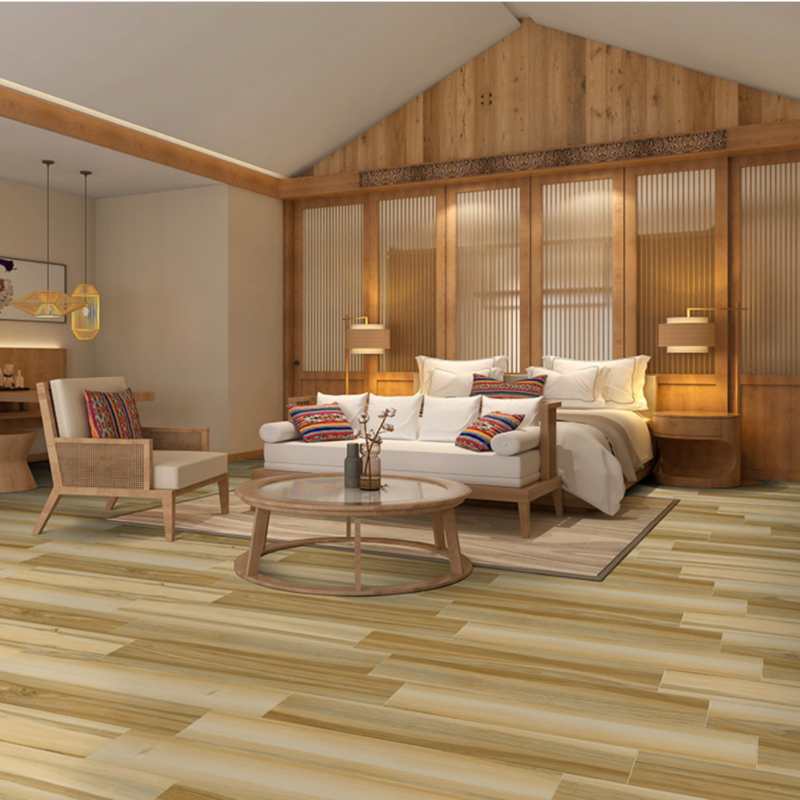 Featured: Acazia Mangium Ceramic Tile
Wood-look ceramic tile and family rooms are a match made in heaven; Acazia Mangium ceramic planks offer just enough variation for a realistic look even over large areas. Should you install it in your bathroom too? Ceramic tile is lighter in weight than porcelain, which makes it easier to install on vertical surfaces such as accent walls.
Upscape Greige

Featured: Upscape Greige Wood Look Tile
The beauty of porcelain tile is its uniform size and edges, which makes it easier to install with a narrow grout line —this makes a wood-look tile like Upscape Greige appear even more realistically like natural wood. The consistency also means it's ideal for creative patterns such as herringbone or chevron.
Antico Grey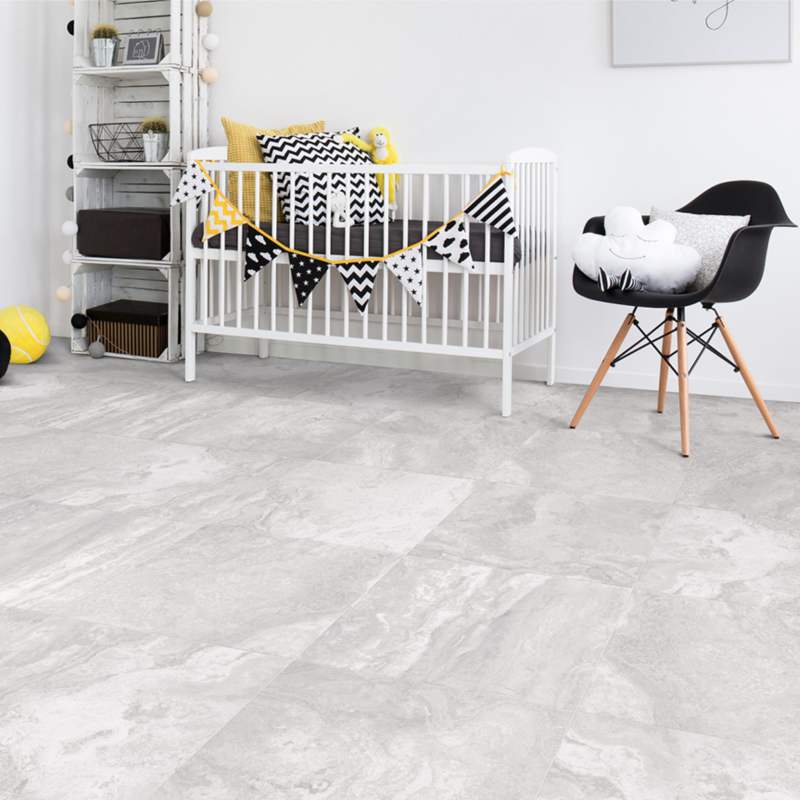 Featured: Antico Grey Porcelain Tile
Kids are messy; they're also tough on flooring. Antico Grey porcelain tile features a cheerful white-and-gray pattern emulating natural stone, and gives any bedroom a designer look. Whether you're planning your firstborn's nursery or renovating a playroom, this tough surface can stand up to anything your little darlings can dish out — and it's easy to keep clean and hygienic for another day of playtime.
Choosing between porcelain and ceramic tile flooring isn't easy; it comes down to a few factors such as durability — will the room have heavy foot traffic or other use-related challenges? Do you need to stick to a shoestring budget? Will you be doing the installation yourself or hiring a pro? However, you'll find the differences aren't that important, most of the time; just pick the tile you love the most. Visit MSI's web gallery and room visualizers for help in narrowing it down.