Popular
Serenbe Designer Showhouse 2020 Is Packed With Inspiration
November 04, 2020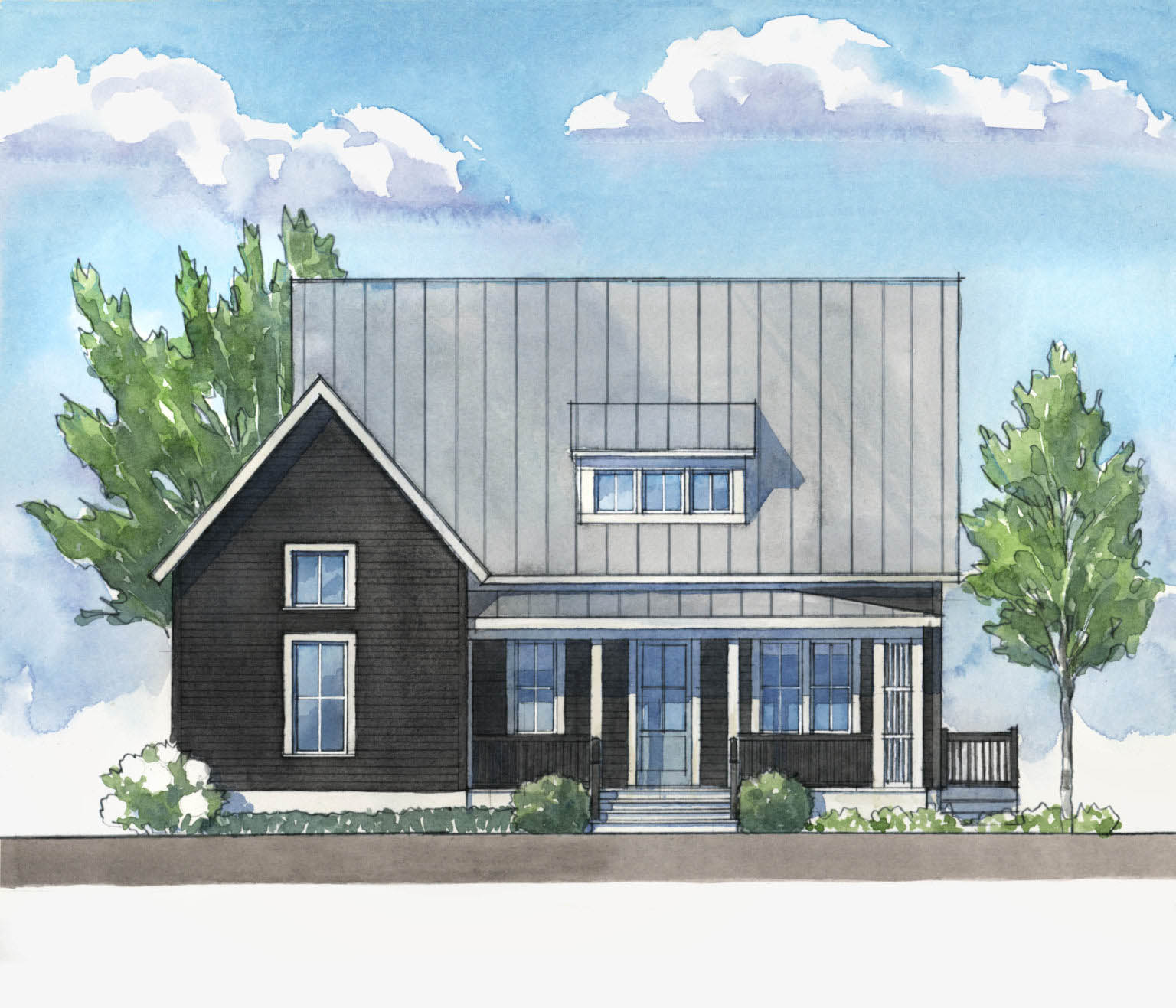 Soaring ceilings, splashes of vibrant color, clever plays of texture mingled with organic elements. The 7th Annual Serenbe Designer Showhouse is a master class in design. Thanks to a collaboration between Lead Showhouse Designer, Lorraine Enwright (Intuitive Dwellings), and Emily Holle, our Director of Trend & Design, MSI provided an array of surfaces for this dream project presented by Atlanta Homes & Lifestyles magazine.
There's nothing quite like a showhouse to bring a community together. As a sponsor, we were inspired by the eight distinguished designers who performed the herculean task of bringing the interiors of a 2,427 square foot new build together in just ninety days! It's hard to imagine how a 3 bed/3.5 bath showcase packed with wall-to-wall inspiration could materialize so quickly – especially in the throes of a pandemic. But alas, Lorraine and her design partners joined forces with Serenbe Planning & Design, and builder, South Haven, to create a showhouse experience like no other. Situated at the edge of Atlanta in the sustainable Serenbe Farms neighborhood, the house tour—which recently ended—was one for the books.
Experience at Work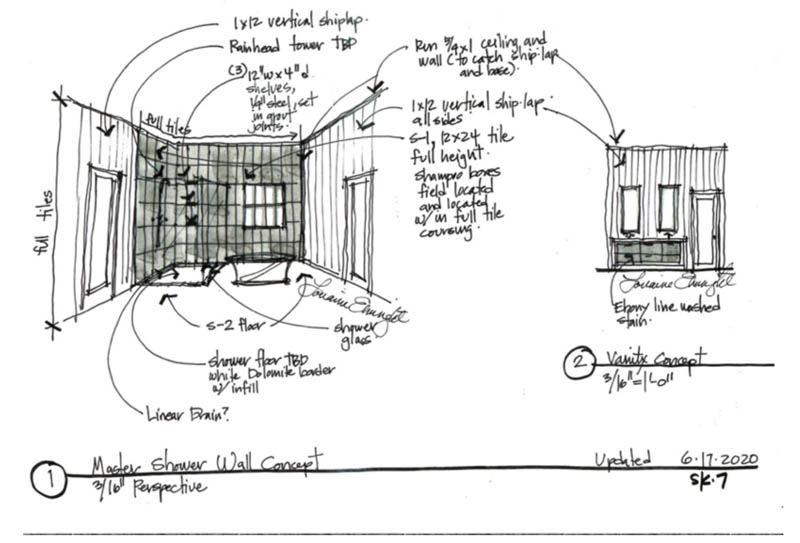 Lorraine bridges the gap between architectural and interior design in her sketches.
The daughter of a developer and an interior designer's niece, Lorraine's over twenty-year career began with a dual major in Architecture and Interior Design at Auburn University. From architectural development through interior design details, her holistic design process proved invaluable to the project's success. "I loved the process of watching the beautiful things we collectively created unfold. Collaborating with so many wonderful people who are all working toward a common goal was fun and exciting," said Lorraine.
Concepts, Sketches & Lookbooks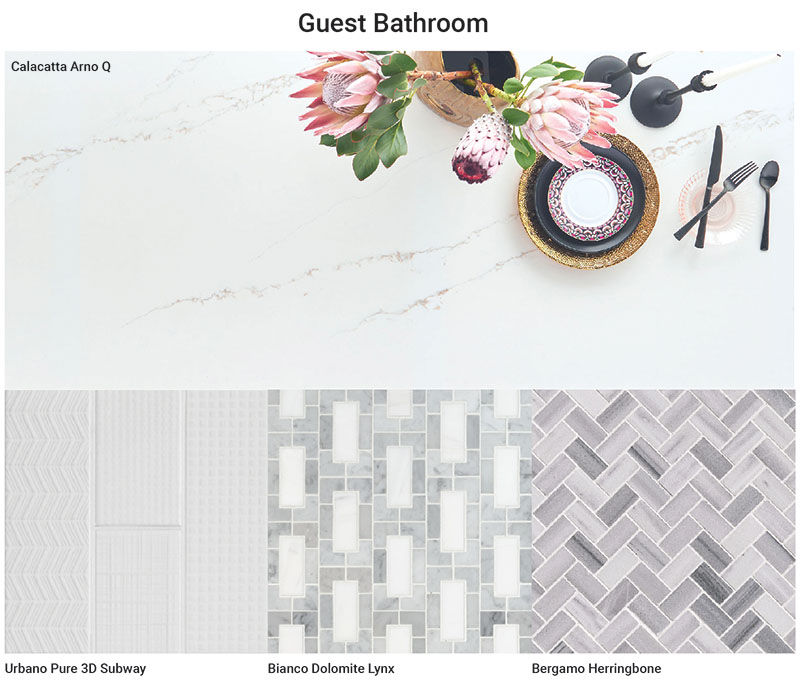 From the kitchen and bath to the laundry room, Lorraine's lookbook combines a sumptuous mix of textures, elements, and shapes from MSI's tile collection.
Lorraine's concept for the showhouse paid homage to Serenbe's artsy community. Projects within the neighborhood use lots of natural materials like wood and steel, "We mixed reclaimed and industrial materials together with classic lines, so the effect is elegantly modern. The idea was to play up the contrast between organic and rough-hewn materials with classic forms to deliver a clean, fresh look – one with a casual yet sophisticated vibe."
Armed with a set of drawings of the shell, Lorraine developed concepts and created lookbooks to house essential ideas that captured each room's vibe and feel. "The pace was fast, so when I found images of elements I wanted to communicate, I'd work out the details with sketches."
To take advantage of the home's tall ceilings, Lorraine reworked parts of the interior envelope with South Haven – including eliminating horizontal soffits in the kitchen and adding symmetrical beams in the living room. "I couldn't have asked for more flexible builders to work with– especially within our tight timeline. The design team was equally talented. Each had a flair for making their space feel elevated, but also like a real home."
Pieces of a Puzzle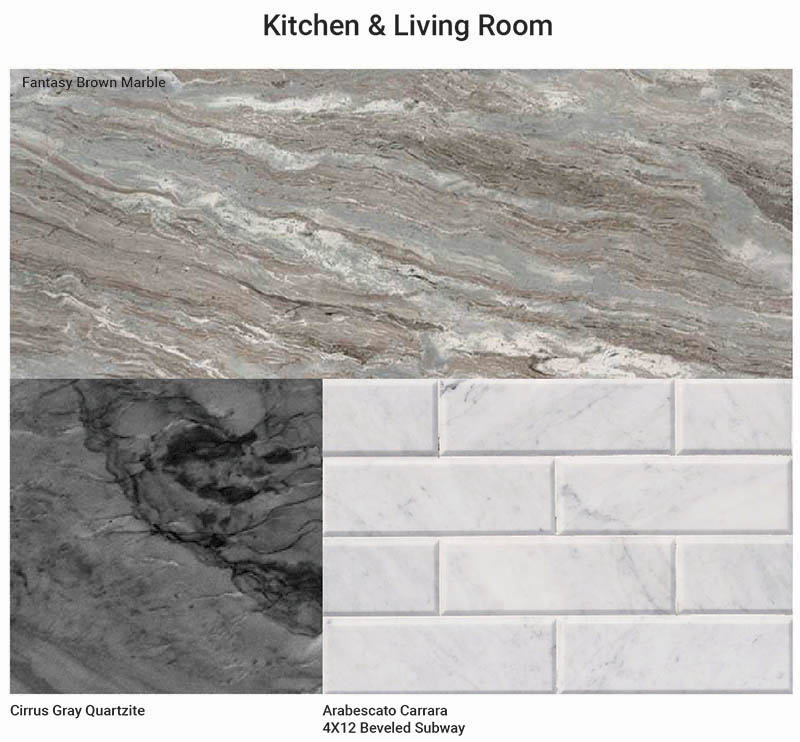 From the Fantasy Brown Marble kitchen countertops to the Cirrus Gray Quartzite fireplace surround, the surface selections strike the perfect balance between modern elegance and bold choices.
In reimaging each of the assigned spaces, Lorraine chose all the foundation pieces - including stone and tile surfaces. "I went to see Emily with an open slate on how things would evolve. We clicked immediately and had a wonderful time picking out beautiful ideas that reinforced our concept," Lorraine said. Much of what the two landed on developed from what they discovered in MSI's Atlanta Showroom, like the Black Oak Marble and Bianco Quatrefoil in the master bath.
Emily's said, "What you can't tell from the lifestyle-driven spaces in Lorraine's portfolio—is her talent for working creatively under pressure while managing thousands of details - all with time and budget constraints. She did more than lead the design team; she fine-tuned the interior architecture, so the house both stood out with dramatic moments and blended into the community in all the right ways."
Kitchen Goals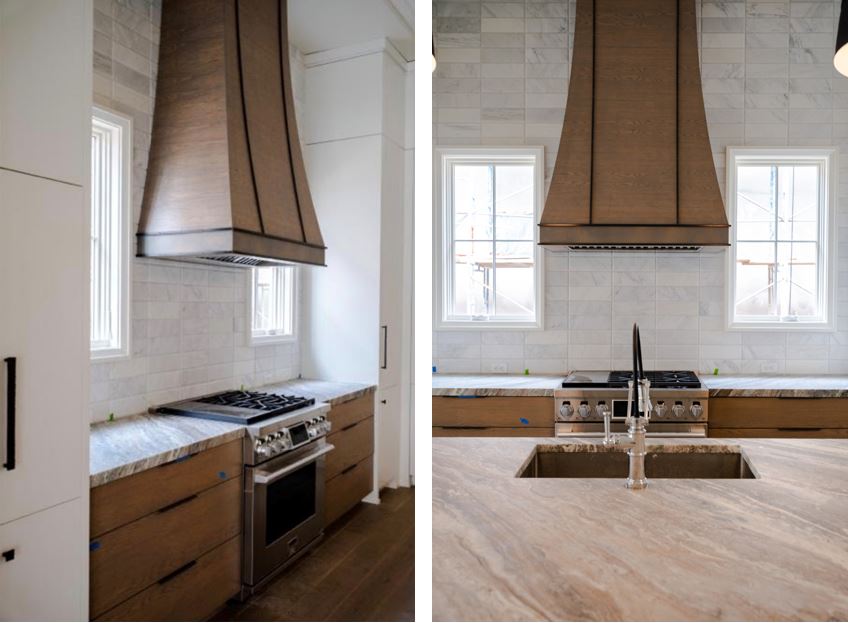 Arabescato Carrara Marble tile up the kitchen wall combines with cabinet towers and a custom hood
to accentuate the ceiling height.
Every inch of the light-filled kitchen looks and functions like a chef's dream space. And since all the elements have to work together, Lorraine chose a mix of reclaimed and refined materials to set off the room's large scale and vertical assets.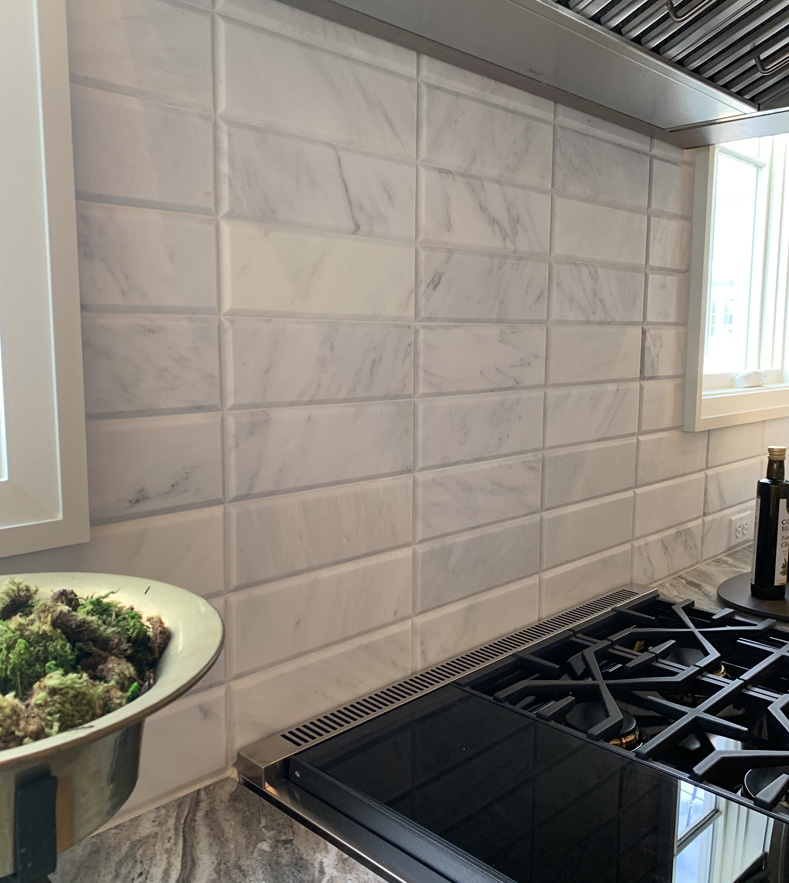 Perfectly symmetrical, there's nothing we don't love about this view.
A Fantasy Brown Marble waterfall island set atop cerused oak cabinetry anchors the room and adds drama. Unique striations in a swirl of pewter, apricot, and chestnut tones create remarkable depth and movement.
And since there's nothing like white to balance a room's earthy tones, Lorraine went with the crisp, clean look of Arabescato Carrara Marble backsplash tile– which is even more striking with matte black hardware. She also introduced texture and an industrial accent in the handcrafted oven hood, constructed of wood and steel.
Underfoot, the reclaimed cerused oak planks accentuate the warm, organic vibe, "We wanted the oak cabinets to nestle into the floor for a soft and subtle look," said Lorraine.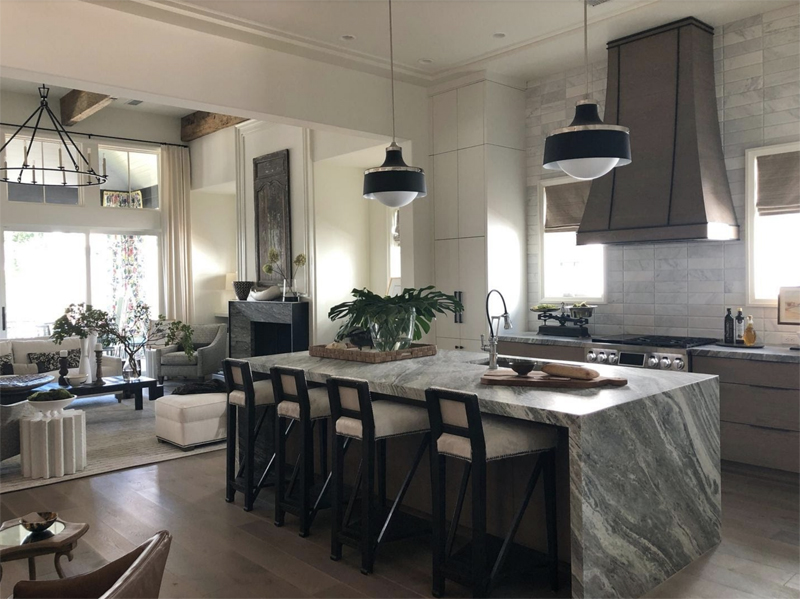 A great angle for admiring the dramatic veins in the waterfall island: Fantasy Brown Marble.
Showhouse Bathrooms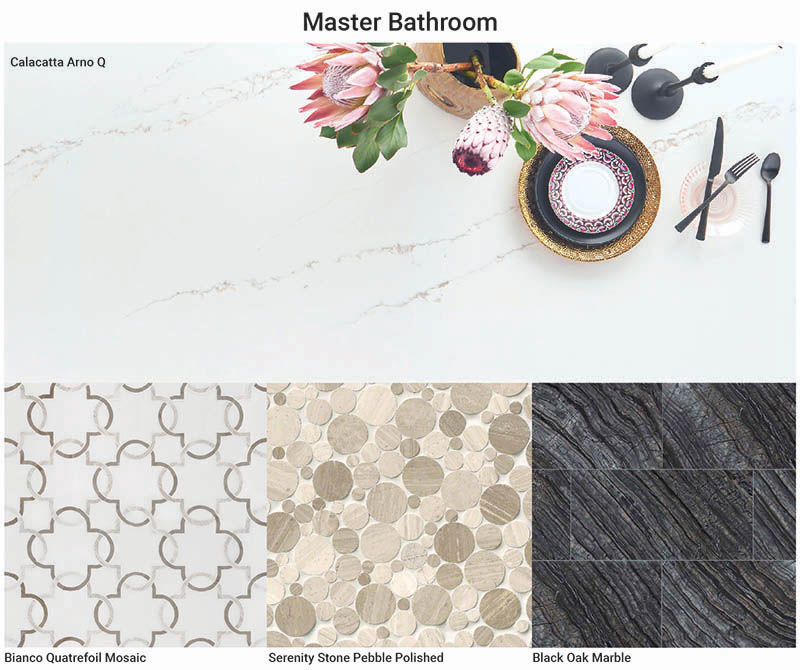 Luxe materials meet unexpected pairings; the surfaces in the master bathroom make waves.
Combinations you'd never imagine is a mark of a gifted designer. And the showhouse master bath is a fabulous example of Lorraine's talent for nuance and layers. Most of us wouldn't have thought of combining Black Oak Marble, Bianco Quatrefoil, and Serenity Pebble (shower floor), but the results are breathtaking.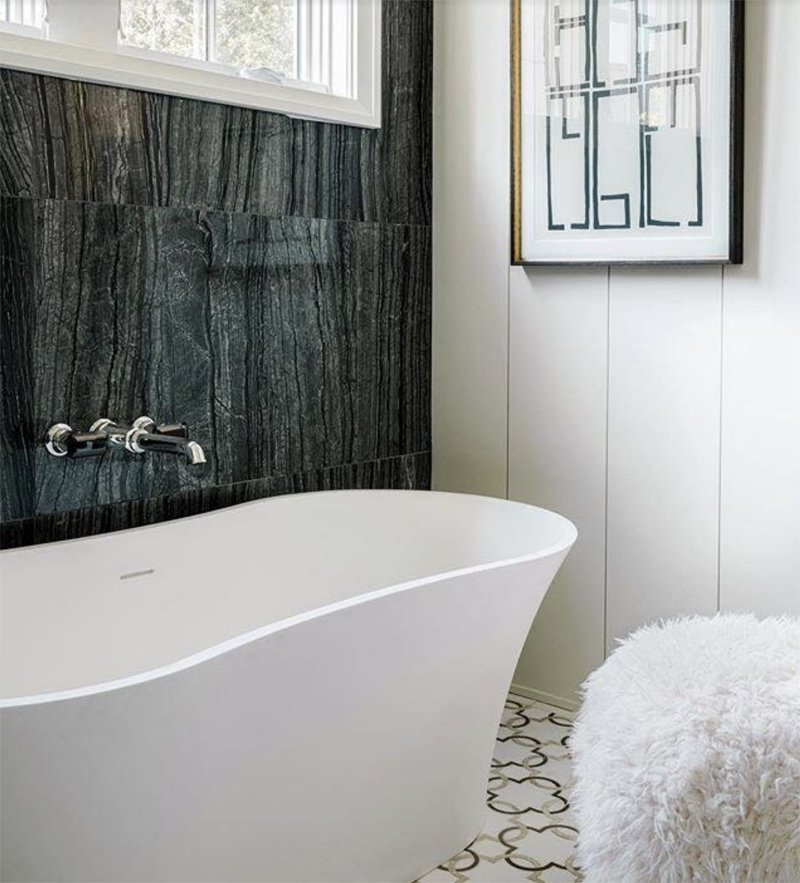 Do showroom baths have locks? We want an hour in this soaking tub.
(Photo Credit: Mister + Mrs Sharp)
"In the master bath, we wanted to do something bold. And MSI's Black Oak Marble is so striking. Bianco Quatrefoil is both classic and elegant, yet the wood grain detail in the pattern artfully delivers reclaimed character. We introduced the pebble tile in the shower to add a natural organic vibe," Lorraine said.
Lorraine chose Kenzzi Paloma encaustic tile in a secondary bathroom: "A graphic black and white pattern, Kenzzi is another casual but elegant classic. It has a vintage vibe that works well with the reclaimed elements in the showhouse."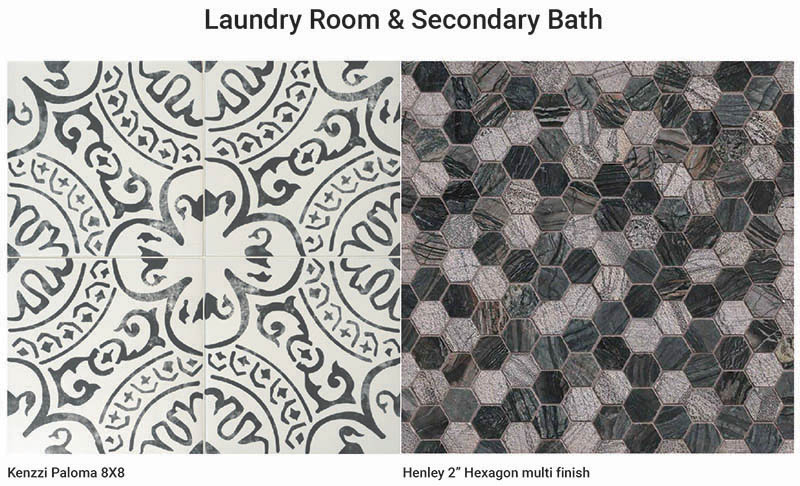 The next time you're considering something daring, remember this marble pairing.
"In the showhouse master bathroom, we were able to use luxurious materials like marble. But if that's outside your reach, you can do a 5-6 ft tile inset that draws the eye. When it doesn't look affordable, but it is, that's when you know you've delivered."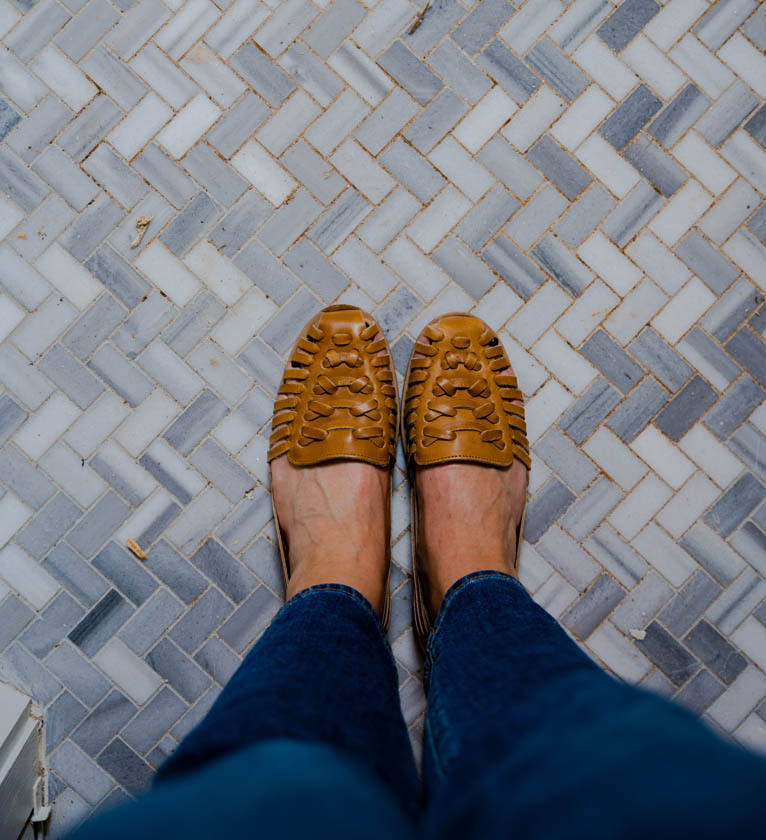 A guest bath gets a luxe marble treatment with Bergamo Herringbone.
Living Room Drama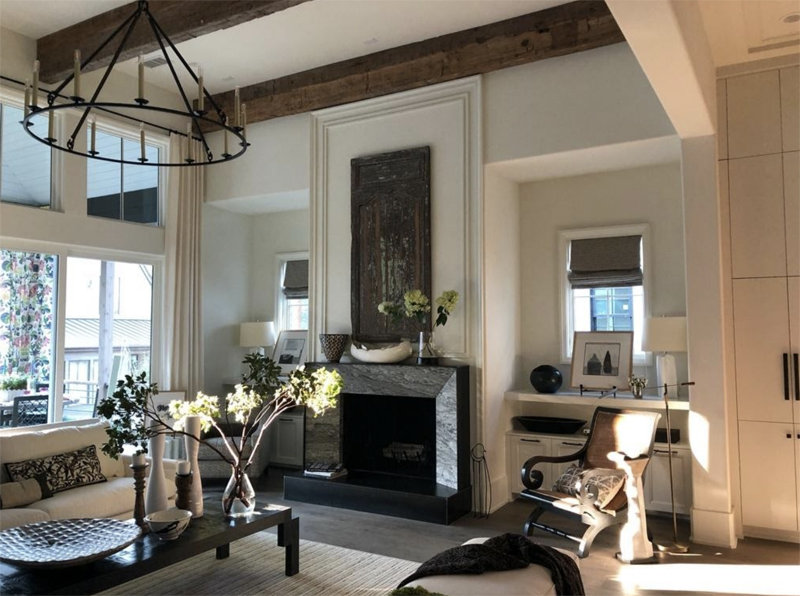 The fireplace— featuring Cirrus Gray Quartzite—is the pièce de resistance of the living room.
In addition to her role as the specification writer, Lorraine flexed her design skills by decorating the living room. We're swooning over every detail –including the gorgeous beams that emphasize the 14' ceilings. "The real talking point of the space is the fireplace. We wrapped it in Cirrus Gray Quartzite and then partnered with a local custom steel manufacturer, Gault Designs, to frame the stone. The combination lends industrial energy to the room," said Lorraine.
A picture-perfect backdrop for entertaining, the high-concept room is an elegant mix of organic, artsy accents with casual, comfortable pieces. Cream and dark tones dial up the contrast, while the architecture's clean lines bring the space into modern territory. "The look is bold and dramatic yet cozy," said Lorraine.
Designer Takeaways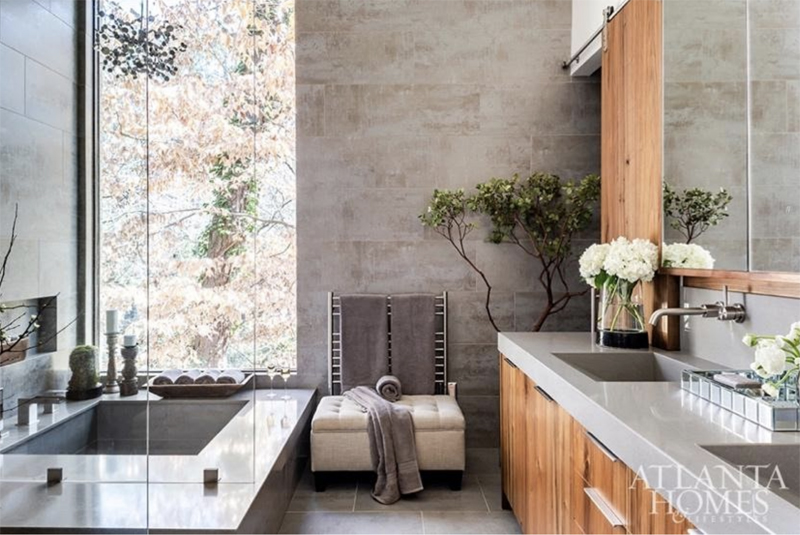 When Lorraine isn't busy designing showhouses, she's winning awards – like Atlanta Homes and Lifestyles 2020 Bath of the Year. Our 3CM Concerto Quartz (on the counters & surrounding the Japanese soaking tub) never looked more luxe.
(Photo credit: Jeff Herr)

If you missed your chance to tour the Serenbe Designer showhouse, we've got you covered. Lorraine's feel-good-in-your-space tips are heading your way. In this topsy-turvy year, living well in your home is more important than ever.
1. Before starting a renovation… "Designing a home is like putting the pieces of a big puzzle together. Begin with a set of lifestyle goals you expect the space to deliver. Consider what can be added, reworked, or remain as is. It needs to feel right. In a way that's specific to you – not the trend in the neighborhood.'
2. For a successful collaboration… "Chemistry is important in getting the right team together. Partner with professionals whose ideas resonate with you. People who will pull you into the project so that your lifestyle shines through. The most beautiful aspects of a project grow out of who my clients are. That's the joy of the whole process."
3. Sometimes a tight budget sparks the most creativity..."Dream a little bigger and accentuate something exceptional. To counterbalance those special moments, cut back with more affordable options elsewhere. It's similar in fashion: you get the base of your outfit in an affordable place, but then you add a spectacular necklace or a topcoat."