Matte Quartz Countertops Offer A Softer Side Of Quartz
July 09, 2021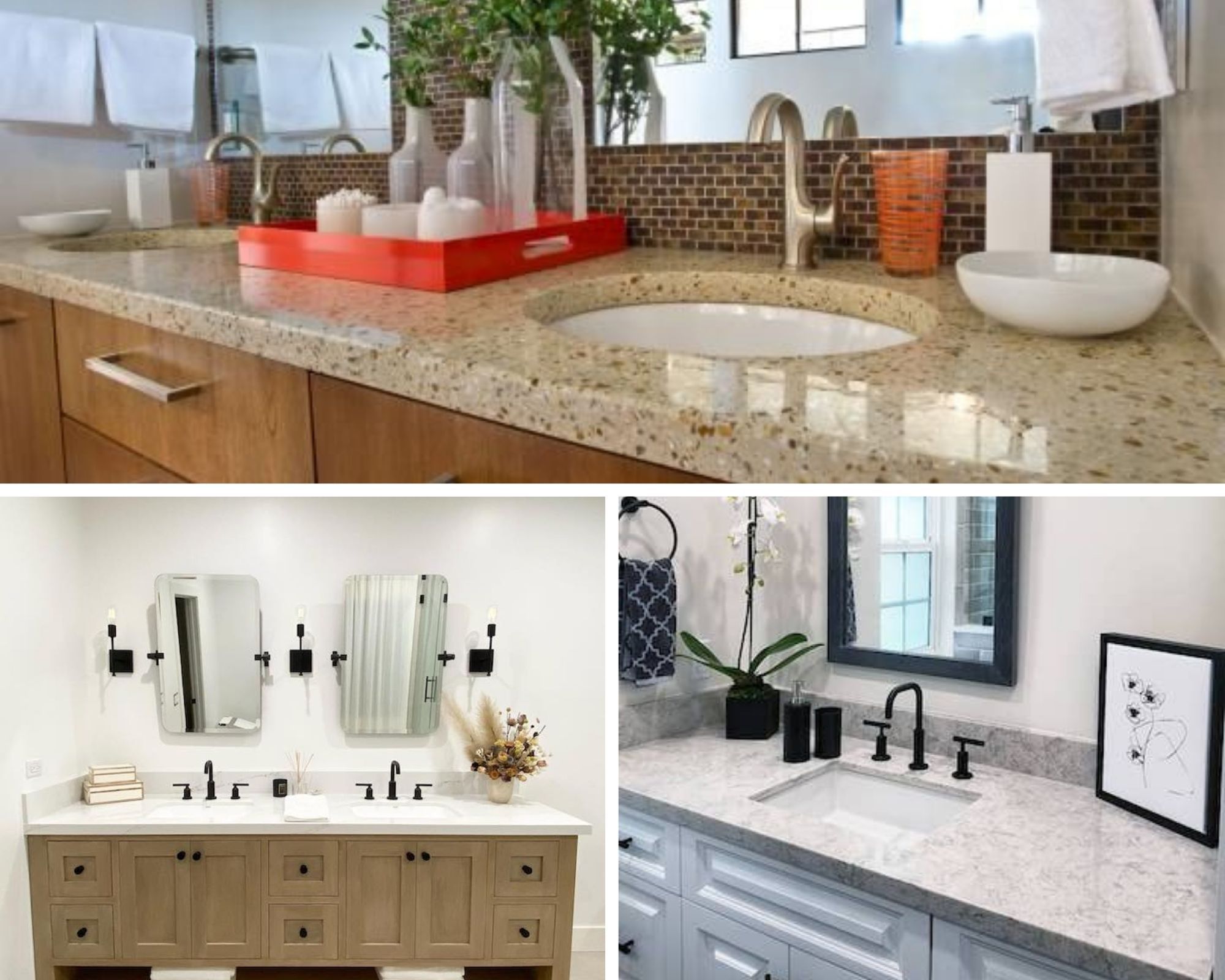 Designing a kitchen often seems like a never ending process. From selecting the flooring and cabinet colors to the lighting fixtures and countertops, there are a lot of decisions to be made. But even choosing your countertops isn't as simple as deciding between granite or quartz countertops — you also need to consider quartz countertop colors and patterns and finishes. But how do you make all these decisions without second-guessing yourself? To help you make a well-informed decision that you'll be happy with for many years to come, we've put together a guide to countertop finishes and the benefits of opting for matte quartz countertops for your home improvement project. Let's get started.
Types of Countertop Finishes
So you've narrowed down the quartz vs. granite debate and settled on one of our favorite premium surfaces, quartz, for your home improvement project. Along with selecting the quartz slab that will compliment your home's aesthetic, you need to determine which countertop finish will bring your vision to life. To help narrow down your options, here are a few of the most popular countertop finishes.
Polished Finish: The most common countertop finish is a polished finish and is likely what you see in the majority of kitchens you've been in. With a sleek shine, it offers any space a stylish and elegant countertop. The glossy look of a polished finish countertop helps accentuate the pattern and veining with its reflective properties.
Honed Finish: Also known as a matte finish, a honed finish is slowly gaining popularity for design projects. Because of the matte finish, the quartz countertops are smooth to the touch with a soft texture. Unlike polished countertops, matte counters are more subtle with their non-reflective surface, allowing the slab's natural beauty to shine through.
Leathered Finish: Another option for a dramatic and one-of-a-kind look is a leathered finish countertop. Instead of the standard smooth countertop surface, a leathered finish created a rough and rustic textured appearance that is reminiscent of leather.
Flamed Finish: For another unique countertop finish, you can opt for a flamed finish. To create a unique appearance, the quartz slab is exposed to intense heat which causes individual grains within the slab to change color. As a result, you're left with a beautiful slab that has a rough texture and natural appearance.
While there are a variety of countertop finishes to choose from, we're going to walk you through why matte quartz countertops are one of our favorite options.
Benefits of Matte Quartz Countertops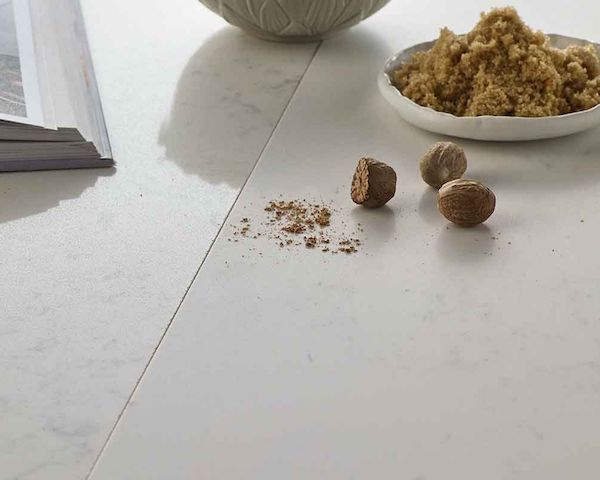 If you're leaning towards installing matte quartz that looks like concrete in your kitchen, you won't be disappointed — but not just because of its beauty. Along with their magnificent appearance, you'll experience a countless number of benefits as well. Here are a few reasons why matte quartz countertops are an unparalleled finish option:
Conceals messes and grimes – If you're constantly in your kitchen cooking and baking, the counters probably become covered in grime, stickiness, and a whole lot of everything. With a polished counter, the mess will be more noticeable due to the reflective nature of the slab. However, matte quartz countertops will help to conceal the mess, making the smudges and small imperfections blend in — winning you back some extra time before you need to clean.
Adds a subtle beauty – Matte countertops have a more subdued appearance that isn't reflective. Its non-reflective nature makes it an ideal countertop choice for a kitchen that gets a lot of natural light to prevent blinding reflections. This also means it is great at hiding scratches and imperfections, even when the sun is shining right on it!
Creates a subtle contrast – Depending on the desired look and feel you're trying to create in your kitchen, a matte quartz countertop might be ideal. For instance, if you want to make a statement without taking away from the other wow-worthy features in your kitchen, the non-reflective surface does just that.
Adds texture to the space – Step outside the status quo and opt for a countertop finish that isn't seen as often as a polished finished! With its matte finish, the quartz countertops will effortlessly add a sense of sophistication and luxury to your kitchen or bathroom. Plus, the matte finish seamlessly blends with nearly any design aesthetic.
Create a Subdued Sophisticated Kitchen
with Matte Quartz Countertops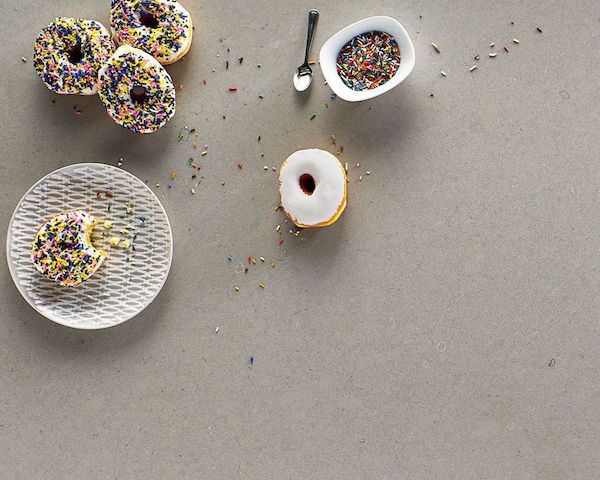 Ready to pull the trigger on matte quartz countertops? We're here to make the decision-making process a bit easier. Take a look at two of our favorite engineered quartz countertop selections.
Fossil Gray Matte Finish Quartz
Sometimes all you want is a neutral quartz slab that will elevate the space without taking away from all the other elements of your kitchen that you've spent countless hours selecting. That's why you can't go wrong with Fossil Gray Matte Quartz from the Q Premium Natural Quartz line. With mid-tone grays that are highlighted with subtle specks and veins, it creates a sense of interest and dimension in the space. If installing this neutral-hued quartz wasn't a no-brainer already, it will be after you see how low-maintenance it is — ensuring it will keep looking its best for many years to come!
Calacatta Vicenza Matte Finish Quartz
Whether you're opting for a color scheme highlighted by vibrant kitchen cabinets or leaning towards a more neutral color palette with white cabinets, you can't go wrong with Calacatta Vicenza Matte Quartz. With its luxurious white backdrop and barely-there gray veins and classy matte finish, it will blend seamlessly into your existing kitchen design. Its appearance can be the backdrop to your kitchen, or when paired with the right elements, can be the show-stopping focal point that leaves your guests wowed. From kitchen countertops and waterfall islands to accent walls and flooring, there's no application where Calacatta Vicenza Matte quartz won't look amazing!
To learn more about our inventory of beautiful matte quartz countertops, contact MSI Surfaces today. We can help you determine the most effective and affordable way to bring your vision to life.