Tile Style: Why Porcelain Floor Tile Is The Perfect Option For Your Remodel
September 13, 2018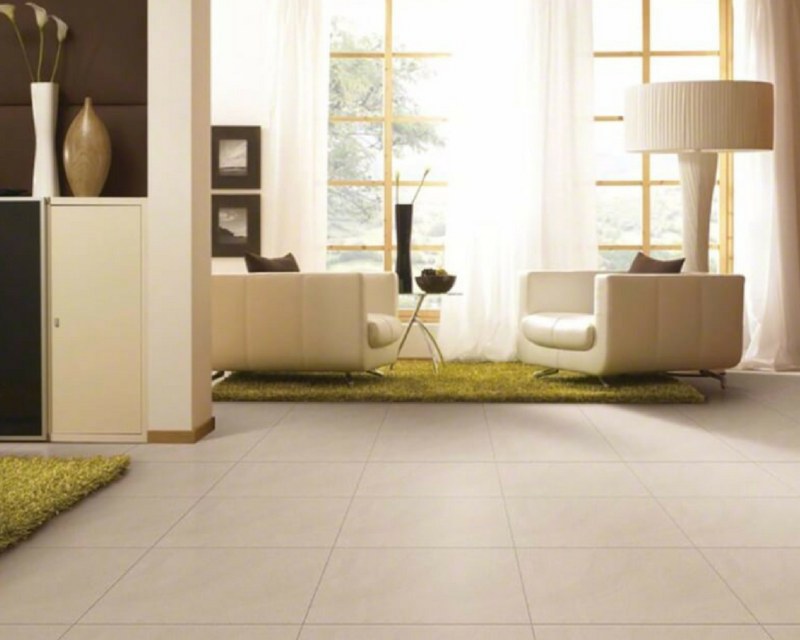 Whether you DIY your home remodel or hire a contractor, selecting the right flooring for your project is essential. After all, choosing the right surface for your region's climate and your family's lifestyle can end up saving you countless cleaning hours and thousands in maintenance costs.
Of all of the options available, porcelain tile, natural stone tile, and hardwood floors are the three most in-demand choices right now. Although hardwood floors are beautiful, they aren't appropriate for every space, particularly those areas that are prone to moisture and water – like kitchens, bathrooms, laundries, and entryways. Natural stone flooring tile is also gorgeous, but does require special care in cleaning and regular sealing to maintain its beauty – and that's a deal-breaker for some busy homeowners.
That's where porcelain tile comes in! As far as aesthetics are concerned, streamlined modern spaces are often complemented by the clean lines of porcelain floor tile. Easy to clean, requiring virtually no maintenance, available in a wide range of colors and patterns, and budget-friendly, porcelain floors are a great choice for a remodeling project. And here are a few of our favorite looks!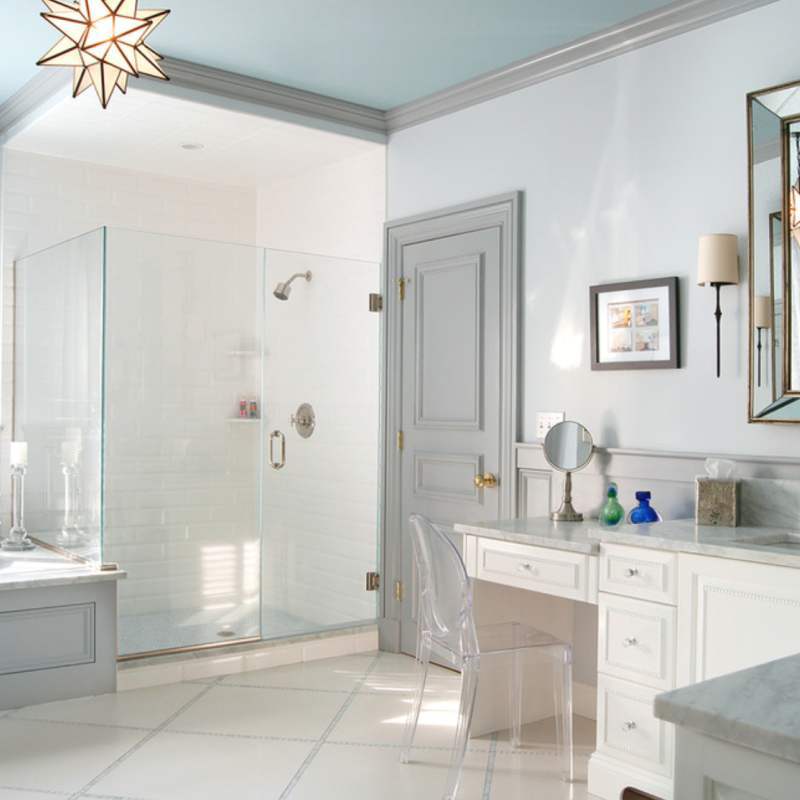 Get this look with MSI's Aria Ice Porcelain Tile (Photo Credit: Houzz)
Let's start exploring porcelain floor tiles with a basic white tile, the beautiful Aria Ice. Available in a variety of sizes, this pretty porcelain tile features a subtle nature-inspired soft gray veining, very similar to what you would find in natural stone tiles. There are a number of benefits of using porcelain tile in the bathroom, including their easy care, slip resistance, and ability to transform your design at a reasonable cost, allowing for other elements like countertops and custom shower doors to be welcomed into the budget. Laid on the diagonal in this elegant bath, the tile creates a feeling of expansion in a small footprint.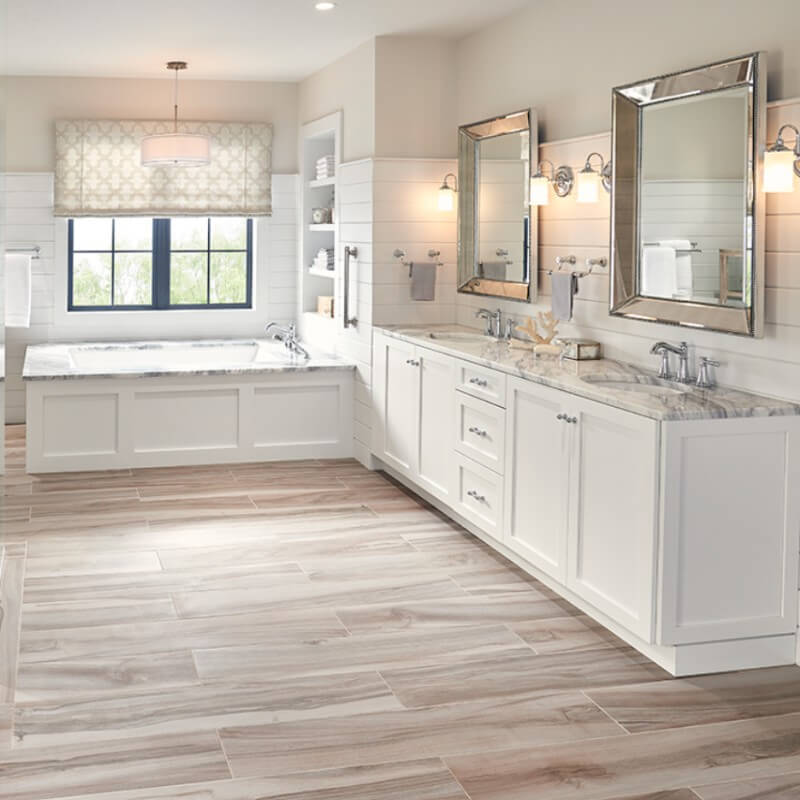 Featured: Aspenwood Ash Wood Look Tile
We've already acknowledged that hardwood floors are in demand, but for bathrooms, they just aren't ideal. The good news is that wood-look porcelain tiles can give you the warmth of natural wood grain in your bathroom, without having to worry about warping and moisture damage. To brighten up this gorgeous bathroom, Aspenwood Ash Wood Look Tile was chosen to add some texture and pattern. The realistic knots and graining give this luxurious master bathroom a dose of charm and class.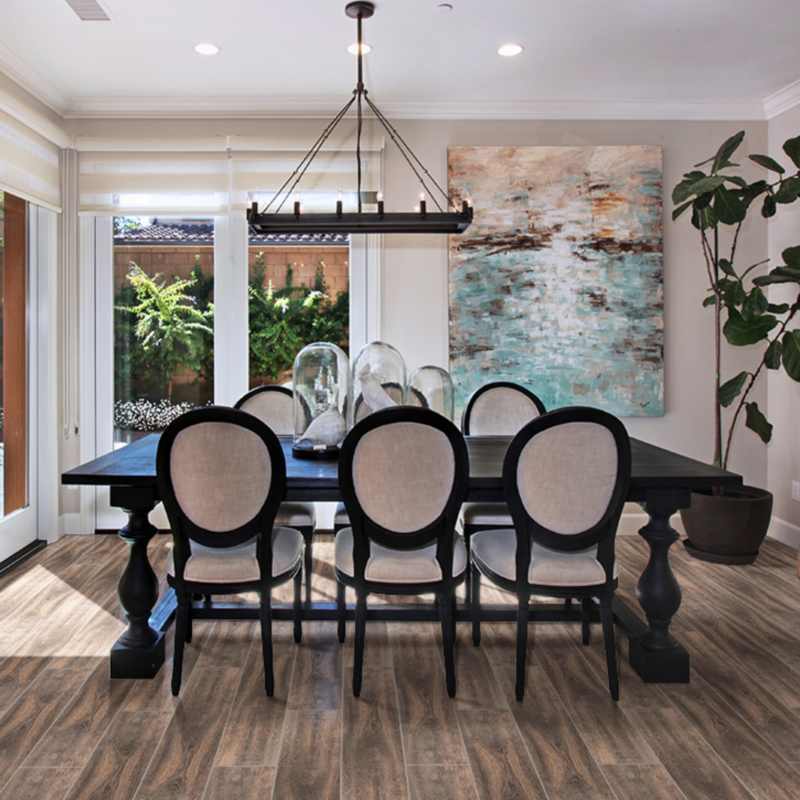 Featured: Upscape Greige Wood Look Tile
While porcelain is a champ in moisture-prone areas, wood-look porcelain tile doesn't have to be limited to just damp areas of your home! If you need new flooring throughout your remodel and are considering hardwood floors, remember that they will have to be sanded and refinished periodically to maintain their good looks. If, on the other hand, you choose wood-look porcelain flooring—like our Upscape Greige Wood Look Tile, for example—refinishing won't be necessary. Darker wood-look porcelain tiles have character, texture, and create warmth in any design.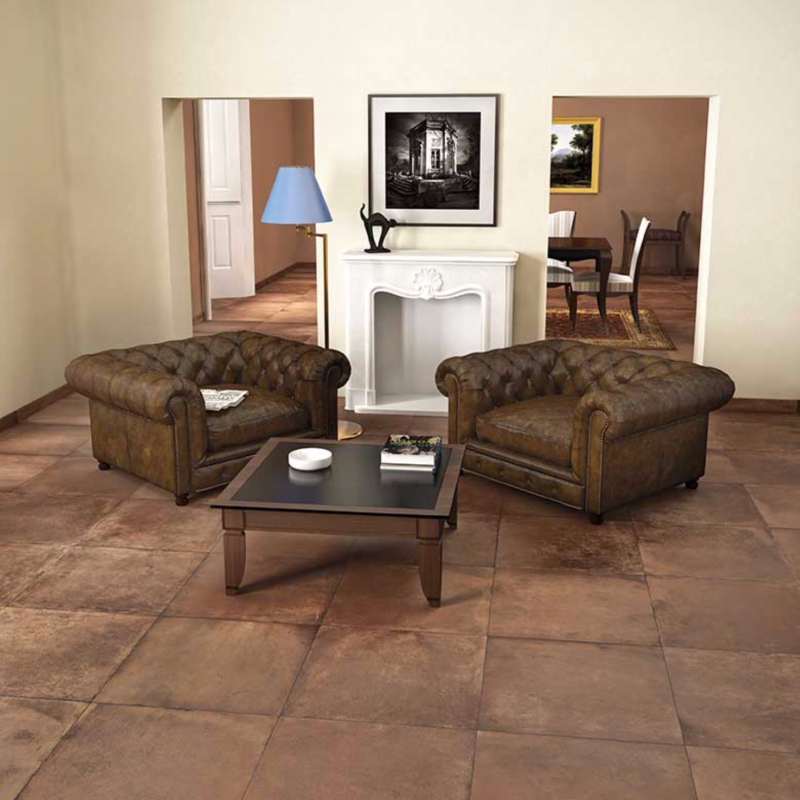 Featured: Capella Clay Porcelain Tile
Terracotta tiles are always in style, and when the look is crafted from porcelain, the result is a durable and easy-to-clean choice for flooring. Rich with caramel and red tones, our Capella Clay porcelain tiles can immediately transform any space into an inviting design. From kitchen to bath, or dining to living, these beautiful porcelain tiles complement both traditional and transitional design styles with ease.

Get this look with MSI's Focus Graphite Porcelain Tile (Photo Credit: Houzz)
Did you know that porcelain flooring tile is also suitable to install outdoors? In fact, if the point of your remodel is to create true indoor/outdoor living spaces, one of the best design ideas is to continue the same flooring throughout. Plus, porcelain tile is perfect for creating an upscale look that still keeps you on budget! Here, to complement the contemporary lines and colors of this modern home, Focus Graphite porcelain tiles were used. The dramatic black roof, furniture, and fireplace are all drawn together in a cohesive design, and the gunmetal gray floor tiles look perfectly at home set against the rich wood exterior.
Porcelain tiles are beautiful, durable, require no ongoing maintenance, and are budget-friendly, making them a perfect choice for your remodeling project. Natural stone looks, realistic wood-look porcelain tiles, terracotta looks, and more contemporary patterns are available to complement your personal design—whether rustic, refined, luxurious, or relaxed, there is a porcelain tile perfect for your project!