The Most Popular Backsplash Tile Collections To Create The Perfect Kitchen Update
June 28, 2022
Kitchen backsplashes are gorgeous to look at—but are they necessary?
These intricately patterned decorative mosaics often found behind the stove may be a second thought for some homeowners, but in reality, they serve a vital purpose and are a crucial aspect of any room.
Technically speaking, most countertops come with a "return" that is about 4 inches high that backs up to the wall. While this is a functional design to keep spills and crumbs from falling into the depths of the cabinet, a backsplash serves a practical and aesthetic purpose—to protect your wall from food, liquids, and other cooking residue.
Furthermore, backsplashes serve other purposes, such as protecting the drywall and preventing wall-down drips. Cleaning-wise, backsplashes—whether tile or another material—are easier to clean than paint. And let's face it—if you're cooking a lot, you will be cleaning that backsplash more often than you'd like.
Visually, backsplashes can capture the eye as well as blend in harmoniously with cabinets, décor, appliances, and other aspects of your kitchen. Many people like backsplashes to have a pop of color if the rest of the room is consumed with blacks, browns, and grays. Yet regardless of your feelings on the type of backsplash you want, it's imperative to know these serve important functions in your home. Thankfully, there are many varieties from which to choose so you can find the best pick for your own aesthetic.
Let's explore some top backsplash designs to get the wheels of inspiration turning.
Subway Tile
The Subway Tile Backsplash Collection offers varieties in marble, travertine, and even a herringbone pattern. Whether you're seeking a glossy or matte finish, these subway tiles have got you covered. These are classic styles, easy to clean in kitchens and bathrooms and come in larger sizes, as well.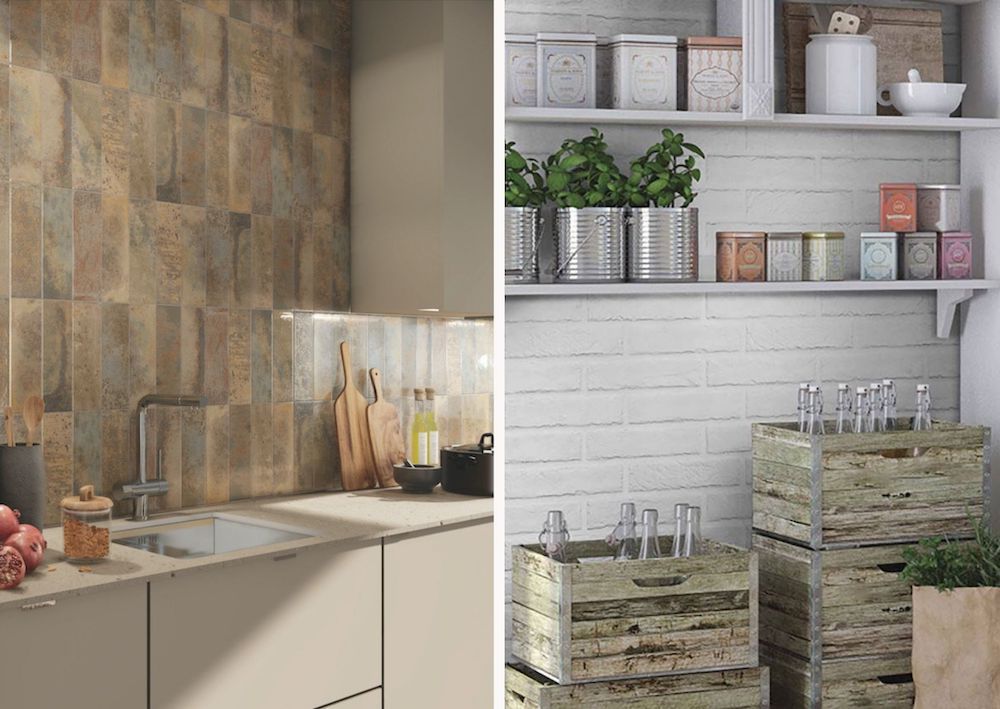 Marza Rust Subway Tile includes golds, bronzes, coppers, and grays combined in a stunning subway tile backsplash. Included in this design is a serene glossy finish, giving the impression that the décor is both antique and stylish. Marza Rust Tile would be excellent in shower surrounds, accent ways, entryways, as well as the kitchen. And the best news ever? It's also stain-resistant and super easy to maintain.
To the right we have an opposite-looking tile variety called Brickstone White Porcelain Tile. This style has a unique ability to seem as if homeowners are "uncovering rustic brick walls" never seen before. How amazing would Brickstone be for flooring, accent walls, backsplashes, as well as countertops? The options are endless and thankfully, the stark white coloring adheres to many aesthetics. Thankfully, this is an option that you can view in your own home through our backsplash visualizer tool! A digital "try before you buy," if you will!
If you're interested in learning more about our Subway Tile collection, this video takes you through selections that may inform your decision. It takes viewers through handcrafted ceramic, natural stone, and even today's new metallic offerings in fascinating ways.
Stacked Stone
Choosing a stacked stone backsplash from our Stacked Stone Collection involves finding the optimal texture and design for your home. Offering durable elegance, porcelain stone-look panels, and even split face wall tiles—you will adore the luxurious warmth of these selections.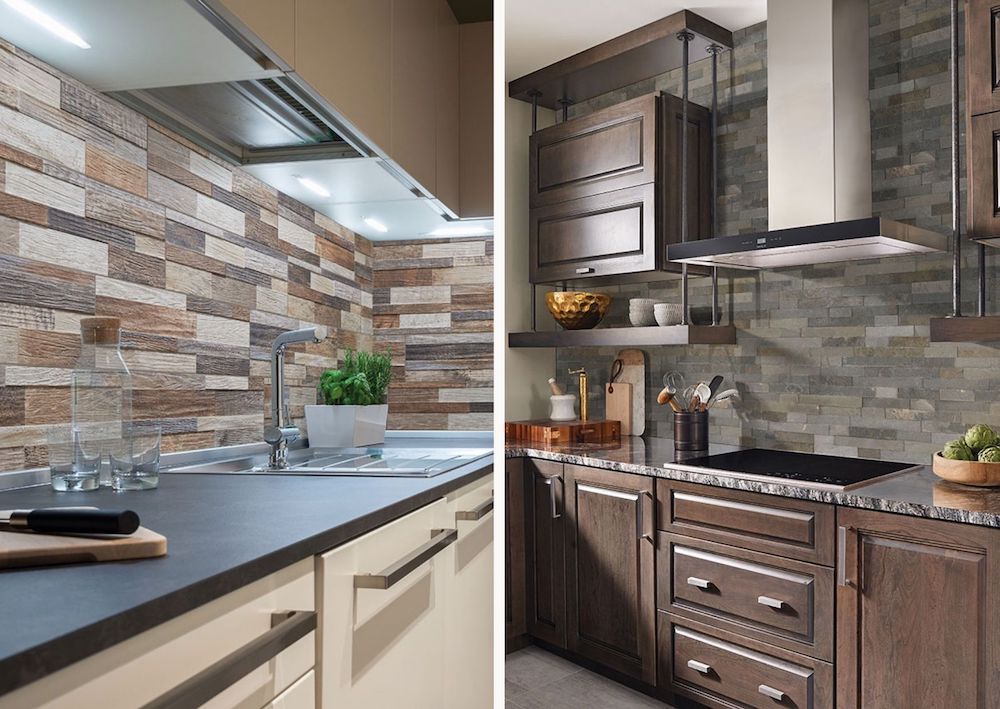 Keywood Multicolor Stacked Porcelain is sophisticated and refined with cool shades of gray and warm brown tones that harmonize together for a rustic quality. How incredible would this look for an accent wall or kitchen backsplash? So many possibilities for interior and exterior designs that your options could run endless.
Sedona Grey Stacked Stone consists of panels made from truly fine quartzite. This mix of grey stones equals a timeless beauty—ideal for interior or outdoor projects—as the nuanced stones create depth, interest, and a grounded sensibility. Thinking fireplace surrounds, anyone? Sophisticated accent walls? 100% made for kitchen backsplashes, too.
Specialty Shapes Wall & Backsplash Tile
If you're looking for more unusual shapes for your home, this collection offers herringbone, chevron, basketweave, hexagon and other amazing tile patterns. Considered a cutting-edge and sophisticated collection, the versatile sizes and finishes will delight the eye. Are you seeking a dynamic makeover? Well, this collection could be just the solution, whether it's for bathrooms, backsplashes, or showers.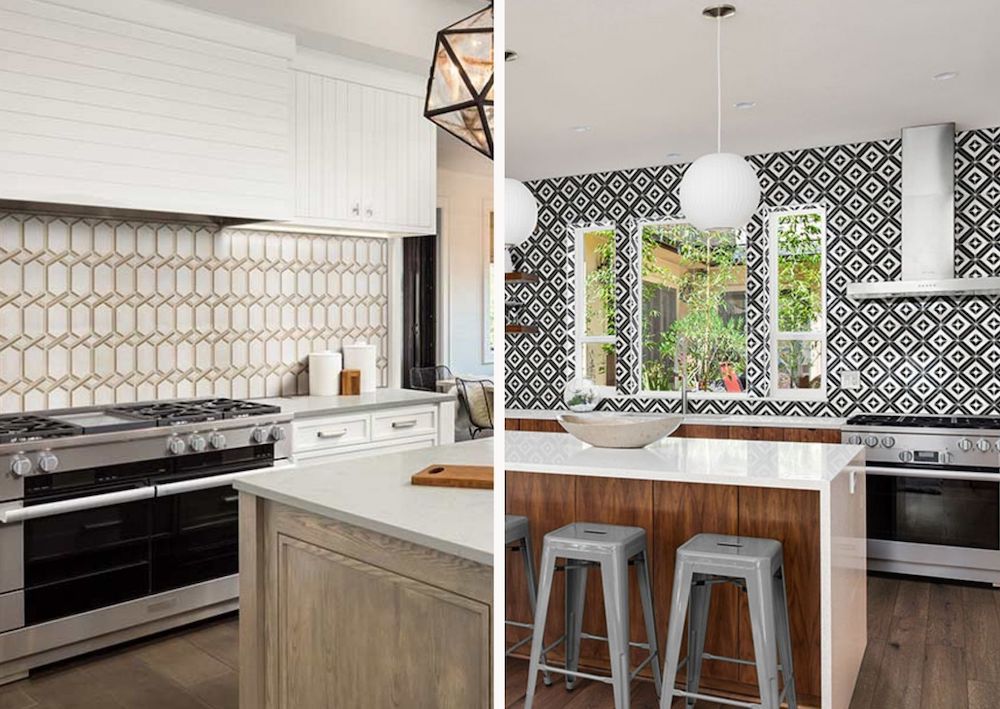 Royal Link Geometric Tile features a soothing white marble background with a unique interlocking pattern, creating interest and dimensionality at first glance. This type of backsplash tile design is made for kitchen and bathroom installments—even perfect for floor tiling in rooms with natural light.
Rhombix Nero Geometric Tile consists of modern and vibrant geometric tile shapes in diamond fixtures with juxtaposing back and white on top of a polished finish. Can't you just imagine this incredible décor for your kitchen and behind your stove or even patterned wall tiles?
Glass Tile Backsplash Collection
Consisting of a variety of shapes, sizes, chic patterns, and even iridescent colors, this collection enhances backsplashes, bathrooms, and other areas with a modern and clean luminosity.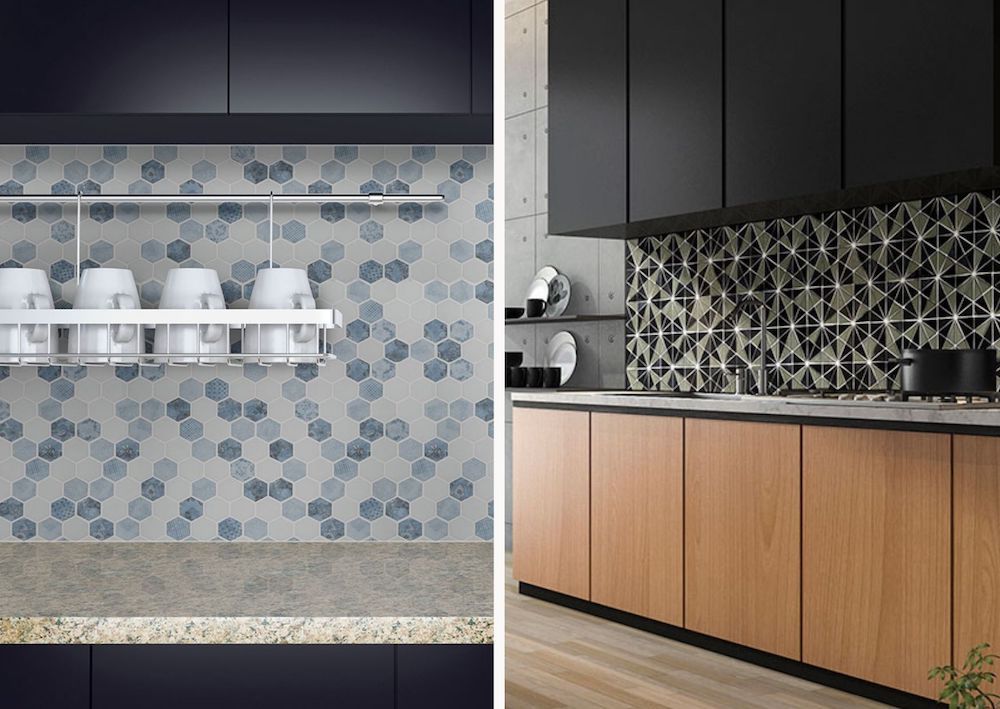 Vista Azul Hexagon Glass Tile is a playful but traditional pattern, featuring specs of various shades of blue in an enticing order that keeps the eye busy for hours. Nearly a vignette with a pure white backdrop, this design is a thick modern glass mosaic tile that is stain resistant and easy to maintain.
Stella Metallica Glass Tile offers anything but boring with its lively and vibrant combination of grey, black, and dark green tones. How amazing to see them all woven together in a pattern that is breathtaking. This design is a kitchen backsplash dream come true, as well as a remarkable pick for shower surrounds!
As you can see, our variety of backsplash designs range in size, shape, and consistency to offer your home the facelift it deserves. Explore more within our collections and find the one that's right for you. Backsplashes delight the eye and enhance a kitchen and room tenfold. You won't regret it!
MSI is a top innovator in the world of interior design, ensuring you have amazing backsplash varieties to enhance your kitchen and home. Contact us and let us answer any questions you may have about your backsplash concerns as it relates to your design plans and our many collections. We look forward to helping you create the home or our dreams.
For immediate assistance, chat with us in the box below!