The Regallo Collection Of Marble Look Porcelain Tile
April 10, 2022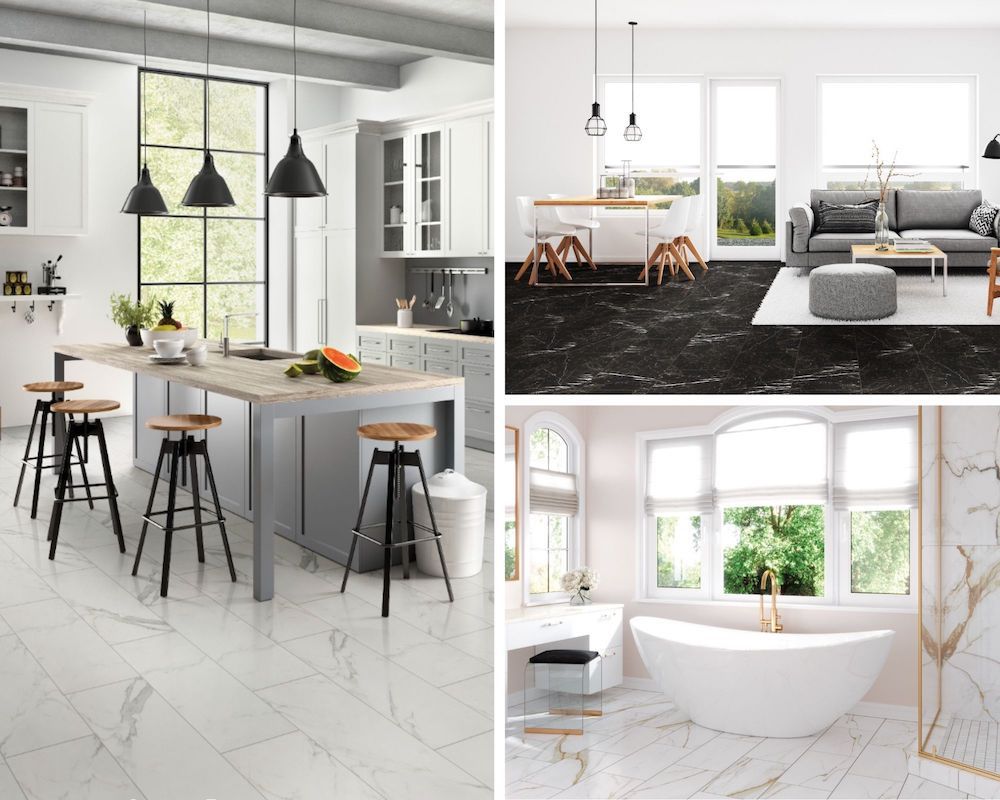 Do you love the look of marble but are questioning whether it is right for your home? Then porcelain tile might be the answer!
Marble has a rich look that appeals to many homeowners and designers. The problem with marble is the fact that it is high maintenance. It also requires regular sealing and is easy to scratch or damage.
What if you could get the luxurious look of marble but with the strength of porcelain tile?
Keep reading to find out how MSI's Regallo Collection gives you the beauty of marble with the easy care realities of porcelain.
What Makes Porcelain Tile Different?
The materials in porcelain tile are similar to ceramic. Manufacturers make porcelain out of clay but they have a greater amount of the mineral feldspar. This mineral helps it to gain properties that increase its strength and durability.
With the added feldspar, porcelain is fired at a much higher temperature than ceramic making them much stronger. Porcelain is also heavier than ceramic and comes in more shapes and styles.
Porcelain has the ability to look like many natural surfaces like wood and marble. This gives every homeowner the ability to add a different look to their designs while keeping the strength of porcelain.
The Benefits of Porcelain Tile
Porcelain tile is harder and denser than ceramic and doesn't break as easily as marble. Marble is easily scratched and requires regular sealing when located in wet areas.
Porcelain is very scratch-resistant and water-resistant naturally. It doesn't require sealing when put in kitchens or bathrooms. The strength of the tile also stands up well to temperature changes.
Porcelain is created with different strength levels based on the need. When it has a PEI of 4 or 5, it works great as tile flooring at commercial sites with lots of traffic.
Maintenance is easy with porcelain. It doesn't need any polishing or waxing and cleans easily with a simple wet mop. Marble is a natural stone and needs much more maintenance and care.
Marble isn't as strong as porcelain and damages easily. This is why many homeowners are choosing to have the look of marble in porcelain. MSI's Regallo Collection showcases this combination.
The Regallo Collection
If you are looking for porcelain tile that looks like marble, you will want to check out MSI's Regallo Collection. These modern tiles have the elegant and classic look of natural marble, but the strength and durability of porcelain.
Calacatta Isla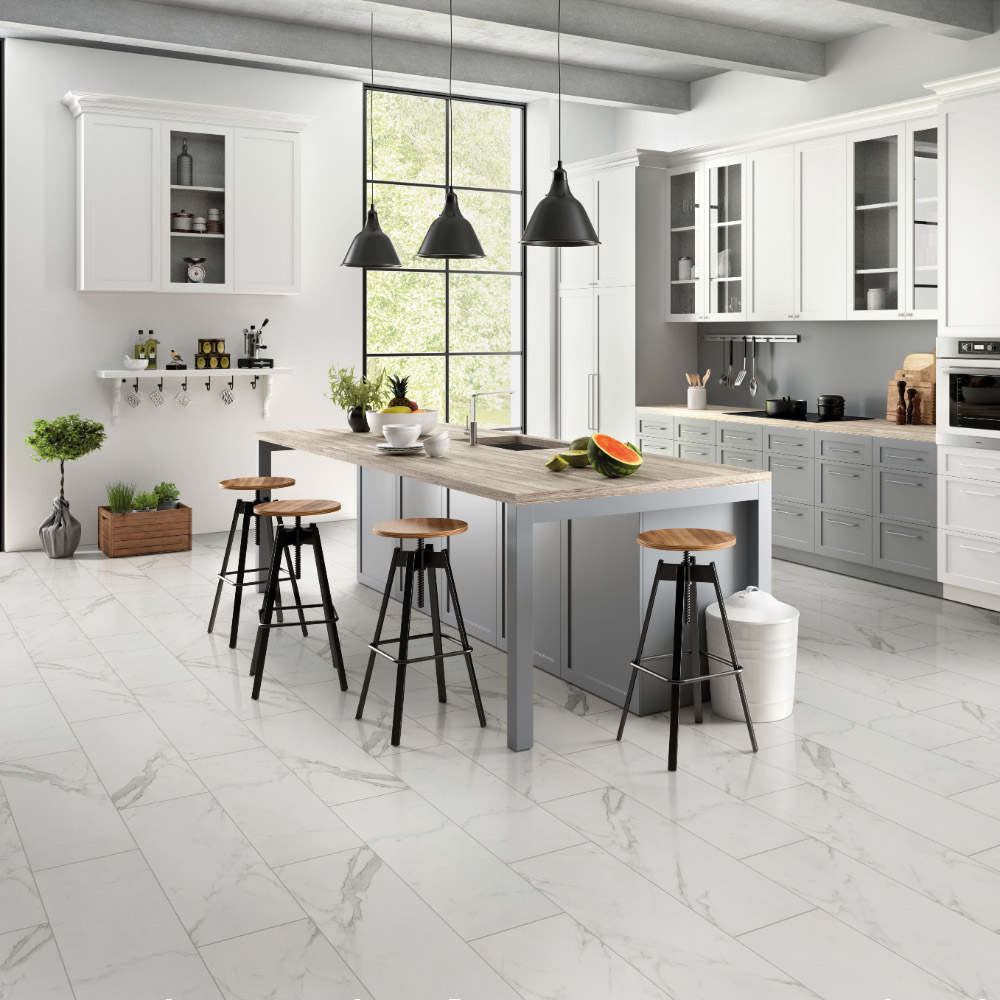 The luxurious Calacatta Isla Porcelain Tile by MSI brings the elegant look of natural marble to your room. The soft white background features lines of silver and gray throughout the tiles.
These colors bring a classic design to the tiles and help them go with your design direction. Their strength and beauty can shine through as floor or wall tiles. They also work well in kitchens or bathrooms with no worries.
The kitchen in the photo shows how the Calacatta Isle is used as porcelain tile flooring. The color brightens up the kitchen and sets off the white and gray colors throughout the kitchen.
These tiles are even tough enough to use for sunrooms or back patios. You can get them with a matte or polished finish. They also come in multiple sizes like 12"x24", 24"x24", and 24"x48."
Calacatta Marbella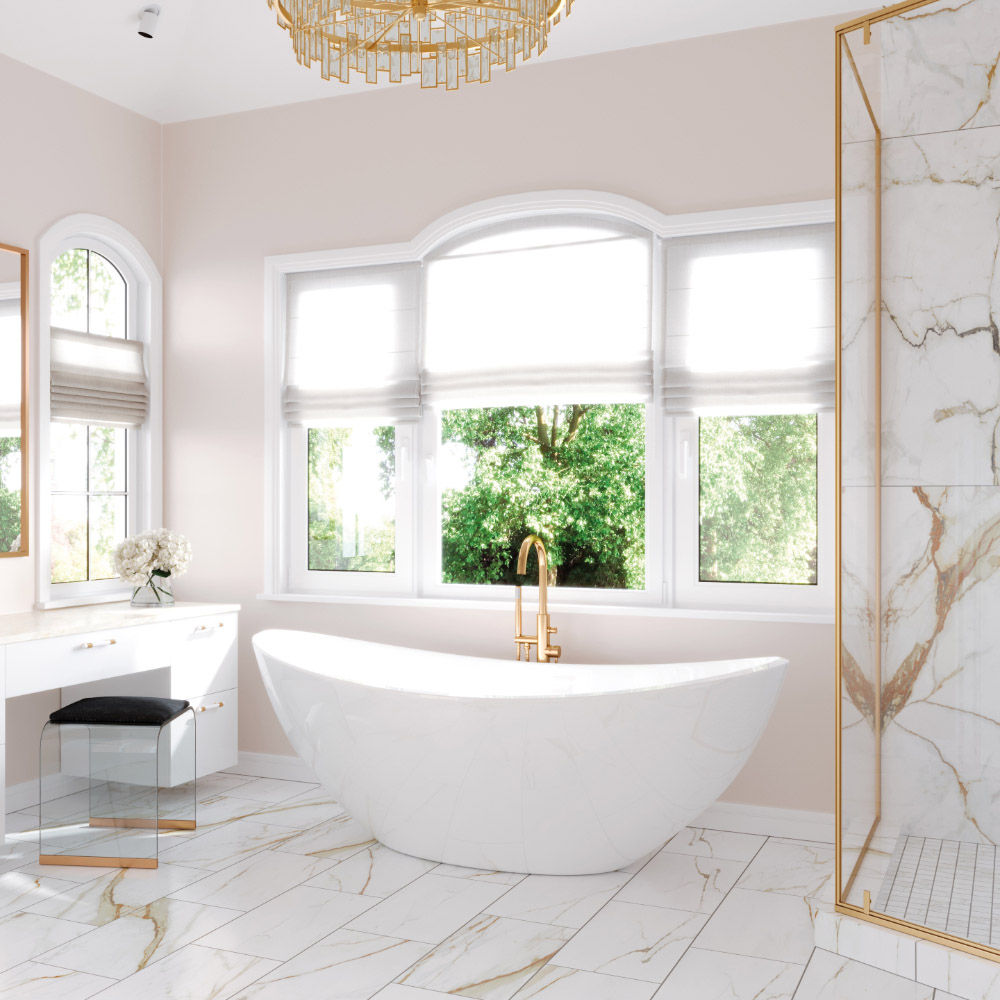 MSI's Calacatta Marbella Porcelain Tile really showcases the marble look for your home design. The smooth white tile has a background that features veining of gold, silver, and copper.
The luxurious bathroom in the photo features the Calacatta Marbella designs on the floor and in the shower. You can see how the gold tones in the bathroom are accented by the luscious veins of color in the tile.
These Italian-made tiles fit perfectly in bathrooms and kitchens because of their water resistance. They can also work well for flooring or wall accents throughout the house.
The tiles can add an upscale appearance with their matte or polished finishes. They also come in 12"x24", 24"x24", and 24"x48" sizes so you can be as creative as you want with their placement.
Marquina Noir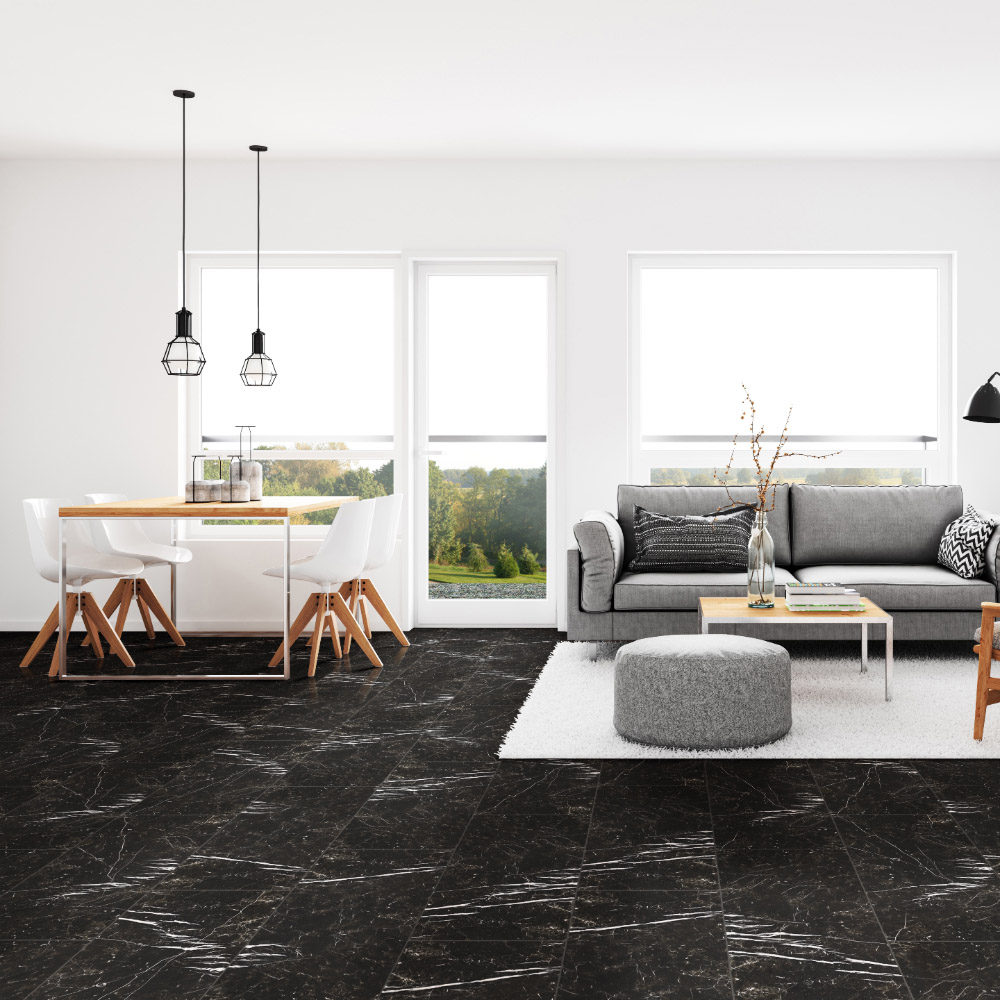 The rich look of marble comes through in the stunning Marquina Noir Porcelain Tile by MSI. This bold tile makes a statement with its deep black background and subtle veining of white.
The ability to add depth to your living room design is seen in the photo. Using Marquina Noir as the porcelain tile floor brings a bold look to the room and sets off the gray and white features.
These strong colors along with the strength of porcelain make it a perfect option to have a luxurious countertop in your kitchen. You could even add the dark rich black color to your shower or entranceway.
The possibilities are endless with this Italian porcelain that gives you polished or matte options. It also gives you design options with the 12"x24", 24"x24", and 24"x48" sizes.
Beautiful Looks Without the Hassles
You can add the stylish look of marble to your house without the hassle of extra care or careful cleaning. Porcelain tile gives you the deep rich beauty of marble along with the easy-care of porcelain.
MSI's Regallo Collection brings this marble beauty to light for your home through its porcelain tiles. The colors are varied and go with many contemporary and classic designs.
You can gain all of this while knowing that you don't have to worry about the strength or care problems of marble. Contact MSI and find out how easy it is to get these luxurious tiles for your home.
READ MORE ABOUT PORCELAIN TILE with NATURAL STONE LOOKS
Add Classic Style and Warmth with Asturia Marble-Look Porcelain Tiles
How to Successfully Pair Real Marble with Marble-Look Porcelain Tile
Porcelain Tile That Looks Like Marble
The Delicate Look of Athens Marble In Durable Porcelain Tile