What Luxury Vinyl Plank Size Is Ideal For A Certain Room Size?
January 16, 2020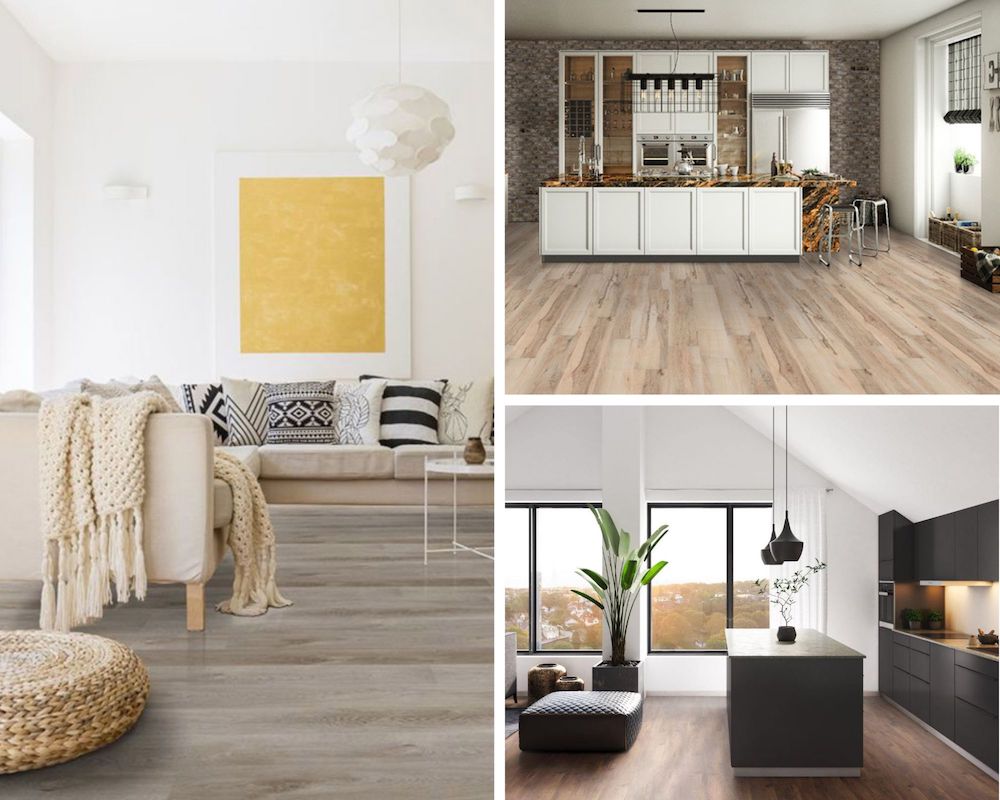 Installing luxury vinyl plank (LVP) flooring is one of the easiest projects that requires minimal thought. That's because no matter which wood-look style or color you choose, it will look absolutely fabulous in your refreshed space! Making the decision between glue-down and floating LVP is easy, too, when factoring in what type of subfloor you have and how large the room is, in which glue-down is best suited for generously-sized spaces.
But, before the installation process begins, there are two factors that need careful consideration. Choosing the right size plank and layout direction is key to an aesthetically pleasing install since it will greatly impact the overall look and feel. That's why it's important to understand the entire room and how it affects your choices. While the decision is ultimately up to you, the homeowner or designer, we've got some tips to consider for selecting the best size and position of the plank tile for your space.
Consider the Plank Size
Plank vinyl varies in size, with most widths ranging from 6 inches up to 7 3/4 inches but varying between 5 inches and 8 inches and typical lengths ranging from 36 to 48 inches. In comparison, real wood is at least 6 inches wide and can be as long as 8 to 12 feet, so it's no wonder that most planks mimic the width of authentic hardwood.
Your design style and room size may dictate the size of the planks. Wider luxury vinyl planks provide a more modern tile feel and are excellent for larger or wider rooms. Bigger rooms allow for wider 6- to 8-inch planks since smaller planks will make it appear too busy. Narrower planks may give a more traditional feel and be better suited for smaller spaces.
Using narrower 3- to 5-inch planks will help to open up a narrow or tiny room and make it appear bigger than it really is, whereas using the wider planks will dwarf the space. The wrong size plank, such as too wide in a narrow area or too narrow in a large area, can make the entire room feel "off."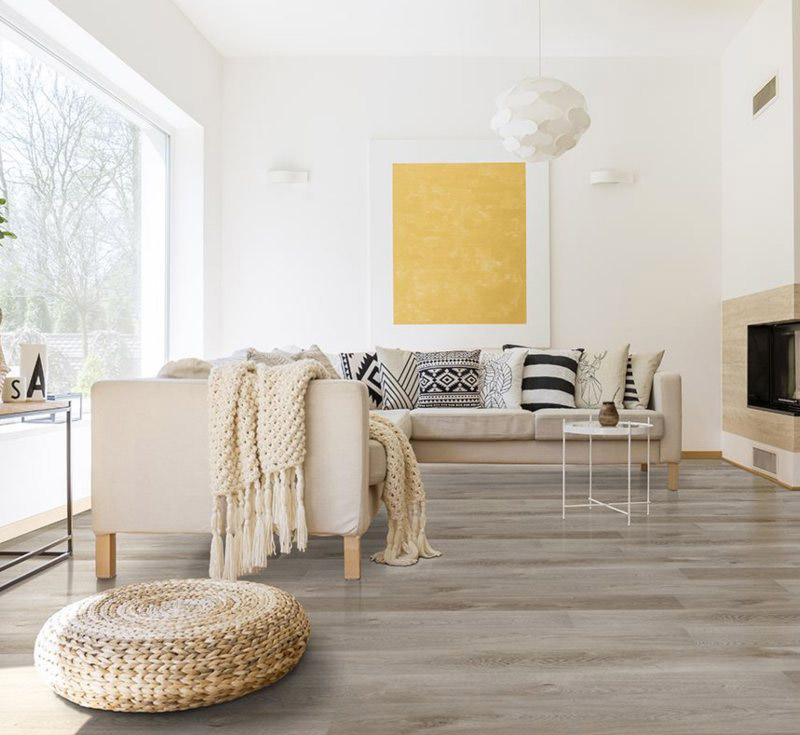 Whitfield Gray Luxury Vinyl Planks
There's definitely some planning involved before you can install your LVP and make any cuts, but you can also err on the side of caution and complete this step before you even purchase your planks. Measure your room and either write out the dimensions on graph paper or use a 3-dimensional program to help you see your installation better. This allows you to test out different sizes and move the planks around. You don't want to end up with a row with pieces that are too narrow on one side or too short at the beginning or end.
Consider the Front Door
When installing LVP in your entryway, remember to consider the front door first. Installing your vinyl planks perpendicular to the door and straight to the back of the home allows for a better flow with traffic and more attractive vinyl tile flooring. But, if your entryway quickly turns into a wall or your main space, then you might want to consider some of the tips below like lighting and dimensions.
Consider the Light Source
For rooms with loads of natural light, you'll want to consider installing your LVP in the same direction as your main light source. The reason being that if you place your floors perpendicular to your large windows, then the light will emphasize any variations in the height of the planks and cast a shadow across the boards and their individual joints.
Taking natural light into consideration also allows you to possibly highlight some of the colors or textural grains added to your vinyl planks. However, don't let lighting be the only deciding factor for installation direction, as some rooms are just too narrow or have other space restraints.
Consider the Shape of the Room
Narrow spaces like hallways or U-shaped or L-shaped kitchens should have the flooring installed the length of the room in order to make them feel larger and wider. This means that the LVP flooring should run parallel to the longest wall. However, if there are angled rooms, you may want to also consider a diagonal install, which is discussed further below.
Consider Features of the Room
Like a front door or angled wall, sometimes a feature of the room will dictate the direction of the layout. For instance, if you have steps that will obviously be installed in a horizontal pattern, then you'll want to continue that horizontal shape throughout the main and upper floors.
Consider a Diagonal Layout
Putting your flooring on a diagonal or using a pattern like herringbone adds dimension, depth, and interest to your overall design. While it's an incredibly beautiful choice, just remember that it does cost more money. You should account for approximately 15% extra in materials as opposed to the regular 10% extra needed for cuts and waste. Additionally, more complicated layouts should require a professional to complete the install, so it may not be your best bet if a DIY install was the only option in the budget.
Personal Preference
Installing luxury vinyl tile or planks in your home or business is an easy, cost-effective decision, and the results will have everyone fooled into thinking you've got real hardwood. Luckily, your new vinyl floors can be installed in any room and don't require much maintenance at all.
But, especially if this is your first go-around at laying hardwood, it's no wonder you're wondering what size planks and layout you should choose. It's important to select the size that suits your space and your style, as well as a layout that enhances the overall look of your LVP flooring. But, with a solid subfloor and knowledgeable installer, the direction of your planks really won't affect the quality or performance. While it can make a room appear bigger, smaller, calmer, or busier, the size and layout ultimately come down to your personal preference. If you're still unsure, then consider consulting a professional.
If you're interested in using MSI luxury vinyl planks for your next home flooring project, contact us today via our online chat or find an MSI-authorized dealer near you and visit an MSI showroom to see samples in person.
More On Vinyl Flooring
Vinyl Flooring Color Trends for 2020
How to Get Professional Results Installing Luxury Vinyl Tile Flooring
See How Plank Luxury Vinyl Flooring Transformed These Rooms
The Cyrus Series: Easy-Install Luxury Vinyl Tile