New And Exciting Quartzite Colors To Elevate Your Kitchen
May 05, 2023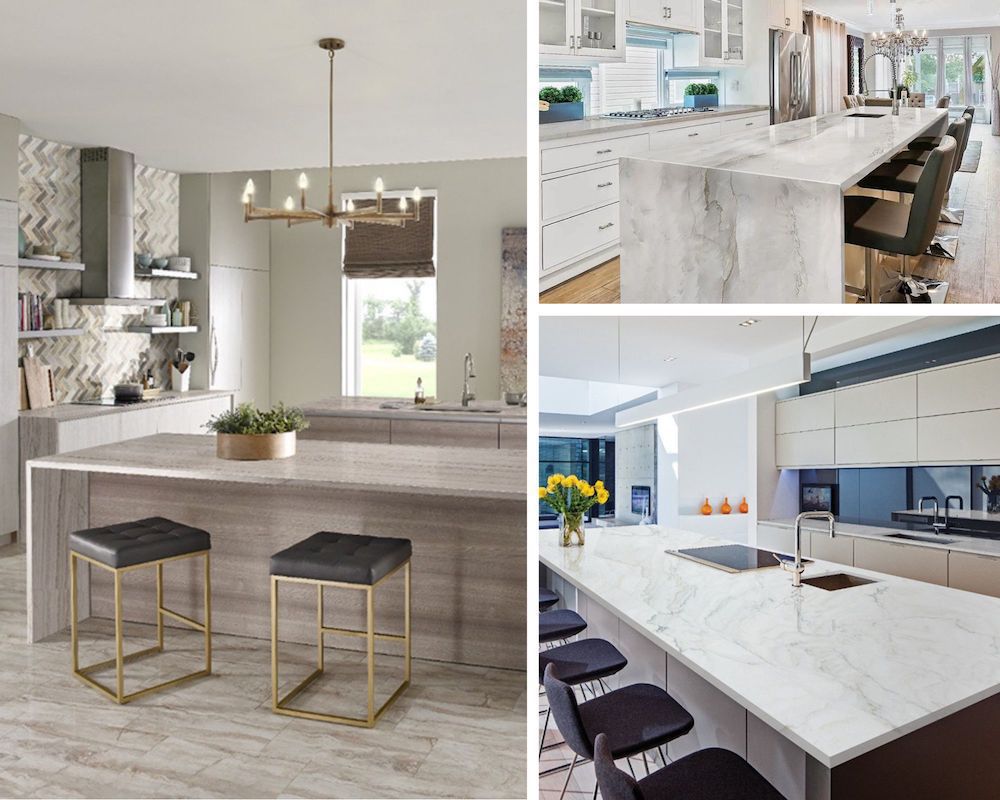 The best materials for your home remodeling project will strike a balance between optimal function and desired aesthetic qualities. In this regard, quartzite countertops are an ideal choice, and with plenty of attractive quartzite colors to choose from, it is easy to find a style that suits your taste.
Quartzite is among the hardest and most durable options for natural stone countertops, delivering exceptional resistance to heat, scratching, etching, staining, cracking, chipping, and UV fading, especially when the sealant is well-maintained. This makes it an excellent option for busy households where wear and tear are part of daily life.
Which MSI quartzite has the color, pattern, and vibe you seek? There are several outstanding new and on-trend options to consider.
New MSI Quartzites and Top Sellers
You naturally want quartzite countertops that express your personal style and make your house feel like a home. Still, you may also be interested in what's new and trending in the world of interior design, especially if you're remodeling with resale in mind. Which quartzite varieties are currently trending, and which are among our perennial best sellers?
Elegant and Dramatic
If you like the look of Calacatta marble and love the utility of quartzite, you'll appreciate the elegance, sophistication, and resilience of Calacatta Montreal quartzite. This sleek stone variety, featuring a gray-white background and light yet dramatic veining in prominent charcoal hues, is a new addition to our line. It's an excellent choice for flooring, countertops, and backsplashes in your tranquil kitchen design.
Soothing and Timeless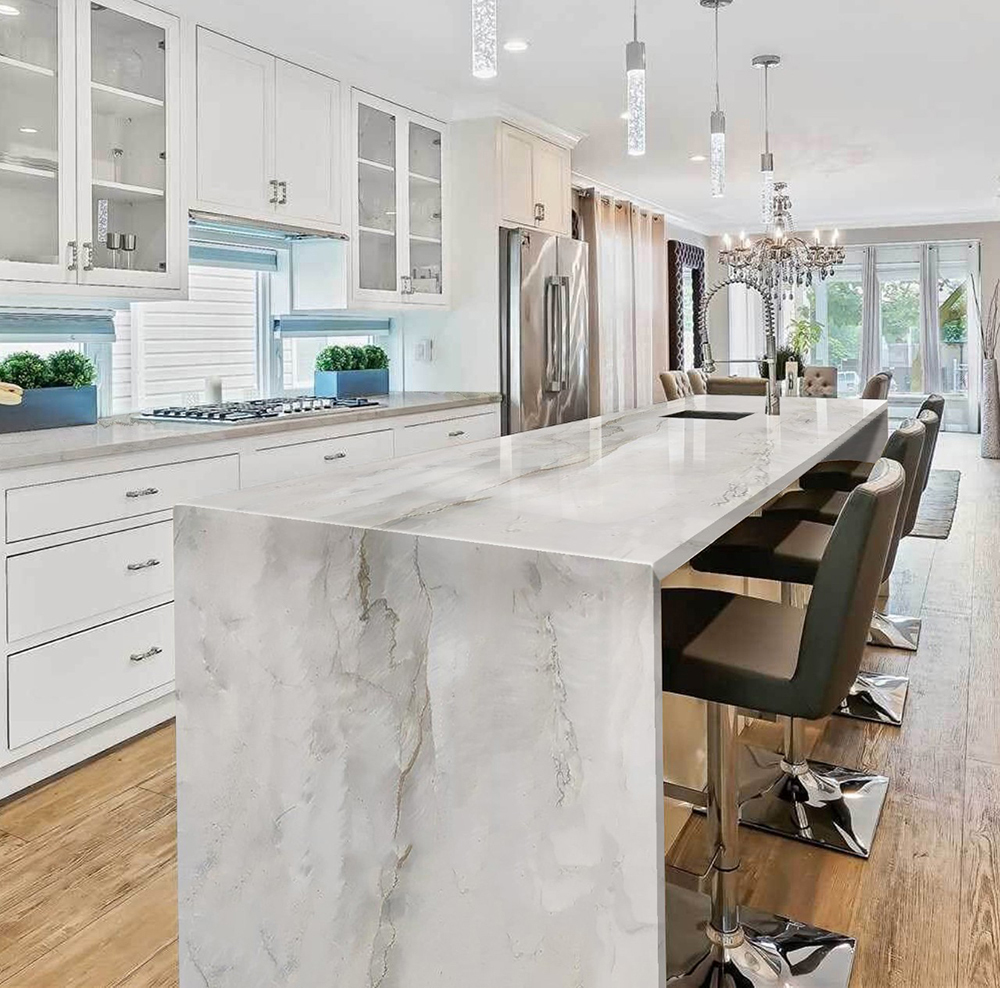 Glacier Wave Quartzite
Are you looking for a soft, soothing, timeless material for your kitchen countertops? You may want to follow in the footsteps of other satisfied homeowners by choosing our popular Glacier Wave quartzite. Shades of light to mid-tone gray, from dove to pewter, are marked by linear veins in gentle strokes of charcoal. This palette pairs beautifully with modern whites and rich wood tones, bringing refined depth and movement to a tonal white kitchen.
Subtle Yet Bold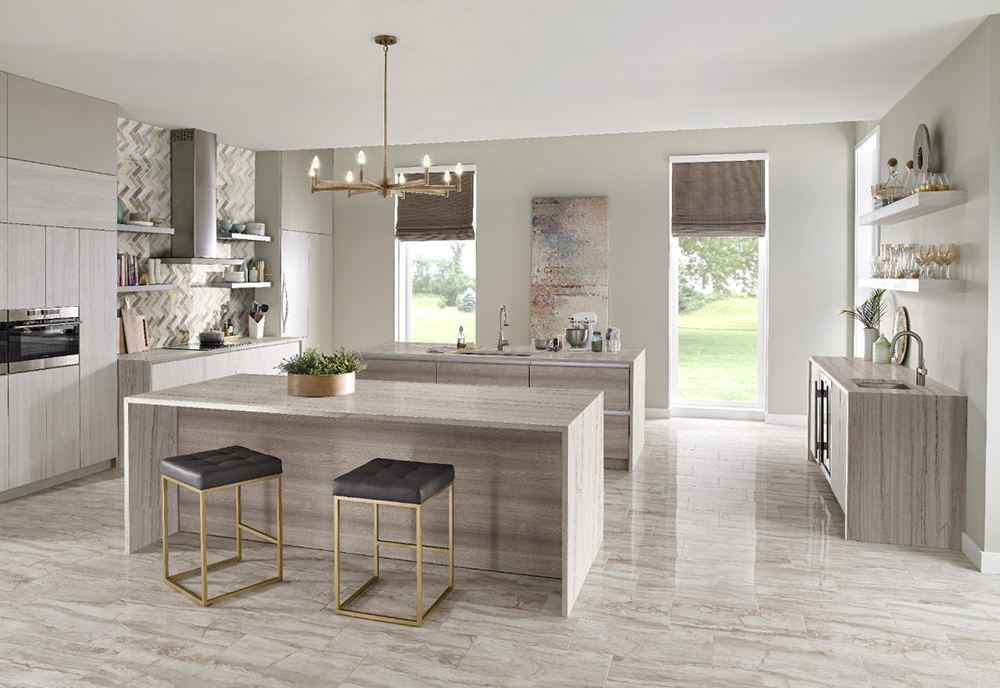 White Macaubas Quartzite
Adding subtle warmth to your kitchen design is easy with White Macaubas quartzite, featuring a creamy white background and striking, linear veins in hues ranging from beige to graphite and ash. The bold pattern of this top-selling stone makes for a stunning statement piece like a waterfall island. However, it's also incredible when used for both perimeter counters and a full-height backsplash.
Favorite Warm Quartzites
Many homeowners prefer warm and inviting living spaces. The kitchen and bathroom countertops you choose can contribute to this pleasing and popular aesthetic when selecting the right quartzite variety.
Warm and Expressive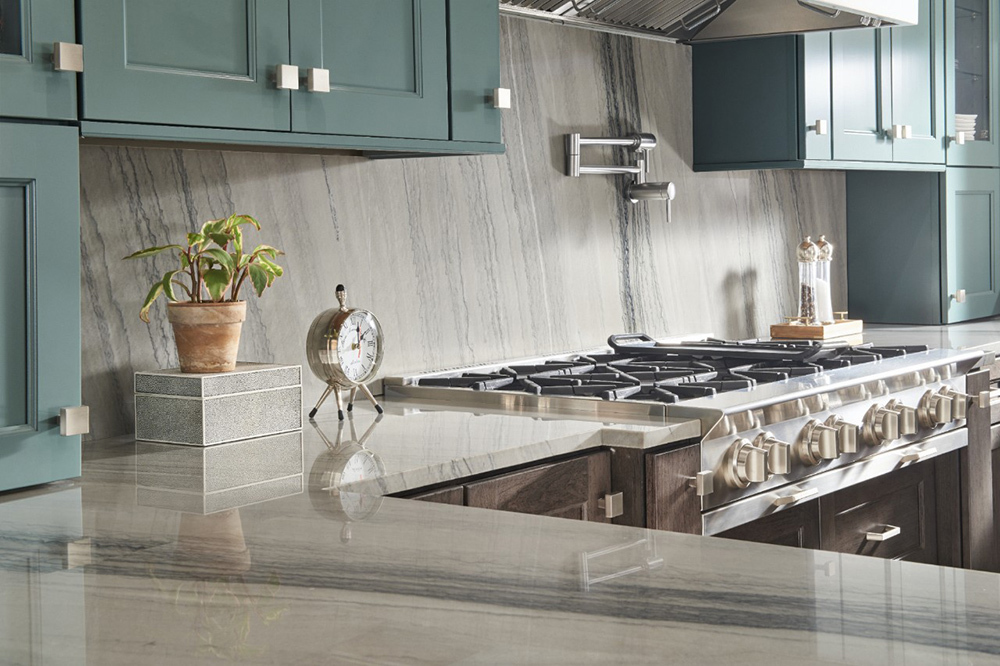 Audacia Quartzite
Eye-catching Brazilian Audacia quartzite is ideal for any homeowner looking to infuse a kitchen space with loads of warmth and personality—the beige background pairs beautifully with wood tones of every shade. Expressive veining in charcoal and green creates a statement that elevates your overall design and holds its own next to heavy wood graining.
Understated and Rich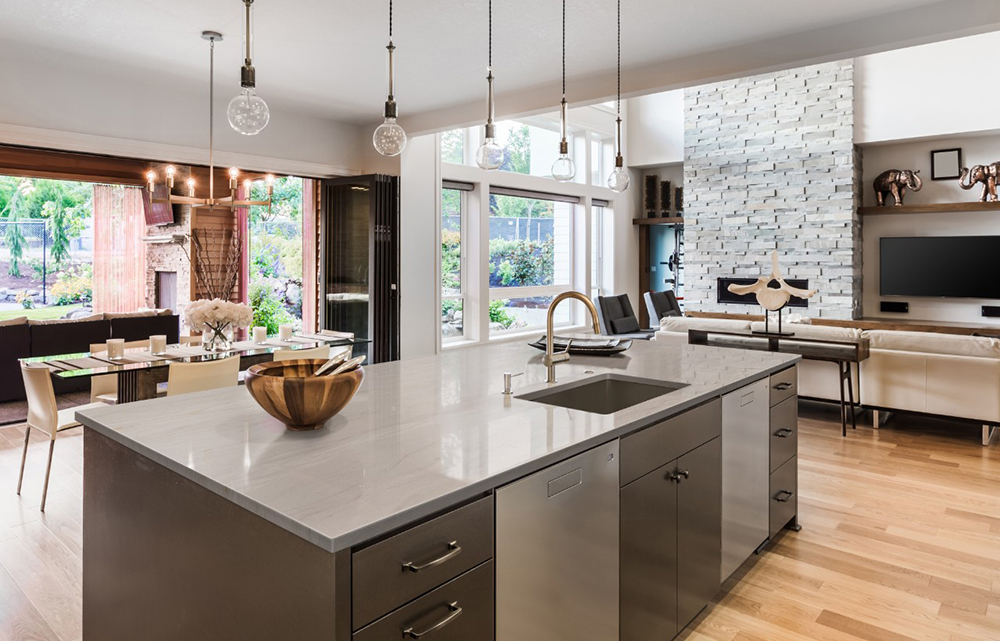 Kalahari Quartzite
Cream and beige tones mingle beautifully in warm, soothing Kalahari quartzite, which features a faint, low-variation veining that moves across the surface like sand shifting under a gentle breeze. A gorgeous choice for nearly any design palette, this stone is particularly appealing against rich, dark wood cabinetry.
Trending Dark Stone Looks
If you're looking to add an element of dark and moody to your otherwise bright and breezy kitchen, or you prefer a duskier, more dramatic design altogether, you'll find no shortage of opportunities to explore this look in quartzite.
Moody and Striking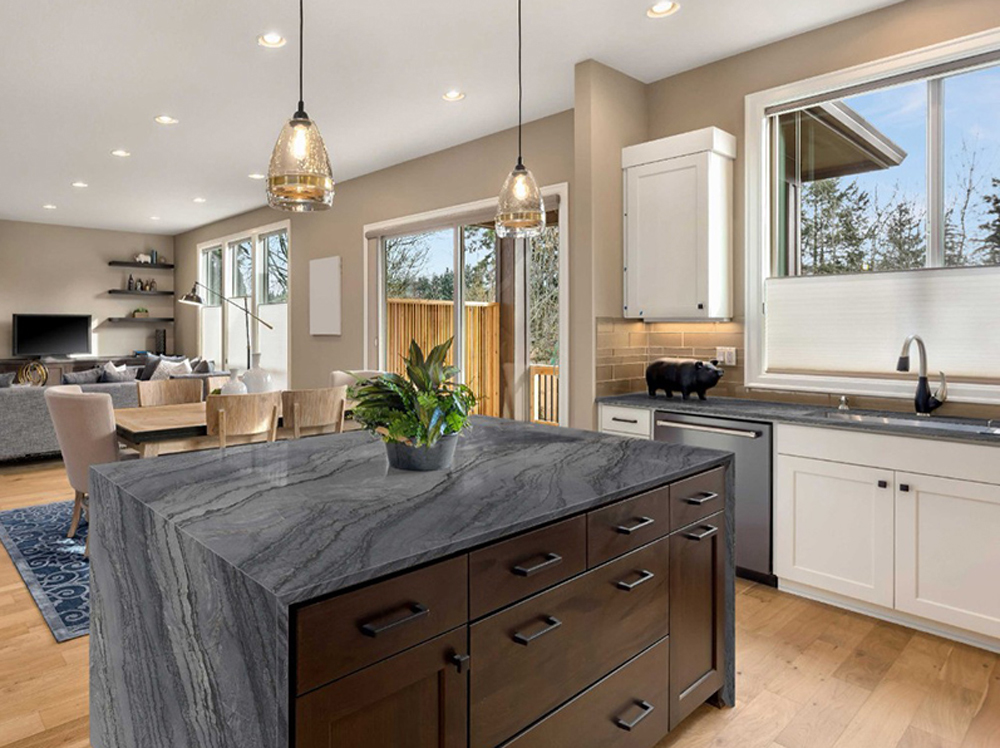 Mercury Gray Quartzite
Aptly named, Mercury Gray quartzite offers a mercurial montage of ashy blotches and linear striations in lead and slate, overlaid on a background of silvery gray. The contrast against white cabinets is exquisite, although you could opt for a softer transition with black or espresso cabinetry.
Delicate yet Daring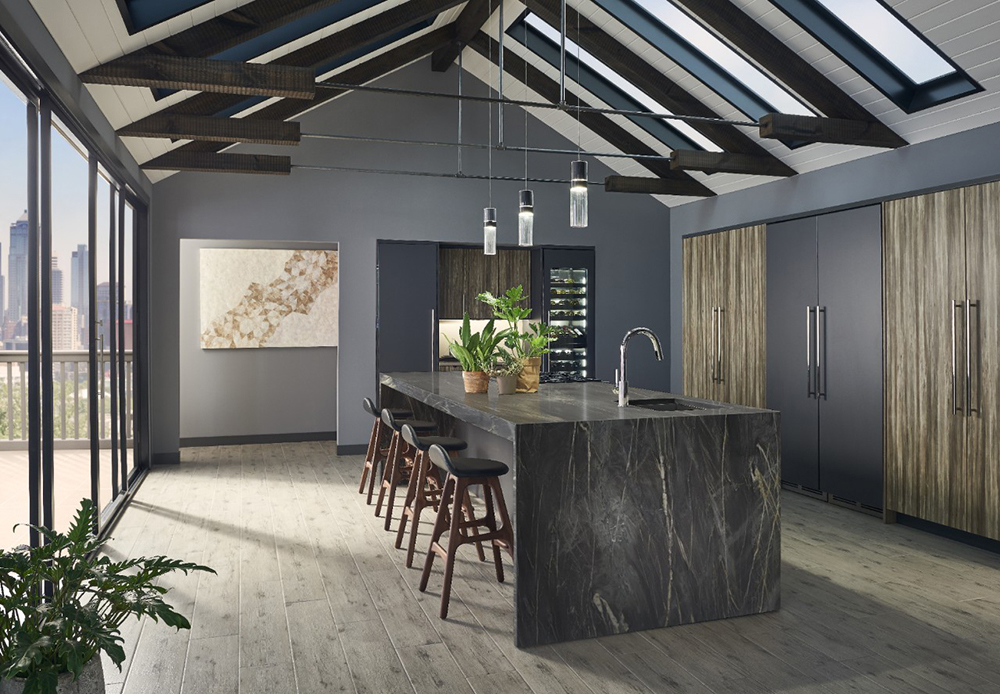 Belvedere Quartzite
Belvedere quartzite brings intense personality to your kitchen space with a jet-black background brushed with short, delicate strokes of soft white and gold. This color is best complemented by cabinets and flooring in pale wood tones that pick up the lighter colors in the stone, along with hardware and fixtures in gold.
The Quality and Appeal of Quartzite
Solid and durable, quartzite is a wonderfully practical option for countertops in modern homes - with so many exquisite colors and patterns to choose from! You'll find plenty of trendy and timeless varieties from MSI, whether you prefer bright whites, warm hues, or bold, dramatic dark tones.
If you're considering quartzite for your upcoming kitchen renovation, contact our experts using the chat feature on our website, visit an MSI showroom, or find an authorized MSI dealer near you today.
Learn More About Quartzite Countertops
WHY QUARTZITE COUNTERTOPS ARE THE BEST OPTION FOR YOUR KITCHEN
THE TOP 5 QUARTZITE COUNTERTOPS FOR ANY KITCHEN STYLE
GET THE LUXURIOUS LOOK OF MARBLE WITH QUARTZITE COUNTERTOPS
GET TIMELESS STYLE AND NATURAL BEAUTY WITH QUARTZITE COUNTERTOPS