5 Perfect Quartz Countertops For Your Dream Kitchen
May 31, 2023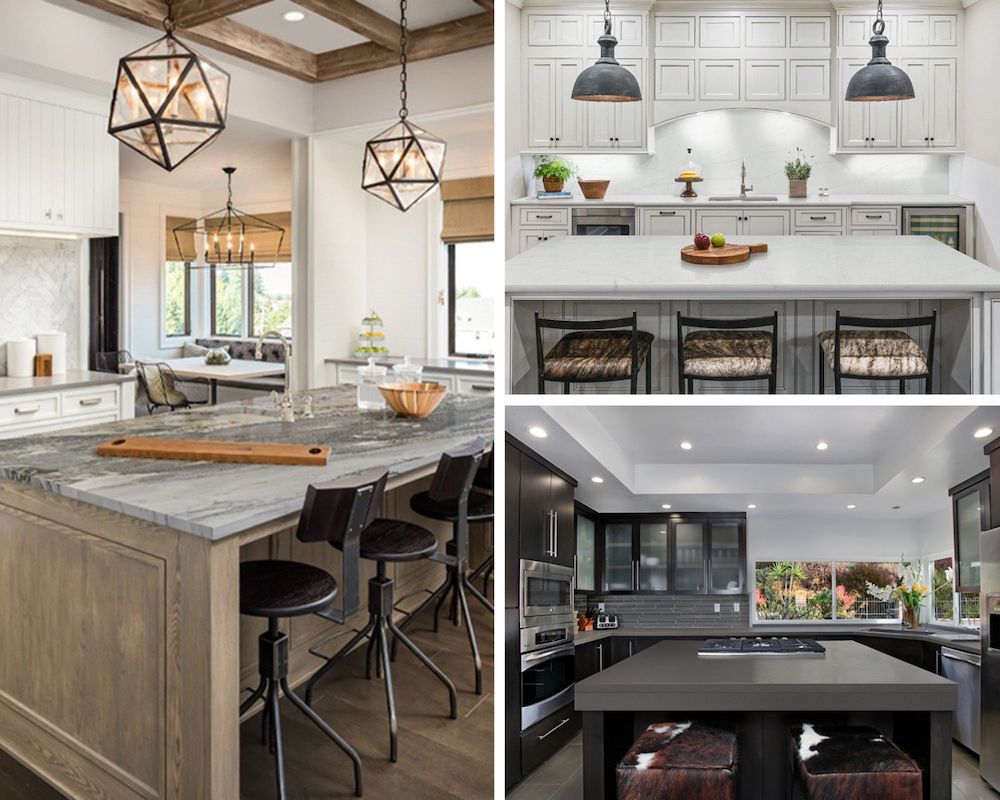 The heart of every home is undeniably the kitchen. It is where culinary creativity blooms, families gather, and memories are created. Therefore, achieving the perfect balance of durability, low maintenance, and visual appeal is essential, and quartz countertops are an ideal choice to cover all of these needs.
MSI's Q Premium Natural™ Quartz countertops blend superior quality and style. Quartz countertops are known for their strength and consistency, as they are durable and highly resistant to stains and scratches. Requiring minimal upkeep and maintenance, they effortlessly maintain their appeal after years of use.
Capturing natural stone's unique charm while offering a diverse palette of color choices, these countertops are ideal for accommodating various design tastes. They are also eco-friendly and non-toxic, ensuring that your kitchen is a safe and inviting space for all.
MSI's Q Premium Natural™ Quartz countertops feature our exclusive LumaLuxe® and LumaLuxe® Ultra technologies. LumaLuxe® is an innovative formula that enhances how light interacts with your countertop surface, increasing depth, accentuating veining, and enriching colors for a more immersive, visual experience.
LumaLuxe® Ultra, a progression of this technology, offers an expanded range of color options and enhanced dimensions. In addition, all LumaLuxe® Ultra quartz countertops are exclusively produced in the USA and deliver a sophisticated design and elegance that brings affordable luxury to life in your home or commercial space.
Designing Your Dream Kitchen with Quartz Countertops
The aesthetic appeal of quartz countertops is incredibly diverse. They offer a wide range of patterns that can emulate the look of various natural stones, such as marble, quartzite, limestone, and granite. Along with sparkling appearances, quartz can also mimic solid stones such as concrete or soapstone.
This countertop material also encompasses a broad spectrum of colors, from icy white to midnight black. In addition, unlike natural stone, quartz never needs sealing, ensuring its durability and longevity and making it ideal for those seeking beauty and practicality in their kitchen design.
Choosing new countertops for your kitchen is a design decision that requires careful consideration. It involves investing your time, energy, and finances to create a space that aligns with your style and offers functionality and long-lasting durability.
At MSI, we understand the significance of this decision, which is why we strive to make the process easier for you. On our website, you'll find expert advice and valuable resources to guide you through the countertop selection journey. In addition, we have curated helpful "designer's tips" for each product, suggesting cabinet combinations, backsplash mosaics, flooring materials, and other design elements that will help you create a harmonious and inviting kitchen that reflects your unique style and fulfills your practical needs. Our assistance makes achieving your dream kitchen a seamless and enjoyable experience.
Let's explore some of our top designer-favorite quartz countertop options that offer a range of stunning looks. You will surely find a color and style that fits your next project perfectly!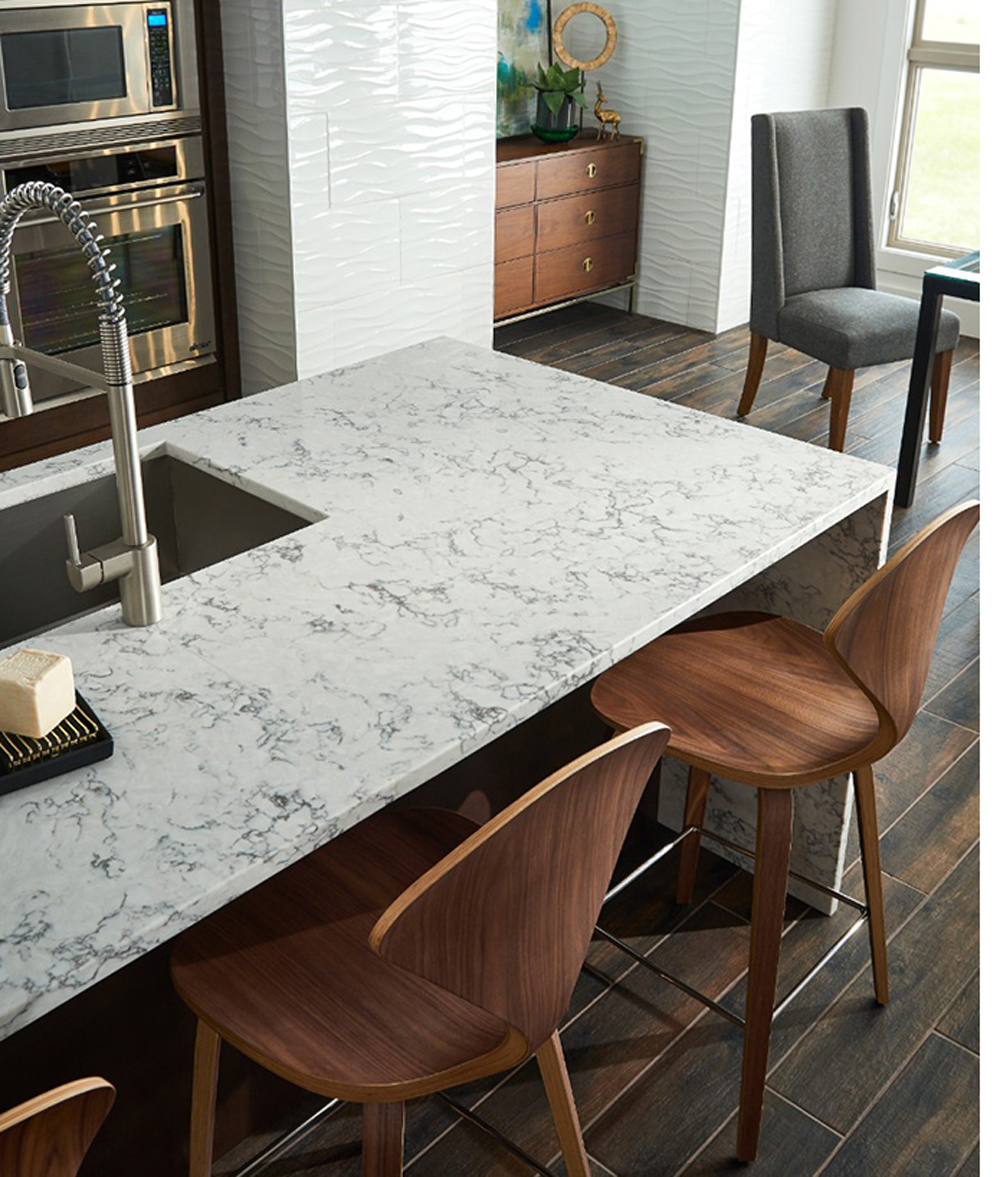 Our visually appealing Blanca Arabescato® Quartz perfectly embodies luxury and elegance. The timeless sensibility of this quartz countertop is highlighted by the prominent long dark veins that contrast beautifully against the pale gray background. This natural marble look quartz is ideal for creating durable countertops, waterfall islands, backsplashes, showers, and accent walls throughout homes and commercial properties.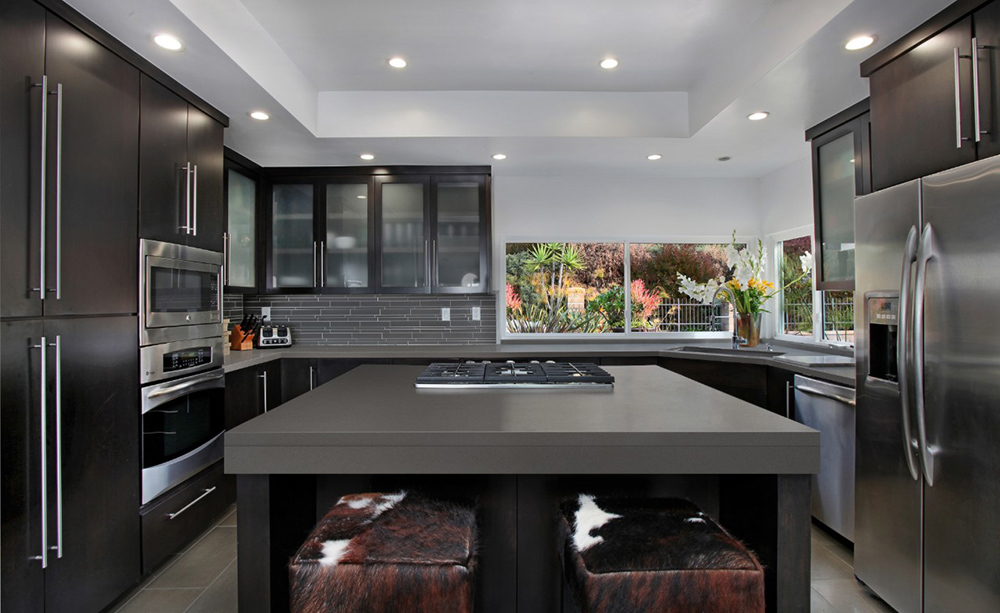 Our Manhattan Gray™ quartz is an exceptional choice for those who gravitate towards a contemporary aesthetic. Its soothing gray background is punctuated with darker, subtle specks for added dimension, achieving a fresh, modern look. Beyond its gorgeous aesthetic, this countertop option offers the practical benefits of durability, low maintenance, and versatility. As a result, it is an ideal choice for long-lasting surfaces in any contemporary kitchen.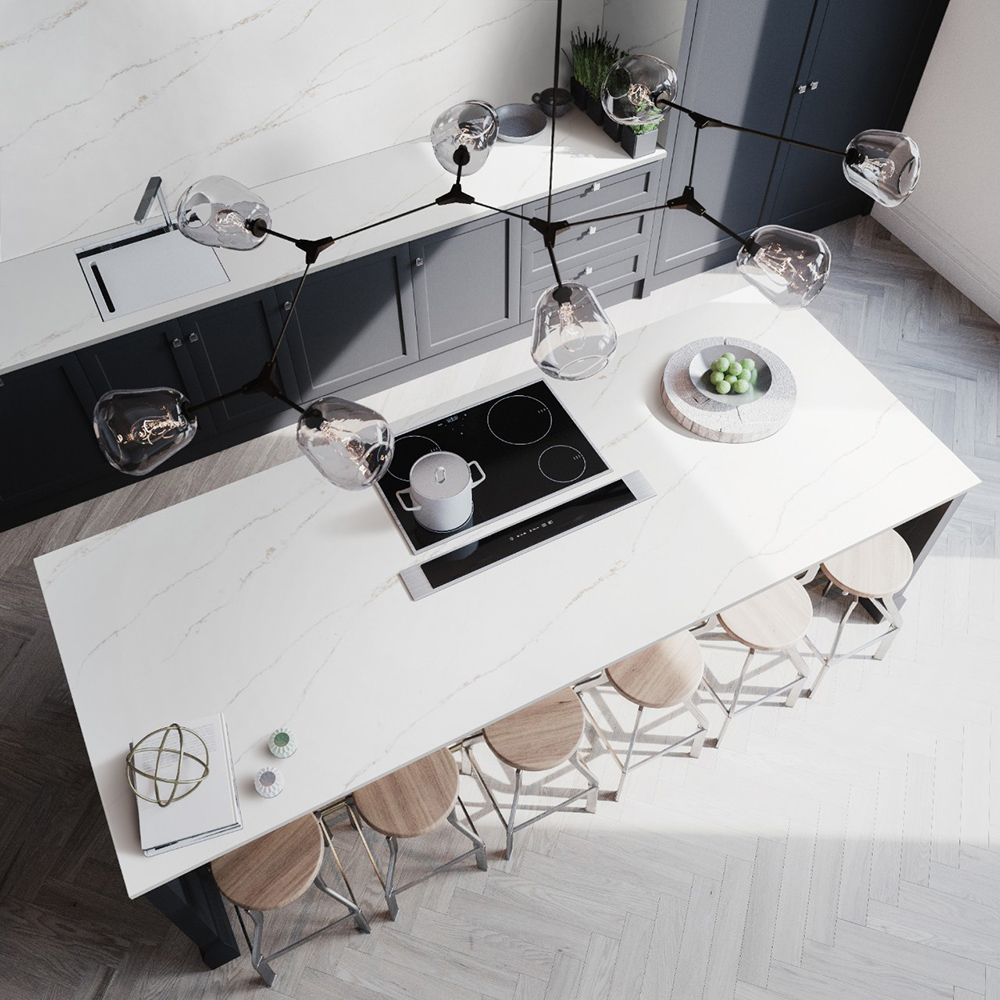 Radiating an ambiance of warmth and luxury, our Calacatta Arno® Quartz showcases a serene white backdrop delicately adorned with subtle gray veins, gracefully accented by captivating gold highlights. Unlike natural marble, which can succumb to water spots and stains, the white hue of this engineered surface will stay bright and immaculate thanks to its nonporous surface. This quartz that looks like marble can be featured as a countertop with a coordinating backsplash that complements a range of design styles.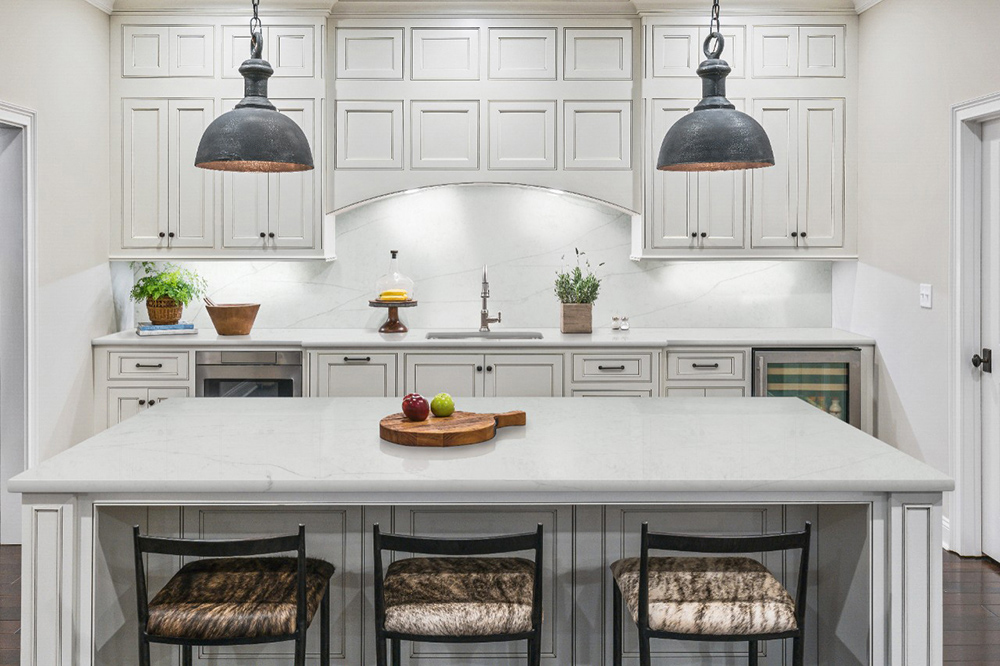 Our Calacatta Clara® Quartz is a classic marble-look quartz with a milky-white backdrop and gorgeous long linear veining, creating an understated elegance that never fails to impress. It is durable, easy to clean, and maintenance-free, making it an ideal choice for creating signature white quartz countertops, kitchen islands, backsplashes, and accent walls. The luxurious appearance of marble with virtually no upkeep makes this quartz a sought-after choice for any kitchen project.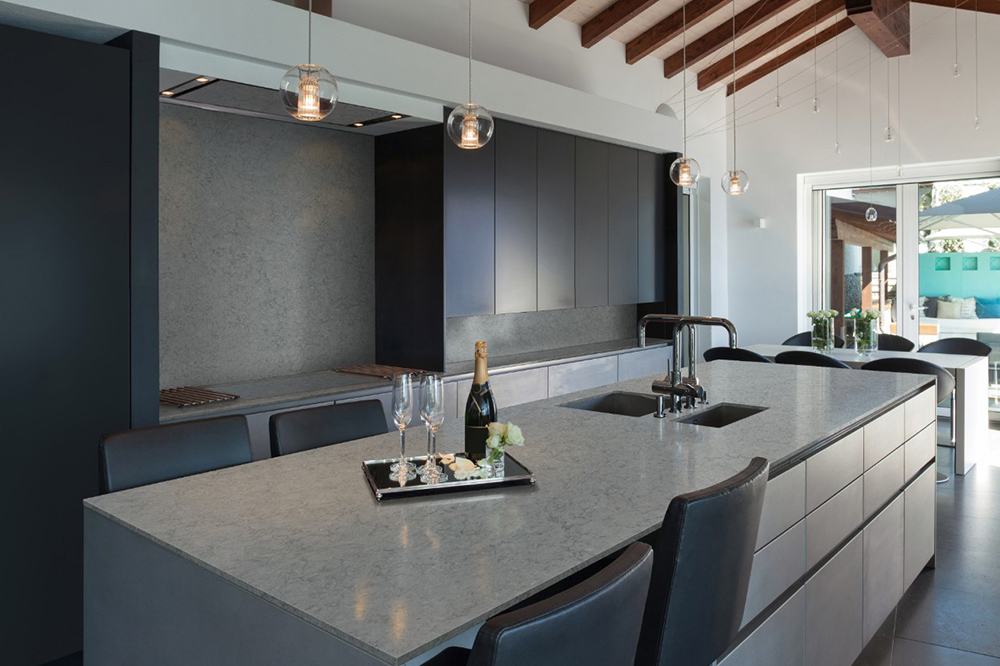 Cool, sleek, and effortlessly sophisticated, Galant Gray® Quartz adds a touch of contemporary charm to any kitchen. The neutral-toned swirling gray background is accentuated by long natural veins, offering a stone look without the added upkeep. Durable and easy to clean, Galant Gray® Quartz is perfect for crafting striking countertops, backsplashes, or kitchen islands in commercial and residential kitchens.
Transform Your Kitchen with
Q Premium Natural™ Quartz Countertops
MSI's Q Premium Natural™ Quartz countertops offer the perfect blend of durability, low maintenance, and visual appeal. So, whether you're seeking the sleekness of a modern design or the warmth of a more traditional style, we have a countertop that will meet your needs. So, chat with us online, visit an MSI showroom, or find an MSI authorized dealer near you to create the kitchen of your dreams.
LEARN MORE ABOUT QUARTZ COUNTERTOPS
INTRODUCING 6 NEW CALACATTA QUARTZ COLORS: WHICH ONE IS RIGHT FOR YOUR KITCHEN?
THE BENEFITS OF INSTALLING KOSHER-CERTIFIED QUARTZ COUNTERTOPS IN YOUR KITCHEN
DESIGN YOUR DREAM KITCHEN WITH MSI'S MULTI TONE QUARTZ COUNTERTOPS
10 STUNNING KITCHEN ROOM SCENES FEATURING MARBLE LOOK QUARTZ