10 Stunning Kitchen Room Scenes Featuring Marble Look Quartz
June 01, 2023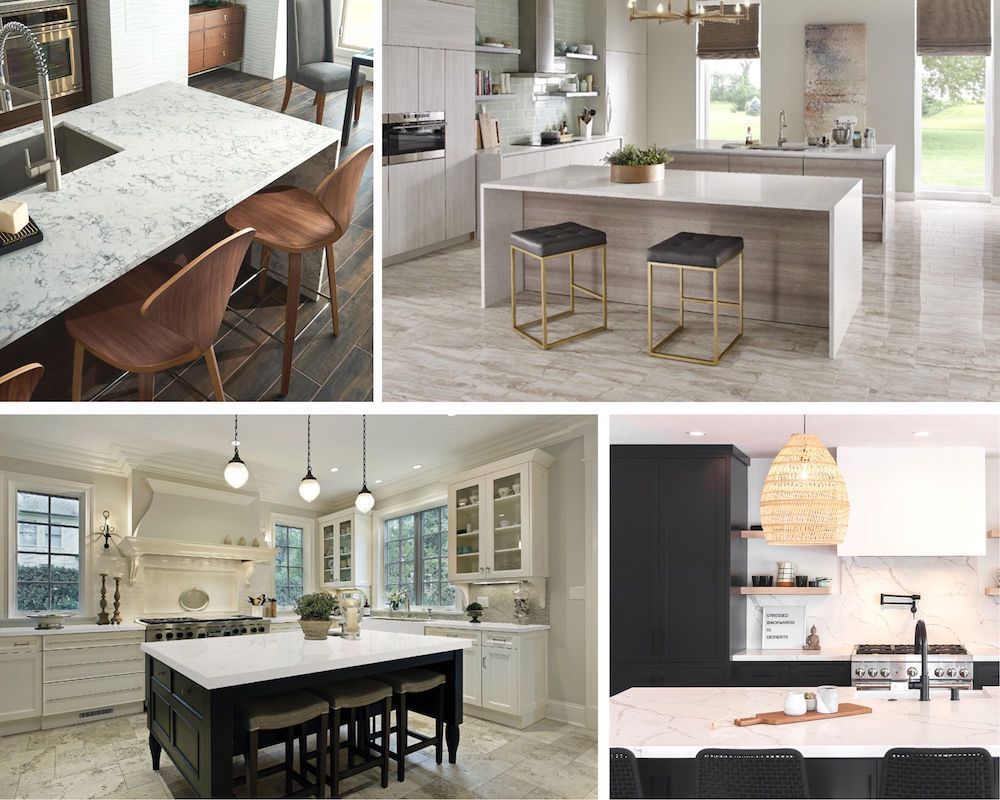 Today's homeowners have more options than ever when choosing their ideal kitchen or bathroom countertop. Of course, marble has always been a top contender, mainly because it looks so beautiful with any home décor style. But many people are also looking for surfaces that are easy to care for and that will hold up to the daily use of busy families. That's why marble-look quartz is becoming so popular!
Aside from their exemplary performance, one of the greatest things about quartz countertops is their versatility. This engineered material can be manufactured to resemble just about any other countertop material, such as granite, concrete, limestone, and quartzite, to name a few. With so many different marble colors and patterns, you're sure to find one you will love!
Immerse yourself in our collection of 10 popular marble-look quartz colors and experience the allure they bring to kitchen spaces. These beautiful countertops will ignite your imagination and help you envision the possibilities for transforming your kitchen into an area of timeless beauty and elegance.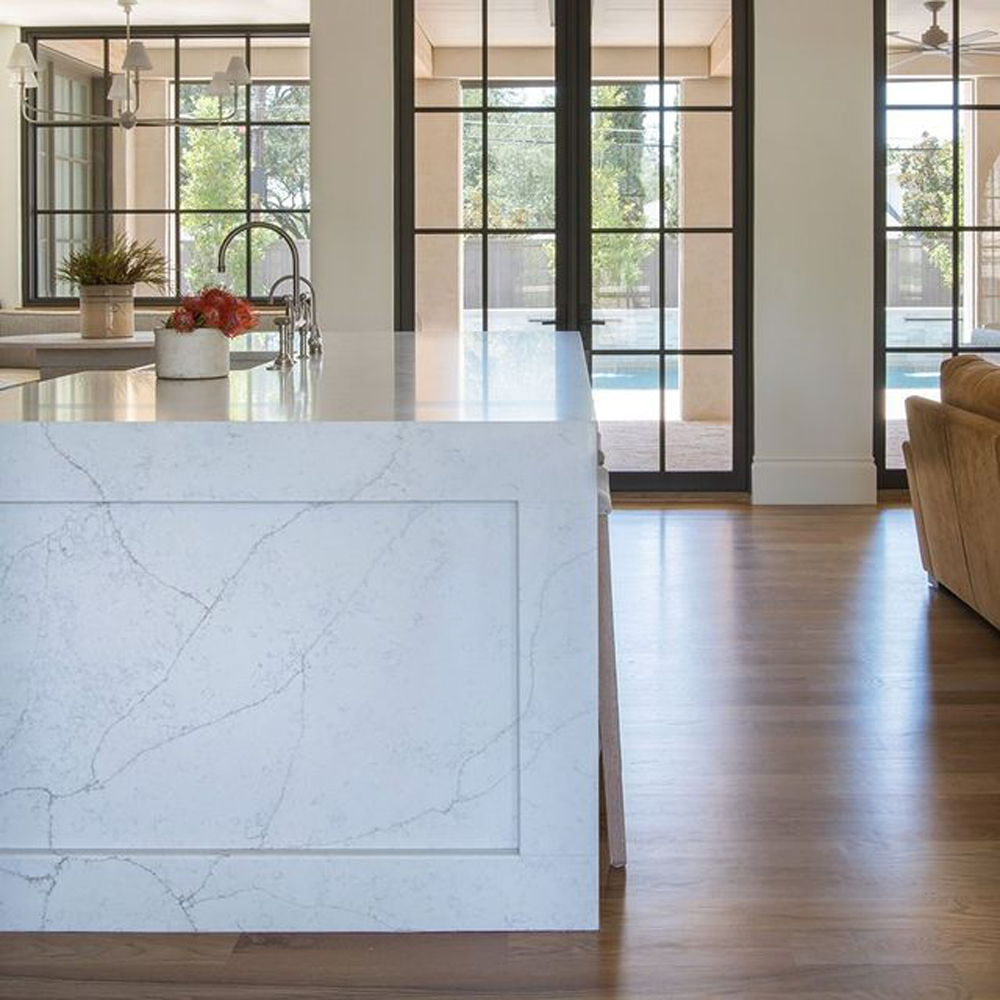 Choosing the right countertop for your kitchen is essential – but it's even more important when you've got an open floor plan, and the kitchen island serves many uses. Calacatta Monaco Quartz offers the classic look of fine Italian marble with a warm white background and thin gray veining.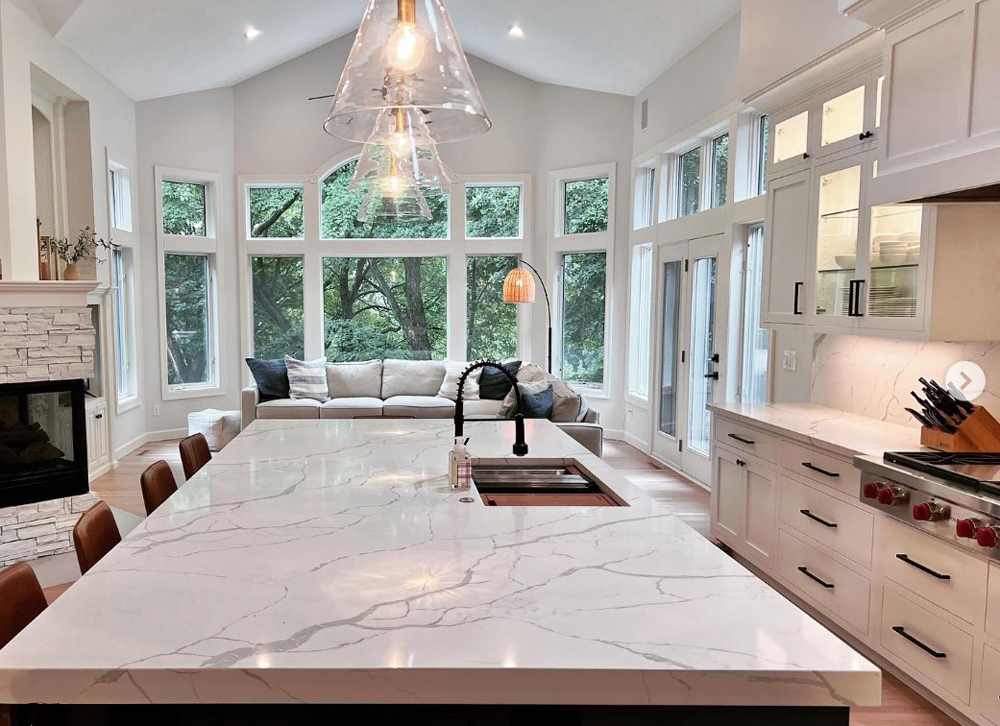 Family homes used to have small kitchen tables for easy, informal dining rather than enjoying every meal in a formal dining room. While these both had charm, many modern homes have replaced dining areas with generously sized center islands that serve as both a food preparation and eating area. With Calacatta Laza Quartz, you can have that gorgeous white marble look and not worry about spills, stains, or other common types of damage.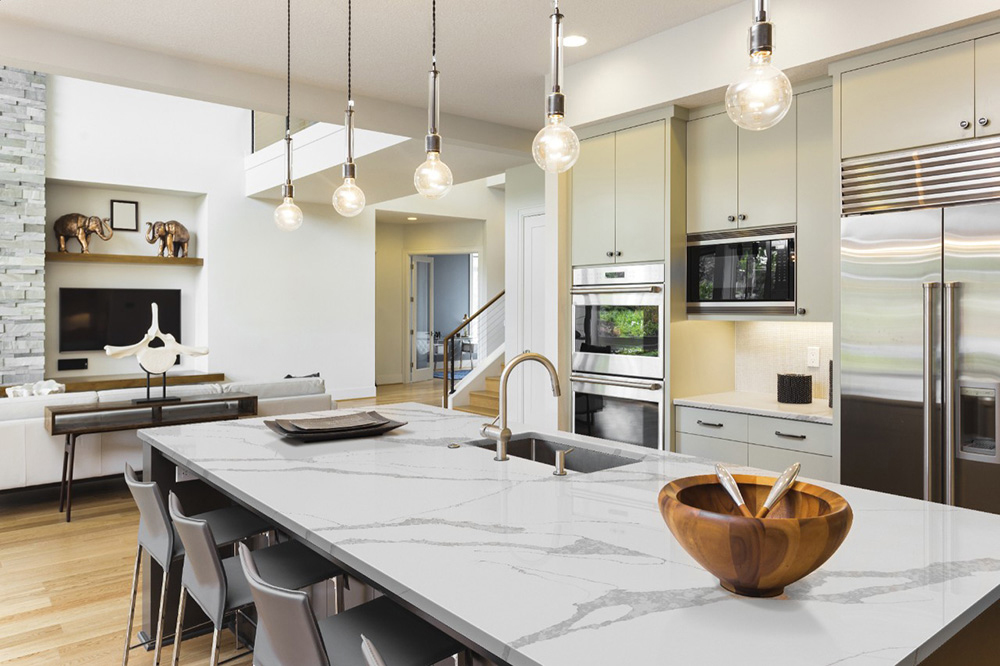 Homeowners with more contemporary tastes find that marble-look quartz fits nicely into their designs – particularly when it's a bold, dramatic countertop such as Calacatta Leon Quartz. Since the kitchen tends to be a gathering spot anyway, make the most of it with a countertop that's just as easy to keep clean as it is lovely to look at.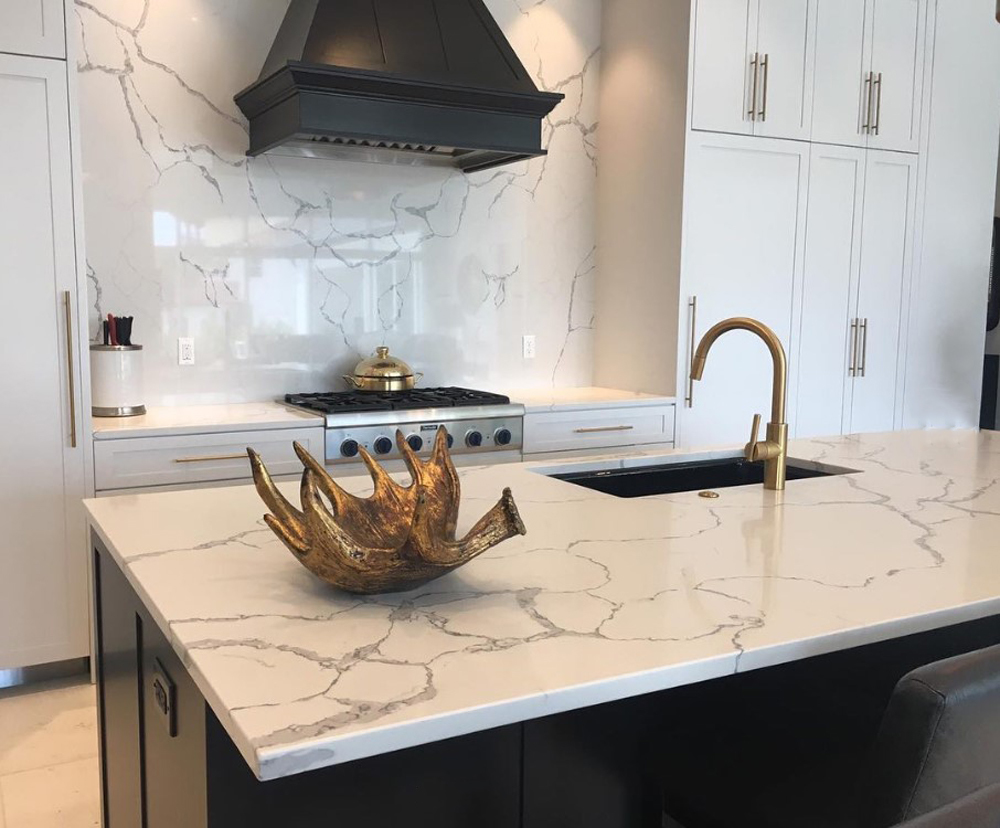 Boasting a crisp white backdrop interspersed with delicate gray veins, Statuary Classique Quartz embodies timeless elegance and durability. Requiring minimal upkeep, it's perfect for busy kitchens and baths. Its soothing aesthetics make it an ideal choice for countertops, waterfall islands, accent walls, and showers, offering a coveted marble look with superior stain resistance and longevity.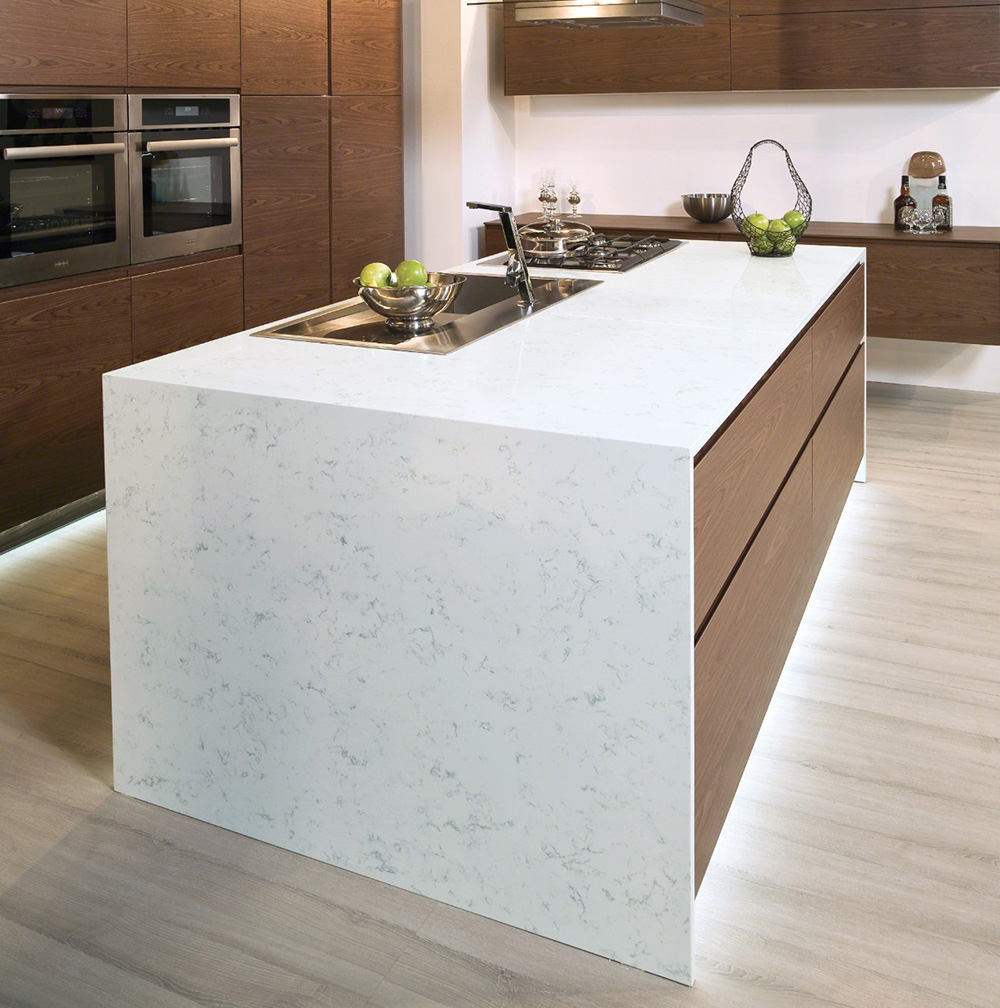 Center islands with waterfall edges are a hot trend and Fairy White Quartz is the ideal choice for the job! It features delicate, gray veins against a soothing white background. The subtle movement won't overpower the room, even when used both horizontally and vertically, as shown here.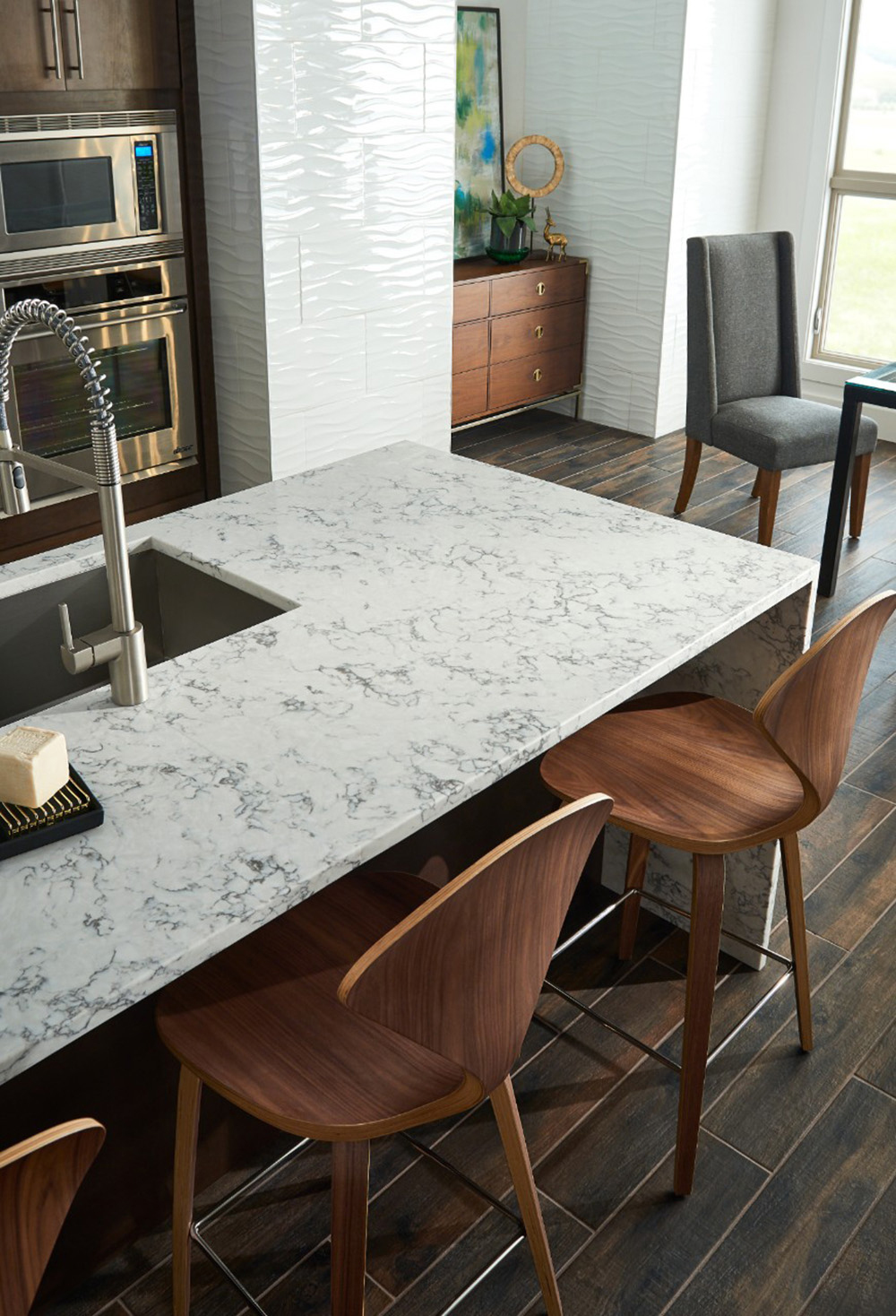 When you really want to impress with your sophisticated, contemporary design skills, Blanca Arabescato Quartz is your ticket to success. The background is a pale gray shade, accented by dramatic swirls of deep brown. Consider these white quartz countertops as a modern twist on a classic favorite.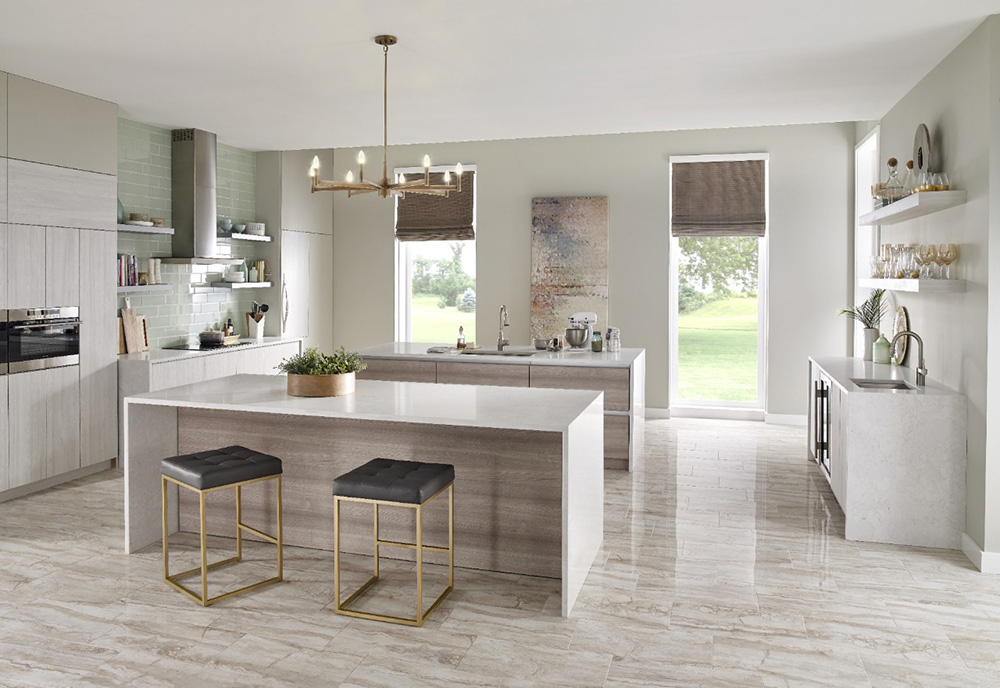 The most modern, creative homes are changing everything you'd expect in home design, and the options are limitless. Fortunately, marble-look quartz is one of the most versatile countertop materials, and it's easy to customize it however you like. And since it's an engineered material, you know that every piece will match perfectly. Marbella White Quartz is a subtle combo of soft white and subtle veining that only needs a minimum of upkeep to maintain the elegant appearance you love.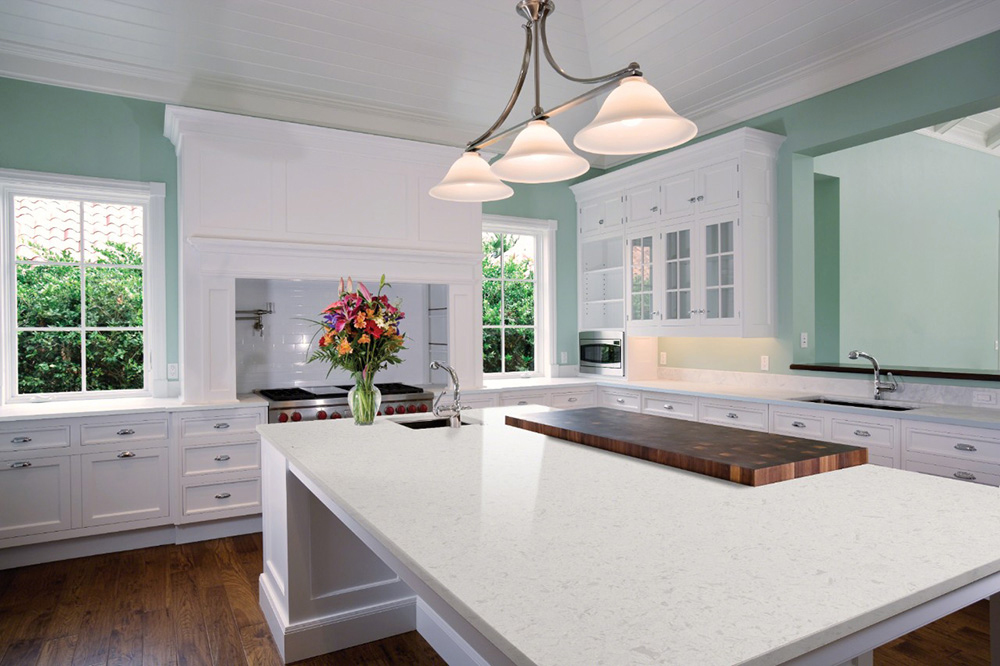 White cabinetry, white ceilings, white countertops – what's not to love about this peaceful, airy space? Some might think it's only practical for a magazine spread or a show home. But with Glacier White Quartz, it's practical for anyone, even busy families. Since it's nonporous and exceptionally resistant to stains, its polished white finish will stay just as bright.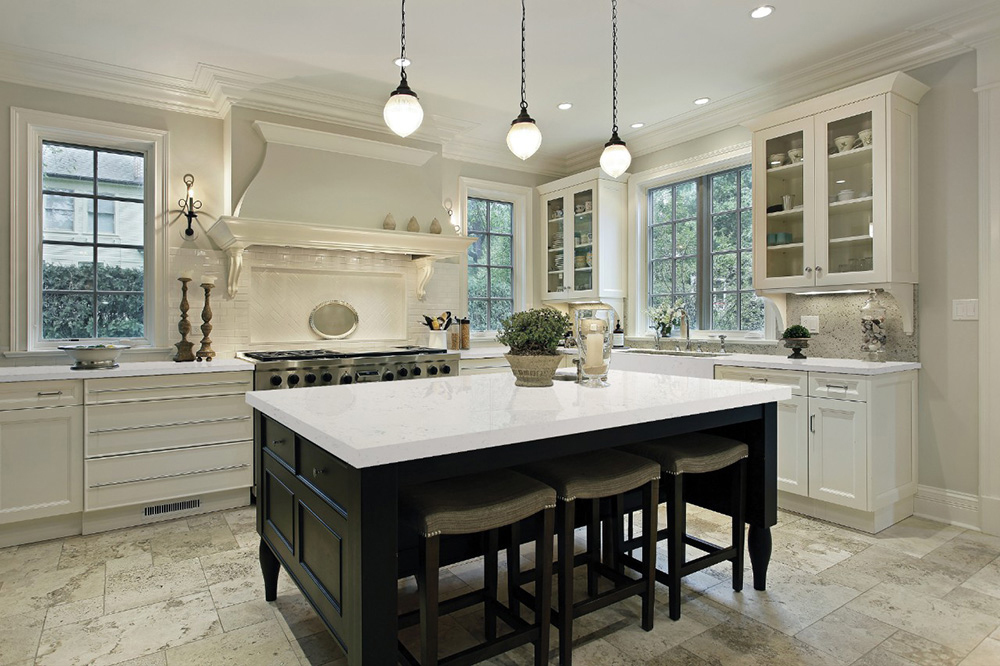 No matter how stylish your kitchen's decorative elements may be, the center island will always be the room's focal point. So, it's essential to get it right, and Cashmere Carrara Quartz is an attractive countertop option. It's a cool white marble accented with subtle gray swirls, and we love the contrast between this white countertop and the stately dark-brown base. As with our other quartz colors, you can also choose from various custom edge treatments.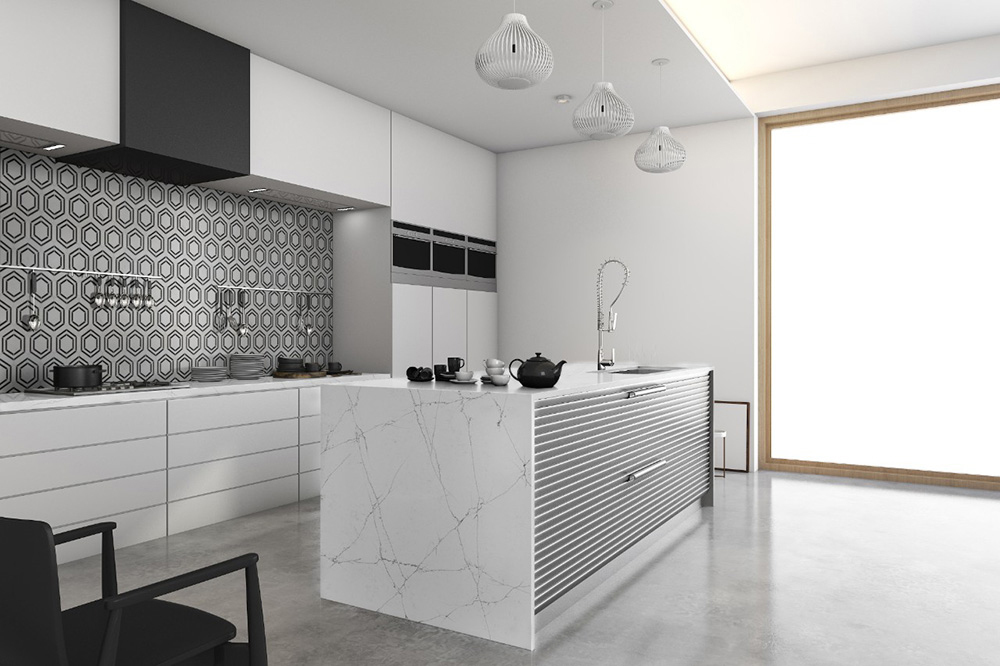 The center island countertop is a place to express your creativity, but the vertical surfaces get the most attention. While waterfall edges and backsplashes serve as your canvas, it's not necessary for them to match to achieve a complementary look. For example, the intersecting, linear veins of Calacatta Montage Quartz are a dramatic companion to the bold hexagon shapes on the backsplash tile in this contemporary kitchen design.
Bring Your Vision to Life with MSI Quartz Countertops!
After seeing our marble-look quartz countertops' remarkable realism and stylishness, it's time to embark on your project. Are you ready? Don't worry; we're here to assist you every step of the way! Chat with us online, visit a nearby MSI showroom, or contact an authorized MSI retailer in your area. With our expertise and a vast selection of products, turning your vision into a reality has never been easier.
LEARN MORE ABOUT QUARTZ COUNTERTOPS
5 PERFECT QUARTZ COUNTERTOPS FOR YOUR DREAM KITCHEN
QUARTZ COUNTERTOPS THAT MIMIC NATURAL STONE: GRANITE, LIMESTONE, AND MARBLE LOOKS
6 POPULAR KITCHEN COUNTERTOPS YOU SHOULD CONSIDER FOR YOUR REMODEL