6 Popular Kitchen Countertops You Should Consider For Your Remodel
December 05, 2022
A kitchen countertop is more than a place to chop your vegetables. It's a focal point of your kitchen and one of the first things people see. If you want to complete your kitchen look, this functional space will have to be beautiful too.

That's why today we're going to look at 6 of the most popular kitchen countertops to consider for your next kitchen remodeling project.
1. Quartz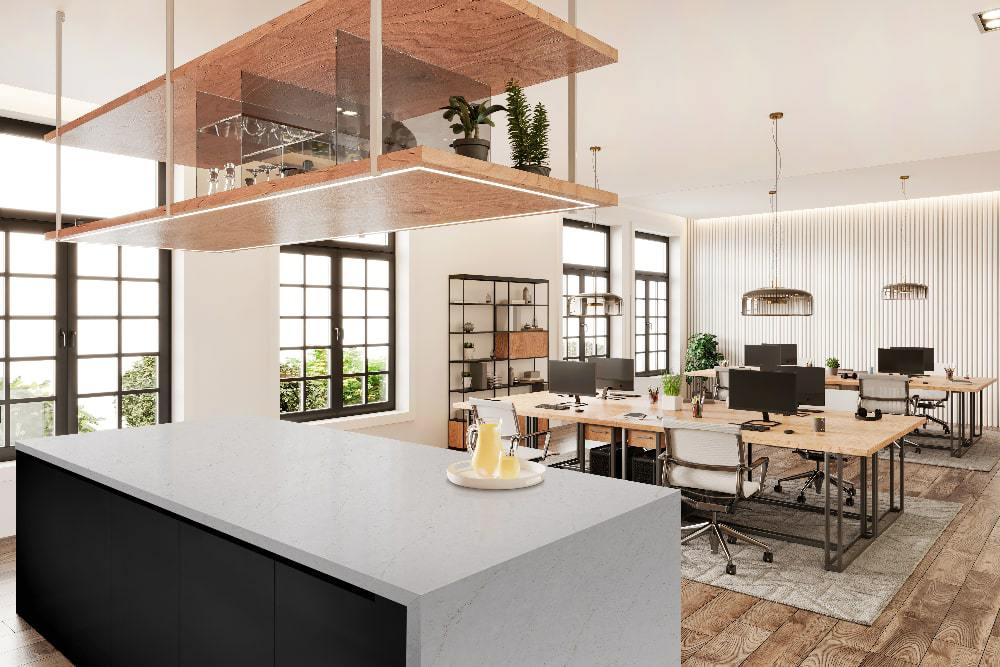 Quartz countertops come in various colors - from warm whites, like the Calacatta Karmelo, to rich browns and blacks. Plus, veining and mirror chip options can really make your countertop pop in any setting. There are plenty of options to match any aesthetic you could possibly want.

But Quartz is more than a pretty surface. It doesn't need to be sealed, and its seams blend incredibly well to create the appearance of a single continuous surface. When you consider this on top of Quartz countertops being heat, scratch, and stain resistant, it's no wonder Quartz is one of the most popular choices with homeowners.
2. Quartzite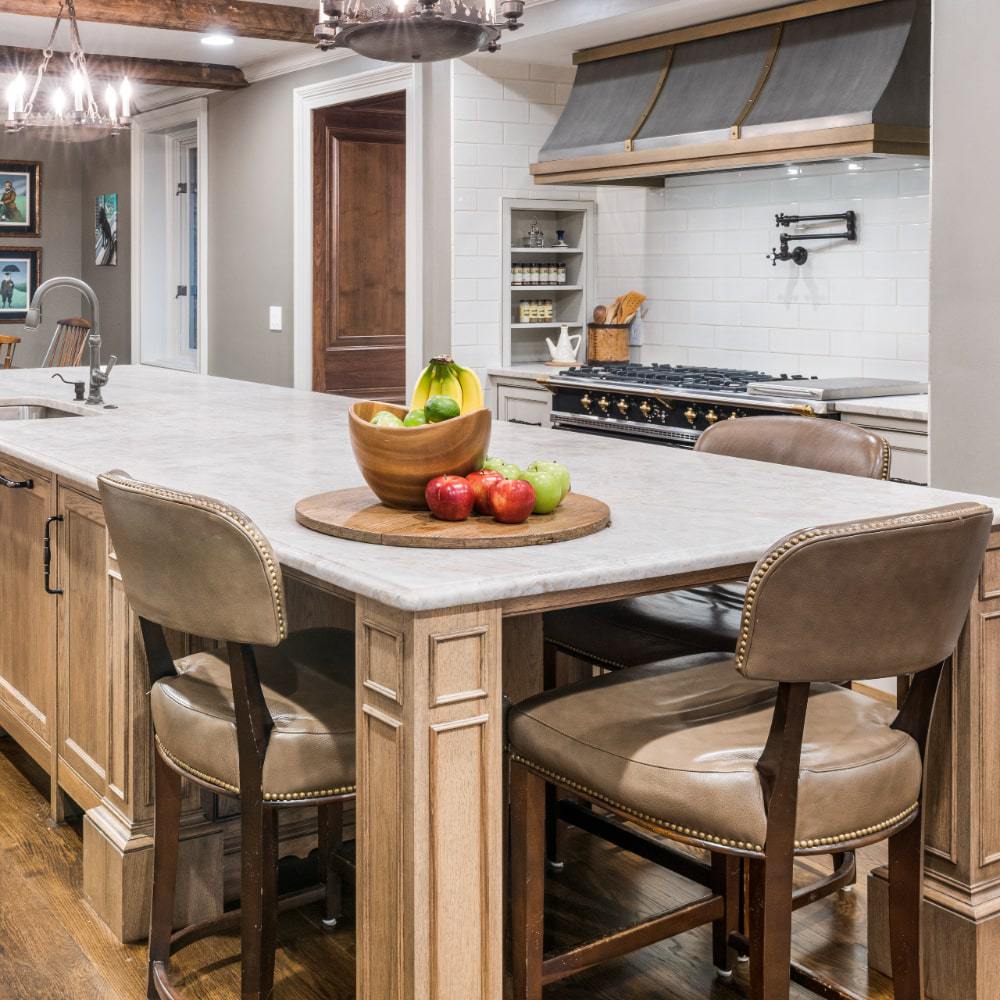 Don't be confused by the name. Quartzite countertops are distinct from their quartz counterparts. Although, it does come with many of the benefits of the kitchen countertop surfaces discussed so far.

Quartzite is commonly mistaken for marble due to its similar design and overall appearance. The veining, textures, and color are near matches for each other. As such, quartzites, like this Allure Quartzite, bring a distinct beauty to any kitchen.

However, what possibly distinguishes quartzite the most, beyond its beauty, is its strength and durability. While bringing the majesty of marble, quartzite is tougher than granite. It is extremely etch, scratch, and heat resistant. As such, quartzite is incredibly low maintenance and makes a beautiful long-term addition to any home.
3. Granite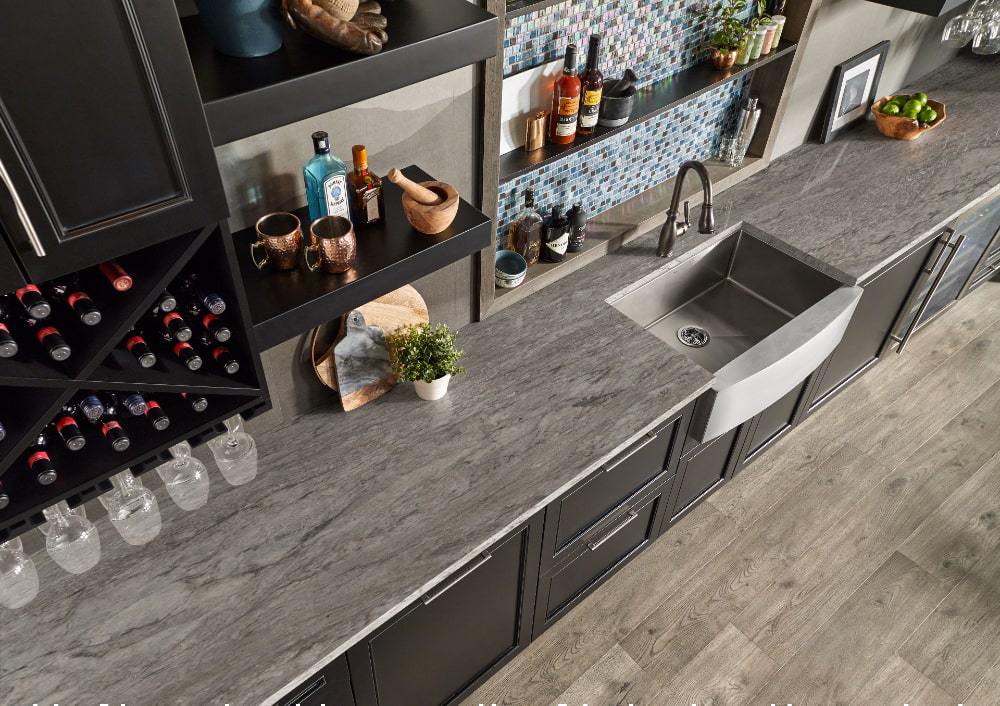 Every slab of natural granite is unique. Each one is carved from genuine stone rather than manufactured material. As a result, granite comes in a lovely array of rich earthy tones, shades of green, blue, red, and yellow, and even more neutral tones of black, gray, and white. There's no end to the combinations. For example, Azul Celeste granite comes with soothing grays, silvers, dusty blues, and threads of charcoal swirling together in harmony. No matter your style, there are natural granite slabs to match your home.
Not only is this surface stylish and beautiful, but it also has long-term durability for day-to-day use that will last your lifetime. In addition, granite is stain, etch, and heat resistant. That's why it's such an affordable long-term investment.
Granite countertops can bring a classic look to your kitchen that will be in style for decades to come.
4. Marble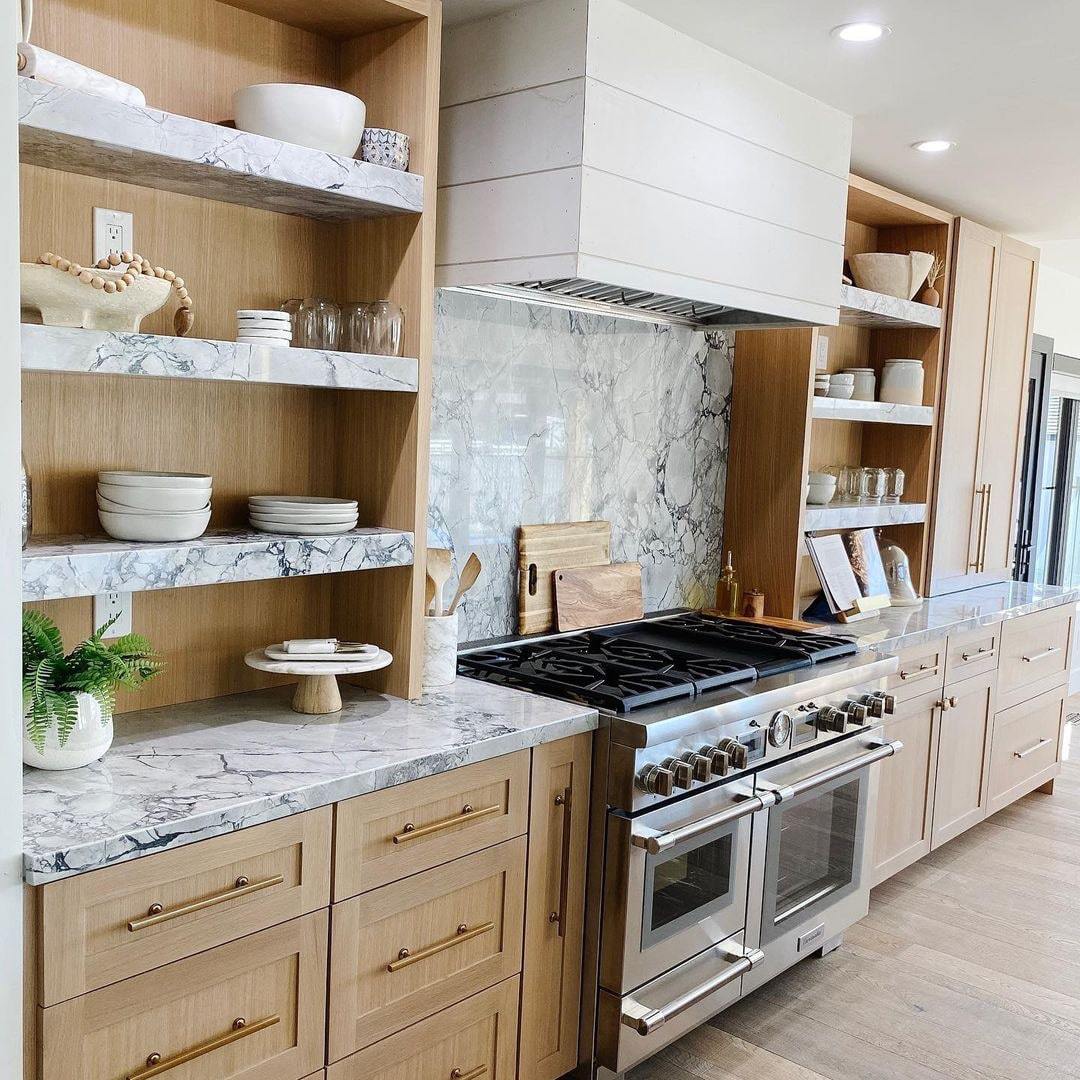 Photo Credit: @sara_sjdesigns on Instagram.
Marble was quarried throughout the Roman empire for its beauty and has been used in fantastic architecture throughout history. Few materials can match it. Today, it still offers a beautiful and timeless look as marble countertops with rich color and iconic veining, which you can see in this Super White marble.
In terms of practical application, marble is excellent for cooking. This natural stone naturally remains cool, which makes it great for laying baking materials and kneading dough. And with regular upkeep, a marble countertop can last a very long time in your home.
5. Porcelain Slabs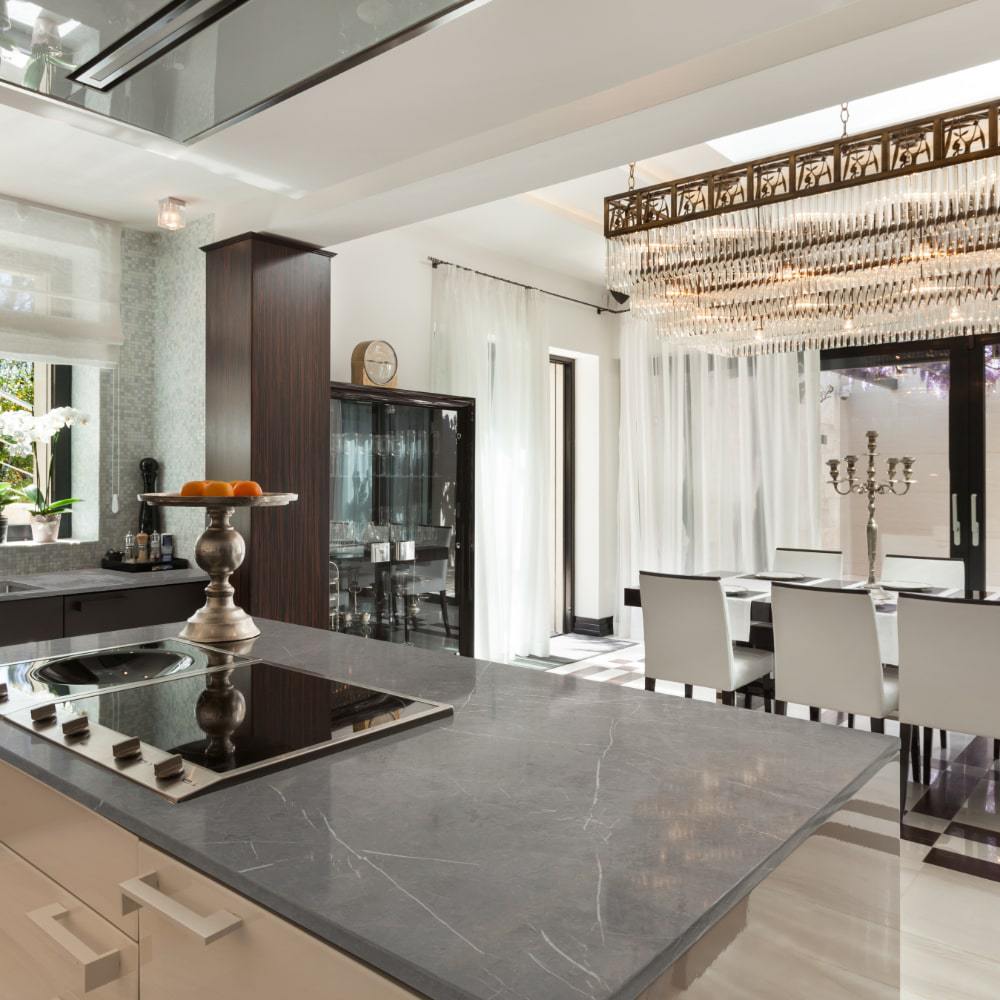 It's true; porcelain is not the first thing you think of when you discuss kitchen countertops. However, it's on the rise. Porcelain slabs offer beauty and a surprising amount of strength.
Porcelain appearance depends on the manufacturer, but porcelain can mimic any material you want, even the continuous natural appearance of stone like this Pietra Grigio porcelain slab.
Porcelain is a traditional pottery material that can be opaque or somewhat translucent. It's created by heating a powdered stone and clay mixture to a staggering 1450°C. So, it's no surprise that this material is incredibly heat resistant! As a result, hot pots and pans are safe to place directly on porcelain countertops.
Porcelain countertops can be stronger than granite despite its infamy as a fragile material. In addition, it's scratch and etch-resistant, making it safe to slice and dice food directly on your counter. Just avoid any blunt force.
6. Soapstone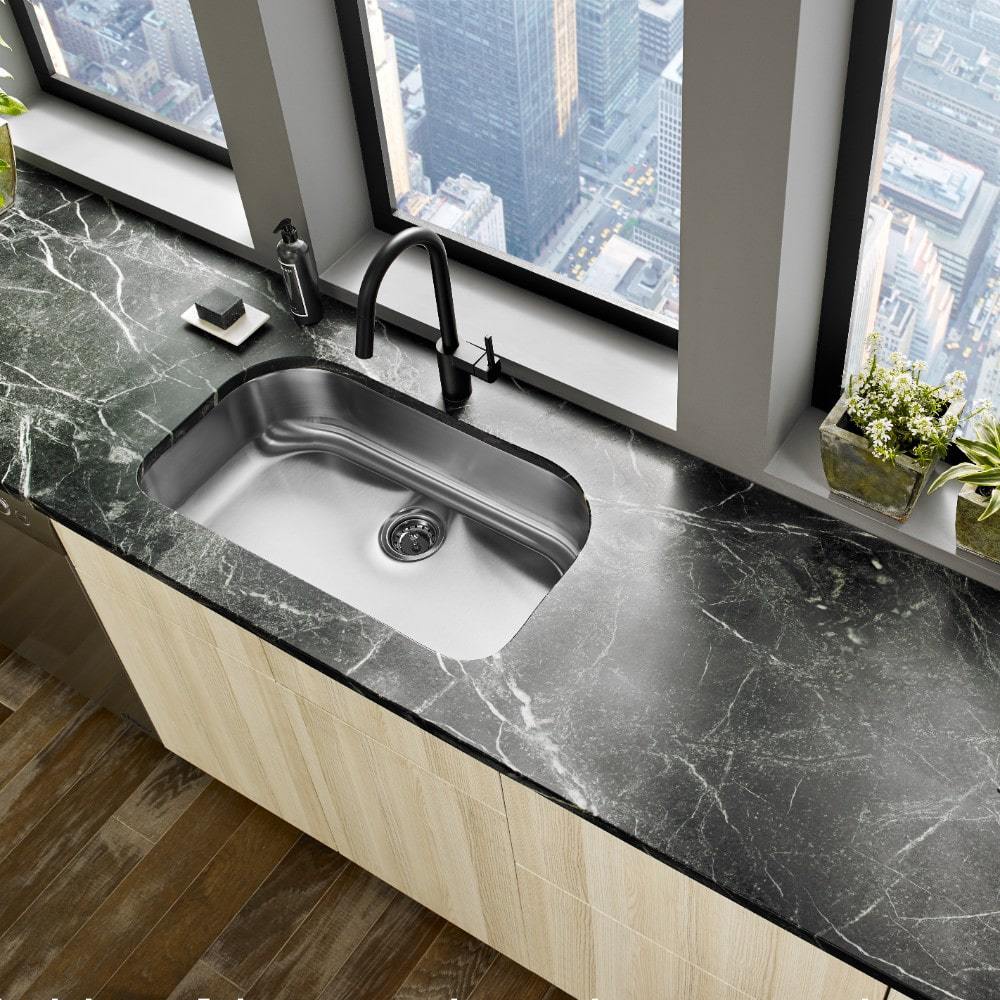 Another underappreciated stone countertop, soapstone's natural beauty can be elusive at first.
Its plain-looking but rustic appearance naturally enhances the beauty of your home. Soapstone countertops are a natural choice to keep your kitchen from having that overbearing tone. Instead, soapstones, such as this black soapstone, bring elegant and subtle beauty to any kitchen. Plus, like other natural cut stone countertops, every soapstone slab is unique.

And, as always, let's not forget the practical applications. This is your kitchen counter, after all.

An exciting feature of soapstone countertops is that they simply do not stain. Soapstone is a non-porous stone. That means you don't have to worry about liquids seeping in and staining your new counter. It also means soapstone is incredibly easy to clean with mild soap and a soft sponge.
In terms of durability, don't let the name or appearance fool you; soapstone does not crack easily. It's more or equally as durable as most other stone countertops.
Ready for a New Kitchen Countertop?
So, do you have your next kitchen countertop picked out yet? We know there are many options, and it's important to feel 100% ready for your next remodeling project. No one wants to install the countertop that'll serve in their kitchen for years to come just to regret it immediately.

Before you begin, contact us at MSI and see how we can help you find the material that checks all your unique boxes. You can even use our website to preview a variety of samples at home, which can help you get an idea of what you're looking for before scheduling an in-person showroom appointment.

We're industry experts, and we are here to help you. You can contact us online by visiting one of our showrooms or chatting with us in real-time through our MSI website chat feature at the bottom right of your screen.
Learn More About Countertops
Sealing Your Natural Stone Countertops
6 Popular Kitchen Countertops You Should Consider For Your Remodel