Versatile Granite Countertops Offer Colorful Options For Your Kitchen
September 10, 2021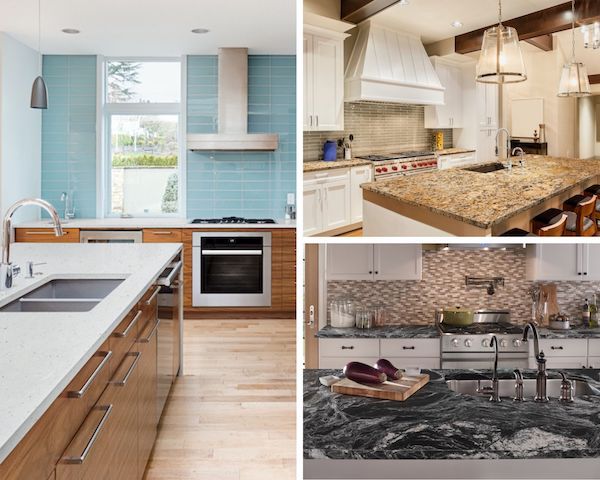 If your kitchen countertops are looking a little worse for wear, it's probably time for an upgrade. But choosing a new countertop can be tricky, especially when choosing a material.
There are laminate, wood, steel, and concrete options aplenty. But high-quality granite countertops might put them all to shame. After all, granite counters are durable, easy to maintain, and gorgeous!.
Before you buy, let's explore some colorful granite options!
Why Install Granite Countertops?
Before we dive into the plethora of colors available in granite, it's crucial to take a moment and ask: Why should I install granite countertops?
There are several potential answers to this question. But perhaps the most significant reason why granite should be your go-to material is durability.
Granite, a hard natural stone, doesn't soak up water and isn't prone to warping and rotting. It's a relatively nonporous type of igneous rock, doesn't transfer heat easily, and is relatively easy to keep clean.
Installing granite counters in your kitchen can also add value to your home, increasing its overall value. If you're looking to sell within the next several years, you might want to consider renovating first to up your market value.
If you're looking for a long-lasting alternative to synthetic countertops, granite can be the ideal choice. Just like manmade countertop materials, granite counters come in nearly every hue!
Versatile Color Options to Choose From
Granite countertops are available in a wide variety of colors, so there's bound to be an option that matches your kitchen's style. Some of the most popular granite colors include: Black, White, Beige, Gold, and Multi-colored.
You'll want to browse several selections from each group to ensure you find an option that fits your kitchen's color scheme and aesthetic. Still, choosing the best possible pick shouldn't take too long, especially with our help.
Without further ado, let's explore some of the best granite color options for your kitchen counters!
Black Granite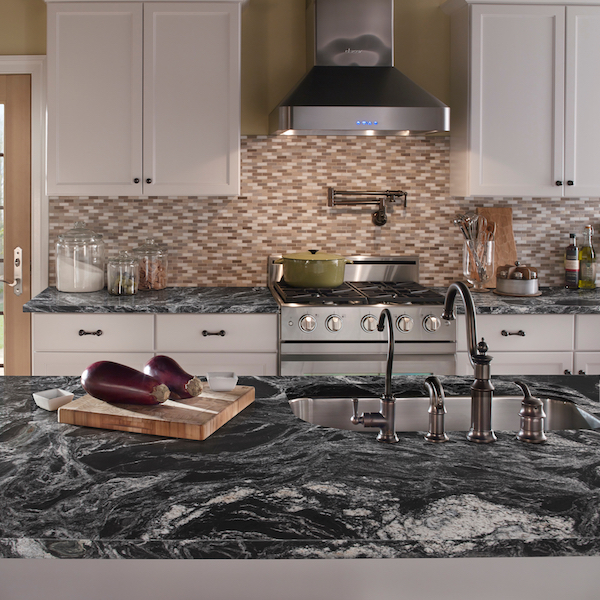 Black granite is one of the most sophisticated materials you can have in your kitchen. It's smooth, cool, and naturally captivating. As such, dark granite counters are common in modernistic and minimalistic kitchens.
One of the most crucial things to remember about black granite is that it's rarely ever completely black. Instead, this material has ribbons of other colors running through it, adding depth and detail to each inch.
Silver waves granite is a fine example, with its rolling tendrils of silver-white granite against a background of darkest black. The aesthetic here is a classic one, yet surprisingly contemporary.
This granite may be the ideal option for kitchens with black or chrome appliances and fixtures. Of course, black is a relatively neutral color, so it goes with almost any color scheme or style.
White Granite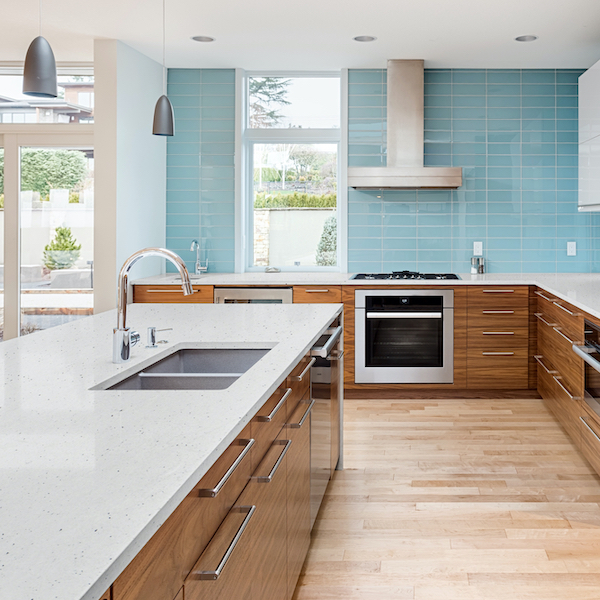 A polished white granite countertop is bound to add a touch of brightness to your kitchen. If you enjoy a clean, white, minimalistic kitchen, you'll want to consider choosing white granite.
Still, it's crucial to note that pure-white granite slabs are rare. As such, you can expect small speckles or veins of additional colors when looking at white granite.
For example, the gorgeous Pitaya White granite nearly resembles a speckled bird's egg. It's primarily white, but it's covered in tiny blue, black, and gray dots.
This small detail can draw the eye, making your countertops truly captivating. Neighbors and guests might rain compliments on you and your new counters!
Beige Granite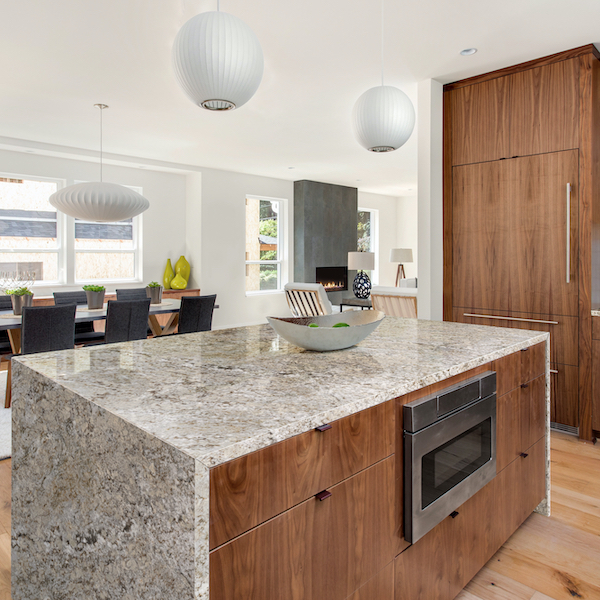 As with white and black, beige is often considered a neutral color. Because of its neutrality, you can pair a beige countertop with nearly any decorations, appliance finishes, or wall colors and still feel like it belongs.
The calming look of Makalu Bay Granite, for example, goes perfectly with off-white walls and chrome-finished appliances. But it can also pair well with a rustic country or elegant contemporary kitchen.
If you're planning on selling your home soon, or you know you'll want to remodel your kitchen within the next decade, you may want to opt for this compatible beige granite.
Gold Granite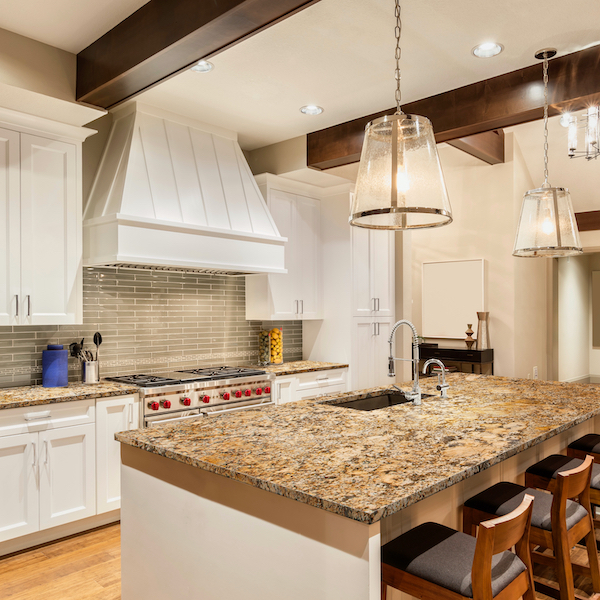 Unlike metal, gold granite isn't a bawdy option that's challenging to maintain and keep clean. Instead, gold granite tends to have an all-natural look that's similar to terra cotta or dry earth.
Take the golden-colored Solarious Granite, for example. It's a diverse combination of rich coffee browns, luminous golds, and sandy beiges. There's also a heavy presence of burnt orange and creamy white.
Gold granite countertops tend to work well with warm color schemes. This color can also complement brass cookware, appliances, and fixtures. If your kitchen has a rustic Spanish look, consider going gold!
Multi-Colored Granite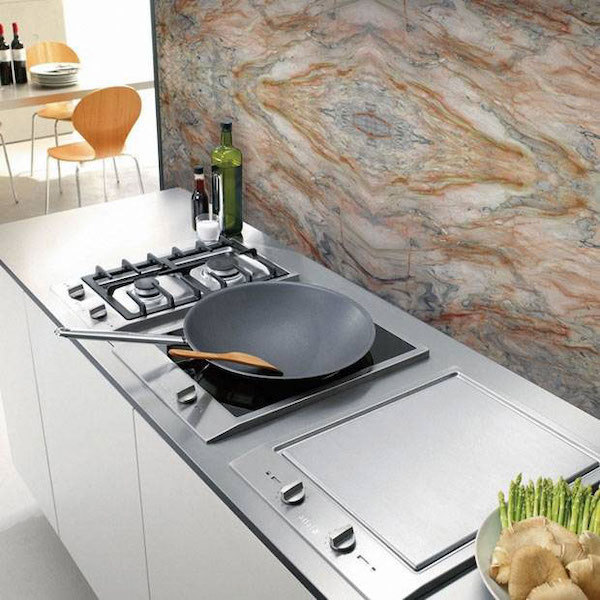 It's important to remember that you don't have to choose single-toned or two-toned granite for your countertops. You can always opt for a breathtakingly beautiful multicolor option instead.
Some of our favorite multicolored granites remind us of cave walls, dried lava flows, and drifting clouds. They're timeless pieces that continually surprise in terms of their beauty.
One of the more dramatic multicolored pieces is the blue-gray Fusion Granite. Flecked with bits of gold and brown, these slabs can be the perfect addition to brass, gold, and metal aesthetics.
This granite might also work well in kitchens with blue walls or accents, as it primarily has a bluish tint to it. And the blue-and-gray waves that roll through this granite might make it ideal for beachside homes.
How to Choose the Best Option for Your Kitchen
Choosing from among the many granite countertop colors can be challenging, especially if you're redesigning your kitchen. After all, it can be difficult to see how everything will come together until it's nearly done.
Still, some of the most essential things to consider when browsing include:
Color Matching
Color Compatibility
Countertop Edge Style
Naturally, you'll want to choose a counter that matches your kitchen's aesthetic. As such, you may want to do your best to match your countertops with your backsplash or painted walls.
Color compatibility is another thing to consider. Neutral colors tend to go well with nearly any style or combination of colors. But more pronounced shades can clash if you ever decide to change the colors of your walls.
There are also countertop edges. Granite counters can have rounded bullnose edges, beveled edges, or decadently shaped edges. Rounded options are easy to clean, but an angled edge is undeniably elegant.
If you're feeling a little overwhelmed, don't worry. Professional kitchen designers and countertop specialists can help you select an option that works best for your space, vision, and budget.
You can also use a granite visualizer to help you plan your kitchen's look. This easy-to-use online tool is a great way to experiment with different colors and textures and discover what works for you.
Upgrade Your Kitchen Countertops Today
Are you struggling with old, unattractive countertops? Choosing new granite countertops can be the ideal solution to your kitchen woes! After all, granite is durable, natural, and absolutely gorgeous.
Of course, you'll need to choose a granite color to complement your kitchen's color scheme and style. Fortunately, there are plenty of options from which to choose, and they can each elevate your kitchen to a new aesthetic level.
Are you interested in visiting an MSI showroom? If so, be sure to contact us today for more information. We look forward to hearing from you!
READ MORE ABOUT GRANITE COUNTERTOPS
Top 7 Granite Countertop Colors For 2021
Top Granite Colors for Modern Kitchen Design
Trend Alert — Granite Countertops with Under-Mount Sinks