Unique Backdrops With Backsplash Tile
December 19, 2016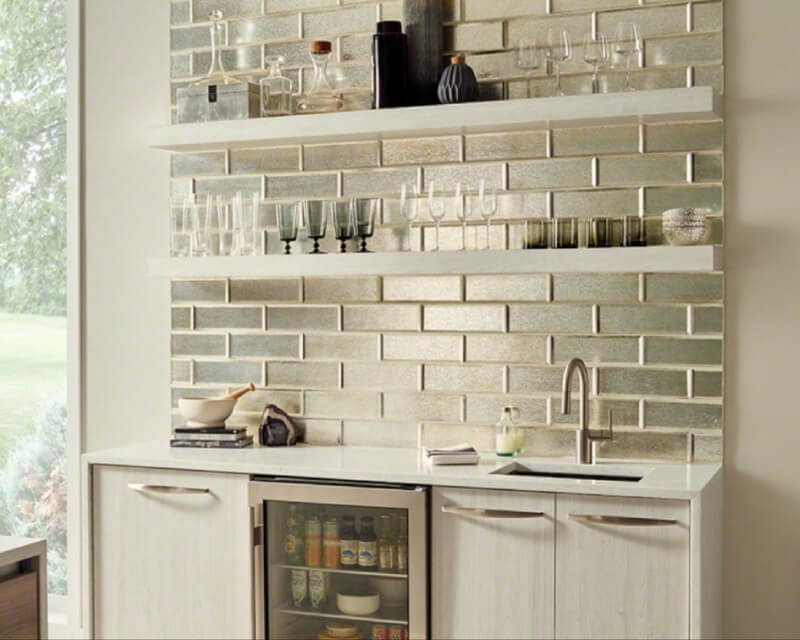 Nothing pulls a beautiful kitchen together like a unique backsplash tile. In fact, it's like the icing on the design cake during an upgrade or renovation. Mosaic tile, with its almost infinite variety, is especially suited for backsplashes. Go large for a solid and seamless look, or go small for an artisanal feel. Tile can look contemporary when it shines and sparkles, or can feel old-world when it's tumbled and beveled.
Random-pattern tile adds even more interest to backsplash applications, especially in small areas like bars or bathrooms. And mesh-mounted tile takes the guesswork out of installing, making the job easier for professionals and DIYers. But since a picture is worth a thousand words, here are some ideas for the unique look and feel that a tile backsplash can produce.
Iridescent Brown Glass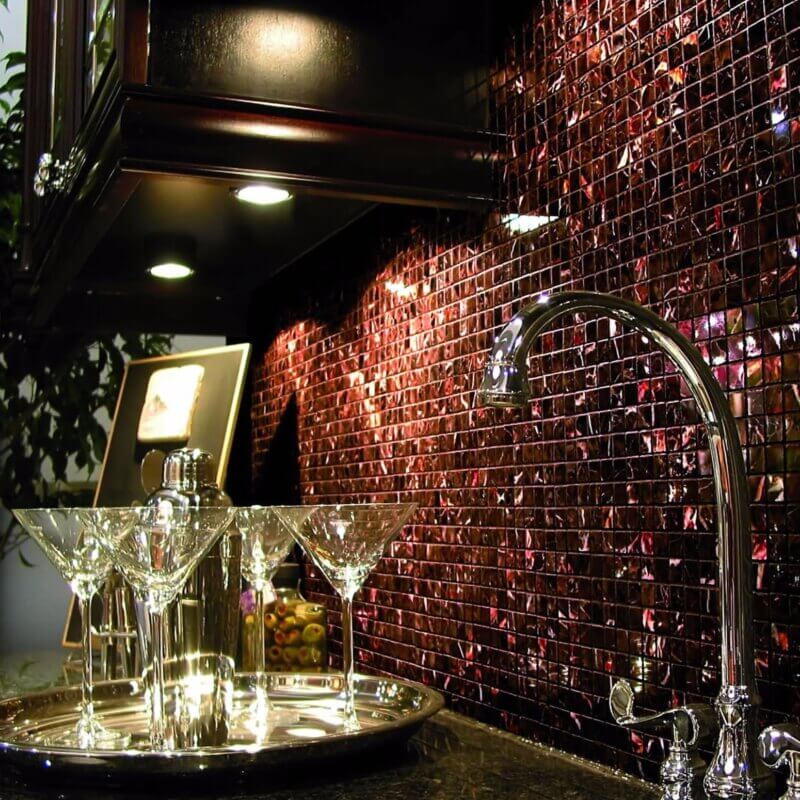 Featured: Iridescent Brown Glass
Iridescent Brown Glass makes any space, large or small, look rich and sexy. This chocolate tile with cream striations sparkles in kitchen backsplashes, bathrooms, and bars. The tile's sheen draws the eye and makes the backsplash the star of the show, especially when paired with dark cabinetry and chrome fixtures. Plus, the dark brown will add a zing to contemporary or traditional spaces.
Honey Caramel Onyx Interlocking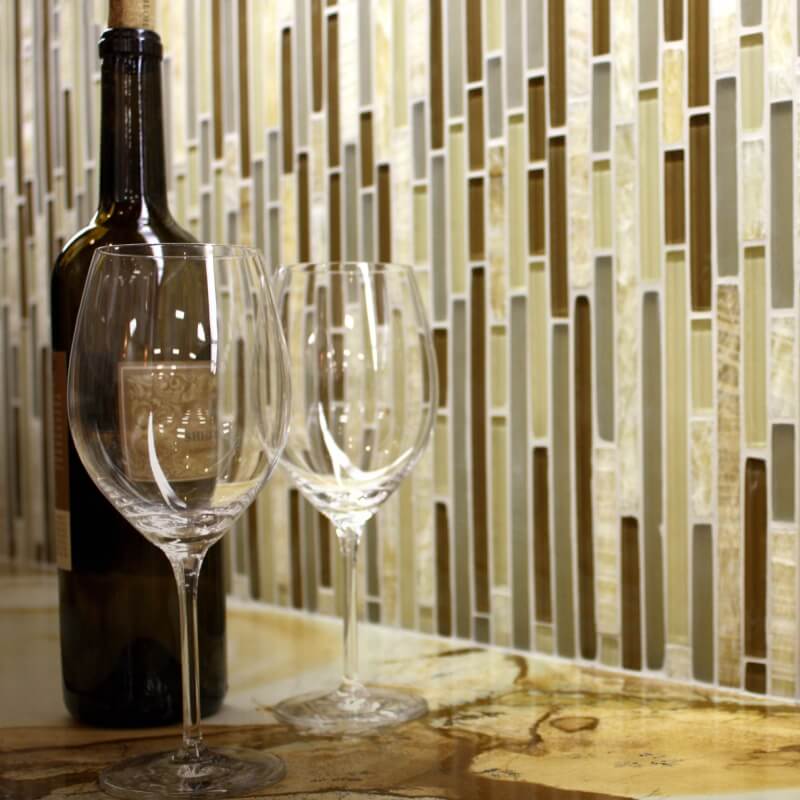 Featured: Honey Caramel Onyx Interlocking
Honey Caramel Onyx Interlocking Glass Stone Blend presents a gorgeous combination of Giallo crystal onyx and glass in luscious creams, taupes, and tans. The long, thin tiles come in random interlocking patterns, which is often more visually interesting than predictable square patterns. Install these mesh-backed tiles horizontally to open up the space, or vertically to make walls look taller. Honey caramel onyx plays equally well with cherry cabinets and light granite or marble counters.
White Quarry Splitface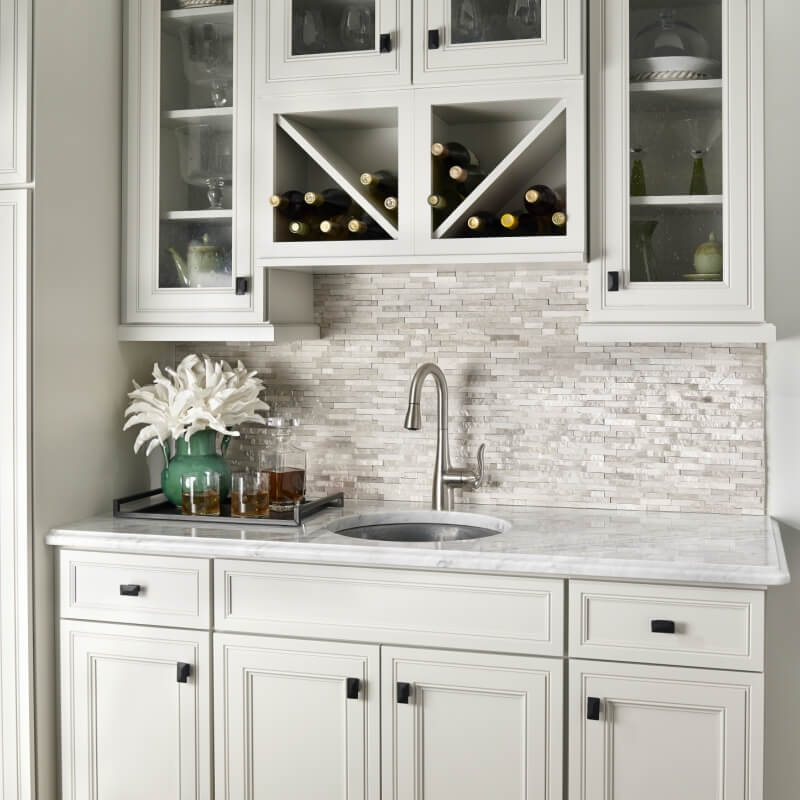 Featured: White Quarry Splitface Interlocking
White Quarry Splitface Interlocking Marble tile adds texture to backsplashes and accent walls, both inside and outside your home. This fascinating tile, which features off-white hues, is split-faced and honed to let natural veins, flecks, and swirls steal the show. Set the tile vertically or horizontally, depending on the space you want to highlight. White Quarry Splitface looks lovely in white kitchens, adding interest and protecting plain walls. The marble tile also adds richness and interest to accent walls and fireplace mantles. Also consider placing this rustic-feeling tile in outdoor entertaining and cooking areas.
Silver Aluminum 3D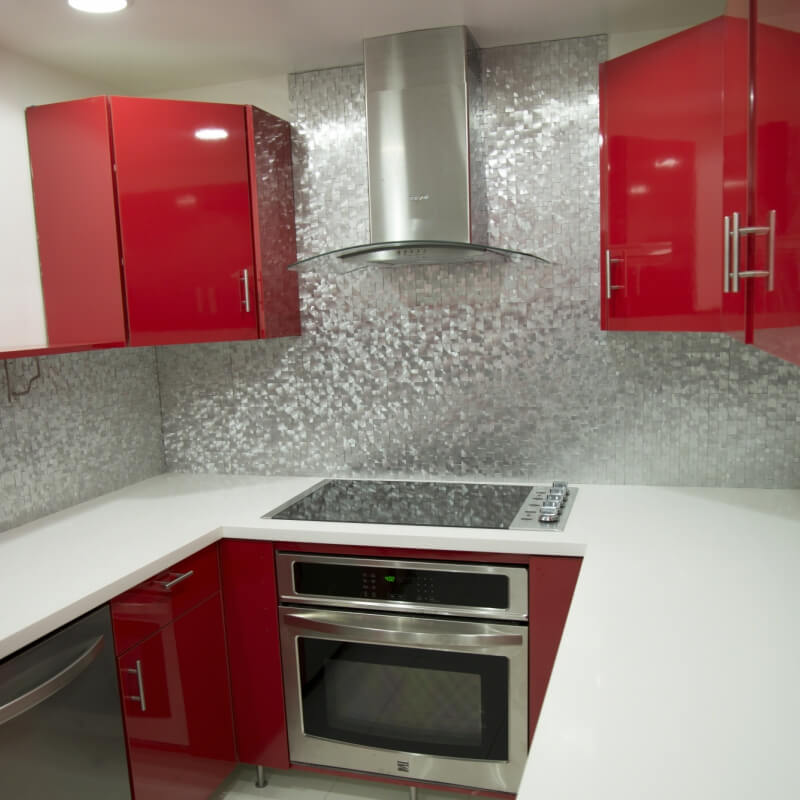 Featured: Silver Aluminum Metal 3D
Silver Aluminum Metal 3D is a jaw-dropping pattern that adds drama and a contemporary feel to kitchens and bathrooms. The light-reflecting tile is made of metal, and gives the illusion of a million little mirrors that shine in backsplashes beneath white cabinets. If your kitchen pops with red cabinets, Silver Aluminum 3D will look fabulous as a backsplash beneath. The tile's light-grabbing quality can illuminate dark areas, making the most of sunshine and lighting.
Silver Glisten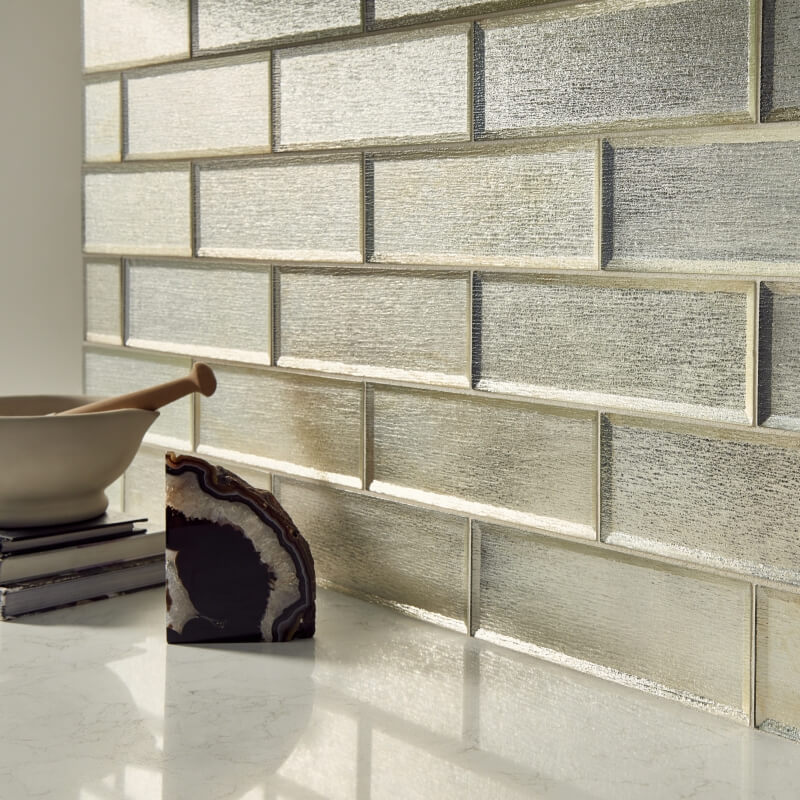 Featured: Silver Glisten Beveled
Silver Glisten Subway Tile 4x12 is a crystalized glass tile with beveled edges that looks beautiful when set in a subway tile design. The subtle shine makes backsplashes glow, but without looking overdone. The beveling adds a grey shadow to the tile, adding another touch of interest in this gleaming backsplash. Use Silver Glisten to draw the eye to niche areas like bars and fireplaces.
No longer does backsplash tile need to fade into the background. In fact, with these and other options available at MSI, your tile can be the star of your design.
READ MORE ABOUT MSI BACKSPLASH TILE
The Modern Way To Tile Your Kitchen Backsplash
Think Outside The Box With A Metal Tile Backsplash