Create The Perfect Outdoor Kitchen With Granite Countertops
October 25, 2022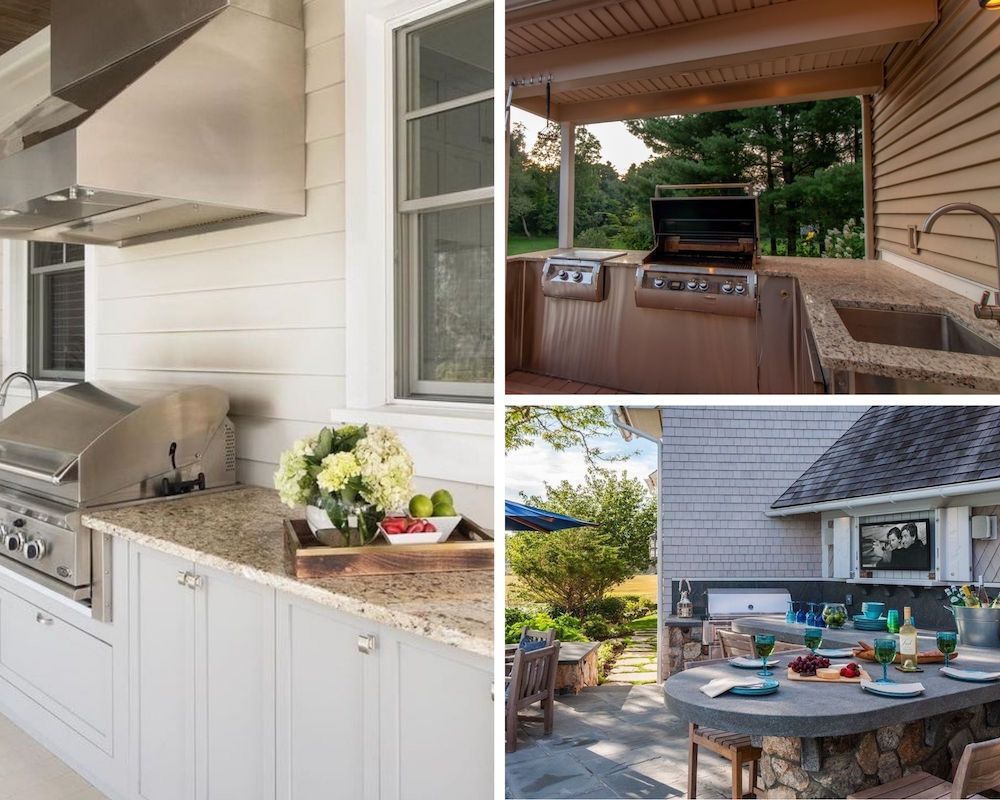 The newest trend in home design is the outdoor kitchen. Once found only in higher-end houses, this style has picked up steam everywhere, partly due to cost and time-saving innovations like granite countertops.
Indoor kitchens are functional rooms; essential to daily living. But on the other hand, outdoor kitchens are where you can relax, unwind, and have fun! So as you design this room, you can focus each step on the experiences and memories you'll create.
Ready to bring some enjoyment outside of the house with your next home improvement project? Here are some tips to help you create the perfect outdoor kitchen using granite countertops.
1. Consider Your Climate
When designing something for outdoor use, an essential factor to consider is the type of elements it will need to resist. For example, you'll get more time in your outdoor kitchen if you plan it with a covering to protect you from direct sunshine and walls to keep out the rain and wind.
Using the right weather-resistant countertop for kitchen activities matters, too. You'll see options like quartz and marble, which are both gorgeous. But you want your countertop to endure the heat, cold, and wet weather all year.
If you're in a climate known for extreme temperatures or heavy precipitation, your countertop material can fade, crack, and peel. So in the marble or quartz vs. granite debate, opt for granite to maximize weather protection.
This natural stone is sealed before installation, so it won't discolor in direct sunlight. In addition, granite countertop materials are naturally weather-resistant, and adding the sealer increases this characteristic.
Granite sealer is a petroleum and resin-based product that fills the holes in the granite that would otherwise let in moisture. Spills and rain will bead up instead of soaking into the surface. Typical weather and normal wear and tear won't damage the stone countertop.
2. Pay Attention to the Upkeep Requirements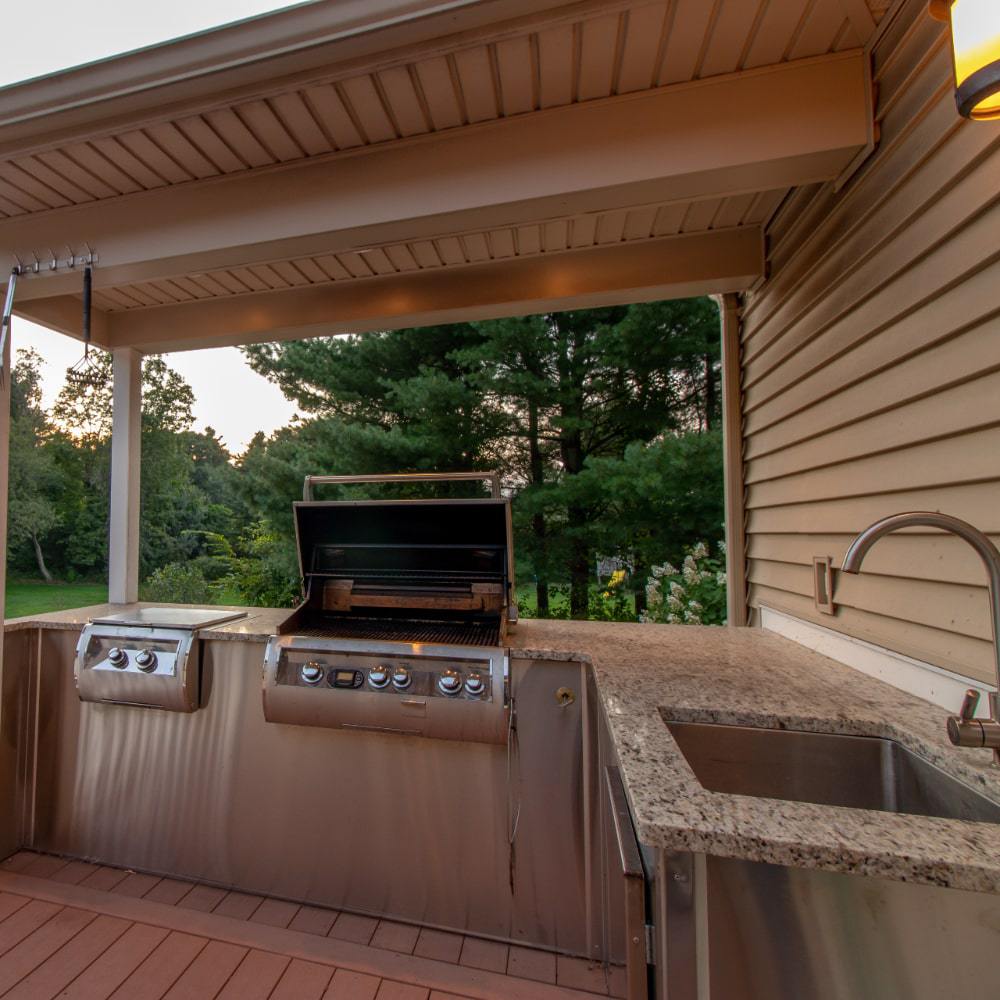 Let's be honest. Most of us don't want to spend much time maintaining our homes. So instead, we look for the easiest ways to keep everything in good shape without significant effort.
If that sounds like you, your outdoor kitchen remodeling project needs granite countertops. You get the benefit of stylish designs combined with low maintenance.
Yes, marble is gorgeous, but it has to be resealed at least annually, and sometimes, more often than that. However, once the granite countertop is sealed and installed, you don't have to maintain it or worry about resealing it for years.
Cleaning is a breeze, too. Other countertop materials require specific products to clean them without damaging the surface. You can use nearly anything to clean granite. Just wipe away the dust and debris that accumulated since the last time you used your kitchen, and get back to using it without a hassle.
If your goal is as little upkeep as possible, go with granite. An excellent choice is MSI's Blanco Tulum. This mostly eggshell-colored Brazilian import is versatile enough to use throughout your outdoor kitchen, seamlessly transitioning into your home.
You'll find the classic taupe and obsidian-speckled Blanco Tulum countertops in commercial and residential rooms because it's durable, stylish, and easy to maintain. With Blanco Tulum and other granite counters, you'll rarely have to repair or reseal the countertops. If you do, you can probably do it on your own easily.
3. Plan for Damage Control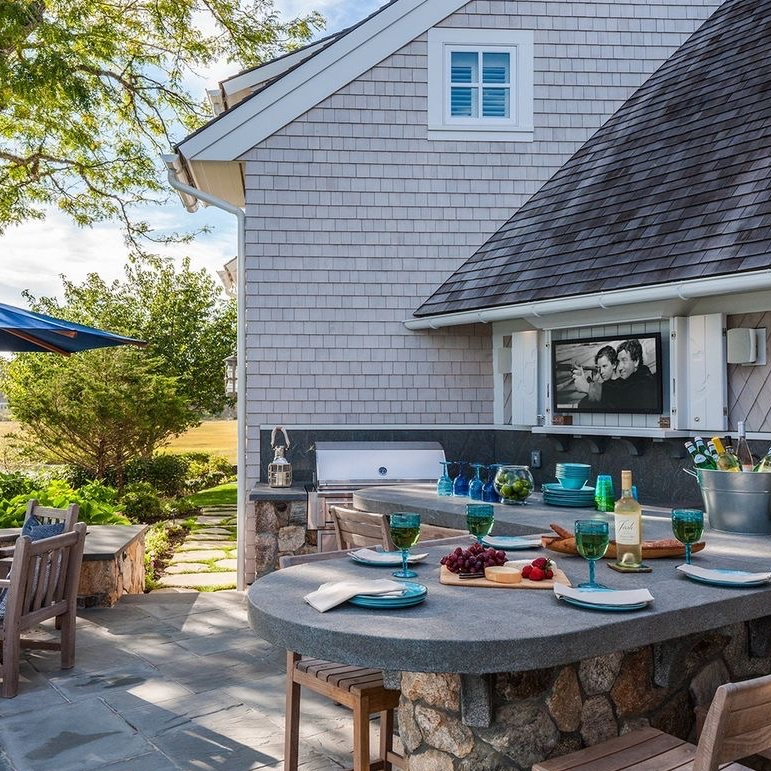 Countertop scratches, nicks, and stains are a part of kitchen life in the best of environments. Unfortunately, outdoor kitchens are more prone to damage, and if you have kids and pets, well, you know how hard it can be to keep everything in perfect shape.
If you plan to cook with air fryers and crockpots, your countertops will be exposed to high temperatures for extended periods. Even if you use a trivet (which we recommend), the countertop may "feel the burn."
Granite countertops reduce potential damage from hot appliances and pans. They're heat-resistant enough that you can remove a pot straight from the stove and put it on the counter without harm.
Stains, scratches, burns, and other damage don't stand a chance against well-designed granite countertops. However, if you're worried about wear and tear, you might benefit from Nero Mist black granite countertops.
The soft veins and flecks against a backdrop of deep black hues create a dramatic, bold effect that hides much of the damage done by kids, outdoor animals, and the environment. Since black is always in style and complements almost everything, you can't go wrong with Nero Mist.
4. Learn How to Eliminate Stain and Germ Issues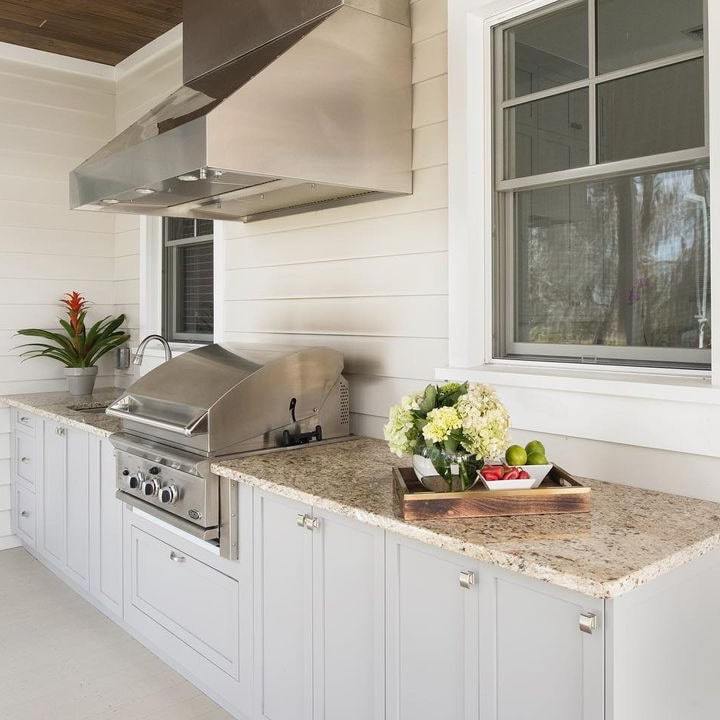 Kitchens are prone to staining and a breeding ground for bacteria (second only to the bathroom in your home). However, outdoor kitchens experience these issues on a higher level, so early planning for stains and germs is the best way to control them.
Granite is porous, but the sealer prevents your stone countertop from absorbing liquids quickly. So you'll have plenty of time to clean up those spills before they become an accidentally permanent part of your counter's original granite colors.
Including an edge treatment limits how far stains can spread, which is why many kitchen designers consider this part of planning a must-have.
However, if you're concerned about spills and scratches, check out MSI's African Rainbow granite. The coarse ivory and alabaster grains plus multi-colored veining in this stone complement any outdoor kitchen look. As a bonus, these features hide dirt and stains until you're ready to clean them up.
Level Up Your Outdoor Kitchen With Professional Granite Countertops
We understand that designing an outdoor kitchen is exciting, and you'll want to rush to get to use it! But to ensure it lasts long enough to make plenty of memories in the future, it's vital to use high-quality products and get professional installation through reputable companies like MSI.
When you're ready to move forward on your kitchen design renovation or any home improvement projects, contact our expert staff via live chat or head to an authorized dealer in your area.
Learn More About Granite Countertops
Find Your Perfect Granite Countertop With The MSI Kitchen Design Tool
Introducing 4 New Granite Kitchen Countertop Colors
Create The Perfect Outdoor Kitchen With Granite Countertops
How To Keep Your Granite Countertop Looking Brand-New