Popular
What'S Hot Underfoot: Porcelain Pavers Demystified
October 15, 2017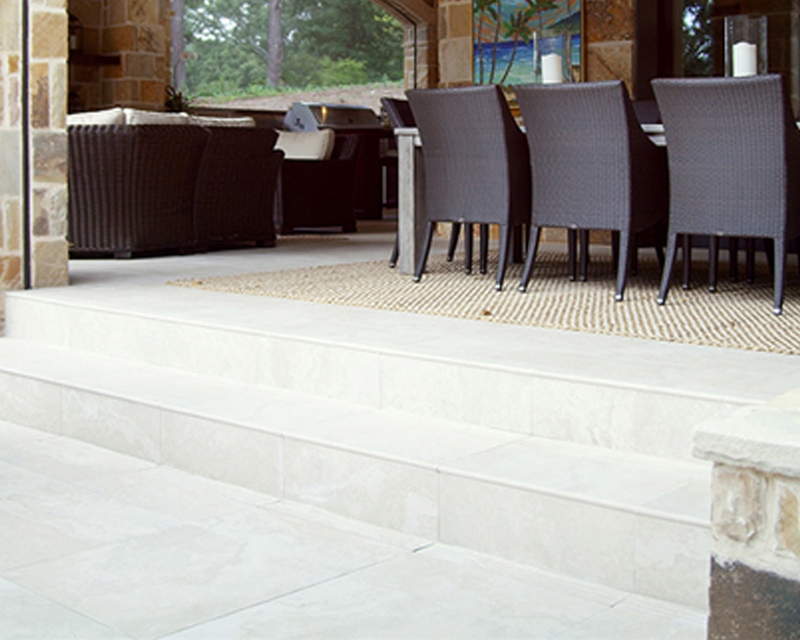 Creating outdoor spaces that feel as cozy and pulled together as our inside rooms? It's a trend we live by. Spending our downtime tucked away in the comfort of our backyards is a little bit of heaven. But because we're in the trade, we keep at least one eye open and focused on all things hardscape related.
So what do we look for when curating exterior products like Arterra Porcelain Pavers? The collection has to check off a bevy of boxes: reflect what's relevant in indoor design today (think: wood looks or quartzite); pass a rating system designed by our team of experts (a.k.a. our fleet of geeks); offer up something unique (Arterra's both an indoor and outdoor collection); and pass the question "Would we install it in our own backyards?" If there's an echo of "Yeses" up and down the halls here, then it's a go go.
It may have been its chic looks, durability, and ease of maintenance that caught the attention of our design team, but it was its performance in above average temps that cinched the deal for our entire crew.
To provide a bit of context, and share Arterra Porcelain Pavers best practices, we sat down with our Quality Control and Product Teams.
Since one question comes up quite a bit "In direct sunlight and scorching temps, how comfortable do these pavers feel to bare feet?", we started there, and let the conversation evolve.
________________________________________________________________________________
Q. You're living in the California desert with your family and you just installed a swimming pool. With young kids to consider, would you recommend installing Arterra Porcelain Pavers around the pool?
A. After baking in the afternoon sun, many stone and concrete surfaces could easily reach a temperature that's too hot for walking barefoot – especially in that part of the country. In comparison, porcelain is often cooler to the touch. For poolscapes and other areas with extreme sun exposure, we recommended installing lighter color porcelain pavers.
________________________________________________________________________________
Q. So you're saying the color of the porcelain paver determines how hot it gets?
A. As a rule, the darker the shade, the more heat it holds. All paver materials absorb heat differently, but they share that commonality. So colors—more than material—determine ground surface temperature.
________________________________________________________________________________
Q. In areas of the country where summer days reach and exceed 100 degrees, you'd recommend our lightest shade, Tierra Ivory?
A. That's correct, light-colored porcelain pavers will be more comfortable underfoot. Due to its potential to generate a higher surface temperature, a darker shade like Pedra Azul is better suited for a shady area or a northern climate.
________________________________________________________________________________
Q. There's a lot of talk these days about the heat island effect and how it influences the environment – can you explain how that relates to Arterra Porcelain Pavers?
A. Light-colored hardscapes have a higher Solar Reflectivity Index (SRI) – which is a numerical value placed on a surface's ability to reject solar heat rather than absorb it. (The lower the SRI, the hotter a material is likely to become in direct sunlight.)
To promote sustainable design in urban commercial zones, porcelain tiles with a high SRI rating like Tierra Ivory Arterra Porcelain Pavers are recommended for lowering a property's heat island effect and reducing its carbon footprint. (Materials like concrete absorb and generate more heat - which leads to elevated temperatures where more energy is consumed, higher AC usage in particular.)
________________________________________________________________________________
Q. What do you recommend for homeowners in colder climates?
A. The issue of color isn't as important in cooler temperatures. But in places with extreme temperature fluctuations like the Northeast, there are other considerations. If weather dips below 32 degrees, water absorption can be troublesome in a freeze/thaw cycle.
Water expands as it freezes and can easily crack the surface of cement and other weaker pavers.
A frost-tolerant hardscape like Arterra Porcelain Pavers is made to withstand extremes. It's resistant to thermal shock and impervious to water absorption, so it won't weather or stain like cement or some natural stones.
And there you have it. Still have questions about Arterra Porcelain Pavers? Check out our previous post, Porcelain Pavers Myths Debunked. Or reach out, we'd love to hear from you.
READ MORE ABOUT CREATING OUTDOOR SPACES with PORCELAIN PAVERS
Arterra Porcelain Pavers with Zero-Slip Technology
Build the Perfect Patio with Porcelain Pavers
Get the Look of Travertine with the Legions Porcelain Pavers Collection
Porcelain Pavers That Perfectly Mimic Travertine Tile
READ MORE ABOUT THE DIFFERENT TYPES OF PORCELAIN TILE
Top 5 Reasons to Choose Porcelain Tile For Your Bathroom
Top Tips for How Nanotechnology Is Used On Printed Porcelain Tile