Porcelain Tile That Looks Like Marble
March 21, 2017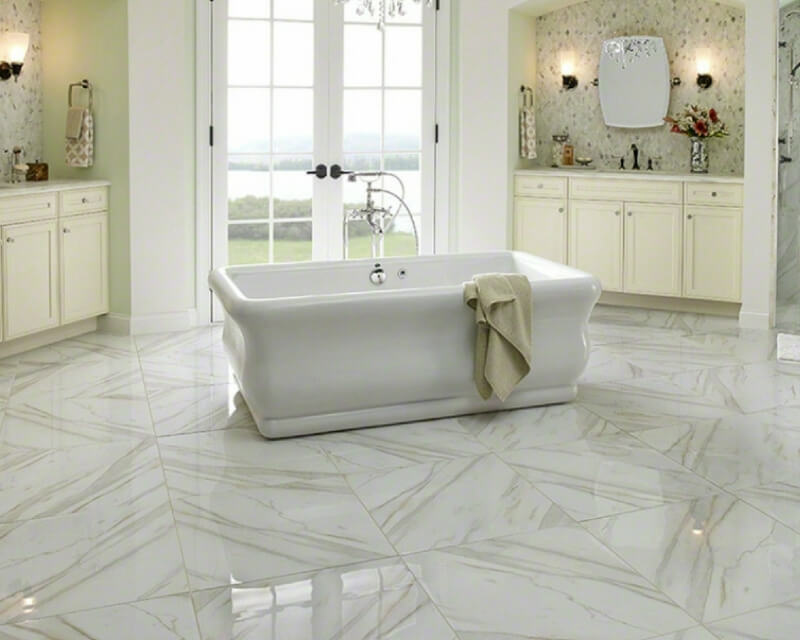 Do you long for luxurious natural marble stone tile in your home, but just can't afford it? Well, there's good news. While affordable replicas of the past looked like painfully obvious imitations, today's marble-look porcelain tile options can finally give you the authentic marble look you've always dreamed of, at a price you can afford. Not only are these tiles durable, but they're also nearly indistinguishable from the real thing!
Take a look at these five marble-look tiles, and we'll have you looking twice.
Carrara Pietra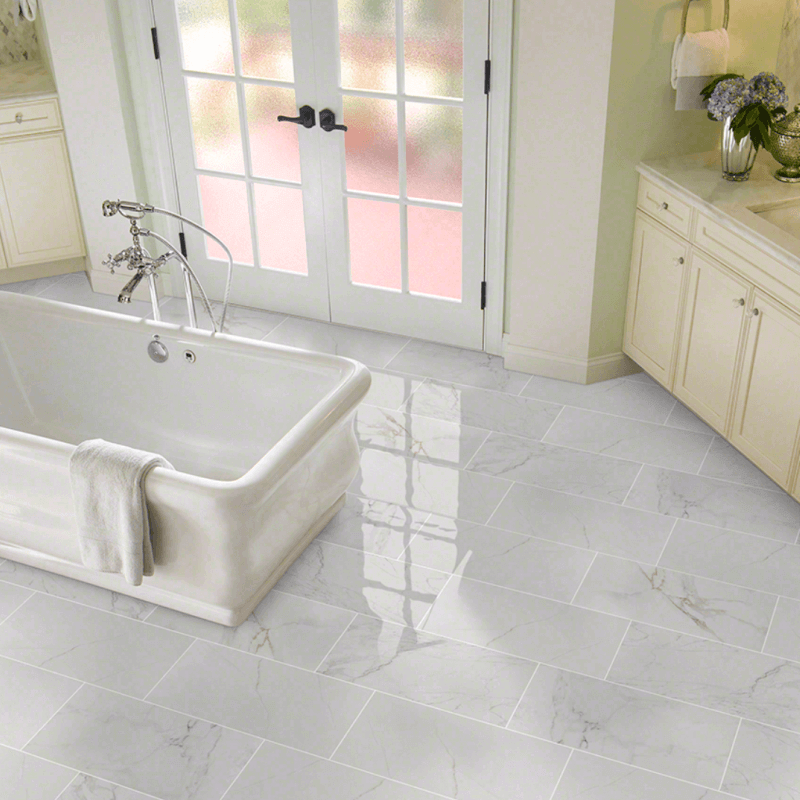 Featured: Carrara Porcelain
Low-maintenance porcelain tile flooring is an excellent choice for a heavily used place like a bathroom because you won't have to worry about having to seal it. This space features Carrara Porcelain from the Pietra Collection.
These large-format, 12x24 tiles offer the dramatic gray veins found in natural marble and come in a polished or matte finish. Another porcelain plus is that because the coloring and texture run throughout the entire body of the tile, any scratches or chips nearly vanish.
Marfil Pietra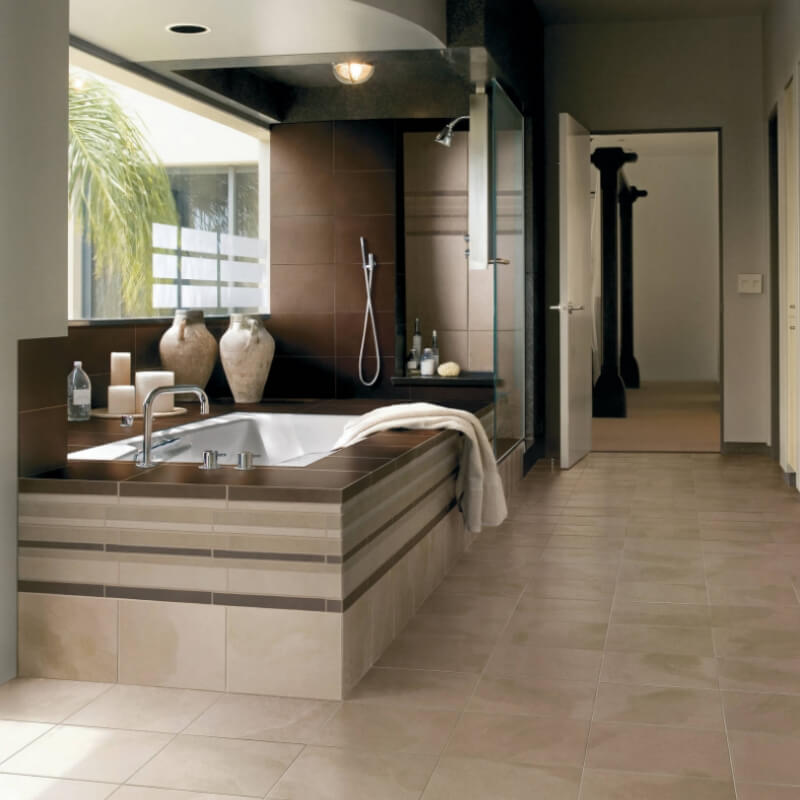 Get this look with MSI's Marfil Porcelain (Photo credit: Houzz)
Looking for something with a little more color? Marfil Porcelain from the Pietra Collection is made up of subtle whites, creams, and light veins. It's similar to the classic cream and tan undertones found in Crema Marfil Marble, a spectacular marble from Spain.
However, the porcelain version will keep its coloring for just about forever. This spa-like bathroom carries the 18x18 glazed tiles from the floor to the tile tub surround for a seamless transition.
Ice Aria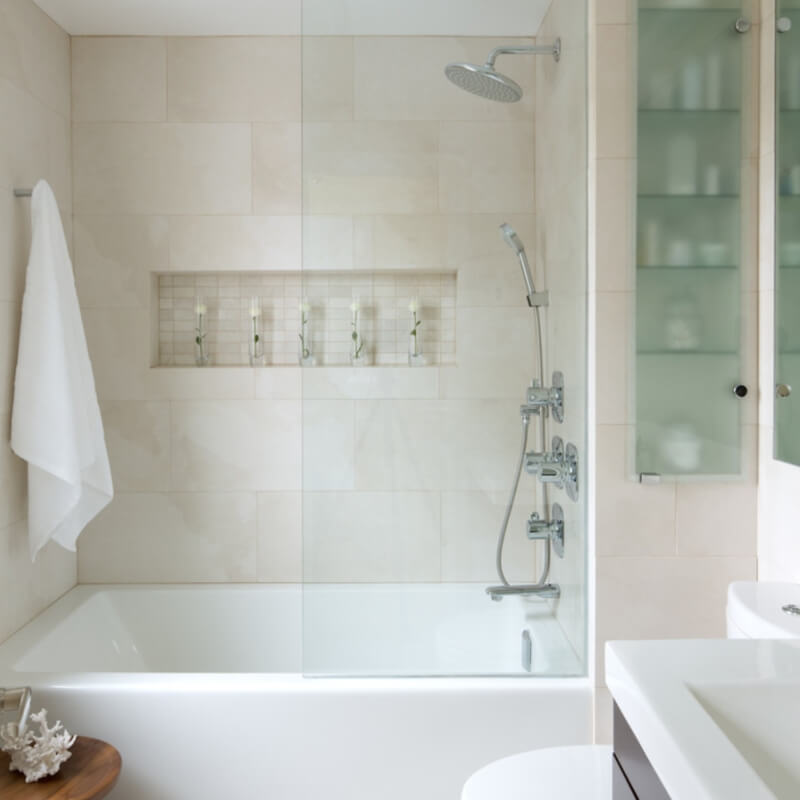 Recreate this look with MSI's Ice Porcelain (Photo credit: Houzz)
For a stunning bathtub surround, consider Ice Porcelain tile from the Aria Collection. The whites and light gray veins mimic the natural layers and variation found in fine natural marble. These 12x24 polished tiles are virtually maintenance free, stain resistant, and water repellant.
Calacatta Pietra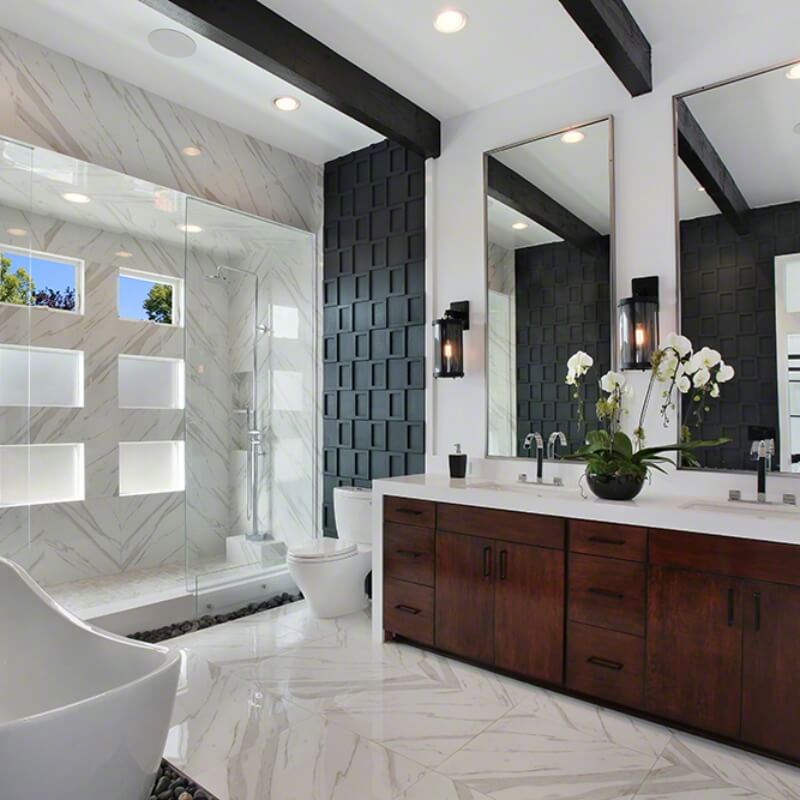 Featured: Calacatta Porcelain
Create an even more dramatic look using Calacatta Porcelain tile from the Pietra Collection. This modern master suite bathroom is impressive with its sweeping whites and creams, complemented by the elegant gray and brown veins of the flooring and wall tile.
This tile comes in 12x12, 18x18, 12x24, and 24x24 sizes to best suit your flooring, countertop, or backsplash needs. This timeless and elegant look works well in both contemporary and traditional designs.
Statuario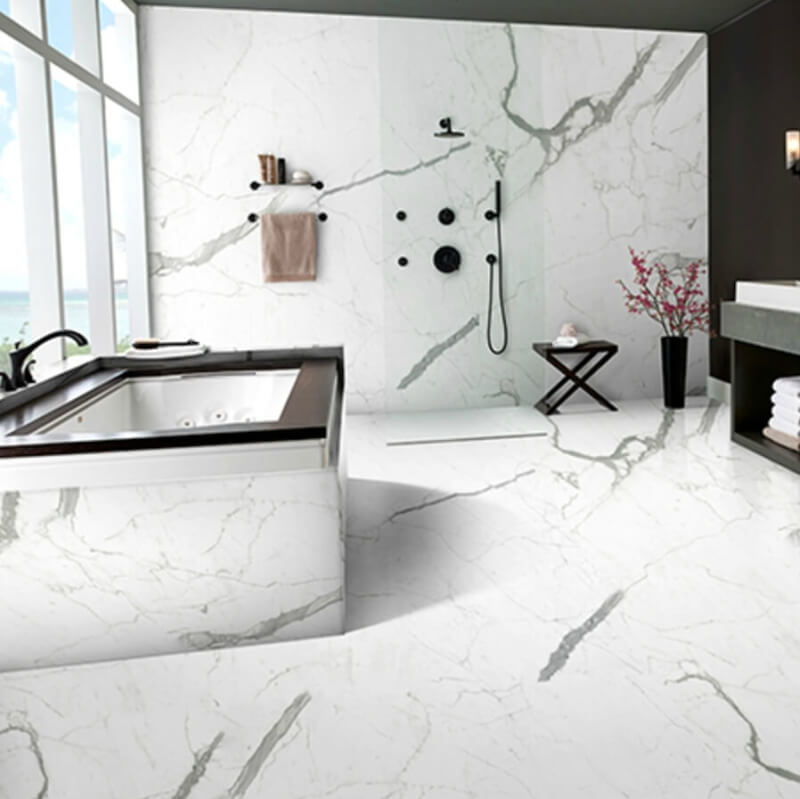 Featured: Statuario Polished Porcelain
Imagine being able to enjoy this luxurious wet room every single day! This bright and beautiful bathroom retreat features Statuario Polished Porcelain, the most exclusive Italian marble look with its clean whites and lovely gray veining from the Altissimo Collection.
For even less maintenance, it's available in 59x118 slabs, which means fewer grout lines to scrub! As part of MSI's Stile Thin Porcelain line, these lightweight panels are only 6mm thick, so they can even be installed over your existing materials. These panels look just like marble tile but are ideal for kitchens and bathrooms because they're also nonporous and resistant to etching, stains, and heat scorching.
So when you're ready to get the marble look without any routine maintenance, take another look at marble lookalike porcelain, and fall in love all over again!
READ MORE ABOUT PORCELAIN TILE with NATURAL STONE LOOKS
Add Classic Style and Warmth with Asturia Marble-Look Porcelain Tiles
THE REGALLO COLLECTION OF MARBLE LOOK PORCELAIN TILE
How to Successfully Pair Real Marble with Marble-Look Porcelain Tile
The Delicate Look of Athens Marble In Durable Porcelain Tile