Creative Uses For Stacked Stone: Beyond Exteriors To Chic Interiors
November 08, 2023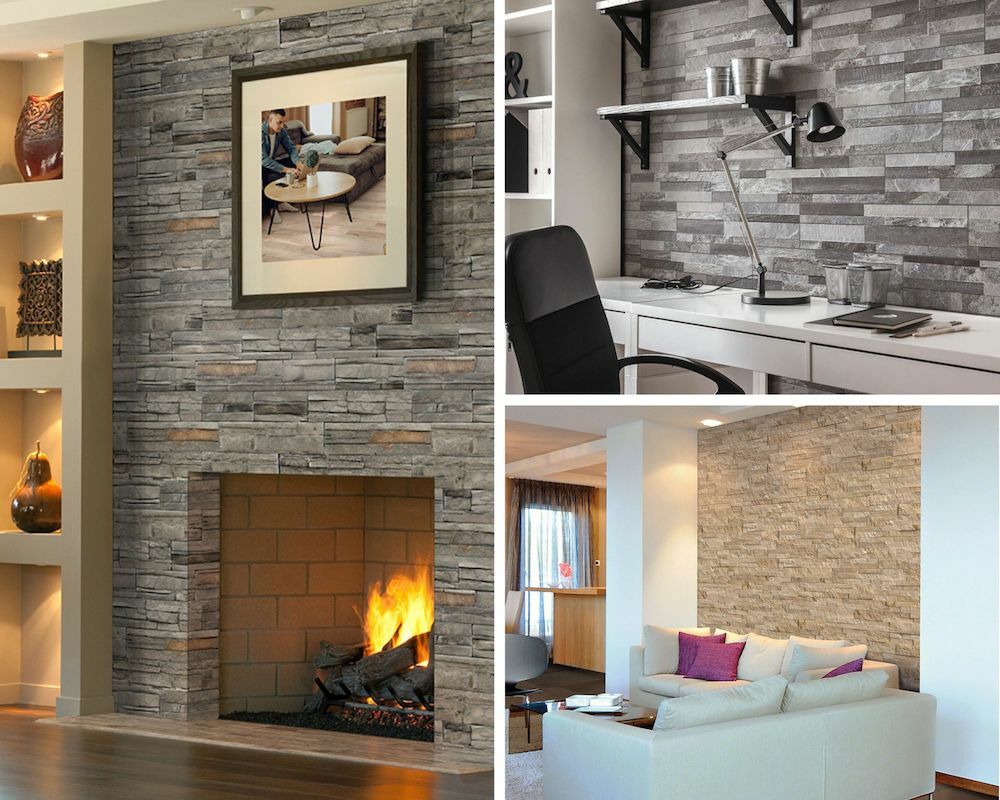 Made from natural stone, veneer, porcelain, and more, stacked stone can add a touch of glamour to any area. It's stunning and versatile, enhancing indoor and outdoor spaces through natural elegance and remarkable durability. Diverse color palettes offer ample opportunities to get creative and transform your indoor or outdoor space into an inviting oasis.
Stone panels beautifully enrich various indoor rooms, from shower surrounds and accent walls to dividing walls and fireplace surrounds. Whether you prefer the minimalistic appeal of modernity or the soothing tradition of rustic aesthetics, stone panels can be the perfect finishing touch.
At MSI Surfaces, we offer a full range of ledger stones and panels, from authentic stone to sleek porcelain panels. Read on as we explore a diverse array of interior applications for this material to help you elevate your home with beguiling contrasts and complementary features.
Rockmount™ Stacked Stone Collection
Featuring full-sized and mini panels, the Rockmount™ Stacked Stone Collection offers natural stone panels in colors and finishes that go with everything from contemporary chic to refined rustic. The materials vary, including marble, slate, travertine, and quartz, supplying options with unmistakable character and peak authenticity.
These stones are ideal for various applications, from planter and accent walls to barbecue and fireplace surrounds. The miniature versions in the Rockmount™ Stacked Stone M-Series Collection are perfectly sized for petite uses, such as backsplashes, feature walls, accent borders, and much more!
Durango Cream Stacked Stone Accent Wall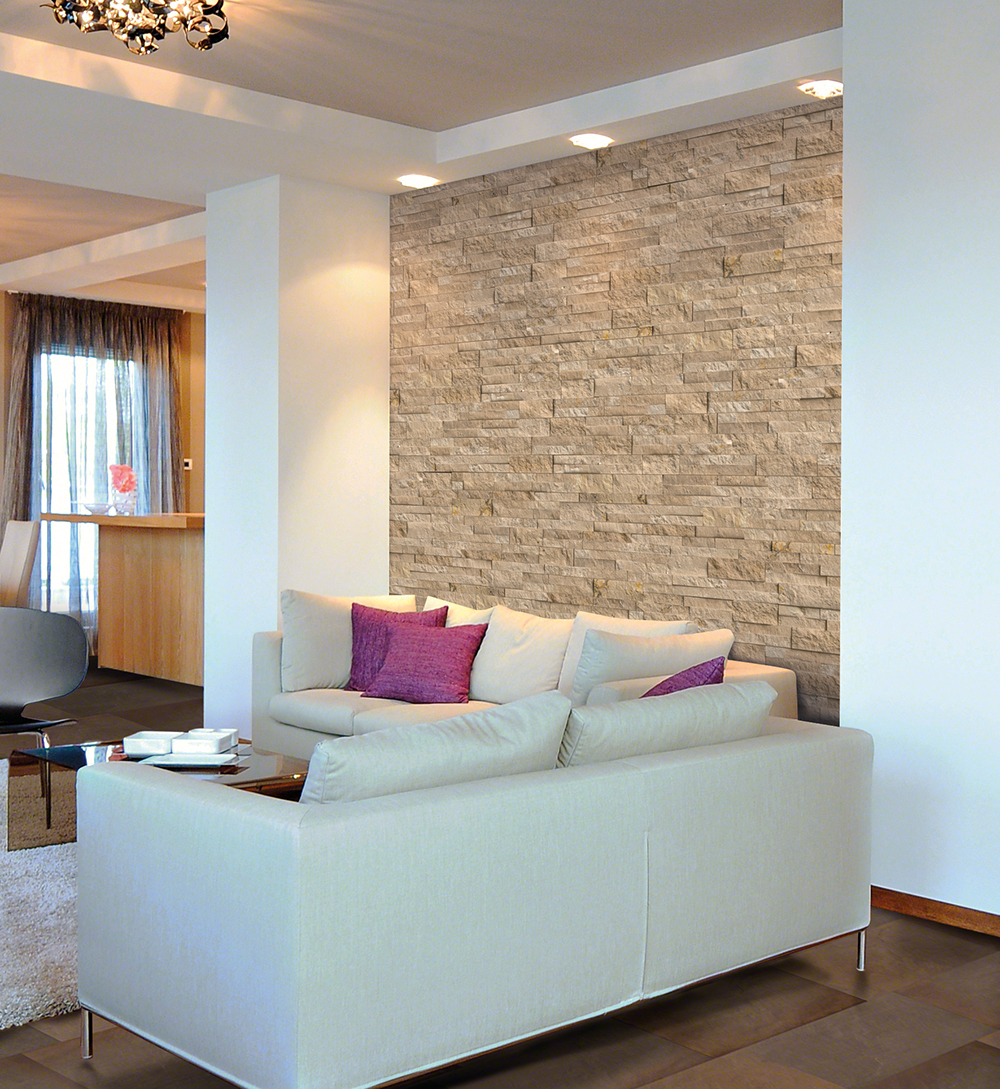 Durango Cream Stacked Stone
The creamy beige of Durango Cream offers a captivating contrast as an accent wall. Its cozy neutral hues add a touch of warmth, complementing the wood components throughout the space. It graces the room with natural elegance, accommodating varying preferences, from delicate tastes to bold, trendy styles.
M-Series Artic White Stacked Stone Wine Storage Wall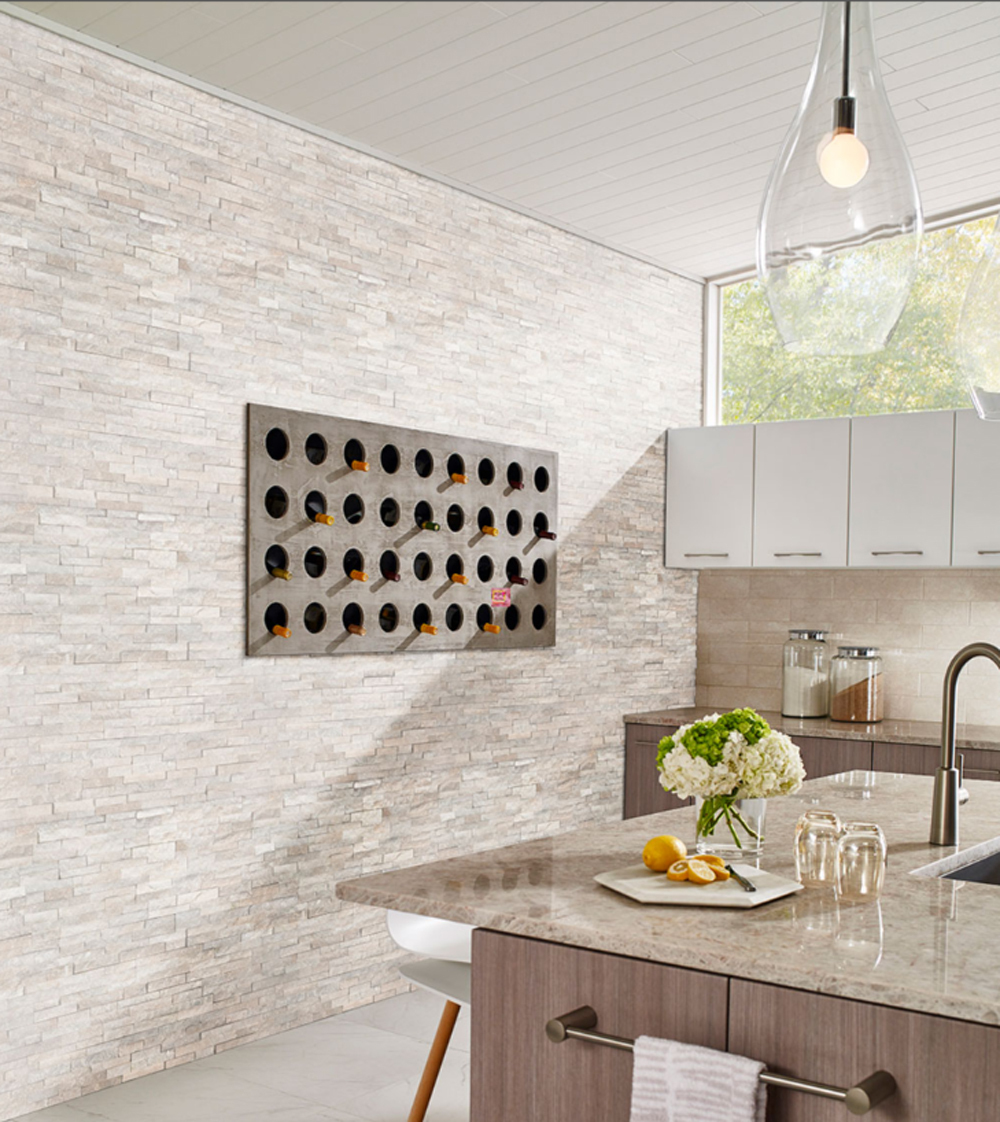 M-Series Arctic White Stacked Stone
The striking cool white hue of the M-Series Arctic White ledger panels, offset by shadows crafted by light streaming in, offers an intriguing, dynamic element to this wine storage wall. The storage compartments cradling dark bottles of wine add to the contrast, incorporating an out-of-the-box visual appeal offset by the natural, snow-white stone.
Terrado® Manufactured Stone Veneers
Engineered to mimic the genuine appeal of natural stone without the cost, Terrado® Manufactured Stone Veneers add affordable luxury and sophistication to any space. The collection features a diverse color palette, from rustic browns to snowy whites, that effortlessly enhance indoor and outdoor applications.
Copen Snow Stone Veneer Room Dividing Wall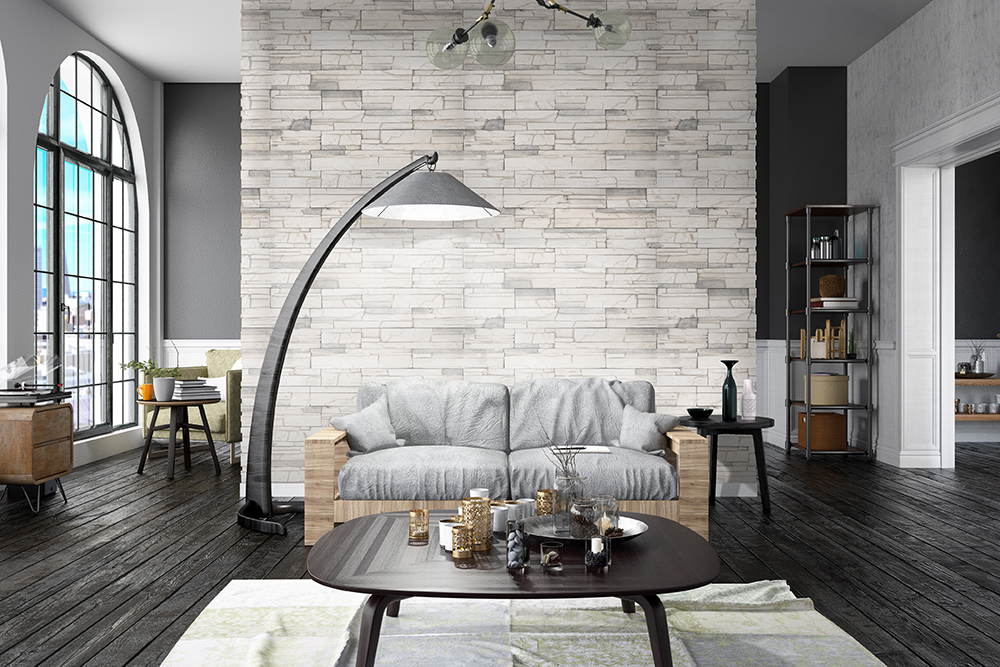 Copen Snow Manufactured Stone Veneers
The cool, dusty white pigments paired with soothing grays in Copen Snow embody modern aesthetics, adding dimension and interest. Layered one atop the other to create a dividing wall, they pull the colors of the room together into a cohesive, architecturally beguiling finish that feels open yet separate. The minimal variations of this white and gray stone veneer complement the surrounding floor, walls, furniture and other design aesthetics.
Denali Gray Stone Veneer Fireplace Surround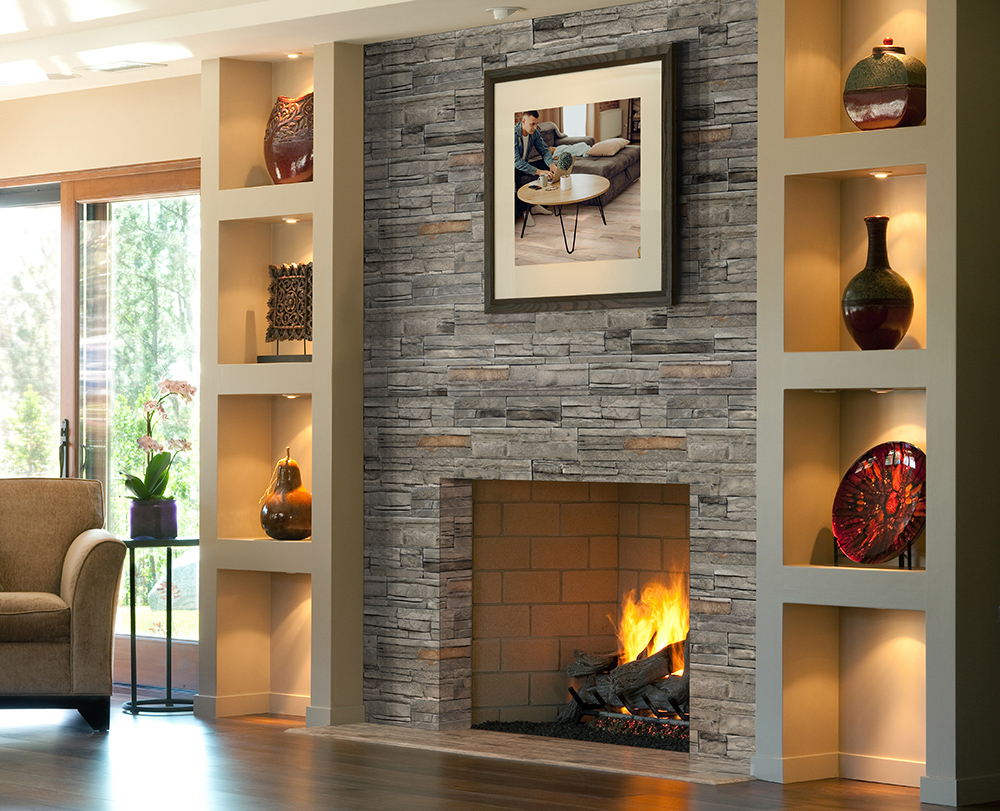 Denali Gray Manufactured Stone Veneers
The earthy light grey tones, accented by hints of charcoal and copper in Denali Gray supplement each other perfectly. Its unique color scheme offers a warm, authentic, and welcoming ambiance, blending beautifully with interior and exterior spaces alike.
Pictured as a fireplace surround, these stone panels offer calm, cozy warmth that meshes effortlessly with the earthy neutrals flanking the fireplace.
Dekora™ Porcelain Ledger Panel Collection
Constructed from porcelain, the Dekora™ Porcelain Ledger Panel Collection offers the best of effortless maintenance and durability in an attractive package. It provides the lovable traits of stacked stone without the upkeep, working beautifully in both indoor and outdoor applications.
Palisade Grey Stacked Porcelain Home Office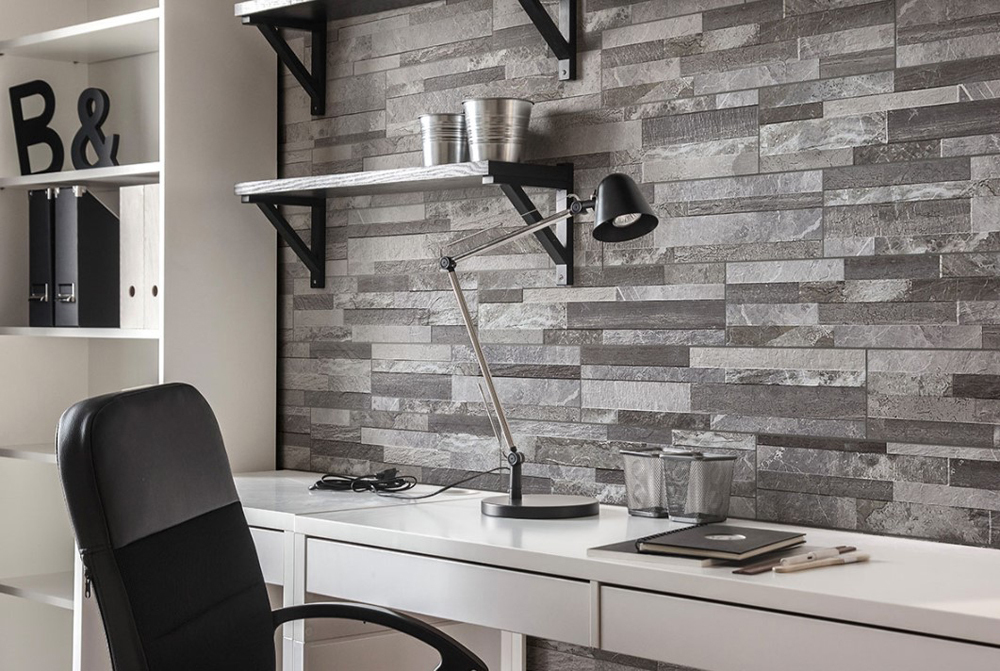 Palisade Grey Stacked Porcelain Panels
Boasting soothing greys, iconic white veins and captivating clouds like those found in marble, Palisade Grey stacked porcelain panels are perfect for spaces ranging from traditional to modern.
In the photographed home office, these porcelain panels create a striking contrast with the surrounding color palette, balancing the bright whites and deep blacks with variations of calming greys. They serve as a stunning accent to the desk, creating a modern, perfectly minimalistic finish.
Rainforest Natural Stacked Porcelain Shower Surround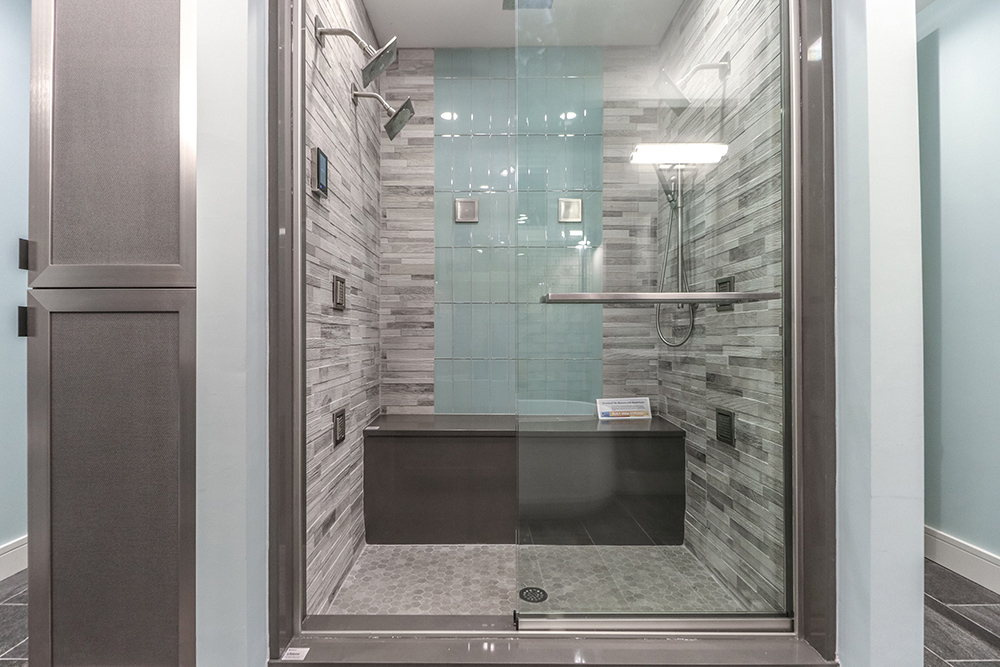 Rainforest Natural Stacked Porcelain Panels
Mirroring the natural variations of wood, these Rainforest Natural panels offer the ideal finish for any aesthetic, from rustic to contemporary. The panels boast a rich coalescence of chocolate, cocoa, beige, and cream, mirroring the enthralling distinctions of authentic hardwood.
Implemented in the depicted photo as a shower surround, these hues complement each element, tying in the dark pigment of the side walls, concrete footings, and variegated flooring to create a cohesive yet dynamic appearance.
Add Spice to Your Interiors with MSI's Stacked Stone
Stacked stone supplies a world of possibilities for enhancing the visual appeal of both interior and exterior areas. From accent walls and room dividers to wine storage walls and shower surrounds, the natural elegance of layered stone complements a diverse array of styles and color schemes.
Whether you prefer the sleek appeal of modern aesthetics or the cozy, inviting ambiance of rustic decor, stone panels can add a perfect touch of nature's beauty. Envisioning how each option will work in your space can be tricky, so if you're struggling to select the perfect fit, try our Stacked Stone Visualizer tool.
Need more help selecting the ideal decorative stone panels to elevate your home? Our expert team at MSI Surfaces can help you find it. Contact us today through an online chat, visit a local MSI showroom, or contact an authorized MSI retailer in your area!
LEARN MORE ABOUT STACKED STONE
Creating a Rustic Look with Stacked Stone Feature Walls & Fireplaces
Choosing the Right Stacked Stone: A Guide to MSI's Popular Collections
Introducing the Latest Additions to the Dekora Porcelain Ledger Panel Collection
Surprising Places You Can Use Stacked Stone on Your Exteriors