Experts Weigh-In – Is A Subway Tile Backsplash Too Traditional?
June 04, 2018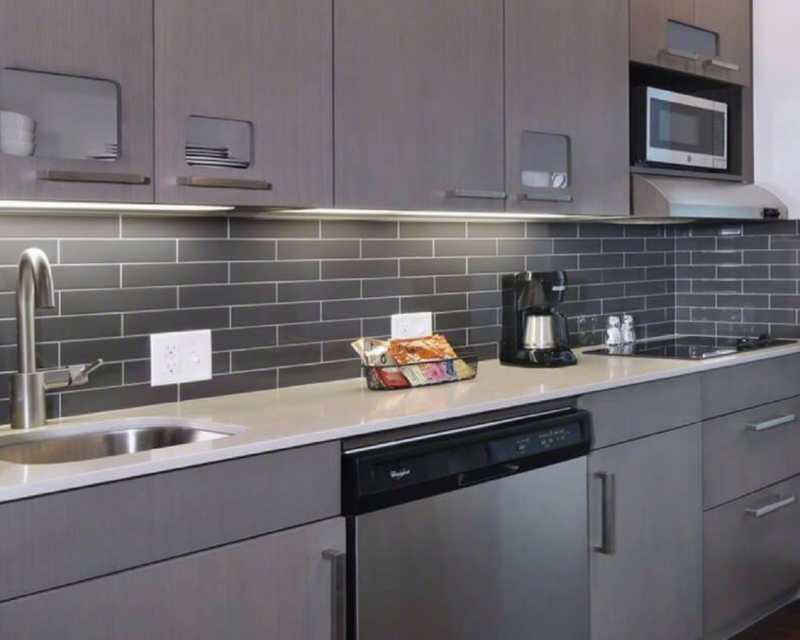 Some interior design materials and elements have been used for hundreds or even thousands of years, and the nature of classic design is to always be on trend. While subway tile is a perfect example of a classic backsplash that should stand the test of time, some may argue that it's too traditional to keep up with current décor styles. Of course that's not the case!
Today, many interior design experts aren't reinventing the wheel when it comes to subway tile; they're just making the wheel better by going beyond the simple white subway tile.
They're able to see this backsplash design with new eyes by reimagining and reinterpreting classic styles into something fresh and modern. Let's take a look at some of the favorite new ways professionals are using subway tile!
Metallic Gray Bevel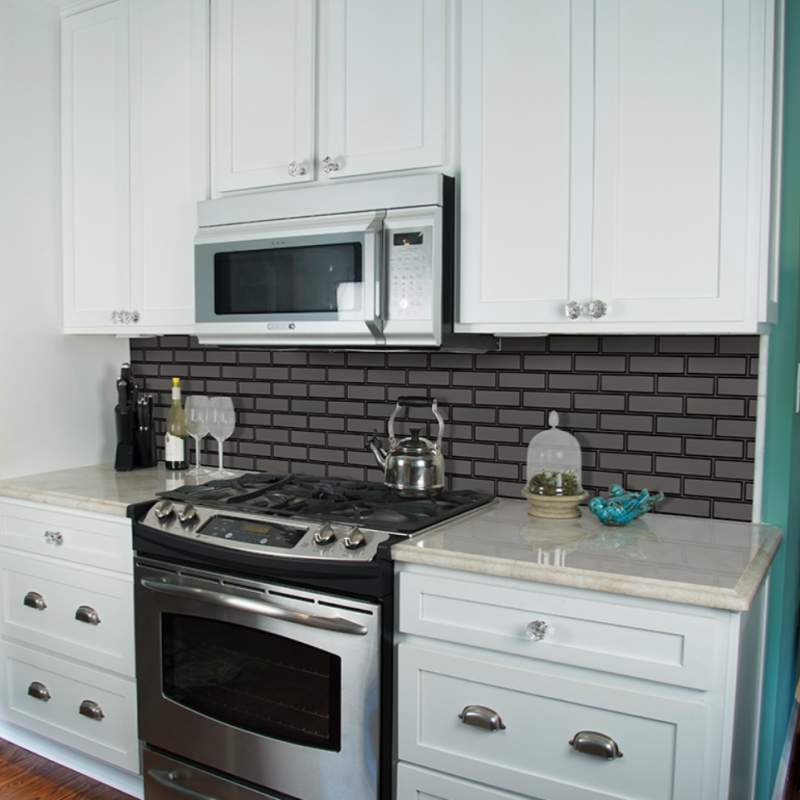 Featured: Metallic Gray Bevel 8mm Subway
Create a backsplash tile in a slightly slimmer size and a new material, and you get a totally different look. Metallic Gray Bevel 8mm Subway is a 2x6 crystallized glass tile in a mid-tone gray with a contrasting beveled edge that emphasizes the brick-style look.
You might not expect to see this kind of on-trend, gray backsplash in a more traditional design, but it blends in nicely with the stainless steel appliances and makes the white cabinetry stand out even more. While it is darker in tone, the material will reflect light, especially when turning on the microwave surface light at night.
Gray Glossy Subway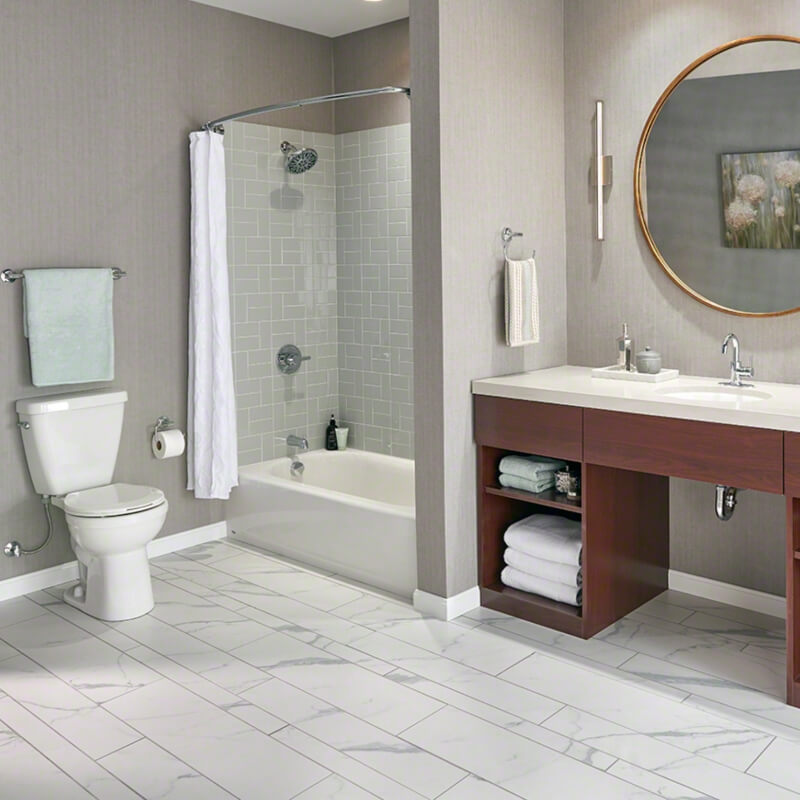 Featured: Gray Glossy 3x6 Subway
Arrange your subway tile in a new layout, and you'll have people fooled into thinking you've installed a totally different type of tile. Gray Glossy 3x6 Subway is the traditional size, but it comes in a misty gray-hue with a high sheen and clean lines.
This contemporary bathroom features the updated ceramic mosaic tile in a pattern similar to a crosshatch for something fresh.
Arabescato Carrara Subway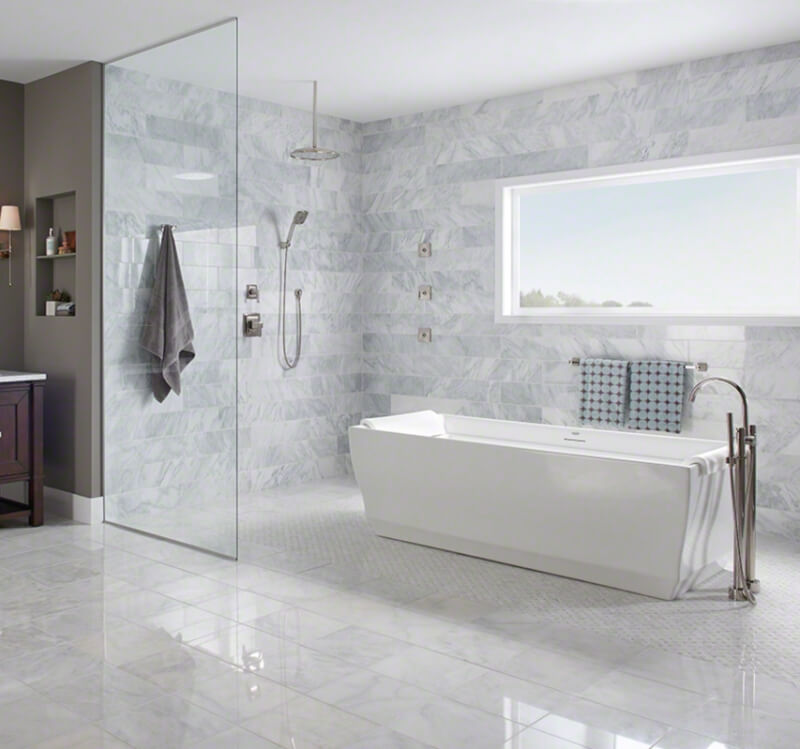 Featured: Arabescato Carrara 4x12 Subway
While some may also think of marble as a more traditional material, it can certainly be used in modern spaces. Arabescato Carrara 4x12 Subway is an oversized subway tile with a soft white background and gray veining.
The luxurious master bathroom features this modern tile in the spacious wet room. It certainly gives the large shower an elegant, timeless, yet modern look.
White Subway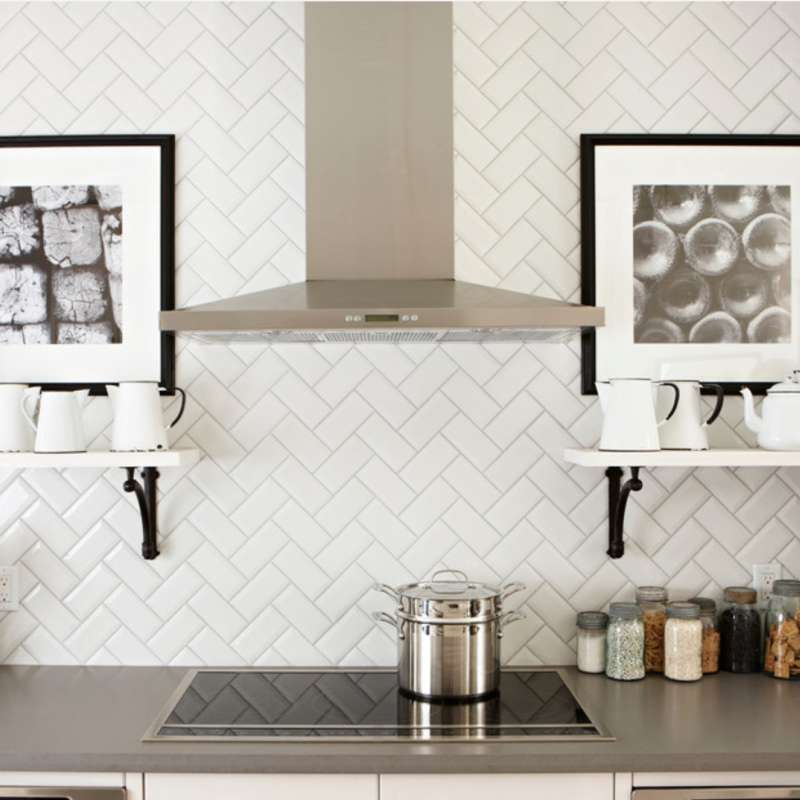 Get a similar look with MSI's White 3x6 Subway (Photo Credit: Houzz)
One way to reinvent tile is to try a different layout or pattern. White 3x6 Subway is the timeless and classic white ceramic backsplash you think of when you hear the words "subway tile". However, this transitional kitchen is given a more updated look with the herringbone installation, a popular trend in interior design flooring to backsplashes.
It also features a combination of styles with the open shelving and classic black-and-white prints paired against the modern hood range. If this pattern peaked your interest, then check out this article on how to arrange subway tile.
Ice Bevel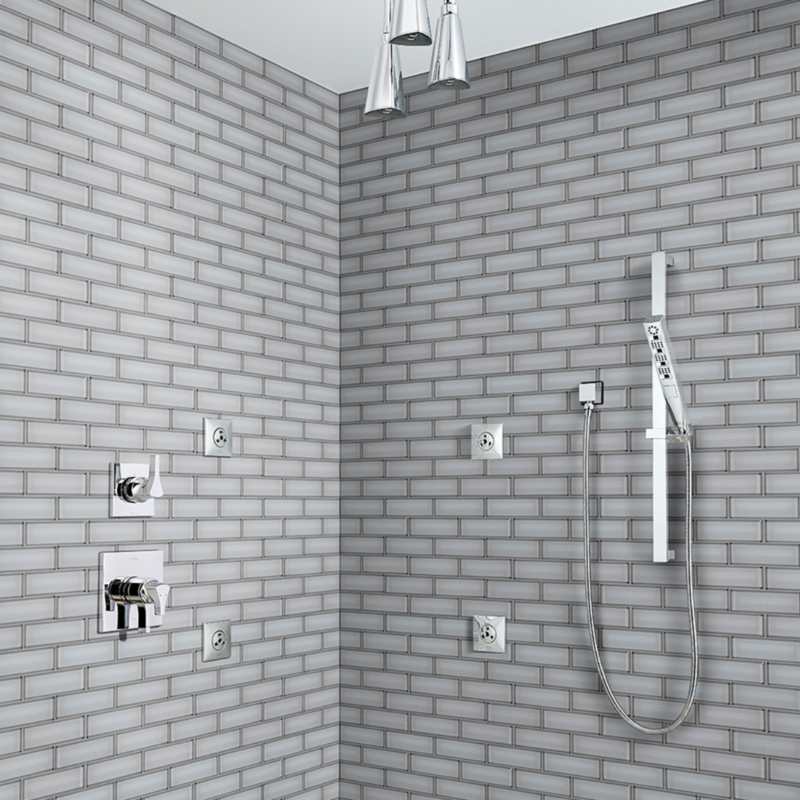 Featured: Ice Bevel 2x6x8mm Subway
Sometimes it's the combination of elements that makes the materials look new again. Ice Bevel 2x6x8mm Subway is another glass tile but in a soft neutral gray tone with darker beveled edges. The 2x6 tiles installed in this shower combined with several sleek showerhead and sprays along with the three-tiered chrome lighting fixture all make for a magnificent and modern monochromatic look.
Today's trends can become tomorrow's classics, and we believe that's the case with these updated versions of subway tile. When you take a classic backsplash tile like this one and use it in a current way, you'll end up with a timeless and versatile look you'll love now and for years to come.
Whether you want one of these expert picks or one of the many inspirational subway tile choices offered by MSI, you'll find the right one for your space.
READ MORE ABOUT MSI BACKSPLASH TILE
Does Backsplash Tile Really Protect The Wall?
Easy Ways To Make Your Backsplash Tile And Countertop Match