Does Backsplash Tile Really Protect The Wall?
October 30, 2017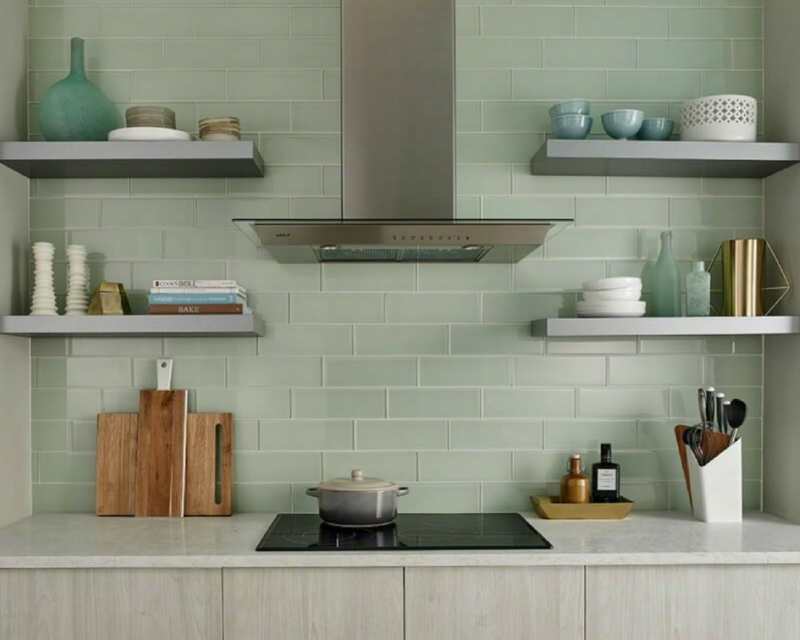 Nearly every kitchen design featured these days in blogs, magazines, or advertising shows a gorgeous backsplash. The same goes for bathrooms. The question is, are backsplashes really necessary – and will they do the job they're intended to serve?
Any family cook knows that splat happens! Grease and tomato sauce splatters are notoriously tough to clean from walls, even those covered with washable paint.
What's more, certain cleansers can rub that beautiful paint right off the wall. And paint won't protect your wall from water damage, which often occurs around sinks. Splashes drip down the wall behind the counter, resulting in damaged drywall and even mold.
It's ultimately up to you, but backsplash tile not only makes cleaning easy, they also add a gorgeous visual element to your kitchen or bath design.
A beautiful backsplash can also add value to your home. Now that's something we can all get behind. The only real question, then, is how to choose a backsplash.
Donna Teal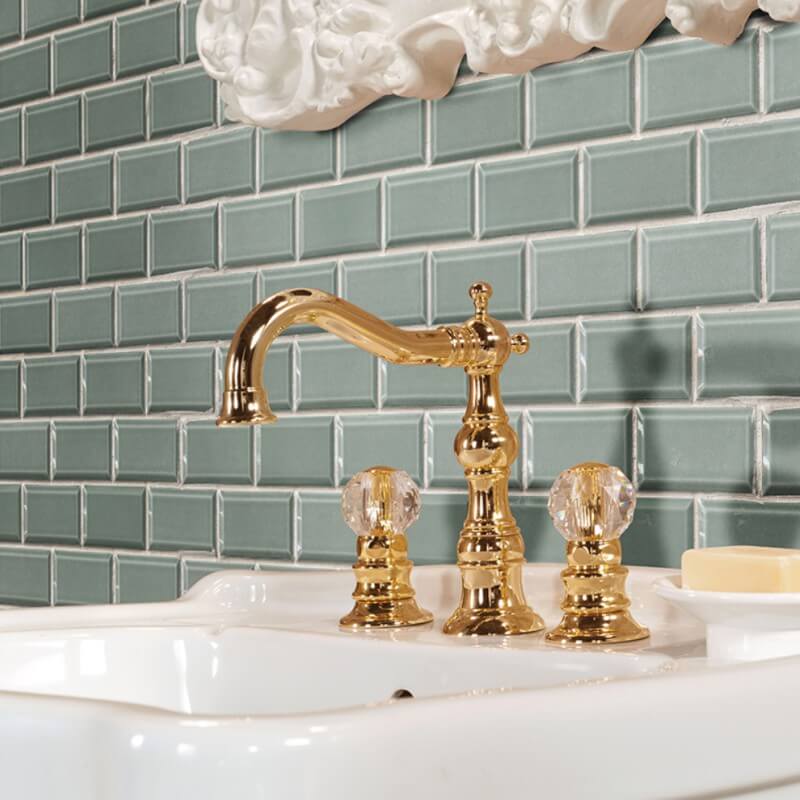 Featured: Donna Teal Subway Tile
One of the reasons for installing backsplash tile is its water-resistant properties, and this is especially important in bathrooms. With Donna Teal Subway Tile, soapy splashes and toothpaste splatters don't stand a chance.
The beveled edges give it a 3-D texture, and the soft shade of blue is soothing and relaxing. Why stop with just a small backsplash? With a tile this pretty you'll want to keep going and create an accent wall.
Aria Interlocking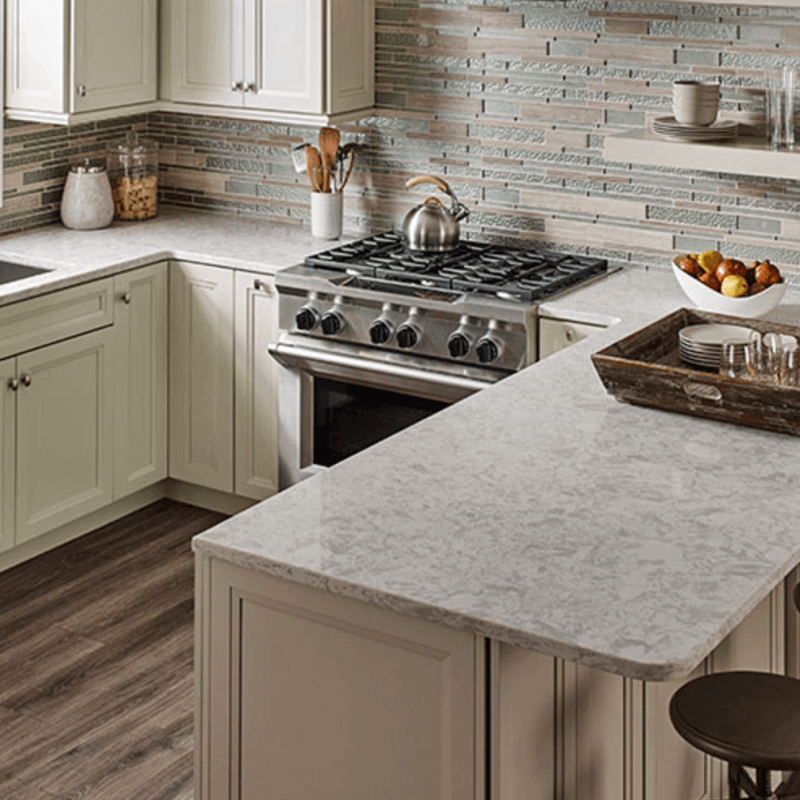 Featured: Aria Interlocking Mosaic
When you walk into a room, the first thing you notice is a room's vertical surfaces. Why waste that valuable space with a plain painted wall? Aria Interlocking Mosaic tile features a mixture of glass and natural stone tile in dramatic textures, in a soothing shade of pale gray.
The linear pattern of this backsplash tile emphasizes other horizontal elements such as shelving or a long, narrow countertop, and is ideal for a contemporary style of décor.
Keystone Interlocking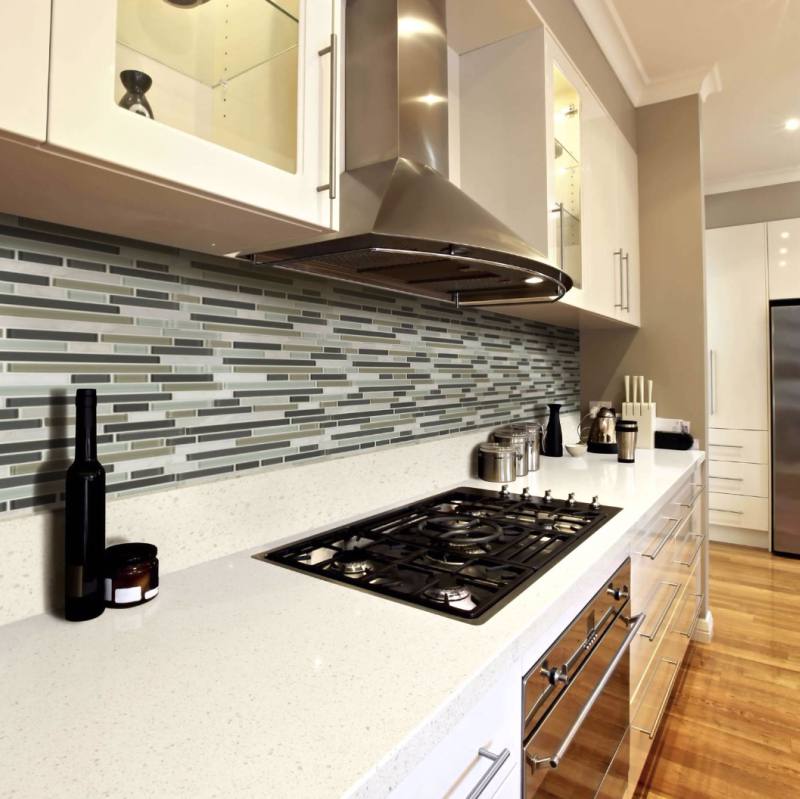 Featured: Keystone Blend Interlocking Mosaic
Continuing the countertop surface upward for a few inches is a popular option; combined with a quality waterproof grout, it solves the problem of liquids seeping behind the counter where you can't get to them.
Most designers, however, say that using the same material for the entire backsplash is a dated look. Instead, try a contrasting, complementary glass mosaic backsplash tile such as Keystone Blend Interlocking Mosaic.
Greecian White 3x6 Polished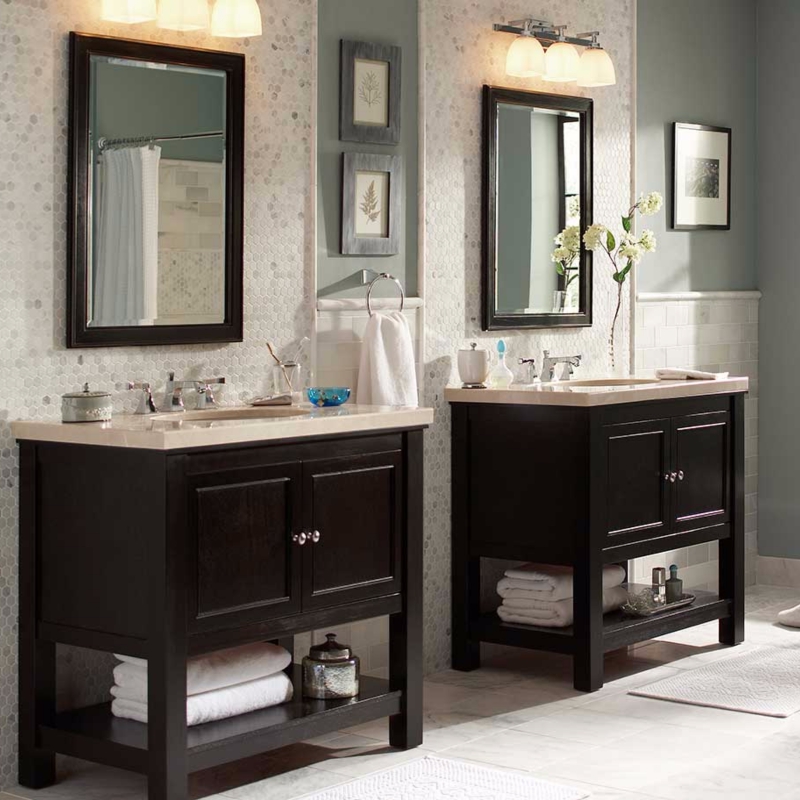 Featured: Greecian White 3x6 Subway Tile
The same qualities that make a tile mosaic great for a backsplash make it ideal for even splashier places, such as shower surrounds, or the area around a bathtub. A pale white tile with gray accents, such as Greecian White 3x6 Subway Tile, is easy to combine with other mosaic tile elements to create a look that's custom, imaginative, and upscale.
Gray Glossy Beveled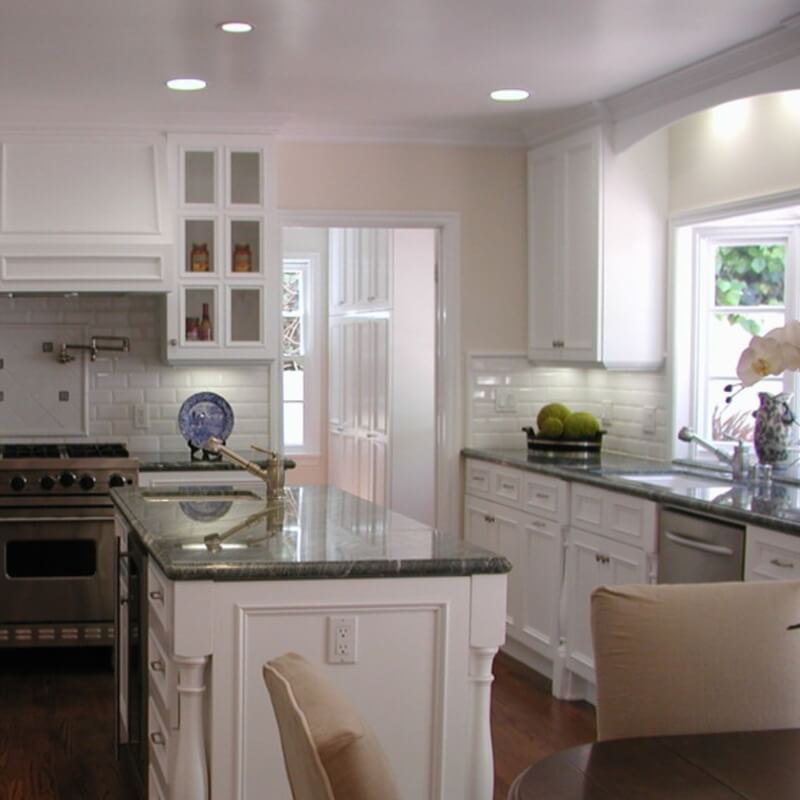 Create a similar look with MSI's Gray Glossy Beveled Subway Tile (Photo Credit: Houzz)
A super-shiny, bright tile such as Gray Glossy Beveled Subway Tile takes advantage of that kitchen backsplash space to reflect the light, making the kitchen more cheerful and airy than even the purest snowy-white paint.
Kitchen backsplash tile's ease of care is especially valuable in a light-colored kitchen; you can cook to your heart's content even the messiest dishes like spaghetti sauce without worrying about stains and trouble when it starts to bubble.
Backsplash tile has many uses and are probably one of the most versatile spaces in your bathroom or kitchen when it comes to expressing your creativity. They do protect your walls, eliminating a lot of worry so you can enjoy your time in the kitchen even with messy children.
Visit MSI's website to see all of the inspiring backsplash options to choose from.
READ MORE ABOUT MSI BACKSPLASH TILE
Easy Ways To Make Your Backsplash Tile And Countertop Match
Experts Weigh-In – Is A Subway Tile Backsplash Too Traditional?