Our Top 10 Dark And Dreamy Quartz Countertops
February 11, 2022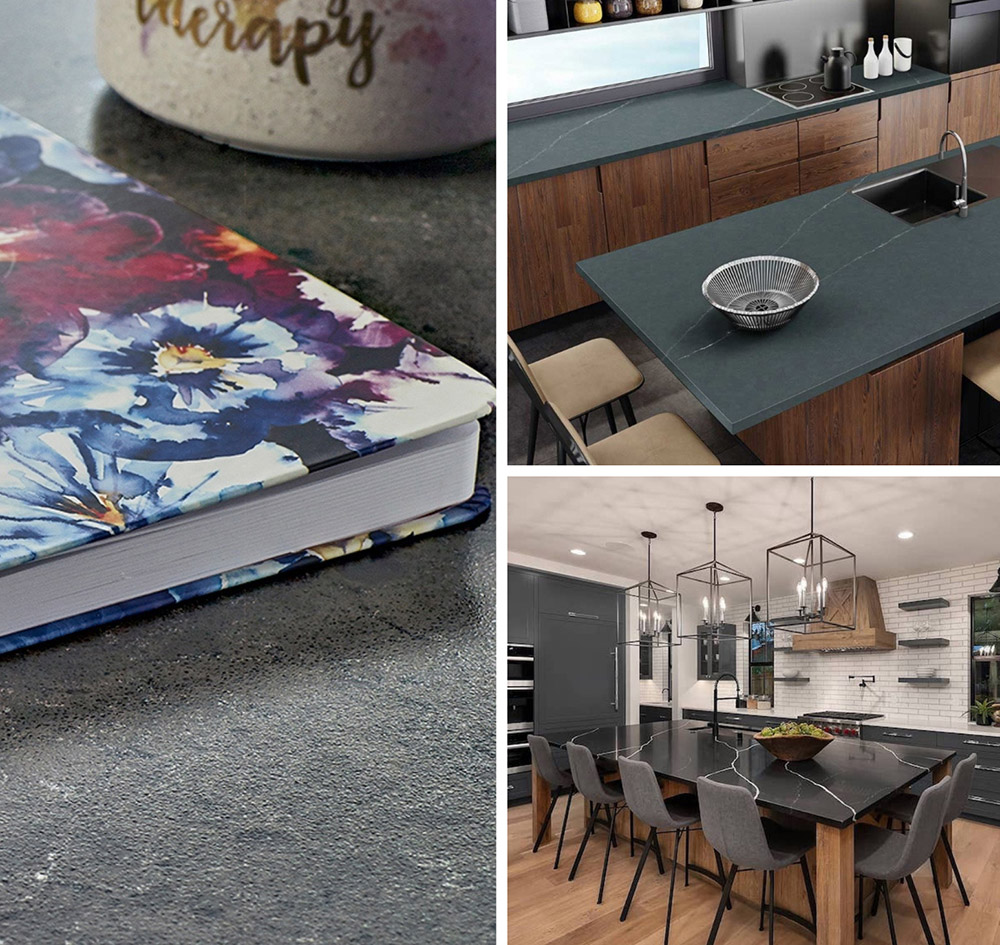 There's certainly something to be said for bright, airy kitchens and bathrooms designed with a tonal, white motif. White cabinets and quartz countertops can make small spaces feel larger and create an atmosphere of cleanliness.
However, it can take some work to maintain the pristine appearance of an all-white living space. If you choose the wrong hues, you could end up with a room that feels spartan.
The good news is there's no shortage of quartz colors to choose from. You can find neutrals ranging from light to dark, featuring cool and light tones to suit every sensibility.
Maybe you want a masculine space or are interested in offsetting light cabinets and pale flooring. Perhaps you want to add some drama and create a focal point with your counter surface.
With the right dark and dreamy quartz from MSI, you'll have no trouble designing a kitchen that's modern, attractive, and inviting.
Midnight Corvo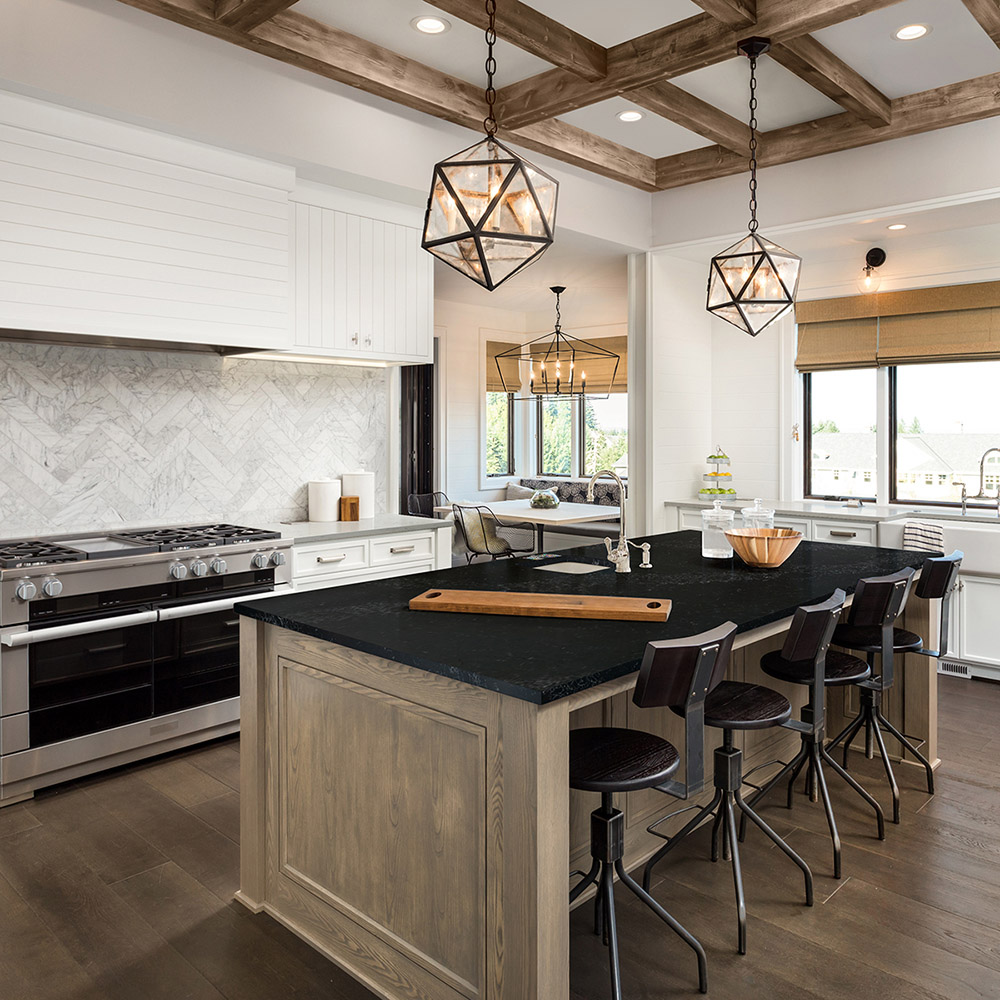 Whether you like black or white quartz countertops in this durable, non-porous material make for a great addition to any busy household.
However, if you want to add a ton of personality to your space, a dark countertop material like Midnight Corvo can amp up the drama, complement a masculine design, or even make a large kitchen feel incredibly cozy. The black background and feathery, white veining add depth to any kitchen design.
Soapstone Metropolis Concrete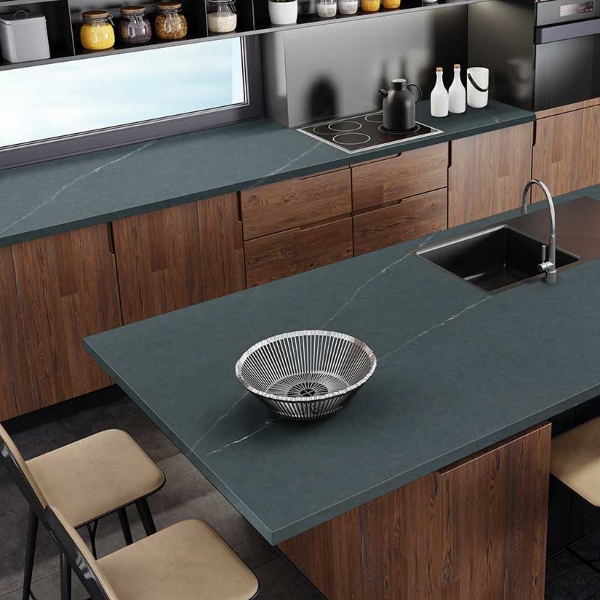 A black-and-white kitchen design lends your home classic appeal, but the contrast can be a bit much for some spaces. If you're looking for a softer but still eye-catching approach, consider Soapstone Metropolis Concrete. It features a dark, ashy background with subtle, white veining throughout. You'll enjoy a dollop of visual interest without an overabundance of drama.
Soapstone Mist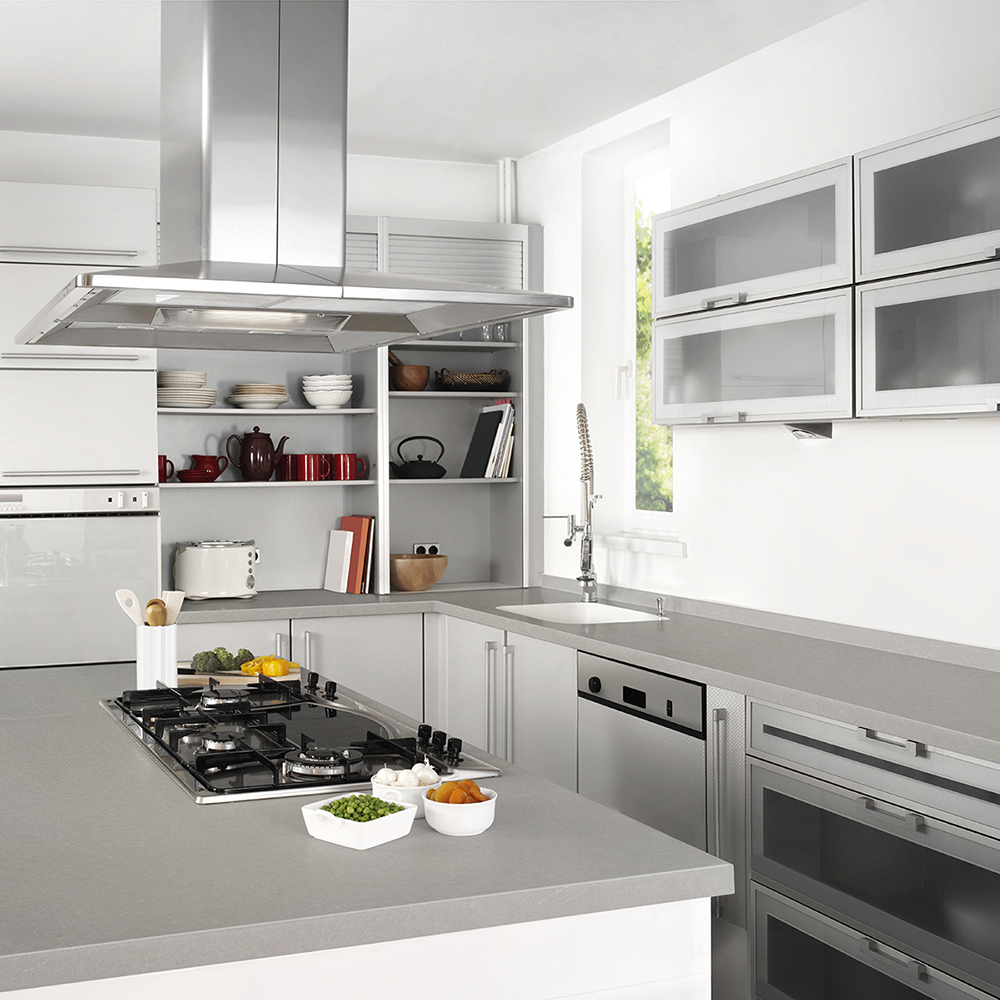 If you're debating quartz vs. granite, you'll be happy to hear that you can find similarly dramatic patterns in quartz, but with the added benefit of a non-porous, food-safe surface. Engineered quartz also comes in softer, subtler varieties that are closer to marble.
With its dove-gray background and pale, delicate veining in white, Soapstone Mist is a great option for anyone seeking a mid-tone counter to offset white, black, or colored cabinetry. If you want the dreamy gray of a blanket of clouds, this slab is perfect for you.
Babylon Gray Concrete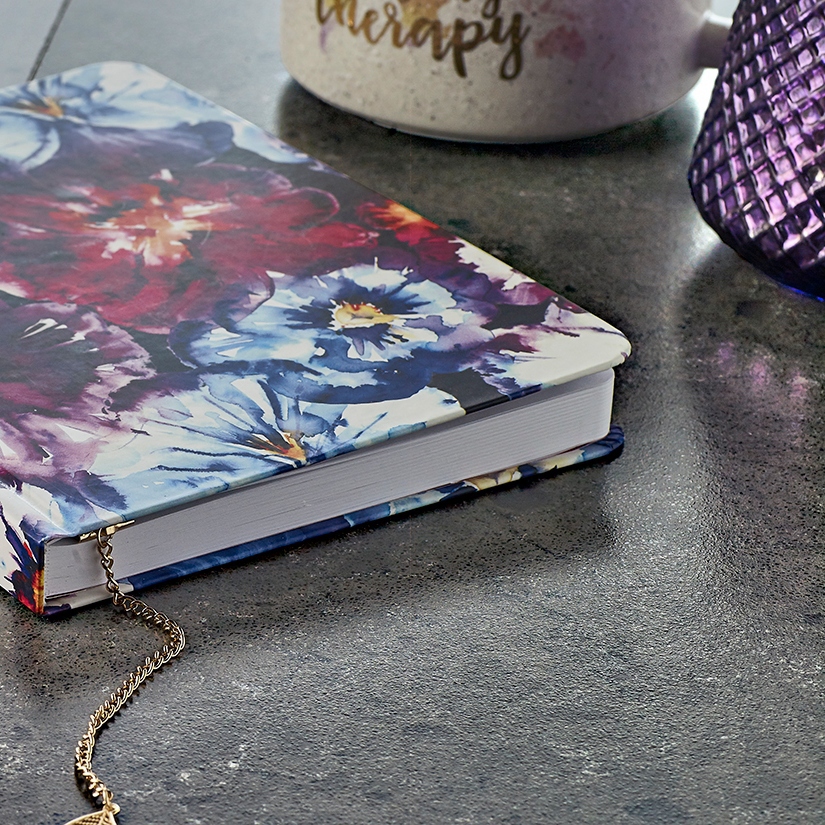 When it comes to modern design, the devil is in the details, and Babylon Gray Concrete quartz has details to spare.
The surface is a stormy sea of light and dark gray marked by foamy, white patches. The dark nougat sprinkled throughout creates incredible depth and dimension. Even better is the brushed surface, which adds texture and lends a casual vibe to this trendy countertop material.
Midnight Majesty Concrete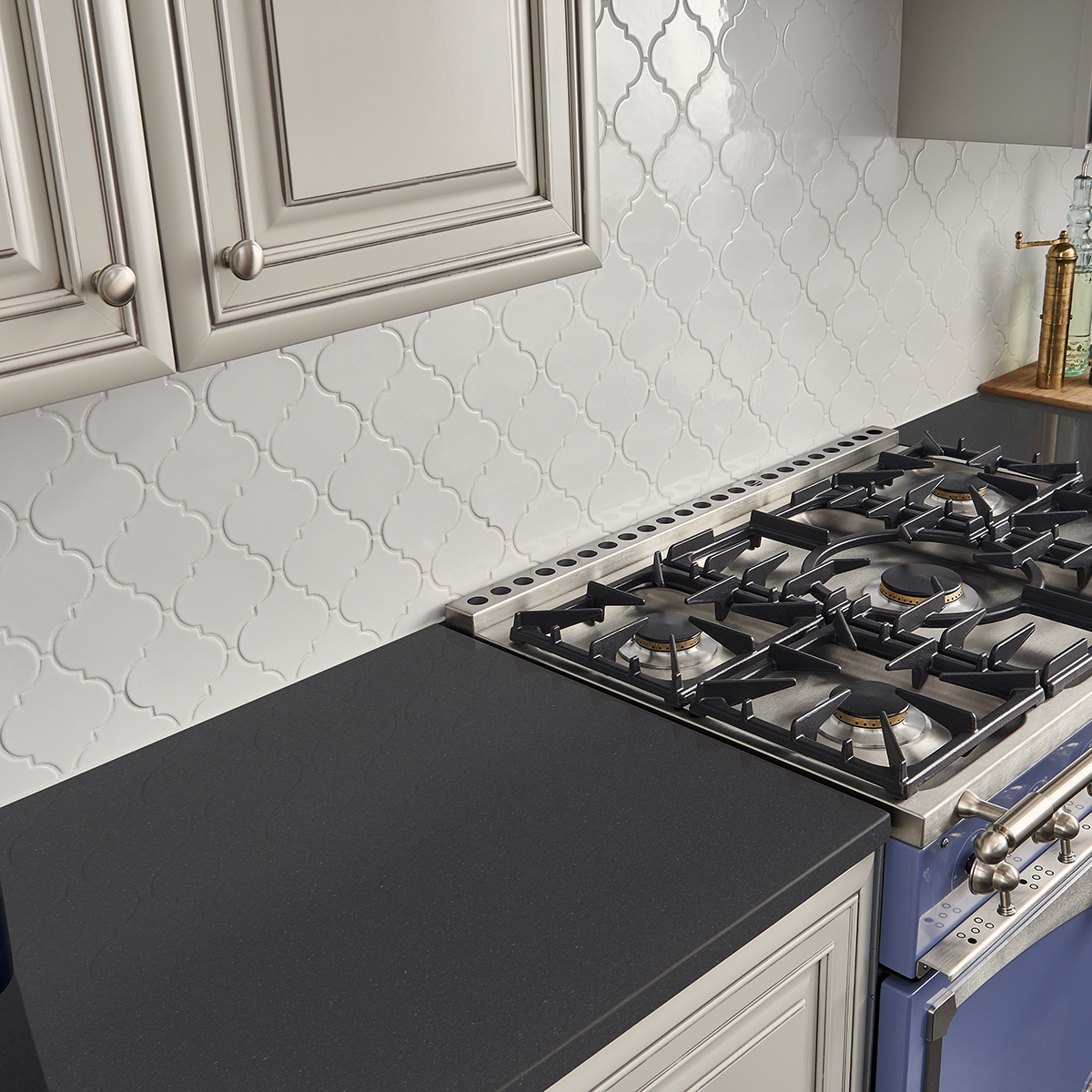 Regardless of your preferred color scheme, you'll find Midnight Majesty Concrete to be a versatile choice for any kitchen, bathroom, laundry room, or other space in the home.
The subtle pattern recedes with a soft, black background stippled by tiny flecks of gray and white, but it leaves an impression of dimensionality that elevates your overall design. This variety contrasts beautifully against white or pale gray cabinets and adds nuance and sophistication to darker palettes.
Gray Lagoon Quartz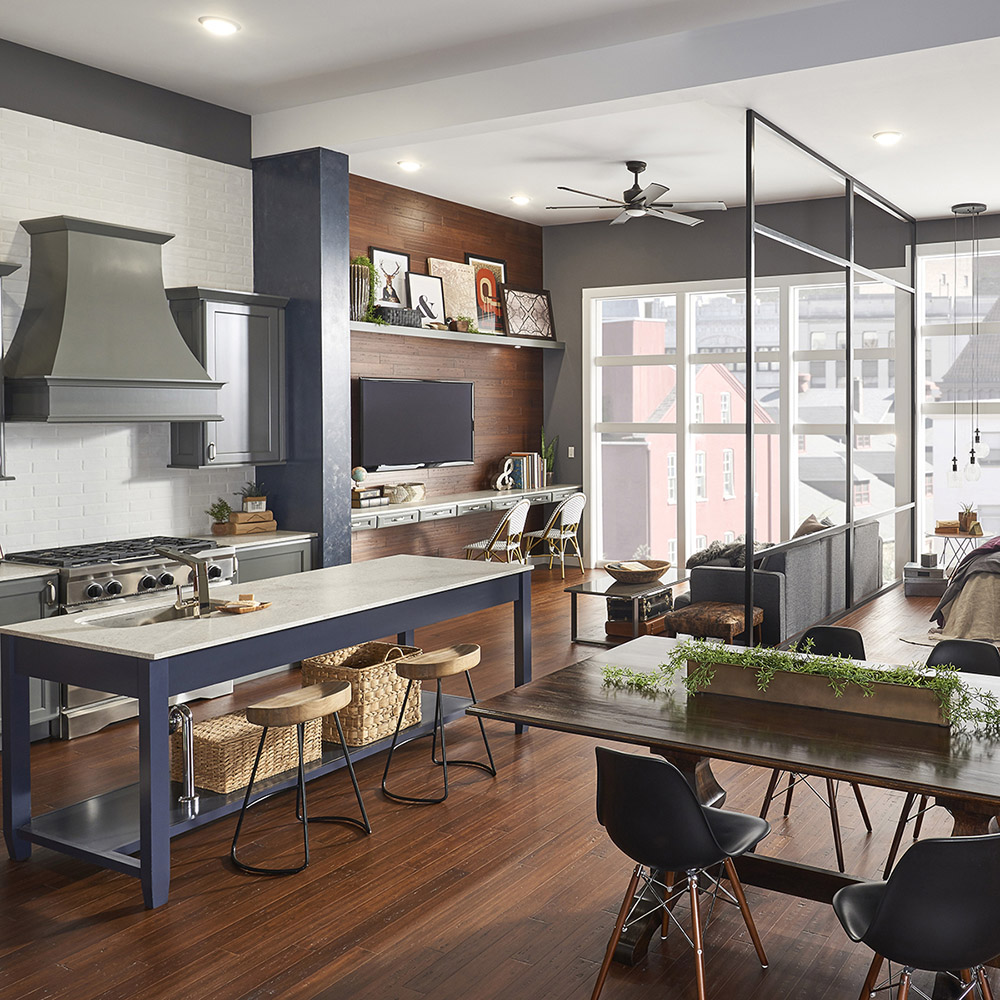 Interior designers have dubbed cool grays the trendiest neutrals for the last few years. However, cooler tones can be tough to pair with wood cabinets. Gray Lagoon Quartz offers the best of both worlds. It presents a pale gray background swirled with lighter gray and white patches and broken veining in golden and dark caramel tones.
If you're looking for a gray that goes just as well with a golden oak or cherry wood as it does with ashier hues, you'll find this variety easy to pair with a range of wood tones in your design.
Vena Carbona Quartz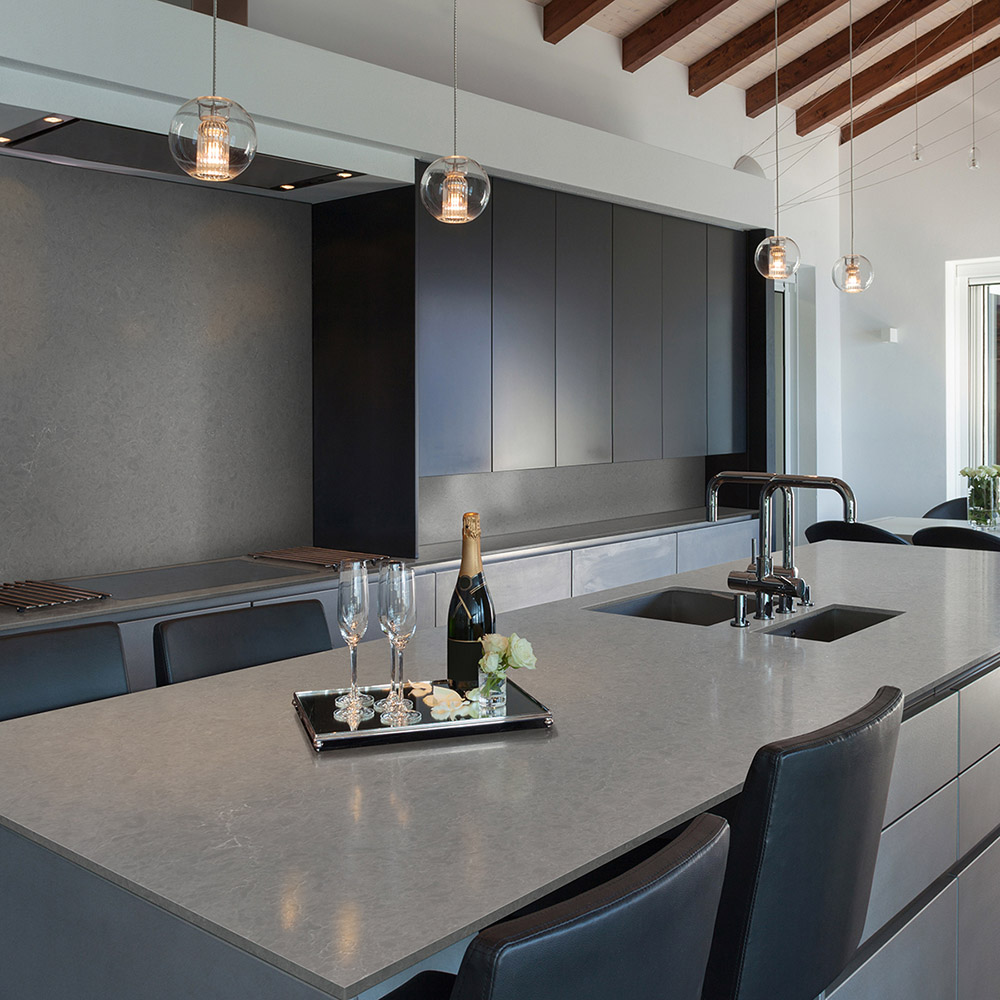 Nothing says serenity quite like Vena Carbona Quartz, featuring a wash of dove gray, lightly accented by slightly darker swirls and barely-there veining in white.
The overall look is like smoke drifting across the surface of a tranquil lake. It provides just enough subtle pattern to imbue your modern kitchen or bath with visual interest while delivering the tranquility you crave.
Marquina Midnight Quartz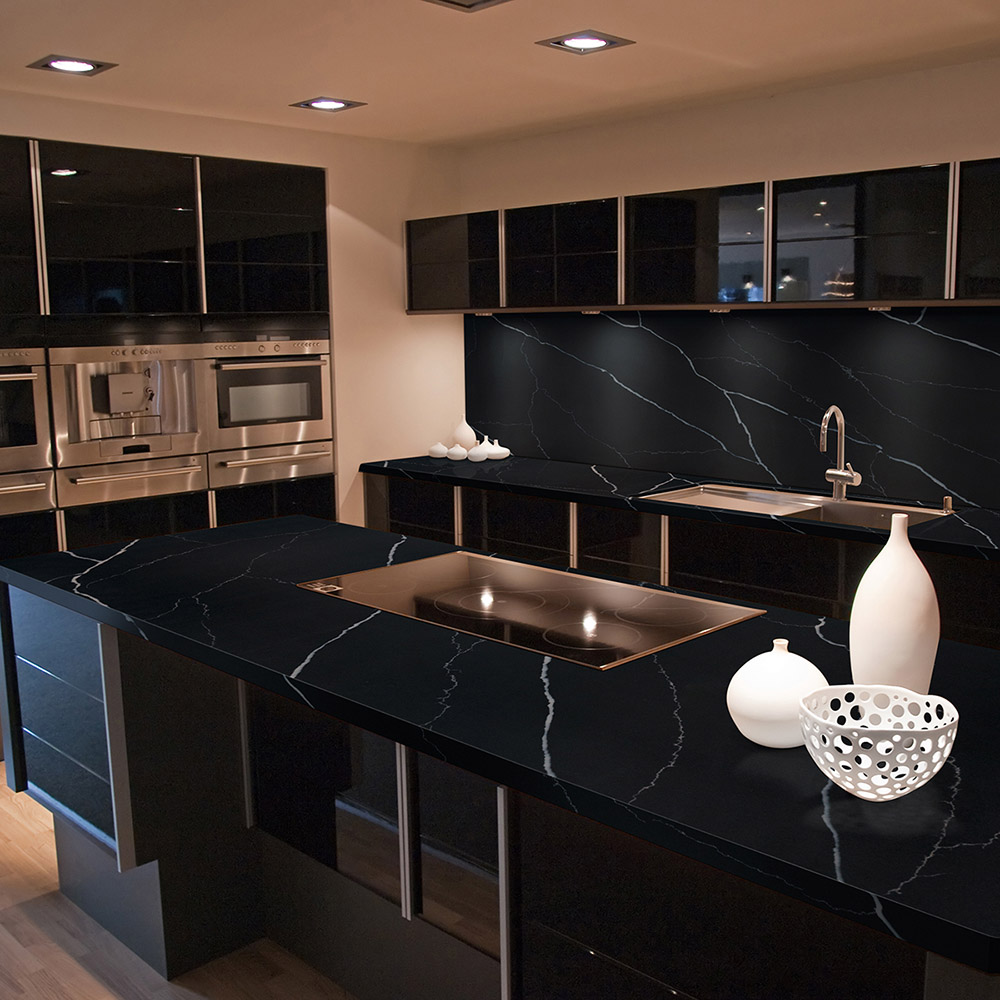 When it comes to dark and brooding quartz countertop colors, few fit the bill better than Marquina Midnight Quartz. A dead ringer for Black Marquina marble, this variety features a wash of obsidian broken by prominent, jagged slashes of white, like lightning dancing across the midnight sky.
This quartz is absolutely stunning when paired with white cabinetry, but it can provide visual contrast even against darker cabinets, thanks to the striking pattern. With a polished finish, this surface serves as the riveting focal point of any interior design - especially when you extend it to the backsplash area.
Fantasy Gray Quartz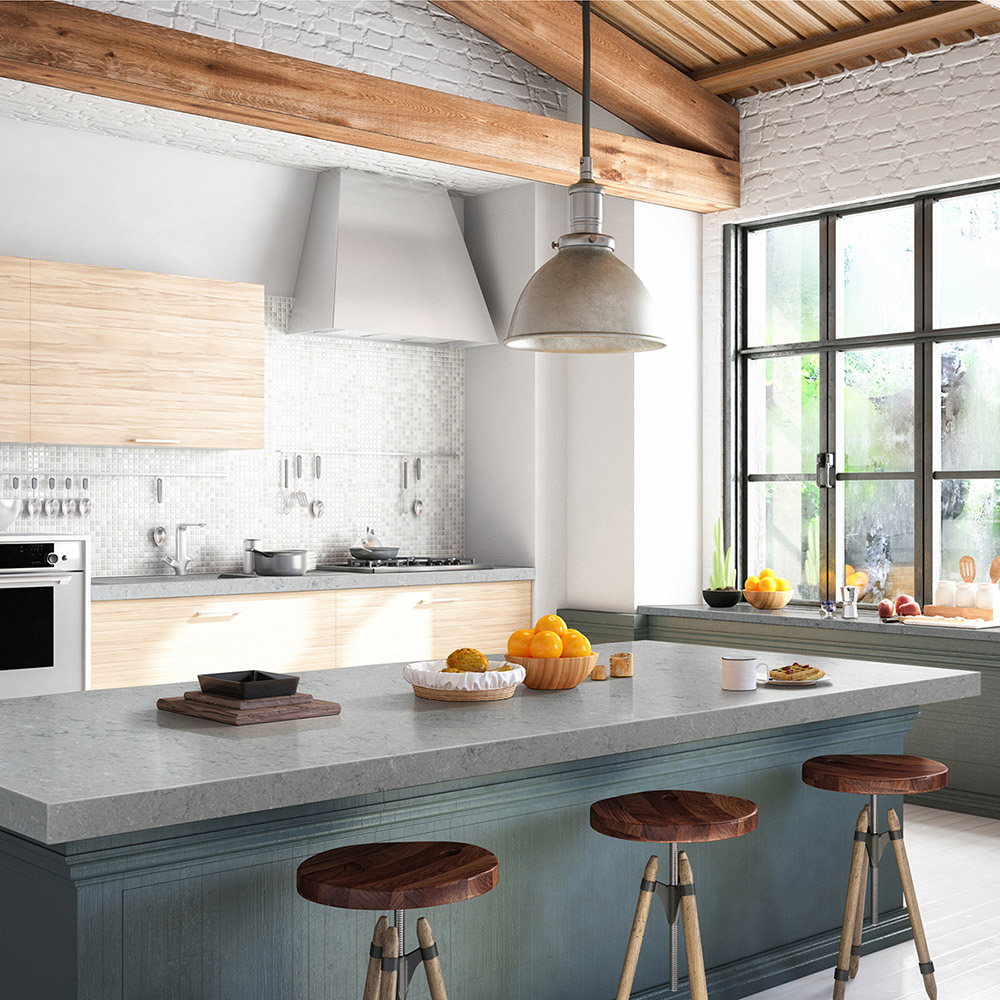 A true-gray suited to any cool-leaning kitchen remodel, Fantasy Gray Quartz starts with a dreamy, mid-tone gray background beset by brushes of dark gray and white wisps flitting across the surface. The effect creates a marbled appearance that is both subtle and dimensional.
This counter material pairs equally well with white or dark cabinets and would look lovely with the navy and teal tones popular in modern kitchen design.
Meridian Gray Quartz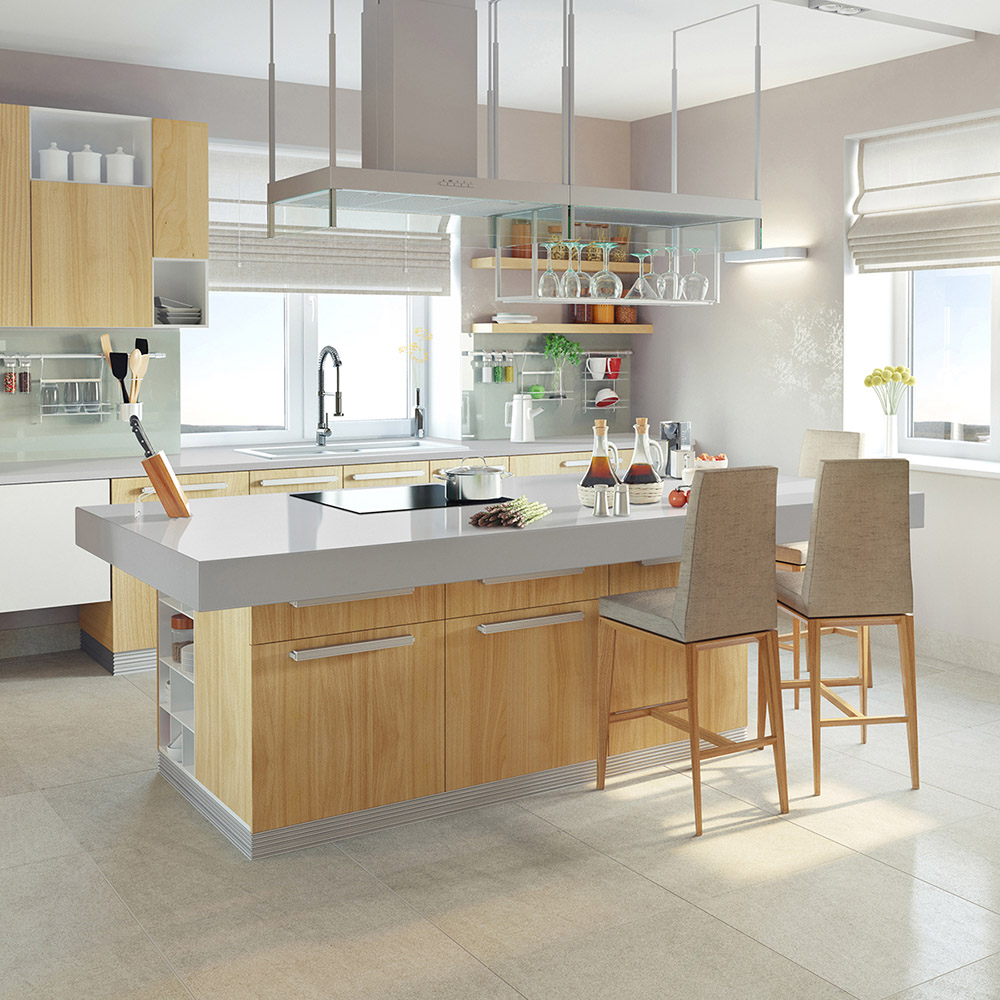 Homeowners looking to create a balanced kitchen or bathroom design will appreciate the soft, calming appeal of Meridian Gray Quartz. It features a uniform wash of pale gray with minimal patterning consisting of soft, salt-and-pepper flecks for a hint of depth.
If you don't want to draw too much attention to your countertops, but you still want an elegant addition to your space, Meridian Gray is the soothing variety that perfectly meets your needs. It effortlessly elevates a tonal white color palette or offsets darker cabinetry.
While white countertops never go out of style, there's something to be said for a darker, dreamier approach. It can add a dose of drama to your design, show your sophisticated personal style, and bring your kitchen into the modern era.
Whether you go with a pale gray to break up a white-on-white kitchen, you lean toward a trendy, soft black, or you go for full drama with intense patterning, with the right quartz countertops from MSI, your interior spaces are sure to garner admiration.
Read More About MSI Premium Quartz Countertops
Stylish And Durable Quartz Hotel Bathroom Countertops
Selection And Installation of Your New Quartz Countertop
Get Elegant Long Vein Marble Looks with Quartz Countertops
Create A Welcoming Kitchen with Warm Quartz Countertop Colors
Why We Love Environmentally Sustainable Quartz Countertops
Stay On Budget and On Track with Prefabricated Quartz Countertops