Get Elegant Long Vein Marble Looks With Quartz Countertops
February 13, 2022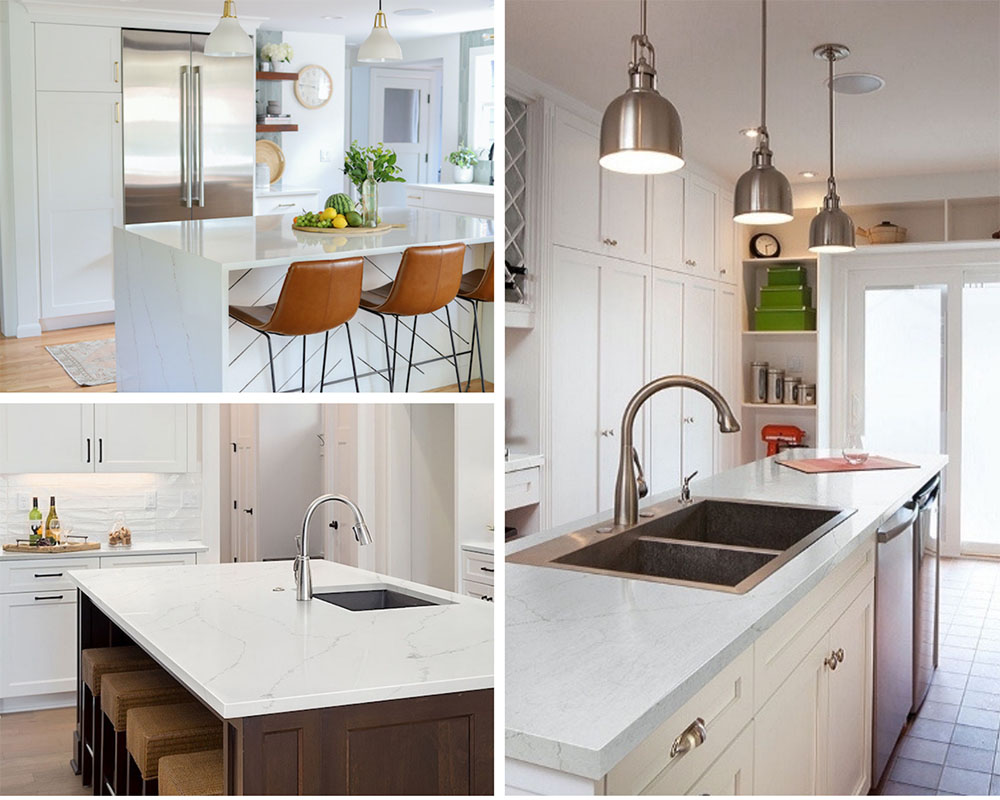 While many factors contribute to the striking look of marble countertops, it's the veining that typically steals the show. But why pay for the more expensive stone when you can capture the same graceful long vein marble look in affordable and easier to maintain quartz countertops?
While some people favor marble look quartz countertops with prominent and dramatic veining that immediately grabs the eye, others go for surfaces with more understated veins that slowly draw in one's attention. Keep reading to learn how to select the right veining style and color for your design needs.
MARBLE LOOK QUARTZ COUNTERTOP ADVANTAGES
In addition to the lower price tag and less ongoing maintenance, marble look quartz countertops provide a more diverse selection of readily available veining styles. Take Calacatta marble, for example. This distinct marble is often limited in supply, thus driving the price out of your design budget. However, that's not the case with Calacatta Quartz which remains affordable due to its availability.

Another disadvantage of authentic marble is you take a risk whenever you buy a marble slab based on a sample. As a natural product, the veining in every slab will have a different look. One of the benefits of marble look quartz countertops is you get the luxurious look of the real thing without the erratic veining.
CALACATTA ULTRA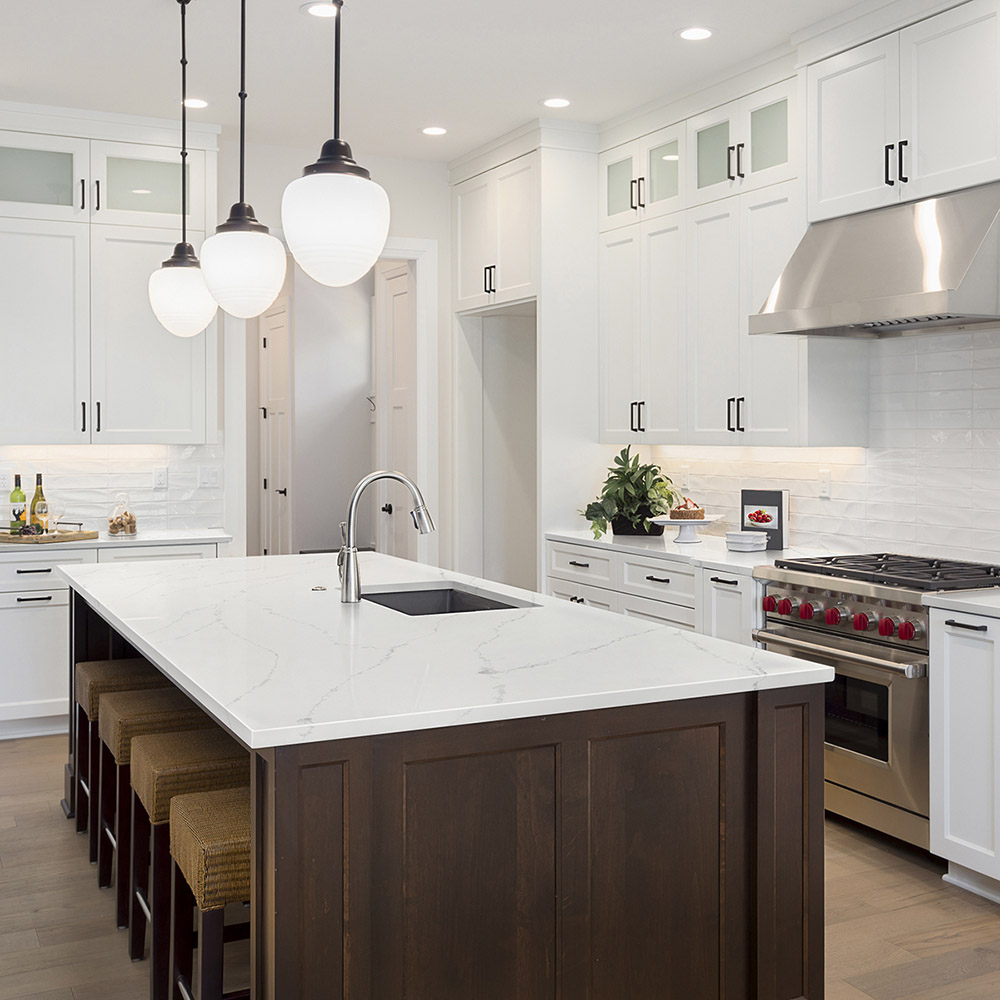 One of the benefits of a quartz countertop is its nonporous nature. This means you'll never have to worry about regular sealing to keep out harmful germs and bacteria. For example, this uber white Calacatta Ultra requires nothing more than a daily clean with a soft cloth and warm water to keep your counters looking good as new.
Here we see a pure white backdrop featuring subtle linear veins. If one didn't know better, they'd probably swear it was natural marble. In this case, the long thin veining with subtle curving is the perfect match for the rest of this understated room. If you wanted to make a bolder statement, you could go with a slab with wider, dramatic veins. It all comes down to your preferred style.

While we wouldn't say this veining is as wide as some of the trending Calacatta out there, it's not necessarily fine either. It finds a sweet spot somewhere in-between, somewhat closer to the latter. With Calacatta Ultra, the design possibilities are truly endless.
CALACATTA BOTANICA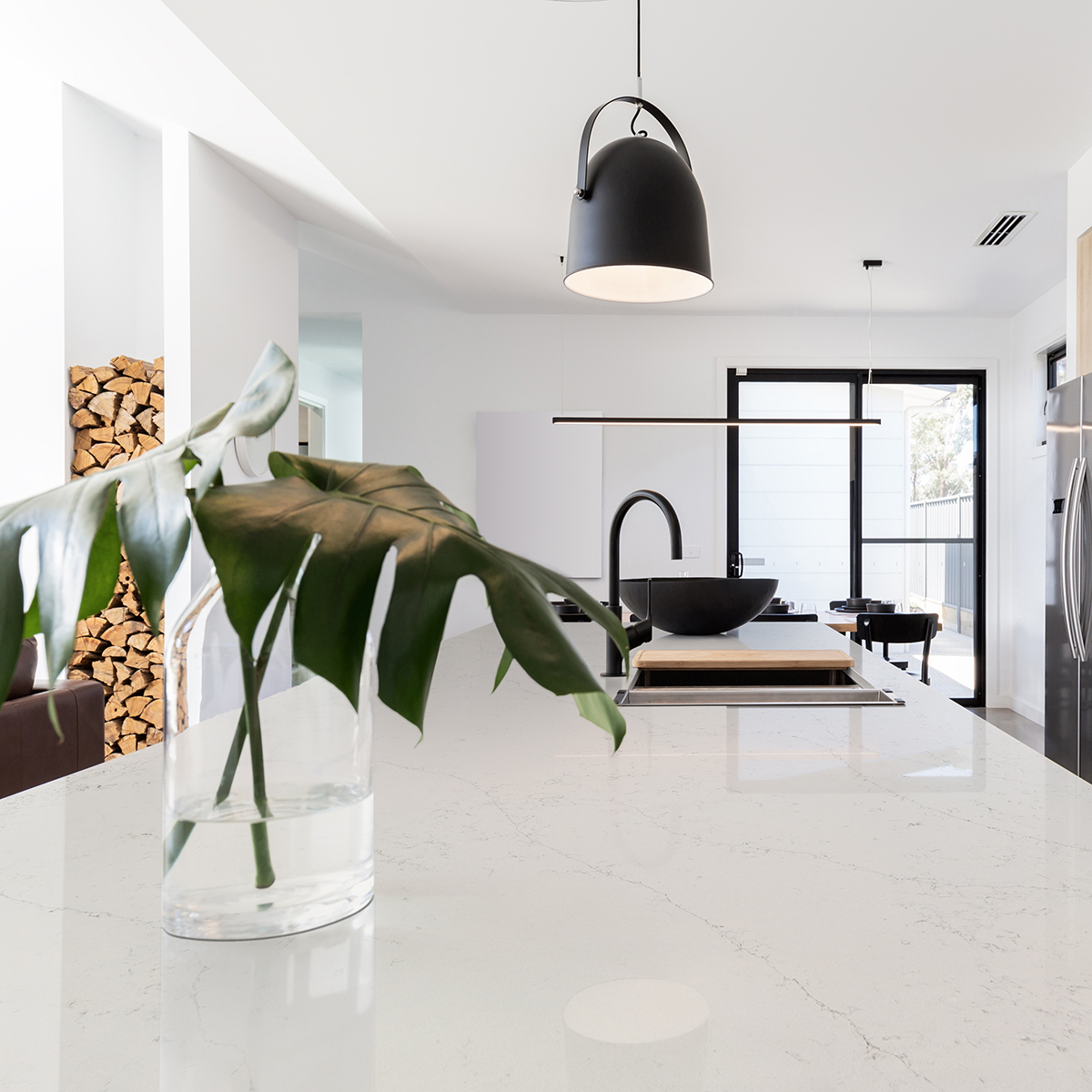 White quartz countertops like the irresistible Calacatta Botanica pictured here use a cool white backdrop to highlight the light gray, long and thin veining and deliver a look of modest sophistication that works well with almost any color or design trend. It delivers the sought-after timeless look of Italian marble in an easy-care quartz package.
These long, slender veins against the soft white color make it a great choice for nearly any decor. It certainly goes a long way in modern kitchens. Note how this beautiful white slab plays with the black faucet, bowl, chair, and more. It makes all of that pop while still pulling your gaze back to its simple, timeless look that will always remain on-trend.
CALACATTA VALENTIN

Once you lay eyes on Calacatta Valentin Quartz, it's nearly impossible to look away. The slab draws you in effortlessly and pairs well with seemingly any style. It boasts a warm white marble look background, featuring two tones, a polished finish, and restrained gold veins.

The warmer color of the slab here, combined with the gold veining, makes it a captivating choice for warmer kitchens that utilize wood cabinets or wood furniture. Additionally, Calacatta Valentin helps create a consistent, seamless look if your walls have a textured paint job. The gold veining adds to the slab's already warm personality. With the addition of natural light pouring through a nearby window, you'll indeed have a golden kitchen.

Since you're opting for marble look quartz rather than the real thing, your nonporous surface won't fall victim to staining, thus ensuring the gold glow will last for years to come. To create the ultimate unified look, incorporate gold and brass colors into the room. This could be décor, appliances, or light fixtures.
CALACATTA ARNO

For more premium quartz that looks like marble, check out this enchanting Calacatta Arno. Take a look at how the slab featuring a warm white backdrop boosted by long gray veining with lively gold accents serves as the discreet focal point on this minimalist kitchen. More of a cream white, Calacatta Arno works well in spaces with a warm aesthetic.
These tasteful gold accents add to the warmth, making it the perfect companion for rooms with warm furniture, lighting, and wall paint. Using wood and wood colored furniture and wood-look flooring, like this kitchen does, combined with the warm white island and gold accents, really ties the whole room together. It's almost as if each piece were made for the next.
CALACATTA MIRAGGIO GOLD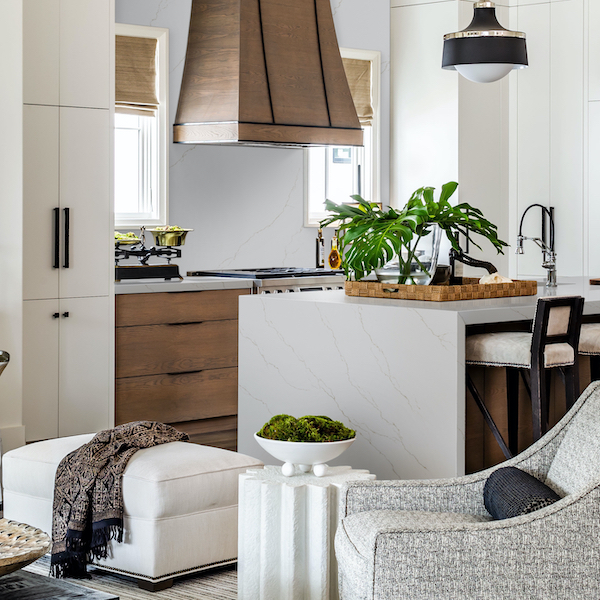 Use the stunning marble look quartz color Calacatta Miraggio Gold to add a pleasant warmth to your kitchen without sacrificing grace. Notice how elegantly the golden brown veining moves through this kitchen island. Along with its backdrop of crisp white, Calacatta Miraggio Gold features our Lumaluxe formulation, which amplifies how light interacts with its marble-look surface.

Similar to a few examples above, this surface goes hand in hand with wood tones. The way the veining swirls upward gives the illusion of the room's brown colors pulling it out and upward. It's certainly a conversation piece, to say the least.

Use Calacatta Miraggio Gold beyond kitchen islands for first-rate backsplashes, shower surrounds, and floors. It excels in residential and commercial spaces, is easy to maintain, and provides superb durability.
Long vein marble look countertops like the ones covered in this article aren't going out of style anytime soon—if ever. After a mere five examples, it's easy to see why. Beyond the beauty of the white surfaces and elegant veining, engineered quartz is the clear choice for the modern kitchen and beyond.

If you have any questions, don't hesitate to contact us online or by phone. We can't wait to match you with your dream premium surface.