Ahead Of The Curve - Explore The Latest Trends In Granite Countertops
May 08, 2012
The use of
granite
for home design was once perceived as a trend. Now considered a designer's staple for upgrades and remodels, granite countertops are a dependable choice to enhance your space and increase the visual, if not resale, value of your home. Today,
granite slabs
and tiles are a mainstay for the kitchen, but you will also find that applications of it as countertops are seeing some interesting trends of their own. Consider how selection in shape and color will define your style by exploring the latest in granite countertop design trends.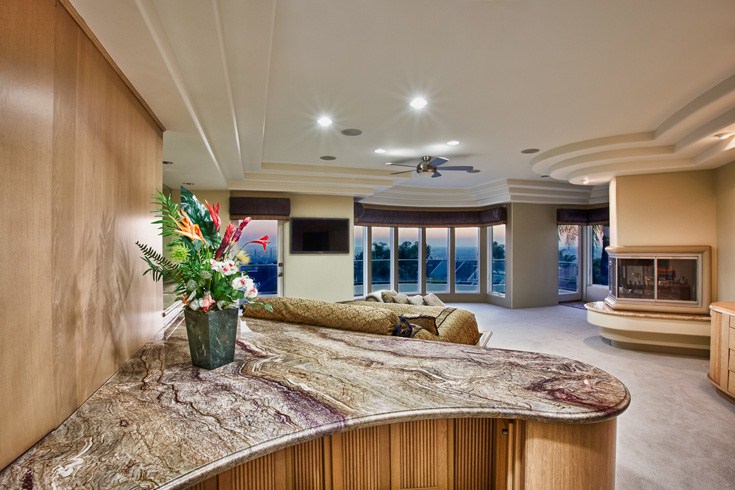 Designers love mixing elements – whether it is with use of textures, patterns or colors, creating contrast creates interest. Mixing shapes is no exception. When it comes to countertops shapes, the trend is curves. They contrast nicely with linear cabinets and appliances. A boldly curving granite countertop through a kitchen with teak cabinets with their bold, horizontal lines is a perfect example of this trend.
Curving countertops also create movement, and designers value any device that can make a room seem bigger or create a strong focal point that will gently guide the eye where they want it to go. Curves can also be used to highlight or accent certain spaces – i.e., picture traditional straight edges on most countertops in the kitchen but a sweeping curve on the center island for accent. Even more on trend, bi-level islands that have straight edges on the lower surface coupled with a curve on the higher level for that contrasting mixture of elements mentioned previously.
As a last word on curves in countertops, it is essential to mention that it's a definitively modern look. It is perceived as a contemporary style point when compared to traditional kitchens that often have the expected rectangular, L-shaped countertop. The simple upgrade to a curved countertop, particularly cut from a custom granite slab in one gently curving piece, can significantly update the space.
It is impossible to discuss trends in countertops without touching briefly upon color. Until the granite explosion, the tendency in countertops was to go with neutral colors on surfaces and save the accents for colorful backsplashes and walls – the idea being that the vibrancy of food should be the main attraction against a subtle surface.
For some designers, this is still the preference. However, others are taking advantage of the vast selection of mineral-rich colors available in granite. They add their splash of color in the core features of the kitchen, like cabinets and countertops, and save the whites and neutrals for the walls and tile to offset them. This method creates a strong focal point, particularly important if you are updating sections of your kitchen one at a time and wish to highlight your new countertops and draw attention from other areas. (Check out the myriad granite colors available in
MSI
, including white and neutral selections for both design options!)
The steady popularity of granite countertops is no surprise. Their durability, easy maintenance, and stylish elegance have proved them a consistent feature in today's high-end constructions. Designers who develop these prolific trends focus not just on style, but longevity. They encourage trends that will last for generations, so if you are looking to update your kitchen design to the current style, consider the many variations of granite countertops available to you – including attractive cuts and eye-catching colors that are trends here to stay.
READ MORE ABOUT GRANITE COUNTERTOPS
Ancient Influences: History of Modern Granite Edge Profiles
Are Granite Countertops Going Out of Style?
Are Quartz Countertops Replacing Granite as the Best Choice For Your Home? Quartz Vs. Granite