Striking Black Granite Countertops You Must See
June 26, 2019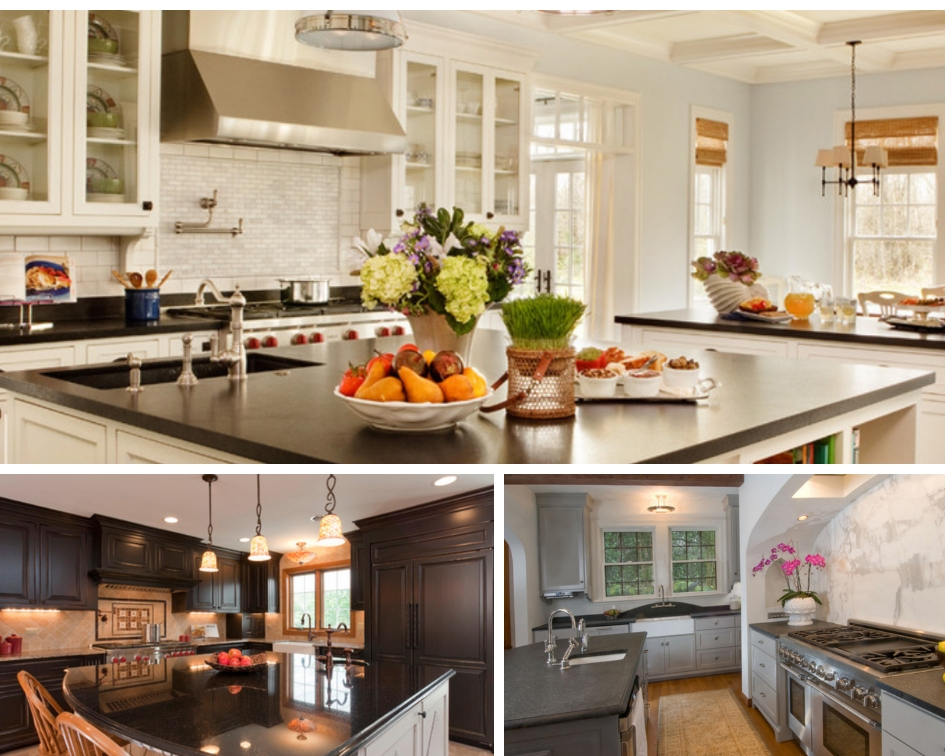 Granite is one of America's favorite countertop materials and one of the most requested premium surfaces of homebuyers today. And, black is particularly popular and on-trend due to its timeless aesthetic and luxurious look. Granite countertops, regardless of color, have unique inflections, speckles, veins, and swirls of color that give natural stone its character and timeless personality. When considering granite vs. quartz, it is important to consider your kitchen's purpose. Are you a baker that loves to roll cookies out on your expansive island while cookies fresh out of the oven cool on the counter? If so, granite may be a better option for your kitchen.
Let's explore some of the hottest looks today.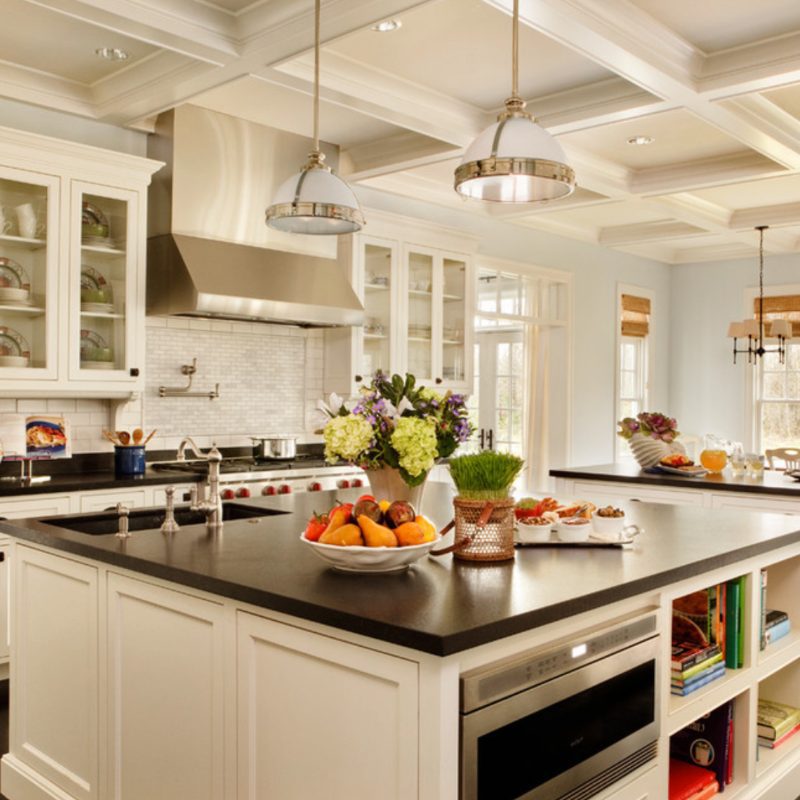 Image courtesy of Houzz
Black and white kitchens are always in style and this stunning contemporary kitchen demonstrates why. Set against the white cabinetry and backsplash, Absolute Black Granite provides a grounding element that sets a sophisticated and elegant tone. Granite is available in a variety of finishes, but black is truly amazing in a polished finish where it reflects the light of the surrounding materials.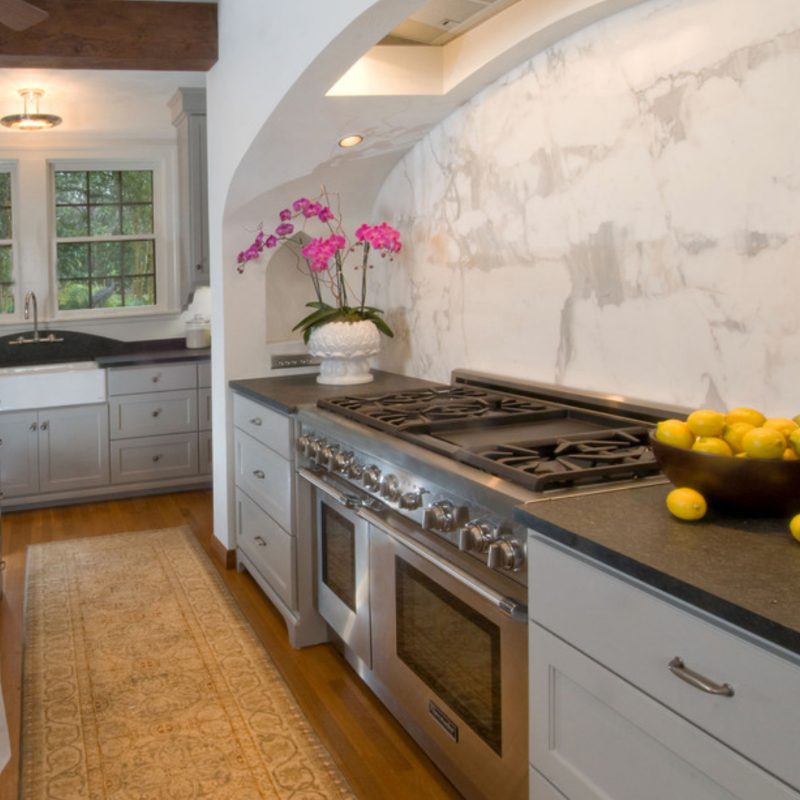 Image courtesy of Houzz
In this contemporary styled black and white kitchen, the natural stone backsplash is designed to be the star. Here, a low-variation granite like our Impala Black Granite is an excellent partner with the white cabinets and the gentle movement of the backsplash. The dark gray speckles in the granite reflects the colors of the other elements in the room, without stealing the show.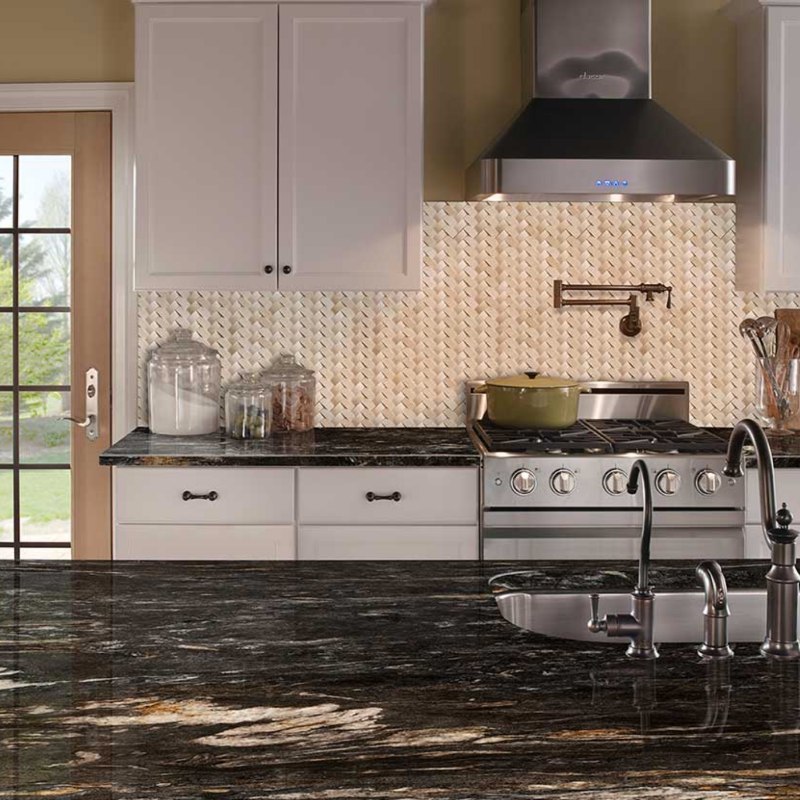 Perhaps you prefer a touch more drama in the heart of your home; don't worry, we've got you covered. Our Titanium Granite is bold, full of life, and ripe with creamy white and gold hues that keep the palette on the neutral side. On a sweeping island, the full force of Mother Nature's artistic sense is in full view, stealing center stage from the other elements in the design.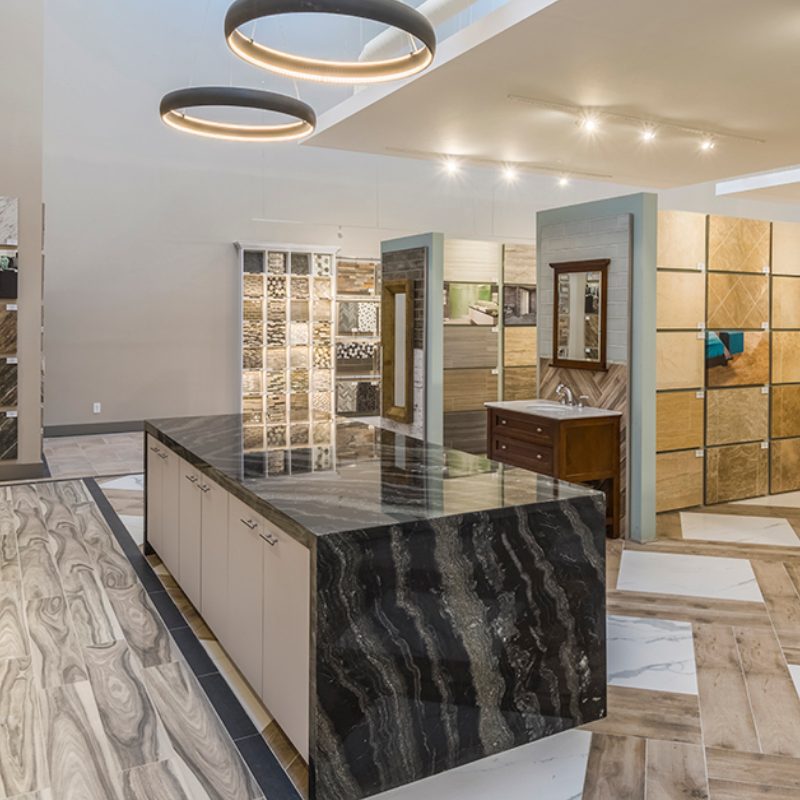 Agatha Black Granite is another of our granite colors that oozes sophistication and high-design. The veins look like rivers of silver running across the black background complementing stainless appliances and accessories. The movement of this gorgeous natural stone makes it perfect to create a waterfall island where the veins drip continuously down the sides, creating a truly luxurious and high-end feel.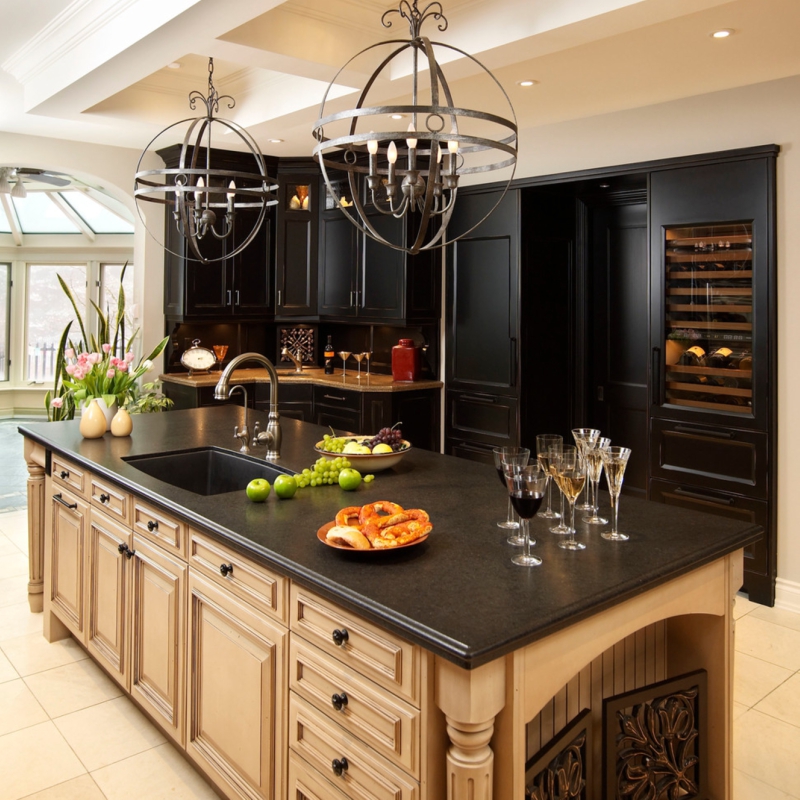 Image courtesy of Houzz
If black and white kitchens aren't your style, partnering our Black Pearl Granite with light-colored cabinetry creates a warm and inviting space. In this striking kitchen, the designer went one step further and used black cabinetry on the perimeter to tie the two colors together. The result is elegant and glamourous, perfect for entertaining friends and family.
Are you ready to picture black granite in your kitchen? Try our granite visualizer tool that allows you to mix and match different types of granite with cabinets, floors, and backsplash materials to narrow down your personal design style. Kitchens are where many of us spend the bulk of our time and we deserve a bespoke space that evokes our personality while standing up to every day use. Granite's durability, low-maintenance requirements, heat resistance, and unique characteristics and beauty make it an excellent choice for many homes.
Read More about Granite Countertops
Proper Granite Countertop Sealing to Protect Your Investment
Here's Why the Price of Granite Countertops Can Vary Widely
4 Natural Granite Flooring Finishes for Your Dream Design
5 Dramatic Statement-Making Natural Granite Countertops
READ MORE ABOUT GRANITE COUNTERTOPS
Solve Your Color Scheme Dilemma with Salt And Pepper Granite Countertops
Stunning Granite Countertop Waterfall Edges
The Best Heights For Granite Countertops