Current Obsessions: The Top 5 Benefits Of Quartz Countertops
March 05, 2017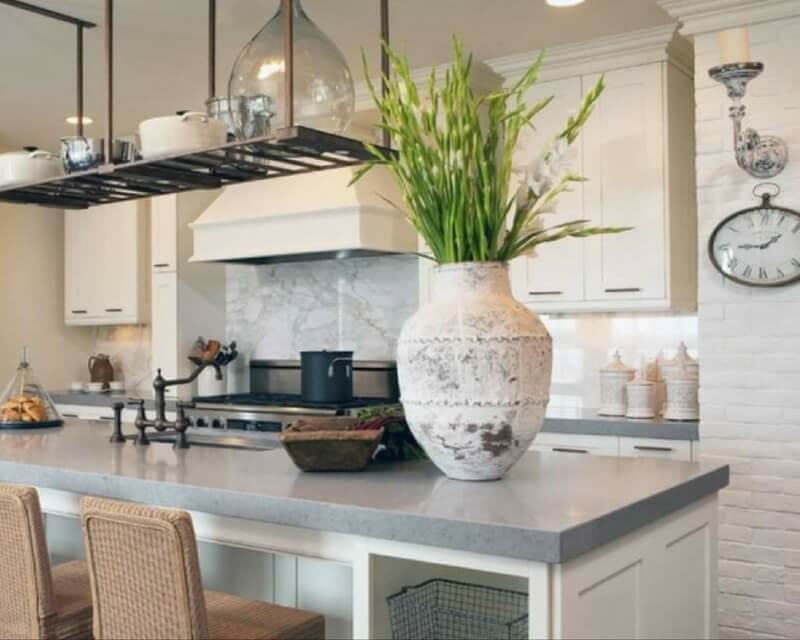 (Photo Credit: Houzz)
When it comes to countertop surfaces, you have a wide variety of choices. However, for the ultimate balance of beautiful natural stone and easy-maintenance manufactured materials, quartz is the one to choose.
Q Premium Natural Quartz from MSI offers the best of both worlds—beauty and function. This masterful material provides a sustainable, durable, and healthy surface you can rely on. If you find that keeping up with your countertop maintenance is difficult, then prepare to relax with this material. That's because with quartz, maintenance is minimal, so you can spend more time cooking meals instead of tending to your counters.
Still need more reasons why you should purchase quartz? Let's take a deeper look at the top five benefits of quartz countertops.
#5. Sustainable Material
Quartz is inherently eco-friendly because the natural quartz material that composes much of it comes directly from the earth. When compared to other countertops, it features a longer replacement life, and is even recyclable. In fact, some of MSI's Q Premium Natural Quartz collection is made up of 35 percent post-consumer recycled glass.
If you're a green building designer or architect, you'll be happy to know that using Q may help contribute LEED points to your project because of its recycled content and low-emission materials.
#4. Made to Last
Modern quartz is incredibly durable and low maintenance. It's extremely strong since its man-made polymers reinforce the natural quartz. With proper care, your surface will stay shiny and smooth without the need to ever seal, polish, or condition your quartz countertop.
Keeping it looking like new is a cinch, too, since quartz is inherently scratch-, scorch-, and heat-resistant. These may be important decision-making factors if you have a busy, active family. Spills and other messes are easily taken care of with a damp cloth or a sponge and a bit of soap and water.
#3. A Healthy, Clean Surface
When you choose quartz for your kitchen, you can be at ease knowing that your smooth surface won't harbor and grow bacteria or other microorganisms. It's an ultra clean, hygienic option that's safe for the entire family. Your quartz also helps create a healthier indoor environment because it's a non-toxic surface that doesn't contain any foreign substances that may harm the earth or your health.
#2. Lifetime Guarantee
MSI proudly offers a limited lifetime residential warranty as well as a 10-year commercial warranty for its Q Premium Natural Quartz products. With this guarantee, you can purchase your quartz with confidence, knowing your quartz will last for years to come.
#1. Wide Range of Colors
With 56 on-trend colors and styles of quartz from MSI, you'll find exactly what you need no matter what design your kitchen, bathroom, or outdoor entertaining area may be. Our wide selection includes neutrals like whites, creams, and grays, or more dramatic options like ruby and black quartz with sparkling flecks. Some designs mimic natural granite, while several others in the collection look like white marble.
If you're trying to determine what type of countertop suits your lifestyle, then consider quartz for its low-maintenance, long-lasting qualities. You won't be disappointed with this easy-to-care-for surface that's both strong and beautiful. Visit MSI to see these stunning quartz countertops in person and to learn more about the lifetime guarantee.