Tile Style: Unstoppable Style With Trendy Porcelain Tile
March 27, 2018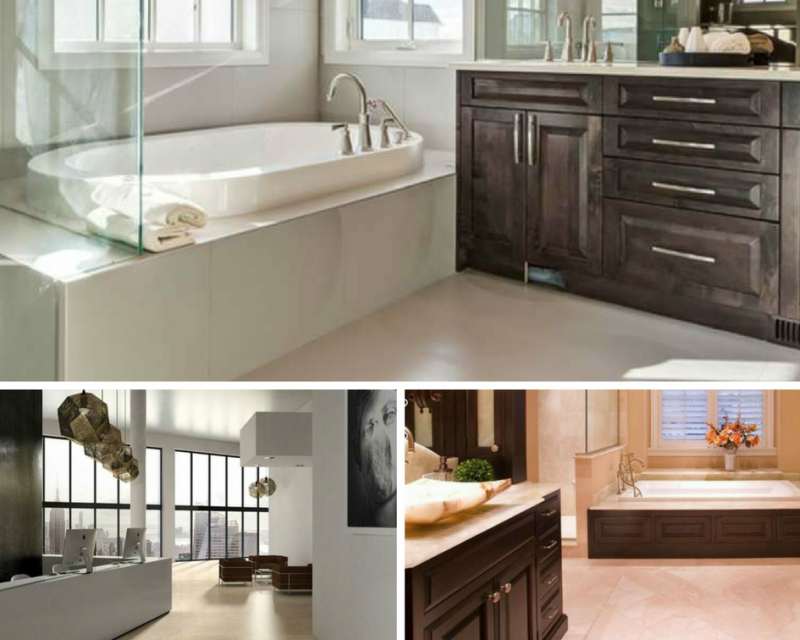 While some may assume that cream or beige tile is boring in home design, we beg to differ! To prove it, we invite you to take a look at MSI's latest Livingstyle Porcelain Tile Collection, featuring high-performance neutral porcelain tile with limestone-inspired characteristics. This durable tile can be used everywhere from kitchens to living rooms, and even in outdoor spaces. No matter where you install it, get ready to see your space transform into a high-style, trendy room!
Décor Details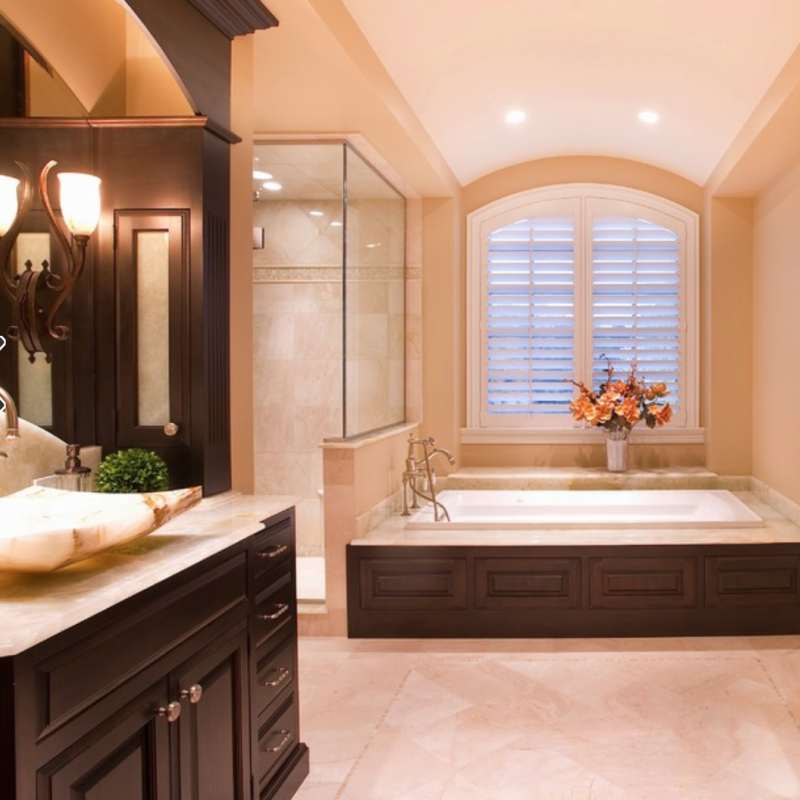 Get a similar look with MSI's Beige Livingstyle Porcelain (Photo Credit: Houzz)
So many details go into the concept, design, and execution of a stylish space, and this traditional bathroom is no exception! The use of neutral colors in this master bath means that even the tiniest of décor details will be seen.
From the design on the cabinetry and tub surround to the unique sink and arched ceiling above the tub, this bathroom features many interesting shapes in white, beige, and brown hues. Plus, the diagonal installment of Beige Livingstyle Collection porcelain tile gives an additional punch of character to the space.
Always on Trend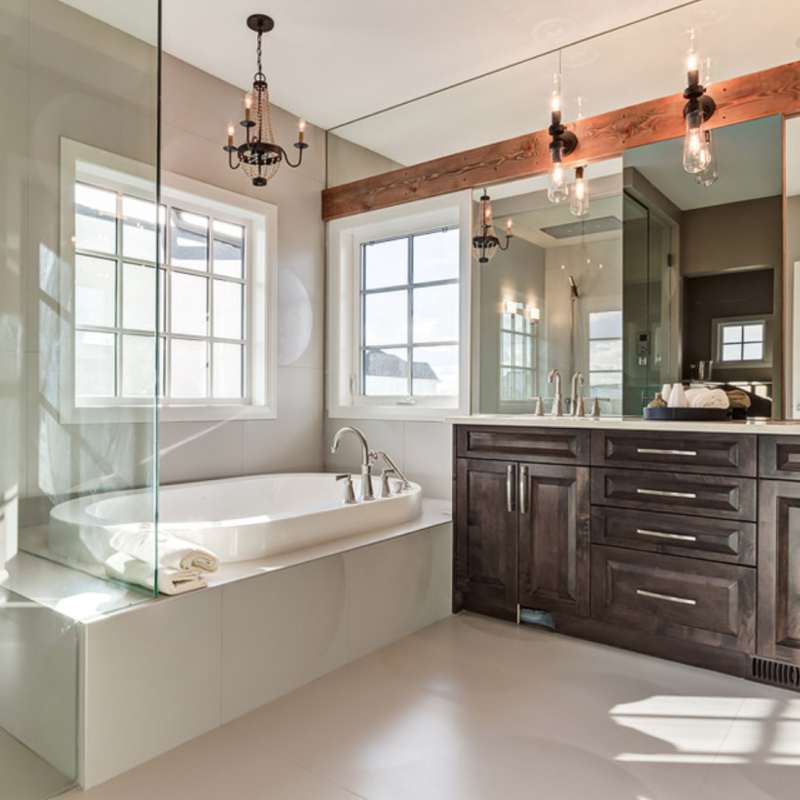 Recreate a similar look with MSI's Cream Livingstyle Porcelain (Photo Credit: Houzz)
Neutral colors go with everything and will ensure that your décor is always on trend. Another benefit of installing a neutral-tone floor is that it will give more emphasis to your trendy accent pieces.
For example, this master bathroom fits well within neutral bathroom color schemes, but is brought to life with rustic elements like the dark cabinetry, interesting wood accent with Edison bulbs, and wrought-iron chandelier.
What's more, these homeowners could change a few details years down the road and end up with a totally new look, all without having to change foundational surfaces like the flooring.
Long-Lasting Style
Featured: Cream Livingstyle Porcelain
With porcelain tile, you're certain to get durable style, thanks to its cleaning ease and durability. And if you select large-format tiles in 24x24 or 18x36 inches, there will be fewer grout lines to clean as well!
To keep your tile looking like new, first sweep or vacuum your floors in order to remove any dust or dirt. Next, mop your porcelain tile using either a specially formulated porcelain cleaner or a mix of vinegar and water. Finally, rinse your floors with hot water to remove the cleaning solution. This will help keep your porcelain floors sparkling clean and in excellent shape to enjoy for many years to come!
Color Character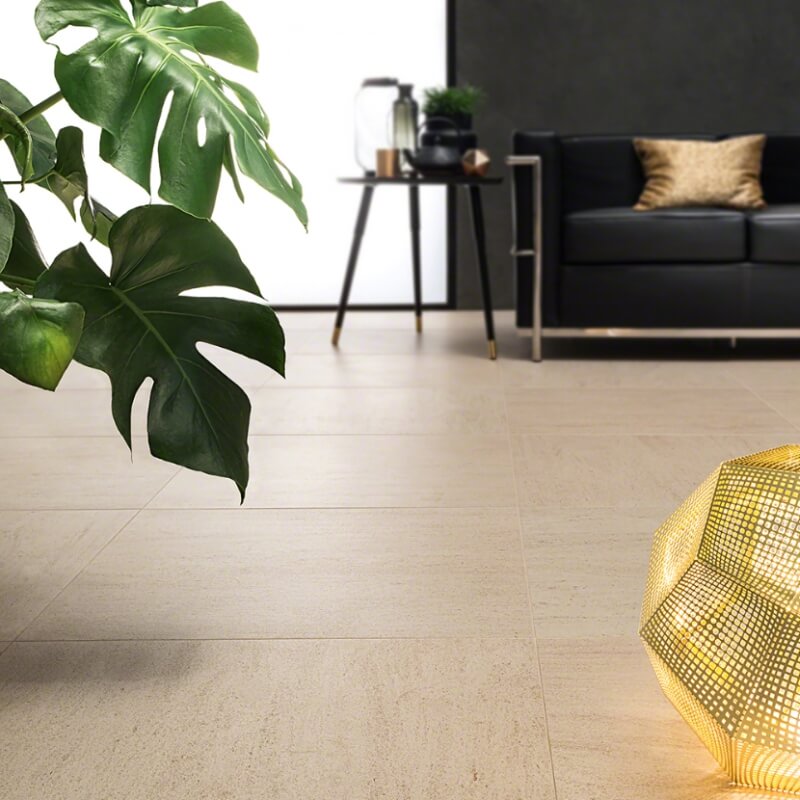 Featured: Beige Livingstyle Porcelain
Because the Livingstyle Collection features slight color variations, they give the tile more character than you would see in a solid-colored tile. The inspiration behind the pattern is taken from the characteristics of real limestone. Its natural stone look makes it perfect for pairing with other natural elements like greenery, wicker baskets, and other stone.
Featuring the beige porcelain tile design from the Livingstyle Collection, this contemporary living room includes an interesting mix of modern décor, with natural accents like a palm tree and potted plant, alongside contemporary metal accessories.
Modern but Warm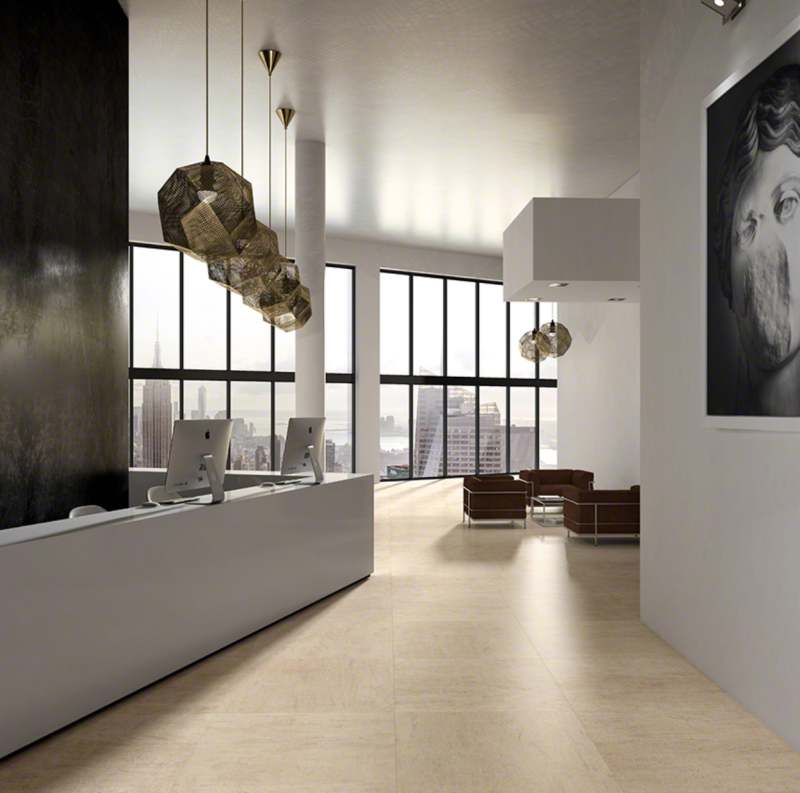 Featured: Beige Livingstyle Porcelain
Porcelain tile is an excellent choice for commercial spaces, too! The large-format tiles give businesses a modern look, and are an ideal size for large-scale rooms like this office. And just because the look is modern, doesn't mean it can't also be warm and welcoming. The soothing beige tone and subtle pattern in the Livingstyle porcelain floor warm up this sleek and illuminated space with its reception and sitting areas in hues of white, gray, and black.
Tile flooring is one way to add unstoppable style to your home or business. MSI's Livingstyle Porcelain Tile Collection offers detail that keeps your design on trend and creates a warm environment for your space.
Visit your local MSI showroom to learn more, or check out the entire Porcelain Tile and Flooring Collection for more inspiration.