Popular
3D Looks: Taking Tile To New Dimensions
May 22, 2017
Like many homeowners, we're over the moon that three-dimensional tile—one of our favorite looks of all time—is having its day in the sun. From its dimension and texture to its play on light and shadow, there's a lot to love about this captivating style. And while the ultra-versatile trend oft conjures something bold, colorful, and modern, we're just as smitten with the subtle, monochromatic classics like subway and herringbone tile. Although 3D tile is rooted in the ancient art of sculptural relief, nothing seems better suited for modern living.
Best part? They inject fresh energy, depth, and drama in casual and elegant settings alike. With styles for every aesthetic—from bubbly looking glass to wavy ridges to organic concave shapes—3D wall tiles are no longer just relegated to the kitchen and bath. And let's not forget their irresistible tactile nature. We've yet to pass a 3D wall we haven't wanted to touch!

Whether you're drawn to elegant styles that shimmer and shine in the light, or you're all about contemporary looks that jump off the wall, take a gander at our top 6 ways to use this distinctive tile to make a lasting impression.
#1 An Element of Surprise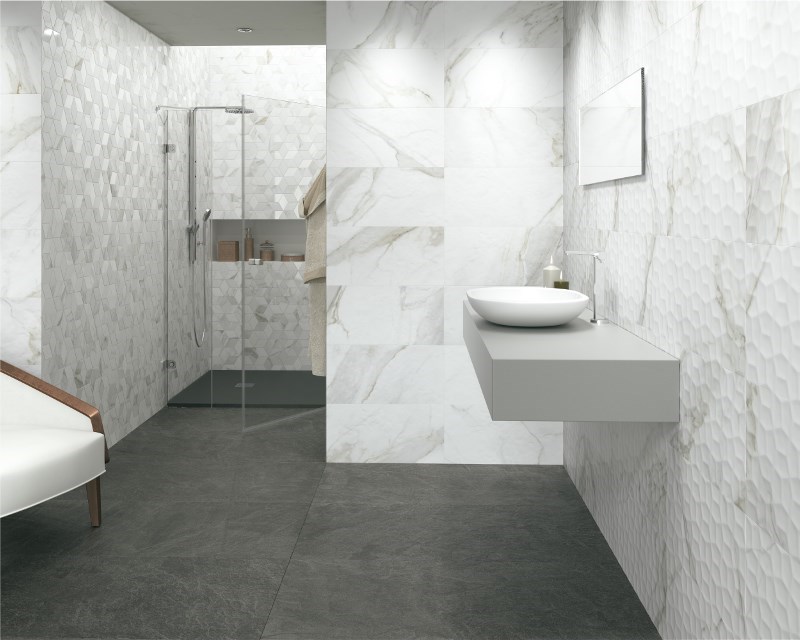 Viso Calacatta from our Adella Collection is a large format 3D tile that combines a wave-like pattern with white marble looks, transforming this ordinary bathroom into an extraordinary space.
Few things feel better than when you take a design risk and love it. If you're not feeling gutsy, start small – behind a tub or in a shower surround. Or test the look in a monochromatic color scheme. Ripples, abstracts, and organic shapes make surprising elements that can completely change the feel of a room.

Planning a remodel? Our new 3D tile collections—Adella and Dymo—will put you in your happy place.
#2 A Daring Accent Wall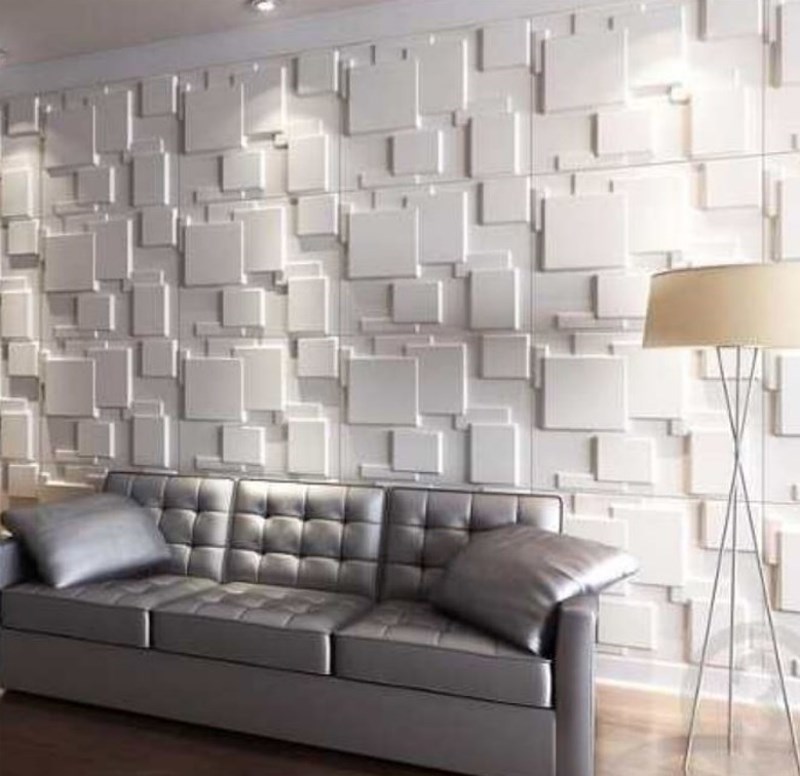 White geometric shapes pop off the wall giving this lounge area over the top texture and a midcentury vibe – a perfect backdrop for lively conversation. (Photo Credit: Pinterest)
From the living room and bedroom to the kitchen and bath, 3D accent walls are making seriously stylish waves in the design world. Whether it's a grand-gesture wall or a tiny enclave, it's one of the easiest ways to add architectural detail and value to your home. And we don't know of a better statement-making way to breathe life into a room. Feeling creative? Invent a custom wall by mixing and matching your favorite 3D tiles. 
#3 The Obvious Star
Open shelving gives this high-impact 3D wood look backsplash (Dekora Porcelain) a chance to shine in this farmhouse kitchen.
If you've been following us for any length of time you know how much we love the natural warmth of wood look tiles. 3D wood look tiles? Even more desirable – especially on a backsplash. A pop of color and texture combine with dimension for extra definition and visual interest. Since the look is casual, it's a mainstay with designers looking to infuse drama without overwhelming a kitchen or bath.
#4 Hello, Sunshine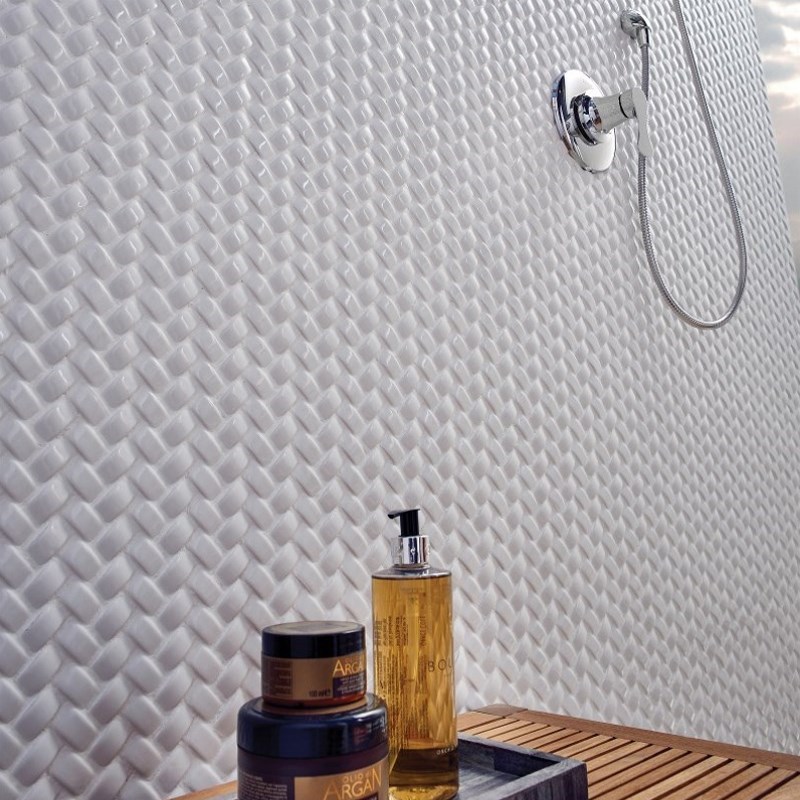 This fresh air shower looks divine with Whisper White Arched Herringbone Ceramic tiles - proving that you don't need a bold palette to create drama.
We adore the sculptural nature characteristic of many 3D tiles. When we can take these looks outdoors with weatherproof tile, it's pure bliss. Mother Nature and texture go hand in hand so three-dimensional tiles look right at home outside. Plus when the sun hits the tile's irregular surface just so, it makes a spectacular display of light and shadows – giving the illusion of even more depth and dimension. When you're ready to revive your backyard and give it a modern day, vacation-like feel, imagine the sky is your limit.
#5 Curve Appeal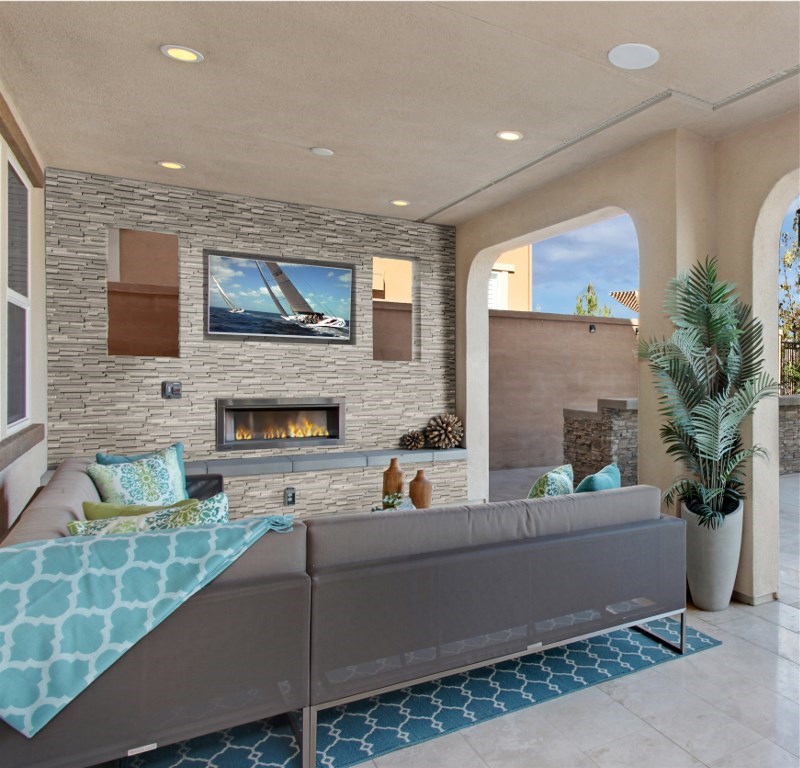 Thanks to White Oak 3D Honed Stacked Stone Panels, this indoor/outdoor living area has a rich focal point, adding natural depth and dimension to the space.
3D tiles command your attention – especially when showing off a room's architecture. More than color, texture, and shape, they can also provide contrast or dial up a calming vibe. If you're obsessed with natural materials, stacked stone ledger panels make luxurious fireplace feature walls–, especially in modern and traditional homes.
#6 Getting Down to Business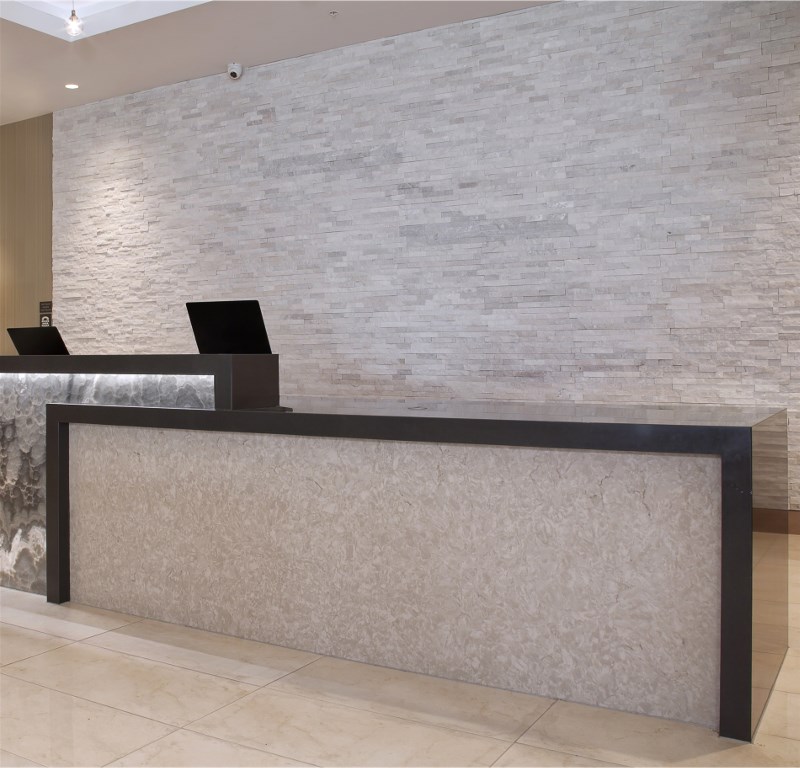 Custom lighting plays up the pattern and creates extra dimension on this lobby's back wall – thanks to Arctic White ledger Panels.
Like many iconic trends in design, 3D tile is alluring in both residential and commercial spaces. From hotel lobbies to cafe restrooms, the coterie of innovative styles seems to grow by the day. With options this beautiful, resorting to paint – especially on walls that seem to go on for days— feels wrong. Sculptural three-dimensional tile dynamically draws the eye, adding energy, movement, and intrigue to tired commercial spaces.

Ready to take the 3D look for a spin? Take a peek at our Top 5 Design Trends for more ideas and inspiration.